Consumers are demanding dramatic changes in the way that food companies formulate, process, and even flavor foods as they continue to look to the food industry for more natural health solutions and increasingly convenient meal options. Following are six mega-trends and market challenges identified in IFT Annual Meeting & Food Expo presentations and exhibits. Product developers and marketers who successfully address these issues are likely to find significant marketplace opportunities.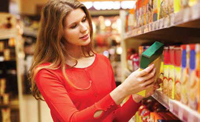 1. Weighty solutions. With more than 1.3 billion people worldwide overweight or obese, according to the World Health Organization, it's not surprising that unique ingredients—from super fibers to low glycemic sweeteners—were prominent at this year's Expo. Market research company Mintel reported that 64% of U.S. consumers want more foods/drinks to help maintain a healthy body weight, and 54% want more products to enhance metabolism. In addition, 53% seek products that provide satiety benefits, and 53% are interested in more products for blood sugar control. "Feel full longer," "helps you eat less," and "suppresses the appetite," are among the leading satiety claims, according to Mintel.
Body composition and toning was another hot weight loss topic, with ingredients such as conjugated linoleic acid poised to cross over from the sports nutrition arena to the weight loss sector. Body toning is perfectly suited for "sagging" Baby Boomers, the group most actively trying to control their weight.
Fat-burning ingredients are becoming more widely available. Frost & Sullivan estimated the global market for satiety, fat-burning, and weight management ingredients at $7.5 billion in 2009.
2. Sodium reduction. Food Expo exhibitors offered a wide array of ingredients and formulation tactics for sodium reduction. The emphasis on sodium-reduction strategies was no surprise given the recent U.S. Dietary Guidelines Advisory Committee call for a significant reduction in sodium intake and the fact that one in three Americans has been diagnosed with hypertension, a condition linked to excess dietary sodium.
Clearly, with the incidence of high blood pressure tripling in children over the past decade and new findings that high blood pressure in children triggers early atherosclerosis in adulthood, reducing the sodium in foods targeted to children is another urgent need.
--- PAGE BREAK ---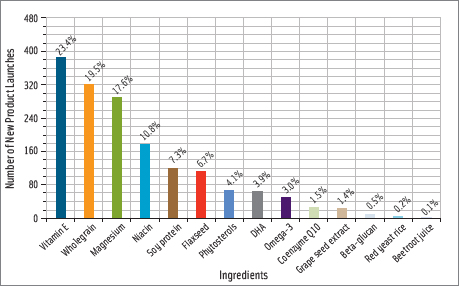 Innova Market Insights reported that sauces/seasonings, bakery products/cereals, soft drinks, ready meals/meal components, and soup are the U.S. product categories in which formulators have been most active in reducing the sodium content of new product introductions in 2010. With more lower-sodium foods on the market, the question of an adequate potassium intake has become a consideration, as is the role of magnesium in heart health. Innova reported that vitamin E and whole grains are the most commonly used heart health ingredients (Figure 1).
3. Simply clean labels. With sales of preservative-free foods reaching $15 billion in 2009 and all-natural food sales at $23 billion, according to The Nielsen Company, strategies for reducing the number of ingredients on the label were the talk of this year's Expo. The International Food Information Council's (IFIC) 2010 Health and Nutrition survey revealed that 39% of consumers cite chemicals in foods as America's top food safety issue vs 44% who cite foodborne illness, 9% imported foods, and 3% allergens.
More than half (56%) of all U.S. product categories tracked by Mintel showed a decrease in the average number of ingredients listed per product in 2009 vs 2008. With organic food/beverage sales growing 5.1% in 2009, according to The Nielsen Company, it's not surprising that organic ingredients remained a strong Expo trend. A number of exhibitors also showcased country-of-origin ingredients.
4. Naturally functional. From carotenoid sources to resveratrol, the trend to naturally functional foods, superfoods, and phytochemical ingredients continued to be mainstream at the Food Expo. Innova Market Insights reported that "naturally rich in" and "natural goodness" claims have increased dramatically.
Right on target, the Almond Board of California and The Egg Board touted their "naturally high in" attributes, perfect for creating naturally nutritious food options and natural end health benefits. For example, nuts are high in polyphenols/flavanols and exhibit prebiotic, anti-inflammatory, cholesterol-lowering, and low-glycemic effects. Pulses, heirloom and varietal fruits and vegetables, ancient grain-based ingredients, and spices were touted as being among the next wave of superfoods.
Natural sweeteners, especially stevia, were among the hot new naturally functional sweetening agents. IFIC reported that although one-third of consumers believe low-calorie/artificial sweeteners play a role in calorie control, 40% do not consume them.
--- PAGE BREAK ---
5. Free for all. Presenters at Annual Meeting & Food Expo sessions pointed out that the trend toward "free from" is entering its second generation, moving from additive- and preservative-free products to also include those that are gluten- and lactose-free.
With gluten-free product sales up 16% to $1.6 billion in 2009 and sales expected to rise to $2.3 billion by 2014, according to The Nielsen Company, ingredients that provide tasty, safe alternatives are in high demand. Pulse-milled products, including peas, lentils, and chickpeas as well as amaranth, quinoa, millet, sorghum, and teff, are popular gluten-free options shown by Expo ingredient suppliers.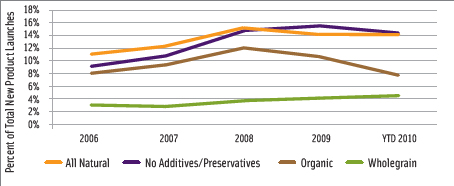 A HealthFocus International 2009 survey of consumers in 18 countries found that 57% are avoiding artificial ingredients, 22% are avoiding gluten, and 20% dairy. In the U.S., 68% are steering clear of high fructose corn syrup (HFCS), 52% MSG, 45% artificial sweeteners, and 44% artificial colors. (See Figure 2 for a look at U.S. product introductions tracked by specific claims.)
6. Niche flavors get famous. Flavor is always a cornerstone of the Food Expo, and Innova Market Insights outlined a number of key flavor trends well represented across the show floor. Notably, more product applications are now flagging the fifth basic taste, umami. Nut flavors, including cashews, almonds, and pistachios, are moving into drinks, milks, and yogurt. Hot spicy ingredients such as chilies are moving into candy, and cooling spice and herb ingredients such as cinnamon, coriander, anise, ginger, and mint, are moving into dairy, ice cream, and gums.
Plum, coffee, e.g. cappuccino wafers or chocolate latte macchiato cookies, rhubarb, chai, golden kiwi, cloudberry, baobab, and coffee berry are among the emerging flavors. Yogurt is enjoying a renaissance with vegetable flavors ranging from cucumber and dill to orange and carrot. Flower flavors are moving into the global market, e.g., jasmine-flavored lattes, blackberry and violet yogurt, and rose petal drinks. New berry alternatives, e.g., mountain huckleberry, garden berries, or field berries, are also emerging, sometimes coupled with exotic fruit flavors. Lastly, chef-inspired flavors and formulas will remain a core opportunity for product developers and marketers.
by A. Elizabeth Sloan, a Professional Member of IFT, Contributing Editor of Food Technology magazine ([email protected]).