From the scientific sessions to the trade show floor, innovations abounded at the recent IFT Annual Meeting & Food Expo® in Chicago. At the keynote session, IFT President-Elect Bob Gravani (who became President on Sept. 1) and President-Elect II Roger Clemens announced and presented five companies with the 2010 IFT Food Expo Innovation Awards. The winners are Bühler Barth AG and Log5 Corporation (co-recipients), Bunge North America, Caravan Ingredients, and Handary SA.
"Now in its fourth year, the Food Expo Innovation Awards are a showcase of the ongoing ingenuity in our food science and technology profession and, in some cases, the results of the collaborative work among industry, academia, and government," said Clemens.
A panel of nine jurors from industry and government with broad expertise in research & product development, processing & packaging technology, and food safety selected the five companies and their innovations from 56 qualified entries. Only companies exhibiting at the 2010 IFT Food Expo in Chicago were eligible and their entries must have been commercially available since January 1, 2009. Judging criteria included degree of innovation, technical advancement, benefits to food manufacturers and consumers, and scientific merit.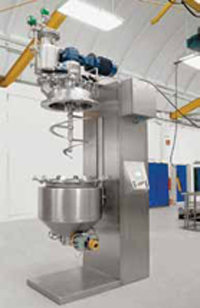 Co-recipients Bühler Barth AG and Log5 Corporation (www.gw-barth.de, www.log5.com) garnered the 2010 IFT Food Expo Innovation Award for their Controlled Condensation Process Pasteurization Technology, which pasteurizes low-water-activity foods, such as tree nuts, peanuts, spices, herbs (including powder forms), and grains, and preserves the natural quality of the food. The technology maintains thermal equilibrium conditions by controlling pressure, temperature, surface condensation, and moisture levels. "Food safety is paramount, and new technologies like this will make our food supply safer," noted a juror.
The pasteurization system can be modified to achieve sterilization conditions, resulting in complete inactivation of all living organisms including heat-resistant spores.
The first 10 tons/hr pasteurization plant will be installed in California in the fall 2010. A second system (20 tons/hr) will be installed a few months later.
--- PAGE BREAK ---
Responding to the outbreak of Salmonella infections after the consumption of tainted chocolate in the early 1980s, Bühler Barth AG developed cocoa processing equipment to sterilize cocoa during roasting. With the recent almond, peanut, and pistachio recalls, it became evident that there was a lack of appropriate pasteurization technology for dry foods. Thus, in 2007, Bühler Barth AG started a research project with Rainer Perren to develop an advanced pasteurization technology for low-water activity foods. The research resulted in an innovative technology that pasteurizes dry foods by creating unique thermal equilibrium conditions.
Bunge North America (www.bungenorthamerica.com) won the award for its Phytobake shortening with phytosterols. The functional shortening for bakery applications enables the dilution of the amount of traditional hard fat or saturates and trans fats used in the plastic shortenings by up to 46%. Bakers using this ingredient can produce healthier sweet goods, such as cookies, pie crusts, and cakes. "Though phytosterol-enhanced foods have not been very popular with consumers, an ingredient like this expands application and may help bring the ingredient the attention it deserves," declared a juror.
The vegetable-based plastic shortening was developed to allow for replacement of traditional shortening saturates with phytosterols. This was achieved by esterifying phytosterols with high saturated fatty acid triacyclglycerols and then utilizing this ingredient as a saturates mimetic in traditional shortening manufacture.
Caravan Ingredients (www.caravaningredients.com) was honored for its Trancendim emulsifiers for zero trans shortening—a zero trans, reduced saturated fat alternative for structuring fats and oils that mimics or improves the melting behavior of common fat-based products. Applications include salad dressings, frying oils, margarines, and bakery products. Users can create better-for-you products without sacrificing taste or mouthfeel. "Trans fat replacement is still a tough food science challenge in some products, and this innovation is an interesting application of technology to address this ongoing consumer need," stated a juror.
The ingredient system can improve crystallization properties in shortenings and margarines, which in many cases can increase factory throughput, thus saving time and money. It can be used to eliminate the word "hydrogenated" on ingredient declarations.
Handary SA (www.handary.com) captured the 2010 IFT Food Expo Innovation Award for its NisinA natural antimicrobial agent, a vegetable-based natural product that can improve food safety by controlling foodborne pathogens, such as Clostridium botulinum, Listeria monocytogenes, and Bacillus cereus. It also extends the shelf life of foods by controlling lactic acid bacteria and prevents the formation of bacteria due to high temperatures. "With increased focus on food safety and refrigerated food products, NisinA provides benefit to a large scope of applications as a versatile, heat-stable natural antimicrobial," observed a juror.
Handary's nisin-producing strains of Lactococcus lactis subsp. lactis grow in yeast extracts instead of traditional milk batches, making it easier to obtain pure nisin that has a higher solubility and diffusion characteristics for food applications. The natural ingredient can be used before or after heat treatment due to its excellent temperature stability. Its exceptional solubility permits a reduction of processing times and temperatures.
by Bob Swientek, Editor in Chief, Food Technology ([email protected]).