The whole purpose of attending trade shows is to find new ideas and new sources of equipment, ingredients, and services. The unique, one-time-only co-location of IFT's Food Expo and Food Processing Suppliers Association's Process Expo at McCormick Place in Chicago provided three almost overwhelming days of such opportunities.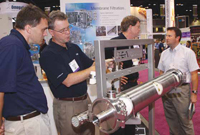 Aseptic Processing of Particles
The classic issues in process design for aseptic sterilization of low acid foods with particles over ¼ inch on edge or diameter are the thermal history of the cold spot (usually the center) of each particle and the residence time distribution of the particles in the hold tube. Particles under ¼ inch are considered homogenous with the carrier fluid. It is challenging to use actual food particles in testing because they are usually not uniform in size or properties. It also can be challenging to find a thermo-sensitive indicator, such as a harmless bacterial spore that behaves like a pathogen. Other indicators include polymers or chemicals that change some property, such as color with time and temperature.
ThermaLytics, an affiliate of UltrAseptics in Raleigh, N.C. (phone 919-389-4385), has developed a family of polymer particles, sensors, and software to help with solving these issues, according to Josip Simunovic, President of UltrAseptics. The particles are hollow and come in various sizes and shapes ranging from ¼-inch to ½-inch cubes and spheres. The polymer and wall thickness are selected to provide heat transfer properties and densities similar to those of food particles. The simulated particles can have a magnetic implant or thermo-sensitive material. External sensors can detect passage of the particles to establish residence time distribution. The particles can be separated at the end of the process for evaluation of the thermal history.
Simulation software enables design of the particles for a given situation. Particles can be purchased in combinations of sizes and shapes if desired. Prices range from $4 to $15, depending on quantity. Prices for software and sensors likewise vary, depending on capability. All in all, it is an impressive commercialization of research that originated in the Center for Aseptic Processing and Packaging Studies (CAPPS) at North Carolina State University.
An Extruder That Does Not Wear Out (as Fast)
Ever Extruder Company, Festus, Mo. (phone 636-937-8830), has addressed some of the more frustrating characteristics of typical single-screw extruders, according to Ned Williams, President. To oversimplify somewhat, the company's secret is to use tungsten carbide at wear surfaces, such as the edges of screw flights and die plates. Tungsten carbide is an extremely hard ceramic-like material. Because of its hardness, tungsten carbide must be cut with a diamond and is applied in small tiles to a stainless steel substrate.
In contrast to other manufacturers that typically rely on the extruding material to help center the screw in the barrel, Ever Extruder goes beyond reducing wear by supporting the screw at both ends. The company uses laser alignment to ensure near-perfect straight shafts, which reduce torsional stress. The combination of wear materials and precision alignment produce increased production and lower operating costs for high production operations.
--- PAGE BREAK ---
For reduced extruder downtime, Ever Extruder has developed an automatic die changing system that permits changeover in seconds rather than hours. Die changes are done off line and then automatically moved into place on the extruder. The company also has designed a cutoff mechanism, which can be quickly changed and uses a knife designed with as many as 30 blades—more blades reduce the RPM required, thus reducing wear on the knife and die assembly as compared with the typical 4- or 6-blade style.
Despite the popularity of twin-screw extruders, single-screw extruders are well-suited to applications such as pet foods, breakfast cereals, and aquatic feeds. Ever Extruder has systematically addressed many of the costly, time-consuming issues of conventional extruders and deserves serious consideration for new, replacement, or renovation opportunities. The company maintains that it can provide wear-resistant screws and machine upgrades for existing barrels coupled with laser alignment.
Equipping a Pilot Plant
MicroThermics and Armfield compete in many areas with small-scale process equipment for teaching, research, and small-volume production. However, there are other suppliers that deserve consideration. Some of these specialize in certain areas. MicroThermics Inc., Raleigh, N.C. (phone 919-878-8076), demonstrated a touch-screen control system on their High Temperature Short Time/Ultra High Temperature (HTST/UHT) Processor capable of 1–3 L/min. MicroThermics' units tend to enclose most of their components in a stainless steel cabinet while Armfield, Jackson, N.J., chooses to expose elements such as heat exchangers and small vessels on an open rack. Armfield's modular HTST/UHT system is rated at 10–60 L/hr (0.16–1 L/min), which is somewhat smaller than the corresponding unit from MicroThermics. Armfield appears to offer a wider variety of equipment than MicroThermics, but where they overlap, MicroThermics may be a little less expensive.
Goodnature Products Inc., Buffalo, N.Y. (phone 716-855-3325), offers presses and pasteurizers for non-citrus juices. At the low capacity end, a single-layer press can produce 75 L in an hour from carrots. Other models of presses range up to about 6,000 L/hr. Goodnature's Plug and Play Pasteurizer has capacities of 540–5,400 L/hr.
Bottom Line Process technologies Inc., Largo, Fla. (phone 888-834-4552), offers small-scale confectionery equipment, including chocolate processes from bean to bar. Typical scale for the chocolate line is 15 kg/hr. The company has candy cookers, batch, and continuous with capacities of 3 or 17 quarts (2.8 – 16 liters) batch and 15 kg/hr continuous. A small beverage pasteurizer is rated at about 60 L/hr.
OMVE, Netherlands B.V. (phone +31 (0) 30 241 00 70, www.omve.com), is a Dutch firm offering mostly small beverage processing equipment, including equipment for carbonation, homogenization, de-aeration, and aseptic filling. The company also mentions cold plasma technologies in its literature. As is true of the other suppliers, OMVE's units can be integrated into small production systems or used alone.
--- PAGE BREAK ---
Additional Ultrasound Equipment Suppliers
Having recently discussed ultrasonics in this column (August 2010), I was surprised to find two more suppliers exhibiting in addition to Cavitus. Sono-tek Corporation, Milton, N.Y. (phone 845-795-2020), specializes in spray nozzles used for coating and spray drying. Ultrasonic spray nozzles are said to be more precise than pressure nozzles especially at low flow rates. The nozzles offered by Sono-tek range in maximum flow rates from 1.3–22.7 L/hr.
Aurizon Ultrasonics, Kimberly, Wis. (phone 877-321-3718), is a relatively young company that also offers ultrasonic spray nozzles, liquid processing (mixing, emulsifying, degassing), and bonding and cutting of webs. One significant effect is the reduction in apparent viscosity due to ultrasound.
Also emphasizing the viscosity reduction effect is CavitusPty Ltd., North Sydney, Australia (phone +61 2 9028 7051), somewhat of a pioneer in the application of high-power ultrasound. The company points out that the phenomenon is usually temporary, lasting about one hour for many fluids, but this is sufficient to increase flux rate in membrane processing, improve spray drying and spray coating, and reduce fouling in evaporation.
Bag in Box
The better known U.S. suppliers of aseptic and hot fill bags and fillers are Scholle Packaging, Northlake, Ill. (phone 708-562-7290), and DuPont Liqui-Box, Worthington, Ohio (phone 800-260-4376). These firms offer sterile bags in a range of sizes, each with proprietary fitments for which the same firms offer corresponding filling machines. Their business model is to sell the bags, which typically are sterilized by irradiation.
Van Meurs, Zutphen, the Netherlands (phone +31 575 593 199), offers a bag filler that can be customized to any desired fitment. The company does not claim that the filler is aseptic, but it appears to be close with provisions for steam injection, inert gas blanketing, and manual clean in place (CIP), including steam injection. Van Meurs might be worth consideration where strict aseptic filling is not required.
Desktop Homogenizer
GEA Niro Soavi Americas, Bedford, N.H. (phone 603-606-4060), showed the PandaPlus line of small volume homogenizers. Flow rates range 9–20 L/hr at pressures of 1,000–2,000 bar (987–1,974 atm). Sample volumes can be 15–200 ml, but the unit can be fed continuously at the given flow rates. The Twin Panda is larger with flow rates of 30–55 L/hr at pressures of 400–600 bar.
by J. Peter Clark, Contributing Editor to Food Technology magazine, and Consultant to the Process Industries, Oak Park, Ill. ([email protected]).