This year's Food Expo featured many exhibits related to food safety and quality—too many to completely cover in this article because of space limitations. So here are brief descriptions of some of the exhibits that caught my eye, arranged alphabetically by category and company within category.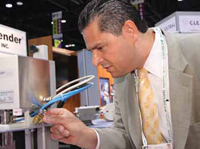 Allergen Testing
Crystal Chem Inc. (www.crystalchem.com) exhibited its new lateral-flow strips that allow manufacturers to qualitatively detect food allergens such as egg, milk, and wheat protein quickly. The strips are particularly useful in detecting allergens in raw material and during cleaning. These strips are a complement to the company's line of food-allergen ELISA kits, which utilize a novel extraction method to improve detection in processed and cooked food. The company also introduced its ELISA kits for the detection of vitamin A (AOAC validated) and vitamin D in fluid milk. The kits are said to significantly decrease the time of vitamin extraction while using less than 1% of the solvents needed for analysis by high-performance liquid chromatography.
Food Allergy Research and Resource Program (www.farrp.org), a partnership between the food industry and the University of Nebraska, offered its assays for analysis of allergenic foods: almond, cashew, clam, crustacean, egg, gluten, lupine, hazelnut, mustard, peanut, pecan, milk, sesame, soy, and walnut. FARRP offers training, workshops, and consultation on processing issues and regulatory aspects of allergenic foods and food ingredients; has an extensive food allergy database; and works with leading researchers to improve the safety of food products globally. It will present a short course, "Food Allergens: Issues and Solutions for the Food Product Manufacturer," in Rosemont, Ill., October 6–7, 2010.
Neogen Corp. (www.neogen.com) described its Rapid 3-D™ tests, which make it simple to screen for the presence of low levels of allergens in food products and environmental swabs virtually anywhere. Sample preparation and testing take less than 10 min. Each kit contains everything needed, including swabs, to perform 10 single-use tests.
Regatec (www.regatecinc.com) exhibited its food-allergen one-step rapid test kit for gluten, egg, casein, and lecithin, as well as its 96-wellplate indicator, microcentrifuge, and disposable pestles.
Diagnostic Analysis
3M Food Safety (www.3m.com/foodsafety) offered quality, pathogen, and toxin testing products, including Petrifilm plates and Petrifilm plate reader, Clean-Trace ATP hygiene monitoring systems, Tecra pathogen assays, sampling products, and specialty media—electronic pipettors and flip-top dilution bottles.
--- PAGE BREAK ---
Idaho Technology Inc. (www.idahotech.com) featured its new high-volume kits for foodborne pathogen detection. The new kits provide 160 reactions per kit, a simplified protocol, and a competitive price, making them ideal for food labs with large testing capacities. The assays use real-time PCR technology to identify the presence of Salmonella, Listeria, or Escherichia coli O157:H7 in various food and environmental samples. The kits have been granted AOAC Performance Tested Method status for use with the company's R.A.P.I.D.® LT Food Security System, which combines rapid air thermocycling and a real-time fluorimeter to reliably test samples. Because of its sensitivity, accuracy, and high speed, the system is said to represent a significant improvement over traditional microbiology tests that currently require 5–7 days.
Instant Labs Medical Diagnostics (www.instantlabs.com) featured its InstantLabs Accelerated RT-PCR® "lab on a chip," a diagnostic technology that accomplishes complete accelerated PCR laboratory operations on a disposable microchip. The technology is predicted to have a positive effect on food safety, health care, public health, homeland security, law enforcement, and defense. The product is said to do in minutes what traditional reference labs today take hours to days to accomplish. It is also said to reduce the cost of laboratory testing by 10–15% and reduce the sample size and reagents required by 1,000%.
Moisture Measurement
Decagon Devices Inc. (www.aqualab.com) demonstrated its AquaLab Series 4TE Duo dew point moisture content meter, which measures both moisture content and water activity on a single sample, using the dew point method. An infrared beam focused on a tiny mirror determines the precise dew point temperature of the sample. That measurement is then translated into moisture content and water activity readings using the moisture sorption isotherm. The meter is said to have 10 times the precision of a typical moisture meter. The company also announced its AquaLab Educational Grant program designed to give professors and students the opportunity to use the latest water activity instrumentation in their classrooms and research. Four universities will be awarded instrumentation worth $15,000, including two AquaLab Series 4TE units and a year's worth of supplies. Applications are available at www.aqualab.com/grants and will be accepted until October 1, 2010.
MoistTech (www.moisttech.com) exhibited its IR-3000 Online NIR Moisture Sensor and IRMA Lab-858 Laboratory NIR Moisture Sensor, which is said to accurately measure the moisture content of all types of food products.
Navas Instruments, LLC (www.navas-instruments.com), described its new MMS-4000 multiple-sample thermogravimetric assay (TGA) instrument that automates moisture and/or ash analysis of samples of different composition or weight. The method is said to overcome the limitations of both the single-sample balance method and the multiple-sample TGA batch method. The instrument reduces not only processing time but also the amount of technician time required while increasing throughput. Another advantage is that the instrument does not need to be cooled and then reheated between batches.
Color Measurement
HunterLab (www.hunterlab.com) introduced its ColorFlex EZ compact mini-bench visible spectrophotometer that provides 45°/0° geometry and its SpectraTrend HT online spectrophotometer, which uses 0°/30° geometry and, like bench spectrophotometers, can output both colorimetric and spectral values for the visible spectrum.
--- PAGE BREAK ---
Konica Minolta Sensing Americas Inc. (www.konicaminolta.com/sensingusa) announced the U.S. launch of its new CL-200A Chroma Meter with increased operability for white LED measurements. It is said to be a revolutionary tool to obtain all necessary indexes for controlling white LED light in a single operation. The receptor head can be removed from the main body and reconnected using optional adapters so that measurements can be taken remotely or in an isolated darkroom environment. The company also exhibited its new CM-5 benchtop spectrophotometer, a standalone unit that does not require a computer, unlike its predecessor, the 3500D. 
VeriVide Ltd. (www.verivide.com) demonstrated its DigiEye Color Measurement System for measurement of the color and appearance of food products. The digital color imaging system addresses the limitations of traditional instruments and offers objective, accurate, and repeatable color measurement of products that were previously immeasurable. A high-resolution camera at the top of the DigiEye cube takes precise images of the sample within the cube, which is totally enclosed to eliminate all ambient light. The cube provides both diffuse illumination, which removes the specular reflection of products with surface sheen and curved surfaces such as tomatoes and apples, and angled illumination, which highlights the surface details of the product, providing an accurate assessment of product appearance. The images captured can be used to obtain color data for areas of the product of specific interest as well as the overall visual appearance. A calibrated monitor and printer give highly accurate on-screen representations and printed images.
X-Rite Inc. (www.xrite.com) demonstrated its VeriColor Spectro spectrophotometer. The small, non-contact device mounts directly onto a production line to quickly, precisely, and reliably measure the color of products moving by at fast speeds. The unit rejects ambient light, so no special lighting or shrouding is needed. The company also demonstrated its customized color matching cards and other standards that operators can use to quickly determine whether the color of foodstuffs is acceptable. The company says it has the only system approved by the U.S. Department of Agriculture (USDA) that food processors use to measure acceptable tolerances of orange juice color from a set standard. The system uses the Color i5 benchtop spectrophotometer and Color iQC software package to accurately and quickly measure whether the juice meets USDA standards.
Miniature Systems
Armfield (www.explorearmfield.com) introduced its new miniature-scale research and development technology, the FT174X Modular Miniature HTST/UHT Process System, a combination of HTST/UHT processing systems that is specifically designed to achieve varying heat exchanger permutations to suit specific applications. It treats products at flow rates of 20–60 L/hr. Modules are available for direct/indirect heating, aseptic processing, upstream/downstream homogenization, and additional chilling. The flexible system offers multiple heating and cooling options for liquid products of varying viscosity by using plate heat exchangers, tubular heat exchangers, direct steam injection, or a combination of all three.
MicroThermics (www.microthermics.com) described its UHT/HTST processing equipment, which makes production-quality samples of juice, soymilk, milk beverages, puddings, cheese sauces and other products. The company's Miniature Plant Trial Services will utilize its newest 2011-model-year processing equipment. The programs accelerate product development and reduce costs by relieving the scheduling, disposal, and cost restrictions of conventional plant trials. The company offers miniature plant trials, overnight plant trials, microwave plant trials, and scale-down services.
--- PAGE BREAK ---
OMVE Netherlands B.V. (www.omve.com) exhibited its line of miniature laboratory and pilot-plant liquid processing equipment. Users can conduct more trials in less time, and the results can be quickly and accurately reproduced and scaled up to production size. The company offers individual modules as well as a complete downscaled plant (such as an integrated dairy factory) that includes all industrial processes for a multinational company. Modules include carbonation, heat treatment, homogenization, de-aeration, evaporation, aseptic filling, cold plasma sterilization, and crystallization. The newest addition is a UHT tabletop pasteurizer.
Miscellaneous Instrument Developments
Buchi Corp. introduced its NIRMaster, which may be the first standalone FT-NIR with hygienic design for the food and feed industries, making it appropriate for routine QC work in harsh environments. Its polarization interferometer provides the instrument with not only high sensitivity, ensuring accurate and reliable results, but also a level of robustness not typically found in instruments with other interferometer designs. It includes a built-in PC as well as ready-to-use calibrations for the food, feed, dairy, meat, and bakery industries. Its internal laser reference eliminates the need for frequent, expensive instrument standardizations.
Nasco (www.whirl-pak.com) exhibited its Whirl-Pak sterile polyethylene laboratory sample bags for QA testing and other microbiological applications. Bags hold liquids or solids and have a leak-proof closing tab. All bags have patented puncture-proof tabs—tape covers the wire ends, minimizing bag puncture and scratching of hands. Sterility documentation is available for every box of bags using parametric release and lot number traceability.
Metrohm (www.metrohm.com) exhibited its 862 Compact Titrosampler. The titrator is built into the autosampler, making it a completely automated titration station the size of a typical analytical balance. It is a complete package for the most common analyses in the food sector.
Shimadzu Scientific Instruments (www.ssi.shimadzu.com) exhibited its new chromatography instruments. The GC-2010 Plus Capillary Gas Chromatograph improves separation performance, reduces analysis time, redefines sensitivity limits for trace analysis, and ensures data quality for a wide range of applications. It features advanced flow technology, consisting of digital pressure controllers, additional hardware, and new intuitive software that is said to improve productivity and enhance performance. The company has also issued a new 12-page brochure, "Analytical and Testing Instruments for Food Safety," that provides details on the instruments Shimadzu provides to ensure food safety. Examples include analysis of residual pesticides, analysis of food additives, analysis of toxic metals, inspection and analysis of food matter, and prevention of defects in packaging.
Surface Measurement Systems, Ltd., NA (www.thesorptionsolution.com) introduced its Surface Energy Analyzer (SEA), a second-generation inverse gas chromatography (ICG) instrument said to be the only commercial instrument based on the ICG principle. It provides a wide range of injection concentrations with accuracy and reproducibility. User-friendly software provides for fully automated operation and data analysis. Up to 12 different probe gas molecules are available with optional humidity control. The instrument allows access to a wide range of surface and bulk properties of solids, powders, particulates, and films and enables new experimentation for aroma and other studies.
--- PAGE BREAK ---
Thermo Fisher Scientific Inc. (www.thermoscientific.com) exhibited its ε scan in-line guided microwave spectrometer designed to analyze and measure multiple key properties of food products, such as moisture, fat, protein, and salt content, and other properties, including Brix, total solids, water activity, and viscosity. In contrast to other process analyzers, which are generally used at-line, the new spectrometer penetrates into the process stream, providing real-time, accurate process information. And while other in-line systems penetrate only millimeters into the product, the ε scan measures through the entire cross-section of flow, allowing users to control their processes with more accuracy and efficiency.
Particle Analysis
Beckman Coulter (www.coultercounter.com) offered a variety of analyzers for the characterization of particles, including particle sizing and counting, laser diffraction, zeta potential, and submicron analysis.
Fluid Imaging (www.fluidimaging.com) exhibited its FlowCam continuous-imaging particle analysis instrument. It combines the speed of data acquisition of typical particle analyzers with the detailed individual particle information typical of microscopy. The company's Intuitive VisualSpreadsheet software facilitates rapid analysis of particle data and sophisticated pattern recognition operations for particle identification.
Microtrac (www.microtrac.com) highlighted its Microtrac Bluewave Particle Size Analyzer with Tri-Laser Technology. It uses dynamic light scattering for high-concentration sizing from 0.0008 to 6.5 microns with high resolution achieved through the use of both red and blue lasers, not LEDs. Through the introduction of two blue lasers at off-axis angles of incidence to the sample, the Bluewave is said to significantly enhance the sensitivity and resolution of distribution measurements. The company says it is the only diffraction-based analyzer that uses blue lasers.
Particle Technology Labs (www.particletechlabs.com) explained the services of its cGMP laboratory, dedicated to quality particle size and characterization. Utilizing more than 20 different technologies, the company has the ability to measure particle size, concentration, and shape as well as surface area, porosity, density, zeta potential, and powder flowability.
Sympatec (www.sympatec.com) exhibited its QICPIC high-speed imaging system. It offers high-speed imaging for size and shape (2 μm to 20 mm) and laser diffraction for size (0.1 μm to 8.75 mm) for both dry and liquid samples. One area of its expertise is dry dispersion of agglomerated and free-flowing particles. The instrument can calculate mass fraction of different parts of the population, such as wheat flour. The imaging system can be used online and in the lab.
--- PAGE BREAK ---
Refractometers
Atago U.S.A., Inc. (www.atago.net/USA) demonstrated its Pen-Pro Digital handheld refractometer. The dip-type unit measures Brix from 0% to 85.0% in sauces, juices, beverages, and other liquids. It is also equipped with a continuous measurement feature for constant sample readings. The unit is dust and water resistant and can be rinsed under a faucet for fast cleanup.
Maselli (www.maselli.com) exhibited its UR24 Process Refractometer, which provides continuous, accurate, and repeatable measurements of liquids in sanitary food and beverage applications, as well as its LR01 and LR02 laboratory refractometers that offer precise measurements in both laboratory and process areas.
Mettler Toledo (www.mt.com) introduced its new LiquiPhysics™ Excellence instruments for density and refractive index determinations in the food and beverage industry. The One Click™ user interface allows quick, simple, and direct access to all routine tasks and provides clear user information, utilizing shortcut buttons to start routine tasks immediately. Every operator has a personalized home screen, shortcuts, and operation language. Measurement results are automatically converted into user-defined units such as Brix or alcohol concentrations, while sophisticated barcode functions conveniently input sample data and automatically ensure that the correct measurement method is always chosen.
Reichert (www.reichertai.com) exhibited its line of refractometers ranging from handheld to benchtop models, including the Arias OptiMatrix™ 500, said to be the world's first transmitted-light refractometer with precision comparable to that of high-end automatic reflected-light refractometers. The semi-automatic refractometer with dual-array system corrects for the operator's placement of the shadowline, providing accurate and precise measurements.
Sensory Analysis
Alpha M.O.S. (www.alpha-mos.com) announced the launch of its latest sensory tool, the IRIS Visual Analyzer, an artificial eye for scrutiny of complex food products. It is an addition to the company's electronic nose and tongue instruments. The Electronic Nose, a screening tool for aroma and VOC analysis, can identify 40,000 molecules that cause off-odors. The U.S. Food and Drug Administration is using it for analysis and quality control of seafood from the Gulf of Mexico during the oil spill crisis. The Electronic Tongue, designed for measuring dissolved compounds and taste substances in liquids, accurately identifies the five tastes (bitter, salty, sweet, sour, and umami) while distinguishing pungency, spiciness, and astringency. It allows product conformity testing, taste default detection, origin identification, and substance quantification.
Biosystemes (www.biosystemes.com) presented its Fizz totally integrated software suite for sensory analysis and consumer tests. It offers the newest sensory methods, including TDS and Napping, and provides immediate results after data collection over the network in the sensory booths and on independent laptops for tests in the field. Paper questionnaires are scanned automatically. The software provides automated data collection, immediate advanced data analysis and graphs, and data mining from its powerful database for data by judge, sample, and results.
--- PAGE BREAK ---
Compusense Inc. (www.compusense.com) described its software for sensory and consumer research. Compusense® at-hand is sophisticated science-based software for Web-based data collection. Compusense five provides flexible data collection and ability to analyze data rapidly. Both include the Compusense FCM® descriptive sensory training method. The company also conducts contract research at its state-of-the-art facility in Guelph, Canada, where sensory specialists perform consumer and market research, train panelists, and manage fieldwork using the company's software products.
Intelligent Sensor Technology (www.insent.co.jp) exhibited its new Taste Sensing System TS-5000Z. It features artificial lipid-based taste sensors to evaluate sourness, saltiness, bitterness, sweetness, umami, astringency, and kokumi (richness) for foods and beverages such as meat, vegetables, noodles, beer, wine, coffee, and soup. The system is said to provide high accuracy and high correlation with human sensory evaluation results and can be used for development of new products and quality control. It differs from electronic nose and tongue instruments in that it uses artificial lipid membranes. The surface of the human tongue is formed of a lipid bilayer with its own electric potential, which varies according to the electrostatic interaction or hydrophobic interaction between various taste substances and the lipid. The company's taste sensors imitate this taste reception mechanism of living organisms and are able to determine both initial taste and aftertaste. The difference in potential between the sample and a reference is the initial taste, and the difference after the sensors are lightly washed is the aftertaste.
Owl Software (www.owlsoft.com) described its software programs that assist in the development and manufacture of food products. Programs are available for product development, nutrition labeling, nutrition analysis, least-cost food formulation, food manufacture, and product batching. The company also offers custom software solutions.
Protein Determination
Alpha Resources (www.alpharesources.com) offered a new instrument for protein determination, the Dumatherm Rapid Food Protein Determinator. The instrument uses the Dumas combustion method and is designed for accuracy, simplicity, and economical operation. Components work together to provide a stable, fast, and dependable instrument with much less downtime and reduced maintenance. It analyzes the total gas from the analysis for greater accuracy of macro samples while utilizing less ltrapuregas. Using a sample size range of 50–300 mg, the design of the furnace in combination with the direct analysis of all resulting gases provides the user with accurate results in 2–3 min.
Elementar Americas, Inc. (www.chnos.com) exhibited its Rapid N Cube for high-speed, safe, accurate, and dependable protein determination. The instrument works on the Dumas combustion principle. Protein in the sample combusts; then nitrogen content is measured via thermal conductivity detection. The software converts percent nitrogen into percent protein. The instrument features a new liquid sampler and is said to have a proven track record of reliability with stable calibration.
Services
AIBMR Life Sciences (www.aibmr.com) described its services in the preparation of GRAS self-affirmations. Recognition of a substance as safe requires reasonable certainty in the minds of competent scientists that the substance is not harmful when used as intended. The organization can guide a company through the process; create a detailed, professional GRAS dossier, signed by its expert panel, which includes a thorough introduction of the product, all available toxicology and safety data, extensive literature reviews, and references; and prepare GRAS self-affirmation notifications for FDA review when appropriate.
--- PAGE BREAK ---
Burdock Group (www.burdockgroup.com) offered its quarterly e-mail newsletter, Burdock Advisor, which provides news of food science, the food industry, and government regulations regarding safety and quality as well as relevant content prepared by Burdock Group's leading experts. The most recent issue included articles on use of nanoparticles in food technology, color additives, and reinventing common foods. Burdock Group also offers an online newsroom allowing access to archived newsletter issues and additional information, available at www.burdockgroup.com/index.php/publications.html.
Certified Laboratories Inc. (www.certified-laboratories.com) announced the founding of its Certified Food Safety Center in Newman, Calif. Its core focus will be food safety projects including thermal and non-thermal validation services, process authority work, challenge studies, and consulting. The center is an addition to the company's laboratories in New York and Southern and Northern California. The company provides microbiological and chemical/instrumentation testing for food processing at all stages of production, including environmental testing, problem solving, and quality assurance.
ESHA Research (www.esha.com) demonstrated its Genesis R&D Product Development and Labeling software—an extensive database of more than 37,000 foods and food items tailored specifically to the needs of the food manufacturing industry. Included in the database are raw foods and processing items such as gums, bases, preps, and colors. For each item, information on up to 160 nutrients and nutrient factors is provided. With one click, users can generate a label complete with ingredient and allergen statements. Other label formats include Supplement Facts, Aggregate, Dual Declaration, and the new Child Label.
Innovadex (www.innovadex.com), formerly known as Chemidex, demonstrated the new features of its search engine designed to accelerate innovation. The Cybrary database consists of more than 25,000 documents—including technical data sheets, safety data sheets, formulations, recipes, white papers, product brochures, articles, and videos— from the largest food and beverage industry ingredient suppliers. Product developers are kept abreast of industry innovations through the weekly New Trend Tuesday eNewsletters and a new Alerts feature. The company also announced that it is taking applications from food product development teams across the industry to participate in its "New Age of Food Innovation" program to equip the laboratories of 25 food manufacturers with Apple iPads to experiment with advanced device access to Internet-based information and communications applications.
Kansas State University (www.mab.ksu.edu) showcased its Master of Agribusiness distance-education degree program. Focused on the food and agribusiness industries, the program is delivered executive style to working professionals. It is not an MBA or an M.S. in Agricultural Economics; it is a professional degree aimed at training managers for peak performance in one of the most rapidly changing industries today. The program has students and alumni from 35 states in the U.S. and more than 25 countries who work in every sector of the food and agribusiness industry.
Viscosity Measurement
Brookfield Engineering Laboratories Inc. (www.brookfieldengineering.com) displayed its AST-100 in-line viscometer, which has been used in such applications as food and batter viscosity control and automation of hot cheese production control. It provides direct in-line measurement, enabling better process control with less operator involvement. The company, which is celebrating its 75th anniversary, has also introduced a new Powder Flow Tester that can help eliminate erratic powder discharge from hoppers. Users can perform QC checks on incoming materials, characterize new formulations, and adjust composition to match established product flow behavior. The company also exhibited its CT3 Texture Analyzer, which features not only the traditional compression mode but now also a new tension mode, allowing manufacturers to test their products and the packaging. The company offers a viscosity journal website at www.FoodViscosity.com.
--- PAGE BREAK ---
C.W. Brabender Instruments, Inc. www.cwbrabender.com) exhibited its newest viscometer, the Consistometer-E, which can measure viscosity of almost any food material. Its high-precision torque-cell technology measures the viscosity of Newtonian and non-Newtonian materials. It can be used to measure apparent viscosity and perceived difference in the flow properties of fluids, pastes, slurries, and semi-solids with particulates; characterize the flow behavior of materials; and predict consistency, processing ability, or stability. It offers a wide measurement range from a few centipoises to 700,000 cP.
Formulaction (www.formulaction.com) exhibited its Rheolaser noncontact rheology measurement instruments that use diffusing wave spectroscopy to evaluate viscoelastic properties. The laser-based instruments use multiple light-scattering techniques to measure the nanometer-scale motion of the sample constituents due to thermal energy and deduce rheological properties from this motion. The Rheoloaser Lab is used to analyze the microrheology of soft materials such as emulsions, suspensions, and foams, and the Rheolaser Horus is used to characterize film-forming products such as coatings. Microrheology characterizes the structure and properties of a material at the micron scale. The company also showcased its Turbiscan® Lab instrument, designed to characterize concentrated dispersions, using the principle of multiple light scattering. The instrument is said to be ideally suited to studying the effects of various ingredients and processes on the stability of dairy products, particularly in the formulation of supplemented milk products, which may be difficult to stabilize during storage.
by Neil H. Mermelstein, a Fellow of IFT, Editor Emeritus of Food Technology magazine [email protected]