New ingredient introductions, research updates on nutritional benefits of ingredients, and novel ingredient applications—there was much to learn about at the 2010 IFT Food Expo in Chicago. Here is a brief rundown on some of the highlights.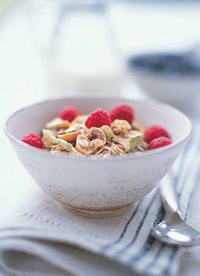 Fiber
MGP Ingredients, Atchison, Kan. (phone 866-547-2122, www.mgpingredients.com), showcased Fibersym® RW resistant starch, which increases dietary fiber levels while reducing the caloric content of foods. International Fiber Corp., North Tonawanda, N.Y. (phone 716-693-4040, www.ifcfiber.com), included its Solka-Floc 900 FCC powdered cellulose, which was used in a high-fiber hot dog.
Cargill Inc., Wayzata, Minn. (phone 952-742-9246, www.cargill.com/food), sampled a granola bar with heart-health benefits, featuring Barliv™ barley betafiber and Clear Valley® omega-3 oil. A pureed soup with digestive health benefits contained Oliggo-Fiber® inulin.
Direct Expanded Oat Hoops cereal was an "excellent source of fiber" thanks to pea fiber from SunOpta Ingredients Group, Chelmsford, Mass. (phone 781-276-5141, www.sunopta.com/ingredients). Barley Balance™ beta-glucan concentrate provided 0.75 g of beta-glucan/ 8-ounce serving in a Heart-healthy Mocha Drink.
PROMITOR soluble corn fiber from Tate & Lyle, Decatur, Ill. (phone 217-423-4411, www.tateandlyle.com), was used in a blueberry-and-acerola–flavored juice (5 g of fiber/serving), four-cheese pesto pizza, and a Mediterranean pizza.
An oatmeal-raisin cookie and chocolate milk both contained Frutalose® sweet chicory root fiber from Sensus America Inc., Lawrenceville, N.J. (phone 646-452-6143, www.sensus.us). It provides 65% sweetness of sugar, 75% dietary fiber, supports weight management, enhances satiety, and has high solubility.
--- PAGE BREAK ---
Archer Daniels Midland Co., Decatur, Ill. (phone 217-424-5200, www.adm.com), and Matsutani LLC, Itasca, Ill. (phone 217-451-4377, www.fibersol2.com), the joint venture which supports the sales and marketing of Fibersol®-2 soluble dietary fiber, offered a fiber-enriched ice cream sandwich frozen novelty. Both the chocolate drop for the cookie and the ice cream were formulated with 10% of Fibersol-2. The final product contained 5 g of dietary fiber/55 g of ice cream sandwich.
High-fiber fruit smoothies, pizza, and snack chips were fortified with TruBran® oat fiber and Sterling Choice® flaxseed products from Grain Processing Corp., Muscatine, Iowa (phone 563-264-4265, www.grainprocessing.com). GPC announced a strategic alliance with ENRECO Inc. of Sheboygan Falls, Wis., which offers Sterling Choice flaxseed products with the benefit of alpha-linolenic acid (ALA).
National Starch Food Innovation, Bridgewater, N.J. (phone 908-685-5555, www.foodinnovation.com), announced that it published a new position paper on the satiety benefits of Hi-maize® resistant starch and Hi-maize wholegrain corn flour. Published studies on both ingredients suggest that they may be ideal for weight management. The company also presented a whole-grain savory cornbread and a fritter made with Hi-maize 260 resistant starch and Hi-maize whole-grain flour. A meatball dish with Cuban Espresso Sauce and a Chilled Sweet Pea Soup with Mascarpone Mint Gelato featured NUTRIOSE® FM-06 for fiber enrichment.
BENEO-Orafti, BENEOPalatinit and BENEO-Remy business units now conduct business under BENEO Inc., Morris Plains, N.J. (phone 973-539-6644, www.beneo.com), in North America. The company's ingredients are naturally derived from chicory root (Orafti® inulin and oligofructose active prebiotic fibers), sugar beet [Palatinose™ (isomaltulose) and ISOMALT], and rice (Nutriz rice concentrate). At its booth, fiber-enriched granola clusters were made with Orafti L90 oligofructose fiber syrup. Glutenfree cookies were made with Remyflo whole-grain brown rice flour and Orafti L90 oligofructose. A fruit-blend energy beverage featured Palatinose and a creamy nondairy beverage showcased Nutriz.
Proteins
A variety of protein ingredients, from soy to gelatin, were presented at the IFT Food Expo. For example, MGP Ingredients, featured Wheatex® textured wheat proteins in steak and cheese taquitos. BioExx Specialty Proteins, Toronto, Ontario, Canada (phone 416-588-4442, www.bioexx.com), featured a canola protein isolate, Isolexx™. PB Leiner, Plainview, N.Y. (phone 516-822-4040, www.gelatin.com), featured Solugel collagen hydrolysate, and Grande Custom Ingredients Group, Lomira, Wis. (phone 920-269-7188, www.grandecig.com), showcased Grande BRAVO® functional whey proteins and WPCrisp® whey protein crisps.
Dairy proteins were highlighted in several prototypes at the booth for USDEC/Dairy Management Inc., Rosemont, Ill. (phone 717-704-1050, www.innovatewithdairy.com). The company offered a Honey Lavender Soothie that blended the natural flavors of honey and lavender with milk for a soothing, warm, nutritious high-protein beverage. One serving contained 12 g of protein and 30% of the Daily Value (DV) of calcium and vitamin D. Breakfast Bites were a high-protein, lower-sodium bite-size breakfast item. Protein-fortified dough and cheese contributed to the 21 g of protein and 25% DV of calcium in every serving.
--- PAGE BREAK ---
Solbar Industries Ltd., Israel (phone 847-459-1400, www.solbar.com), launched calciumfortified isolated soy protein, Solpro 735, which has a calcium level of 3% and protein level of 80%. It is ideal for dry beverage blends and other powdered drinks to be reconstituted with water and/or juice prior to consumption.
In other news, Ajinomoto AminoScience LLC, Raleigh, N.C. (phone 800-682-0982, www.ajiaminoscience.com), announced that it has confirmed GRAS status of its AjiGRAS-Leucine. It is the first amino acid to be allowed as an ingredient for use in conventional foods like non-milk and milk-based meal replacements, sports and isotonic beverages, vitamin-enhanced waters, and meal replacement bars, at levels of 0.5 g–3 g/serving.
Functional Oils
New oil introductions were plentiful this year. Cargill introduced Clear Valley® omega-3 oil, an exclusive canola/flaxseed oil blend that contains up to 30% ALA omega-3 and provides a minimum of 160 mg of ALA in most applications.
Dow AgroSciences LLC, Indianapolis, Ind. (phone 800-678-2388, www.omega9oils.com), launched Omega-9 Oils Ingredient Solutions, derived from the same Omega-9 Canola Oil used by the foodservice industry. Weaver Popcorn Company Inc., Noblesville, Ind., which produces more than 30% of the world's popcorn, switched to using Omega-9 Canola Oil, resulting in an increased amount of monounsaturated and polyunsaturated fats and decreased amount of saturated and trans fats.
Pioneer, a DuPont business, Johnston, Iowa (phone 800-247-6803, www.plenish.com), featured Plenish™ high oleic soybean oil, which boasts an oleic acid content of more than 75%. It has 20% less saturated fat than commodity soy oil, 75% less than palm oil, and a linolenic content of less than 3% for greater oil stability.
Solae LLC, St. Louis, Mo. (phone 800-325-7108, www.soymega.com), introduced its new omega-3 SDA soybean oil, Soymega™. Stearidonic acid (SDA) converts to EPA in the body, therefore providing a heart-healthy plant-based source of omega-3s. The oil contains 20% SDA in mixed triglyceride form.
Bunge Oils, St. Louis, Mo. (phone 800-828-0800, www.bungenorthamerica.com), received the 2010 IFT Innovation Award for its PhytoBake shortening. The proprietary vegetable-based plastic shortening is designed to allow for replacement of traditional shortening saturates with phytosterols. The phytosterols provide structure as well as nutritional benefits.
--- PAGE BREAK ---
Weight Management
The Corn Refiners Association (CRA), Washington, D.C. (phone 202-331-1634, www.corn.org), highlighted two new abstracts that showed no difference between table sugar and high fructose corn syrup on weight gain or any changes in risk factors for metabolic syndrome or insulin resistance. The research was conducted at the Rippe Lifestyle Institute and the University of Central Florida. In addition to the abstracts, CRA also announced the launch of a new website, www.CornNaturally.com, to support manufacturers facing decisions about which sweeteners to utilize.
Cognis formulated a Bodyshaping Strawberry Slim Shake and a 7th Inning Stretch Chocolate Frozen Yogurt with Tonalin® conjugated linoleic acid (CLA), which is derived from safflowers. A recent study showed that Tonalin CLA improved airway hyper-reactivity in overweight mild asthmatics accompanied by a significant improvement in their tolerance for strenuous exercise. Adults taking CLA also reduced their body weight and BMI by 2 kg and 0.5 kg/m2 over time.
Caravan Ingredients, Lenexa, Kan. (phone 800-669-4092, www.caravaningredients.com), featured a premix that addresses satiety. Nutrivan™ WM 1050 premix is designed to help manage weight by controlling hunger and providing a feeling of fullness. It featured oat beta glucan, fiber, whey protein concentrate, green tea extract, and Slendesta potato protein extract.
Morinaga Nutritional Foods Inc., Torrance, Calif. (phone 310-787-0200, www.morinu/pnf.com), introduced a new ingredient that enables the food industry to produce reduced-fat foods, including desserts. Soy Puree is a creamy, yogurt-like, nondairy ingredient used in many different food products as an alternative to dairy milk, cream, cheese, butter, fats, oils, and eggs. Low-calorie and low-fat, the ingredient contains isoflavones, but no cholesterol and no trans fat.
Omega-3 Fatty Acids
New research and new ingredient applications and offerings showed the staying power of omega-3 fatty acids. Martek Biosciences, Columbia, Md. (phone 410-740-0081, www.martek.com), discussed two recent docosahexaenoic acid (DHA) studies and the commercialization of its new algal eicosapentaenoic acid (EPA). The Memory Improvement with Docosahexaenoic Acid Study showed that algal DHA improved memory function in healthy aging adults, providing a benefit roughly equivalent to having the learning and memory skills of someone three years younger. The other study showed a benefit from taking DHA after getting a concussion. At its booth, Martek served blueberry muffins formulated with 32 mg of life's DHA.
The Omevital™ omega-3 ingredients portfolio from Cognis Nutrition & Health, LaGrange, Ill. (phone 708-579-6150, www.cognis.com), was featured in Heart- Healthy, Savory Cheese Pizza and Home Run Baseball Cookies. These also contained Heart Choice® plant sterols.
--- PAGE BREAK ---
Hormel Foods Specialty Products Division, Austin, Minn. (phone 507-434-6639, www.hormelingredients.com), introduced its new ETERNA™ OMEGASOURCE™ omega-3 EPA/DHA and vitamin D combination. Ocean Nutrition Canada, Dartmouth, Nova Scotia, Canada (phone 902-488-0141, www.oceannutrition.com), highlighted its dry application omega-3 powder, MEG-3™.
Antioxidants
CREAGRI Inc., Hayward, Calif. (510-732-6478, www.creagri.com), introduced a new hydroxytyrosol formulation, HIDROX® 12%, the latest addition to the company's line of natural and organic olive polyphenolic ingredients. The trademarked hydroxytyrosol formulation is a polyphenol scientifically recognized for its antioxidant properties and efficacy in heart and joint health. HIDROX 12% is a clean and soluble product, compatible with a number of foods and beverages, including clear water and juices.
OmniActive Health Technologies, Short Hills, N.J. (phone 866-588-3629, www.omniactives.com), showcased its newly launched Lutemax® 2020, which provides enhanced levels of zeaxanthin isomers, along with lutein, for convenient and more beneficial nutrient availability to the eyes. In April 2010, the company announced it had successfully achieved self-determined GRAS status for its free lutein and lutein esters.
Beverage prototypes featured a variety of antioxidants from DSM Nutritional Products, Parsippany, N.Y. (phone 800-526-0189, www.unlimitednutrition-na.dsm.com). A blueberry-pomegranate beverage contained one of DSM's signature Beauty Blends AgeWell ingredients. The vitamins and carotenoids in AgeWell help support skin structure and skin cell metabolism. The premix also includes All-Q® Coenzyme Q10 and resVida® Resveratrol, two antioxidants said to have emerging skin health benefits. Xcel visual performance beverage contained FloraGLO® Lutein and OPTISHARP® Zeaxanthin to help enhance visual function and B vitamins to aid in energy metabolism.
Immunity
Many exhibitors highlighted novel applications for immunity-enhancing ingredients. Probiotic yogurt-covered raisins were available from Ganeden Biotech, Mayfield Heights, Ohio (phone 440-229-5200, www.ganedenlabs.com). The maker of the patented probiotic strain GanedenBC30® announced the launch of a new partnership with Tropical Nut & Fruit Inc., a manufacturer of nuts, snacks, chocolate, and yogurt products. The new partnership includes a series of four functional confection mixes that will incorporate GanedenBC30.
Biothera, the Immune Health Co., Eagan, Minn. (phone 651-675-0300, www.wellmune.com), announced that its immune health enhancer, Wellmune WGP® was recently added to the Dr. Sears Family Essentials™ line of Immune Plus Fruit Chews. Wellmune WGP strengthens innate immune cells to more quickly find and kill foreign challenges and enhances the immune system to protect against the harmful effects of physical or lifestyle stress.
--- PAGE BREAK ---
Wild Berry Chew and Mentholated Hard Candy featured EpiCor from Embria Health Sciences, Ankeny, Iowa (phone 877-362-7421, www.embriahealth.com). The hard candy provided 125 mg of EpiCor/serving and the chew provided 250 mg of EpiCor/ serving. The ingredient is a dried complex fermentation product derived from a proprietary process consisting of Saccharomyces cerevisiae and the beneficial metabolites produced during the manufacturing process. Studies indicate that EpiCor can help support a healthy, balanced immune system.
Energy and Recovery
Bioenergy Life Science Inc., Minneapolis, Minn. (phone 763-757-0032, www.bioenergyribose.com), displayed three ribose-infused prototypes: Ribo Morning Toaster Fruit Tarts, Ribo Charger Creamer, and Gabe's Ribo Energy Gel Shots. Bioenergy RIBOSE  stimulates the synthesis of adenosine triphosphate, which is critical for maintaining energy-related functions.
InterHealth Nutraceuticals Inc., Benicia, Calif. (phone 707-751-2887, www.internealthusa.com), featured a Replenish & Recover Sport Drink with ZMA®, an anabolic mineral support formula containing highly bioavailable, patented zinc L-monomethionine (L-OptiZinc®), zinc/ magnesium aspartate, and vitamin B-6. Published research shows that ZMA increases key hormones, muscle strength, and muscle recovery.
Univar Food Ingredients, Redmond, Wash. (phone 425-889-3400, www.univarusa.com), featured a Black Cherry Recharge Energy Drink among three promotional prototypes created by its Food Ingredients team. The drink delivered a boost of vitamin B complex and featured natural green tea caffeine in an energizing thirst-quencher beverage.
BI Nutraceuticals, Long Beach, Calif. (phone 310-669-2101, www.binutraceuticals.com), offers more than 200 GRAS ingredients that can be used in a variety of functional food and beverage applications. It showcased Panax ginseng extract, which recently achieved self-affirmed GRAS. The botanical acts as a stimulant, making it an ideal ingredient for use in energy and sports drinks. The company created a GRAS ingredient reference database that segments its ingredient offerings into 12 condition-specific, functional platforms, allowing customers to locate specific ingredients the company offers to help manage a specific health concern.
Joint and Bone Health
Fortitech Inc., Schenectady, N.Y. (phone 518-372-5155, www.fortitech.com), showcased its custom premixes in a bone/joint health yogurt that included vitamin D-3, calcium, magnesium, and phosphorous. In addition to the yogurt, other prototypes included a children's snack mix that boosts cognitive function with choline, magnesium, and antioxidants, and a variety of dry powder stick-packs for mixing into beverages.
InterHealth Nutraceuticals Inc. and Innovative Food Processors Inc. announced a joint collaboration to co-develop and co-market a series of powdered beverage products. The first product concept is a joint health formulation called Triple Berry Tempo. The powder mix, which is delivered in easy-to-use, singleserve stick packets, contains InterHealth's UC-II® brand undenatured type II collagen.
--- PAGE BREAK ---
Watson Inc., West Haven, Conn. (phone 203-932-3000, www.watson-inc.com), offered two prototypes that showcased its expertise in microencapsulation, agglomeration, micronizing, spray drying, and film technology. Oh my Aching… Bar was a joint and bone health nutrition bar that contained one of the company's premixes. The Watson premix provided 10% DV calcium, magnesium, and vitamin K, as well as 50% DV for vitamin D when used at 1,750 mg of premix/ serving. In addition to these nutrients, the premix delivered 600 mg of glucosamine, 150 mg of chondroitin, 10 mg of methylsulfonymethane, and 40 mg of undenatured type-II collagen. Dr. Bones Ice Cream contained a premix that provided 35% DV for calcium, 50% DV for vitamin D, 30% DV for phosphorus, 25% DV for magnesium, and 2% DV for iron.
ICL Performance Products, St. Louis, Mo. (phone 800-244-6169, www.icl-perfproductslp.com), featured a chocolate chip muffin that used both ICL's zero-sodium and calcium-rich Levona leavening agent and Cal-Sistent® micronized tricalcium phosphate for calcium fortification. With a calcium content of 38%, Cal-Sistent delivers calcium-to-phosphorus ratios equivalent to those found in human bones.
PL Thomas & Co. Inc., Morristown, N.J. (phone 973-984-0900, www.plthomas.com), targeted bone health with several prototypes. Yuzu Citrus Glaze contained vitamin K-2 and MegaNatural BP grapeseed extract for both bone and heart health. An Ancient Grain Garbanzo Salad with Yogurt Tahini Dressing consisted of a chickpea and grain mix (faro, spelt, Kamut, and brown and wild rice), which contained DHA, vitamin D-3, vitamin K-2, and lycopene. Other prototypes showcased the company's antioxidants and omega delivery system. Gluten-free Chia Seed Rosemary Baguette featured Chia Max and Hytolive oil extract.
Nuts
The Almond Board of California, Modesto, Calif. (phone 209-549-8262, www.almondboard.com), demonstrated how almonds can boost the flavor, nutrition profile, and success of products. In one scientific session, a panel highlighted a range of health benefits from eating nuts, which have free-radical scavenging, anticarcinogenic, cholesterol-lowering, and cardioprotective abilities. Blue Diamond Growers, Sacramento, Calif. (phone 916-442-0771, www.bluediamond.com/industrial), the world's largest processor and marketer of almonds for industrial and retail customers, also highlighted almonds' benefits as well as its industrial product offerings, which include in-shell, brown, and manufactured almonds for the  ood industry.
California Walnut Board, Folsom, Calif. (phone 916-932-7070, www.walnuts.org), had Chocolate Fleur de Sel Spiced Walnuts available daily. Other culinary walnut creations included a Spanish Style Walnut Romesco Sauce over Tortellini. The nutritional benefits of walnuts, particularly their antioxidant and ALA content, were highlighted. A scientific summary was handed out focusing on more than 15 years of research that explored the benefits of walnut's nutritional profile.
by Linda Milo Ohr, Contributing Editor, Food Technology magazine ([email protected]).