New directions for dairy? Quite possibly. And that's not just mooing in the wind when you consider some of the following signs that—like cream—are rising to the surface.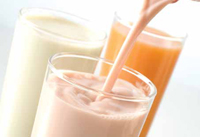 A white paper, released by the Innovation Center for U.S. Dairy, recommended that the dairy industry steps up its efforts to create snack products that go beyond what are available today, identifying several key marketing segments for dairy-based ingredients. The paper, "Snacking: Identifying a World of Opportunities for Dairy," noted that products containing dairy currently account for only 13% of all between-meal snack choices, and that, of course, means a lot of unexplored territory for dairy.
Some possible developments of things to come were created by U.S. Dairy Export Council (USDEC), Rosemont, Ill. (phone 717-704-1050, www.InnovateWithDairy.com). These prototypes, highlighted at the 2010 IFT Food Expo, included a Protein Chiller (a novel on-a-stick frozen snack that contains whole milk, milk protein concentrate, and whey protein isolate); Breakfast Bites (a bite-sized breakfast or snack item that is protein-packed and lower in sodium); and Coconut Cream Tartlet (a treat with cream pie filling served in a buttery pie shell).
According to a new marketing research report from Zenith International, a food and drink consultancy, the international market for dairy snacks grew by 7% in 2009 and is predicted to rise by 6% in 2010. "The market for dairy products, such as cheese strings and yogurt tubes, is now an important sector within both the dairy market and the wider market for snacks, with demand being driven by health and convenience," observed the Dairy Snacks 2010 Report. It further estimated total dairy snack volume would reach 217,000 tons in 2010 across 26 countries in North America, Latin America, West Europe, East Europe, Africa, the Middle East, and Asia Pacific. (The United States accounted for almost two-thirds of the total dairy snack volume in 2009.) Growth is expected to continue, reaching over 260,000 tons by 2014.
Major manufacturers are also gauging the potential significance of dairy. For example, PepsiCo may become one of these key players in the development of new dairy snacks. The company recently announced that it will acquire Russia-based Wimm-Bill-Dann Foods, a leader in both traditional and value-added dairy products, giving the U.S. company what it describes as "a strong, high-growth platform in the dairy category." Indra Nooyi, PepsiCo's Chairman and Chief Executive Officer, stated, "Dairy has a huge untapped potential to bridge snacks and beverages. We see the emerging opportunity to 'snackify' beverages and 'drinkify' snacks as the next frontier in food and beverage convenience."
An expert panel created by The Dairy Council in the United Kingdom recently encouraged the dairy industry to also increase its efforts to develop more milk-based drinks that appeal especially to young people. My blog, IngredienTalk, recently looked at some of the different—and innovative—strategies or approaches that can be used to create new milk-based drinks for kids as well as other marketing segments. See the blog post, "Got New Milk?," below.
--- PAGE BREAK ---
Dairy ingredients can fit into a wide array of products, ranging from the more traditional to the less so. Hillshire Farms recently launched its CheddarWurst Smoked Sausage, combining real Wisconsin cheddar cheese, natural spices, and quality cuts of meat. The "wurst" scenario here? The use of a dairy ingredient helped to add variety to the traditional smoked sausage flavor and create new opportunities for the product as an addition to a pasta dish, as a topping for a pizza, or as an accompaniment for grilled vegetables for a fresh take on the traditional kabob. An Australian pizza chef, Theo Kalogeracos, has created a variety of somewhat unorthodox pizza recipes including Smashing Pumpkin with Goat's Cheese made with roasted pumpkin, mozzarella, goat's cheese, parmesan cheese, parsley, cashews, and white cream sauce—all on a pizza dough base.
Of course, the development of new products such as these sometimes requires a little bit of thinking outside of the box. And the formation of the Dairy Research Institute in 2010 may stimulate that kind of thinking, helping food and beverage manufacturers discover new ways to make use of dairy ingredients in their formulations. The institute, which reportedly provides a forum for industry to identify major research needs to support dairy industry innovation and grow dairy sales, marks another step in the dairy industry's efforts to accelerate innovation and increase future demand for dairy. It brings together leadership from across the dairy industry, scientific community, academics, government, and other organizations to plan and fund leading-edge dairy research in three key priority areas—nutrition science, product development, and sustainability.
This article will look at some of the directions that dairy ingredients and flavor are taking today. These new—and expanding—directions are being shaped by dairy's ability to contribute improved taste, functionality, and nutritional benefits to a formulation. And because of these valuable attributes, the use of dairy ingredients can help overcome many of today's formulating challenges without compromising the overall quality of the product.
Over the next pages, we'll be seeing a number of prototypes that will demonstrate dairy's potential. These will include a high-protein caramel, a cheese-flavored ice cream, a reduced-sodium croquet-monsieur sandwich, a pizza-flavored cheese dip for vegetables, Greek yogurt sauces, and dairy beverages for muscle recovery. Some of these may reach the marketplace someday. Some may not.
But they do suggest what is possible for dairy. And, as I noted earlier, that is not just mooing in the wind.
Going Beyond the Cheese Sandwich
A croquet-monsieur sandwich is a French grilled ham and cheese sandwich, covered in a sauce or topped with grated cheese. There are many different variations on this particular sandwich—McDonald's supposedly has a Croque McDo at its locations in France.
Now imagine the possibilities of such a sandwich made with reduced-sodium cheese. To demonstrate its line of reduced-sodium cheeses, Sargento Foods Inc., Plymouth, Wis. (phone 920-892-3541, www.sargentofoodingredients.com), partnered with culinary expert and registered dietitian, Michelle Dudash, to create several recipes, including a West Coast Croque Monsieur, that are less than 600 milligrams of sodium per serving. This formulation contains one slice of Sargento Sliced Reduced Sodium Provolone Cheese, two slices of lower-sodium whole-grain bread, two slices of lower-sodium natural deli turkey, light mayonnaise, baby spinach, tomato, avocado, and ground black pepper.
--- PAGE BREAK ---
"As a registered dietitian, I know that taste and convenience are key to helping people make long-term nutritional improvements in their diet," said Dudash. "Sargento Reduced Sodium Natural Cheeses can help Americans achieve this goal while still enjoying the goodness of great-tasting cheese." Dudash also pointed out that these cheeses are suitable for other dishes including Twice Baked Sweet Potatoes, Green Beans with Cheddar and Crispy Shallots, Roasted Chicken and Cherry Salad, and Golden Cheese Sticks with Marina Sauce.
Following a year-long development project, Sargento recently rolled out its line of reduced-sodium natural cheeses. The products—which are said to have 25% less sodium than traditional cheeses while maintaining excellent flavor and texture characteristics—were made with a special cheese-making process that does not use salt replacers or flavor-masking ingredients. Sargento Reduced Sodium Natural Cheeses are available in several varieties—Mild Cheddar Shredded Cheese, Mozzarella Shredded Cheese, Colby-Jack Slices, Provolone Slices, Colby Jack snacks, and String Cheese snacks. Depending on the variety, the natural cheeses contain between 90-140 milligrams of sodium per serving, helping Americans to meet current dietary guidelines.
Mac 'N Cheese Ice Cream?
Like traditional macaroni and cheese, this product is creamy, has a cheesy flavor, and the right-textured noodles. Only it belongs in the freezer and not anywhere near the oven. That's because this version is actually an ice cream that delivers the taste of (you guessed it) macaroni and cheese.
Featured at the 2010 International Dairy Show, this prototype from Pecan Deluxe Candy Co., Dallas, Tex. (phone 214-631-3669, www.pecandeluxe.com), demonstrates some of the nontraditional directions that new ice cream flavors can take. For some, the idea of a mac 'n cheese ice cream may lead more to the "churning" of stomachs than the churning of ice creams. On the other hand, for those who love macaroni and cheese (or other such cheesy items), this particular concept may not be so outlandish after all.
According to the company, the cheese-flavored ice cream is blended with real macaroni noodles that offer the right texture for this particular formulation. Furthermore, served in its frozen format, the product is described as creamy with a cheesy flavor.
Interestingly, (while the use of pasta in ice cream may be an original), this is not the first time that cheese has been used in the formulation of ice cream. According to Datamonitor, Nestle's Double Cheese Ice Cream was recently launched in the Philippines. While some cheese-based ice creams have previously been reported in Southeast Asia, this product, made by Nestle Philippines, uses whole cheese pieces in its recipe, giving it that "double cheese" flavor.
But let's get back to the states. In addition to its macaroni and cheese ice cream, Pecan Deluxe Candy Co. also developed other prototype creations that suggest that this company is no stranger to unconventional ideas. One was a guacamole ice cream (made with real avocados), served on a tortilla chip topped with sour cream, cheese, and salsa. Sweeter examples included a buttery ice cream blended with pancake pieces and swirls of maple syrup and a tea ice cream blended with sugar-coated cookies and swirls of caramel.
So I guess there's only question remaining: Can that mac 'n cheese ice cream be topped with chili?
--- PAGE BREAK ---
Gastronomic Adventures of Greek Yogurt
Greek yogurt can be enjoyed by itself or as an ingredient, adding body to the formulation while using less fat. With the whey removed, Greek yogurt has a consistency somewhere between that of cheese and typical yogurt. It's generally used in Greek cooking as a base for dip, and paired with sweet toppings for dessert. But it also lends itself well to a variety of cuisines, ranging from American to Mediterranean, Middle Eastern, Asian, Indian, and even Mexican. A variety of flavors from Comax Flavors, Melville, N.Y. (phone 631-249-0505, www.comaxflavors.com), may help further broaden the use of Greek yogurt as an ingredient in sweet and savory dishes.
"Greek yogurts make a wonderful base from which to create rich sauces without adding the fat otherwise needed to attain the same qualities," said Gladys Slovis, the company's Applications Lab Manager. "With flavors such as Cucumber Dill, Curry, Garlic Ginger, and Chili Spice, these sauces can complement meat or fish, or take on a leading role as exotic dips for chips and vegetables. Naturally, when formulating products using Greek yogurt, one must take into consideration that the product may need a heightened intensity of flavor as compared to regular yogurts that are thinner in texture and lighter in mouthfeel."
For sweeter applications such as desserts, Greek yogurt offers a satisfying richness and silky mouthfeel. According to Slovis, it can be paired with tempting flavors such as Purple Plum, Cinnamon Bun, Cherry Black Currant, and Baklava. "It's well within our powers to develop any number of concepts—the sky's the limit," she noted. "Picture cheesecake and key lime pie, for example."
Dairy and a Peppery Future
According to the McCormick Flavor Forecast 2011, released by McCormick & Co., Hunt Valley, Md. (phone 410-527-9753, www.mccormick.com), goat's milk and green peppercorns is one of the top 10 flavor pairings to watch out for this year.
With a tart acidity, silky goat's milk brings excitement to the dairy department, notes the forecast. A tasty alternative to cow's milk, it may be used in the creation of goat's cheese (also known as chevre), as well as yogurt, butter, and ice cream. The pairing of goat's milk with vibrant green peppercorns (unripe berries which have a milder bite) can bring out such descriptors as "creamy," "tangy," and "piquant."
"I love the acidity of the milk playing with the floral ting of the green peppercorns," said Chef Richard Blais, Trail Blais/Flip Burger Boutique, Atlanta, Georgia. "It's kind of highbrow and intellectual, in an interesting way."
The interplay of tastes, textures, and visual cues adds fun and excitement to the basic pleasures of eating. Together, goat's milk and green peppercorns can provide examples of "craveable contrasts" to a number of food formulations. For example, an eye-catching cheese spread (Green Peppercorn Crusted Goat Cheese) can be created using soft goat cheese and soft green peppercorns drizzled with extra virgin olive oil. This cheese spread provides a contrast of creamy, tangy, gentle heat and light crunch. Breakfast can get a wake-up call by this modern take on baked eggs (Baked Eggs with Goat Cheese and Green Peppercorns). In this egg dish, spinach is replaced with Swiss chard, crushed green peppercorns add bite, and tangy goat cheese is used as a sprinkle. A lively (and colorful) cheese snack or appetizer (Green Peppercorn and Goat Cheese Wafers) can take advantage of the taste of goat cheese, available in the more common soft, fresh, and creamy form, as well as firmer aged varieties such as Gouda, which can be grated. Goat cheese has become a popular topping for tossed salads on restaurant menus, but it can also be used in the creation of creamy dressings with the added bite from crushed green peppercorns. Even a colorful—if not so traditional—muffin can be formulated using a combination of goat cheese and peppercorns.
--- PAGE BREAK ---
As suggested by this pairing, dairy seems to be having a more peppery future, in general. For example, cheese varieties made with jalapeno and chipotle are popular in the marketplace. Even novelty ice cream prototypes sometimes feature pepper sauces of different heat levels. And although I haven't seen any "peppery" yogurts yet, who knows what's in store, especially as yogurt flavors keep escalating.
A Slice of Cheese Dip
A layered cheese dip with the taste of pizza may help entice children, teenagers, and adults to eat their vegetables. The formulation, Cheesy Dip for Veggies, was developed by Dairy Products Technology Center at Polytechnic State University, and was one of the prototypes highlighted by U.S. Dairy Export Council (USDEC), Rosemont, Ill. (phone 717-704-1050, www.InnovateWithDairy.com), at the 2010 IFT Annual Meeting and Food Expo.
The dip consists of Neufchatel cheese, garlic powder, and parsley flakes. This layer is then covered with a veggie pizza sauce and topped with mozzarella and Parmesan cheeses. Warm or cold, this fun dip can be served with raw vegetables such as carrots and celery and can provide a nutritious and convenient snacking option. Cheese flavor and functionality can be tailored to specific applications, including reduced-fat and low-sodium options.
Increasing Protein Levels in Caramel
High-protein caramel for nutrition and energy bar manufacturers has been developed by Fonterra (USA) Inc., Chicago, Ill. (phone 847-928-1869, www.fonterra-northamerica.com), in partnership with Oringer, a division of Concord Foods Inc. The caramel reportedly provides a 10% protein level without compromising the taste and texture of a traditional caramel.
In the past, it was a challenge to find caramels that combine high protein levels with a desirable flavor and texture. The new product, High Protein Caramel, allows bar manufacturers to increase protein levels without sacrificing those qualities that consumers demand. It is extremely versatile and can be used for layering, for binding, or as a filling in nutrition and energy bars. The easy-to-use caramel is applicable for all manufacturing processes.
The caramel uses Fonterra's line of dairy proteins specifically developed for use in bars and snack foods. PowerProtein™, as the line is called, combines the nutritional advantages of high-quality dairy protein with functionality, texture, and flavor properties.
Increasing Flavor Impact in Crackers
A three-cheese cracker prototype from Cargill, Wayzata, Minn. (phone 952-742-9246, www.cargill.com), features a lively combination of cheddar, Romano, and Parmesan cheese flavors. The prototype, highlighted at IBIE 2010, is made with natural dairy flavor ingredients that provide an authentic cheese flavor without adversely affecting the structure and mouthfeel of the cracker.
According to Cargill, there are growing opportunities for developing more intensely flavored bakery and snack products. The natural dairy flavor ingredients used in the formulation offer a number of benefits—they increase the authentic aged notes of popular cheese flavors, they do not impact the structural integrity of the cracker, and they can be used as building blocks to create customized dairy profiles. And because they feature all-natural flavor ingredients, they allow customers to make the claim "made with real cheese" on the label.
--- PAGE BREAK ---
Whey Beverages for All Markets
Whey proteins, because of their nutritional and functionality benefits, are finding use in beverages for all ages, according to Gwen Bargetzi, Director of Marketing for Hilmar Ingredients, Hilmar, Calif. (phone 209-667-6076, www.hilmaringredients.com). The company has developed a number of beverage prototypes that reflect the expanding use of its dairy ingredients.
For example, the company just completed a commercial manufacturing run for six beverage formulations based on its whey proteins. One of these beverages, a raspberry clear sport drink, incorporates its newest whey protein isolate designed specifically for acidic beverages and their fragile flavor balance. Beverages athletes consume are being made more palatable by new types of whey proteins. In particular, because many sports drinks can be acidic, whey proteins created for low pH environments can really improve beverage flavor profiles.
Whey proteins can play an important role in the beverages kids need to grow into healthy adults. A prototype orange juice fortified with whey protein can provide the same amount of calcium and protein as a glass of milk. The fortified orange juice makes for a great start to an active day and provides the foundation of good bone health. Whey proteins remain soluble and stable across the pH range, and may be used in beverages with pH levels as low as 2.5. Hilmar whey proteins incorporate easily into a wide range of ingredient systems, flavors, and processing/pasteurization methods.
Whey proteins are also proving key in the toddler stage of kids' development, and the company developed a dairy beverage concept based on whey protein concentrate. The beverage delivers nutrition within an economic formula and is suitable for locations that have limited refrigeration and supply infrastructure. And for infant formula, there's expanding insight into how different types of whey and other dairy ingredients can be used to make bottle feeding better for baby. Hilmar is working on reduced-allergenicity whey protein hydrolysates and alpha-lactalbumin-enhanced whey protein concentrates, in particular, to offer new infant formula possibilities.
At the other end of the spectrum are whey beverages designed for the older adult who consumes smaller volumes and has a less efficient metabolism. Made with high-quality, complete proteins, these beverages help ensure they meet energy and nutrient requirements. Successful beverages for this market also need to be highly flavored, and Hilmar developed a prototype Chai-flavored protein shake using one of its whey protein hydrolysates for its absorbable nutrition and its ability to boost flavors such as Chai or chocolate.
Many wellness beverages, such as protein-fortified waters, have been driven by innovations in whey protein. These waters, made possible by high-clarity whey protein isolates, provide hydration and protein fuel to get over the hunger slump. Another wellness option is a whey-soy shake prototype developed by Hilmar. This formula is tuned to women's nutrition, providing the benefits of soy and whey protein concentrate, along with calcium and vitamin E.
Saying Cheese…Cake in Different Languages
When you think of cheesecake, you naturally think of the color white, which of course is appropriate considering the dairy-based ingredients that this formulation uses. I mean a cheesecake of a darker color (no, we're not talking about chocolate) would be a little bit out of the ordinary.
--- PAGE BREAK ---
But, according to Datamonitor, a new cheesecake product in Japan is taking a totally different color route. Launched by Selene, Kishu Sumishoku Club Cheesecake reportedly contains an edible powder made from a type of charcoal called Binchotan, giving the dairy-based dessert a distinctive black color. And while this product (along with the previous mac 'n cheese ice cream), may not appeal to everyone's tastes, it does demonstrate some of the unconventional ways that dairy can be combined with other ingredients.
The McCormick Flavor Forecast 2011 described a cheesecake tart, its crust prepared with ground popped popcorn, sugar, and floral Herbes de Provence. Dairy ingredients in the formulation included cream cheese and mascarpone cheese. Mixed berries provided a topping.
Chocolate Pieces Add New Innovations
A method for making sterile chocolate pieces that can be mixed in with yogurt, ice cream, and other dairy products during the production process has been developed by Germany-based Herza Schokolade GmbH & Co. (phone +49 0 40/284 039-919), helping to preserve the shelf life of the finished product. These sterile and stable chocolate pieces are available in different shapes and sizes to further add distinctiveness in the marketplace.
"To encourage shoppers to keep buying their products, ice cream manufacturers are keen to make them look different," said Andreas Broocks, the company's Factory Manager. "For example, pieces of chocolate can be covered in a gold or silver coating. Or special effects can also be achieved with two-tone products, such as 'diamonds' where one side is made of light chocolate and the other side is of dark chocolate." Animal shapes can also be added to icecream or yogurt to make them more distinctive, added Broocks.
Boosting Dairy Flavor
A portfolio of natural flavor systems, DairyBoost™, can deliver premium dairy flavor to savory, sweet, bakery, and beverage applications. The dairy-based systems, developed by Sensient Flavors, Indianapolis, Ind. (phone 800-445-0073, www.sensientflavors.com), can impart the essential attributes of cheese, butter, cream, milk, sour cream, and cream cheese.
At the IFT Food Expo, a Peaches & Cream Muffin featured DairyBoost fresh cream flavor along with natural peach pectin pieces. The flavor is bake stable and features a true dairy character, creamy mouthfeel, and a natural richness. Other bakery applications may include crackers, biscuits, cookies and cereal bars.
In savory applications, such as sauces, soups, and dry seasonings, flavors from the portfolio deliver authentic taste without common off notes associated with harsh processing conditions.
In beverages, DairyBoost flavors provide excellent dairy aroma and a creamy mouthfeel for smoothies and creamers. For lower pH beverages, they give stable delivery of premium dairy flavor.
--- PAGE BREAK ---
Dairy-Based Flavor Enhancer Reduces Sodium
A new dairy-based flavor enhancer from Dairiconcepts, Springfield, Mo. (phone 417-829-2400, www.dairiconcepts.com), can amplify the perception of salt and other savory components in a broad range of applications, including soups, sauces, dips, meal kits, savory snacks, and crackers. The company claims that the ingredient, Ascentra™, is capable of reducing sodium content by up to 50% while enhancing existing savory flavors, yielding a richer, more rounded flavor than is available through traditional all-salt formulations.
Made from a proprietary, whole-milk-based fermentation process, the sodium-reducing flavor enhancer produces rich savory notes that enhance umami effects and meat, cheese, and vegetable flavors. It is very rich in potassium, and contains no monosodium glutamate, hydrolyzed vegetable protein or yeast extract. The ingredient, available on maltodextrin or nonfat dry milk carriers, has kosher and European Union certification.
Providing Clarity for Protein Beverages
A new whey protein isolate from Grande Custom Ingredients Group, Lomira, Wis. (phone 920-269-7188, www.grandecig.com), is designed for beverage applications requiring complete product clarity and a clean flavor. The ingredient, Grande Ultra®, is produced using processes that can help create a product with lower astringency, a neutral flavor, and clarity.
"Anything that can be done to reduce the astringency and improve the flavor of acidified protein beverages will boost consumer acceptance of these products," said Jeff Banes, the company's Applied Technology Manager. Because the new ingredient solution can help solve issues regarding astringency, flavor, and clarity, Banes maintains that its use in the beverage market can reach a broader customer base than the current protein shake market targeted at body builders. Furthermore, the new ingredient—a whey protein source with essential amino acids—is free of fat and lactose.
New Cheddar Directions
At the 2010 International Dairy Show, a number of new cheese formulations were highlighted by Fonterra (USA), Inc.,Chicago, Ill. (phone 847-928-1869, www.fonterra-northamerica.com). For example, Pepper Jack Processed Cheese features the company's new ingredient, Cheddarplus. The ingredient, which has a firm smooth body and bland, slightly lactic flavor, is manufactured specifically to ensure that there is no protein breakdown or flavor development during maturation. It retains the effectiveness of the natural milk proteins, delivering a superior functionality to traditional cheddar cheese.
The company also featured its Savory Cheddar Cheese, which has a semi-mature flavor profile and provides the functionality of traditional cheddar cheese. It has a firm cheddar body and includes 40% less salt.
Creamy Tastes for Savory Products
Sauces, dressings, and soup products can be made creamier with new natural cream flavors from Symrise, Teterboro, N.J. (phone 201-288-3200, www.symrise.com). The flavors were specifically created to replace high-calorie, costly cream in savory products while also adding processing advantages.
--- PAGE BREAK ---
According to Emmanuel Laroche, Vice President, Marketing and Sensory Consumer Science Department for Symrise, North America, products made with the cream flavors proved comparable to high-fat counterparts. "The taste of rich, creamy fat-laden products was successfully duplicated," he said. The flavors also supplement flavor loss in processing, providing good heat stability in baked, retort, and microwavable products.
Extending Innovation
This article has shown a number of ways that dairy ingredients and flavors are expanding into food and beverage formulations. And hopefully some of the prototypes covered in this article—whether they be a high-protein caramel or a pizza-flavored cheese sauce for vegetables—will stimulate further thinking and help manufacturers discover new ways to use dairy ingredients in a wide range of product applications.
Even in a tougher economy, several factors can provide an impetus for this expansion, providing that formulators are willing to recognize their significance, and at least in some cases be willing to take a more proactive position—thinking outside the box, if you will.
For example, next month's Ingredients section will be looking at formulating new breakfast foods, and dairy can play an important role in this ever-evolving category. The consumer's need for indulgence, especially when it is combined with the addressing of health concerns, can also help fuel the growing uses of dairy. And because dairy is a valuable protein, it can play an important role in the development of foods for people with diabetes.
Furthermore, new technologies are being developed that can improve the functionality of dairy ingredients or help overcome challenges previously associated with dairy. One possibility might be the use of whey protein nanoparticles which can improve the heat stability of whey and provide clarity for beverages.
What this article is really about though, what many of these prototypes really demonstrate at their core, is the extending of innovation—finding new and perhaps better ways to use dairy ingredients to overcome functionality challenges, to create better tastes and textures, and possibly to address certain health concerns.
Next month's Ingredients section will focus on the ever-evolving category of breakfast foods and the ingredients used to help jump-start your day—from both taste and nutritional perspectives.
---
IngredienTalk:
In recent years, there has been a decline in the popularity of traditional dairy products such as milk. How can milk be made more appealing especially to young people? My 31st blog will look at some innovative ways to create new products and stimulate thinking. If you care to milk some new concepts—and you're an IFT member—visit www.ift.org, type in your name and password, click on the IFT Community button, and go to the blog section. Your participation would be udderly cool.
Got New Milk?
An expert panel created by The Dairy Council in the United Kingdom recently encouraged the dairy industry to increase its efforts to develop more milk-based drinks that appeal especially to young people. The panel, which consisted of health and nutrition experts from around the world, suggested that the dairy industry be more innovative in the creation of these new products.
--- PAGE BREAK ---
Such a message, of course, has relevance for not only consumers in the United Kingdom but the global market as well, and it got me thinking what would some of these new milk-based drinks be like, and how would they be made more appealing compared to more traditional dairy products. Furthermore, because of the potential nutritional and taste value they offer, they could be designed not only with kids in mind but for all marketing segments ranging from athletes to older adults. As such, perhaps the emphasis of that familiar marketing slogan, "Got milk?" should be amended to "Got new milk?" to reflect and stimulate this new way of thinking.
One possible way of creating new milk-based drinks is through the use of nontraditional flavors. For example, a prototype Honey Lavender Soothie was developed at the Dairy Products Technology Center of California Polytechnic State University and was one of the formulations that U.S. Dairy Export Council, Rosemont, Ill., featured at the 2010 IFT Food Expo. Designed for those older folks who want to unwind after a long, hard day, the upscale, high-protein beverage combines the smooth taste of milk with the serene natural flavors of honey and lavender, providing a soothing warmness. Low-fat milk and whey protein concentrate gives the formulation its nutritional benefits. Each serving contributes 30% of the daily value for calcium and 24% of the daily value for protein.
Ethnic influences may also help shape the development of new milk-based drinks. Lassi, a popular South Asian non-alcoholic beverage, is sort of a cross between a smoothie and a milkshake. The drink is made by blending yogurt with water or milk. Indian spices provide a savory taste while a sweeter version can be created by blending sugar or fruits instead of the spices. Edlong Dairy Flavors, Elk Grove Village, Ill., created a prototype Mango Lassi Beverage that has a creamy richness and showcases the company's dairy flavors.
At last year's Innovation Roadshow, David Michael & Co., Philadelphia, Pa., showcased how a single-serve flavoring sachet could be used to flavor a glass of milk. These flavors were developed to provide a dessert-like indulgence to milk, and some examples included cheesecake, blueberry muffin, and brownie type. With another Innovation Roadshow around the corner, it will be interesting (and I imagine quite fun) to see some of the ways that dairy flavors can be expanded.
A prototype chilled caramel coffee drink made with 1% milk was highlighted by Comax Flavors, Melville, N.Y., at 2010 Interbev. The beverage, nicknamed the Ice-Breaker, was served as an afternoon pick-me-up.
Milk-based drinks may also appeal to young athletes. The Coca-Cola Company recently developed Powerade Protein Milk, a product designed to support rapid muscle recovery. Containing 51% low-fat milk, it is enhanced with other dairy ingredients such as whey protein isolate and milk protein isolate and comes in chocolate, vanilla, and strawberry flavors. Packaged in black bottles, the product is expected to reach the marketplace in late 2011.
In early 2010, Attitude Drink Co., Palm Beach Gardens, Fla., launched a low-fat, reduced-sugar chocolate-flavored milk that it marketed as a sport and fitness recovery drink. The beverage, Phase III Recovery, features 29% less sugar and more than two times the protein of regular chocolate milk. It is produced by a process that filters out lactose and much of the sugar naturally found in low-fat chocolate milk while concentrating its nutrients. The ultra-filtered milk provides a balance of milk protein and carbohydrates to maximize sports recovery and increase protein synthesis, and also contains electrolytes and other important vitamins and minerals. The beverage offers the taste and mouthfeel of low-fat chocolate milk. In 2010, the company also introduced Phase III Vanilla, its ultra-filtered, real-milk recovery drink in vanilla flavor.
Shamrock Farms, Phoenix, Ariz., recently introduced a new Calcium Plus milk line that provides 100% more calcium per 8-oz serving than regular milk, making it easier for families to get the calcium they need and close the calcium nutrient gap in their diets. According to a recent study, "What America's Missing," most children and adults need to double their milk intake to meet daily recommendations, and overall, 85% of Americans fall short of daily milk recommendations.
All types of fiber can also help recreate a traditional dairy beverage. Germany-based Hydrosol developed a vegetable-fiber-based functional system that can help replace fat in flavored milk drinks and other dairy products. According to the company, the fibers are stirred into the milk in the cold state. After a short swelling time, the milk can be mixed with other ingredients in the usual way, then homogenized, heated, and filled. The high-pressure homogenization affects the fibers, producing soft microgels that provide a creamy mouthfeel. The natural fat replacement system is suitable for all dairy products that are homogenized at pressures greater than 50 bar. By this method, the fat content of the end product can be reduced by up to 50%.
Prototype dairy drinks from Glanbia Nutritionals, Monroe, Wis., demonstrate the benefits of several components, such as omega-3s, flaxseed, whey proteins, and calcium without compromising the taste or quality of the product.
The final product we'll look at is not a milk-based beverage but it can contain certain dairy ingredients such as butter and cream, and I mention it here because it might provide inspiration for those dairy beverage formulators looking to create something different. The formulation is Butterbeer, a cold and creamy frothy drink served at the Wizarding World of Harry Potter at Universal Orlando. Although Universal would not release its butterbeer recipe, press materials describe the drink as "reminiscent of shortbread and butterscotch." And on the web there are recipes for the fictional drink which include such ingredients as rum extract, brown sugar, butter, cream, and cream soda.
It would be fun to create a milk concoction that would use that same sort of imagination and be immensely appealing, especially to young kids. Perhaps a creamy milk chocolate with a butterscotch hint. Or a frothier milk with crushed candy canes added to it. Or…well I guess I should leave the creations of new milk to the real magicians in the industry.
If you have any ideas about the directions that milk should take, or if you care to milk some new strategies for this beverage, or if you just want to offer some thinking that goes beyond the old milk pail, let's IngredienTalk.
---
www.ift.org

Members Only:
Read more about Dairy online at
www.ift.org.
Type the keyword into our search box at the upper right side of our home page.
Donald E. Pszczola,
Senior Editor 
[email protected]