Many research chefs, food scientists, and other food professionals are flying south this winter to attend the 2011 RCA Annual Conference & Culinology Expo. Held March 2–5, 2011, at the Omni Hotel at CNN Center, Atlanta, Ga., the event will provide learning and networking opportunities along with a half-day trade show where exhibitors will sample culinary prototypes and offer practical ideas in product formulation.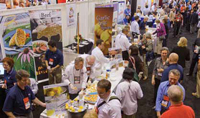 On Wednesday, March 2, attendees can select from three concurrent afternoon workshops on sodium reduction, Southern cuisine, and beef. The workshop on Salt Function & Flavor: Sodium Concerns and Reduction will provide research on the sodium content of new retail products in the marketplace. Attendees will learn how food science and culinary tools can reduce salt without losing flavor. Presenters include James Adams, R&D Manager, Tyson Foods; Jason Behrends, Asst. Professor, Mississippi State Univ., John Marcy, Professor, Univ. of Arkansas; Howard Moskowitz, President, Moskowitz Jacobs; and Todd Seyfarth, Asst. Professor, Johnson & Wales Univ.
On Thursday, March 3, several sessions will explore beef varietals, RCA certification programs, ancient Roman cuisine, natural antimicrobials, ingredients, research tools, social media, and flavors from cooking. In the session on How the Romans Ate: Food History Viewed Through the Bread Ovens and Food Courts of Pompeii, attendees will learn that much of what we consider "modern" today was actually refined and practiced by the Romans 2,000 years ago. The social life of ancient Pompeii revolved around its many centrally located food courts, which served a variety of hot and cold food from open kitchens. Presented by Craig "Skip" Julius, Director of Innovation, Pierre Foods, this session will explore how the food courts of Pompeii laid the groundwork for today's modern food courts, open kitchens, and commercial bread baking.
The session on Ingredient Selection: Navigating Nutrition Trends and Public Policy will include a panel of experts to help attendees understand consumer insights, policy updates, and nutrition trends that can lead to successful and innovative product development. The perfect storm of new dietary guidelines, regulations, vocal activists, and a highly politicized environment creates many vulnerabilities and opportunities for product formulators. Panelists include Wendy Bazilian, Author, Bazilian's Health Clinic and Golden Door Fitness Resort and Spa, Jeff Manning, Chief Marketing Officer, Cherry Marketing Institute, and Sally Squires, Director of Health and Wellness Communications, Weber Shandwick. The session on Understanding the Effects of Cooking Cues and Their Influences on Consumer Acceptance of Flavors will focus on grilled chicken, a popular item on foodservice menus. The flavor cues, aromas, and taste perceptions associated with grilling, roasting, and hot-water extraction of chicken are strong performance drivers and do influence consumer acceptability. This presentation and tasting will discuss consumer insights on the grilled chicken category derived from quantitative and qualitative studies, including flavor development, product profiling, and focus groups. Speakers include Louise A. Campbell, Director of Consumer Insights and Sensory Services and Dave Josephson, Vice President of Savory Creation and Application, Mane.
On Friday morning, March 4, Katherine Alford, Vice President, Test Kitchens, Food Network, will deliver the keynote address on Innovations and the Impact of the Celebrity Chef on Food Trends. Alford oversees the busy test kitchens, developing recipes for many projects including Food Network magazine, cookbooks, network shows, and FoodNetwork.com. Breakout sessions will follow the keynote and explore formulating products for national restaurant chains, gluten-free menu solutions, heirloom ingredients, and sauces. Also on Friday morning, a general session will explore mind genomics and food.
On Friday afternoon, the Culinology Expo will feature more than 100 booths showcasing ingredients, new products, and culinary treats.
Saturday morning kicks off with a general session on packaging, followed by concurrent breakout sessions on meatless center-of-the-plate strategies, fiber, winning product development tactics, and labeling and health claims. Presented by John Csukor, Founder, KOR Food Innovation and Eric Giandelone, Director of Research, Mintel Foodservice, the session on Creative Meat-Free Strategies for the Center of the Plate will explore ingredients, trends, and techniques for improving the meatless entrée.
For more details and registration information, visit www.culinology.org.
Expo Floor Hours 12:30 p.m.–5:00 p.m., Friday, March 4