Nutritional oils reportedly benefit a range of health conditions, including heart health, weight management, and skin health. Cardiovascular health, in fact, is one of the factors driving increased liquid oil consumption, according to Gary R. List, a retired consultant for the U.S. Dept. of Agriculture, who spoke at the 2011 IFT Chicago Section Fred W. Tanner Lecture. Other health-related drivers include the new dietary guidelines for increased omega-3 and omega-6 consumption and trans fat nutrition labeling. While consumers recognize soybean, flax, and fish oil as healthy oils, others, such as canola, hemp, and marine-based oils, are also gaining in popularity.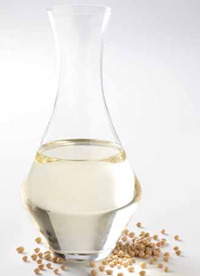 At the Tanner Lecture, List also described the new era of oils, which originated around 2006. This current phase in the oil industry is defined by the following factors:
• Impact of health and nutrition on the industry.
• Trait-modified oils as an important player in the food industry.
• Soon-to-be commercialized oils with low saturates/high oleic and omega-3 acids.
• Processor innovation to bring healthy oils and products to their customers by using new technologies (enzymatic treatment, fractionation, modified hydrogenation, and blending of hard/soft oils). Here is a look at some of this innovation and nutritional research changing the face of oils.
Soybean Oil
Soybean oil, which is low in saturated fat and high in polyunsaturated and monounsaturated fats, accounts for 65% of all vegetable oil used for human consumption in the United States, according to the United Soybean Board. Trait-enhanced soy oils offer improved functionality, little to no trans fat, and increased omega-3 fatty acid content. Low-linolenic soy oil was the first trait innovation to become commercially available. It delivers the benefits of lower trans fat levels in the direct replacement of lightly hydrogenated oil in a variety of applications.
Examples of commercially available low-linolenic oils come from Monsanto's Vistive® (St. Louis, Mo., phone 314-694-1000, www.vistive.com) and Pioneer low-linolenic soybeans (Johnston, Iowa, 515-535-7414, www.pioneer.com/soybeans). Vistive soybeans contain 3% or less linolenic acid, resulting in a more stable soybean oil and virtually eliminating the need for hydrogenation.
--- PAGE BREAK ---
Low Lin Soybean Oil from Pioneer boasts a low linolenic acid profile of less than 3% and better natural stability and shelf life as well. The oil comes from Pioneer ® variety 93M20, developed by Pioneer Hi-Bred International Inc., a DuPont business.
Another trait enhancement, high-oleic soybean oil, will soon be commercialized. A trans fat solution, high-oleic soybean oil offers the benefits of less saturated fat and increased monounsaturated fat content, similar to olive oil (75% oleic acid). The oil will be applicable for a variety of heavy-duty frying and baking applications and as a spray oil and blending component.
Targeting a 2012 commercialization date, Plenish High Oleic (www.plenish.com) will offer an oleic content of more than 75% and less than 3% linolenic acid content. Last year, the USDA approved the Plenish high oleic soybean trait for cultivation in the United States.
A third trait innovation, high-stearic soybean oil, will provide a renewable, land-based source of omega-3 fatty acids. While conventional soybean oil contains omega-3 fatty acids, it also contains alphalinolenic acid (ALA), which the body converts less efficiently to stearidonic acid (SDA). By increasing the SDA content in soybeans, food companies will be able to use this oil as an additive to fortify food products and increase omega-3 fatty acid content. Lemke et al. (2010) showed that SDA-enriched soybean oil increased the omega-3 fatty acid index by raising erythrocyte eicosapentaenoic acid (EPA) concentrations in overweight subjects. The researchers randomly assigned 252 overweight subjects to one of three treatments for 12 weeks: 1 g of encapsulated soybean oil/day plus 14.7 g of liquid soybean oil/day to be mixed in food (control group); 1 g of encapsulated EPA/day plus 14.7 g of liquid soybean oil/day (EPA group); and 1 g of encapsulated soybean oil/day plus 14.7 g of liquid SDA soybean oil/day, providing 4.2 g. The results revealed that SDA soybean oil raised red blood cell EPA concentrations and increased the omega-3 fatty acid index. Monsanto and Solae, St. Louis, Mo. (phone 800-325-7108, www.solae.com), which collaborate on the development and marketing of SDA soybean oil, supported the study.
Marine-based Oils
The EPA and docosahexaenoic acid (DHA) contents in fish oil are said to benefit the brain, eyes, and heart. Recently, the American Heart Association (AHA) issued its first-ever statement on triglyceride management that recommends 0.5–1 g of EPA and DHA for individuals with borderline fasting triglyceride levels (150–199 mg/dL); 1–2 g of EPA and DHA for individuals with high fasting triglyceride levels (200–499 mg/dL); and 2–4 g for individuals with very high fasting triglyceride levels (≥500 mg/dL). The AHA has also previously recommended that normal healthy individuals consume a variety of fish (preferably oily) and that people with documented coronary heart disease also have a daily intake of 1 g of EPA and DHA.
--- PAGE BREAK ---
Menhaden, small oily-fleshed fish, is a source of commercially available fish oil. According to information from Omega Protein, Houston, Texas (phone 877-866-3423, www.omegaproteininc.com), menhaden typically yields a 1:1 ratio of EPA and DHA. Menhanden oil has GRAS approval as a direct human food ingredient. At the 2011 IFT Annual Meeting & Food Expo, Omega Protein announced an alliance with QualiTech, Chaska, Minn. (phone 952-448-5151, www.qualitechco.com), to offer its menhaden oil in a unique delivery system. Flavor-ettes™ with Omega-Pure are particulate inclusions specifically for dry mix applications. Available in sweet and savory varieties, the ingredient adds flavor, mouthfeel, and visual appeal along with omega-3 fatty acids to bakery, snacks, cereals, and frozen entrees.
Also at the IFT Food Expo, Cognis Nutrition & Health, now a part of BASF, LaGrange, Ill. (phone 708-579-6150, www.cognis.com), announced that its Omevital Omega-3 Fish Oil earned the Superior Taste Award 2011 from the International Taste and Quality Institute. The Omevital line of ingredients is derived from salt-water fish.
Krill is a marine crustacean rich in EPA and DHA. Maki et al. (2009) concluded that supplementing the diet with krill oil for four weeks increased the plasma EPA and DHA in 76 overweight and obese men and women. They received 2 g/day of krill oil, menhaden oil, or control (olive oil) for four weeks. The results showed that plasma EPA and DHA concentrations increased significantly more in the subjects who took the krill oil and menhaden oil than in those who took the control.
Ferramosca et al. (2011) showed the benefits of krill oil on lipid metabolism in rats. The animals were treated for six weeks with diets containing 2.5% of krill oil or 2.5% of fish oil, or a control diet without supplementation of omega-3 fatty acids. The researchers monitored the activity of three key enzymes in the liver involved in the metabolism of fat. The study revealed beneficial effects of both the krill oil and fish oil supplements. The inhibition of the three enzymes was significant with krill oil and fish oil, but the response to krill oil treatment was more pronounced. The results also showed the fat-lowering effects from the oil supplements and confirmed previous findings that krill oil is effective in reducing liver triglyceride and cholesterol levels.
Aker BioMarine, Oslo, Norway (phone +47-24-13-0000, www.akerbiomarine.com), offers Superba™ krill oil, a pure, natural source of EPA and DHA and the naturally occurring antioxidant astaxanthin. The uniqueness of this ingredient is that the omega-3 fatty acids are provided in phospholipid form. The company announced in May 2011 that the U.S. Food and Drug Administration had evaluated via the New Dietary Ingredient Notification process the toxicology and clinical research data demonstrating the safety of Superba and had no objections.
--- PAGE BREAK ---
Canola Oil
Derived from pressed canola seed, canola oil contains approximately 61% monounsaturated fat, 32% polyunsaturated fat (11% ALA, 21% LA), and 7% saturated fat, according to the Canola Council of Canada (www.canolainfo.org). It is also a source of omega-6 fatty acids. The FDA in 2006 authorized a Qualified Health Claim for canola oil based on its high percentage of unsaturated fats. The claim states "Limited and not conclusive scientific evidence suggests that eating about 1 and 1/2 tablespoons (19 g) of canola oil daily may reduce the risk of coronary heart disease due to the unsaturated fat content in canola oil. To achieve this possible benefit, canola oil is to replace a similar amount of saturated fat and not increase the total number of calories you eat in a day."
Several companies offer higholeic canola oil, which contains more oleic acid and less polyunsaturated fatty acids, making it more stable with greater heat tolerance and longer shelf life. This year, Cargill Inc., Minneapolis, Minn. (phone 800-227-4455, www.cargill.com), introduced Clear Valley® 80 High Oleic Soy Oil, which offers the benefits of 0 g of trans fat/serving, low levels of saturated fat, and increased shelf life and stability. Cargill in 2010 introduced Clear Valley Omega-3 Oil. Made from canola and flaxseed, the oil contains up to 30% of ALA and provides a minimum of 160 mg of ALA in most applications.
Another canola oil innovation, Omega-9 Oil, is was developed by Dow AgroSciences LLC, Indianapolis, Ind. (phone 800-678-2388, www.omega-9oils.com), using NEXERA™ canola seeds. The oil has a unique combination of high-oleic (omega-9) (>70%) and low-linolenic (<3%) fatty acids. Omega-9 Oils can deliver a zero trans fat and lower saturated fat claim on menus or labels.
At the 2011 IFT Food Expo, other companies shared news about their canola oil developments. SK Food International, Fargo, N.D. (phone 701-356-4106, www.skfood.com), introduced its high-oleic canola oil produced from select North American identity-preserved non-GMO canola seed. The company uses mechanical expeller pressing to separate oil from the seed or grain. The oil is then naturally refined, bleached, and deodorized. Richardson Oilseeds International, Winnipeg, Canada (phone 204-934-5961, www.richardson.ca), introduced Bake-It Sweet and Roll-It. Bake-It Sweet is a non-hydrogenated, all-purpose baking margarine made with canola oil. Roll-It is a non-hydrogenated, roll-in margarine ideal for croissants and Danish pastries. The company also recently launched Pop-It and Top-It, healthier canola-based popcorn popping oil and toppings.
Sunflower Oil
High in vitamin E content, sunflower oil offers a combination of monounsaturated and polyunsaturated fats with low saturated fat levels. Higholeic sunflower oil has high levels of monounsaturates and high stability. Oilseeds International Ltd., San Francisco, Calif. (phone 415-956-7251, www.oilseedssf.com), offers HO-80 Sunflower Oil. The improvements made to high oleic sunflower planting seed hybrids have resulted in oleic acid levels at 85%, and more recent specialty hybrids yielding oleic acid levels that exceed 90%.
--- PAGE BREAK ---
At the 2011 IFT Food Expo, Dow AgroSciences unveiled saturated fat-free Omega-9 Sunflower Oil, which has zero trans fat and is high in monounsaturated fat. By using Omega-9 Sunflower Oil, food formulators may significantly reduce or eliminate saturated fat content amounts from listings on the new front-of-pack labels, which will begin to appear on retail shelves within the next two years.
Flaxseed Oil
Flaxseed oil is recognized for being a rich source of ALA. In a balanced diet, eating 5 g (1 teaspoon) of flax oil or 8 g (1 tablespoon) of milled flax daily provides enough ALA to meet dietary needs, according to the Flax Council of Canada. DeSpirt et al. (2009) demonstrated that supplements containing flaxseed or borage oil (2.2 g of total fatty acid) could benefit skin properties. Two groups of female subjects consumed flaxseed or borage oil for 12 weeks. The subjects in the control group received a placebo containing medium-chain fatty acids. The dose was 2.2 g of total fatty acids/day with ALA and linoleic acid as major constituents in the flaxseed oil and linoleic acid and gammalinolenic acid as the major constituents in the borage oil group.
The results showed that after 12 weeks, skin reddening was diminished, blood flow was lowered, and skin hydration was significantly increased in the subjects who consumed the flaxseed or borage oils. Transepidermal water loss was decreased by about 10 % after six weeks of flaxseed oil and borage oil supplementation. A further decrease was determined after 12 weeks in the subjects who consumed the flaxseed oil.
Olive Oil
Olive oil is believed to be healthy thanks to its high monounsaturated fat content. Castañer et al. (2011) showed that olive oil polyphenols promote oxidized LDL autoantibody (OLAB) generation. Some data suggest a protective role of OLAB in atherosclerosis. Nakbi et al. (2010) concluded that the protective effect of olive oil against oxidative damage is mainly related to the antioxidant potential of its hydrophilic fraction. Samieri et al. (2011) suggested that there is a protective role for high olive oil consumption on the risk of stroke in older adults.
Other Oils
Growing from niche ingredients to more mainstream ingredients, other oils are gaining notice and appearing in more retail products. Chia seed oil is a rich source of ALA. Hemp oil is a source of omega-6 gamma linolenic acid (GLA), which is thought to have anti-inflammatory properties. Evening primrose oil is a source of linoleic acid and GLA. Black currant oil is used as a source of GLA. Rice bran oil provides a source of tocotrienols.
Linda Milo Ohr,
Contributing Editor,
Denver, Colo. 
[email protected]
References
Castañer, O., Fitó, M., López-Sabater, M.C., Poulsen, H.E., Nyyssönen, K., Schröder, H., Salonen, J.T., De la Torre-Carbot, K., Zunft, H.F., De la Torre, R., Bäumler, H., Gaddi, A.V., Saez, G.T., Tomás, M., Covas, M.I., for the EUROLIVE Study Group. 2011. The effect of olive oil polyphenols on antibodies against oxidized LDL. A randomized clinical trial. Clin. Nutr. Mar 2. Epub ahead of print.
DeSpirt, S., Stahl, W., Tronnier, H., Sies, H., Bejot, M., Maurette, J.-M., and Heinrich, U. 2009. Intervention with flaxseed and borage oil supplements modulates skin condition in women. Br. J. Nutr. 101(3): 440-445.
Ferramosca, A., Conte, L., and Zara, V. 2011. A krill oil supplemented diet reduces the activities of the mitochondrial tricarboxylate carrier and of the cytosolic lipogenic enzymes in rats. J. Animal Physio. Animal Nutr. Published online ahead of print, Feb. 25. doi: 10.1111/j.1439-0396.2011.01135.x.
Lemke, S.L., Vicini, J.L., Su, H., Goldstein, D.A., Nemeth, M.A., Krul, E.S., and Harris, W.S. 2010. Dietary intake of stearidonic acid–enriched soybean oil increases the omega-3 index: randomized, double-blind clinical study of efficacy and safety. Am. J. Clin. Nutr. 92: 766-775.
Maki, K.C., Reeves, M.S., Farmer, M., Griinari, M., Berge, K., Vik, H., Hubacher, R., and Rains, T.M. 2009. Krill oil supplementation increases plasma concentrations of eicosapentaenoic and docosahexaenoic acids in overweight and obese men and women. Nutr. Res. 29(9): 609-615.
Nakbi, A., Tayeb, W., Grissa, A., Issaoui, M., Dabbou, S., Chargui, I., Ellouz, M., Miled, A., and Hammami. M. 2010. Effects of olive oil and its fractions on oxidative stress and the liver's fatty acid composition in 2,4-Dichlorophenoxyacetic acidtreated rats. Nutr. & Metab. 7: 80.
Samieri, C., Féart, C., Proust-Lima, C., Peuchant, E., Tzourio, C., Stapf, C., Berr, C., and Barberger-Gateau, P. 2011. Olive oil consumption, plasma oleic acid, and stroke incidence. Neurology. Published online before print, June 15. doi: 10.1212/WNL.0b013e318220abeb.