Although it serves a worthy purpose—feeding the world—the food supply chain is a major drain on the planet's resources. Agricultural production is responsible for 17% to 32% of global greenhouse gas emissions, food processing accounts for 25% of worldwide water consumption, and the food system consumes nearly 16% of total energy use in the United States, reports Cheryl Baldwin in the book Sustainability in the Food Industry.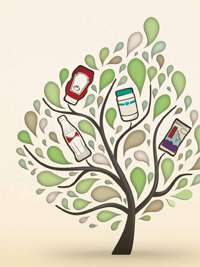 Statistics like these make it clear why sustainable business practices that reduce waste and protect the environment are so critical for the food industry. In this article, Food Technology profiles four food and beverage companies that are leading by example, adopting environmentally friendly approaches to production, processing, packaging, and more. Each of the four has made a difference by making a long-term commitment to operating sustainably.
Clif Bar formalized its sustainability agenda a decade ago. Coca-Cola's Live Positively™ action plan spells out sustainability goals in seven core areas. H.J. Heinz is on track to achieve a series of ambitious objectives that mandate substantial reductions in energy consumption, packaging material use, and greenhouse gas emissions by 2015. And the founders of Follow Your Heart/Earth Island Natural Foods have been focused on protecting the planet for more than three decades.
On the pages that follow, you'll find a close-up look at some of the philosophies and practices that have shaped these businesses. Like the companies themselves, the sustainability stories are varied. That's not surprising, given the breadth and depth of the topic. Operating sustainably can mean revamping processing procedures to reduce water use, installing smart solar panels, redesigning packaging to make it lighter weight or more easily recyclable, or offsetting carbon expenditures that result from product distribution and business travel. Frequently, it also means undertaking humanitarian programs as well as treating employees with fairness and respect.
The four companies highlighted here—two of them privately owned, two publicly held—share a commitment to ensuring the legitimacy of their sustainability initiatives by continuously evaluating and measuring their progress toward established goals. And, oh yes, there's something else that these four companies have in common: They're successful in the marketplace, demonstrating that it is indeed possible to do good and to do well.
Raising the Bar on Sustainable Practices
The sustainability program at Clif Bar & Co. officially launched a decade ago, but you could say its roots extend back to 1978—well before the Emeryville, Calif.-based company opened its doors in 1992.
--- PAGE BREAK ---
Elysa Hammond, Clif Bar Director of Environmental Stewardship, met company founder and Co-CEO Gary Erickson as an undergraduate at California Polytechnic State University. She was an agriculture/crop sciences major, and Erickson was majoring in business; both had joined a student group working on anti-hunger initiatives.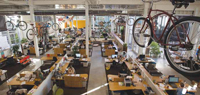 "We started a conversation," says Hammond, "and really what we were talking about was sustainability because we were talking about how often the quest for short-term profits does damage to the environment and to people's well-being."
Erickson hired Hammond as Clif Bar's staff ecologist in 2000, and on Earth Day in April 2001, Clif Bar made a formal commitment to operating sustainably. At the time, Erickson had just turned down a $120 million acquisition offer from Quaker Oats and was facing a crowded, competitive energy bar market and an uncertain future.
What a difference a decade makes. Today, Clif Bar, whose product line includes energy bars and other healthful snack products targeted to active consumers, is flourishing. The company has 258 employees, net revenue totaled $350 million in 2010, and the compound annual sales growth rate for the five-year period from 2005 to 2010 was 24%.
At Clif Bar, adherence to sustainable business practices is never just an afterthought. The company's annual report spells it out. Strategic decisions are shaped by five corporate aspirations: "sustaining our business, brands, people, community, and the planet."
Sustainability permeates the Clif Bar culture and touches virtually every aspect of the operation—from sourcing and supply chain to package design and employee volunteerism. "What I've seen over the past 10 years," says Hammond, "is that [sustainability] has moved from a vision to really something that people are practicing. It's not an easy step to move from the cheer-leading position to being deeply integrated into strategic thinking, but I've seen that happen."
--- PAGE BREAK ---
Strategically Sustainable
Clif Bar's commitment to organic food and farming is at the core of its corporate sustainability program. In 2003, the company's flagship product, Clif Bar, became the first energy bar at retail stores that was USDA-certified "made with organic."
To date, Clif Bar has purchased more than 170 million pounds of organic ingredients, including 43 million pounds in 2010 alone. Organic ingredients now account for almost 70% of ingredient purchases, and a five-year goal calls for ingredients that are USDA organic and certified sustainable to represent 80% of all purchases by 2015.
Clif Bar has "a longstanding commitment not to use genetically engineered ingredients" and has made a strong commitment to "seed integrity," Hammond emphasizes. To that end, in 2009 the company launched its Seed Matters initiative in which it teams with three nonprofit partners—Organic Farming Research Foundation, Organic Seed Alliance, and the Center for Food Safety, groups dedicated to developing organic seed bred to flourish without fertilizers or pesticides.
"We'll never have all the answers," says Hammond, "but by having these trusted partners in the key areas that we're committed to, we've been able to really make science-based assessments and learning part of our program."
Conscientious About Carbon
Given the corporate commitment to sustainability, it's no surprise that Clif Bar has been vigilant about gauging its carbon footprint. The company has been tracking and offsetting carbon emissions generated by its offices and manufacturing facilities since 2003, and a couple of years ago, it began factoring in the carbon footprint of ground freight transport as well.
Partnering with offset provider NativeEnergy, Clif Bar has supported more than 20 wind farms. Perhaps most notably, in 2009 Clif Bar helped finance the Greensburg Wind Farm project in a Kansas community that is rebuilding green after being hit by a tornado in 2007. The much-acclaimed project now supplies electricity to a regional grid in Kansas and neighboring states.
--- PAGE BREAK ---
Clif Bar staffers are always on the lookout for opportunities to cut back on corporate energy expenditures. The company's marketing fleet switched to biodiesel fuel in 2007, and whenever it is feasible, executives substitute teleconferencing for air travel.
The company also works hard at minimizing its waste stream. Another five-year goal tasks Clif Bar with achieving zero waste, which is defined as 90% or more solid waste diversion in the office, in the field, and at manufacturing sites. Over the past several years, Clif Bar has eliminated shrink wrap on the 45 million shipping caddies required annually for distributing its products and has launched a wrapper recycling program for consumers.
Packaging for Clif Shot Bloks energy chews was redesigned in 2008, and a new packaging format, the Fastpak, allowed Clif Bar to fit 50% more product into 30% less packaging. The redesign paid off in a couple of ways, reports spokesperson Kate Torgersen. "Not only did this change reduce our material use by over 26,000 pounds, it also created a smaller package that fits better in [cyclists'] jersey pockets and running shorts," she says.
A Green Workplace
The company's new 15,000-square-foot headquarters building provides tangible evidence of just how green Clif Bar is. Built with recycled, reclaimed, and sustainably sourced materials, it's the kind of place where disposable dishes are banned, and an onsite café serves up breakfasts and lunches made with organic ingredients.
Thanks to a huge rooftop solar panel installation (the largest in North America, according to the company), the power of the sun supplies nearly 100% of office electricity requirements and 70% of the heat needed for the continuously circulating hot water system.
Clif Bar staff members benefit from the corporate commitment to sustaining their health and well-being. Employees in Emeryville can take advantage of perks that include onsite childcare, concierge services, and organic produce delivery, among many others. A wellness facility features everything from a bouldering wall to massage rooms. Clif Bar staffers can sign up for any of two dozen fitness classes offered weekly, and five personal trainers are available to help employees reach their fitness goals. The Cool Commute program allows employees who agree to bike to work at least a couple of times a month to purchase a bike on the company dime (up to $500); 79 people have participated in the incentive thus far.
--- PAGE BREAK ---
Giving back to the community is part of the Clif Bar corporate culture. Not only is participating in volunteer activities during the workday permitted, it's encouraged. In Project 2080, launched a decade ago, Clif Bar employees agreed to collectively volunteer the equivalent of one employee's time in the workplace—you guessed it—2,080 hours. In 2010, staff members volunteered for more than 5,200 hours, and the causes included hunger relief, conservation, and animal welfare, among others.
Clif Bar contributes to 1% for the Planet, a movement of nearly 1,500 companies that donate 1% of their sales to a network of more than 2,300 environmental organizations worldwide.
Embarking on a sustainability initiative might logically be compared to taking a journey. Erickson uses a parallel analogy—one focused on mountain climbing—to describe the sustainability philosophy that he has embraced.
Writing in a recent Clif Bar Sustainability Newsletter, he states, "If getting to the top—or making the bottom line—means you can't do it without polluting the earth, then don't climb that mountain. Climb another mountain, or learn to climb a different way. That's what we're choosing to do at Clif Bar: Climb a different mountain and climb a different way." Those choices are paying off—for the planet and the business.
Following a Natural Path to Sustainability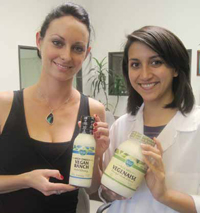 For vegan food scientist Jessica Ruiz, solar-powered Earth Island Natural Foods in Chatsworth, Calif., is the ideal work environment. Not only is the company's product line of all-natural sandwich spreads, nondairy cheeses, meat analogs, and organic salad dressings healthful and vegetarian, but since coming on board less than two years ago, Ruiz has been instrumental in developing a vegan addition to the product lineup. It's a ranch salad dressing that is free of animal products and contains no genetically modified ingredients.
--- PAGE BREAK ---
"The vegan ranch was so my baby," says Ruiz, who double-majored in nutrition and food science at nearby California State University–Northridge. "I used to love ranch dressing [before going vegan]," Ruiz notes, "and having not had it in seven years and having this alternative taste like the real thing… it's a really great feeling." Natural products consumers apparently agree. The new dressing, marketed under the company's Follow Your Heart label is selling well, she reports.
Earth Island was established in the early 1980s to produce Vegenaise, an eggless mayonnaise originally made and sold in the Follow Your Heart natural foods market and restaurant founded 41 years ago in Canoga Park, Calif. "We had to develop an eggless mayonnaise to use in our restaurant because there wasn't one available," explains Quality Assurance Manager Sheena Bliss. "It became so popular that we had to create a separate manufacturing facility just for that," she says.
The company has long been committed to operating sustainably. "We have always been concerned about the environmental impact of everything we do," says Bliss. "When [the company's founders] created Earth Island, they knew that they wanted to create a sustainable structure as well as [to follow] sustainable practices. When we built our facility—which we built from the ground up—we used recycled carpeting. We have skylights throughout in the warehouses and the offices. We also have tankless heated water to be more energy efficient."
A Planet-Friendly Packaging Program
"We recycle glass and plastic in the office and in our warehouse," she continues. "All of the packaging that we use is also recyclable. That's one of the reasons we chose glass as the main packaging material for all of our products because we felt that it was more sustainable and better for the environment than using plastic bottles."
About a decade ago, the company invested in the installation of rooftop solar panels. "They provide all of the power for our facility," says Bliss. In fact, company executives believe that Earth Island was the first fully solar-powered food plant, she adds. A total of more than 756 solar panels, each capable of generating more than 150 watts, produce an average total of 113 kilowatts of electricity. Some days, the solar power system yields more electricity than the company requires, and the excess goes back into the electrical grid.
Sustainability comes strongly into play in the company's approach to sourcing ingredients. "We try to use organic ingredients where we can—where they are available and where the cost permits—because that's something that we know has a big impact on the environment," says Bliss.
--- PAGE BREAK ---
The company buys only palm oil that is verified by a third-party certifier as sustainably harvested, Bliss continues, noting that palm oil can be a controversial ingredient among those focused on sustainability because harvesting it can destroy ecosystems. Earth Island also steers clear of ingredients that have been genetically modified, and all of its dairy ingredients are hormone-free.
Asked how the company's sustainability program has taken shape, Bliss responds, "It is something that has evolved. As our awareness and the public's awareness of different environmental impact [issues] have changed, we've adapted. For example, with recycling, we just continually increased over time as more of that has become available. We do a lot of research internally to stay at the forefront.
"We're continually looking at our processes and asking how we can improve them, how we can become more green in the products that we buy, and also what we practice internally. We just try to get better and better."
H.J. Heinz: Rooted in Sustainability
Avoid waste. Treat suppliers and employees fairly. To produce a high quality product, focus first on the quality of the raw ingredients.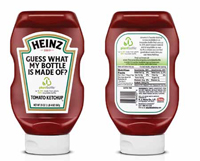 H.J. Heinz Company founder Henry John Heinz is credited with building the Fortune 500 food company he established 142 years ago near Pittsburgh, Pa., on principles like the preceding, which, when you stop and think about it, have a lot to do with what it means to operate sustainably. Today, Heinz is included in three high-profile indexes (including the Dow Jones Sustainability Indexes) that track the financial performance of companies that have demonstrated excellence in managing environmental, social, and governance issues.
"Sustainability is part of the Heinz DNA," says Michael Okoroafor, Vice President Packaging R&D and Innovation, who discussed the company's sustainability initiatives last month at the 2011 IFT Annual Meeting & Food Expo™ in New Orleans. Heinz has a legacy of operating ethically and transparently, says Okoroafor, noting that Henry Heinz used clear bottles for the condiments his company manufactured so that customers could see that the products were not made with cheap fillers.
--- PAGE BREAK ---
This summer, Heinz is making news with the rollout of Heinz ketchup in the PlantBottle™ packaging pioneered by the Coca-Cola Company. The PlantBottle™ is made from PET (polyethylene terephthalate) plastic, but it's PET with a difference—30% of the plastic comes from sugarcane ethanol. Using the plant-based PET reduces dependence on petroleum and lowers the carbon impact of the packaging while delivering a product that is still fully recyclable and indistinguishable from conventional PET in terms of physical properties. "There is no difference between the biocomponents," says Okoroafor. "The only difference is that we are saving the planet."
The PlantBottle™ initiative provides a good example of the way in which science and technology can deliver sustainable solutions, Okoroafor notes. "I can tell you that consumers are not going to pay a penny more [for Heinz ketchup in PlantBottle™ packaging] than they are paying today [for conventionally packaged ketchup]. The answer is technology. Technology is a big piece of whatever we are doing."
Packets of Simply Heinz ketchup for the foodservice market—made from 30% renewable materials—are another good example of the company's commitment to earth-friendly packaging. Heinz's goal is to have the packages use 100% renewable material within a year.
Of course, sustainability initiatives at H.J. Heinz aren't limited to packaging. Using a 2005 baseline, the company's sustainability goals call for a 20% reduction in greenhouse gas emissions by 2015; 20% reductions in energy, water consumption, and solid landfill waste are also targeted.
Agricultural Initiatives 
Responsible agricultural practices are a priority. Using traditional breeding techniques, Heinz experts have bred tomato varieties that require less pesticide because they are naturally disease-resistant and produce higher yields while using less water. Heinz agronomists travel all over the world, teaching people how to farm more sustainably, Okoroafor says.
One of the company's most notable social responsibility initiatives is the Heinz Micronutrient Campaign, which battles malnutrition among infants and children in the developing world. Through this program, Heinz has distributed packets of vitamin and mineral powders to millions of children in 15 developing countries. In addition, Heinz supports employee participation in community-service programs.
--- PAGE BREAK ---
Okoroafor says that operating sustainably and operating profitably are not mutually exclusive objectives. In fact, it's just the opposite. "Embracing sustainability doesn't mean that it will cost money," he says. "Sometimes it can save money."
The packaging vice president makes the point that H.J. Heinz is a public company, and its executives are accountable to its investors. "Cost is a major part of what we do," he says. "If you are a publicly traded company like we are, and you miss your cost commitment, you are in trouble with Wall Street." So while the company continues to live up to its tradition of social responsibility and sustainability, the bottom line matters. "We are a very profitable company," he says. "We have to think about how to make money and how to support the community." Perhaps that, in fact, is the true bottom line.
A Globally Sustainable Beverage
Diseases caused by little or no access to safe, clean water and adequate sanitation facilities are the second-largest cause of child mortality around the world. Nonetheless, water safe for human consumption and use is routinely taken for granted by individuals and businesses. Few consider that maintaining clean water sources requires the diligence of the globe's residents and businesses to abide by regulatory laws and follow safe practices that conserve water and minimize water pollution. Acutely aware that safe, clean water is the most precious resource on earth as well as critical to its operations, the Coca-Cola Company intends to reduce its water footprint around the globe with its Live Positively™ sustainability action plan.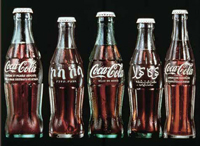 Live Positively™ includes core sustainability initiatives for product packaging, global climate issues, and energy resources, but the careful and responsible management of the water sources that supply each of the Coca-Cola Company's bottling plants is perhaps the most sizeable part of the plan. Water is integral to every aspect of the food and beverage industries as it is the most common ingredient in all food and beverages. Nonetheless, water is a finite resource, and less than 1% of the water on earth is available for drinking and the processing and manufacturing of food and beverages. To prevent freshwater sources such as aquifers, lakes, rivers, and streams from being depleted, water must be reclaimed and recycled. It is therefore imperative for the world's largest beverage company—whose manufacturing operations affect water sources around the globe—to reuse and recycle the water it uses to process and manufacture more than 3,500 different products in its beverage portfolio.
According to Greg Koch, Director of Global Water Stewardship and Sustainable Agriculture, water conservation is the Coca-Cola Company's priority: "Our sustainability priority is water. Honestly, whether you're looking at the community level, the plant level, a country level, or even our entire business, the underpinning of anything that you want to do in life … is water."
--- PAGE BREAK ---
The Chairman and CEO of the company, Muhtar Kent, agrees: "At Coca-Cola, our vision of sustainability is a world where all people have access to safe water. … In essence, this is our brand promise, and if a good brand is a promise, then a great brand is a promise kept. Live Positively™ provides a framework for us to think holistically and think globally about all of the sustainability efforts we're working on in our entire system. It includes goals and metrics and several agreed-upon principles including, among many others, returning back to nature an amount of water equal to what we use in our beverages by 2020."
Sustaining Water Sources Worldwide
With more than 900 bottling plants around the world, this goal may seem daunting. But the company has a detailed plan to accomplish its water objectives: Each of its manufacturing plants must have a water resource management team that works with water resource experts to conduct an inventory assessment of the water sources supplying bottling plants and the communities near them. The assessment includes evaluating the breadth and health of watersheds and determining the impact of company facilities on the availability and quality of water in local communities. In addition, the company is involved with community water projects around the world that will help protect watersheds, expand community access to drinking water and sanitation, and educate residents on sustainable agricultural irrigation practices.
For example, in Argentina, the Coca-Cola-Company has collaborated with nongovernmental organizations to replenish and restore an underwater river that provides water to the Inca Cave community. In Cambodia, the company's efforts to increase access to water and improve water quality include extending a water pipe to 12 villages and educating villagers about safe water practices. In Costa Rica, the company works with local communities to remove garbage from a riverbank and help alleviate waterborne diseases. And in India, the beverage maker is involved in a cooperative effort to build 120 water treatment and distribution facilities.
"There are a billion people in this world that don't have access to safe drinking water. We're working with the likes of USAID, Care, UNICEF, and many others to go into communities, work with the government, and help provide access to safe drinking water as well as sanitation," says Koch. Consequently, the company's internal wastewater treatment standards are often more stringent than those of applicable laws in various countries. This ensures that the water returned to the environment is safe and supportive of aquatic life.
"Ultimately, Live Positively™ is about making the right decisions, the smart choices to run our business better and to satisfy the needs of all our stakeholders, starting with our consumers and our customers," says Kent. More importantly, the beverage company's plan to reduce, recycle, and replenish earth's most precious resource helps ensure a safe, abundant supply of freshwater for all forms of life and all varieties of food, not just a can of soda.
Mary Ellen Kuhn is Managing Editor of Food Technology ([email protected]). Toni Tarver is Senior Writer/Editor for Food Technology ([email protected]).