Credit the Food Network, celebrity chefs, and contemporary food movements (organic, local, and sustainable) with raising Americans' food IQ, creating a heightened awareness that appears to be translating into boom times for the discipline of food science. At college campuses across the United States, undergraduate food science programs are showing substantial enrollment increases.
Statistics published in a 2007 Food Technology article show that in 2004 and 2005, the total numbers of students graduating with B.S. degrees from IFT-approved food science programs in the U.S. were 319 and 366, respectively, down from 463 in 2000 (Chikthimmah and Floros, 2007). The authors of the article pointed to challenges in attracting students to the major, a situation they associated with the profession's low visibility.
What a difference a few years can make. According to data compiled by food science recruitment firm Opus International, by 2006, the number of graduates from IFT-approved food science programs in the U.S. had climbed to 464. By 2010, that total was up to 591. (See table on page 50.)
The trend toward enrollment growth does not appear to be letting up. "This fall, we had the largest incoming class we've had in probably 25 years," reports Dennis Miller, Chair of the Dept. of Food Science at Cornell University. "We had 35 freshmen join our program and nine transfer students, who will probably come in as juniors," Miller continues. "We normally enroll about 20 to 25, so this is a very significant increase." The Cornell food science enrollment is currently 105 undergraduates.
"At Penn State right now, our undergraduate population is sitting at 165," which represents an increase of about 40% over last year's total, says John Floros, Professor and Head of the Dept. of Food Science. He notes that enrollment has now surpassed the departmental target of 150 to 160 students.
Floros says there are plenty of reasons for enrollment increases, including improved recruitment of high school students by IFT and university food science departments. But, he adds, "I can't help but think that some of the increased numbers are because of the increased interest that people are showing in food. Television shows, books, movies, the local movement, the organic movement … there are a lot of different things happening about food—some of it negative. Nevertheless, there's an interest, and a lot of that interest has pushed kids our way."
Richard Hartel, Professor in the Dept. of Food Science at the University of Wisconsin-Madison, has a similar perception. "We ask our students at freshman orientation to say something about why they are interested in food science, and most of the answers relate to the Food Network," says Hartel. "It's pretty consistent."
--- PAGE BREAK ---
Combine this with the reality that even in a difficult economic climate, food science graduates are finding good jobs. "I think the fact that there are jobs available and that the starting salaries are excellent is important," says Faye Dong, Professor and Head of the University of Illinois Dept. of Food Science and Human Nutrition, where food science enrollment has been climbing, particularly in the past three or four years.
"Part of it [the increasing enrollment] may have to do with the economy and the fact that having a food science degree will practically guarantee you a job," agrees Floros. A decade ago, he says, parents visiting campus tended to be more interested in employment prospects for graduates than their sons or daughters, but that has changed in the wake of the recession. Now both students and their parents recognize that it's important to graduate with a degree that promises solid career potential.
Opus International polled administrators of university food science programs in 2006, 2008, and 2010, and the statistics document the consistent growth pattern, tracking the number of undergraduate food science students at IFT-approved programs in the U.S. from 2,109 in 2006 to 2,632 in 2010—an increase of nearly 25%. "It's been consistently up—a steady climb," says Moira McGrath, President of Opus International.
Oriented Toward Outcomes
Enrollment increases aren't the only changes within university food science programs. Many departments have adapted their curriculums in an effort to ensure that graduates will have the knowledge and skills the workplace demands.
IFT established minimum standards for undergraduate food science curriculums in 1966 and continues to review and update those standards about every 10 years. In 2001, IFT's Higher Education Review Board (HERB) unveiled revised education standards that emphasize the importance of designing food science curriculums to produce specific, measurable learning outcomes. Hartel, who was chair of HERB while the new standards were being shaped, explains that adopting an outcome-based approach to curriculum development is based on the philosophy that traditional approaches to teaching and learning—i.e., lectures and homework—aren't necessarily enough to produce the desired results of long-term knowledge retention. In addition, Dong points out, in an outcome-based program, courses have assessments embedded in them, which allows for continuous improvement.
At the University of Wisconsin, the food science department completely revamped its curriculum to make it more outcome-based, says Hartel. "We took these ideas pretty seriously," he notes.
--- PAGE BREAK ---
Back in the 1970s, he explains, food science curriculums tended to be commodity-based; concepts of food chemistry, engineering, microbiology, and processing were generally covered in commodity courses. That is, students might take a dairy course where those concepts were integrated around how dairy products were produced. Eventually, though, curriculums generally shifted to become more discipline-based, with courses like food chemistry, food engineering, and food microbiology introduced in order to get into the details and principles, says Hartel.
"As we saw it," says Hartel, "that approach left our students struggling to see how those concepts were integrated together. Our main premise is that by going to a discipline-based curriculum, our students lose the integration of those concepts. Our new curriculum has taken the best of both approaches. We still have a discipline-based junior year, but we now have an integrated senior year based on advanced discipline material."
Experiential Learning
Food science faculty members report that employers are seeking graduates who have a well-rounded skill set that includes more than technical expertise. "You talk to our industry partners now and ask about what the difference is from one student to another … and they're saying the difference is in leadership skills and partnership skills and team-building skills," says Dong. She and other members of the University of Illinois food science department have focused on creating opportunities for students to acquire such abilities.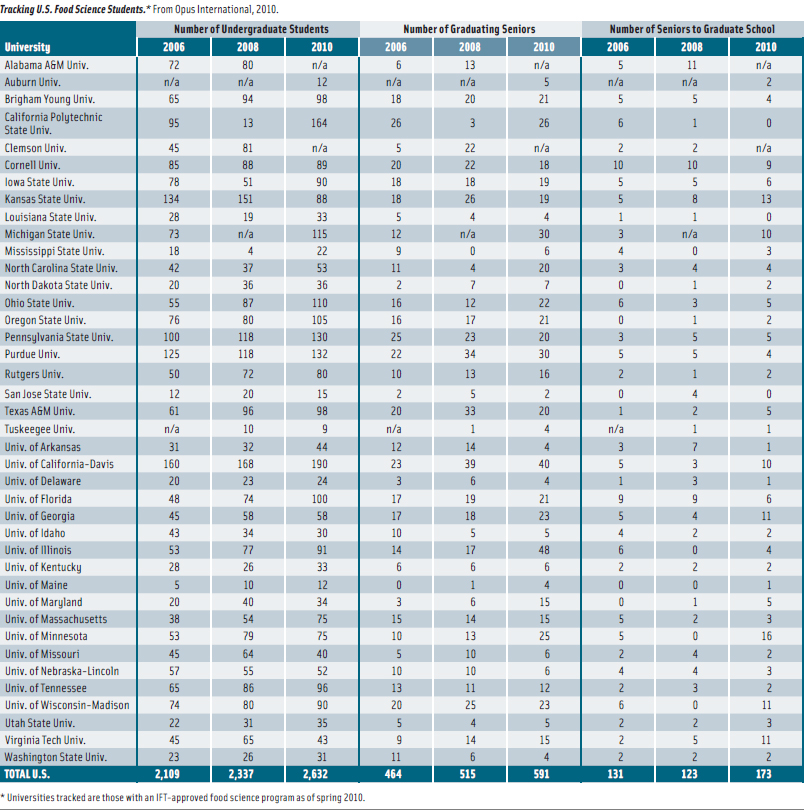 "We do a lot of things outside the classroom to help them [students] develop professionally," says Dong. One example is the role that food science majors are assigned at the University of Illinois reception held during the IFT Annual Meeting & Food Expo®. Students are asked to act as hosts at the reception and receive training from faculty members in the nuances of business etiquette. Experiences like these help to ensure that "when they leave [graduate], we can feel comfortable that they can work a room, know how to make introductions, and know the difference between business casual and casual dress," says Dong.
Communication skills are a priority. "One of the things they [recruiters] frequently tell us is that we need to work on [students'] communication skills to help them become better communicators orally and in writing," says Cornell's Miller, adding that faculty members have adjusted coursework to help students get the skills they need. In a food chemistry lab course Miller teaches, for example, one assignment requires students to prepare a written research proposal, analyze the research data, write a paper in the format of an IFT Journal of Food Science article, and deliver an oral presentation.
Certainly, practical experiences—both within the framework of the curriculum and via internships—are crucial components of a food science education. Getting students into the pilot plant at Penn State for some hands-on experience is extremely beneficial, notes Floros. "It's one thing to learn the principles of extrusion in a classroom setting, and it's another to go into a pilot plant and really make an extruded product from scratch," he says.
--- PAGE BREAK ---
At Penn State, Floros estimates that more than 90% of students have at least one internship by graduation, and more than 80% have two or more. "There's no question that when the time comes to find a job, those kids who had internships, they are the ones who get the better-paying jobs," he says.
Perhaps not surprisingly, given the prevalence of diet-related health issues within the U.S. population, food science professors report that students are highly motivated to learn more about nutrition and healthful foods formulation. Cornell's food science curriculum, for example, requires one undergraduate nutrition course, but Miller reports that, "increasingly, students are staying, 'I need to take more because I am really interested in the health aspects of food.'"
In fact, Miller says that a growing number of food science majors appear to be driven by a desire to improve the healthfulness of the food supply. "More students are saying, 'I want to study food science because I want to make healthier foods for the population,'" he says.
In a related, vein, Floros says he's noticed that increasingly students are driven by a desire to address the issue of world hunger. "In the past few years, our students are much more interested in doing something that will have an impact," says Floros. … "Feeding the world is something that they aspire to."
Food Science and the Future
What does the future hold for food science and the students who will be tomorrow's professionals? The discipline has evolved over the past few decades, Floros acknowledges. "We're not the same as we used to be 20 or 30 years ago. … We used to be more driven by science and engineering. Today, I think we are more 'rounded' and we include a little more of the social and human sciences.
"We're still a science- and engineering-based curriculum," Floros continues. "I strongly believe this will continue to be the case in 10, 20, or 50 years. I don't think we're going to lose the technical aspects of our profession—the chemistry, biology, processing, engineering, but we may see an infusion of social, human, behavioral, and ethics aspects in our curriculum. We may also see increased business and entrepreneurship elements, and probably more flexibility in allowing students to build their own curriculum around the core of food science.
"As food scientists, we don't think much about the consumer," Floros continues. "Even when we do sensory testing, yes, we involve consumers, but we don't necessarily understand why people do what they do, why consumers act the way they act.
"There are a lot of things to study from a biological, neuroscience, and behavioral perspective," Floros says. "We're finding out that we as food scientists need to be able to work better with people who have those kinds of expertise."
Cheryll Reitmeier, Professor and Associate Chair of the Iowa State University Dept. of Food Science and Human Nutrition, points to another area of importance. "If we're smart, we'll figure out how to address some of the global aspects of food science," she reflects. At Iowa State, she's been raising the issue of whether the department should implement a foreign language requirement. "Students who are conversant in a foreign language and who have traveled are much better prepared for employment," she says.
And don't forget about critical thinking and problem solving. Those abilities will remain "high on the list" of skills that are important to the profession, Dong adds. Clearly, even as the discipline evolves and branches out into new directions, many constants will remain.
--- PAGE BREAK ---
---
Budget Cuts Affect Food Science Programs 
If there is one dark side to the current sunny scenario for university food science enrollments, it is the fact that budget cuts are taking a toll at many of the state institutions that are home to leading food science programs. Troubled state economies across the United States mean that unpaid furloughs, salary cuts, and hiring freezes are the new reality for many colleges and universities, and food science departments are not immune—despite the trend toward increased enrollments.
At Purdue University, for example, fall 2010 undergraduate food science enrollment was up 25%, says Suzanne Nielsen, Professor and Head of the Dept. of Food Science. Meanwhile, the West Lafayette, Ind., main campus is faced with a 2.8% reduction in state funding for the 2011 fiscal year (Purdue University, 2010). "It's going to be a real challenge for us to meet the needs of all those students," says Nielsen. "We're getting more students, but we're not getting any more money to train those students."
"Each year we get less and less state support," says Gary Reineccius, Professor and Head of the Dept. of Food Science and Nutrition at the University of Minnesota. "That translates to less and less people [faculty]." Reineccius notes that state budget politics make it more difficult to cut back elementary and high school budgets and some entitlement programs, "so higher education (including the university) takes a beating."
In Illinois, state support for higher education has plummeted over the past three decades. In 1980, the University of Illinois received almost 48% of its operating budget from the state, but that total has declined to less than 17% in 2010, according an article on the university's website (University of Illinois, 2010).
About four years ago, North Carolina State University launched a brand new degree program focused on bioprocessing science, but undertaking such a labor-intensive initiative would be significantly more difficult today, says Christopher Daubert, Professor and Interim Head of the Dept. of Food, Bioprocessing and Nutrition Sciences at the university. "Faculty today are asked to do so much more with less," Daubert continues, adding that "the dollars are just not available to pursue and launch new initiatives."
Also contributing to the need for belt tightening within food science programs, according to Reineccius, is the fact that U.S. Dept. of Agriculture changes in funding priorities mean less support for many food science programs. He believes that university personnel must forge partnerships with industry to draw more financial support to food science. The University of Minnesota currently reaps the benefit of two endowed faculty positions sponsored by General Mills, and Reineccius is optimistic about the potential for more university-industry collaboration. "We have many alternatives. … We just have to be creative," he says. "We have a very strong industry advisory council," Reineccius continues, "and we're working together to try to make this a situation where we benefit and they benefit."
At Purdue, a brand new Industry Fellows Program supported by ConAgra Foods, General Mills, and Nestlé will fund first-year research assistantships for four graduate students in 2011. Nielsen says she came up with the idea for the program in January 2010—before she was aware of the state and USDA budget reductions. "Once both of those things hit, it became even more critical for us—and I'm sure for other universities, too—to have a partner in our efforts," she says.
As pleased as she is about the new Industry Fellows Program, Nielsen knows that it will be critical to cultivate additional industry partnerships to benefit both graduate students and undergraduates. "It's one step, and we need to come up with more innovative ways for companies to interact with [food science] departments and for departments to interact with companies for the benefit of all concerned," she reflects.

--- PAGE BREAK ---
---
At the Intersection of Culinary Arts and Food Science
The discipline of culinology®—also referred to as culinary science—is adding a new dimension to a growing number of U.S. food science degree programs. In 2010, the Research Chefs Association (RCA) approved three new curriculums, bringing the total number of RCA-approved undergraduate degree programs to 13.
About three-fourths of culinology programs are cooperative endeavors between two institutions, says Tim Kline, Director of Education & Certification for the Research Chefs Association. For example, one of the programs to receive approval last year is a joint venture between Ivy Tech Community College in Indiana and the Purdue University Dept. of Food Science. Students complete the first two years of the program as culinary arts students at Ivy Tech and follow that with two years at Purdue in order to receive a B.S. degree in culinary science from the university. Another of the recently approved programs is operated by Louisiana State University and Nicholls State University in Louisiana; the third is a collaboration between Mississippi State University and Mississippi University for Women. Program models vary from one institution to another, says Kline, although RCA mandates specific learning outcomes and competencies, in addition to other criteria, in order for a program to be approved.
At the University of Massachusetts, the path to a food science degree with a concentration in culinary science takes five years. The program accepts students with a two-year culinary arts degree and then requires them to complete a three-year food science curriculum in order to receive a food science degree with a concentration in culinary science (University of Massachusetts, 2010).
Culinology programs allow culinary arts and food science to "meet in the middle," says Kline. He describes the discipline's objective in this way: "To help students understand both the how—the culinary arts—and the why—the food science—of food product development. In other words, the culinology student learns the art of making a mayonnaise and the science behind the emulsion."
Recognizing the value to students, other schools have decided to develop culinary science programs which likewise strive to provide a culinary arts and food science education, although not all are under the auspices of the RCA. For example, Iowa State University introduced a culinary science major in the summer of 2008 and expects to graduate its first majors in spring 2011. Pamela White, Dean of the College of Human Sciences at Iowa State, explains that the program was developed in response to industry input.
"We were hearing from the food industry that they wanted a new category of employee," says White. This employee, she continues, needs to have the skills to help bridge the gap that companies sometimes find exists between the food scientists and culinary arts professionals on their product development teams.
Information from the University of Massachusetts suggests that culinary science majors are indeed in demand within the food industry. Recent University of Massachusetts graduates with a degree in food science and culinary arts have been "aggressively sought after by food companies such as Kraft, Unilever, and Pepsi at extremely competitive salaries of more than $48,000/year," the food science department website reports (University of Massachusetts, 2010).
While its culinary science major is not quite as scientifically rigorous as Iowa State's two IFT-approved food science degree options, it is "very much a science-based major," says Cheryll Reitmeier, Professor and Associate Chair of the Dept. of Food Science and Human Nutrition at Iowa State. The culinary science majors "get all the food science core courses that the others get, but a little more experience in hotel and restaurant food science management," she notes. The culinary science major also requires two internships, one focused on culinary skills and one focused on food science.
Not only does the new Iowa State culinary science major address an industry need, but it's providing the food science department with a new avenue for attracting students. "What happens when you have a new major like culinary science, [is that] it kind of pulls people in who have an interest in food," says White. "We have to remember that the average student coming out of high school doesn't know what they want to do. I believe that what the culinary science degree will do is draw additional attention to the food science and nutrition program in general." As of fall 2010, Iowa State reported 94 food science majors and 46 culinary science majors.--- PAGE BREAK ---
---
New Bioprocessing Degree Builds on Food Science Foundations
Give food science faculty members at North Carolina State University an A+ for having the vision and commitment required to implement a new degree option—a B.S. in bioprocessing science.
The North Carolina State food science program provided the foundation for the new major, which enrolled its first class in spring 2007, says Christopher Daubert, Professor and Interim Head of the Dept. of Food, Bioprocessing and Nutrition Sciences. "We took that model in preparing young people in a breadth of disciplines, and we applied it to the biomanufacturing area," says Daubert.
The bioprocessing science degree prepares students for careers in bio-industries, including biopharmaceuticals manufacturing, a major contributor to the North Carolina economy. The state is home to more than 50 companies that manufacture biologics, pharmaceuticals, and diagnostics (North Carolina Biotechnology Center, 2010).
The origins of the new major extend back about seven or eight years; at that point, it became clear to Daubert and other North Carolina State food science faculty that there were opportunities within the state for qualified biomanufacturing professionals. The professor formed a task force "to find out what our department could do to help place students in that growing industry."
In a fortunate convergence of events, shortly after the food science department had submitted the paperwork for its bioprocessing science degree program, North Carolina State University received a major grant from the Golden Leaf Foundation to develop a Biomanufacturing Training and Education Center. "This new, beautiful center came online about the same time our degree program launched, and it provides our students with a pilot facility where they can get real experience on campus so when they graduate they can go to work right away for the biomanufacturing industry," says Daubert.
The department graduated its first four bioprocessing science majors last spring. Currently, 40 students are pursuing this specialized degree, the only one of its kind in the United States.
Mary Ellen Kuhn is Managing Editor of Food Technology ([email protected]).