Whether it's brunch at Brennan's, an elegant dinner at Commander's Palace, or a midnight snack at the Café Du Monde, New Orleans can be counted upon to dish up a first-rate food experience. And that is just one of the things that makes it a fitting setting for the 2011 IFT Annual Meeting & Food Expo®—an event that is sure to deliver five-star scientific programming, trade show exhibits, and networking opportunities when it takes place in the New Orleans Morial Convention Center June 11–14.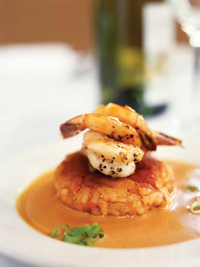 The menu of Annual Meeting educational options is extensive. More than 100 sessions and 1,200 poster presentations are scheduled on subjects ranging from allergens to antioxidants and pathogens to process controls. The Food Expo will bring together 900-plus exhibitors showcasing innovative ingredients, instruments, equipment, and services. It's an unparalleled forum for checking out new products and technologies and for sampling innovation-inspiring food and beverage prototypes. And it's all set against the incomparable New Orleans ambiance of fun and hospitality.
About 18,000 registrants from all corners of the globe are expected in New Orleans this summer. The Annual Meeting & Food Expo will boast several new features this year, including one appropriately named "What's New!," which will serve as a vehicle for identifying and locating companies with hot new products and innovations. (See sidebar on page 42 for more information on What's New!)
2011 also marks the debut of the Knowledge Center, a resource that will be located in the convention center lobby. The Knowledge Center will feature information on IFT educational opportunities. Staff members will be on hand to provide guidance and tips for building a personalized Scientific Program education plan. In addition, the Knowledge Center will offer Scientific Program listings broken out by track and core science topic, information on IFT groups of special interest, and guides to the Trend & Solution Tours of Food Expo exhibitors.
Conveniently located downtown within easy walking distance or a short cab ride of many hotels and restaurants, the Morial Convention Center was extensively renovated in 2006, followed by additional building upgrades in subsequent years.
"The Morial Convention Center is looking the best I've ever seen it," says Dave Booth, Director of Business Development for Edlong Dairy Flavors, who visited the city with a group of IFT Food Expo exhibitors a few months ago and who adds that he was also impressed with the warmth and friendliness of the local residents.
Then there's the cuisine. "New Orleans is a classic food city," notes Stacy VanDenHeuvel, TIC Gums Marketing Specialist and another participant in the group visit. "Culinary arts are front and center, which makes it an ideal location for IFT," she observes.
--- PAGE BREAK ---
Come Early, Learn More
The educational programming will get under way even before the official start of the Annual Meeting & Food Expo with a series of nine short courses held on Friday, June 10, and Saturday, June 11, at the Hilton New Orleans Riverside Hotel. This year's roster of short courses includes five returning favorites and four new and updated offerings. The returning courses are "Food Science for the Non-Food Scientist," "Ingredient Applications for Product Innovation and Consumer Health," "Labeling Requirements and Implications for Foods Marketed in the U.S.," "Microencapsulation in Food Applications," and "Developing Effective Influencing Skills." New this year are "Sensory Testing for Product Development and Claims Support," "Managing Risks Associated with Food Ingredient Safety," "New Oils, New Labels, New Opportunities," and "Evaluating the Safety of Gulf Seafood: Programs and Analytical Techniques in the Aftermath of the Deepwater Horizon Spill."
Taught by food industry experts, short courses offer indepth practical education without a major investment of time. The registration fee for each course includes lunch, course binders printed in color, and advance online viewing of speaker presentations. IFT short courses have a strong track record; in 2010, 86% of evaluators said they were satisfied with their quality.
Let the Good Times Roll
It's always a festive occasion at the annual Awards Celebration, which will take place on Saturday evening at the Morial Convention Center. The event will honor the 13 IFT Achievement Award winners and 16 newly elected Fellows for their distinguished contributions to the field of food science and technology.
During the celebration, IFT President Bob Gravani will share highlights of the past year and will introduce incoming President Roger Clemens and President-Elect John Ruff, both of whom will take office in September.
A Networking Reception complete with New Orleans-style cuisine and entertainment will follow the Awards Celebration, providing those who attend with a chance to mix and mingle while celebrating the achievements of the evening's honorees. Division Paper Competition winners will be displayed outside the reception area.
A Notable Keynote Session
On Sunday, June 12, the Annual Meeting & Food Expo will kick it up a notch with a powerful Keynote Panel featuring provocative writer and speaker Michael Specter. An award-winning journalist, Specter is the author of a compelling analysis of the ways in which suspicion of science is leading the world down an unfortunate path. The title of Specter's book—Denialism: How Irrational Thinking Hinders Scientific Progress, Harms the Planet, and Threatens Our Lives—makes his position clear: abandoning scientific impartiality and instead embracing unsubstantiated claims, hearsay, and rumors is dangerous and will limit future progress.
--- PAGE BREAK ---
Specter, who is a staff writer for The New Yorker, will participate in a panel discussion on the topic "Delivering Science: Changing the Image of Food Science in the Marketplace." Panelists in addition to Specter are Martin Cole, Chief of CSIRO Food and Nutritional Sciences, and Mary K. Wagner, Senior Vice President, Global Research & Development, Starbucks Coffee Co. Linda Eatherton, Partner, Director Global Food & Nutrition, Ketchum, will moderate the discussion.
IFT leaders will take the stage during the Keynote Session, which will also feature an IFT year-inreview video and the presentation of the IFT Food Expo Awards.
The Sunday morning session, which will take place from 8:30 a.m. to 10:15 a.m., is sponsored by Corn Refiners Association.
A Stellar Scientific Program
The Annual Meeting's Scientific Program provides a forum for sharing knowledge and exchanging ideas on myriad food science and technology topics. It's an ideal way to stay up to date about current research in food science and technology and its practical business applications.
The peer-reviewed program is organized around key industry focus areas and the core sciences that represent the foundation of the food science discipline. The focus area tracks are as follows: Food Safety & Defense; Food Health & Nutrition; Food Processing & Packaging; Product Development & Ingredient Innovations; Sustainability; Public Policy, Food Laws & Regulations; and Education & Professional Development. Core science program tracks include Food Microbiology, Food Chemistry, Food Engineering, and Sensory Science.
The track structure was developed in response to input from IFT members and is designed to make it easier for attendees to find the sessions that are most relevant to their interests. Sessions and posters for this year's program were reviewed by an IFT volunteer group comprised of more than 500 food science and technology professionals.
2011 marks the debut of a new Scientific Program feature—the Beacon Lectures. These sessions will bring two high-profile presenters to the Annual Meeting: Regina M. Benjamin, Surgeon General of the U.S. Public Health Service, and Patrick Wall, Associate Professor of Public Health in University College Dublin's School of Public Health and Population Sciences.
--- PAGE BREAK ---
As "America's doctor," Benjamin is charged with providing the public with the best scientific information available on improving health and wellness. She is the founder of a rural health clinic in Alabama and the recipient of a long list of awards ranging from a MacArthur Genius Award to the National Caring Award. In 2002, she became President of the Medical Association of the State of Alabama, making her the first African American female president of a state medical society in the United States.
Wall's research interests include foodborne diseases, lifestyle-related diseases, and consumer behaviors that are damaging to health. He teaches veterinary, medical, and food science undergraduate and postgraduate students and is co-director of the University College Dublin Centre for Behavior and Health and is a member of the university's Institute for Food and Health.
The Beacon Lecturer presentations are scheduled for Sunday (Wall) and Monday (Benjamin) from 4 p.m. to 4:45 p.m. Check the IFT Program Directory for room locations and for more specifics on the presentation topics.
Bonus Learning for Early Birds
Those eager to work some extra education into their days at the Annual Meeting & Food Expo will want to capitalize on Sunrise Session presentations slated for 7:15–8:15 a.m. on Sunday, June 12, and Tuesday, June 14. The sessions for Sunday include "Nanoscale Science for Food: A Primer," "Project and Portfolio Management," and "Fundamentals of Sustainability for the Food Industry." Tuesday's Sunrise Sessions are "Structure-Function of Carbohydrate Polymers," "Non-Targeted Analytical Approaches for Detecting Economically Motivated Adulteration of Food and Food Ingredients: Part 1," and "How to Obtain and Manage AFRI Competitive Grants."
New Products & Technologies Table Tops
Eleven of the year's most innovative new products and technologies will be showcased in table-top displays from 3 p.m. to 5 p.m. Sunday in the convention center. Those who take advantage of the opportunity will be able to interact with presenters at their table-top displays on the Food Expo floor near the poster presentations.
Savor the Expo Experience
It's hard to imagine a better way to get an up-close view of food industry product development and technology innovation than walking the floor of the IFT Food Expo. Traversing the Expo is sure to be a rich sensory experience full of new sights, aromas, and tastes as exhibitors serve up inventive food and beverage prototypes, showcase colorful new packaging, and demonstrate cutting-edge analytical and processing equipment.
Be prepared for a long walk, though; this year's Expo will sprawl across more than 200,000 square feet of space in the Morial Convention Center and will feature 1,843 booths. The roster of 2011 exhibitors will include 110 who are new to the event. Hours for the Expo are noon to 5 p.m. Sunday, 10 a.m. to 5 p.m. Monday, and 10 a.m. to 4 p.m. Tuesday.
--- PAGE BREAK ---
Take a Trend Tour
Since their debut in 2009, self-guided Trend & Solution Tours have become a popular part of the Expo experience for many attendees. Each year, a series of trend topics that reflect contemporary issues of importance in the food industry are identified, and exhibitors whose products and services match up with the topic are listed under the relevant topic heading. A total of 92 products from 49 companies will be showcased in the 2011 Trend & Solution tours.
This year's list of Trend & Solution Tour themes includes the following: "Ingredients for Functional Foods," "New Directions for Carbs," "Next-Generation Fats and Oils," "Taste Modification," and "Weight Management and Diabetes." Printed guides for the tours will be placed outside the entrances to the Expo, in the Networking Lounges, and in the new Knowledge Center. This year, for the first time, scientific sessions related to each trend will also be listed in the tour brochures.
Attendees who visit each booth on a particular tour and collect exhibitor signatures on the tour guide brochure are invited to participate in a "Passport to Prizes" raffle drawing at 3 p.m. Tuesday at the IFT Central booth. Prizes will include two $250 Visa gift certificates and five free registrations to the 2012 Annual Meeting & Food Expo in Las Vegas.
Special Events Pavilion
The Special Events Pavilion (booth 8153), which is sponsored by the Almond Board, will host a series of informative programs and presentations during the course of the Food Expo. Be sure to stop by and check out the following presentations:
• 2–2:45 p.m. Sunday, "Delicious Snack Food Opportunities: Leveraging the Dietary Guidelines;"
• 3:15–4:15 p.m. Sunday, "Social Media and Word of Mouth Marketing: Conversations Mean Business;"
• 10:30–11:30 a.m. Monday, "Great Science Meets Great Taste: A Revolutionary New Approach for Formulating Great Tasting Reduced-Calorie Beverages;"
• 2–5 p.m. Monday, oral finals of the Disney-IFT Student Association Product Development Competition: "Nutritious Food for Kids;"
• 10:30–11:30 a.m. Tuesday, "The Future for Natural Flavors and Colors;"
• 12–1 p.m. Tuesday, "Emerging Consumer Trends: The Protein Opportunity."
More Show Floor Highlights
Here's a look at some of the other highlights of this year's Expo.
• Food Expo Innovation Awards. This prestigious IFT competition recognizes the most innovative products, technologies, ingredients, instruments, equipment, or services—or new applications of existing products/services—commercially introduced by Food Expo exhibitors since January 1, 2010. This year's competition drew more than 50 entries. Winners will be selected by an expert panel of judges, and at the Expo, a floor decal will help to identify them.
--- PAGE BREAK ---
• Innova Pavilion. More than 200 innovative products from around the globe will be on display in Innova Market Insights' Taste the Trend Pavilion. The pavilion displays will provide in-depth analysis of the issues driving today's food and beverage landscape, including strategies for maximizing sustainability and coping with future sourcing challenges. Product samples will illustrate the top 10 consumer trends.
Innova Market Insights staff members will be available to share their perspectives on industry trends and guide visitors through the displays. In addition, a dedicated website will house the content from all the presentations displayed at the show.
• Mintel Pavilion. The New Products and Consumer Insights Pavilion presented by Mintel is sure to be a hub of activity as show goers gather for daily presentations by new product experts Lynn Dornblaser and Dave Jago. Each session will begin with a presentation that breaks down a particular trend with real market examples and then projects how the forecast will shape the future of the industry.
This year's presentation topics include the following: "The Nutrition Guideline We Don't Talk About: Portion Size;" "Functional Foods: Dead or Alive?" and "Flavor and Ingredient Predictions: 2011 Update."
• Specialty & Trend Pavilions. Several pavilions will provide exhibitors with a convenient forum for showcasing similar products and services in a single setting. Themes for this year's list of specialty & trend pavilions are Asia Pac, Food Safety & Quality, Healthy Food Ingredients, Organic Food Ingredients, and Sustainability.
• Exhibitor Spotlight Sessions. Participating companies will offer insights into their products and services in these 45-minute informational sessions held in the Exhibitor Spotlight Theater (booth 3523).
• IFT Central Booth. Think of this popular destination on the show floor as a "conference concierge." Whether you want to learn about IFT publications and resources, continuing education programs, and online communities—or just need a place to sit and engage in some friendly conversation—the IFT Central booth is the place to visit. It will be located on the show floor in booth 5035 and will be hosted by IFT staff members, who will be available to provide information and answer questions.
• IFT/RCA Culinology® Presentation. Scheduled for 12:15–1:15 p.m. Sunday, this program will feature presenters Nick Landry, a corporate chef/research and development chef, and Joe Orr, Director of Research and Development, Bruce Foods, discussing the product development process and offering insights into how to work as a team to create new product concepts.
Student Association Activities
IFT's student members play a vital role in the organization, and, as always, the Annual Meeting & Food Expo will offer a variety of events and activities tailored specifically to student needs and interests. A stop at the IFT Student Association (IFTSA) booth in the lobby of the Morial Convention Center is a good way to begin. Here's a look at some of the highlights of IFSTA activities planned for New Orleans.
--- PAGE BREAK ---
• Developing Solutions for Developing Countries. Now in its third year, this competition invites food science students from around the world to address critical issues in the development, safety, and distribution of food. Specifically this year, participants were asked to "utilize food science and technology to address the issue of iron deficiency in developing countries." Sponsored by General Mills, the competition's oral finals will take place from 9 a.m. to noon Monday, June 13.
• Disney-IFTSA Product Development Competition. Themed "Nutritious Foods for Kids," this competition, also in its third year, challenges students to develop a healthy, innovative snack for kids. Six finalists will participate in the oral finals scheduled for 2–5 p.m. Monday. The competition is sponsored by Disney Consumer Products.
• IFTSA Product Development Competition. Product concepts created by finalist teams will be evaluated by judges in the final phase of this competition, which is sponsored by Mars. This competition has several components, including an oral competition from noon to 3 p.m. Sunday and product poster presentations from 8 a.m. to 11 a.m. Monday.
• Undergraduate Research Competition. Finalists will present their research orally before stationing themselves at their posters to discuss their research and to answer questions from the judges. These hybrid finals are scheduled for 3:30–5 p.m. on Sunday.
• IFTSA Mixer and Welcome Assembly. Students will meet and mingle while viewing the IFTSA Chapter of the Year displays from 5:30 p.m. to 6:30 p.m. Monday at the Hilton Riverside Hotel. A Welcome Assembly, where IFTSA leadership will be announced, will begin at 7 p.m.
The evening will also include presentation of awards, including those for Chapter of the Year and Most Improved Chapter, Product Development Competition Winners, Fun Run winners, and recognition of the Excellence in Leadership Award recipients. The Mixer and Welcome Assembly are sponsored by PepsiCo.
• College Bowl Competition. The level of engagement promises to be fierce but friendly at the 26th College Bowl Competition, which follows the Welcome Assembly. Eight teams will vie for top honors. The College Bowl Competition is partially sponsored by PepsiCo.
• Professional Development Oral Sessions. These special sessions are designed to provide students who are presenting posters with an opportunity to refine their oral presentation skills. Students who are chosen to participate will present their research from 4:30 p.m. to 5:30 p.m. on Sunday and Monday. A panel of food science and technology professionals will serve as judges and will provide written feedback to the participants.
• Phi Tau Sigma Awards Reception. This awards ceremony will announce the finalists and winners for 18 division poster competitions taking place throughout the Annual Meeting. Join us in the convention center on Saturday from 3 p.m. to 4:30 p.m. to learn the winners.
--- PAGE BREAK ---
• Student Association Networking Reception. Students are invited to cap off their stay in New Orleans by attending this informal event, which begins at 7 p.m. Tuesday at Maison, 508 Frenchman St. New Orleans cuisine and music will enhance the experience.
New Professionals Pass and Mixer
Introduced this year, the New Professionals Pass is a fun networking tool. Passes may be picked up at the IFT registration area and brought to six different events, where professionals new to the industry may enter to win one of many prizes. Prizes will be announced at the IFT Central booth at 3 p.m. Tuesday.
The New Professionals Mixer, geared specifically to those who are new to the profession, will take place 4–7 p.m. Sunday at Gordon Biersch New Orleans, 200 Poydras St. It's a great way for newcomers to relax, socialize, and form new friendships.
Town Hall Meeting
This annual open forum, scheduled for 4:45–5:45 p.m. Sunday in the convention center, will provide an opportunity for IFT members to be updated on current and future IFT initiatives. Members of the Board of Directors will be on hand to respond to questions and engage in discussions.
Making Career Connections
From Sunday through Tuesday, the IFT Employment Bureau will provide job seekers and prospective employers with a convenient place to come together for pre-scheduled interviews. Hours of operation are 8:30 a.m. to 5:30 p.m. daily. Candidates and employers who wish to take part in the Employment Bureau must register online.
On Saturday, a Career Fair from noon to 5 p.m. will allow job seekers and food company representatives to interact in a setting that is informal but professional. Admission to the Career Fair is free to registrants of the Annual Meeting & Food Expo.
Extra-Credit Learning
Not all of the Annual Meeting & Food Expo learning opportunities will take place at the convention center or Hilton Riverside Hotel. Those registering for IFT's Technical Field Trips will be treated to an insider's view of the ways in which food science and technology are applied in the real world.
The destinations for this year's field trips are Motivatit Seafoods, Chef Paul Prudhomme's Magic Seasoning Blends, Zapp's Potato Chips, and Celebration Distillation Corp.
Tickets for Technical Field Trips will be sold on-site at the Ticket Desk located in the registration area of the convention center. Transportation from the convention center to the field trip destinations and back is included in the cost of registration.
Product Tracing Workshop
The opportunities for learning don't conclude with the official close of the Annual Meeting & Food Expo. A post-conference workshop titled "Creating a Product Tracing Plan" sponsored by GS1 US and IFT will be held on Wednesday, June 15, from 8 a.m. to 12:30 p.m. at the Hilton Riverside Hotel. Two webcasts are prerequisites for those who are interested in signing up to attend the workshop.
--- PAGE BREAK ---
And That's Not All
Interested in learning more about what's in store at the Annual Meeting & Food Expo in New Orleans? The pages that follow feature lots of in-depth information about Food Expo exhibits, selected technical sessions, and scientific presentations.
You'll also find a full list of Food Expo exhibitors and their booth numbers plus the Scientific Program as of press time. The complete Scientific Program, abstracts, and exhibitor descriptions are available online at ift.org/IFT11.
So please check out what follows, and—if you haven't already done so—start making your plans for an information-packed visit to New Orleans. We're confident that the 2011 IFT Annual Meeting & Food Expo will deliver a five-star meeting and learning experience.
---
What's New! Debuts
Want to know what's new at the 2011 Food Expo? Well, IFT's got an easy way to help you figure it out. Hundreds of new products and services will be identified with an attention-grabbing yellow What's New! logo.
At the Food Expo, What's New! floor stickers will help exhibitors with featured products to stand out. Products labeled with the What's New! logo will also be included in the new downloadable mobile phone application. Annual Meeting & Food Expo attendees will even be able to use the mobile app to vote for the best new products from participating companies.
In addition, products labeled with the logo will be listed within a tabbed section in the printed Program and Exhibit directory available on-site.
---
Be Part of the IFT Cares Experience
The IFT Cares anti-hunger initiative will return to its roots in New Orleans this summer. The volunteer service program got its start in 2008 when IFT partnered for the first time with the Second Harvest Food Bank of Greater New Orleans and Acadiana.
The program offers Annual Meeting & Food Expo attendees a chance to work at a Mobile Pantry on Saturday, June 11, delivering food to needy families, or to help out at the food bank on Wednesday, June 15, inspecting, sorting, and repacking donated and bulk food products. You can sign up to volunteer when you register for the meeting or by sending an e-mail to [email protected]. The registration fee is $15 ($10 for students). Volunteer slots are from 8 a.m. to noon on Saturday or Wednesday. Transportation to and from the mobile pantry and the food bank will be provided.
You can be sure that the cause is worthwhile. The Second Harvest Food Bank of Greater New Orleans and Acadiana, a member of the Feeding America network, serves about 262,800 clients annually. An estimated 11% of Louisiana households are food insecure, meaning that their access to adequate food is limited by a lack of money and other resources.
Those who are not available to volunteer can help by stopping by the food bank booth in Lobby G of the Morial Convention Center to make a cash donation. Let's help show New Orleans that IFT cares!
--- PAGE BREAK ---
---
Run or Walk for Food Science
Be fit, have fun, and contribute to a worthy cause. One event allows you to accomplish all three objectives—the IFT Student Association/Feeding Tomorrow Fun Run & Walk.
The event gets under way at 6:15 a.m. Monday, June 13, in New Orleans' beautiful Audubon Park. Advance registration is $15 for students and $25 for all others.
Prizes will be awarded in a variety of categories, and run/walk participants will receive a t-shirt. Proceeds from the event will benefit the Feeding Tomorrow Education Fund, which provides scholarships for students pursuing degrees in food science.
For more information on the 5K Fun Run & Walk, contact Anna K. Proctor at [email protected] or visit ift.org/IFT11.
---
Stay in the Know at the Annual Meeting & Food Expo
Accessing and sharing information about the Annual Meeting & Food Expo has never been easier and more convenient. Here's a look at a few of the options.
• Smartphone Mobile Application. Available for iPhones, iTouches, iPads, Androids, and Blackberrys, the new IFT11 mobile application is easy to download and available at no charge. It will keep users up to date on floor plans, exhibitors, the Scientific Program, and more. In addition, it will provide Twitter updates and offer full search capabilities.
• IFTLive Show Daily. The Annual Meeting & Food Expo's digital show daily will deliver a comprehensive overview of the event's happenings. Check it out for reports on Annual Meeting programs and sessions, Food Expo news, competition results, and much more. Interactive content will include videos, photos from the show floor, and Twitter feeds. IFTLive may be accessed at Internet Café terminals or through laptops, smartphones, or PDAs.
• Social Media. IFT is using the social media channels LinkedIn, Facebook, Twitter (twitter/IFT11), and Flickr (flickr/IFT) to communicate about event highlights and changes during the Annual Meeting & Food Expo and to allow those on-site to engage in the virtual IFT community.
Follow Annual Meeting & Food Expo activity at twitter/IFT11, and be sure to use the #IFT11 hashtag when tweeting about the event. If you are not already on LinkedIn, Facebook, Twitter, or Flickr, consider joining these social networking sites and search for the Institute of Food Technologists or IFT.
---
Registration Information
Hungry for more information about the Annual Meeting & Food Expo or ready to register? You can learn more about the event or register online at ift.org/IFT11. On-site registration is available until Tuesday, June 14.
Mary Ellen Kuhn is Managing Editor of Food Technology magazine ([email protected]).