When in New Orleans, it is not uncommon for the Food Expo to feature a variety of prototypes such as gumbo, crawfish etouffee, red beans and rice jambalaya, bananas foster, and a variety of other dishes smothered in hot sauces. And this year is probably no exception. What is of particular interest, however, is the different ways that ingredient exhibitors are using these kinds of prototypes as a sort of springboard to address a number of trends in flavor, texture, functionality, and better-for-you formulating. (The last concern especially may seem somewhat of a paradox when considering the rich, indulgent nature of some of these items.)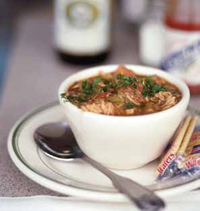 Take, for example, your gumbo—one of the staples in Cajun cuisine. In fact, no visit to New Orleans would be complete without at least one or two cups of this dish. Gumbo, of course, can be made with a number of ingredients, and there is no one hard-fast recipe for this favorite. So don't be too surprised if you taste a Korean gumbo with some very exotic spices. This prototype was developed by a flavor company to demonstrate how Creole cuisine, which is based on French and Spanish cultures, can be combined with the flavors of other world cultures, creating products that may influence tomorrow's flavor trends.
Or how about a Cajun pot pie providing the goodness of multigrains? This flavorful dish incorporates white whole-wheat flour, sorghum flour, soy protein concentrate, and bean ingredients.
As I already noted, because of the rich, indulgent nature of this cuisine, there may be some disbelievers out there that these dishes can be made better for you. One flavor company took on the challenge and using its line of low-fat dairy flavors, created prototypes such as Voodoo Sweet Potato Biscuit with Saintly Sausage Gravy. Inspired by the famous New Orleans dessert, the company also developed a Bourbon Street Bananas Foster Smoothie.
Salt reduction has been of major concern in recent years. One approach taken is the use of yeast extracts and taste enhancers, which will be applied to products with local Creole and Cajun flavors. In addition to enhancing the taste of foods, these ingredients reduce sodium levels in the final product.
A major condiment associated with Cajun cuisine is, of course, hot sauce. While it has its traditional applications, hot sauce is increasingly being used in a wider range of products—from snacks to desserts. Another sauce showcased is barbecue—Louisiana style.
And there are so many other examples taking advantage of the local atmosphere. One ingredient exhibitor will have a trend-setting chef and owner of several New Orleans restaurants demonstrate novel culinary creations. And a blueberry organization is dubbing its product "Big Easy Blueberries" because of their versatility—they can be found on restaurant menus all over town.
--- PAGE BREAK ---
But I thought I would close with this one which, in my opinion, has some interesting possibilities. A cosmopolitan flavors collection called "Urban Chic" that is being unveiled in New Orleans captures the flavor experiences of Paris, Cairo, Moscow, Shanghai, New Delhi, Cape Town, New York, Mexico, Tokyo, and Sydney. Each distinctive flavor is inspired by the culture, the environment, the differences, and the way of living of people from these 10 cities. I can't help wondering (in the spirit of Korean gumbo) what would happen if these flavors were combined with the cuisines of Cajun or Creole. Wouldn't that make for some interesting bedfellows? Make mine an Egyptian etouffee, please.
As you'll soon see over the next pages, many of these developments are exciting ones, and when you return to your labs or offices, perhaps some of the New Orleans spirit—in its ever-evolving forms—will come back with you to help you in your work.
SPECIAL THEMES
Whole-grain Cajun pot pie … OOOweee!
Several food and beverage prototypes will be unveiled that demonstrate how a range of ingredients—from functional soy proteins to indulgent chocolate products to nutritious bean powders—can be used to meet the needs of the food customer.
Multigrain Cajun Pot Pie is a flavorful pot pie providing the goodness of whole grains. It uses Cajun cuisine as a way of incorporating such ingredients as Kansas Diamond® white whole-wheat flour, vegetable shortening, sorghum flour, Prolite wheat gluten, Vegefull™ edible beans, soy protein concentrate, and xanthan gum.
Whole Wheat Beignet is a sweet pastry treat highlighting Kansas Diamond white whole-wheat flour, vegetable shortening, frying oil, and Sweet N' Neat Fibercal.
Gluten-free Crisp with Hummus is made with sorghum flour, vegetable shortening, and Ultralec lecithin. The savory hummus features Vegefull edible bean powder, vegetable oil, and CardioAid™ plant sterols.
Raspberry Nutrition Bar features CardioAid plant sterols, NovaSoy® soy isoflavones, Kansas Diamond white whole-wheat flour, Prolite wheat gluten, cocoa, chocolate coating with added fiber, and better-for you oils.
For dessert, try Chocolate Truffle, a rich, indulgent treat made with deZaan™ pure Belgian chocolate.
And to wash everything down, Orange Mango Protein Cooler will be served. This refreshing tropical beverage contains a new transparent soy protein.
Also highlighted are fiber-fortified products made with Fibersol-2, a slow fermentation soluble dietary fiber that has been shown in clinical studies to help support intestinal health. The fiber is highly soluble, has a clear and transparent solution, offers acid stability, and is very stable at high temperatures. ADM/Matsutani America LLC, www.adm.com, Booths 6539, 6439
In the spirit of New Orleans
Skeptical that better-for-you foods can taste as good as they are good for you? A variety of prototypes that reflect the spirit of New Orleans will make you a believer.
Delicious but better-for-you prototypes include a Voodoo Sweet Potato Biscuit with Saintly Sausage Gravy, NOLA Granola with fresh local fruit and sweet vanilla cream; and Bourbon Street Bananas Foster Smoothie. These products are made with a dairy flavor line designed to address a range of challenges—from masking off notes present in soy, whole wheat, and other fortified foods to enhancing creamy mouthfeel in low-fat and non-dairy applications. Edlong Dairy Flavors, www.edlong.com, Booth 6429  
--- PAGE BREAK ---
Corn Products, National Starch team up
The Corn Products/National Starch team will be presenting a wide range of prototypes that can address important trends in today's food industry. These include natural, non-nutritive sweetening, cost and fat reduction, ingredient replacement, gluten-free formulating, textural differentiation, and nutritional enhancement. Culinology® demonstrations will take place throughout the day to bring these concepts to reality. Corn Products Intl. and National Starch Food Innovation, Booth 6839
Cocoa and coconut combos
Baked right at the show, cookies are made with Cocoa-Mate®, which can provide a 30% reduction in cocoa. Depending on the application, it is functionally capable of replacing up to 40% of the cocoa powder used in a finished product.
As you sample these fresh-baked cookies, try fruity flavored coconut water ices. Using coconut water as a frozen treat base offers consumers a refreshing healthy alternative without compromising taste. Tropical flavors were chosen to highlight these ices. David Michael & Co., www.dmflavors.com, Booth 5217
Optimizing the balance between taste and mouthfeel
The secret to delivering a superior taste experience to consumers is in optimizing the balance between texture, sweetness, and flavor. When producing reduced-calorie beverages, manufacturers typically lower sugar content. To compensate for losing sweetness, it is common to add zero- or mid-calorie high-intensity sweeteners and taste-modifying flavors. Although this effectively addresses the loss of sweetness, the resulting beverage is likely to deliver a thinner mouthfeel and a different taste profile.
To remedy this challenge, taste and mouthfeel must be balanced with precision. This can be done by using "tribology" (the science and technology of interacting surfaces in relative motion). With this approach, reduced-calorie solutions, TasteWise™, have been developed that will enable beverage manufacturers to deliver better-tasting, reduced-calorie products. Attendees will be able to take the TasteWise challenge to see if they can tell which lemon-lime soda is zero-calorie. Cargill, www.cargill.com, Booth 6039
Never a dull moment
On Sunday and Monday, from 2 to 4 p.m., "Symrise Happy Hour" will feature Mixologist Junior Merino, who will concoct special cocktails, the kind of creations that have crowned him as "the liquid chef." Visitors can also meet Chef Adolfo Garcia, trend setter and owner of Gusto, a Mano, LaBocha, and RioMar in New Orleans. Chef Garcia will demonstrate novel culinary creations from 12:30 to 2 p.m. on Sunday and from 11:30 a.m. to 1 p.m. on Monday.
A new line of tropical fruit flavors—go tropicals!—will be front and center. Mango, guava, papaya, pineapple, lychee, passionfruit, pomegranate, and coconut water fruit flavors were inspired by consumers across the country who participated in an online study.
Symlife®Mask, a line of flavor-masking solutions will be featured, as well as SymLife Salt natural salt enhancers. There will also be an opportunity to sample Symlife Sweet, which provides up to 35% reduction of sugar in beverages, confections, and bakery products. And visitors will benefit from information about Symlife Umami, a cost-effective alternative to MSG and HVP. Symrise Inc., www.symrise.com, Booth 5016
 • Soluble corn fiber, Promitor 85, will be featured in such prototypes as hummus chips and curry salsa. Other ingredient highlights include Splenda sucralose in Tea and Lemonade (Arnold Palmer), instant granular starch in key lime filling, instant pregel starch in whipped cheesecake, and food systems in sour cream. Tate & Lyle, www.tateandlyle.com, Booth 6229
--- PAGE BREAK ---
 • Concepts and capabilities include Sunwin™ Stevia, an all natural sweetener derived from stevia extracts; a variety of clear and cloudy color emulsions from the Colors from Nature® line; and SaltTrim™, a natural salt alternative that reduces sodium up to 50%. Personalized meetings can be scheduled to see a variety of special food and beverage concepts that will not be shown to the public. Wild Flavors Inc., www.wildflavors.com, Booth 6813
 • Almond demonstrations will be conducted by Research Chef John Czukor. See and sample innovative yet practical almond recipe concepts within the chocolate, snacking, bakery, and cereal categories. Available will be several quantitative studies to help provide a better understanding of consumers' attitudes, awareness, and consumption habits in the key categories of chocolate and breakfast. Each study yielded insights highlighting opportunities for almonds. Almond Board of California, www.almondboard.com, Booth 5229
 • Natural ingredient solutions for today's top health trends will be highlighted. For example, sub4salt® provides sodium reduction up to 50% in foods along with a technical performance equivalent to salt. Erylite® Stevia is a new all-natural, sugar-free and zero-calorie sweetener blend that combines erythritol and Rebaudioside A. Citrate MA reduces acrylamide in heat-treated foods up to 80%. Jungbunzlauer Inc., www.jungbunzlauer.com, Booth 7638
 • Soy ingredients will be featured in a number of baked goods prepared by bakery technologist Greg Stempien. Prototypes include chocolate cookies free of gluten, dairy or egg; vegan muffins, egg-free cookies, and other sweet baked goods. Natural Products Inc., www.npisoy.com, Booth 7227  
 • 50th anniversary is celebrated by Kemin Food Technologies. Join the company on Monday, June 13, at 3:30 p.m. for its celebration. New products highlighted include an antimicrobial for Listeria control in deli meats, water- and oil-soluble natural antioxidants and extracts, and Fortium TR30 liquid antioxidant for color stabilization. Kemin Food Technologies, www.kemin.com, Booth 7019  
 • Browse through a library of scientific and technical books, journals, and electronic products. New Food Product Development: From Concept to Marketplace is the title of just one of many of these informative sources. CRC Press, www.crcpress.com, Booth 4739
FLAVORS
Idyllic flavors in a garden setting
"Garden of Flavors" will feature trendy new flavors, varieties of vanilla, masking flavors, and assorted tea. In this park-like setting, idyllic prototypes can be enjoyed, including a fortified smoothie made with masking flavors and natural fruit flavors; refreshing iced teas made from tea concentrates (black, green, Assam, oolong, and white, as well as Rooibos); a beverage highlighting vanilla's delicate aromatics and complex, full-bodied flavor profile; and a lightly flavored spa-type beverage.
A portfolio of vanilla flavors, extracts, concentrates, and oleoresins are made from beans from every commercially viable origin. Tea leaves sourced from around the world are used to create a wide range of tea concentrates. Natural fruit flavors and masking agents complete this broad portfolio.
While experiencing these prototypes (amid peaceful fountains), attendees can relax for a moment and learn about a sustainability program and a second annual tree planting. Virginia Dare, www.virginiadare.com, Booth 6130
--- PAGE BREAK ---
Creole on a world level
Theme, "Flavorology: Creole Using Exotic World Flavors," explores the concept of bringing together world cultures. Prototypes demonstrate how Creole cuisine, which is based on French and Spanish cultures, can be combined with the flavors of other world cultures, creating products that may influence tomorrow's flavor trends.
Attendees will be able to sample a Korean gumbo with some very exotic spice flavors. This spicy meal can be washed down with a Rambutan or Yumberry Slushie. And then to round out the taste experience, a chocolate soufflé dessert can be experienced. Bell Flavors, www.bellff.com, Booth 7829
Urban chic
A cosmopolitan flavors collection, "Urban Chic," captures the flavor experiences of Paris, Cairo, Moscow, Shanghai, New Delhi, Cape Town, New York, Mexico, Tokyo, and Sydney. Each distinctive flavor is inspired by the culture, the environment, the differences, and the way of living of people from these 10 cities.
This Nielaromes Collection is totally contemporary, cosmopolitan, urban, and multicultural, and was developed for people looking for a new flavor but still attached to tradition, researching originality while preserving their identity. These flavors are for women and men looking forward, curious and sensitive, being responsible in their choices as consumers.
"Urban Chic" is the promise of a sublime gustatory experience through new aromatic notes with the purpose of creating a premium, sophisticated, and subtle taste bringing true pleasure. The flavor collection can be tasted in diverse applications such as jellies, confections, and beverages. Jean Niel Inc., www.neilaromes.com, Booth 4307
 • Cajun flavors —such as jambalaya and shrimp etouffee will be highlighted. Also shown are sweet treats that remind attendees of what being in New Orleans is all about. These flavors can help bring a little of the "Big Easy" back to the lab and help meet customer needs. Come by and get a taste of southern hospitality. Gold Coast Ingredients, www.goldcoastinc.com, Booth 4629  
 • New flavor distillates include Hibiscus & Watermelon Extra Treattaromes™. Also highlighted are Sweettarome, a blend of natural essences designed to enhance the sweetness of stevia. Treatt USA, www.treatt.com, Booth 7213  
 • Extensive list of flavors is available for beverage, bakery, ice cream, and marinade market segments. One of the newest products in the portfolio is Soylato, an Italian-style gelato made with soy. Carmi Flavor & Fragrance Co. Inc., www.carmiflavors.com, Booth 6629  
 • Latest offerings will be shown from a line of natural dairy concentrates made from butter, cream, and cheese. Nondairy line of concentrates includes dried beer extract, cocoa butter, olive oil, and newest addition—bacon. Prototypes will highlight these flavors. Butter Buds Food Ingredients, www.butterbuds.com, Booth 7439
• Meat flavors, part of the Robust portfolio, reproduce the nuances of specialized cooking processes such as grilling, broiling, roasting, and baking. Flavors—beef, poultry, pork, or other meat types—are designed to deliver performance and bold taste in a variety of formats. Innova, a Griffith Laboratories Co., www.innovaflavors.com, Booth 6747
--- PAGE BREAK ---
COLORS
Coating line comes in natural colors
A confectionery coating line is now available in a variety of natural colors to enhance the end application. The coating line, Star Natural, is designed to meet "All Natural" product claims, and the natural colors complement well flavors such as milk chocolate, dark chocolate, white vanilla, yogurt, and peanut.
The colored coatings contain non-hydrogenated oils, allowing for a clean labeling declaration. From enrobing and bottoming to panning and drizzling, the color coatings are versatile enough to meet a wide range of needs. Clasen Quality Coatings, www.clasen.us, Booth 6613
Color emulsions offer variety
Natural water-soluble colors can be created without opacity. The clear color emulsions developed using new delivery systems have bright appealing color and can be made in a variety of shades without imparting a negative taste to the end product. They have high stability over shear forces and phase separation such as ringing or sedimentation, and are heat and light stable.
The emulsions are not only suitable in providing bright natural color in enhanced water applications, but can also be easily incorporated into most beverages, yogurt, baked goods, confections, sauces, and nutraceutical formulations. These formulations can benefit from being crystal clear while having the eye-catching appeal of added color without being cloudy. The advantages of these color emulsions will be discussed at a New Products & Technologies session, held on Sunday, June 12, 3-5 p.m.
Highlighted at the booth will be a variety of clear or cloudy color emulsions, part of the Colors from Nature® line. For example, beta-carotene, apo-carotenal, and paprika clear emulsions deliver water-soluble, acid-stable  color without opacity. Also available are a new paprika cloudy emulsion that delivers red-orange shades, cloud color emulsions based on beta-carotene and apocarotenal that provide hues of yellow and orange, and a white cloud emulsion. Wild Flavors, www.wildflavors.com, Booth 6813
Prototypes feature coloring solutions
A variety of application demonstrations will feature coloring solutions such as acid-proof, class one caramel color; acid-proof, caramelized sugar flavor; and certified organic annatto extracts.
Available for sampling, the prototypes made with these colors include a "Chocoberry" juice drink; a red sports drink; process cheese in red, yellow, orange, and purple varieties; mini fruit tarts; and taffy and other confections. Representatives will be on hand to discuss how these coloring solutions can help enhance the visual appeal of foods and beverages, increasing their marketability. D.D. Williamson, www.ddwilliamson.com, and colorMaker Inc., www.colormaker.com, Booth 4429
Natural colors offer increased stability
A new line of natural colors, FISclear™, uses emulsification techniques to address stability concerns. The transparent, stable micro-emulsion colors, extracts, and oils are made from paprika, beta carotene, carotenal, lycopene, carrot oil, palm carotene, and canthaxanthin.
Emulsions are produced with particle sizes in the 50-100 nm range, providing clarity, stability, and shelf life. The colors work well in liqueurs, are clear, and do not ring. They offer a wide range of shades from pale to greenish yellow to various peach, orange, and pink tones to a rich, deep red. Potential applications include clear confections as well as beverages.
Color, flavor, and extract combinations are available to suit individual customer requests. Food Ingredient Solutions, www.foodcolor.com, Booth 4607 
--- PAGE BREAK ---
The 'Big Easy' decision: Natural color  
Fruit-derived natural colors, part of the Exberry® line, will be showcased, along with NutriFood® fruit and vegetable extracts, in a number of colorful formulations inspired by New Orleans. These include Cajun-seasoned savory snacks and multi-color parfaits.
Also at the booth will be a daily 'Happy Hour' from 3-5 p.m. Frozen cocktails, such as rum punches, will be served, made from fruit juice concentrates. Virgin frozen mocktails are available throughout the day as well.
Other highlights include a frozen yogurt bar, where the attendee can choose naturally colored toppings including syrups and sprinkles and a bourbon or southern comfort flavored base. And confections colored with Exberry will be offered including chewing gum, hard candy, and gummy bears. GNT USA Inc., www.gntusa.com, Booth 7039
Symposium reviews color regulations
Because of consumer demand, the food industry is moving toward the use of natural colors. Natural colors may offer improved functionality and stability but they may be at greater risk for adulteration. The development and use of verifiable compendia standards defining the identity, purity, and level of impurities for natural colorants can play essential roles in demonstrating and ensuring the safety and quality of colors and help prevent and deter economically driven adulteration.
A symposium, "Food Colors: Various Aspects Affecting Their Quality and Risk of Adulteration," provides a general overview of the current U.S. and E.U. regulations of colors (natural and synthetic) affecting the industry. This session, held on Monday, June 13, 10:30 a.m. to noon, also explores opportunities and challenges of compendia standards to meet the demands of industry, regulators, and consumers for safe food colors of reliable technical specifications. Session 140
 • "Shade solutions," Fusion Precise Natural Colors®, provide an extensive color spectrum characterized by consistency and stability. Most shades offer enhanced light, heat, and ascorbic stability throughout product life. Bolder colors can be created, and multiple formula bases are available to meet customer specifications, including sugar free, invert sugar, and glycerin based. Sensient, www.sensient.com, Booth 4217
 • Newest caramel color options will be featured. The darkest class 1 liquid caramel color in the company's portfolio, PS 119 for food and beverage applications, is very mild in taste and provides excellent red and brown tones. It also offers excellent salt solubility in sauces and can be used in alcohol applications. Class 1 powdered caramel color (SB 116), produced from sucrose which results in a mild-tasting powder, can improve the visual appeal of baked goods, cereals, dry blends, meat rubs, and seasonings. Powdered caramel color may be used to extend cocoa. Portfolio of caramel colors provides an extensive range—from light yellows to reddish browns to darkest browns, and can be used in beverages, baked goods, sauces, soups, cereals, dry mixes, pet foods, and a variety of other products. Sethness Caramel, www.sethness.com, Booth 5002
 • White titanium dioxide pigments are offered by a German producer. The product of mineral origin is extremely white with a blue tone and has no odor, taste, or calories. Its chemical purity conforms with the requirements for use as color additive in food applications. Kosher and Halal certificates are available. The additive is manufactured in German and Finnish plants. Sachtleben Germany, www.sachtleben.com, Booth 5460
 • Coloring options for foods and beverages are available in a wide range, including FD&C and natural. Natural food colors—obtained from a variety of herbs, spices, vegetables, and minerals—are stable and can deliver vibrant hues. Representatives will offer support for the best color matching and will address latest legislative and regulatory compliance issues. Roha Food Colors, www.rohagroup.com, Booth 6051
 • Range of carotenoids provide suitable alternatives to synthetic colors. Line of products, marketed under the Altratene brand name, include beta-carotene, carotenal, canthaxanthin, and others. Allied Biotech Corp., www.altratene.com, Booth 7623
--- PAGE BREAK ---
LIPIDS & EMULSIFIERS    
Canola oil produced by expeller pressing
Newest addition to an extensive line of oils is non-GMO expeller canola oil in regular and high-oleic versions. Produced from North American identity-preserved canola seed, it is low in saturated fat, has zero trans fat, and contains a healthy blend of omega-3 and omega-6 fatty acids.
Mechanical expeller pressing is used to separate oil from the seed or grain. The oil is then naturally refined, bleached, and deodorized. In contrast, many conventional non-GMO oils are extracted using chemical solvents, such as hexane.
The oil has high stability which allows for longer fry times and shelf life. With its resistance to off flavors, canola oil works well as an ingredient in many applications, including salad dressings, mayonnaise, cooking oils, snack foods, and fried foods.
Other oils in the portfolio include corn, sunflower, safflower, soybean, coconut, peanut, almond, grape seed, hazelnut, pumpkin, and walnut. SK Food International, www.skfood.com, Booth 4335
Soybean oil offers high oleic content
Cooking demonstrations will showcase the benefits of high-oleic soybean oil, Plenish™. These soybeans have been deregulated by the USDA and will be grown under contract for ongoing field and oil testing in 2011. Commercialization is anticipated in 2012, upon full regulatory approval and field testing.
The high-oleic soybean oil has zero grams of trans fat and 20% less saturated fat than commodity soybean oil and enhanced stability for food preparation. It offers more than 75% oleic content (the highest of any soybean under commercial development). Benefits of the oil include higher heat stability for frying, increased fry life, improved flavor, increased shelf life for manufactured products, decreased equipment maintenance, and blending opportunities.
The oil is suitable for food companies looking to meet consumer demand for zero grams of trans fats with a functionally superior oil that offers high stability and longer product shelf life. Not only is it stable enough to take the heat of the fryer, but it can be used as a grill oil, salad oil, and as a liquid oil component or stable base oil for the incorporation of solids for baked goods. It can also be used as a spray oil for crackers, nuts, candies, or other products.
French fries and fried meats cooked in the high-oleic soybean oil were preferred for their flavor, texture, and appearance over products cooked in other oils. Pioneer Hi-Bred, www.plenish.com, Booth 8055  
Algal flour functions as a lipid
High-lipid algal "flour" contains more than 50% lipids (primarily monounsaturated fatty acids) and about one-third carbohydrates (fiber and simple sugars), as well as protein, phospholipids, and mono- and diglycerides. This composition of fiber, oil, and natural emulsifiers—coupled with proprietary processing techniques—yields a particle that can act as a lipid or natural emulsifier in a broad range of products, including ice cream, crackers, cookies, cake, sauces, salad dressings, and mayonnaise.
The substitution of algal flour in a traditional recipe allows fat or egg yolks in a finished product to be reduced by 50% or more. The fat in finished products made with algal flour is primarily unsaturated, is low in saturated fat, and contains no cholesterol. Finished products are healthier without compromising flavor. Furthermore, foods made with the ingredient have a creamy mouthfeel and milk-like flavor. These properties lend themselves well to ice cream, non-dairy beverages, cheese, and butter spreads. These advantageous attributes have been measured using descriptive analysis for ice cream and salad dressings.
--- PAGE BREAK ---
A representative from Solazyme Roquette Nutritionals will discuss the properties, benefits, and applications of this microalgae-based ingredient in a New Products & Technologies presentation, held on Tuesday morning, June 14, 2011. Session 226
Zero trans solution for potato par frying
A high-diglyceride oil for potato par frying enhances the nutritional profile of the product while maintaining a desirable flavor profile. The oil, Trancendim®130, is the result of a breakthrough high-diglyceride technology. When used in potato frying, it produces a product with zero grams of trans fats, decreased saturated fatty acids, and the necessary structure to prevent freezer clumping and crumbling. Additionally, the oil has no impact on finished product sensory attributes.
This new application for the high-diglyceride oil will be presented. Potatoes fried in oil systems utilizing the ingredient can benefit from a nutritional panel with zero grams of trans fat, a reduction in saturated fatty acids, and the elimination of hydrogenation from the ingredient deck. A new brochure describing the benefits of using oils made with Trancendim 130 will be available as well as material on the use of the oil in the following applications: popcorn, Danish, puff pastry, and donut frying. Caravan Ingredients, caravaningredients.com, Booth 7013
 • Line of shortenings, UltraBlend, have the ability to remove trans fats while optimizing saturated fats for cookies, crackers, cakes, tortillas, pies, and other baked goods. The enzymatic inter-esterfied shortenings utilize domestically sourced soybean oil in a sustainable process. Bunge, www.bungenorthamerica.com, Booth 6928  
 • Better-for-you oils will be showcased. Low-saturate, high-oleic soybeans, Vistive Gold, provide oil that is low in saturated fat with superior stability and flavor performance. The oil can be used for frying, topical applications, and oil blends. Commercialized with Solae LLC, Soymega™ soybean oil is produced from omega-3 soybeans, rich in stearidonic acid which efficiently converts to EPA. The SDA oil provides clean flavor and shelf stability, providing heart-healthy omega-3 benefits. Monsanto, www.monsanto.com, Booth 7918
 • A new emulsifier for food coloring will be discussed in a New Products & Technologies showcase, held on Sunday, June 12, from 3-5 p.m. Polyglycerol polyricinoleic acid, Drewpol® PGPR, was recently declared GRAS for use in food colorings. It has shown to be effective in forming emulsions or suspensions in dyes, lakes, and exempt-from-certification colors for use in processed foods in which colors are permitted. PGPR forms emulsions by adding as little as 0.1% by weight to the color additive. A maximum amount of 5% by weight of the formulation may be required, depending on the specific color additive being used. Stepan, www.stepan.com, Booth 6748
 • Omega-9 oils, made from Nexera™ canola and sunflower seeds, offer a special combination of high-oleic and low-linolenic fatty acids while providing a light, clean taste profile and superior performance. The ingredient, Omega-9 canola and sunflower oils, offers oil and shortening solutions for the foodservice and food manufacturing industries, and represent the next generation of cooking oils because they deliver better-for-you without compromising taste or performance. For example, they may be used to produce healthier fried potato products, proving zero trans fats and low saturated fat. These oils have also been used by a popcorn manufacturer. Dow AgroSciences, www.omega-9oils.com, Booth 7257
 • A new-generation of cake emulsifiers, Palsgaard® SA 6600, allows for healthier cake formulations. With the powdered emulsifier, it is possible to substitute hardened fats and trans fats for healthier vegetable oils. Use of the ingredient offers increased production capacity, lower dosage, and less production waste. Palsgaard, www.palsgaard.com, Booth 5952
 • Low-linolenic soybean program is offered to boost availability of low-trans-fat soybean oil. Oils ensure suitable taste and texture with each product. Representatives will provide more details about this value-added program. CHS Inc., www.chsinc.com, Booth 4935
--- PAGE BREAK ---
FRUITS & VEGETABLES
Big, easy blueberries?
Mini-bar prototypes demonstrate the flavor, functionality, and nutritional appeal of blueberries. These bars, available for sampling, can help inspire other new concepts using blueberries, such as blueberry boomer bars, blueberry beauty bars, and "jelly roll blues" blueberry bars.
Blueberries keep bars moist and add mouthwatering flavor. They can also help brighten gluten-free products, harmonize with ancient grains, and work well in formulations ranging from savory to sweet. Bars chock full of blueberries can be created in a variety of shapes and sizes—thins, squares, minis, and other streamlined forms. Blueberry formats (fresh, frozen, dehydrated, liquid, canned, and preserved) are available to accommodate them all.
In the Big Easy, big, easy blueberries also star on restaurant menus all over town. While attendees are sampling mini-bars, they can pick up a free Blueberry Restaurant Guide. U.S. Highbush Blueberry Council, www.blueberry.org, Booth 7850
Goosebumps over prickly pear?
Science has had an eye on prickly pear for a number of years, examining the potential of the fruit to affect blood-sugar levels, cholesterol levels, and cell growth. The studies have implications for maintaining health or improving conditions such as diabetes, cardiovascular disease, and cancer through diet.
A ruby variety of prickly pear will be showcased. This variety has an attractive magenta color that has potential as a natural coloring agent or food ingredient. Prickly pear flavor has a mildly sweet, melon, and berry profile that blends well with other foods. The fruit is high in fiber and soluble fiber, is an excellent source of magnesium and taurine, and is rich in antioxidants, including vitamin C, betalains, and quercetin.
A line of prickly pear products is available including puree and puree concentrate, pulpy juice and juice concentrate, fruit powder, fiber, and oil. Beverages made with prickly pear will be offered for sampling. These include Prickly Pear Quencher, a tart and refreshing prickly pear/lime juice, and Prickly Pear Smoothie, combining fruits for a sweet and delicious way to boost fruit consumption. These prototypes have no added sugar or high fructose corn syrup, no color added, and are all natural. S&P Marketing Inc., www.snpmarketing.com, Booth 4807
Beverage concentrates retain benefits of fruits and vegetables
Beverage concentrates, Essentia®, preserve the essence of fruits and vegetables because they're made using a proprietary process. This method, Advanced Concentrate Technology®, is different from thermal processing, employing a minimally invasive cold concentration process.
The process allows fruits and vegetables to retain their natural minerals and vitamins, preserve their antioxidant efficacy, and maintain relatively lower sodium levels. Drinks made with the process taste better, having cleaner flavors, more resonate topnotes, and greater degrees of clarity. Vegetable Juices Inc., www.vegetablejuices.com, Booth 4038
 • Cranberry products include sweetened dried cranberry infused with green tea, cranberry fortified with omega-3, whole cranberry, and organic versions. Sweetened dried cranberry can also be infused with such flavors as Concord grape and pomegranate. Also offered are cranberry juice concentrates for beverages and a new cranberry powder, PACran. Decas Cranberry Products Inc., Booth 7452
 • Sweet potato products are made using aseptic processing. In 2010, more than 900,000 lbs of sweet potato puree and more than 500,000 lbs of butternut squash puree were produced. New aseptic products include carrot puree, chickpea paste, and pinto bean paste. Bruce Foods, www.brucefoods.com, Booth 7954
--- PAGE BREAK ---
 • Wild blueberries, packed with antioxidants, are offered in a variety of formats. Recipes utilizing this berry can include smoothies, quinoa salads, muffins, and other products. New studies also demonstrate the potential value of wild blueberries for individuals with diabetes. Wild Blueberry Association, Booth 4457
 • Broad selection of spices, specialty vegetables, and tomato products is featured. Branded products include GardenFrost® purees and Controlled Moisture™ vegetables, both known for their superior performance, nutrition, and sensory properties. Olam Americas Inc., www.olamonline.com, Booth 5253
 • Expanded product line ranges from pineapple concentrate, tropical fruit, berries, and deciduous fruit in a variety of pack forms to a complete line of individually quick frozen fruits and purees. Dole Packaged Foods Co. LLC, www.dolefoodservice.com, Booth 7748
GUMS/STABILIZERS  
Making texture more quantifiable
Texture cannot be "added" to a product at the end of the design process. Instead, it must be integrated into the development of a new product from the very beginning. The manner various food ingredients can be used to manipulate texture attributes is not always clear, however. All of this makes the food industry ripe for a new language that describes and makes texture a quantifiable part of the food design process.
Various demonstrations will allow attendees to use a newly developed lexicon and their senses to discuss texture. These demonstrations include three gels made with different gum systems; three teas made with different gum systems with similar viscosities and solids; and three sauces also made with different gum systems with similar viscosities and solids.
A new brochure, "Texture Solutions for Frozen Microwavable Foods," discusses how using gums and stabilizers can help meet challenges in moisture, texture, and stability. Other new literature focuses on Fastir® Xanthan Gum, which improves hydration and dispersion of xanthan gum, and gum solutions that meet challenges in the production of icings. TIC Gums, www.ticgums.com, Booth 7029i
New gum solutions in the spotlight
A new superior grade of Tara Gum, Coyote Brand®, will be highlighted. This ingredient is more easily dispersible than other Tara gums, as well as having a lower bacterial load. Because of modern, innovative continuous processing methods, it is more consistent from batch to batch.
The ingredient is a natural hydrocolloid obtained by a mechanical process from the endosperm of Tara seed gums, native to the Peruvian Andes. It is often used as a replacement for Locust Bean Gum and has applications in dairy products, baked goods, beverages, fruit fillings, and frozen products.
Also featured are GumPlete™ systems. These carefully formulated blends of gums and starches work synergistically to create specific functionalities and textures while providing cost effective problem-solving solutions. Utilizing the best attributes of both gums and starches to create a complete stabilizing system reduces overall hydrocolloid usage levels, helps maintain system integrity, and provides a cleaner flavor release with a desirable mouthfeel.
New brochures describing these two ingredients will be offered. Gum Technology Corp., www.gumtech.com, Booth 3947
--- PAGE BREAK ---
 • Formulating fried foods with Benecel MC (methylcellulose) and HPMC (hydroxypropyl methylcellulose) can minimize cooking oil pickup during frying and reduce oil penetration during cooling, resulting in reduced overall fat content. The special reversible thermal gelation property of HPMC helps chefs create moist, crisp healthier fried foods. The thermal gelling properties of MC enable formulators to create tasty low-fat meat products with a desired firm, moist texture. Technical experts will be on hand to review how these ingredients can improve the texture and bite of meat substitutes and how they enable the development of healthier fried foods. Ashland Aqualon Functional Ingredients, www.ashland.com, Booth 4034
 • Pectin is obtained by the aqueous extraction of citrus peels and apple pulp under mildly acidic conditions. The hydrocolloid, available in high methylester and low methylester types, is widely used as a gelling agent in jams, confections, and bakery fillings, and as a stabilizer in yogurt and milk drinks. Studies have shown that pectin has potential health benefits, including a potential prebiotic effect, important fiber content, and potential cardiovascular benefits by lowering LDL cholesterol. Fenchem, www.fenchem.com, Booth 7354
 • Pectin fiber, Ceamfibre 7000, has high water-holding capacity that is suitable for water management, fat replacement, and texturizing. The ingredient has a neutral flavor and pH, and is suitable for a wide range of applications. CEAMSA, www.ceamsa.com, Booth 5651
STARCHES
Prototypes showcase specialty starches  
Resistant starch, Fibersym® RW, is a rich source of dietary fiber for use in pan breads, pizza crust, tortillas, pastries, and other bakery products, as well as pasta and noodle applications.
Specialty starches, part of the Midsol™ line, provide solutions for the creation of reduced-sodium products without compromising their taste and texture.
In addition to these starches, textured wheat protein, Wheatex® replicates and enhances the texture of meat and seafood. Primary uses are in meat-enhancement applications.
Each of these innovative ingredients will be featured in nutritious, tasty, and convenient prototypes. MGP Ingredients Inc., www.mgpingredients.com, Booth 5938
Flours with resistant starch provide added functionality
Building functionality in specialty flours is part of a symposium, "Frontiers in Carbohydrate Design for Food," held on Monday, June 13, 2011, 8:30 a.m. to 10 a.m. The presentation, delivered by Corn Products Intl., discusses the benefits of flours with enhanced fiber and resistant starch content. These flours also offer special textural properties.
By utilizing traditional hybrid breeding in combination with specific physical processing techniques, flours with functionality in foods (for example, process tolerance and storage stability) approaching that of traditional specialty starch ingredients can be prepared. Presentation 119-01
Specialty starches made from potato
Specialty potato starches and the benefits they offer will be featured, including their latest innovations.
The KMC CheeseMaker Series was developed to replace casein/caseinate in imitation cheese such as pizza toppings, grated cheese, and sliced/diced products. The newest addition, CheeseMaker CF55, offers a cost-effective solution for the development of no-casein products. The highly functional specialty starch provides sufficient viscosity during processing, emulsification, and control of the water phase. Finished products exhibit a firm texture that can be shredded or sliced, and is resistant to oiling out and syneresis. Melt properties are similar to that of natural cheese. The naturally clean flavor of potato starch derivatives highlights the cheese flavor without masking.
Also highlighted is the KMC ColdSwell Series of cold-water-swelling starches which differ from traditional pregelatinized starches. Spray cooked to maintain intact granules, these starches disperse and hydrate quickly to form smooth textures, high clarity, and clean flavor typically associated with premium cook-up starches. They offer the processor a full range of viscosity characteristics; heat, acid, and shear stability; and excellent storage stability. Applications include bakery fillings, fruit fillings, soup sauce and gravy mixes, puddings, and salad dressings. KMC, www.kmc.dk, Booth 4144
--- PAGE BREAK ---
 • A new texturizing system is targeted for the Greek yogurt market. The system demonstrates the functionality benefits of starches and is available for sampling. National Starch, www.foodinnovation.com, Booth 5621
 • A range of starch and starch derivatives is offered. These ingredients are produced by transforming renewable resources—corn, wheat, potatoes and peas—for use in a variety of food products. They provide nutritional, functionality, and texturizing solutions. Representatives will be on hand to discuss the latest advancements in starches. Roquette America Inc., www.roquette.com, Booth 5329
 • Designing starch for better nutritional properties is the subject of a presentation, given in a symposium, "Frontiers in Carbohydrate Design for Food," held on Monday, June 13, 2011, 8:30 a.m. to 10 a.m. Starch is a complex branched polymer of glucose with many structural levels, and this structure influences both organoleptic and nutritional properties. A new quantitative description of the underlying biosynthetic processes controlling this structure is implemented by expressing the distribution of branches and overall starch molecular size in terms of the kinetics of propagation, branching, and debranching. This approach reveals new features which had not been noticed in previous literature. Presentation 119-04
SAVORY
Yeast extracts enhance Cajun flavors
Yeast extracts and taste enhancers will be applied in products with local Creole and Cajun flavors. In addition to enhancing the taste of foods, these ingredients reduce sodium levels in the final product.
An autolyzed yeast, Biotaste Meat, will be launched; it provides a mild meat taste and toasted notes to a wide variety of applications. The Biotaste line also includes other natural ingredients to enhance the flavors of chicken and beef.
The lines Bionis, Bioenhance, and Goldcell will also be presented. The Bionis yeast extract line provides more body, mouthfeel, and umami, whereas the Bioenhance line enhances, creates, and harmonizes taste, increasing the intensity of salt perception with no salt addition. The Goldcell line includes inactive dry yeast, autolyzed yeast, mineralized yeast, and torula yeast. Biorigin, www.biorigin.com, Booth 6921
A station worth its salt
"Salt Inspiration Station" offers the latest additions to a comprehensive salt portfolio, including solutions in sodium reduction.
Among the sodium-reduction technologies that will be showcased is potassium chloride, the industry standard for salt substitution. KCI provides the most cost-effective and functional alternative for salt and can replace up to 50% of the salt in a formula. As an added benefit, it is an excellent source of potassium. Also featured is Lite Salt® Mixture, a 50/50 blend of sodium and potassium chloride.
A broad range of salt products will be highlighted, including Star Flake® Dendritic Salt; Culinox® 999®, a high-purity salt; and sea salts in various screen sizes.
The station will feature a spectrum of salt particles specifically designed to function across product categories and manufacturing needs. It will provide updated technical data sheets; a revised salt matrix brochure spelling out how to match the right salt to the application; and a variety of snack prototypes that demonstrate the appeal of salt. Morton Salt, AK+S Group Company, www.mortonsalt.com, Booth 7529
--- PAGE BREAK ---
Solutions offer sodium reduction and flavor enhancement
Added to a portfolio of Asian sauces and ingredients are new sodium-reduction and flavor-enhancement solutions. These solutions will be featured in a number of prototypes available for sampling.
NFE Natural Flavor Enhancer line includes one liquid and two dry versions of umami flavor boosters. Because of its neutral flavor and sodium reduction capability, NFE is suitable for any savory application. Incorporating NFE can reduce sodium by 30-50% while bringing out the inherent deliciousness of any cuisine. It is specifically formulated to have umami-boosting flavor and aroma.
Other innovative products highlighted include Less Sodium Soy Sauce (Premium Total Nitrogen) in which stronger flavor comes from elevated amino acid levels, released naturally through gentle fermentation. It is the lowest sodium soy sauce in the portfolio. Also, making its debut is a new oyster sauce which brings depth, color, and a rich umami effect, without any fishy or harsh flavor notes. Kikkoman Sales USA, www.kikkomanusa.com, Booth 4728
 • Soup bar serves up both hot and cold soups, made with flavor enhancers, including yeast extracts, hydrolyzed vegetable proteins, and salt replacers. Soup's on! Savoury Systems International Inc., www.savourysystems.com, Booth 4113
 • Line of barbecue sauces, Cattlemen's Master's Reserve, provides authentic regional flavors from America's "BBQ Capitals." Savory flavors include Memphis Style, Carolina Style, Kansas City Style, Texas Style, St. Louis Style, Louisiana Style, Mississippi Style, and Kentucky Style. French's Flavor Ingredients, www.FrenchsFlavorIngredients.com, Booth 7524
 • Pepper sauce flavors are available in a variety of flavor profiles and convenient forms. Products include Original Tabasco Pepper Sauce, Green Pepper Sauce, Garlic Pepper Sauce, Habanero Pepper Sauce, and Chipotle Pepper Sauce. Prototypes—traditional and some not so—will highlight these savory sauces. Tabasco Brands/McIlhenny Co., www.tabascoingredients.com, Booth 8239
 • Flavor enhancement is provided by Ajimate™ S-AX, a versatile ingredient designed to deliver a combination of kokumi richness and umami impact to savory dishes. It adds complexity and richness to a range of liquid and dry savory products, including beef, pork, and chicken. Ajinomoto Food Ingredients LLC, www.ajiusafood.com, Booth 5516
 • Savory flavor notes are brought to foods with natural meat and poultry-based food ingredients. Different formats are offered including broths, stocks, fats, flavor bases, and others. International Dehydrated Foods Inc., www.idf.com, Booth 7929
SWEETNESS
Chicory root fiber reduces sugar and calories
Sweet chicory root fiber, Frutalose® SF75, is geared toward helping food manufacturers reduce the amount of added sugar in their products. The ingredient delivers approximately 65% of the sweetness of sucrose while contributing only half the calories and one quarter of the sugar.
Functionally, this natural ingredient behaves very similarly to high fructose corn syrup, making it particularly easy to formulate with. Development work completed to this point has shown its ability to significantly reduce sugar in a variety of applications, including sweet baked goods, dairy products, cereal bars, and more. It may be labeled a "chicory root fiber."
--- PAGE BREAK ---
A presentation at the booth will discuss the functionality of this ingredient, focusing on how it can reduce sugar and calories in school nutrition programs while increasing fiber consumption. Sensus America Inc., www.sensus.us, Booth 4139
New blend of steviol glycosides
Product portfolio has been diversified through the development of new natural, high-purity stevia sweeteners and combinations. These sweetener combinations can address a wide range of calorie-reduction applications.
SG95 is a natural, high-purity blend of nine sweet steviol glycosides found within the stevia leaf. Reb A accounts for more than half of the final composition, and all steviol glycosides are held to tight specifications to ensure consistent quality. SG95 is 230 times sweeter than sugar and is suitable for calorie and sugar reduction in combination with sugar.
The ingredient is a suitable sugar complement because it maintains the same sugar taste when blended with sugar. It may be used to replace up to 50% of the calories in food and beverage formulations, and is a cost-effective way of achieving reduced-calorie sweetness with less added sugar.
SG95 may be labeled stevia leaf extract. Produced through a proprietary natural extraction process, it meets JECFA specifications and has received a letter of "no objection" from FDA. PureCircle USA, www.purecircle.com, Booth 7313 
Symposium discusses high potency sweeteners
Symposium focuses on different approaches to taste modification using high potency sweeteners such as stevia glycosides and luo han guo. The approaches discussed will include taste masking (for example, strong taste molecules and congruent flavors) and taste blocking techniques (e.g., small molecule interactions).
The symposium, "Science of Taste Modifying for Use with Natural High-Potency Sweeteners in Food Products," includes presentations on working with natural high-potency sweeteners in new product development and sensory and consumer research methods in optimization of food products containing natural high-potency sweeteners. The symposium will be held on Monday, June 13, 2011, 10:30 a.m. to 12 p.m. Session 139
 • Natural sweetener, Good & Sweet, contains GRAS-certified Reb-A. The sweetener is 400 times sweeter than sugar, is stable in temperatures up to 350oF, has excellent solubility in water, provides excellent clean taste, and may be used in a variety of foods and beverages. Blue California, www.bluecal-ingredients.com, Booth 4017   
 • Sucralose from China-based manufacturer does not infringe upon other patents, according to ITC intellectual property right investigation. The non-calorie sweetener made from sugar has superior heat resistance and stability, and can bring sweetness to a variety of foods and beverages. JK Sucralose Inc., www.jksucralose.com, Booth 4959  
 • Natural sugar products, certified carbonfree™, include Evaporated Cane Juice and Golden Granulated™. Domino Specialty Ingredients, www.dominospecialtyingredients.com, Booth 4529  
--- PAGE BREAK ---
 • U.S. distributor of natural stevia extracts and other products provides a one-stop connection to high-quality ingredients and flavors. Newest additions to portfolio are PureCircle's Reb A 97% and SG95. Premium Ingredients International, www.premiumingredients.com, Booth 4119, 4235  
 • Monk fruit is the source of a natural, noncaloric, high-intensity sweetener, Fruit-Sweetness™. The fruit-derived sweetener has GRAS status and offers an alternative to sugar and artificial sweeteners. Bio Vittoria Ltd., www.biovittoria.com, Booth 4643  
 • Crystalline fructose, Fruitose®, is the sweetest natural sugar characterized by a low glycemic index. It also enhances flavor perception and helps mask bitterness of intense sweeteners. Galam Ltd., www.galamgroup.com, Booth 4413
GRAINS  
Is it cocoa or a whole grain?
A new line of natural cocoa replacers, CocoaPlus™, is based on whole-grain specialty flours which mimic the color, functionality, and flavor of cocoa powder. The cocoa replacers reduce ingredient costs while preserving and enhancing the cocoa flavor of many foods.
Blind taste tests will be conducted to determine whether participants can tell which brownie is made with cocoa powder and which one is made with the whole-grain alternative. Previous taste tests have shown that a majority of participants were unable to tell the difference, and actually preferred brownies made with the cocoa replacer because of their rich and more flavorful taste.
CocoaPlus ingredients, made from North American-grown barley and wheat, can be used to replace natural, black, and some specialty cocoa powders. Replacement rates vary from 5% to 50%, depending upon the application. Technical teams will work to develop a custom cocoa replacer that meets specific needs. Briess Malt & Ingredients Co., www.briess.com, Booth 7349
Low-expansion tortilla pellet supplies texture
New low-expansion tortilla pellet delivers texture and bite. Its special crinkle shape provides the texture consumers expect from traditional, higher-fat-content tortilla chips but in a whole new look.
These tortilla pellets are also available in a medium range expansion that can be air popped and are very low in fat. The flavor innovation and healthy appeal are further boosted by incorporating vegetables such as black bean, red corn, or sweet potatoes in the formulation.
For companies looking for entry in the rapidly growing crisp category, the tortilla pellet formulation can also be produced as a micro pellet for pressure puffing.
Also featured is a selection of pellets that help snack manufacturers develop healthier alternatives now demanded by schools. For example, a potato-based ripple fry can include carrot or spinach and be formulated with calcium and vitamin A. The fries can be air popped or fried for even more product development possibilities. J.R. Short, www.shortmill.com, Booth 7052
--- PAGE BREAK ---
Grain-based solutions offer enhanced texture and flavor
Grain-based ingredient solutions and innovative ideas are custom designed to meet consumer ingredient needs and new product appeal. Special capabilities are available to custom design coated grains and cereal clusters with enhanced texture, flavor, bursts, and fortification to build desired nutritional profile.
21st Century Grain Processing, a U.S.-based supplier of these capabilities, was recently acquired by Canada-based Viterra Inc. The company's processing facilities in the U.S. will benefit from Viterra's existing oat milling operations and grain origination network in Canada. 21st Century Grain Processing, www.21stcenturygrain.com, Booth 6423   
Latest innovations emphasize whole grains and flour safety
The latest innovations in whole grains and multiuse flours will be highlighted in a number of food prototypes. Attendees will also learn more about flour food safety and the developments that are offered that can help protect their brand. 
Ultragrain Pasta™ provides whole grain nutrition with a mild flavor, light color, speck-free appearance, and al dente bite—the same benefits as refined flour pasta—and is available in six mainstream shapes, with customization possible. The pasta is part of the Ultragrain® line—natural 100% whole wheat flour with the taste, texture, and appearance of white flour. Ultra-milling technology can refine other grains to the particle size of refined flour, such as hard red wheat and durum.
Other products shown include Sustagrain® (natural, ultra-high-fiber whole grain, with three times the soluble and total fiber of oats, in flour and flaked form); Ancient Grains (amaranth, millet, quinoa, sorghum, and teff in flour, multigrain blend, and gluten-free forms); Eagle Mills® Gluten-Free All-Purpose Multigrain Flour Blend (multigrain flour blend featuring Ancient Grains that deliver wholegrain nutrition, functionality, and mainstream taste and texture for gluten-free products); and Custom Multigrain Blends. ConAgra Mills, www.conagramills.com, Booth 5029
Grain solutions that deliver a healthy edge
Prototypes made with grain-based solutions demonstrate how to formulate with a "healthy edge." These ingredients can help address current trends such as high-fiber diets, improving children's nutrition, and improving gluten-free foods.
Corn bran, TruBran, will be featured in a snack cracker as well as in a high-fiber tortilla used to make a kid-friendly quesadilla. The ingredient delivers an exceptionally high level of dietary fiber and is easily incorporated into a variety of applications such as nutritional bars and beverages, snacks, cereals, and baked goods.
The gluten-free market has continued to gain momentum and has become an increasingly critical consumer choice. The functional characteristics of Pure-Dent® corn starch and Inscosity® instant starch will be the focus in a gluten-free dessert.
An effervescent pomegranate beverage tablet will highlight the superior properties of maltodextrins. These ingredients can build body and mouthfeel while adding a clean-tasting, non-sweet energy source into beverages. Grain Processing Corp., www.grainprocessing.com, Booth 7239
 • Rice products include 3-, 5-, 7-, and 10-minute instant rice; instant brown rice; quick-cooking wild rice; parboiled rice; and an extensive line of rice flours. Riviana Foods Inc. www.RivianaIndustrial.com, Booth 6821
--- PAGE BREAK ---
 • Grains—oats, wheat, barley, rye, and corn—are milled into many different ingredients for a variety of applications. Examples of these ingredients include rolled oats, oat fiber, wheat flakes, and rye chop. Also available are a wide range of grain mixes (9-grain, organic multigrain, Quick 3 Grain Flake Blend, Quick 4 Grain Blend, and Quick 5 Grain Blend). Grain Millers, www.grainmillers.com, Booth 5046  
 • Gluten-free oat products, such as flakes, flour, bran, pearls, and mixes are offered. Oat-based mixes are marketed under the name Only Oats. Avena Foods Ltd is part of the Prairie Canada Pavilion, organized by Saskatchewan Trade & Export Partnership and Manitoba Trade & Investment. Avena Foods, www.onlyoats.com, Booth 8539  
 • Organic line of both gluten and gluten-free flours and grains will be featured, as well as conventional versions. Products include GF All-Purpose Flour Blends and 20 GF Baking Mixes. All mixes and blends may be purchased as individual mixes or in bulk for bakeries, schools, restaurants, and hospitals. Dakota Prairie Organic Flour, www.dakota-prairie.com, Booth 4540
 • A golden flaxseed variety will be added to a portfolio of roasted flaxseed products, Flax for Nutrition™. The new flaxseed variety, NuLin™, contains enhanced omega-3 (alpha linolenic acid) levels, higher than those found in products currently available. Other specially roasted, identity preserved flax products include whole flaxseed, milled flax, and milled flax with fruit or chocolate. These ingredients are offered by CanMar Grain Products Ltd, which is part of the Prairie Canada Pavilion. CanMar Grain Products Ltd., Booth 8539
 • Oat ingredients allow the health benefits of oats to be incorporated into a wide range of food and beverage products without the addition of oat taste, color, or graininess. Produced by a chemical-free technology, PromOat is a soluble fiber rich in oat beta glucan. Biovelop, www.promoat.com, Booth 8050
 • Flaxseed products—Real Cold-Milled®, Roasted, Roasted Salted, Full Spectrum Lignans, and Flax Flour—can provide applications with nutty flavor, texture, and healthful components such as omega-3s, fiber, and lignin. The ingredients may be used in toppings for salads, yogurt, ice cream, and cereal; snack food mixtures; baked goods such as cookies, crackers, and pretzels; and frozen dough. In flour form, flax can be used at normal baking temperatures without losing any of its beneficial properties. Heartland Flax, www.heartlandflax.com, Booth 4538
DAIRY
Working on a healthy beverage?
The wellness benefits of whey protein are infused in a variety of beverage concepts. For example, a clear, high-protein sports drink is made with a whey protein isolate, Hilmar 9420. This ingredient reduces astringency in low-pH applications while providing excellent clarity, clean flavor, acid and heat stability, and superior protein nutrition.
A whey protein-fortified tropical fruit and veggie smoothie offers two servings of fruit, ½ serving of veggies, and a good source of fiber per eight ounces. Its eight grams of protein come from a special blend of 9400 whey protein isolate and 8500 whey protein concentrate.
A low-fat chai spice protein shake uses a blend of 8350 whey protein hydrolysate and 8200 whey protein concentrate to deliver 16 grams of protein per eight ounces. Hydrolyzed whey protein with predigested peptides is particularly easy to digest and absorb.
A chocolate dairy drink is designed for markets where a lack of refrigeration and supply infrastructure limit fresh dairy. This concept makes use of whey protein's superior and shelf-stable protein value. It also uses lactose as an economic and lower sugar alternative. Low fat profile and addition of calcium and vitamin D complete the drink's nutritional package. Hilmar Ingredients, www.hilmaringredients.com, Booth 4942
Prototypes showcase value of dairy
A number of food and beverage prototypes demonstrate how dairy ingredients can contribute to improved taste, functionality, and nutrition, while solving many of today's formulation challenges. Targeting different consumer groups, these prototypes were also developed to showcase latest trends related to labeling, satiety, the versatility and functionality of cheese, whey protein benefits, and the addressing of consumer health concerns. 
Emerging research suggests spacing protein intake throughout the day provides optimal benefits. Some of the featured prototypes reflect this—from a protein-packed breakfast waffle to a chilled pasta salad made with cheese and whey protein.
--- PAGE BREAK ---
Americans are being urged to cut back on salt, and food and beverage manufacturers are looking for solutions. Permeate, a dairy ingredient, provides salty characteristics while helping formulators reduce sodium content levels in products without sacrificing their taste. A butternut squash soup prototype is made with permeate.
Whey protein can help the mature consumer interested in maintaining muscle strength to support an active lifestyle. A sweet potato bread pudding, made with whey protein, is a new twist on an old favorite.
As consumers look for ways to improve their eating habits, yogurt is being viewed in a new light as a valued dairy ingredient. Yogurt can be used as a functional ingredient in products for added flavor and nutrition. A refreshing, savory yogurt-based beverage that takes its cues from the Mediterranean will be highlighted.
These prototypes were developed by different dairy research centers throughout the country, illustrating the knowledge and resources of these food scientists. U.S. Dairy Export Council, www.InnovateWithDairy.com, Booth 6139
 • New yogurt powder provides a more pronounced yogurt flavor and creamier mouthfeel and texture than current versions in the marketplace. The ingredient is suitable for use in coatings, dips and dressings, candies, snacks, smoothies, frozen desserts, nutrition bars, and cereal inclusions. Also introduced is a new whey protein isolate for sports drinks, fruit drinks, protein drinks, and nutritional supplements. It offers excellent clarity over a wide pH range; provides a high-quality protein source; and has a bland, neutral flavor. Grande Custom Ingredients, www.grandecig.com, Booth 7247
 • Dairy-based protein ingredients are showcased in a number of prototypes demonstrating their functionality and nutritional benefits. For example, a full range of whey protein isolates, ClearProtein™, are designed for clear, clean-tasting powdered and ready-to-drink applications. A functional milk protein, DeluxeProtein™, can enhance the taste and texture of a thick, creamy Greek-style yogurt. A whey protein concentrate powder, PowerProtein™, delivers specific functional benefits and is an excellent protein source for aerated protein bars. Fonterra (USA) Inc., www.fonterra-northamerica.com, Booth 7131
 • New processing of dairy ingredients is the subject of a symposium held on Tuesday, June 14, 2011, 8:30 a.m. to 10 a.m. The session discusses new technologies (membrane processing, extrusion, and drying) that are leading to new dairy ingredients and opportunities for new applications. Session 220
EGGS
New education resource for eggs
Educational resource (Functional.Egg.org) will be introduced. This online resource contains six 10-minute educational videos that focus on the multifunctional benefits of egg products.
Viewers can simply watch the videos or sign up to test their Egg-Q through a series of quizzes. And even better yet, viewers can receive a certificate for continuing education credit.
The resource also contains a FAQ section and a personal account to track the participant's progress.
--- PAGE BREAK ---
Eggs contribute more than 20 functionality benefits. From the videos, you can learn more about these, including adhesion/binding, aeration/foaming/structure, antimicrobial, browning/color, clarification, coagulation/thickening, coating/finishing gloss, crystallization control/freezability, emulsification/mouthfeel, and nutritional benefits. Eggs provide a high-quality protein source to several food and beverage categories, ranging from breakfast foods to better-for-you snacks. American Egg Board, www.aeb.org, Booth 5600
Egg initiative focuses on sustainability
A production-wide commitment to environmentally sound, sustainable egg production practices has been formalized into a new initiative called Live Responsibly.
This initiative encompasses key components including sustainable agriculture, distribution, packaging, solid waste reduction, and conservation of water and energy. The platform puts a focus on sustainability at every step of egg production.
Highlighted are such elements as local feed purchasing for reduced transportation emissions as well as the contribution of chicken manure for biomass electricity generation. The initiative also emphasizes the use of dried liquid egg product distribution for lower shipping costs. Attendees can learn more about this initiative from a vertically integrated inline processor of egg products and ingredients. Rembrandt Foods, www.rembrandtfoods.com, Booth 7530
Enzyme-modified egg enhances baked goods
Enzyme-modified whole egg product, OvaBake™,can provide baked goods with visible improvements in texture, crumb structure, and uniformity, along with the benefits of longer shelf life and reduction in egg usage.
In addition to improving overall height, humectancy, and crumb structure, the ingredient delivers improved flavor over traditional dried whole egg, resulting in baked goods more like those made with liquid egg product. Better moisture retention for a softer crumb structure extends shelf life an average of five to seven days.
Use of this ingredient offers potential to reduce added emulsifiers, leading to cost savings, a cleaner label, and less ingredient handling. Michael Foods, www.michaelfoods.com, Booth 4943
 • Natural egg phospholipids, launched under the name Ovolife, contain major fatty acids, including ARA and DHA. Potential applications include infant formula and baby milk, food supplements, and functional foods. Other products include functional eggs (Christopher 660 mg omega-3 eggs), a range of egg-derived ingredients, and egg chemicals. Belovo Inc., www.ovolife.eu, Booth 7757
 • Intervention technologies for the mitigation of Salmonella enteritidis infection in shells are examined by a symposium held on Tuesday, June 14, 2011, 1:15 p.m. to 2:45 p.m. Recent high-profile egg-related Salmonella outbreaks increase the desirability of a post-production intervention for shell eggs. While industrial shell egg pasteurization exists, the process cannot handle the volume of eggs (more than 2,000) being produced every second in the U.S. The symposium discusses existing and emerging technologies and the challenges they face in attacking the Salmonella problem. Session 267
 • Egg products are available in dried, liquid, and frozen forms, depending on the application needs. Representatives describe the versatility and functionality of the egg, and the standards that are met for quality and excellence. Oskaloosa Food Products, www.oskyfoods.com, Booth 6555
--- PAGE BREAK ---
POTPOURRI
Microbial version of pancreatic lipase opens new markets
A microbial pancreatic lipase enzyme allows developers of enzyme manufactured cheese to enter Halal, Kosher, and vegetarian markets.
The enzyme, Lipomod™ 801MDP , has been specifically designed to match the performance of its animal-origin counterpart. Its flavor profile is characterized by intense free fatty acid flavors with some protein notes. It is suitable for all EMC applications such as cheese slices, sauces, and snacks.
Also highlighted will be a new wheat gluten hydrolysate enzyme, Flavorpro™ 766MDP. The high-performance protease is designed for extensive hydrolysis of wheat gluten. It has the ability to produce a wheat gluten hydrolysate with good solubility, a high degree of hydrolysis, and high levels of amino acids. The high level of exopeptidases activity aids the production of a smooth, nonbitter flavor. It may also be used in combination with a glutaminase product to produce a wheat gluten hydrolysate with a savory flavor. Biocatalysts, www.biocatalysts.com, Booth 7947
Potassium bicarbonate reduces salt in bakery products
Potassium bicarbonate gives bakers and bakery suppliers the opportunity to reduce sodium levels without compromising product quality, volume, taste, or texture. With its perfected particle size and stability in powder form, the ingredient provides an ideal solution for sodium reduction in cakes, crackers, doughnuts, bread, and many other bakery products.
In addition to reducing the salt content of products, potassium bicarbonate is an essential dietary ingredient promoting many health benefits, including a balanced body pH, a healthy nervous system, and normal muscle growth. Kudos Blends, www.kudosblends.co.uk, Booth 7946
Exploring Canadian ingredient solutions
Prairie Canada Pavilion, consisting of companies from Saskatchewan and Manitoba, will feature gluten-free solutions, plant-based fiber and protein sources, special Canadian super-fruit, flours, pulses, grains, oilseeds, and state-of-the-art research and development services for functional food ingredients.
Companies include Avena Foods Ltd. (gluten-free oat products), Bestco Grains (mustard, soybeans, and other special crops), CanMar Grain Products Ltd. (roasted flax products), Emerson Milling (oat-based ingredients), Keystone Grain Ltd. (sunflower and flax ingredients), Manitoba Agri-Health Research Network (testing and assessment of plant and animal-based bioactive compounds), Manitoba Harvest Hemp Foods & Oils (hemp ingredients), Mustard Capital Inc. (mustard ingredient products), Prairie Berries (antioxidant super-fruit), and Prairie Flax Products Inc. (flax and milled flaxseed). Prairie Canada Pavilion, Booth 8539  
New range of natural antimicrobials available
A new range of natural antimicrobials were developed as part of the PuraQ® Verdad line. These products are derived from fermentations which contain blends of organic acids for shelf-life extension (up to 50%) and food safety. Furthermore, these products have been demonstrated to enhance the brothy, meaty notes in meats and spicy flavors as well as salt perception (reduction of sodium up to 25%) in other foods.
--- PAGE BREAK ---
The line of PuraQ Verdad antimicrobials developed for meat products include NV10 (labeled as cultured corn sugar) for shelf-life extension of fresh meats; NV15 (labeled as cultured corn sugar, vinegar) for Listeria monocytogenes control in cured, ready-to-eat meats; and NV55 (labeled as cultured sugar, vinegar) for L. monocytogenes control in primarily uncured ready-to-eat products.
The line of PuraQ Verdad antimicrobials developed for other products include RV70 (labeled as cultured sugar) for control of yeasts, molds, and L. monocytogenes in refrigerated foods with a pH between 5 and 6 (pastas, ready-to-eat meals, and soups); and RV 75 (labeled as cultured sugar) for control of yeasts, molds, and L. monocytogenes in refrigerated and acidified foods with a pH around 5 (dips, spreads, and dressings).
Representatives will discuss the benefits of these new antimicrobials at a New Products & Technologies session, held on Tuesday, June 14, 8:35 a.m. to 8:55 a.m. Purac, www.purac.com, Booth 5317
Confectionery solutions enhance appearance
Confectionery coatings and polishes provide product consistency in all phases of manufacture. Part of the AraTAs line developed by England-based Thew Arnott & Co., these confectionery solutions will be showcased.
Anti-sticking and release agents offer improved stability and significant separation effects in many types of candy products. Confectionery polishing systems for chocolate and sugar confectionery applications create excellent shine and luster. Austrade Inc., www.austradeinc.com, Booth 4413
Fillings provide a melt-in-your-mouth experience
Confectionery fillings, Soft Set, are bake-stable, smooth and creamy, and fat based. They are available in the following flavors—milk chocolate, dark chocolate, vanilla, yogurt, and peanut.
The extremely low water activity of these fillings optimizes the end product's shelf life and stability. Pumpable at room temperature, they are easily heated, cooled, extruded, or pumped without compromising the product's physical properties. Potential applications include baked goods, cookies, snack bars, truffles, cakes, toaster pastries, and other products.
In addition to their application and performance advantages, they can assist in nutritional formulation requirements. They contain zero grams of trans fat and no partially hydrogenated oils. Clasen Quality Coatings, www.clasen.us, Booth 6613
 • Sales kit describes the services of a "one-stop shopping" partner to customers for their ingredient needs. The kit, which includes a new brochure and five industry-specific sheets, is available in a digital version which will be distributed in the form of a flash drive. Representatives will be on hand to discuss a national network of local distributioncenters. Batory Foods, www.batoryfoods.com, Booth 8049
 • Rice-based ingredients—sweeteners and proteins—are highlighted. These include rice maltodextrins, rice syrup solids, rice syrups (brown and clear), soluble rice fiber, rice protein concentrates up to 75% protein, rice maltitol, rice sorbitol, high fructose rice syrup, nondairy alternatives, and others. Specialty Ingredients, Booth 4241
--- PAGE BREAK ---
 • Specialty chemicals for food applications are available. Benefits include advanced formulation assistance, market branded and proprietary products, and the logistics of national distribution with a regional focus. Brenntag Specialties Inc., www.brenntagspecialties.com, Booth 6712
 • Cyclodextrin technology provides controlled encapsulation of a large variety of molecules. Cavamax® cyclodextrins may be used for increasing bioavailability, stabilizing against heat and oxidation, taste or odor masking, and the formulation of flavors, antioxidants, nutrients, and custom-tailored products. All Cavamax cyclodextrins have GRAS status. Wacker Biosolutions, www.wacker.com, Booth 8147
 • Natural extracts and flavors are offered. Products include cocoa, licorice, alfalfa, angelica root, black cohosh, black tea, kola nut, lemon balm, mountain maple, coffee, fenugreek, oregano, rosemary, vanilla, and many others. Horner International, www.hornerinternational.com, Booth 4500
 • New additions to the portfolio include vanillin, lovia, and taurine. An extract of the major component of vanilla, vanillin is useful in bakery products, beverages, and other applications. At 100 times sweeter than table sugar, lovia provides no calories, desirable taste, and affordability for use in beverage products. Using a new drying process, taurine maintains a greater level of potency. Atlantic Chemical Trading of North America Inc., Booth 5009
 • Protective solutions are highlighted. For example, bamboo leaf extract (AOB-FP) can efficiently reduce formation of acrylamide in potato chips and French fries by about 75%. Antimicrobial ingredients include natamycin, polylysine, nisin, pediocin, and protamine. Handary SA, www.handary.com, Booth 8552
 • Enzyme preparations can solve various challenges. Acrylaway®3500 BGD can reduce the formation of acrylamide in the production of wheat-free or gluten-free snacks. Protamex® and Flavourzyme® can produce meat protein extract from raw materials such as turkey, chicken, pork, beef, and fish. After its injection or tumbling into processed meats, the meat protein extract preserves the taste and properties of the end product while effectively reducing the salt content. Novozymes, www.novozymes.com, Booth 3829
Donald E. Pszczola,
Senior Editor 
[email protected]