The new dietary guidelines and sustainability are two hot topics that will be addressed in the scientific sessions at this year's IFT Annual Meeting and Food Expo® in New Orleans. Both areas are signs of the changing times in the food industry. Not only are we concerned with our overall health and wellness, but as a society, we have expanded our concerns to think more outwardly at how our food choices affect the environment.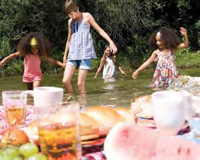 For example, Session 79, "Sustainable Food Systems: Nutrition and the Environment" (June 12, 1:30-3 p.m.), will explore areas of research needed to build a coherent framework for the health of Americans and to sustain the environment. The discussion around sustainability will continue in Session 124, "What Does Sustainability Mean to the Food Industry?" (June 13, 8:30-10 a.m.). This two-part session will define sustainability and examine case studies within specific segments of the food industry. The first part will begin with experts describing different measures being used by consumers, investors, and retailers to define sustainability for the food industry. The second part will include presentations from leaders within different segments of the food industry who will discuss their efforts to achieve sustainability.
The 2010 Dietary Guidelines for Americans have received considerable public attention. In Session 137, "Translating the Dietary Guidelines for Americans to Bring About Real Behavioral Changes" (June 13, 10:30 a.m.-12 p.m.), speakers will discuss new consumer insights on dietary guidance along with realistic recommendations based on modern food production. Food scientists are tasked with making positive modifications to the food supply to respond to recommendations and consumer desires and needs. Dietitians and nutrition communicators are tasked with translating guidelines into actionable behavior change among clients and the public.
At the IFT Food Expo, two places to learn more about overall food trends are Mintel's New Products and Consumer Insights Pavilion (Booth 3741) and Innova Market Insights Taste the Trend Pavilion (Booth 6253). Formerly the Global New Products Database Pavilion, the all-new Mintel pavilion will have its product experts guide you through today's hottest trends. With three topics daily, each session begins with a presentation that breaks down a particular trend with real market examples and then looks ahead at how the forecast will shape the future of the industry. Attendees will be ushered to the tasting room, where they can see, taste, touch, and smell some of the products from the presentation. Topics will include portion sizes, functional foods, and ingredient predictions.
The Innova Market Insights pavilion will provide hard-hitting data on new product trends. It will include a series of essential presentations on the consumer trends taking product development forward, with insights on packaging, technology, and flavor drivers. This year's display will feature in-depth analysis on the issues driving the food and beverage landscape, including strategies for maximizing sustainability and coping with future sourcing challenges.
As always, ingredient suppliers will highlight the newest and most innovative nutraceutical offerings. A sampling of what can be seen is detailed on the following pages. If you are looking for a self-guided tour of some of the companies exhibiting at the IFT Food Expo, check out the Trend & Solution Tours. Printed guides for each tour will be at the entrances to the IFT Food Expo. This year's tours will address Ingredients for Functional Foods, New Directions for Carbs, Next-Generation Fats and Oils, and Weight Management and Diabetes.
Regardless of how you plan on spending your time at the IFT Annual Meeting and Food Expo this year, you are sure to come away with some new insights and ideas on today's latest trends.
--- PAGE BREAK ---
BRAIN HEALTH
Sessions highlight cognitive performance
Session 75, "Measuring the Effects of Nutraceuticals on Physiological and Cognitive Performance" (June 12, 1:30-3 p.m.), will highlight methods for evaluating the effects of food constituents that reportedly benefit brain health. In addition, it will provide an overview of studies that show the effects of specific nutraceutical compounds on physical and cognitive performance. Session 75-3, "Novel Mind-Body Nutrition for Enhanced Mental and Physical Performance," will focus on novel nutritional strategies designed to offset central nervous system (CNS) fatigue to enhance both mental and physical performance during long periods of exercise stress such as military training and combat. It will include a summary of the Integrated Central Fatigue Hypothesis, which provides a biological basis for the role of the brain in mental and physical performance. It will provide data from both animal and human experiments that involve novel nutritional countermeasures of CNS fatigue. Recent data obtained through functional MRI imaging of the human brain will be presented. Session 75-4, "Methods to Assess the Effects of Nutritional Supplements on Cognitive Function," will focus on methodologies used to assess the effectiveness of nutritional supplements, specific foods, and overall food intake for influencing cognitive function. When possible, illustrative examples will be provided using data from field and laboratory studies. Session 75
Blueberries show promise in cognitive benefits
Research shows that blueberries contain natural compounds that help our bodies stay healthy and may help prevent age-related diseases, including Alzheimer's and some forms of cancer. Earlier research has suggested that oxidative stress may be a factor in age-related loss of brain function. Researchers fed antioxidant-rich blueberries to aged lab rats in one study and to mice with Alzheimer's-like symptoms in another study. The results of both studies showed improvement in memory function and motor skills in the rats and mice fed blueberries. There may be substances in addition to antioxidants in blueberries that help keep the message signals moving from brain cell to brain cell. The US Highbush Blueberry Council actively promotes the consumption of cultivated blueberries in the United States and around the world. The council represents highbush blueberry producers, handlers, and exporters of highbush blueberries. Highbush blueberries are harvested at the peak of production and are available in a variety of formats, including fresh, frozen, dehydrated, liquid, canned, and preserved. US Highbush Blueberry Council, www.blueberry.org, Booth 6635
 • Docosahexaenoic acid (DHA), an omega-3 fatty acid that is important throughout life, is a major structural fat in the brain and eyes and supports neurological and visual health. Martek is a leader in the research and development of DHA from a vegetarian source that is available in dietary supplements and functional foods. Ingredient offerings include life'sDHA™, life'sARA™ Brain Armor (1,050 mg of DHA/serving to help optimize athletic performance by providing the brain, eye, and heart benefits that athletes need), and DHAgold® (dried, whole-cell algae). Martek Biosciences Corp., www.martek.com, Booth 5629
 • Rich in omega-3 fatty acids eicosapentaenoic acid and DHA and made from menhaden, a sustainable resource harvested in U.S. waters, OmegaPure® products offer innovative delivery systems for fortifying food products, including OmegaPure high stability oils, Custom Ingredients' OmegaBits bakery inclusions, and Meadowpure UltraGrad fish oil and flax blend. Omega Protein, www.omegapure.com, Booth 3853
 • Wild blueberries were named to the "Top Ten List of America's Healthiest Superfoods for Women" by Health Magazine in 2010. The feature, which ran in the magazine's January/February 2010 issue, singled out wild blueberries' variety of potential health benefits, including preventing memory loss, improving motor skills, lowering blood pressure, and fighting wrinkles. Wild Blueberry Association, www.wildblueberries.com, Booth 4457
--- PAGE BREAK ---
HEART HEALTH
Drinkable yogurt contains new plant sterols
Danacol® is a drinkable yogurt enriched with Heart Choice® plant sterols. Plant sterols are shown to reduce cholesterol. The new drinkable yogurt, when consumed as part of a balanced diet and healthy lifestyle, can be an important ally in helping to manage excess cholesterol. In Canada, the addition of plant sterols to certain food products including drinkable yogurt was recently authorized for use up to a maximum of 1 g/serving. Consuming 80 mL of Danacol provides 50% of the recommended daily amount of plant sterols shown to reduce cholesterol levels in adults. Danacol is now available in Canada in five flavors. Stop by the booth for samples.
Newtrition® from Cognis® Nutrition & Health, now part of BASF, can give products a healthy competitive edge by allowing product developers to meet the increasing demands for innovative, effective, and safe functional foods. The company offers naturally sourced ingredients that can help product developers create cutting-edge products and position their business for long-term growth. With more than 40 years of experience in the food industry, the company is a global supplier that can deliver the innovation and naturally sourced solutions your company needs to succeed. Its brands include Heart Choice®, LycoVit®, Omevital™, Tonalin®, Vegapure®, and Xangold®. Cognis Nutrition & Health, now part of BASF, www.cognis.com, Booth 5829
Demonstrating premix versatility
Fortitech will showcase its premixes in a range of food and beverage product applications. Included among the prototypes are the following:
• A heart-healthy antioxidant-fortified salsa that includes vitamins A, C, and E as well as coenzyme Q10, lycopene, and selenium.
• An energy-enhancing gum fortified with taurine, guarana, and B-vitamins.
• A clear protein drink with electrolytes for sports nutrition.
• Two varieties of an all-in-one stick pack: a weight loss formula containing chromium and L-carnitine and another that addresses overall wellness, which contains nutrients such as vitamins A, D-3, E, folic acid, and other B-vitamins. When added to bottled water, the stick packs create flavored, on-the-go, health-promoting beverages.
With the exception of the stick pack formulated for weight loss, all samples contain at least 10 individual nutrients. Solely dedicated to the development and manufacturing of custom nutrient premixes, Fortitech can source more than 1,400 ingredients from a comprehensive selection of vitamins, minerals, amino acids, nucleotides, and nutraceuticals, enabling manufacturers to target the specific needs and demands of any consumer demographic with what the company calls "Strategic Nutrition." Visit the booth to learn more and gain access to product development tools and resources. Fortitech Inc., www.fortitech.com, Booth 5117
Tomato concentrate receives Nutraward
Fruitflow®, a natural, water-soluble patented tomato concentrate, won the Nutraward for Best New Ingredient at the Nutracon conference in Anaheim, Calif., in March 2011. The ingredient is said to help keep the platelets smooth, and the results of two published human studies have shown the ingredient to maintain healthy platelet function.
Relaxzen launched the first commercial products containing Fruitflow in the United States. They are two shot-type products aimed at business travelers.
DSM Nutritional Products offers an international network of R&D, production, and custom nutrient blending facilities as well as sales and marketing presence in more than 100 countries. Its extensive product portfolio includes vitamins, carotenoids for coloration and fortification, omega-3 and omega-6 fatty acids, and novel nutraceuticals. The company also offers a broad portfolio of nutrients combined with consumer insights, market knowledge, and application expertise. DSM Nutritional Products, www.dsm.com, Booth 5528
--- PAGE BREAK ---
Citrus bergamot boasts cholesterol-lowering properties
The active compounds in citrus bergamot are naringin, neoeriocitrin, neohesperidin, poncerin, rutin, neodesmin, rhoifolin, melitidine, and brutelidine. Research has shown that these compounds can significantly reduce total cholesterol, LDL, triglycerides, and blood glucose levels while increasing HDL. Citrus bergamot works by blocking a key enzyme in the production of cholesterol. It inhibits HMG-CoA (3-hydroxy-3-methyglutaryl CoA) reductase, an enzyme linked to the liver's cholesterol production, thus inhibiting the liver's ability to produce LDL. The company's clinical results showed that citrus bergamot rivals 40 mg of statin without all the side effects of muscle pain, weakness, liver damage, and memory loss. HP Ingredients, www.hpingredients.com, Booth 4434
Balancing dietary fatty acids for heart health
A scientific presentation, "Balancing Dietary Fatty Acids for Heart Health: Natural Fats versus Modified Fat Structure and the Case Against Interesterified Fat Consumption," (June 14, 1:20-1:45 p.m.) will look at how interesterification of fats affects metabolism.
Dietary saturated fats are problematic for heart health, not because they contain saturated fatty acids but because they lack sufficient polyunsaturated fatty acids (PUFA) and essential fatty acids needed for normal energy metabolism. This can be rectified by blending with an oil to add a set amount of PUFA. By contrast, attempting to make a PUFA-rich oil more user-friendly by adding saturated fat can have its own problems. It turns out that these corrective modifications to fats also depend somewhat on natural fat triglyceride structure. Caution is warranted when rebalancing edible fats with trigylcerides that have been modified by interesterification until more details of the long-term metabolic impact of such fats can be determined. Session 272-01
 • A new sodium reduction system, FlakeSelect™, will be launched at the IFT Food Expo. Other heart-healthy ingredient offerings include Barliv and CoroWise sterols. Cargill provides food and beverage manufacturers with ingredient solutions and technical capabilities to help drive product innovation, including meeting changing consumer nutrition needs as recommended by the new U.S. Dept. of Agriculture's 2010 Dietary Guidelines for Americans and other policy initiatives. In addition to having a broad ingredient portfolio, Cargill's diverse technical expertise can help address tough formulation challenges in reducing sugar, calories, sodium, and saturated fat or in increasing fiber levels and whole grain content. The company will also showcase Clear Valley® 80 high-oleic canola oil and TransAdvantage® certified sustainable palm oil. Cargill, www.cargill.com/food, Booth 6039
 • Heart-healthy walnuts are an extremely versatile ingredient, and the only nut with a significant amount of the plant-based omega-3 ALA (2.5 g/ounce). Visit the booth to learn more about using walnuts in a variety of products. California Walnut Board, www.walnuts.org, Booth 7548
 • Almonds continue to appear frequently in packaged food products and in restaurant menu offerings, thanks in part to the significant investment of the California almond industry in research and educational campaigns. The appeal and versatility of almonds are evident in the wide variety of almond forms available for industrial use: whole, sliced, slivered, almond milk, flour, paste, and more. Almond Board of California represents the growers of 80% of the world's almonds. Visit the booth for daily demonstrations spotlighting almonds in cereal, chocolate, and snacks. Almond Board of California, www.almondboard.com, Booth 5229
 • Adding fiber to make snacks healthier will be explained by SunOpta Ingredients Group. The company will offer prototypes such as a gluten-free extruded snack that is a good source of fiber and a reduced-calorie snack product made with oat fiber. SunOpta Ingredients Group, www.sunopta.com, Booth 7421
 • A line of garlic ingredients is expanding to include Garlic Odorless Granular Powder (air dried or freeze dried) and garlic extracts at 1%, 2%, 3%, and 4% allicin. AuNutra Industries Inc., www.aunutra.com, Booth 4965
BONE HEALTH
Bone density tests offered
AlgaeCal is a calcium and mineral complex derived from South American marine algae. By weight, nearly one third of AlgaeCal is calcium, with the remainder being magnesium and other important trace minerals. It is clinically proven in two published studies to increase bone growth. Other calciums only slow bone loss.
The ingredient adds no flavor, color, or texture to foods. At the booth, attendees will receive a quick, safe bone density test and printouts of the company's published clinical study results. AlgaeCal, www.algaecal.com, Booth 4340
--- PAGE BREAK ---
New calcium carbonate debuts
NC-518 is a novel calcium carbonate ingredient that is produced with a new manufacturing technology to enhance the availability of trace minerals and zinc. This patented laser micronization process electrostatically enhances the zinc delivery system, thus allowing the calcium to absorb in the blood stream and supplement osteocalcins, which in turn increases bone density. A phase I open label study and a randomized, double-blind, placebo-controlled phase II human clinical study were conducted. The subjects who received the ingredient had an increase in bone density of 2%.
Omega Clear™ is another ingredient offered. It is a mono species, derived from squid or what is commonly known as calamari oil. The levels of docosahexaenoic acid and eicosapentaenoic acid combined with coenzyme Q10 provide for an ingredient model that reportedly exceeds any fish oils available in the market today. There are two versions of the ingredient available: oils at 30%, 35%, and 50% and powders at 20%, 30%, and 45%. Summit Resource Group will present these new ingredients from Helios Corp. at the booth. Summit Resource Group Inc., www.summit-resource.com, Booth 7051
Setting vitamin D requirements
Session 181, "Using Evidence-Based Reviews to Determine Dietary Advice: Vitamin D as a Case Study" (June 13, 1:30-3 p.m.), will look at the strengths and weaknesses of using evidence-based reviews to set nutrition policy. Speakers will review the recent Institute of Medicine report on vitamin D and discuss implications for the food industry.
Michael McBurney from DSM Nutritional Products will discuss opportunities and barriers facing the food industry in meeting the vitamin D dietary gap. Regulatory change is needed for the industry to be able to manufacture and market new food and beverage products with vitamin D to consumers. In addition, consideration needs to be given to the development of foods with higher vitamin D levels in categories that are unlikely to exceed current upper levels. Session 181
 • A vitamin K-2 (MK-7)-based ingredient, MenaquinGold™, is self-affirmed GRAS. It is said to help support a healthy bone matrix. All-natural, healthy, and clean-label ingredient solutions will be showcased at the booth. Natural colors and flavors, shelf life extension, natural antimicrobial, stable omega fatty acids, and a wide range of science-based ingredients to support bone and joint health, heart health, beauty from within, satiety, and mood are also offered. P.L. Thomas, www.plthomas.com, Booth 4329   
 • Natural milk calcium ingredient, COWCIUM, is said to provide the calcium necessary to aid in the prevention of osteoporosis and to support the growth of healthy bones and teeth. It contains a minimum calcium content of 24% and is best suited for dietary supplements and many kinds of food applications, including breads and pastas. All of the company's milk calcium ingredients are derived completely from dairy whey; no calcium is added during processing. The company states that the ingredients are 100% milk calcium. Garuda International, www.garudaint.com, Booth 7447
WEIGHT & BLOOD SUGAR MANAGEMENT  
Reducing calorie density
VITARCAL® is a range of collagen proteins specially optimized for use in calorie management product applications.
The ingredient reportedly will not compromise the sensory profile of finished products as it is neutral in taste and odor. It can easliy be formulated in a variety of products.
Thanks to its ability to create 2-phase water-in-water systems, VITARCAL can provide a creamy mouthfeel by mimicking fat in suitable food products. For example, it can replace part of the fat in hot dogs or muffins without noticeable loss of taste or texture. Its water-binding and foaming capabilities help to increase the volume of food so as to decrease the weight per serving. In practice, this means that the energy content per serving is much lower.
Additionally, the net-energy yield from protein is lower than that from carbohydrate, as protein digestion is more complex and demands more effort on the part of the body. GELITA, www.gelita.com, Booth 6846
--- PAGE BREAK ---
Facility conducts human nutrition intervention studies
Leatherhead Food Research, a UK-based food science and research organization, opened its new Nutrition Unit in March 2011.
It features two large volunteer suites built for the comfort of the participants in the intervention studies, two eating areas designed specifically for all types of nutrition feeding trials, a kitchen for the preparation of the test meals, and a clinical room for blood collection and other clinical intervention studies.
Additionally, there is a state-of-the-art dual-function laboratory for blood/plasma analysis, enabling rapid processing of samples collected during the nutrition intervention studies and their subsequent analysis for a whole range of biochemical measures.
The company offers a service in the understanding and modeling of human digestive processes, extensive expertise in the human gastro-intestinal tract, and information on the development and exploitation of laboratory-based human gut simulations for all food needs. The in vitro tools and the results of these studies can be applied to the development and formulation of novel and functional foods.
More specifically, the nutritional services include food intake studies for weight management, appetite control, and satiety; measurement of the glycemic response to foods and drinks; and uptake and bioavailability measurements of functional ingredients. Leatherhead Food Research, www.leatherheadfood.com, Booth 8353
Ingredient may help reduce spikes in blood sugar
A review of more than a dozen studies published in the March 2011 issue of Nutrition Journal has concluded that Phase 2 Carb Controller™, a proprietary highly-concentrated extract of the white bean, has the potential to induce weight loss and reduce spikes in blood sugar caused by carbohydrates.
In the study, co-author, Jay Udani, CEO of Medicus Research, states, "Phase 2 Carb Controller has demonstrated the ability to cause weight loss with doses of 500–3,000 mg/day, in either a single dose, or in divided doses. It also has the ability to reduce the post-prandial spike in blood glucose levels."
The review also verifies studies showing that the ingredient can be used effectively in food without adversely affecting taste or texture.
Pharmachem Laboratories Inc. is a family of companies specializing in the manufacture and supply of a wide variety of custom and specialty nutritional ingredients, as well as process services. It produces a variety of ingredients—vitamins, minerals, herbs, and botanicals—under strict quality control. Pharmachem Laboratories Inc., www.phase2info.com, Booth 6946
Dietary fiber from gums
Most gums are also an excellent source of soluble dietary fiber, contributing to a more healthful diet. This means TIC's staff of Gum Gurus can help meet product developers' goals for maintaining texture and stability as well as goals for formulating products that meet health and wellness needs of consumers.
--- PAGE BREAK ---
Gums add soluble dietary fiber to a range of foods and beverages, and most gums are 80% soluble dietary fiber, providing more soluble fiber than oats, wheat bran, and other better-known fiber sources. TIC Gums, www.ticgums.com, Booth 7029
New portfolio of ingredients
Manitoba Agri-Health Research Network Inc. (MAHRN) will introduce the Canadian Climate Advantage Portfolio of research-supported healthy foods and food ingredients derived from raw materials such as cereals, grain legumes, fruits, vegetables, and regional crops including buckwheat. The company will showcase its first products: a roasted buckwheat snack that is high in protein and fiber, a fruit puree powder with high ORAC value and a deep purple color, and a high soluble fiber carrot powder.
According to the company, all the ingredients are supported by third-party clinical and nutritional studies. The company has the ability to trace the final product from raw material procurement to processing and packaging—all within its network of growers, clinicians, product developers, and food scientists.
MAHRN tests and assesses plant- and animal-based bioactive compounds—from isolation and characterization through clinical proof-of-safety and efficacy to product development and commercialization. Its research, development, and commercialization activities are anchored by the Canadian Centre for Agri-Food Research in Health and Medicine, Richardson Centre for Functional Foods and Nutraceuticals, and Food Development Centre. Manitoba Agri-Health Research Network Inc., www.mahrn.ca, Booth 8539
 • An ISO 9001-certified clinical research facility, Glycemic Index Laboratories, provides clinical nutrition research to the food industry. It conducts acute and long-term clinical trials following recognized methodologies or custom-designed protocols, including satiety assessment, markers of metabolism analysis, glycemic index determination, continuous blood glucose monitoring, weight loss trials, cardiovascular disease risk factors, multi-center trials, and novel fiber classification. Research conducted by Glycemic Index Laboratories addresses key objectives for the food industry such as substantiating claims, providing strategic direction, and differentiating clients' products. Glycemic Index Laboratories, www.gilabs.com, Booth 7150
 • A citrus-based ingredient, Diabetinol, is a patented ingredient that helps manage glucose intolerance. In a phase II clinical trial, Diabetinol showed significant improvement in the  glucose and insulin profiles. Summit Resource Group Inc. will showcase this ingredient from Helios Corp. Summit Resource Group Inc., www.summit-resource.com, Booth 7051
 • An alternative to dairy, oil, soymilk, isolated soy protein, meat, and fish, Silken Soy Purée contains no cholesterol or trans fat. As a homogenized liquid with a smooth texture and a very low soy aftertaste, Silken Soy Purée blends and handles easily. It has a consistent quality for use in beverages, salad dressings, sauces, ice cream, cheesecakes, pies, bagels, puddings, custards, breads, al dente pastas, and many other food applications. Available in organic and conventional varieties, Silken Soy Purée comes in shelf-stable aseptic packaging and no refrigeration is required. Morinaga Nutritional Foods Inc., www.morinu.com, Booth 7457
 • Focusing on nutritional solutions, Corn Products International and National Starch Food Innovation offer functional soluble and insoluble fibers for a variety of products. The team will demonstrate product concepts on weight and glycemic management, digestive health, and vitality at booth 5621. It will showcase a wide range of prototypes that can address important trends in the food industry such as natural, nonnutritive sweetening, cost and fat reduction, ingredient replacement, gluten-free, textural differentiation, and nutritional enhancement at booth 6839. Culinology® demonstrations will take place throughout the day to bring these concepts to reality. Corn Products International and National Starch Food Innovation, www.cornproductsus.com, www.foodinnovation.com, Booths 5621, 6839
IMMUNITY
Chocolate showcases immune health ingredient
Good Cacao™ contains Wellmune WGP®, an ingredient that is said to mobilize billions of innate immune cells that are part of the body's natural defenses and has been clinically proven to safely prime the immune system to keep the body healthy. Good Cacao also contains whole food organic ingredients from around the world, including 16 superfoods, to create a rich dark chocolate base.
Lassonde Specialties recently expanded its line of Canton brand of ready-to-serve soups with the introduction of three soups containing Wellmune WGP. The soups include vegetable, chicken noodle, and chicken with rice varieties. Biothera, The Immune Health Company, www.wellmune.com, Booth 7547
--- PAGE BREAK ---
Balancing the immune system
Samples of the new Probiotic Soft Chew containing the immune health ingredient EpiCor® will be available at the booth. Each bite-sized chew delivers 250 mg of EpiCor and 400 IUs of vitamin D cholecalciferol, also known as vitamin D-3. Since its introduction in 2005, EpiCor has been the subject of extensive clinical research that has found it to provide year-round support to the immune system. Vitamin D-3, the naturally occurring form of vitamin D, is critically important for the development, growth, and maintenance of a healthy body. Distributed by ProActive Health Products, Prebiotic Soft Chews are recommended for adults and children 4 years and older. In addition, Embria Health Science's R&D director will present research on the ingredient in a poster presentation, "The Establishment of Prebiotic Properties and Protection Against Inflammation of a Yeast-based Food Supplement Using an Integrated in vitro Approach" (June 12, 3-5 p.m.). Embria Health Sciences, www.embriahealth.com, Booth 7125
Study catalogues evidence for probiotic benefits
A paper reviewing recent research and safety data published in the peer-reviewed journal IFIS (International Food Information Service) Food Science and Technology Bulletin provides scientific support for Ganeden Biotech's patented probiotic strain of Bacillus coagulans. The overview supports the use of probiotics in general and a specific B. coagulans strain, known as GanedenBC30® (B. coagulans GBI-30, 6086) for their probiotic attributes. Highlights of the research data review of GanedenBC30 include relieving abdominal pain and bloating in irritable bowel syndrome sufferers; showing a potential to digest protein, lactose, and fructose; positively affecting the immune system; protecting against two strains of influenza; decreasing joint pain and improving mobility in rheumatoid arthritis sufferers; and surviving through a simulated gastric environment. The safety data reviewed seven tests and revealed no safety issues even when GanedenBC30 was consumed in high quantities.
Orlando Baking Co. recently added GanedenBC30 to its True Grains line of wholewheat breads. The True Grains line is the result of a two-year developmental process between Orlando Baking and Ganeden Biotech. GanedenBC30 has been shown to withstand high heat, freezing, mechanical stress, high pressure, and long-term storage. Ganeden Biotech, www.ganedenlabs.com, Booth 7846
 • Maqui is a deep purple berry that has an ORAC value of 27,600 μmole/100 g serving. Besides having this high ORAC value, maqui berry is also high in anthocyanins, antioxidant flavonoids that protect many body systems and have some of the strongest physiological effects of any plant compounds. The company offers maqui berry 65 Brix clarified filtered liquid concentrate (organic), maqui berry 17 Brix clarified filtered single strength juice (organic), maqui berry 50 Brix cloudy juice concentrate (organic), maqui berry crushed fruit (organic), maqui berry freeze-dried liquid concentrate powder (organic), maqui berry whole fruit freeze-dried powder, and maqui berry extract. HP Ingredients. www.hpingredients.com, Booth 4434
GRAINS & SEEDS
New applications for ancient grains
SK Food International offers a line of ancient grains that includes amaranth, quinoa, millet, sorghum, spelt, and teff. They are called ancient grains because they have remained unchanged by modern science and breeding technologies over time. Amaranth, quinoa, millet, teff, and sorghum are all naturally gluten-free. In addition to offering the individual grains in their whole form, the company supplies precooked flakes and raw flours. The company also supplies identity preserved and certified organic and conventional non-GMO dry edible beans, grains, seeds, soybeans, brans/germs/fibers, flours/meals, vegetable oils, vinegars, sweeteners, rice products, split/dehulled soybeans, and instant powders/flakes. SK Food International, www.skfood.com, Booth 4335
Gluten-free mixes available
The new gluteNONE™ bread mixes are adaptable and can be used to make a variety of finished bread products. The easy-to-use mixes require only yeast, oil, and water to be added at the bakery. The line of mixes includes gluteNONE bread mix, specialty mix, and roll and pizza mix. Watson Inc. also offers several companion products, such as nutrient premixes, which will add value and consumer appeal to gluten-free baked goods. The complete mixes are said to shorten time to market, reduce R&D and material testing costs, and eliminate the need to audit multiple vendors. Watson can also provide starting formulas, product development assistance, equipment requirements, production methods, co-packer partners, labeling requirements, and market data.
New this year are Micronized Corn Bran WT-11867B and Perfect Grain™ White Wheat ingredients. The corn bran is for use in grain-based products where high-fiber claims are desired, along with smooth textural properties and bland flavor contribution. Corn bran is high in dietary fiber (compared to other cereal brans) and has no allergenic attributes. Micronization of corn bran brings the particle size down to a dimension for use in fine-textured snacks and beverages. Perfect Grain White Wheat is not whole-grain flour but a blend of wheat bran and germ from white wheat that can be used in conjunction with flour to make any baked good or pasta wholegrain. Watson Inc., www.watson-inc.com, Booth 7339
Flax seed boosts health
Flax seed naturally provides high concentrations of essential fatty acids, fiber, phytonutrients, and protein. It is a source of many essential nutrients, including folate, vitamin B-6, pantothenic acid, magnesium, potassium, iron, thiamine, copper, zinc, calcium, and phosphorus. Heartland Flax's Concentrated Broad Spectrum Lignans contain only pure flax hulls that have been mechanically separated from the flax seed. The resulting ingredient contains seven to 10 times the amount of SDG lignans per gram in comparison to milled flax seed. The company's flax seed oil is a stable, pleasant-tasting oil that is high in omega-3, -6, and -9 fatty acids. Roasted flax seed, flax flour, and flax meal are available. Heartland Flax, www.heartlandflax.com, Booth 4538
 • Coarse hemp powder is used to increase dietary fiber in foods. It also contains highly digestible protein and other vitamins and minerals. Hemp seed food products and ingredients are sources of polyunsaturated fatty acids; contain the ideal 3:1 balanced ratio of omega-6 and omega-3 essential fatty acids and their direct metabolites gamma-linolenic acid and stearidonic acid; have high-quality and digestible protein; do not have trypsin-inhibitors and hormone mimickers; have a balanced source of the essential copper–iron–zinc trio; and are a source of B vitamins such as folate, riboflavin, thiamine, niacin, and vitamin B-6. Other offerings include hemp seed oil, toasted hemp seed, hulled hemp seed, protein powders, and hemp flour. Hemp Oil Canada Inc., www.hempoilcan.com, Booth 8539
--- PAGE BREAK ---
ACTIVE LIFESTYLES
Dairy ingredients play role in hottest food trends
Visitors to the U.S. Dairy Export Council® booth will learn how dairy ingredients can contribute to improved taste, functionality, and nutrition for a variety of products. Valuable information from innovation resources, including research labs, product and nutrition researchers, and knowledge-able food scientists will show how dairy ingredients are solving today's formulation challenges.
Using value-added U.S. dairy ingredients, researchers and developers will unveil a number of tasty prototypes that fit into today's food and beverage product trends:
• Healthy aging. Food and beverage manufacturers can leverage the quality and value of whey protein in product innovations to reach the mature consumer interested in maintaining muscle strength to support an active lifestyle. The featured prototype is a made-over sweet potato bread pudding.
• Protein throughout the day. A number of prototypes have been developed around this theme to address getting enough protein at different times throughout the day—from a protein-packed breakfast waffle to a chilled pasta salad made with cheese and whey protein pasta.
• Sodium reduction. Permeate, a dairy ingredient, provides salty characteristics while helping formulators reduce sodium content levels in products without sacrificing taste. It will be showcased in a butternut squash soup.
• Yogurt as an ingredient. Yogurt can be used as a functional ingredient in products for added flavor and nutrition, and it will be featured in a refreshing, savory, yogurt-based beverage that takes its flavor cues from Mediterranean cuisine.
In addition, the U.S. Dairy Export Council and partners such as the Innovation Center for U.S. Dairy™ and Dairy Research Institute™ are participating in the following presentations:
• Session 136 "Snacking: Insight and Perspectives on Contributions to the American Diet" (June 13, 10:30 a.m.-12 p.m.).
• Session 220 "New Processing of Dairy Ingredients" (June 14, 8:30 a.m.-10 a.m.).
• "Emerging Consumer Trends: The Protein Opportunity" (Special Events Pavilion, Booth 8153, June 14, 12 p.m.-1 p.m.).
• Session 274 "Natural Ingredient Opportunities Using Dairy Co-products" (June 14, 1:15 p.m.-2:45 p.m.).
U.S. Dairy Export Council, www.InnovateWithDairy.com, Booth 6139  
Rethinking protein requirements
The session, "Rethinking Protein Requirements and Recommendations: Beyond Muscle" (June 12, 10:30 a.m.-12 p.m.), will help attendees learn the benefits of including adequate high-quality protein in the diet that go beyond lean tissue deposition/muscle recovery. Attendees will learn ways in which the food industry can better position its products to help consumers adopt high-quality protein diets.
New research differentiates types of protein and identifies benefits beyond its effect on muscle (e.g., bone health, weight management, blood glucose control, heart health, facilitating the aging process, and post-exercise rehydration and recovery); thus, it is time to reconsider optimal protein intakes. The distribution of protein ingestion throughout the day and the appropriate ratio of amino acids are needed to optimize protein's physiological effect. Session 20
 • A nutritional drink mix will feature Nutrivan® EB (energy boost) 1020 ingredient, which is a supplement to help extract the maximum energy from foods consumed. The mix is available in a stick pack, and it is also formulated with a probiotic. Caravan Ingredients, www.caravaningredients.com, Booth 7013
 • A new-and-improved website features a state-of-the-art product builder and information about the latest trends in the functional food and beverage industries. The Wright Group is a turnkey provider of customized nutritional blends, premixes, and nutritional ingredients, and it manufactures and supplies high-quality products composed of nutrient-rich raw materials with enrichment applications in a broad line of functional foods, beverages, nutritional supplements, and other nutritional-based end products. The Wright Group, www.thewrightgroup.net, Booth 4417
Linda Milo Ohr,
Contributing Editor, Denver, Colo. 
[email protected]