As it does each year, the 2011 Annual Meeting & Food Expo will provide attendees with a one-stop destination for exploring innovations in packaging and hearing thoughtful perspectives on packaging industry issues of importance.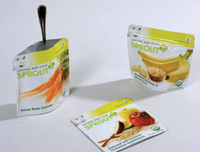 Topics that will be in the spotlight include everything from aseptic and antimicrobial packaging to polymers and plant-based packaging. Here's a closer look at what will be in store in selected Annual Meeting Scientific Program sessions.
Exploring the Risks of BPA
Session 070, scheduled for 1:30–3 p.m. on Sunday, June 12, will explore the controversial packaging material Bisphenol A (BPA). The session is titled "BPA and Its Alternatives: Quantifying the Risks."
BPA is widely used by the food packaging/processing industry for can linings and other applications. Recent toxicological concerns led to recommendations to discontinue many, if not all, of the current uses, which would mean adopting replacement packaging materials that may carry other risks.
There is substantial controversy surrounding the issue of how to quantify the risks associated with BPA—particularly for low doses that result from package leaching. The discussion in this session will center around the likely risks of BPA at low exposures and the impact of converting to alternative packaging materials. Factors to be taken into consideration include differences in performance of these alternatives and what effect their use would have on product safety and shelf life.
The session will include the following presentations: "Regulatory Status of BPA and Safety Assessment of Alternatives by Kristi Jacobs of the U.S. Food and Drug Administration;" "Media Disruption? BPA and the Consumer" by Trevor Butterworth of George Mason University; and "Performance of BPA Epoxy Resins and Their Alternatives" by John Rost of the North American Metal Packaging Alliance. Kathleen M. Roberts of B&C Consortia Management LLC will lead the panel discussion that will conclude what is sure to be a provocative session.
Film Packaging for Produce
Session 016 on Sunday from 10:30 a.m. to noon will provide a comprehensive review of the newest developments in polymeric film packaging technologies for fresh fruits and vegetables. It is aptly titled "Latest Developments in Polymeric Film Packaging for Fresh Fruit and Vegetable Products."
Polymeric film packaging significantly affects the shelf life of whole postharvest fruits and vegetables and fresh-cut fruit and vegetable products. Packaging technologies associated with polymeric films have changed rapidly in the last few years, with greater emphasis on antimicrobial and nano-structural packaging. Not only will those who attend this session be updated on trends in polymeric film packaging, but they will also have the opportunity to see examples of the latest packaging technology for fresh produce.
--- PAGE BREAK ---
Presentations within the session will include the following: "Modified Atmosphere Packaging of Fresh and Fresh-Cut Produce by Kay Cooksey of Clemson University; "Antimicrobial Packaging for Fresh-Cut Fruits" by Hong Zhuang of the U.S. Dept. of Agriculture's Agricultural Research Service; and "Effects of Modified Atmosphere Packaging on Quality of Fresh Produce" by Margaret Barth of Responsible Source Ltd.
Going Green
Packaging is a critical theme within the framework of sustainability, so those with an interest in this area may wish to sit in on Session 026 titled "Greening of Food Processing and Packaging Technologies" slated for 10:30 a.m. to noon on Sunday.
The session's roster of distinguished presenters and their topics is as follows: "Green Food Processing: Views from Climate Science and Environmental Biogeochemistry" by Nancy Cavallaro of the National Institute of Food and Agriculture; "Energy Management to Reduce Carbon Footprints in Food Processing" by Paul Singh; "Leveraging Sustainability to Drive Productivity and Enhance Brand Value: A Winning Formula for the Food Industry" by Michael Okoroafor of H.J. Heinz Co.; and "Greening of Food Processing and Packaging Technologies" by Gail Barnes of Dairy Management Inc.
Within this session, several promising food technologies for reducing impact on climate change will be considered. These include high hydrostatic pressure processing (HPP), microwave heating, ohmic resistance, pulsed electric field, electrolyzed water, ultraviolet treatment, and irradiation. HPP technology, for one, has been shown to substantially lower energy compared with traditional heat processing technologies.
Novel packaging technologies that will be discussed include plant-based packaging systems and totally compostable packages.
Those with an interest in sustainable packaging may also wish to attend Session 230 on beverage industry innovators. Scheduled for 8:30–10 a.m. Tuesday, June 14, the session is titled "Sustainability: How Beverage Innovation Award Winners Did It."
Attendees of this session will gain insights into how the award winners built successful sustainability programs. This session will focus on processes rather than products, and will place particular emphasis on how hurdles were overcome. The agenda will also include an analysis of the development of a completely renewable bottle that does not impact plant food sources.
Packaging will be the focus of one of the presentations within Session 177, "Challenges and Opportunities in Not-Ready-to-Eat Frozen Food Development," which will take place from 1:30 p.m. to 3 p.m. on Monday, June 13. Overall, this session will highlight challenges related to products, processes, and packaging in the category of frozen food products. The presentation within the session that is specifically packaging-focused is titled "Packaging Challenges in Frozen Foods" and will be presented by Ronald C. Idol of Air Liquide Industrial U.S. LP.
--- PAGE BREAK ---
More Highlights
The following displays, sessions, and events may also be of special interest to packaging professionals and others who follow this discipline.
• For an excellent overview of new packaging applications from around the world, visit the Innova Market Insights Taste the Trend pavilion on the Food Expo show floor. Product samples will bring to life the top 10 consumer trends identified by Innova Market Insights experts and highlighted at the Food Expo pavilion.
• An open member meeting for the Food Packaging Division will take place from 4:45 p.m. to 6:30 p.m. on Monday. The gathering will include posters, awards, and a reception.
• Also on Monday, the Food Packaging Division's Food Processing & Packaging Poster Session promises to supply a wealth of information and access to diverse viewpoints. A total of 42 presentations are slated for the poster session, which will take place from 11 a.m. to 1:30 p.m.
Check the online program planner and search under packaging for information on additional poster sessions sponsored by the Food Packaging Division and for other sessions that address packaging themes. A complete, text-searchable version of the Scientific Program, including titles, authors, and abstracts of all of the papers, including the posters, is available at http://www.ift.org/2011Sessions.
---
Exhibitor Information
The following are brief descriptions of some of the packaging-related supplier exhibits at this year's Food Expo.
• Ergonomic accessory, Arena Starfish™ Lift, enables safe and easy positioning of top-discharge pumps and mixers. When used with the Arena A330 Shipper™ and the Arena Air-Evac® Starfish™ Liner, the lift supports efficient discharge of viscous products such as mayonnaise or peanut butter. The Starfish Lift is an ergonomically safe way to raise and lower top-discharge, positive-placement pumps, such as progressive cavity or piston pumps in and out of the shipper. The lift's remote control pendant allows a single operator to lower and raise the pump, while guiding the throat of the pump into or out of the top fitment of the liner. The Starfish Lift is powered by a 24VDC rechargeable battery so there is no need for electrical cords, outlets, or compressed air to operate the lift.
A.R. Arena Products booth visitors will receive the brand new Revision H of the company's technical library on CD. A.R. Arena Products Inc., www.arenaproducts.com, Booth 4129
--- PAGE BREAK ---
• Stainless steel intermediate bulk containers as well as pressure tanks and portable tanks are available for rental from CCR Containers. The company has more than 16,500 fleet containers and 450 designs and offers rental terms ranging from three months to eight years. CCR's international fleet and 60 years of experience position it well to provide solutions for food companies' liquid storage and transport needs. CCR Containers, www.ccrcontainers.com, Booth 5644
• Active packaging solutions from Multisorb Technologies combine proprietary sorbent devices with the company's Active-Pak Automation (APA) dispensing systems. FreshCard™ is an oxygen absorber with the active material built right into a flat card profile. The FreshCard System uses stacked feeding to dispense up to 200 FreshCards/minute. The system is positioned for use with processed, smoked, and cured meats such as beef jerky, sliced pepperoni, and bacon bits. Also available from Multisorb are FreshPax oxygen-absorbing packets, which absorb and maintain oxygen inside sealed packaging to less than 0.01%, eliminating the need for preservatives and allowing for retention of flavors, color, aroma, and product quality. A series of dispensers for FreshPax packets are available.
MAPLOX (Modified Atmosphere Packaging Low Oxygen) is an easy-to-use, low-oxygen packaging program that teams with customized FreshPax CR packets and a FreshPax CR dispenser to retain the freshness, color, and flavor of meats within a master bag. Multisorb Technologies, www.multisorb.com, Booth 5243
• Recloseable standup retort pouch is flexible, provides for high packaging efficiency (product to package ratio), and serves as an effective brand billboard thanks to its ability to incorporate photo quality rotogravure printed graphics. A reasealable string zipper is located at the top of the pouch, keeping the header intact. The pouch is No. 2 recyclable where available. Ampac's E-Z Zip technology is an improvement over a standard zipper pouch and allows the user to simply pull away a thin tear strip to access the recloseable zipper. The package zipper can then be pulled open to dispense product and pressed closed to reseal. A unique feature of E-Z Zip is that the zipper closure is accessed without having to tear off or damage the header of the stand-up pouch. Ampac, www.ampaconline.com, Booth 4353
---
Exhibitor Information—Additional Products & Services
Brief descriptions of some additional products and services to be highlighted on the 2011 IFT Food Expo show floor follow.
• Scientific publication, the Journal of Agricultural and Food Chemistry, will be highlighting some of the latest published research in nutrition, phytonutrients, flavors, and aromas. Those who stop by the ACS Publications Food Expo booth may sign up for e-alerts from the journal and complete an online survey to receive a free USB flash drive. ACS Publications, http://pubs.acs.org/jafc, Booth 4256
• Search engine for the food and beverage industry is available from Innovadex. Innovadex members receive free and direct access to thousands of ingredients and technical documents from more than 325 leading ingredient suppliers. Data sheet, MSDS, nutritional information, and applications are featured, and samples may be requested online. Nearly 100,000 product innovators around the world use Innovadex to assist in product development. Innovadex LLC, www.innovadex.com, Booth 6619
• Master of agribusiness (MAB) distance-degree program from Kansas State University has been expanded to Southeast Asia. K-State educators have signed an agreement with officials at Universiti Sains Malaysia to make available an extension of the MAB program that has been training agribusiness professionals around the world for more than 13 years. Students in this program earn an accredited master's degree in 2½ years while doing course work using the internet, DVDs, podcasts, and multi-audio chat rooms. Currently, students visit K-State during four one-week campus sessions where they meet other students and faculty, receive training on technology, interact with industry leaders, and give group project presentations. In the new cohort, the on-campus portion of the program will be offered at the Universiti Sains Malaysia beginning in April 2012. Kansas State University www.mab.ksu.edu, Booth 6847