The Annual Meeting Scientific Program has plenty to attract food engineers and others interested in processing. Here's a look.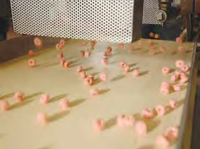 New Process Development
A group of sessions will focus on aspects of new process development including theory, case studies, and modeling.
Session 015, "Practical Fluid Heating for a Sustainable Process," will take place from 10:30 a.m. to noon Sunday, June 12. Process and utility fluid heating is one area in which companies can improve their sustainability initiatives. Engineering schools do not usually teach direct steam injection heating so the process is often overlooked as an option for liquid heating. This workshop will examine liquid heating fundamentals applicable to food processing, comparing and contrasting indirect fluid heating with direct fluid heating. It includes a review of specific applications for sauce cooking, tomato processing, starch cooking, and chunky products.
Session 071, "Case Studies Toward Commercialization of Novel Food Processing Technologies: Microwaves, Nonthermal Plasma, and IR Heating," is scheduled for 1:30–3 p.m. Sunday. This symposium will emphasize three phases of the progression from laboratory and basic science principles toward commercialization, using processing technologies such as microwaves, infrared (IR) heating, and nonthermal plasma (NTP). Several commercial applications will demonstrate the advantages of microwaves for frying donuts, cooking sausage biscuits, and drying muesli.
IR heating is the basis for alternative methods that can improve product quality and safety, increase energy and processing efficiency, and reduce the use of water and chemicals. IR applications involve blanching and dehydrating fruits and vegetables, roasting and pasteurizing almonds, the disinfesting and drying of rice, and the peeling of tomatoes—all of which constitute more sustainable and environmental technologies.
NTP is electrically energized matter in a gaseous state that is generated by flowing gases through an electric field. It has been used for water and wastewater treatment, surface sterilization, and pasteurization of liquids. NTP can kill vegetative cells and bacterial endospores, but inactivation mechanisms are not well established.
From 8:30 a.m. to 10 a.m. Monday, June 13, Session 111, "Innovative Food Processing Technologies: Advances in Multiphysics Modeling," will focus on innovative processing technologies such as high pressure processing, pulsed electric fields, and ultrasonication. These technologies allow targeted and gentle modification and preservation of foods by nonthermal or assisted thermal processing, maintaining fresh qualities often impaired by conventional thermal processing.
Numerical modeling is frequently used for equipment design and process optimization. Compared to conventional processing, innovative technologies provide additional complexity and challenges for modelers because of interacting multiphysics phenomena, such as sound (pressure) waves, electric or electromagnetic fields, thermodynamics and fluid dynamics, and others. This symposium will provide an overview of innovative food processing, discuss the latest developments in multiphysics modeling as applied to development and optimization of some innovative technologies, and offer insight into the future of this discipline.
--- PAGE BREAK ---
On Tuesday, June 14, from 10:30 a.m. to noon, Session 250 will explore "Gaseous Decontamination Treatments of Food and Food Environments and Emerging Technologies." The use of gaseous sanitation treatments for decontamination of foods and food processing facilities has potential. Gases can penetrate into crevices and niches in foods and in facilities where microbes could be missed by conventional techniques of cleaning and sanitization. Many of these sites are difficult (and in some cases impossible) to disassemble for effective cleaning and sanitization, and they house microbes that may grow to high numbers, resulting in contamination.
Session 269, "Novel Applications of High Pressure for Conversion and Preservation of Food Compounds," will take place from 1:15 p.m. to 2:45 p.m. Tuesday. This session will provide insight into the latest findings and areas of application for high-pressure preservation or modification of foods and food constituents. The discussion will address process efficiency as a function of pressure, temperature, time, and product properties and the impact on scalability, safety, and quality.
Physical Properties
Another cluster of sessions will address theory and practice in understanding physical properties of food materials, such as emulsions and water in cells.
Session 131, "Emulsions in Beverages and Food—From Theory to Applications (From Interfaces to Consumers)" is slated for Monday from 10:30 a.m. to noon. This symposium will include a discussion of a number of fast-evolving questions and interactions between researchers involved in different fields of food colloids.
Session 067, "The Nature of Water in Cells and Gel," is set for 1:30–3 p.m. Sunday. A common understanding is that, of the water that comprises the bulk of food cells and gels, about 95% behaves essentially like ordinary tap water. However, evidence exists that water in contact with hydrophilic polymer surfaces may have longer-range order that markedly affects the liquid properties. Water at the molecular level is now thought to form clusters comprised of two or more water pools in equilibrium. Water-holding, rheological, and even microbial stability properties may thus be largely determined by how the polymer surface characteristics and the porous microstructure of cells and gels affect the nature of the entrapped water. Speakers in this session will present evidence supporting a more structured form of water in cells and gels to promote more concentrated discussion on the implications of this new understanding.
"Inspiration from Nanoscale Science and Engineering" is the topic for Session 068 on Sunday from 1:30 p.m. to 3 p.m. The structure of many familiar foods is often the result of self-assembly of food component molecules into nano-sized structural elements. The ability to control molecular assembly in a food matrix over several length scales will become an integral part of food product design. Future development of food products will require an understanding of the relations between nano, micro, and higher order structures and their impact on physical, chemical, and sensory properties and nutritional functionality.
Session 182 is titled "Current Trends in Texture Design of Food: Rheological and Textural Studies on Carbohydrate Texturizing Systems." It is slated for 1:30–3 p.m. Monday. Carbohydrates are no longer just digestible macronutrients that provide calories to the body; they now include an array of polysaccharides that are indigestible or partially digestible and perform important functions in food. Carbohydrates have evolved to be diverse and versatile texturizing ingredients that play a critical role in developing novel and healthful food products. Rheological and textural studies are a big part of the solution to textural hurdles presented within the product development process, and this symposium will present basic and applied studies using a carbohydrate-based texturizing system for thickening or gelling or as filler and bulking ingredients.
Nanotechnology is again the topic in Session 227, "Designing Nanoscale Vehicles for Effective Delivery of Drugs and Bioactives in Functional Foods," which will take place 8:30—10 a.m. Tuesday. The first wave of nanotech applications in foods is focused on enhanced uptake and bioavailability of bioactives. The efficacy and absorption of bioactives delivered orally may be hampered by environmental degradation, enzyme attack, insolubility in transport fluids, and low residence time in the GI tract. Delivery vehicles in the form of emulsions, liposomes, solid lipid nanoparticles, and polymeric nanoparticles have been developed to increase bioavailability of various bioactives. Critical developments made in the area of nanodelivery applications for drug delivery can be translated and applied in food.
--- PAGE BREAK ---
Process Analysis
Several sessions during the Annual Meeting will discuss specific aspects of new processes such as high pressure and egg pasteurization.
In Session 249, scheduled for 10:30 a.m. to noon Tuesday, the topic will be "Process Uniformity During High Pressure Pasteurization and Sterilization." In food manufacturing, consistent and uniform delivery of a lethal dose is critical for ensuring microbial safety and the quality of processed foods. While factors contributing to thermal processing have been well studied, a very limited body of knowledge exists for high-pressure food pasteurization and sterilization. This session will discuss factors contributing to process nonuniformity during high pressure processing and approaches to minimizing process variability.
Session 267 will explore "Intervention Technologies for the Mitigation of Salmonella Enteritidis Infections in Shell Eggs." It is scheduled for 1:15–2:45 p.m. Tuesday. Recent high profile egg-related Salmonella outbreaks increase the desirability of a post-production intervention for shell eggs. While industrial shell egg pasteurization exists, the process cannot handle the volume of eggs (more than 2,000) being produced every second in the United States. This symposium will examine existing and emerging technologies and the challenges they face in attacking the Salmonella problem.
Session 133, "Highlights of European-Funded Research in the Area of Food Processing," will take place from 10:30 a.m. to noon Monday and will present the scientific results achieved by a few European research projects.
Special Sessions
The New Products and Technologies sessions and the Food Engineering Division poster sessions always offer new inspirations in a convenient venue.
• New Products and Technologies sessions are scheduled as follows: 3–5 p.m. Sunday, Session 101, showcase; 8:30–10 a.m. Monday, Session 113, processes; 8:30–10 a.m. Tuesday, Session 226, ingredients.
• Oral Session, 8:30 a.m.–10 a.m. Tuesday, Session 219, "Modeling Quality and Safety."
• Food Engineering Poster Sessions: 1:30–4 p.m., Tuesday, Session 289 (69 papers); Session 290 (44 papers); and Session 293 (16 papers).
--- PAGE BREAK ---
---
Exhibitor Information
Brief descriptions of some of the processing-related exhibits at the IFT Food Expo follow.
• Modular miniature-scale HTST/UHTprocess system, FT174X, is a flexible heat treatment system for use in the laboratory environment; it is ideal for applications including beverages, liquid foods, dairy, and pharmaceuticals. The system is configurable, and the whole unit is controlled via an 8-in color touch screen panel, which operates the tubular/plate heat exchangers, DSI unit, or one of the numerous other options available for it. Cleaning in place and sterilization in place capabilities are built-in. Armfield Ltd., www.explorearmfield.co.uk, Booth 6739
• Business-integrated ERP solution for process manufacturing, BatchMaster Manufacturing for Microsoft Dynamics GP, integrates BatchMaster processing expertise with the power of Microsoft. End users can leverage the role-based "Personalized Navigation List" to bring R&D tasks (subject to security) into one screen. With the software, users can create and modify recipes, perform laboratory analysis based on physical properties, and cost their products—all from the same screen. BatchMaster, www.batchmaster.com, Booth 5208
• High pressure processing (HPP) system Duo H200L/600F series is designed for both large and small-to-medium processors. It incorporates self-owned patent technologies including a double-layer heat-shrink sleeve to deliver a lightweight, high-throughput, and highly energy efficient HPP platform. Compact in design, the system has a dual horizontal processing chamber that allows for easy installation and relocation. CHIC FresherTech Co. Ltd., www.chicfreshertech.com, Booth 8553
• Entrée-ready meat analogs mimic the appearance, flavor, texture, and mouthfeel of meat but contain no cholesterol or fat. Clextral's twin screw extruders transform plant protein mixtures into fibrous protein foods that may be substituted for entrees ranging from calamari to beef steak. Clextral makes the analogs available in "off the shelf" forms or works with clients to help them develop products according to custom specifications. Clextral, www.clextral.com, Booth 7419
• Dry ice cleaning can replace manual methods of cleaning food processing equipment without the need for scrubbing, water clean-up, or the use of chemicals. Dry ice cleaning reduces equipment downtime and decontaminates food preparation surfaces of salmonella, E. coli, and listeria. Dry ice cleaning also eliminates cross-contamination caused by nuts and other allergens and removes protein residues from equipment. Cold Jet, www.coldjet.com, Booth 3901
• Hygienic rotary valves—ZRD discharge valves and ZXD blow-through valves—have been approved by the U.S. Dept. of Agriculture following certification in compliance with the USDA Dairy Grading branch, which means that these reliable valves may be used in the food, pharmaceuticals, and chemical industries for applications demanding the highest degrees of hygiene and cleanliness. Because they can be readily inspected and quickly cleaned, these sanitary valves are ideal for applications involving frequent changeovers and for processing products with adhesive tendencies. Coperion, www.coperion.com, Booth 4757
• Self-contained mobile ozone sanitation system, Delzone AGW-0500, provides ozone-enriched cold water on demand for hard surface sanitation and direct food contact applications. The system ships ready for plug-and-play operation and provides 9.5 gpm water flow with a residual ozone dose of approximately 2.0 ppm at the nozzle. A 50-foot ozone delivery hose and spray wand are included with the system. Del Ozone, www.delozone.com, Booth 3705
--- PAGE BREAK ---
• Radiant energy vacuum technology, quantaREV, is designed to meet the requirements of food and chemical production companies for high-volume, continuous, low-temperature dehydration of solids, liquids, granular, or encapsulated products. quantaREV introduces a continuous belt design within a controlled vacuum-microwave environment, allowing the potential for dehydration of up to several tons of material per hour. EnWave Corp., www.enwave.net, Booth 4049
• Spray and freeze drying, particulate processing, powder transport and packaging, aseptic PET bottle filling, and membrane filtration technology will be among the topics of focus at the GEA Process Engineering booth. The company also will promote a wide range of feasibility- and process development-scale plants, which can assist universities and corporate R&D facilities in their process, application, and plant development. The range of pilot plants is available for purchase or short-term lease. GEA Process Engineering, www.niroinc.com, Booth 5821
• Pasteurization and sterilization system, Log5 CCP, works well for a wide variety of foods with low water activity such as nuts, seeds, grains, spices, herbs, and seasonings, in both granular and powdered forms. A minimum 5 log reduction is guaranteed. The technology is non-chemical, has no discernible impact on organo-leptic properties, and allows for a completely automated in-line system with no manual product handling. Log5 Corp., www.log5.com, Booth 3804
• Lab UHT/HTST processors contribute to faster product development at lower costs. With this equipment, researchers evaluate the effects of production continuous thermal processes on their products. Incorporating the process into their product development allows companies to reduce failed plant trials and R&D costs. The 2011 DIPW processor combines indirect and steam injection processing (with vacuum cooling) into one machine, allowing researchers to evaluate the effects of either style process on product quality and fouling. The processor has multiple heating and cooling styles, a unique central connection panel, and a hold tube bank. Microthermics Inc., www.microthermics.com, Booth 6313
• Sanitary lump breaker, Model RDC1515-SS, features side removal bed screens, which allows it to remain in place during sanitation procedures, saving production time. Constructed of stainless steel, finished to sanitary standards, the unit fits in tight spaces between bulk storage, handling, processing, and packaging equipment. With optional feed hoppers and support structures, it can also operate independently. It is recommended for deagglomeration of free- or non-free-flowing bulk materials such as salt, sugar, spices, and resins and size reduction of easy-to-break materials such as friable food products and other compacted powders. Munson Machinery Co. Inc., www.munsonmachinery.com,Booth 4555
• Services available at POS Pilot Bio-Sciences, a confidential contract research facility, will be highlighted at the Food Expo. POS Bio-Sciences has more than three decades of experience in designing, scaling up, and optimizing bioprocesses for the production of bioproducts. Areas of specialization include extraction, fractionation, modification, and purification of bio-based materials. POS Bio-Sciences, www.pos.ca, Booth 7525
• Spraying systems have a variety of applications. AutoJet antimicrobial spray systems apply a predetermined volume of antimicrobial agent into packages or onto meat before sealing. Vacuum-sealing of the packages distributes antimicrobial evenly to ensure food safety. AccuCoat systems use closed-loop temperature control to ensure accurate application of viscous coatings up to 25,000 centipoise. Using the system can result in coating reduction of up to 50% vs enrobing as well as less maintenance and downtime. It is ideal for use with chocolate and other temperature-sensitive coatings. Spraying Systems Co., www.spray.com, Booth 4453
• Vertical scraped surface heat exchanger has the versatility to handle varied process applications including cooking, heating, cooling, crystallization, pasteurization, and sterilization. Thanks to its vertical design, it is ideal for small footprint spaces. The unit has only one shaft seal and contains five times more heat exchange area than conventional equipment. Its hinged top cover allows for inspection and cleaning without disturbing the shaft seal; one-piece scraper blades can be replaced without tools. Bottom-driven to eliminate the possibility of any product contamination, the unit is capable of processing sensitive or complex products or particulates with minimal damage. Terlotherm, www.terlotherm.com, Booth 4829
• Food Processing Center at the University of Nebraska partners with industry on technical and business development. The center provides product development services covering a wide range of food manufacturing processes and offers comprehensive, state-of-the-art laboratory and scientific consulting services, addressing numerous aspects of food and ingredient analysis. Strategic and business planning is available for companies ranging from startups to mature organizations. University of Nebraska-Lincoln, www.fpc.unl.edu, Booth 4207
by J. Peter Clark, Contributing Editor,
Consultant to the Process Industries, Oak Park, Ill.
[email protected]