Stressed as the most important meal of the day, breakfast is often taken for granted despite its importance in overall health. Healthy breakfasts play a role in weight management, children's nutrition, cognitive function, and overall wellness. And consumers appear to be listening to this advice. Research from Mintel indicates that consumers are seeking healthier options in breakfast foods. For example, 66% of restaurant-goers say they are interested in healthier breakfast options. Convenience is also key among restaurant-goers. Almost half of restaurant-goers say convenience is an important selection factor when dining out for breakfast.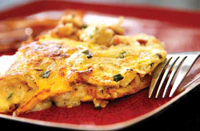 On the retail side, health and convenience are driving factors as well. An example of a product targeting these aspects is Rush Bowls from Boulder, Colo.-based Rush (phone 303-546-9666, www.rushbowls.com). Rush Bowls are nutritious ready-made meals, prepared with different combinations of fruit and other healthy ingredients, blended thick, and come with organic granola or gluten-free crispy rice for topping. The product is sold frozen and can be thawed naturally or microwaved for breakfast, lunch, or after a workout. The products are packed with vitamins, protein, and fiber, and are low in fat and calories.
Here is a look at some of the ingredients that are used to create other healthy breakfast options.
Protein
Essential for muscle maintenance, protein at breakfast is also thought to promote satiety. Leidy and Racki (2010) showed that a protein-rich breakfast might be an effective strategy to improve appetite control in young people. Breakfast led to increased satiety through increased fullness in "breakfast-skipping" adolescents. In addition, the American Dietetic Association (ADA), Chicago, Ill. (www.eatright.org), also recommends lean protein at breakfast. "Protein, a missing component in many morning meals, helps children go strong and stay focused until lunch," according to ADA.
Protein's importance at breakfast is becoming more widely conveyed. A recent commercial for Kashi GOLEAN® cereal from Kashi Company, La Jolla, Calif. (phone 877-747-2467, www.kashi.com), says that a bowl of GOLEAN has as much protein as an egg (9–13 g protein/serving).
Whey protein and soy protein are two lean proteins that are being used more in breakfast foods and drinks. Innovative ingredient forms such as isolates and concentrates with varying solubility ranges, protein nuggets and clusters make them applicable for a wider variety of breakfast options.
• Whey protein. At this year's IFT Food Expo, the U.S. Dairy Export Council, Arlington, Va. (phone 703-528-3049, www.innovatewithdairy.com), showcased a Strawberry Sunrise Waffle, a nutritious, protein- and calcium-packed, yogurt-infused waffle. Members of the Dairy Export Council reported that high quality whey protein provides important fuel for morning exercise, increases satiety throughout the day, and possibly aids in weight management. Whey protein contains high quality protein, and the highest concentration of branched-chain amino acids, making it ideal for both pre- and post-workout breakfast snacks and meals. Whey protein is also good for muscle-building and maintenance.
--- PAGE BREAK ---
Veldhorst et al. (2009) indicated that different proteins affect appetite differently and that whey appeared to reduce hunger most when consumed at breakfast. Subjects were fed a 600-calorie breakfast consisting of either 10% or 25% of the meal from different protein sources. At the level of 10% protein, which is about 15 g, whey protein decreased hunger more than soy or casein. The author indicated that this effect appeared to be linked to the amino acid levels and appetite hormones in the blood.
• Soy protein. Known for its heart health benefits, soy protein is a high quality, complete plant protein that is also thought to affect satiety. Veldhorst et al. (2009) showed that a high soy protein breakfast was more satiating than a normal soy protein breakfast related to elevated taurine and insulin concentrations. Twenty-five healthy subjects received a subject-specific standardized breakfast: a custard that was 10% soy protein/55% carbohydrate/35% fat or a high protein custard that was 25% soy protein/55% carbohydrate/20% fat in a randomized, single-blind design. Overall, the 25% soy custard was rated as being more satiating than the 10% soy custard and there was a difference at 20 min after breakfast, related to higher postprandial taurine concentrations. Insulin response increased more after the 25% soy custard than after the 10% soy custard.
Eggs
Providing a good protein source at breakfast, eggs also boost the first meal of the day with other nutrients. Eggs are a naturally nutrient-dense food, containing varying amounts of 13 essential nutrients. In particular, they are deemed an "excellent" source of choline and selenium, and a "good" source of high-quality protein, vitamin B-12, phosphorus, and riboflavin. Eggs also provide immunoglobulin and phosphatidylcholine in the yolk.
In the October 2011 issue of Parenting Magazine, an advertisement for eggs was titled "An Easy Start to an Incredible Day" and delivered the message that "An all natural, high protein egg breakfast gets your morning crackin' right. With vitamin D and 6 g of protein, eggs give your kids the energy they need to perform their best throughout the day. Hard-boiled eggs are a quick and easy way to add protein to your breakfast."
Eggs were also cited by Phil Lempert, a.k.a. the Supermarket Guru and editor of The Lempert Report, as one of the best brain foods for kids to increase memory and fuel busy school days. "Eggs are rich in choline (a vitamin-like substance that is plentiful in eggs, but also found in nuts), which helps promote memory and brain development. Also, eggs provide long-lasting satiety because of [their] protein package. Whether hard-boiled, scrambled, or sunny side up, eggs are a great food or even snack for kids."
Vander Wal et al. (2008) showed that an egg breakfast enhanced weight loss, when combined with an energy-deficit diet, suggesting that the inclusion of eggs in a weight management program may offer a nutritious supplement to enhance weight loss. Otherwise healthy overweight or obese participants were assigned to Egg (E), Egg Diet (ED), Bagel (B), or Bagel Diet (BD) groups, based on the prescription of either an egg breakfast containing two eggs (340 kcal) or a breakfast containing bagels matched for energy density and total energy, for at least 5 days per week, respectively. The ED and BD groups were suggested a 1,000 kcal energy-deficit low-fat diet, whereas the B and E groups were asked not to change their energy intake. After 8 weeks, in comparison to the BD group, the ED group showed a 61% greater reduction in BMI, a 65% greater weight loss, a 34% greater reduction in waist circumference and a 16% greater reduction in percent body fat.
--- PAGE BREAK ---
Fruits and Nuts
• Cranberries. Cranberries offer potential health benefits in cardiovascular health, gastrointestinal health, urinary tract health, and cellular health. "Consumers have embraced cranberries as they are seen as delivering a healthy halo to baked, dairy, and morning goods, and manufacturers have been wise to tap into this trend. New breakfast products available in the U.S. include flax-seed and cranberry health bar, Greek strained cranberry low-fat yogurt, fruits & nuts instant multigrain hot cereal as well as strawberry and cranberry bread," observes Marion Burton, marketing manager, Ocean Spray Ingredient Technology Group (www.oceansprayitg.com). Ocean Spray offers sweetened dried cranberries to help manufacturers overcome the challenges of working with dry cereal applications. Available in whole, diced, and double-diced formats, sweetened dried cranberries offer a high piece count for breakfast cereals or bars, adding evenly spaced bright points of color as well as a tart, sweet cranberry taste.
"The U.S. has also been responsible for the largest number of new bakery products with cranberries in the past year, unveiling nine out of 33 new variants," adds Burton. Ocean Spray's sweetened dried cranberries overcome processing difficulties and allow manufacturers to meet consumer demand for better-for-you products. Ocean Spray launched BerryFusions Fruits®, an effective alternative for a variety of fruits such as mango, orange, raspberry, blueberry, cherry, and strawberry in a robust form. BerryFusions® Fruits combine the natural taste of the named fruit with robust processing stability that many fruits lack. The finished product delivers taste, texture, and the added value of the health benefits of the cranberry.
• Blueberries. Blueberries contain antioxidants that may be beneficial to good health. With just 80 calories per cup and virtually no fat, blueberries offer many noteworthy nutritional benefits. One serving provides 14 mg of vitamin C. Blueberries are an excellent source of manganese and leaders in antioxidant activity.
Supporting blueberries for a healthy addition to breakfast, the U.S. Highbush Blueberry Council, Folsom, Calif. (phone 916-983-0111, www.blueberry.org), in support of healthful breakfasts for school children, was one of three co-sponsors of the 22nd annual National School Breakfast Week in March. In January, the Highbush Blueberry Council also sponsored a "Blues Breakfast" at the Child Nutrition Industry Conference in Seattle, which was attended by 350 major district, state, and federal school nutrition professionals.
• Almonds. At this year's IFT Food Expo, the Almond Board of California, Modesto, Calif. (phone 209-549-8262, www.almondboard.com), innovatively featured various almond forms in breakfast. Diced almonds, almond meal, and almond milk helped create an extruded cereal that stayed crisp in a bowl of milk or could be the base for a snack mix or cereal bar.
Mori et al. (2011) found that adults with impaired glucose tolerance (or prediabetes) benefited from including almonds at breakfast. Inclusion of almonds in the breakfast meal decreased blood glucose concentrations and increased satiety both acutely and after a second meal in adults with impaired glucose tolerance. Fourteen adults with impaired glucose tolerance participated in the study where whole almonds, almond butter, defatted almond flour, almond oil, or no almonds were incorporated into a 75 g available carbohydrate-matched breakfast meal. Whole almonds significantly attenuated second-meal and daylong blood glucose incremental area under the curve and provided the greatest daylong feeling of fullness.
--- PAGE BREAK ---
• Walnuts. Brennan et al. (2010) showed that walnut consumption over 4 days increased satiety by day 3. A total of 20 men and women with metabolic syndrome participated in a randomized, double-blind, crossover study of walnut consumption. Subjects had two 4-day admissions to the clinical research center where they were fed an isocaloric diet. In addition, they consumed shakes for breakfast containing either walnuts or placebo (shakes were standardized for calories, carbohydrate, and fat content). There was an increased level of satiety and sense of fullness in pre-lunch questionnaires following the walnut breakfast as compared to the placebo breakfast, with the walnut effect achieving significance on day 3 and 4.
Whole Grains
The popularity of whole grains is growing at a remarkable rate. According to the Whole Grains Council, Boston, Mass. (phone 617-896-4820, www.wholegrainscouncil.org), as of August 2011, the Whole Grain Stamp is now used on over 5,800 different products in 23 countries. In addition, information the Council cites from Mintel Global New Products Database indicates that in 2010, almost 20 times as many new whole grain products were introduced worldwide as in the year 2000. Breakfast cereals and snacks now account for the largest number of new product introductions, with side dishes and meals gaining quickly.
Studies show that eating whole grains instead of refined grains lowers the risk of many chronic diseases. Some of the main benefits of whole grains include reducing the risk of diabetes and heart disease and supporting better weight management. Kochar et al. (2011) suggested that whole grain breakfast cereal consumption confers a lower risk of hypertension in middle-aged adult males. Researchers analyzed data from 13,368 male participants of the Physicians' Health Study I. After adjusting for smoking, BMI, alcohol consumption, produce consumption, activity, and diabetes history, they found that the risk of hypertension was lowest among those who ate the most breakfast cereal. The association was strongest for whole grain cereals.
Isaksson et al. (2009) showed that rye bread can be used to decrease hunger feelings both before and after lunch when included in a breakfast meal. Rye bran induced a stronger effect on satiety than other rye fractions (intermediate rye fraction and sifted flour). The study was divided into two parts. The first part compared the satiating effect of iso-caloric bread breakfasts including different milling fractions of rye. The second part investigated the dose-response effect of rye bran and intermediate rye fraction, each providing 5 g or 8 g of dietary fiber per iso-caloric bread breakfast. Both study parts used a wheat bread breakfast as reference. The milling fractions study showed that each of the rye breakfasts resulted in a suppressed appetite during the time period before lunch compared with the wheat reference bread breakfast. The rye bran breakfast induced the strongest effect on satiety. In the afternoon, the effect from all three rye bread breakfasts could still be seen as a decreased hunger and desire to eat compared to the wheat reference bread breakfast. In the dose-response study, both levels of rye bran and the lower level of intermediate rye fraction resulted in an increased satiety before lunch compared with the wheat reference bread breakfast.
Linda Milo Ohr,
Contributing Editor, Denver, Colo. 
[email protected]
References
American Dietetic Association. Better breakfasts. http://www.eatright.org/kids/article.aspx?id=6442459369 or http://www.eatright.org/Public/content.aspx?id=6747).
Brennan, A.M., Sweeney, L.L., Liu, X., and Mantzoros, C.S. 2010. Walnut consumption increases satiation but has no effect on insulin resistance or the metabolic profile over a 4-day period. Obesity 18(6): 1176-1182.
Isaksson, H., Fredriksson, H., Andersson, R., Olsson, J., and Aman, P. 2009. Effect of rye bread breakfasts on subjective hunger and satiety: a randomized controlled trial. Nutrition Journal 8: 39.
Kochar, J., Gaziano, J.M., and Diousse, L. 2011. Breakfast cereals and risk of hypertension in the Physicians' Health Study I. Clin. Nutr. Aug 23. [Epub ahead of print].
Leidy, H.J. and Racki, E.M. 2010. The addition of a protein-rich breakfast and its effects on acute appetite control and food intake in 'breakfast-skipping' adolescents. Int. J. Obes. 34: 1125-1133.
Lempert, P. 2011. Phil Lempert lists best brain foods for kids to increase memory and fuel busy school days. Press release, Sept. 13.
Mintel. 2011. Healthier breakfast items the order of the day. Chicago, Ill. Press release, Feb. 28.
Mori, A.M., Considine, R.V., and Mattes, R.D. 2011. Acute and second meal effects of almond form in impaired glucose tolerant adults: a randomized crossover trial. Nutrition & Metabolism 8: 6.
Vander Wal, J.S., Gupta, A., Khosla, P., and Dhurandhar, N.V. 2008. Egg breakfast enhances weight loss. Int. J. Obes. 32(10): 1545-51.
Veldhorst, M.A., Nieuwenhuizen, A.G., Hochstenbach-Waelen, A., Westerterp, K.R., Engelen, M.P., Brummer, R.J., Deutz, N.E., and Westerterp-Plantenga, M.S. 2009. Effects of high and normal soy protein breakfasts on satiety and subsequent energy intake, including amino acid and 'satiety' hormone responses. Eur. J. Nutr. 48(2): 92-100.
Veldhorst, M.A., Nieuwenhuizen, A.G., Hochstenbach-Waelen, A., van Vught, A.J., Westerterp, K.R., Engelen, M.P., Brummer, R.J., Deutz, N.E., and Westerterp-Plantenga, M.S. 2009. Dosedependent satiating effect of whey relative to casein or soy. Physiol. Behav. 96(4-5): 675-82.