"Define cookie, please," I asked the Dalai Lama on top of the mountain. I might have asked him the more obvious question, "What is the meaning of life?" but cookies have preoccupied my attention as of late, with me being interested especially in the directions that they have been taking and the ingredients being used in their subsequent reformulations.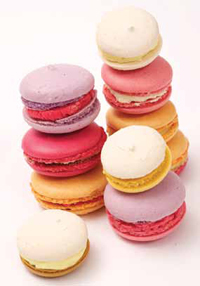 However, even understanding the basic parameters of the cookie might not necessarily be an easy task in today's sometimes confusing world. For example, the term "cookie," which I always thought of as a sweet bakery snack that you dunk in milk, has been, in recent times, absorbed into computer terminology to mean a small amount of data generated by a website and saved by a web browser, its main purpose to identify users and prepare customized web pages for them. Considering his isolation from modern technology, I figured the Dalai Lama would not know this and the word "cookie" would retain its traditional meaning. At least I hoped so after such a long journey.
But, of course, I was wrong. "Browser cookies come in two different flavors: "session" and "persistent," he began. "The first one…"
"No, wise one," I interrupted. "I'm talking about the kind you eat. You know, like chocolate chip or peanut butter." I paused. "Oreo?" I ventured, hoping to establish some form of communication with the old man. (I thought I heard a quick burst of transcendental music at the mention of the word "Oreo," and I quickly glanced at the skies for the emergence of a divine truth, but the sound had already disappeared.
The Dalai Lama looked disappointed—I think he would rather give his mystical opinions on the subject of computer technology, much to my chagrin. In any case, maybe they didn't even sell chocolate chip cookies in Shangri-La, although I'm sure there were those who believed, like me, that if any food truly belonged in the land of earthly paradise, it would be chocolate chip cookies. Before he could answer, his cell phone rang, playing a lively tune from the Beatles' "Strawberry Fields Forever," and he quickly glanced at his incoming message.
He then looked at me for a long time, his brow furrowed as he pondered deeply. "What is a cookie?" he slowly said, closing his eyes as if to go into a meditative trance. "I'm afraid you'll have to find that answer for yourself, young novice. Cookies are a very personal subject."
The Cookie Monster could have told me that, I thought, somewhat angrily. "Isn't there anything you can share with me?" I pleaded. "I've come from so far away. And besides, my article on cookie reformulation is on deadline."
--- PAGE BREAK ---
He raised a finger to stop me. "But I can say that your journey to cookie discovery will be a most pleasant and interesting one."
"And a sweet one?" I asked.
"Not necessarily," he said. "You will find many surprises along the way. I see products such as Jalapeno Cookies or Miso-Almond in your future. Go now. And may the cookies crumble as you wish."
So I made my way back down the mountain (wishing that I had texted the old geezer in the first place) and began my quest anew—one that would perhaps lead to total cookie rediscovery, and even possibly nirvana.
There are many different kinds of cookies, I quickly learned. Some of their names, of course, I'm familiar with, such as biscotti. Others presented certain challenges in name recognition. It had taken me years to figure out that when the English served biscuits, that was their name for cookies and not what those of us in the United States would call a soft, leavened bread product. (Hey, who knew? I should have been more suspicious when the English served tea with them and not gravy.) And then there's spritz, a German cookie that sounded more like a club soda drink. And there's even a difference between the sandwich-like French macaron and our Southern coconut macaroon. (What a difference an "o" can make.)
We may not always be able to recognize their names, but some of them show promise in the mainstream. According to Baked Goods: Culinary Trend Mapping Report, which was put together by Center for Culinary Development (CCD) and market research publisher Packaged Facts, one example might be Alfajores—a South American treat described as a sweet sandwich cookie with a caramel filling. This formulation might be appealing to mainstream consumers, providing an exotic twist to a traditional cookie format. As this report suggests, today's baked goods, especially cookies, are available in many different varieties, shapes, and sizes. And some of these can come from places that call their cookies by very different names.
Another trend identified in the report is the development of better baking mixes. "The days of basic-only baking mixes are over," noted the report. "As Americans cultivate more sophisticated palettes, small companies with specialty tastes are putting out an increasing number of unconventional baking mixes with a widening range of concepts and ingredients."
Would you define cookie as a bakery item that contains a bacon flavor? While I would not be surprised to see a bacon-flavored dog biscuit, that same concept has been apparently extended to cookies developed for their human masters, as well. A variety of formulations such as Maple Pecan Bacon Cookie, Bacon Oatmeal Cookie Sandwich, Bacon Chocolate Chip, and Peanut Butter Bacon Cookie can be found on the web. Combining bacon with ingredients such as chocolate, caramel, or fruit can provide a cookie with a sweet-savory sensation. Furthermore, bacon's smoky saltiness can help enhance the sweetness and flavor of ingredients such as chocolate.
--- PAGE BREAK ---
In addition to bacon, other unconventional examples finding their way into the cookie mix might include chili peppers, spices such as sage and rosemary, exotic fruits, coffee and tea flavors, and many others, including endless pairings of traditional and nontraditional ingredients. Specialty cookies with a variety of nontraditional flavors or taste combinations are being sold in restaurants and bakeries across the country. Some notables might include a Jalapeno Chocolate Chip Cookie (Cookie Bar, Chicago), Miso-Almond Cookie (Takahachi Bakery, New York), and a Roasted Leek Cookie (Savor Fine Foods, Waterbury, Conn.) I couldn't help wondering, if—when he wasn't on top of his mountain—the Dalai Llama himself ever made sojourns to these places, spiritual or otherwise.
From a flavor perspective, anything is possible today, and any attempts to define what a cookie is may require rewriting, and possibly even a new edition to the food dictionary. To demonstrate some of the unusual flavor possibilities for the cookie, see the blog post on page 50 of this article.
Cookies represent indulgence, but can they also be healthy for you? Interestingly, according to a recent Mintel survey of healthy snackers, 9% put cookies on their healthy menus. Since cookies contain fat, sugar, and salt, this may be a case of wishful thinking. However, as this article will demonstrate, better-for-you ingredients can help enhance the cookie, making future definitions of cookies as a "healthy indulgence" food a little more possible to accept, especially when compared to cookies of old. Remember those formulations that used lard, for instance?
Some of these better-for-you cookies are in the marketplace. WhoNu?™ Nutrition Rich Cookies from Suncore Products, Denver, Colo., look like ordinary sandwich cookies and come in familiar flavors such as vanilla, crispy chocolate chip, and chocolate chip. But these cookies are far from ordinary, with a three-cookie serving having as much fiber as a bowl of oatmeal, as much calcium and vitamin D as an 8-oz glass of milk, and as much vitamin C as a cup of blueberries. Tom Vierhile, Innovation Insights Director for Datamonitor, noted, "These cookies should pass muster with health-aware moms, while at the same time won't scare off kids since they look just like their favorite sandwich cookies. Assuming the taste measures up, this could add a uniquely healthful twist to the traditional milk and cookies snacktime."
Also introduced into the marketplace is Iced Oatmeal Cookie Zbar from Clif Bar & Company, Shelton, Conn. The definitions of cookie and nutrition bar might overlap a bit on this one. The product is described as capturing the home-baked taste of classic oatmeal cookies in a nutritious energy snack bar made with eight grams of organic whole grains and 12 essential vitamins and minerals. The cookie in a bar format features the tastes of cinnamon and vanilla blended into organic whole oats and topped with a drizzle of organic white icing.
There are many other products in the marketplace that demonstrate the ongoing evolution of cookies. For example, Pepperidge Farms Milano Melts features a crisp cookie filled with soft, velvety rich chocolate crème. And on the web, recipes abound, ranging from caffeinated cookies to Brownie Brittle, described as a thin, light chocolate brownie cookie. Even the Girl Scouts are helping along the diversity of the cookie, marking their 100th year with a new cookie, a lemony Savannah Smile, to join the company of their traditional thin mints or shortbread cookies.
--- PAGE BREAK ---
Assisting in the reformulation of cookies is a wide variety of ingredient innovations. This article will discuss several of these developments, including wholegrain flours, sweetener alternatives, better-for-you oils, novel texturizers, emerging flavors, and many others. One thing is for sure—and I think the Dalai Llama would agree—these ingredient developments will shape the way the cookie crumbles (at least on this earthly plain and possibly even on a spiritual one).
Yo Quiero Cookie Taco?
Demonstrating different ways to update the tastes, textures, and formats of the traditional cookie, several prototypes were highlighted by David Michael & Co. at its 2011 Innovation Roadshow. For example, Dulce Fiesta Tapas consist of a thin, crisp oat and hazelnut lace cookie that is baked and molded into a taco shape. It is then filled with fig paste (the "meat"), along with shreds of white chocolate (the "cheese") colored in yellow and green and flavored with cajeta—a thick, dark syrup or paste made from caramelized sugar and milk used in Mexico and South America as a dessert or topping for ice cream and fruit. Adding the finishing touches are diced pieces of red, honey-flavored marzipan (the "tomatoes") and a drizzle of crème fraiche ("sour cream") flavored with canela, a Mexican cinnamon. With its small-portioned, creative presentation, this cookie dessert can work well in foodservice and as a kit for bulk appetizers or kids' lunches.
With so much focus on South American "superfruits," there may be interest in other flavors of the region. Alua, a centuries-old beverage, is the Brazilian version of moonshine. David Michael developed an Alua flavor based on a recipe of fermented pineapple with brown sugar, ginger, and clove, and featured it in an Alfajores cookie—a short-bread sandwich cookie with dulce de leche filling and rolled in coconut. The cookie also features an innovative flavor system, Peel 'n Taste® Zest Flakes. These edible film pieces, produced with natural lemon zest flavors, can be used in baking recipes as a direct replacement for fresh citrus zest, saving both time and money.
The company also highlighted a second flavor delivery system, Michael-Specks™, which has larger insoluble particle sizes ideal for enhancing the visual appeal in bakery applications. Flavor is plated onto the rice-based natural ingredient, labeled as "rice concentrate, kosher and allergen-free," and particle size can be customized to suit individual needs. The system was used to deliver an anise flavor to tea cookies, and has potential to provide dietary fiber to bakery formulas.
French macarons are classic sandwich cookies made with almond powder, confectioners sugar, and egg whites, and filled with fruit, buttercream, or ganache. David Michael's prototype, Macarons De Paris, are filled with lemon curd and colored with natural beta-carotene to give a yellow-gold color, caramel for a slight brown color, and titanium dioxide for white color (similar to the color palette of a lemon meringue pie). The company also developed additional versions of this cookie to highlight other natural color combinations, including pink, red, orange, and violet.
Adding Whole Grains to the Cookie Mix
A wide range of whole-grain ingredients from ConAgra Mills, Omaha, Neb. (phone 402-240-5153, www.conagramills.com), can add flavor, variety, and whole-grain nutrition to cookie formulating. For example, Ultragrain—a natural 100% whole-wheat flour with the taste, texture, and appearance of white flour, works well both in partial and total whole-grain cookie applications, noted Elizabeth Arndt, the company's Director of Research & Development. It also functions well as a base flour to use with other grains and multigrain blends. "A 30 g chocolate chip cookie made with Ultragrain soft whole wheat flour delivers 8 g of whole grain," she said.
--- PAGE BREAK ---
Sustagrain, a whole-grain barley with three times the fiber and beta-glucan of oats, is available both in quick flake (which can be used in place of rolled oats) and flour forms. According to Arndt, the comparatively higher absorption of Sustagrain flour can be used in cookie applications to help retain softness or control spread, along with providing the whole-grain fiber benefit.
ConAgra Mills' Ancient Grains (amaranth, quinoa, millet, sorghum, and teff) can be used by themselves or in multigrain blends. For example, multigrain snickerdoodles made with 51% whole 9-grain flour blend maintain the familiarity of the traditional cookie, but offer the added appeal of nine ancient and other grains, explained Arndt. Another benefit is that the Ancient Grains are certified gluten-free.
On-the-Rise Ingredients for Gluten-Free Cookies
Flours and baking ingredients that offer high nutrient profiles, minimum carbohydrates, and the potential for use in gluten-free or vegan baked goods are becoming increasingly popular. For those adhering to a gluten-free diet, there are several alternatives to traditional grains that may be used in the formulation of cookies.
A miller of whole grains, Bob's Red Mill Natural Foods, Portland, Ore. (phone 503-654-3215, www.bobsredmill.com), has identified several of these ingredients that are expected to become even more popular in 2012.
Almond meal/flour has long been used in baked goods such as macaroons and cookies, but recently it has gained popularity for those maintaining gluten-free diets. Partially replacing wheat flour, it lends a moist texture and a rich buttery flavor to cookies, while providing protein, vitamin E, and magnesium. Up to ¼ cup almond meal/flour per cup of wheat flour can be used in the recipe.
Coconut flour is a healthy alternative to wheat and other grain flours. It is high in fiber, low in digestible carbohydrates, a good source of protein, and gluten free, in addition to lending cookies a rich texture and natural sweetness. Vanilla Almond Sugar Cookies, for example, can be made with the company's organic coconut flour.
Chia seed, derived from the desert plant Salvia hispanica, has gained in modern popularity because of its energizing properties and nutritional benefits. Packed with dietary fiber, protein, nutrients, and omega-3s, it provides the capability to absorb more than nine times its volume in water, which aids in weight loss and helps diabetics maintain healthy blood sugar levels. Incorporating chia seed into a cookie formulation pumps up the fiber content and adds a crunchy texture.
Not Your Ordinary Flour
A microalgae-derived flour ingredient—Almagine™ HL developed by South San Francisco, Calif.-based Solazyme Roquette Nutritionals (phone 650-243-5500, www.srnutritionals.com) —may be used to reduce fat in cookies. A prototype shortbread cookie formulation, for example, when formulated with 7% algal flour and one-third the butter used in a traditional recipe, was able to achieve a 50% reduction in fat and a 57% reduction in saturated fat without compromising sensorial qualities.
--- PAGE BREAK ---
The ingredient, which made its debut at the 2011 IFT Food Expo, contains more than 50% lipids (primarily monounsaturated fatty acids) and about one third carbohydrates (polysaccharides, fiber and simple sugars) as well as protein, phospholipids, and mono- and diglycerides. This composition yields a particle that can function as a better-for-you lipid or natural emulsifier.
According to the manufacturer, the flour may be used as a substitute for fats, oils, and egg yolks, providing phospholipids without cholesterol, as well as contributing fiber. It can improve the texture and moisture retention in baked goods, and offers various textural options for cookies (soft/chewy, crispy/crunchy, and cake-like). In consumer tests, cookie prototypes made with the ingredient compared favorably with full-fat counterparts.
Products made with the ingredient, which has a self-affirmed GRAS status, are expected to reach the marketplace in 2012.
Dipping Into the Cookie Jar
A variety of ingredient companies have showcased cookie concepts at recent food shows, including the IFT Food Expo. These prototypes demonstrate how traditional cookies are being updated by novel ingredient developments such as colors, sweeteners, oils, flours, inclusions, and others.
The following "baker's dozen" represent a few of the interesting directions that cookies are taking.
• One way of snacking on your cookies is by dunking them in milk. But what about dunking them in ice cream? Kerry Ingredients & Flavors, Beloit, Wis. (phone 608-363-1200, www.kerry.com), demonstrated a number of ice cream prototypes (see March 2011 Ingredients section) made with a variety of cookie inclusions. Some examples include Peanut Butter Monster Cookie (shown in photo), Snickerdoodles, and Whoopie Cookies. And again, if you can't wait for these inclusions to appear in your ice cream, just try dunking the whole cookie into the frozen dessert. Some restaurants are serving ice cream with cookies on the side. Or, depending on your perspective, cookies with ice cream on the side.
• Cranberry White Chocolate Oatmeal Cookies, developed by Wild Flavors Inc., Erlanger, Ky. (phone 859-342-3744, www.wildflavors.com), are said to contain 50% less sugar. They are sweetened with stevia (Reb-A 95) with the company's taste modification technologies. Described as "deliciously decadent," the cookies feature a Natural Golden Vanilla Flavor.
• Cookies, highlighted by David Michael & Co., Philadelphia, Pa. (phone 215-632-3100, www.dmflavors.com), incorporate the company's cocoa extender, Cocoa-Mate®, which can replace up to 30% of the cocoa powder used in a formula. The ingredient can replace both Dutched cocoa and natural cocoa.
--- PAGE BREAK ---
• Sugar cookies were made with SansTrans RS39 T20, a nonhydrogenated shortening that contains no trans fats and 30% less saturated fats. Developed by Loders Croklaan, Channahon, Ill. (phone 815-730-5200, www.croklaan.com), the shortening is based on palm and canola oils and is reported to offer the same functionality as traditional bakery shortenings. Its high stability aids shelf life, and it can overcome problems associated with other low-saturated, trans-free shortenings.
• Two new cookies, sold under the Praeventia brand (Groupe Biscuits Leclerc Ltd.), contain Wellmune WGP, an immune health ingredient from Biothera, Eagan, Minn. (phone 651-675-0300, www.wellmune.com). Clinically proven to enhance key immune responses, the ingredient is derived from the cell walls of baker's yeast. One 30 g packet of Praeventia cookies provides 100 mg of beta-glucans. The featured cookies include two new flavors, Ginger and Dark Chocolate Chip (70% cocoa) and Cranberry.
• A gluten-free chocolate chip cookie features sorghum flour from ADM, Decatur, Ill. (phone 800-637-5843, www.adm.com). The whole-grain flour, which offers an economical gluten-free solution, has a light color and neutral flavor, making it suitable for this formula. The cookie also contains Vegefull bean powder which adds nutritional value such as vegetable protein and fiber. Reformulated products can claim ½ serving or a full serving of vegetables when the appropriate amounts of beans are added to the formula. And as a finishing touch, the chocolate chips contain Ambrosia™ chocolate from the company.
• A cookie that dazzles? EMD Chemicals Inc., Gibbstown, N.J. (phone 856-599-6241, www.emdchemical.com), demonstrated pearlescent color and its glittering effect on a macaroon cookie. The company's line of Candurin food-grade pearl effect colors is made of an edible silicate of natural origin in combination with titanium dioxide and comes in a variety of colors, including silver, gold, and blue.
• An oatmeal cookie from Cargill, Minneapolis, Minn. (phone 952-742-9246, www.cargill.com), features a way of incorporating ALA omega-3 into the formulation. The cookie was made using the company's Clear Valley® omega-3 oil and shortening to create a product with a desirable taste that also qualifies for a nutrient content claim on the package.
• A shortbread cookie fortified with calcium was created by Specialty Minerals Inc., Bethlehem, Pa. (phone 610-861-4980, www.specialtyminerals.com). The cookie offers 50% of the DV of calcium or 250 mg. Calcium carbonate is often used as a source because of its cost effectiveness, excellent sensory results, and high bioavailability.
• Gluten-free cookies were made from ingredients offered by BENEO, Morris Plains, N.J. (phone 973-867-2140). These include wholegrain brown rice flour (Remyflo) and oligofructose (Orafti® L90). They are celiac safe and fiber enriched while maintaining a delicious taste.
• French-Style Chocolate-Walnut Macarons were presented by California Walnut Board, Folsom, Calif. (phone 916-932-7070, www.walnuts.org), to demonstrate the functionality and nutritional properties of walnuts. The formula contains walnut meal (23.25%).
• Okay, this isn't exactly a cookie, but then it's not a muffin, nutrition bar, or a scone. Caravan Ingredients, Lenexa, Kansas (phone 800-669-4092, www.caravaningredients.com), calls the prototype a "Nosh'em." Handheld and convenient, it is a single-serve, yeast-raised bakery snack that has a chewy, moist texture and is an excellent source of vitamin D, calcium, and fiber. The snack was created using the company's new Invisible Goodness™ Natural Base.
--- PAGE BREAK ---
Mapping Out Gluten-Free Cookie Solutions
A systematic approach to texture mapping was developed by National Starch, Bridgewater, N.J. (phone 908-685-5555, www.foodinnovation.com), to further characterize the sensory attributes that are most important in cookies. Benchmark products were then compared with those of commercial gluten-free alternatives. The study found that traditional cookies displayed smooth, moist, chewy textures, while, in contrast, gluten-free versions had significantly drier, more crumbly, and less moist and smooth profiles.
Applying its Dial-In texture technology to define important textural attributes of the benchmarks, the company was able to use techniques to optimize its flours in two key areas. These included 1) process improvements for enhanced moisture management, dough consistency, and machinability, and 2) volume, cell structure, and textural sensory attributes in the final product.
This process led the company to develop Homecraft® Create GF20, a blend of proprietary rice and tapioca flours that do not contain wheat gluten. (The company's physical modification technology enables the formulation of this gluten-free functional flour that performs similarly to flour with gluten, while maintaining a simple and wholesome ingredient declaration.) The company incorporated the gluten-free flour in cookie prototypes that were said to rank very closely to the benchmark products in texture, mouthfeel, and moistness.
At the 2011 IFT Food Expo, a cranberry-oatmeal cookie made with the flour was highlighted. It was said to be moist and chewy, and contained 5 g of fiber per serving (two cookies) from the addition of Hi-maize® resistant starch.
Dairy Ingredient Can Help Reduce Sodium in Cookies
Because of its salt-enhancing characteristics, whey permeate may be used in cookie formulas to reduce sodium, according to U.S. Dairy Export Council, Arlington, Va. (phone 703-528-3049, www.innovatewithdairy.com).
For example, in chocolate chip cookies, a 60% sodium reduction can be achieved. (The control cookie had 100 mg of sodium while the permeate-containing cookie provided 40 mg. In some bakery formulations, sodium-based leavening agents are responsible for the remaining salt.) Cookie formulations are available, including sugar cookies and chocolate chip.
'A Simple and Unobtrusive Way'
A better-for-you bakery option, Fibersol-2 soluble corn fiber from ADM/Matsutani, Decatur, Ill. (phone 217-451-4377, www.fibersol2.com), can be incorporated into the dough portion of a chewy-style cookie. The ingredient was used to enhance the overall nutritional profile of the bakery item through the addition of soluble dietary fiber. It can be easily dry-blended into the dough and can replace some of the sugar and corn syrup in a typical formulation, offering the benefit of fewer calories.
Fibersol-2 can also be used in a chocolate drop for the cookie to provide even more soluble fiber. The chocolate drop with resistant maltodextrin was developed to contain 10% Fibersol-2. Typical cookie inclusion levels will range from 10–25%. By adding the ingredient to both the bakery mix and the chocolate drops, a 30 g cookie can provide the needed fiber amount equal to a "good source" of fiber or 2.5 g per serving.
The cookie formulation demonstrates that the ingredient can provide a simple and unobtrusive way for the consumer to add more soluble fiber to the diet.
--- PAGE BREAK ---
Should It Still Be Called a Sugar Cookie?
"There is growing opportunity for stevia in cookies, and a few have already come to market," said Jason Hecker, Vice President Global Marketing & Innovation for PureCircle Ltd. "We are seeing that consumers are incorporating stevia tabletop sweeteners into their home baking, and more packaged goods versions will likely follow as manufacturers look to develop more natural, lower-sugar cookies and baked goods."
Stevia is heat-, shelf-, and pH-stable, making it a very versatile, natural sweetening ingredient for sugar-free or reduced-sugar cookies, continued Hecker. At the 2010 IFT Food Expo, sugar cookies were successfully baked with Steviacane, a product made from sugar and stevia available from Natural Sweet Ventures LLC (a joint venture formed by Imperial Sugar and PureCircle). Although 50% of the sugar was taken out, the sugar cookie still maintained a great taste and demonstrated the potential of stevia in cookie reformulating.
Since sugar provides sweetness and structure to baked goods, reformulations must address this change in ingredient functionality, noted Hecker. Stevia can replace sugar when used with polyols and other oligosaccharides, which replace sugar's bulking quality. Additionally, some flavor adjustment may be required to account for the sugar-bulk modification.
There are several stevia ingredients in the company's portfolio. As cookies often have more complex flavor profiles than other applications, one or more stevia ingredients used in combination can achieve varying levels of reductions. "Our newest stevia breakthrough, PureCircle Alpha, is a proprietary stevia ingredient especially designed for a sugar-like taste in sugar-free and low-sugar applications," said Hecker. "It's our next-generation stevia ingredient that takes stevia beyond Reb A." With a taste profile more similar to sugar, it can help manufacturers achieve cookie reformulations at higher sugar level reductions than Reb A.
Building from the Base
Cookies containing nutritious whole grains and fiber can be created using a customizable blend from Cargill, Minneapolis, Minn. (phone 952-742-9246, www.cargill.com). The easy-touse blend, Healthy Cookie Base, contains 57.5% total whole grains, more than 25% total dietary fiber, vitamins and minerals, and no trans fats.
The base is made with Cargill's ingredients, including OliggoFiber inulin (a soluble source of fiber that provides nutritional benefits while helping cookies to maintain a soft moist texture); WheatSelect (whole-wheat flour that delivers lighter color, softer texture, milder taste, and improved baking characteristics in terms of volume, mixing, and tolerance); and Grainwise Aleurone (a concentrated source of vitamins, minerals, and fiber).
"The versatility of the base reduces development time and costs for processors," noted Cargill. "Being customizable, it allows processors to create an array of great-tasting bakery products across multiple applications to deliver whole grains and high fiber. It was featured in a prototype Cinnamon-Raisin Cookie. The base delivers a mild taste, without the strong flavor of whole wheat; a softer texture; and a home-style appearance.
--- PAGE BREAK ---
Mitigating Food Safety Risk Factors in Cookie Dough
Flour is at risk of exposure to naturally occurring microbiological threats, including E. coli and Salmonella. While most flour-based products undergo a validated kill step at the point of production, such as baking or cooking, many products rely on the consumer to perform that step.
Recent research from ConAgra Mills shows that consumers often disregard package instructions—for example, eating raw cookie dough without fully cooking it as directed. That can put their health and the food manufacturer's reputation at risk.
In response, ConAgra offers a new Safeguard™ Treatment and Delivery System for ready-to-eat flour. The state-of-the-art production and distribution process—while not an ingredient per se—preserves gluten functionality and taste while mitigating microbiological risk associated with raw flour. As a result of the process, a full line of safe, functional, high-quality flours in bulk is available, with an all-natural pathogen treatment maintaining absorption, starch quality, gluten vitality, and enzyme activity. Flours have up to a 5-log validated pathogen reduction that can be customized based on specific product requirements.
A Probiotic Cookie?
A recently launched cookie (iKuky™) uses a probiotic strain from Ganeden Biotech, Mayfield Heights, Ohio (phone 440-229-5200, www.ganedenlabs.com). The probiotic ingredient, GanedenBC™, can survive a high-heat baking environment, making it suitable for inclusion in shelf-stable, bakery products such as cookies.
By incorporating the ingredient into the mix, the cookie's manufacturer, Intelligent Probiotics, was able to develop a probiotic cookie that tastes good while supporting the digestive and immune systems. In addition to its probiotic properties, the cookie contains no trans fats and is free of gluten, cholesterol, and lactose. Compared to other gluten-free products, it is said to be soft, easy to chew, and delicious. Making its debut in Northwest Ohio, the cookie is available in four flavors—Chewy Chocolate Crunch, Pecan Chocolate Crunch, Double Chocolate Crunch, and Cranberry Chocolate Crunch.
And you thought probiotics were only associated with yogurt.
Egg-Like Potential?
In a cookie trial, Northern Pulse Growers Association, Bismarck, N.D. (phone 701-222-0128, www.northernpulse.com), found that pea protein has an egg-like potential. Results of the study showed that pea concentrates and pea isolates proved to be a viable alternative for eggs in both sugar snaps and chocolate chip cookies, and that they can perform better than, equal to, or only slightly less functionally than eggs perform in cookies.
According to the association, cookies made with these ingredients looked like those made with eggs, and they had greater moistness. Objective measurements on cookies made with pea isolates confirmed lower peak hardness and thus softer textures. Texture analysis indicated that pea protein had a tenderizing effect. Peak hardness values for cookies made with isolates are 1.89 times harder than the cookies made with eggs.
--- PAGE BREAK ---
Cookies Sow Their Oats
A soluble fiber ingredient powder rich in oat beta-glucan, PromOat™ was developed by Sweden-based Biovelop AB (phone +46 11 25 3638, www.biovelop.com). Because it is free from the taste, color, and graininess usually associated with oats and oat-based ingredients, it is especially suitable in cookie formulations where it can be used to add health and functionality benefits of oat beta-glucan, noted David Peters, the company's Director of Sales & Marketing.
Previously, it has been difficult to consume the recommended daily intake of oat beta-glucan without eating a large amount of oats. Now PromOat provides manufacturers with an easy way of producing cookies that can maintain their taste and organoleptic properties, but can also offer added value and special health benefits to consumers. These include lowering LDL cholesterol, functioning as a prebiotic, promoting satiety, and reducing the post-prandial glycemic response, which ensures a steady, sustained release of energy.
The ingredient, a colorless and taste-neutral powder, is the result of Biovelop's method for separating the soluble fiber in oats. The company recently signed an agreement allowing Brenntag North America to distribute the ingredient in the U.S.
Fruit Inclusions for Cookies
Some of the benefits of fruits and vegetables can be gained by incorporating them into nontraditional foods such as cookies. Naturex, South Hackensack, N.J. (phone 201-440-5000, www.naturex.com), offers flakes and granules based on these foods, which would be an ideal solution for inclusion into cookies. They bring strong flavor intensity with visual impact. Manufacturers using ganaches and fatty stuffings are interested in fruit powders because they contain little water. Therefore, there is no risk of bacteria or mold development, as well as water migration that would make the cookie lose its crunchiness.
The company has introduced new varieties or particular origins of fruits. It has recently extended its range of fruit powders with Amazonian fruits such as araza, cupuacu, or açai and with Asian fruits such as goji or mangosteen, which are noted for their antioxidant properties. In addition, new standardized powders offer vitamins and other micronutrients than can help make a better-for-you cookie.
Canola for Cookies
A margarine product using canola oil was specifically formulated for cookies and other baked goods. Bake-It-Sweet, launched by Canada-based Richardson Oilseed Ltd. (phone 204-934-5287, www.canolaharvest.com), is significantly lower in saturated fat compared to high palm content alternatives.
The non-hydrogenated margarine is gluten-free. According to the company, it is designed to offer a healthier alternative while preserving the taste and functionality of bakery products such as cookies. Canola oil, which the shortening is based on, is reported to have the lowest saturated fat of all major vegetable oils.
--- PAGE BREAK ---
Extending Peanut Ingredients
A peanut alternative—Flav-R-Grain PBE from QualiTech, Chaska, Minn., (phone 952-448-5151, www.qualitechco.com) —can help add value to cookies that utilize peanuts and peanut-based ingredients. Described as a natural stabilized corn germ, it can provide a nutty, whole-grain flavor to the formulation while achieving cost-effective benefits.
The allergen-free ingredient has a one-year shelf life. By using it, a cookie developer may decrease the total fat in the formulation while increasing dietary fiber, making for a better-for-you product, noted Kristy Ruhland, food scientist for the company.
It's Not a Cookie Cutter Approach Anymore
Well, the Dalai Lama was correct. It has been a pleasant and interesting journey to cookie rediscovery—although I'm not quite sure if we ever were successful in defining the cookie. But, if so, that's more because of the cookie's diversity—and its ever-growing potential—in today's marketplace.
In fact, in summing up the many discoveries and encounters that this article had with ingredient developments that can be used in the reformulation of cookies, I'm reminded of a phrase that, in the context of these exciting developments, has become particularly antiquated. I'm referring to the term, "cookie cutter approach," which means "almost exactly the same as other things of the same type, and not very interesting."
As you can see, today's cookies are definitely not a product of that approach, as emerging flavors, whole grains, new flours, better-for-you fats and oils, a wider range of inclusions, improved texturizers, and many other factors keep influencing the perception of the cookie. And I expect that the "cookie cutter approach" will become only more outdated as cookies keep being updated by these exciting ingredient developments and concepts.
So I may not be always able to tell you what cookies are, but I can definitely tell you what they aren't. And with that, I can almost hear the Dalai Lama say, "Indeed, you've come far, young gingersnap."
Well, now the time has come to shake the dice and see if we come up with some winning developments. That's because the annual Ingredients pre-show coverage, which is slated for next month's issue, will provide a close-up look at some of the newest ingredient innovations at the 2012 IFT Annual Meeting & Food Expo. And I can tell you now, if you're looking for innovation, these dice are loaded.
--- PAGE BREAK ---
---
IngredienTalk:
Super Bowl Sunday took place a couple of months ago, and I thought that party occasion was the perfect time to showcase innovative cookie concepts and the directions that flavors and other ingredients can take them. If you care to give your own play-by-play analysis of the reformulation of today's cookie—and if you're an IFT member—visit www.ift.org, type in your name and password, click on the IFT Community Button, and go to the blog section. Let's huddle and come up with the big play.
A Cookie for All Teams
This past Sunday was the Super Bowl and that meant, of course, that Super Bowl parties were held all across the country. (These parties at home have become so popular that some restaurants don't even stay open that day.) And when you think about these parties, certain foods quickly come to mind, such as chili or ribs. I had an aunt who even liked to serve homemade egg rolls on Super Bowl Sunday. That got me to thinking: What about dessert?
So I checked it out and found that a lot of the bakery items served on that day are usually in the shape of footballs or football helmets. And some of them use colors that reflect the teams that are playing that day. There's nothing wrong with that—it's just not that surprising. Since my mind has been preoccupied with cookies lately, I thought it might be interesting to come up with some cookie concepts that are made with ingredients or flavors associated with the town that the teams represent. And if you really wanted to do it right, you would serve up cookies that would represent all 32 teams. (That way you could be both a sports fanatic and a cookie fanatic at the same time.) Of course, that would be a lot of work and so it probably would be a good idea to delegate responsibility. You take Chicago… you, Detroit…you, Pittsburgh, that sort of thing.
Here might be a few interesting examples of what I'm talking about. Interestingly, most of these examples were from real recipes that I found on the web and did not come from the realms of my demented imagination (although I have to admit that I was even surprised by a few of them).
When you think of cheeseheads, there's Green Bay, so you would have to make sure to incorporate cheese into the formulation. How about Cheddar Cheese Cookies? Or Blue Cheese Walnut Cookies? Cheese could definitely pack a punch as an ingredient.
Since New Orleans loves its sugar and fat, coming up with a wide range of cookie options wouldn't be difficult. But which ones would represent the spirit of that town? Perhaps a Tabasco Cookie? Or Pecans in a Praline Cookie? Or a Banana Foster Cookie that combines the flavor of a rum extract with that of banana pudding and banana chips. Or perhaps a Sweet Potato Cookie might be more to your liking. Whatever your choice, these formulations might turn out to be holy (or saintly) experiences.
With Dallas, you would definitely have to lasso chilies into your cookie mix for a sweet and hot experience. The same approach might apply for Houston and Arizona. And since you're adding chilies to your recipe, you might also want to think about the possibilities that nutritious bean powders can bring to the mix.
Denver, the Mile High City, reminds me of the great outdoors and activities like hiking. Wouldn't it be logical to infuse your cookies with a trail mix—a combination of dried fruits, chopped nuts, seeds, yogurt, and chocolate chips. Hey, buck the traditional system of doing things!
For Tennessee, one large opportunity might be bourbon-flavored pecan cookies called "bourbon balls." Using alcoholic (or nonalcoholic) flavors could lead to similar roaring successes for Carolina and Jacksonville.
With Minnesota, I think of the dairy state, and that means a perfect opportunity for formulations that combine ice cream and cookies. In these recipes, a wide variety of cookies can be used as bakery inclusions in the ice cream. Or just feel free to dunk the whole cookie in your ice cream. Either way, it will be sure to be a conquest.
--- PAGE BREAK ---
Miami is a home for many cuisines, especially Cuban, and cookies can get inspired by such combinations as lime and rum flavors. From a flavor perspective, cookies with a definite "porpoise."
For the East Coast teams—New England, New York (Jets), and New York (Giants)—there is such a variety of ethnic influences that almost anything goes. I would miss the entire Super Bowl game if I tried to trace these influences and the possible formulations that could result. For example, Asian cultures provide the inspiration for Miso-Almond Cookie and Yuzu Macaron. Then there's this bakery in Connecticut that provides a variety of nontraditional formulations that include Black Olive Cookie made with Moroccan oil cured black olives that offer a savory taste (and can be combined with an orange flavor); a cookie made with coconut and ginger; a cookie made with roasted leek or smoked onion; and a chocolate cookie with hints of orange and cardamom. Holy Cookie Monster!
Philadelphia is a place known for its cheesesteak sandwiches, which unfortunately would not be applicable for cookies. However, the city also has a reputation for its soft pretzels, which could be suitable as a bakery inclusion, creating a sweet-salty sensation with the other ingredients in the formula. Certainly a lofty undertaking.
Locations such as Kansas City or St. Louis are synonymous with barbecue sauces. How about dipping fruit-flavored sauces for cookies? Maybe add a little tang—or possibly heat—to them as well.
Other examples in the lineup might include Atlanta (formulations would definitely find ways to incorporate peach); Detroit (cherries come to mind as an ingredient that can offer an alternative twist to other popular fruits such as raisins); Seattle (how about coffee flavors in homage to a certain coffee house); and San Francisco (mining the concept for a Thai-flavored cookie).
And, of course, I haven't forgotten my hometown, Chicago, which is known for its pizza creations. How about Pizza Cookies? The cookie dough could be used to create a suitable crust, which could be flavored as well. Toppings could include berries, caramel, drizzles, candy pieces, chocolate raisins, and many others. Hold the tomato sauce though.
Well, all you fans out there, I think you get the idea. There are still a few teams left, and you may have your own ideas what cookie formulations would best represent them. (When I think of Buffalo, I think of snow or steel for Pittsburgh—associations that aren't very helpful, I'm afraid. However, you may come to the table with a better understanding of these localities and their unique take on cookie development.)
Our "Super Bowl Party" shows the diverse directions that cookies can evolve, especially when they're influenced by their region and the cultures that helped shape that region. Some of these cookie formulations might find their way onto store shelves someday. Imagine, for a moment, a limited edition of these cookies in the months of January, February, and March, part of a line of Super Bowl cookies. Perhaps the package can contain flavored cookies representing all the different teams, further suggested by the colors of the team uniforms.
So what's your game plan when it comes to cookie development? Whether you're a sports fan or cookie aficionado (or both), take a cookie break, and let's IngredienTalk. Maybe we'll come up with a few big plays!
---
www.ift.org
Members Only:
Read more about Cookies online at
www.ift.org.
Type the keyword into our search box at the upper right side of our home page.
Donald E. Pszczola,
Senior Editor
[email protected]