Obesity and weight management are major health concerns when it comes to children's well-being, but there are other issues to consider as well. The top health benefits parents want their children to receive from eating healthy foods relate to heart health, reduced risk of disease, brain development, and immunity, according to a 2011 global study, Health Foods for Kids—What Do Parents Want?, conducted by Ipsos Marketing Consumer Goods, Paris, France (www.ipsos-na.com, www.ipsosmarketing.com). Healthy food options for children can be found in a wide range of product categories, including beverages (juice boxes fortified with calcium), dairy (milk with the omega-3 fatty acid docosahexaenoic acid, or DHA), cereal (gluten-free options), and snacks (fruit chews containing vitamin C), according to the report.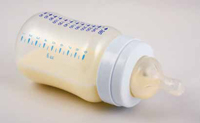 The numbers of food and beverage products that focus on children's health are increasing. WhoNU?™ cookies from Suncore Products LLC, Denver, Col. (phone 800-262-0839, www.whonucookies.com), are rich in calcium, iron, and vitamins A, B, C, D, and E, and they provide 3 g of fiber/serving. ProBugs™ from Lifeway Foods Inc., Morton Grove, Ill. (phone 847-967-6558, www.lifeway.net), is a frozen kefir product that contains beneficial probiotics as well as calcium and inulin.
Here is a review of some of the ingredients used in foods and beverages that are said to improve children's wellness.
Dietary Fiber and Prebiotics
According to a Tate & Lyle study conducted in 2011 by third-party research firm Illuminas, of the nearly 90% of Americans who believe digestive health is a top health priority, half believe they need more fiber in their diets. To ensure they get dietary fiber in their diets, these same consumers are interested in buying products with added fiber. The company's most recent study found that more than 50% of consumers always or usually read ingredient labels and three out of 10 consumers are looking specifically for fiber content.
Tate & Lyle, Decatur, Ill. (www.tateandlyle.com, www.promitorfiber.com), in 2012 developed a berry-and-acai–flavored water prototype made with Promitor™ Soluble Corn Fiber 85, a prebiotic fiber that has less than 2% sugar/g and is said to help support good digestive health. The beverage prototype is a good source of fiber (at least 3 g of fiber/serving) in a no-sugar-added formulation.
--- PAGE BREAK ---
Prebiotics such as inulin and oligosaccharides have been shown to promote digestive health, immunity, and bone health in infants and children. Holscher et al. (2012a) showed that infant formula containing oligosaccharides was well tolerated and increased abundance and proportion of beneficial bifidobacteria and reduced fecal pH in healthy infants. Breast-fed infants were compared with infants fed either a control formula or a formula supplemented with galacto- and fructo-oligosaccharides for six weeks. When fecal samples were tested, the subjects fed the prebiotic formula showed modest improvement in the number of beneficial bacteria and decreases in the types of bacteria that are often associated with illness.
A short-chain fructo-oligosaccharide, NutraFlora® from Corn Products International Inc., Westchester, Ill. (phone 708-551-2600, www.cornproducts.com), is said to benefit mineral absorption, and in turn, promote bone health. Van den Heuvel et al. (2009) showed that short-chain fructo-oligosaccharides (average of 7 g/day of scFOS) increased magnesium absorption by 18% after 36 days in adolescent girls with low calcium intake. Derived from beet or cane sugar, NutraFlora passes intact through the mouth, stomach, and small intestine to the colon where it is completely fermented by beneficial bacteria into short-chain fatty acids (SCFA). The production of SCFA lowers intestinal pH to an optimal level for keeping calcium and minerals in solution longer, thereby enhancing their absorption.
Corn Products International also offers PurimuneR GOS, a prebiotic containing a minimum of 90% galacto-oligosaccharides (GOS). Hughes et al. (2011) showed that supplementing diets with GOS during periods of stress can help reduce symptoms of gastrointestinal dysfunction and support the body's natural defenses. The researchers conducted a randomized dietary intervention trial of university students during exam season. Consuming 2.5 g/day of Purimune GOS decreased problems associated with stress, helping to support the body's natural defenses.
Vivinal® GOS from FrieslandCampina Domo, the Netherlands (phone +31-33- 713-3333, www.domo.nl, www.vivinalgos.com), has been shown to improve calcium and mineral absorption, primarily through its action in the large intestine. In addition, the fermentation of the ingredient by probiotic bacteria helps to increase probiotic bacteria populations in the colon, while reducing pathogenic bacteria populations.
Veereman-Wauters et al. (2011) showed that an oligofructose-enriched inulin, Orafti®Synergy1, from BENEO (www.beneo-orafti.com) had a favorable prebiotic effect in infants. The study demonstrated that OraftiSynergy1 supplementation in infant formula modified the microflora composition by increasing bifidobacteria, which resulted in a flora composition that resembled that of breast-fed infants.
Whole Grains
Hur and Reicks (2012) showed that less than one third of adolescents (ages 12–19 years) consumed more than 0.5 of whole grain ounce equivalents per day. The Dietary Guidelines for Americans, 2010, recommend that half the grain included in the diet come from whole grains (at least 48 g of total grains/day recommended). Food companies and schools are working to increase whole grains consumption among children.
--- PAGE BREAK ---
General Mills Inc., Minneapolis, Minn. (phone 800-248-7310, www.generalmills.com), in 2012 announced that all of its Big G cereals now contain more whole grains than any other single ingredient. Today all Big G cereals have at least 9 g of whole grains/serving, and more than 20 have at least 16 g.
Horizon Milling, Minneapolis, Minn. (phone 800-742-4506, www.horizonmilling.com), a joint venture of CHS Inc. and Cargill Inc., has formulatedfoods to introduce more whole grains into school lunches. One of its customers was able to offer whole-wheat tortillas into a school lunch program by using its WheatSelect® white spring whole-wheat flour. The company also offers WheatWise® Whole Grain Pizza Mix.
ConAgra Mills, Omaha, Neb. (phone 800-851-9618, www.conagramills.com), offers a variety of whole grains options. Ultragrain® whole-wheat flour is made from a proprietary variety of wheat, specially grown to have a sweeter, milder taste and lighter color than conventional wheat. The company grinds this whole wheat by using a patented milling technology, which preserves the fiber, antioxidants, phytonutrients, and other essential vitamins and minerals found in the whole-wheat bran and germ.
Probiotics
Consumers are becoming more aware of probiotics due to their role in digestive health and immunity. Holscher et al. (2012b) demonstrated that infant formula containing probiotics significantly enhanced immunity in formula-fed infants. Scientists at five sites divided 172 healthy six-week-old infants into two formula-fed groups and a breast-fed group. Beginning at six weeks of age, the subjects who were fed formula received either a control formula or a formula that contained the beneficial bacteria Bifidobacterium animalis subspecies lactis (Bb12) for a six-week period. The subjects who received the probiotic formula had increased concentrations of secretory, anti-rotavirus, and anti-poliovirus-specific immunoglobulin A.
Ganeden Biotech, Mayfield Heights, Ohio (phone 800-456- 0276, www.ganedenbc30.com), has worked with companies to introducesome novel probiotic products. Ganeden and Abunda Functional Foods, Sandy, Utah (phone 801-550- 6962), in 2010 launched MojoMilk™, a chocolate milk mix containing GanedenBC30®, a patented strain of Bacillus coagulans GBI-30, 6086, which has been shown to boost immunity and help improve digestive health. Ganeden and Foster Farms Dairy, Modesto, Calif. (phone 888- 316-6064, dairybalancemilk.com), in 2011 debuted Dairy Balance™ milk with GanedenBC30. Ganeden and Unistraw International Ltd., Australia, teamed up to offer a probiotic-enriched drinking straw. The straw delivery system contains hundreds of UniBeads with probiotics, which are housed within the straw. The probiotics are dry, shelf stable, and dissolve as liquid is sipped through the straw.
Danisco A/S, Denmark (phone +33-1-56-60-4700, health.danisco. com, www.howaru.com), offers Howaru® premium probiotics,probiotic single strains, and pre-formulated blends backed by numerous clinical studies. The line includes Howaru Bifido, Dophilus, and Rhamnosus. Howaru Protect is a blend of Bifidobacterium lactis Bi-07 and Lactobacillus acidophilus NCFM that has been clinically demonstrated to reduce the incidence and duration of cold and flu symptoms.
--- PAGE BREAK ---
Vitamins
Vitamins and minerals such as vitamin C, calcium, and iron areessential for proper children's nutrition. Emerging research is pointing to the importance of others such as vitamin D and vitamin K. Vitamin D is already associated with its role in bone health, but several studies have also linked it to immunity and allergies. Sharief et al. (2011) looked at the association between vitamin D deficiency and allergic sensitization measured by serum immunoglobulin E levels. In children and adolescents, allergic sensitization to 11 of 17 allergens was more common in those with vitamin D deficiency. The researchers concluded that vitamin D deficiency is associated with higher levels of immunoglobulin E sensitization in children and adolescents.
Vitamin K is also believed to play a role in bone health for adolescents. Van Summeren et al. (2009) demonstrated that in healthy, prepubertal children, modest supplementation [45 μg of menaquinone-7 (MK-7) (vitamin K-2)] increased circulating concentrations of MK-7 and increased osteocalcin carboxylation. It is thought that vitamin K contributes to bone health through its role as cofactor in the carboxylation of osteocalcin.
Omega-3 Fatty Acids
The omega-3 fatty acids eicosapentaenoic acid (EPA) and DHA are believed to benefit the eye and brain development of infants and children. Other areas of research on omega-3 fatty acids include their effects on sports nutrition, communication development and skills, and allergies. Medrum et al. (2012) showed that improved postnatal omega-3 long-chain polyunsaturated fatty acid intake may benefit early communicative development.
Palmer et al. (2012) focused on preliminary data that showed omega-3 long-chain polyunsaturated fatty acid supplementation during pregnancy lowered incidence of atopic eczema and egg sensitization in infants at high hereditary risk of allergic disease. Longer term followup is still needed to support this, according to the researchers. The intervention group received fish oil capsules (providing 900 mg of omega-3 long-chain polyunsaturated fatty acid/day) from 21 weeks gestation until birth; the control group received matched vegetable oil capsules.
Linda Milo Ohr,
Contributing Editor,
Denver, Colo.
[email protected]
References
Holscher, H.D., Faust, K.L., Czerkies, L.A., Litov, R., Ziegler, E.E., Lessin, H., Hatch, T., Sun, E., and Tappenden, K.A. 2012a. Effects of prebiotic-containing infant formula on gastrointestinal tolerance and fecal microbiota in a randomized controlled trial. J. Parenter. Enteral. Nutr. Volume 36, Supplement 1: 95S-105S.
Holscher, H.D., Czerkies, L.A., Cekola, P., Litov, R., Benbow, M., Santema, S., Alexander, D.D., Perez, V., Sun, S., Saavedra, J.M., and Tappenden, K.A. 2012b. Bifidobacterium lactis Bb12 enhances intestinal antibody response in formula-fed infants: a randomized, double-blind, controlled trial. J. Parenter. Enteral. Nutr. Volume 36, Supplement 1: 106S-117S.
Hughes, C., Davoodi-Semiromi, Y., Colee, J.C., Culpepper, T., Dahl, W.J., Mai, V., Christman, M.C., and Langkamp-Henken, B. 2011. Galactooligosaccharide supplementation reduces stress-induced gastrointestinal dysfunction and days of coldor flu: a randomized, double-blind, controlled trial in healthy university students. Am. J. Clin. Nutr. 93(6): 1305-1311.
Hur, I.Y., and Reicks, M. 2012. Relationship between whole-grain intake, chronic disease risk indicators, and weight status among adolescents in the National Health and Nutrition Examination Survey, 1999–2004. J. Acad. Nutr. Diet. 112(1): 46-55.
Meldrum, S.J., D'Vaz, N., Simmer, K., Dunstan, J.A., Hird, K., and Prescott, S.L. 2012. Effects of high-dose fish oil supplementation during early infancy on neurodevelopment and language: a randomised controlled trial. Br. J. Nutr. 21: 1-12.
Palmer, D.J., Sullivan, T., Gold, M.S., Prescott, S.L., Heddle, R., Gibson, R.A., Makrides, M. 2012. Effect of n-3 long chain polyunsaturated fatty acid supplementation in pregnancy on infants' allergies in first year of life: randomised controlled trial. BMJ. 344: e184.
Sharief, S., Jariwala, S., Kumar, J., Muntner, P., and Melamed, M.L. 2011. Vitamin D levels and food and environmental allergies in the United States: results from the National Health and Nutrition Examination Survey 2005–2006. J. Allergy Clin. Immunol. 127(5): 1195-1202.
Van den Heuvel, E.G.H.M., Muijs, T., Brouns, F., and Hendriks, H.F.J. 2009. Short-chain fructo-oligosaccharides improve magnesium absorption in adolescent girls with a low calcium intake. Nutr. Res. 29(4): 229-237.
Van Summeren, M.J., Braam, L.A., Lilien, M.R., Schurgers, L.J., Kuis, W., andVermeer, C. 2009. The effect of menaquinone-7 (vitamin K2) supplementation on osteocalcin carboxylation in healthy prepubertal children. Br. J. Nutr. 2009. 102(8): 1171-1178.
Veereman-Wauters, G., Staelens, S., Van de Broek, H., Plaskie, K., Wesling, F.,Roger, L.C., McCartney, A.L., and Assam, P. 2011. Physiological and bifidogenic effects of prebiotic supplements in infant formulae. J. Pediatr. Gastroenterol. Nutr.52(6): 763-771.