With a new name, new location, and new options, the SupplySide MarketPlace show is where decision-makersin the food and beverage, supplement, and personal care industries go to learn about the ideas and innovations that shape product development.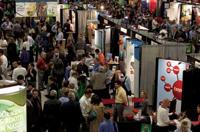 Scheduled on May 8–10, 2012, at the Javits Center, New York, N.Y., the show has increased its exhibit hall space to allow for more suppliers to showcase their products and technologies, has restructured the education tracks to focus on providing attendees with the information needed to make critical decisions in daily operations, and has expanded the offerings of events to give more opportunities for networking and collaboration.
New to this year's show are the MarketPlace Forums, four panel discussions that each addresses a different industry issue. As moredoctors and other health-care providers take an interest in dietary supplements and integrative health and applying them to their clinical practices and patient care, companies that understand the needs of health-care providers will be the most successful. Top food and beverage manufacturers will outline the steps they have taken during research and development to grab the attention of consumers, successfully grow the products and innovations into sensations, and maintain an edge over the competition at Food Product Design's Innovation Forum. The presenters at Natural Product Insider's 100% Ingredient Identification Forum will examine the strategies and practices that companies can apply to ensure that they meet the 100% ingredient identification required for dietary supplement GMP compliance and quality. The information will help companies produce quality products and avoid regulatory enforcement actions. Learn about the top trends, product development, brand marketing, market insights, and more in the cosmeceutical market at Inside Cosmeceuticals' Top Trends Forum. During the Integrative Healthcare Insider's Health Practitioner Channel Forum, experts will explain the rapidly growing professional market, discuss how it differs from traditional retail markets, and offer strategies for companies new to the channel and ones that are established.
As part of its Premium Education Program, SupplySide MarketPlace will offer 22 education sessions organized into four areas of focus. Expert presenters at sessions in the R&D, Product Development, and Science: Best Practices focus area will discuss best practices in pre-clinical and clinical research to help companies make the right decisions and get the return on investment made in research; best practices in quality assurance and control as it relates to maintaining control over supply chains and detecting adulteration or contamination; best practices in safety and maintaining compliance with regulatory requirements; and developing product concepts by using in-depth data and tools that analyze consumer emotions, ideas, and desires.
The second focus area, R&D, Product Development, and Science: Health Conditions, covers how dietary supplements and foods affect cardiovascular health, joint health, weight and body mass composition, immune system, digestive health, and blood sugar. Topics in the Government & Regulatory Affairs focus area cover dietary supplement claims substantiation and compliance; what the Food Safety Modernization Act means for the food industry and steps to take to understand and comply with the regulations; how the 2012 election will affect the food and dietary supplement regulations; an update on global regulatory issues; the importance of full disclosure during audit visits; and an explanation of the regulatory status of probiotics. Finally, speakers during the Market Intelligence & Business Strategy sessions will present the opportunities for expansion to international markets; how the concept of "healthy aging" is embraced not only by baby boomers and mature consumers, but by all demographics; the global market sales potential of health-positioned foods and beverages; marketing to today's wellness consumers; using social media in product development; and the most up-to-date information on formulating products with omega-3 fatty acids.
On the exhibit hall floor this year, exhibitors will showcase ingredients such as vitamins, minerals, herbs, fruits and vegetables,colorings, fats and oils, starches, antioxidants, flavorings, amino acids, sweeteners, marine extracts, enzymes, dairy, probiotics and prebiotics, and more for use in foods and beverages, dietary supplements, or cosmetics. Additionally, exhibitors will highlight products and services for packaging, manufacturing and processing, and laboratory. Others will present information about contract manufacturing and general consultant services. Representatives from the exhibiting companies will be on hand to discuss the latest technology and offerings, and many will have samples and prototypes to share with attendees.
For more detailed information about events and programming at the upcoming SupplySide MarketPlace, visit www.supplysideshow.com/marketplace/2012, or call 866-230-2311.
---
Exhibit Hall Hours
10:30 a.m. to 5 p.m., Wednesday, May 9
10:30 a.m. to 4:30 p.m., Thursday, May 10