Ingredient suppliers continue to offer solutions to today's product development challenges, push the envelope when it comes to formulating new flavorings and flavor combinations, and invest in business developments. Aisle after aisle, attendees at the 2012 IFT Food Expo experienced this first hand as they met with ingredient developers and food technologists and sampled prototypes that highlighted the newest in texture innovation, sodium reduction, flavorings that tempted the taste buds, and much more. This post-show roundup of ingredient innovations just scratches the surface.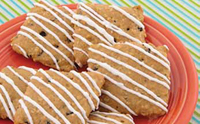 For more news about this topic, read Don Pszczola's article (see page 58) as he focuses on some of the progressive new ingredient developments like Clarisoy™ 150, an acid-soluble isolated soy protein that can be blended with dairy proteins from ADM, gum systems that closely mimic the textural qualities of sugar in low- and no-sugar foods and beverages from TIC Gums Inc., and more. Linda Milo Ohr's article (see page 97) provides details about some of the ingredients for formulating nutritionally enhanced foods and beverages.
Finally, review some of IFT's electronic options. IFTLive (http://live.ift.org) contains additional coverage of ingredients suppliers and press conferences, the IFT Annual Meeting & Food Expo website (www.ift.org/IFT12) features links to the exhibitors' directory and exhibitor news, and the Trends & Solutions Tour videos (http://live.ift.org/videos) let you hear from company officials and those involved in the developing and marketing of ingredients that add function and nutrition to a number of applications.
Kid-friendly Fare of the Future
Cargill, Wayzata, Minn. (952-742-9246, www.cargill.com), showcased ingredients for developing "kid-friendly" products. Chicken Quesadillas featured a new ingredient, SodiumSense™, that is a blend of potassium chloride that has a physically modified crystal structure and natural flavors. The ingredient can reduce sodium up to 50%, and its reported benefits include lower bulk density, better blend-ability, and good adherence. The prototype contained 25% less sodium than traditional chicken quesadillas. The tortilla was formulated with Horizon Milling's WheatSelect® white spring whole-wheat flour for added whole grains.
Cargill developed Mini Burgers to meet school lunch program credit requirements. The beef in the patty was extended by 40% with rehydrated Prosante® textured soy flour and Prolia® soy flour for added protein at a lower cost. The bun contained MaizeWise® whole-grain corn and WheatSelect white whole-wheat flour to provide 7 g of whole grain, a milder flavor, and softer texture.
--- PAGE BREAK ---
Blueberry Snack Bar with Yogurt-flavored Drizzle provided fiber and whole grains and was formulated to meet the 30/10/30 rule (30% or less calories from fat, 10% or less calories from saturated fat, and at least 30% less sugar by weight). The soft-baked snack bar was formulated with Wilbur® Y248 yogurt-flavored confectionery coating for yogurt flavor, WheatSelect white spring whole-wheat flour and Oliggo-Fiber® inulin for fiber and whole grains, Clear Valley® 65 high-oleic canola oil, which has a low level of saturated fat and 0 g of trans fat, and CitriTex® stabilizer blends to lower the fat content. Other "kid-friendly" snacks featured at the booth included pretzels formulated with Oliggo-Fiber inulin and reduced-fat muffins made with CitriTex.
Ingredion Addresses Functional Challenges
With a new company name, Ingredion Inc., Westchester, Ill. (866-961-6285 or 800-443-2746, www.ingredion.us/specialties or www.ingredion.us/sweeteners), presented various innovative prototypes showcasing the functional and nutritional ingredients from the former Corn Products International and National Starch.
Attendees saw how the company's ingredients could solve functional challenges in five key areas important to product developers. To illustrate how its ingredients can provide value, Ingredion sampled Mandarin Orange beverage prototype with Purity Gum® Ultra emulsifier for cost savings and "Pique" Salad Dressing prototype with instant starches to reduce the cost of using vegetable oil.
The prototypes that addressed natural and clean label issues were Reduced Sugar Sangria-inspired Beverage with Enliten® reb A stevia and Q-Naturale® emulsifier and Indulgent Dairy Dessert with Lucuma Fruit Topping formulated with Novation® Indulge 3340 and Novation Prima 600 functional native starch.
For added nutrition, Ingredion formulated High Fiber, Reduced Sugar Blueberry Muffin with Hi-Maize® 260 resistant starch, which is said to have positive effects on blood sugar levels. Two prototypes featured ingredients to produce products that have reduced fat, sugar, and calories. Sugar-free Chewy Tart Cherry Almond cereal bar contained polyols in place of sugar and Reduced Sugar Frozen Yogurt and Fat-reduced Low-sugar Blood Orange Topping were made with Enliten.
Ingredion formulated four prototypes to show how its ingredients can improve the taste of foods. Gluten-free Pancakes were made with Homecraft® GF 10 gluten-free flour, No Sugar Added Yellow Cupcake with Sugar-free Frosting was formulated with Maltisweet® CM40 and Enliten, Queso Salsa Yogurt Spread contained Novation Indulge 3320, and South African Curry Stir-Fry with Beef featured Novation Prima 300 functional native starch.
--- PAGE BREAK ---
Keeping It Hot in Vegas
"What's Happening in Vegas is Happening at the IFT Tabasco Booth" was the booth theme for Tabasco Brands/McIlhenny Co., Avery Island, La. (337-373-6105, www.tabascoingredients.com). The company showed how its Tabasco ingredients, including its two newest, Tabasco Brand Buffalo Style Hot Sauce and Southern Comfort Fiery Pepper, could add heat and flavor to a number of different product applications. The prototypes included Cajun Lightning and Thunder, a chilled cocktail formulated with Southern Comfort Fiery Pepper, cranberry juice, and Red Bull; Blue Voodoo, a chilled cocktail made with Southern Comfort Fiery Pepper, Blue Curacao, Malibu Rum, and pineapple juice; Buffalo Hummusfilled Filo Cups; Spicy Chex Snack Mix; and Crawfish Artichoke Spinach Dip.
Cut Acrylamide Levels
Novozymes, Bagvaerd, Denmark (+45-4446-0000, www.novozymes.com), highlighted its Acrylaway enzyme ingredient by emphasizing its ability to reduce acrylamide levels in French fries by up to 50%. A series of reactions converts the amino acid asparagine to acrylamide during the Maillard reaction. Acrylaway modifies asparagine while other amino acids and sugars remain active to contribute to the Maillard reaction. After potatoes are peeled, cut, and blanched, they are either dipped in or sprayed with the enzymatic solution. Industrial trials of the ingredient show a 35–50% reduction in the formation of acrylamide.
One-of-a-Kind Uses for Dairy Ingredients
Dairy foods and dairy ingredients have evolved, and the U.S. Dairy Export Council, Arlington, Va. (703-528-3049, www.innovatewithdairy.com), showcased functional dairy ingredients in several prototypes.
Protein-powered Hummus contained milk protein concentrate, which provides texture and binds water. Yogurt and fruit make a great breakfast, but Savory Greek-style Yogurt prototype made with vegetables and herbs showed how yogurt goes beyond standard breakfast fare to a nutritious and satisfying snack, dip, or dressing. Wellness Wafer was formulated with whey permeate, which has salty characteristics so that salt may be reduced in the recipe, and milk protein concentrate 80 for improved texture.
A portable, chewy snack, Dairy Protein Jerky Snack, contained whole milk for dairy flavor, texture, and stability and whey protein concentrate 80 for texture and moisture loss prevention.
Exploring the Four Seasons through Flavors
Wild Flavors Inc., Erlanger, Ky. (859-342-3744, www.wildflavors.com), featured prototypes formulated with a variety of its flavorings, colorings, and healthy and specialty ingredients under the theme "Flavors of the Season." As attendees moved through the four season stations, they sampled prototypes that highlighted seasonally inspired flavors and applications.
--- PAGE BREAK ---
Apple Cranberry Cider is perfect for cold winter days, and Wild's version featured its Natural Cranberry Apple Spice WONF and Red Vegeceuticals™ in a 100% juice blend of apple, cranberry, orange, and pomegranate. Another juice-blend prototype, Winter Punch, was formulated with Natural Winter Punch Type Flavor and Red Vegeceuticals. Tahiti Lime Ginger ImmuniTea™ contained Immunel™ milk peptide that has been clinically tested for immune support, Natural Tahiti Lime Ginger Flavor WONF, Natural Tea Flavor WONF, Natural Sweetness Enhancer, and Natural Black Tea Distillate. Other beverage prototypes included Grapefruit Omega-3 Juice Drink, Strawberry Melon Mojito, Harvest Berry 50 Calorie Juice Drink, Sassy Mint Lemonade, Sweet Mint Lemonade, and Vanilla Cinnamon Iced Coffee.
Wild also had food prototypes that reflected the four seasons. The Cranberry White Chocolate Chip Cookie prototype at 50% reduced sugar was formulated with stevia reb A 95, Wild's Taste Modification Technologies for Stevia, and Natural Golden Vanilla Flavor. Pumpkin Spice Nut Mix featured Pumpkin Spice Seasoning, natural flavors, and sugar for a sweet and salty snack. Peppermint and Spearmint Hard Candies highlighted the company's naturally derived Acid-stable Blue Color along with Natural Spearmint and Peppermint Flavors, Beta Carotene Color, Sunwin Stevia™ Reb A 80, and Wild's Taste Modification Technology for Stevia. Attendees chose one or all three of the Mini Sandwiches: Sundried Tomato & Lemon Marinated Chicken with Parmesan Garlic Aioli on Mediterranean Roll, Smoked Paprika & Stout Turkey Breast with Apple Honey Mustard on Pumpernickel Roll, and Shredded Pork with Georgia Peach BBQ Sauce and Cider Molasses Glazed Onions on Poppy Seed Bun. Other food prototypes were Double Chocolate Mint Brownie, Mocha Caramels, and Plumberry Mango Filled Licorice with Immunel.
Flour Helps Reduce Gluten
ConAgra Mills, Omaha, Neb. (402-240-5153, www.conagramills.com), introduced Ultragrain® High Performance whole-wheat flour, the newest addition to the Ultragrain line of flours.
The flour is derived from a wheat variety called Snowmass™ that is grown in Colorado exclusively by farmers who participate in the Ultragrain Premium Program. Ultragrain High Performance whole-wheat flour is said to reduce added gluten requirements by 50% or more, absorb 3–4% more water than traditional whole-wheat flour and 8–12% more water than refined flour, and have a greater mix tolerance.
Soy Sauce Evolves
To help food technologists develop food products with less sodium, Kikkoman, San Francisco, Calif. (415-229-3636, www.kikkomanusa.com), presented three ingredient solutions.
--- PAGE BREAK ---
Kikkoman Dehydrated NFE-P (powder) and NFE-PY (powder with yeast extract) are naturally derived flavor enhancers that provide savory umami flavor, reduce sodium by up to 30–50% and replace MSG and HVP. Both ingredients are made in the United States from soybeans, wheat, water, and salt using a proprietary brewing process that reduces the typical soy sauce flavor, aroma, and color. The NFE-P ingredient was showcased in Turkey Meatballs and the NFE-PY ingredient was included in Ranch Dressing Dip and Soup.
Kikkoman Less Sodium PTN Soy Sauce contains 45% less sodium than regular soy sauce. A proprietary process reduces the sodium but does not dilute the finished soy sauce. The flavor of this preservative-free, tamari-style soy sauce will remain strong after cooking, according to the company. Beef Meatballs were formulated with the ingredient.
In addition to these ingredients for low-sodium applications, Kikkoman highlighted its Gluten-free Soy Sauce in Gluten-free Turkey Meatballs. The ingredient is made from water, soybeans, rice, and salt.
Flavorings for a Korean Chili Dog
Bell Flavors & Fragrances Inc., Northbrook, Ill. (847-291-8300, www.bellff.com), featured a number of its flavorings in savory and sweet applications. The company served Korean Chili Dog with Sweet Kimchee Slaw Dressing. The chili was formulated with London Broil Type Flavor Natural and Chili, Sriracha Type Flavor, and the kimchee slaw was formulated with Garlic Flavor WONF (Fresh Type) OS Natural and Fish Sauce Type Flavor Natural.
For dessert, the company offered a chocolate brownie formulated with Bell Chocolate (Cocoa Replacer), Bell Vanilla Flavor, and Café De Olle Type Flavor N&A, and a blondie formulated with Butterscotch Type Flavor OS Natural and Caramel Type Flavor OS Natural.
Thirsty attendees had two beverage prototypes from which to choose. Arnold Palmer highlighted Lemon Flavor SD WONF Natural and Black Tea Flavor Powder Natural, and the Tropical Punch featured Neutral Cloud and Tropical Punch Type Flavor Natural.
The company also had copies of its brochure, Masking Flavors to Improve Taste, that listed a variety of masking ingredients for use in bakery, soy, and savory applications and detailed salt and flavor enhancers in the company's ReduxSo™ Flavor Systems line.
--- PAGE BREAK ---
Enhancing Flavor with Seasoning Extracts
Some ingredients from a line of naturally derived flavorings based on spices and seasonings added flavor to featured prototypes from DSM, Heerlen, the Netherlands (+31-45-578-8111, www.dsm.com). Hummus and Asian-style Risotto were formulated with ingredients from the Maxagusto™ ingredient line. Maxagusto G-28 has the taste and aroma of freshly sautéed/stir fried/roasted garlic. The powder can be used as a natural garlic flavor or as a base in combination with other garlic ingredients. It can be declared as "garlic, yeast extract." Maxagusto O-31 has sautéed/caramelized onion notes and can be labeled as "onion, yeast extract, garlic." Maxagusto S-99 combines the flavors of onion, garlic, green cabbage, mushroom, pepper, and ginger.
DSM formulated meat kabobs with Maxarome Select yeast extract and Gistex HUM LS yeast extract, which the company reports work synergistically with each other to enhance the umami sensation and savory taste in a variety of applications.
New Emulsifiers Improve Cake, Ice Cream
A powdered emulsifier, Emulpals® 110, for use in cake mixes was introduced to the United States market by Palsgaard Inc., Morris Plains, N.J. (973-998-7951, www.palsgaard.com). The ingredient is said to offer functional benefits of increased shelf life of up to two years, stable performance from batch to batch, and tolerance for heat and for use with cocoa and other ingredients. It is made from monoglycerides, diglycerides, polyglycerol esters, and a single activating medium.
Another emulsifier for cake formulations, Palsgaard SA 6600 activated powdered cake emulsifier, can be used with liquid vegetable oils that contain high amounts of unsaturated fats to replace fat sources with high amounts of saturated fats and trans fats. Samples of Strawberry and Cream Fruit Layer Cake formulated with the ingredient were available.
The company's newest ingredient for ice cream applications, Extrulce 304, is made from fiber, protects the ice cream from heat shock, and is a low-cost alternative to guar gum. Samples of ice cream made with the ingredient were offered.
Coffee Distillates Add Flavor
Two 100% natural distillates made their debut at the IFT Food Expo. Coffee Treattarome® Full Roast 9780 and Coffee Treattarome Mellow 9781 from Treatt, Suffolk, UK (+44-1284-702-500, www.treatt.com), are said to provide an authentic roasted bean flavor to a number of applications at a cost-effective price.
--- PAGE BREAK ---
The ingredients are wholly distilled from coffee using the company's proprietary technology. Both lend a full, rich coffee character but each distillate provides a subtly different aroma to finished applications. The full roast distillate gives a warm, full-roasted coffee flavor with chocolate back notes, and the mellow distillate delivers strong coffee and chocolate aromas. Both ingredients can be added as top notes in ready-to-drink coffee beverages, ice cream, and desserts.
Chr. Hansen Expands Portfolio
Chr. Hansen, Milwaukee, Wis. (414-607-5700, www.chr-hansen.com), provided information about two of its many ingredient lines. FruitMax® is a line of colorings naturally derived from fruits, vegetables, herbs, and spices. They do not contain preservatives and can be used in most beverages, confectionery, ice cream, fruit preparation, and dairy applications.
I-Colors® are colorings for instant powder drinks. The easy-to-dissolve colorings are available in yellow, light orange, red, and purple shades that can be used as is or blended to achieve desired colors.
Giving a Lift to Cake Batters
Attendees at the IFT Food Expo had the opportunity to sample a sponge cake with frosting and chocolate mousse prototypes formulated with ingredients from BASF, Florham Park, N.J. (973-245-6000, www.newtrition.basf.com).
Using Spongolit® aerating emulsifier helps produce cakes with consistent quality. This spray-dried powder functions in whipped batters by providing stability, volume, and crumb structure. Lamequick® whipping agent ensures a good mouthfeel in whipped desserts, cream fillings, ice cream, and frozen desserts. The main components of the ingredient are monounsaturated and polyunsaturated fatty acids.
Cooling Off in the Vegas Heat
Cool flavors and refreshing prototypes helped IFT Food Expo attendees beat the heat. Adults Only® concepts from David Michael & Co., Philadelphia, Pa. (215-632-3100, www.dmflavors.com), included Plumcot Margarita Water Ice with Natural Flavor "Plumcot Type" #36067, Natural Margarita Flavor WONF #22501, Michtex® #894, and Natural Red Extract #3430R, and Mojito Water Ice with Natural Flavor "Mojito Type" #24200 and Michtex #894.
--- PAGE BREAK ---
A refreshing Achiote Greek Yogurt Dip showed how Greek yogurt could be taken to the next flavor level. This prototype was formulated with DM Choice® Natural Flavor "Rotisserie Chicken Type" Powder #24899, Michaelok® Natural Cilantro Onion Flavor WONF #3196, Michaelok Natural Roasted Garlic Flavor WONF #2697, Michaelok Natural Flavor "Orange Zest Type" #3692, and Michaelok Natural "Achiote Type" Flavor #2595.
Don't forget dessert. The company's food technologists developed Gluten Free Devil's Food Cupcake with Gluten Free Cocoa Buttercream Frosting to have similar texture and flavor to cupcakes made with ingredients that contain gluten.
Highlighting On-trend Ethnic Flavors
On each of the first two days of the IFT Food Expo, Symrise, Teterboro, N.J. (201-288-3200, www.symrise.com), presented a different and exciting menu of food and beverage prototypes showcasing the best of Asian and Hispanic cuisines as well as culinary demonstrations from guests Chef Quy Trinh from Roy's and Master Mixologist Junior Merino. Symrise reprised some of the prototypes for the last day of the show.
On June 26, attendees were able to sample Symrise's flavorings in Mongolian Hot Pot (Soup), Thai Lime Dipping Sauce, Malaysian Rempah BBQ Sauce, Sriracha Flavored Kettle Chips, Gyoza Pot Sticker Flavored Multi-grain Chips, Guangzhou Mule Cocktail, Peach Pear Plum Smoothie, Mandarin Grapefruit Sparkling Beverage, Thai Iced Tea, Lime Basil Gelee with Coconut Cream, Gum with Mint and Asian Spices, and Hard Candy with Citrus, Floral, and Herbal Notes. Trinh demonstrated how to make Asian Mint Pesto Chicken with Ume Plum Vinaigrette, Lemongrass Poached Tiger Prawns with Soy Wasabi Cocktail Sauce, and Vanilla amd Blood Orange Layered Panacotta with Mango Tarragon Chutney, and Merino mixed up the Chino Latino (pisco, lavender, yuzu, meyer lemon, aloe vera, and velvet falernum) and Triad (shochu, kumquat marmalade, ginger beer, lime, and shiso) cocktails.
South-of-the-border flavors were in the spotlight at the booth on Wednesday, June 27. The menu featured Minguichi Soup, Queso Fundido–Pasilla Chile con Queso Oaxaca, Picaditas Sopes–Al Pastor BBQ Sauce and Poc Chuc Sauce, Pipian Rojo Seasoned Fruit and Nut Mix, Tinga Seasoning on Kettle Chips, Fresco Loco Cocktail, Strawberry Hibiscus Agua de Fresca, Mango Lime Cooler, Mayan Chocolate Cake, Dulce de Leche Parfait, White Chocolate Dulce de Leche, and Aztec Kiwi–Lime Hard Candy. Merino highlighted even more Hispanic cuisine as he prepared Marinated Grilled Shrimp Ceviche with Tomato Water and Mezcal, Corn with Powdered Chipotle Pepper and Mezcal Aioli, Guacamole with Roasted Jalapeno Infused Tequila and Grilled Pineapple, Smokey Tamarindo cocktail (tequila reposado, xtabentun, tamarind juice, grilled pineapple, and lemon), and Avocado Mezcal cocktail (mescal joven, cointreau, midori, agave, avocado, cactus, and lemongrass salt).
--- PAGE BREAK ---
New Oil Launched
Richardson Oilseed Ltd., Winnipeg, Manitoba, Canada (204-934-5287, www.richardson.ca), introduced Omega-9 Canola Oil with naturally derived antioxidants from rosemary extract. The high-oleic oil can extend the shelf life up to one year in snack food applications like croutons, snack crackers, and dried fruit. Other advantages include less frequent oil changes, less build-up on fryers, and 50% longer fry life than other frying oils. The oil also has zero g of trans fat and the lowest saturated fat and high monounsaturated fat compared to other vegetable oils, according to the company.
Naturally Derived Colorings Debut
D.D. Williamson, Louisville, Ky. (502-895-2438, www.ddwcolor.com), and colorMaker Inc., Anaheim, Calif. (714-572-0444, www.colormaker.com), highlighted a number of new ingredient innovations, including naturally derived colorings Pumpkin Bisque and Cranberry Nectar, certified organic annatto powder, oil dispersible caramel color, low 4-MeI caramel color, and acid-proof Class One "Plain" caramel color. Food technologists were available to discuss the usage of these ingredients.
In addition to these recent developments, the companies featured a number of naturally derived colorings in beverage and food prototypes. These were snack/cereal bars that illustrated a multicolored system, process cheese in fun shapes for children, panned confections, potato chips, popcorn, cereal, crackers made with naturally derived flavorings providing identical color, lemonade tea, and a non-alcoholic mango margarita.
To learn more about D.D. Williamson's products, watch a video on the company filmed at the 2012 IFT Food Expo available at http://live.ift.org/videos.
Build a Better Burger
KMC, Brande, Denmark (+45-9642-5555, www.kmc.dk), showed how some of its potato-based ingredients and other ingredients helped to build a better burger.
Adding potato flakes and potato granules to buns improved freshness and increased shelf life. Adamyl modified potato starch improved water binding and translucency of the sauce.
CheeseMaker, a potato starch-based ingredient, provided good melt and structure and also reduced costs of using dairy ingredients. FiberBind, a native potato starch, increased juiciness and yield of the hamburger meat used for the patty. Using EmulsiForm modified starch in place of egg yolks produced a stable dressing at a reduced cost.
--- PAGE BREAK ---
Prototypes Highlight Flavor Trends
The latest flavor predictions, according to Sensient Flavors, Indianapolis, Ind. (800-445-0073, www.sensientflavors.com), are aji Amarillo, black garlic, coriander, honeycrisp apple, lucuma, peach rosemary, pink peppercorn, plum, spicy caramel, and vanilla profiles from various regions such as India, Indonesia, Madagascar, Mexico, and Tahiti.
Sensient showcased these and other flavors in a number of savory, sweet, dairy, and beverage prototype concepts by incorporating flavorings and other ingredients from its portfolio.
The savory items served were Slow Cooked Chicken with Pineapple Aji Amarillo Glaze, Slow Cooked Chicken with Tomato, Onion, and Pink Peppercorn Jam, Slow Cooked Beef Pot Roast with Bacon, Roasted Poblano, and Honeycrisp Apple Jam, and Slow Cooked Beef Pot Roast with Fiery Black Garlic Barbeque Sauce. Served alongside of these savory prototypes were Toasted Buttered Crouton and Lucuma Citrus Slaw, and garnishes like Crushed Pepper Candy and Toasted Shredded Coconut.
The dairy prototypes were Bourbon Caramel Pistachio Brickle Ice Cream and Peach Rosemary Tart Frozen Greek Yogurt. For sweet treats, there were Lemon Pink Peppercorn Chocolate Truffle and Spiced Vanilla Plum Cookie. Attendees quenched their thirst with Pineapple Cilantro Green Tea and Guava Hibiscus Coconut Water.
Expanding the Use of Almonds
Over the course of the three-day IFT Food Expo, the Almond Board of California, Modesto, Calif. (209-549-8262, www.almondboard.com), featured a number of both sweet and savory prototypes highlighting the flavor and texture of almonds.
The Latin-inspired California Almond Carnecitos consisted of a fresh tortilla made from almond masa, spiced beef, and fresh almond mojo. Keeping with the Latin theme, the California Almond Bocadillos featured a couple of different fillings. The first filling for these tapas-style sandwiches was jamon de Serrano and cheese with almond mustard. The second was a vegetarian version with roasted vegetables and either romesco or almond salsa verde spread.
--- PAGE BREAK ---
A creamy sweet and savory combination of almond milk, almond butter, toasted diced almonds, blue-berries, and tahini formed a cool treat, Almond Blueberry Tahini Freeze. Filled with almond-based pastry cream and topped with chocolate-almond ganache and sour cherry, the Petit Chocolate Almond Torte illustrated the growing popularity of mini desserts.
Attendees had a chance to try Almond, Dark Chocolate, and Dried Fruit Truffle and Milk Chocolate Almond Clusters. Almond "Stix" Cereal was an extruded almond cereal made from almond milk and whole almonds. The Almond Board showed how the Almond "Stix" could be incorporated in savory snacks with its Almond Snack-Mix Bar. This bar combined Almond "Stix," toasted almonds, tamarind, chilies, and smoked salt.
Sweet Taste without the Sugar
A number of beverage samples featured Sunsation Sunett® SL sweetener ingredients from Nutrinova, Irving, Texas (972-443-2055, www.nutrinova.com). These include high-intensity sweeteners that are said to provide a sweet taste that is closer to sugar than similar ingredients. In addition to beverages, these ingredients can be used in yogurt, cocktail mixes, and powdered drink mixes.
Dairy Flavorings Add Function
Edlong Dairy Flavors, Elk Grove Village, Ill. (847-631-6700, www.edlong.com), explained how its dairy flavors can be used to improve better-for-you products. Milk and cream flavors were used to mask the off notes of added vitamins and minerals in Vitamin Fortified Pudding. Using the flavors also eliminated the need to add fat; the flavors enhanced the perceived richness of the pudding. The company's dairy flavors (cheese, butter, milk & cream, cultured, sweet dairy, and functional dairy) are also used to add dairy flavor to products formulated for lactose-intolerant consumers and to mask off notes and bitter notes from stevia and some other high-intensity sweeteners.
Instant Coffee Line Available
Fine Foods International New York, St. Louis, Mo. (314-842-4473, www.dek.de), focused on its entire line of instant coffee, instant coffee drinks, cocoa drinks, and coffee substitutes for the retail own-brand market. The company manages the entire value chain and can produce specific blends and packaging options for customers.
--- PAGE BREAK ---
Improving Taste of Sugar-reduced Beverages
Developing a sugar-reduced beverage that has a great taste is achievable with OvaSweet 120 flavor modifier, according to Prinova, Carol Stream, Ill. (630-868-0300, www.prinova.com). The company worked in partnership with PureCircle to develop the ingredient, which works with stevia sweeteners, reb A 97% and SG95, as well as sugar and high fructose corn syrup to enhance the flavor and sweetness of the finished beverage product.
Next-generation Oil Debuts
Dow AgroSciences, Calgary, Alberta, Canada (403-735-8902, www.omega-9oils.com), developed Omega-9 Canola Oil through traditional plant breeding without the use of genetic modification. The oil is high in oleic acid, low in saturated fat, and trans-fat-free. Representatives from the company were also available to discuss how experts at its Culinary Research Center assist with product development and reformulation of better-for-you foods. Projects conducted at the center include testing oil fry life and products' shelf life, reformulating and evaluating shortenings, conducting sensory evaluations, and more.
Describing Rice's Versatility
Riviana Foods, Houston, Texas (713-529-3251, www.riviana.com), provided information about its range of rice ingredients and products available to food product developers. These include white and parboiled instant rice, parboiled long- and medium-grain rice, parboiled Dixiebelle rice for applications subjected to retort processing, low-moisture rice for use with seasonings, crisp rice for confectionery and bar applications, broken rice for pet food, rice flour, rice hulls, and wild rice.
Ingredient Blend Replaces Guar Gum
Hydro-Fi™ XCT-0123 blend of xanthan, citrus fiber, and tara gum was developed through a partnership of Gum Technology Corp., Tucson, Ariz. (520-888-5500, www.gumtech.com), and Fiberstar, River Falls, Wis. (715-425-7550, www.fiberstar.net). The ingredient combines Gum Technology's Coyote Brand® hydrocolloids and Fiberstar's Citri-Fi® citrus fiber, and it can be used as a guar gum replacement in baked goods like cakes and muffins. It is said to increase moisture retention, improve texture, increase yield, and enhance mouthfeel.
Enhance Flavor
Representatives from Ajinomoto North America, Chicago, Ill. (773-714-1436, www.ajiusafood.com), presented its savory ingredients, flavor enhancers, sauces, and enzymes. One of these ingredients is Advantame, a synthetic flavoring derived from vanillin and aspartame. It is said to enhance flavor and extend the chew time in chewing gum and to enhance the flavor in confections.
--- PAGE BREAK ---
Super UM yeast extract was recently introduced in North America. The ingredient has a high level of umami taste with very little yeast flavor, according to Ajinomoto. It enhances the cheese character in cheese-flavored snacks, vegetable taste and cooked meat flavors in soups, and spiciness in sausage.
Add Heat and Flavor with Chilies
Dried chilies from Culinary Farms, Woodland, Calif. (phone 916-375-3000, www.culinaryfarms.com), add varying levels of heat and flavor to food. Offerings included ancho, chilaca, chile de arbol, chipotle, guajillo, habanero, and pasilla in ground, flaked, paste, and roasted versions.
Customize Heat Release
Kalsec Inc., Kalamazoo, Mich. (269-349-9711, www.kalsec.com), highlighted a number of its naturally derived colorings, flavor extracts, and antioxidants, including HeatSync™ ingredient combinations that can help product developers control heat expression in their food and beverage products. The process involves isolating specific components from herbs, spices, and vegetables like capsicum, black pepper, ginger, horseradish, mustard, wasabi, white pepper, and more, and combining these to create a finished ingredient that has specific releases of heat (quick hit, lingering, or in between) and intensities on certain locations of the tongue and mouth.
Flavor of Bacon without the Fat
Butter Buds Bacon® combines the flavor of bacon with the fatty richness and mouthfeel of Butter Buds® dairy concentrate from Butter Buds Food Ingredients, Racine, Wis. (262-598-9900, www.butterbuds.com). The ingredient is labeled as "natural flavor," and since it does not contain any meat, it is suitable for vegetarian consumers.
Organic Syrups Available
Centerchem Inc., Norwalk, Conn. (203-822-9800, www.centerchem.com), offered Nesugar, an organic invert syrup made from equal parts of glucose and fructose, and Nesugar Light, a reduced-sugar syrup made from a blend of invert cane sugar and stevia extract. Both are said to provide flavor and browning effect to baked goods.
--- PAGE BREAK ---
Cutting Trans Fat
A range of specialty oils, fats, and nutritional ingredients were the focus for Loders Croklaan, Channahon, Ill. (815-730-5200, http://northamerica.croklaan.com). Some of these ingredients, like those from the company's SansTrans™ line of oils and shortenings, can help formulators reduce or eliminate trans fat from products.
Sodium Reduction Solution
Potassium chloride and potassium chloride-based ingredients from Nu-Tek Salt, Minnetonka, Minn. (952-936-3605, www.nu-teksalt.com), reduce sodium 25–50% in foods.
---
Sampling the Expo
Flavor Oasis in the Desert Attendees were invited to cool off in the Las Vegas heat at the "Flavor Oasis," where they sipped on refreshing beverage prototypes highlighting trendy flavors from Virginia Dare, Brooklyn, N.Y. (718-788-1776, www.virginiadare.com). The prototypes were Wild Blueberry Honey Protein Smoothie, Tart Cherry Protein Smoothie, Tea and Lemonade Flavored Beverage, Iced Coffee Beverage, Dark Chocolate Flavored Black Tea, Cantaloupe Flavored Fortified Lemonade Beverage, Watermelon Flavored Fortified Lemonade Beverage, Tart Cherry Flavored Fortified Lemonade Beverage, Macoun Apple Flavored Green Tea, and Fuji Apple Flavored Green Tea.
Salt Lends Flavor, Visual Appeal
Morton Salt, Chicago, Ill. (312-807-2000, www.mortonsalt.com), illustrated the importance of shape, size, and adhesion qualities of salt with several food and beverage prototypes. Kettle Corn was flavored with StarFlake Dendritic Salt for a quick, salty sensation, and Kalisel KCl to replace some of the sodium in the formulation. Margarita with Salt Rim featured Top Flake Course Salt for visual appeal and flavor. Sliced Apple with Caramel Sauce and Sea Salt had California Pure Sea Salt for texture and to complement the sweet flavor of the caramel and apple.
To learn more about Morton Salt's products, watch a video on the company filmed at the 2012 IFT Food Expo available at http://live.ift.org/videos.
Street Food with a Twist
Street foods like sandwiches and tacos were given a twist with ingredients from French's Flavor Ingredients, Springfield, Mo. (417-837-1865, www.frenchsflavoringredients.com). A Philly cheesesteak sandwich was turned into Italian Buffalo Philly with Italian-spiked Buffalo Wing sauce, grilled steak, onions, and melted provolone cheese. Spicy BBQ Chipotle Chicken and Avocado Slaw kicked up the flavor of a plain chicken taco. Combining French's Dijon, cream, beef demi-glaze, tarragon, and beef chuck created a hearty, flavorful sandwich served on a crunchy French baguette.
Granola Goes Whole Grain
Whole-grain granola and oat clusters added texture and flavor to Coco Peanut Butter Granola Bar and Baked Cinnamon Granola Square. Viterra Inc., Kansas City, Mo. (816-994-7600, www.viterra.com/foodingredients), formulated the granola bar with Whole-grain Toasted Coated Oats and Coconut Almond Granola Clusters to create an indulgent snack. The bite-sized granola squares made with Whole Grain Granola Base and Vanilla Cinnamon Petite Oat Granola Clusters provided a texture sensation with a mild vanilla flavor and a spicy bite from cinnamon.
Southwestern Favorites with Extended Shelf Life
Two Southwestern cuisine prototypes featured naturally derived ferments for shelf-life extension from Purac America Inc., Lincolnshire, Ill. (847-634-6330, www.purac.com). Southwest Bean & Rice Salad was formulated with Verdad® F95, which helps to control microbiological growth in food. The ingredient is made from the fermentation of cane sugar, and it contains components said to enhance savory notes like tomato, spices, and herbs. The company also featured Ranchero Dip 30% Sodium Reduced formulated with Verdad NV10. This ingredient can be labeled as "cultured corn sugar."
Reducing Saturates in Cookies
A chocolate chip cookie made with All Purpose Saturate Sparing had low levels of saturated fatty acids. Bunge North America, St. Louis, Mo. (800-828-0800, www.bungenorthamerica.com), developed the ingredient using powder cellulose in a blending and crystallization process. The ingredient can reduce saturate levels by greater than 40% in all-purpose and emulsified shortening, according to the company.
--- PAGE BREAK ---
Flavor Combos Surprise
Coconut Lemongrass Rice Crispy Treats with Chili Chocolate Raspberry Jam combined flavors from Southeast Asian cuisine (Coconut Lemongrass Seasoning Blend and Coconut Lemongrass Flavor) with popular dessert flavors (Chocolate Raspberry Dessert Sauce, Chocolate Flavor, and Raspberry Flavor). Sriracha Snack Mix was formulated with Spicy Sriracha Asian Seasoning Blend, Coconut Flavor, Sriracha Chili Flavor, and Fermented Hot Sauce Flavor. Finally, Spicetec Flavors & Seasonings, Omaha, Neb. (800-921-7502, www.spicetec.com), a business of ConAgra Foods Inc., combined the flavor of a popular child-friendly treat—cotton candy—with a favorite snack of both children and adults—popcorn—in its Cotton Candy Seasoned Popcorn.
Enhancing Function, Health of Beverages
Beverage prototypes showed how ingredients from SensoryEffects, Bridgeton, Mo. (314-702-2029, www.sensoryeffects.com), can be used to provide both functional and health benefits. Chai Tea Latte was black tea with a blend of spices from Chai Flavor Base Powder in milk and a little sugar all chilled over ice. A no sugar-added Chocolate Workout Recovery Milk was sweetened with a blend of AceK and sucralose, had 20 g of protein per 12 ounces, and was an excellent source of calcium and vitamin D. Pineapple Crème was a 20% juice and 20% milk smoothie fortified for meal replacement.
Flavored Donuts Satisfy Sweet Tooth
For some sweet treats, attendees headed to Carmi Flavor & Fragrances Co., Commerce, Calif. (323-888-9240, www.carmiflavors.com). The company offered gelato and donuts formulated with a wide variety of its flavorings.
Reducing Sodium in Hot Dogs
A hot dog made with sub4salt® from Junbunzlauer Inc., Newton Centre, Mass. (617-969-0900, www.jungbunzlauer.com), showed how product developers can formulate low-sodium applications that still have comparable salty taste characteristics as full-sodium versions. The ingredient is made from sodium chloride, potassium chloride, and sodium gluconate, and reportedly can be used in a formulation to reduce the sodium content by up to 50% without a loss of taste.
Karen Nachay, a member of IFT, is Associate Editor of Food Technology magazine ([email protected]).