One sure lesson observed each year at the IFT Food Expo is the certainty of competition, no matter what field is considered. This is obvious in the area of ingredients. I happened to have an interest in colors this year, and picked up information from about a dozen suppliers, most offering similar-sounding products. There are differences in processes, and certainly vast differences in service and expertise, but still, the proliferation of options can be daunting, while it is also healthy.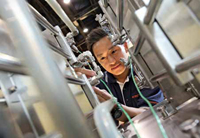 The Expo aisles seemed crowded, especially on the opening day, and exhibitors seemed pleased and quickly exhausted. As usual, processing equipment vendors were a minority, but many were showing some new concepts. One trend is the establishment of innovation or customer service centers. There always have been some such facilities for testing and demonstrating equipment, but now companies are building more elaborate facilities with more equipment and greater capabilities.
Innovation and Demonstration Projects
While not actually a center, the dry-blanching and drying site demonstration project is an interesting collaboration among the USDA Western Regional Research Center (my first employer), the University of California-Davis, and Innovative Foods Inc. The concept is to provide a portable infrared dryer/blancher to demonstrate on site energy- and cost-saving applications of infrared heating. Project leaders are Zhongli Pan (510-559-5861, [email protected]) and Tara McHugh (510-559-5864, [email protected]).
Buhler has a new food innovation center in Plymouth, Minn., that is focused on extrusion. In addition to a twin screw extruder, the center has a mixer, preconditioner, conveyor dryer, hammer mill, and bulk packaging. Supporting analytical and packaging services are available from third parties nearby. The contact is Jenni Harrington (763-847-0286, [email protected]).
Crown Iron Works Company, part of CPM, has a completely continuous pilot scale crushing facility in Roseville, Minn. Crown's focus is extraction, primarily of oil from seeds, but their equipment has other applications. The facility includes high pressure liquid extraction, drying, desolventizing, several types of solvent extractors, and refining equipment. Contact phone is 651-639-8900; email is [email protected].
--- PAGE BREAK ---
FresherTech is a Chinese supplier of high pressure processing equipment with an R&D Center in Shanghai. The company has about 50 installations around the world and claims to offer as much as 50% lower capital costs compared with other suppliers of HPP equipment. Contact in North America is Charles Montgomery (707-299-6258, [email protected]).
Novel Shipping Container
SpaceKraft, a division of International Paper, located in Indianapolis, Ind. (800-599-8943, [email protected]), provides intermediate bulk containers formed of multiple layers of corrugated paper. The containers fold down for shipping and are lined with polymer bags to contain liquids. The containers replace lined fiber or metal drums or totes and are recyclable. They can be stacked four high when full, and are easy for one person to erect.
Sanitary Shoe Covers
On a recent plant visit, I used an automatic shoe cover dispenser provided by Hill Brush Inc. (410-325-7000, [email protected]). As the name suggests, Hill provides a full line of color-coded brushes, shovels, and other tools. The shoe cover dispenser is a box into which one places a foot and a plastic booty is automatically applied. No bending over. Sure enough, they have a competitor: Shoe Inn (877-595-7463, www.theshoecovers.com). Shoe Inn offers several models that accomplish the same task.
Dry Solids Pasteurization
Three exhibitors offer processes for sterilizing or pasteurizing solids such as nuts, spices, and herbs. Use of such processes has become required for almonds and some other products after incidents of pathogens, such as Salmonella, being found on some products. The issue in such processes is that pathogens are resistant to heat at low water activity while moisture usually damages the products. The consequence is that some moisture must be added to sensitize the pathogens to heat, then the moisture must be rapidly removed to minimize damage to the product. Each process accomplishes this in a different way.
Log5 Corporation, Phoenix, Md. (240-544-2050, [email protected]), uses water activity controlled pasteurization to control pressure, temperature, and well time in modular equipment. The company uses a series of batch mixers and claims capacities from 500 pounds to 44,000 pounds per hour.
--- PAGE BREAK ---
Safesteril is a patented process developed by the French engineering firm ETIA. It is represented in the United States by Belt-O-Matic, Tippecanoe, Ind. (574-353-7855, [email protected]). The process is continuous and uses an electrically heated screw conveyor for heating and cold dry air for cooling and drying. Capacities are said to be 110–22,000 pounds per hour.
Buhler Barth AG, represented in the U.S. by Buhler in Minneapolis, Minn. (763-847-9900, buhler. [email protected]), offers the Controlled Condensation Process (CCP), which uses a single pressure vessel agitated with a ribbon mixer. CCP received an IFT Food Expo Innovation Award in 2010. There are several models, differing in the volume of the pressure vessel. Capacities are 220–22,000 pounds per hour.
Dry Ice Cleaning
Cold Jet (800-337-9423) offers a device that grinds dry ice pellets and blasts them through nozzles, using compressed air, to clean surfaces with no water or residue. The equipment has been used successfully in bakeries and in manufacturing chocolate. Among other advantages, electrical equipment need not be protected during cleaning.
Ozone
Beth Hamil, Vice President of Del Ozone, San Luis Obispo, Calif. (800-676-1335, Ext. 222, [email protected]), says that Del Ozone offers aqueous and gaseous ozone generating equipment for direct food contact sanitation as well as equipment and environmental cleaning. In cooperation with California State Polytechnic University-San Luis Obispo, Del Ozone is investigating whether ozone can remove allergens from food contact surfaces. It is known that ozone damages proteins, and most allergens are proteins, so the concept is plausible.
Powder Handling
GEA is a multi-line supplier of food processing equipment with U.S. centers in Hudson, Wis., and Columbia, Md. GEA recently acquired Nu-Con, a full line supplier of pneumatic conveying, bulk storage, and powder handling equipment. Nu-Con's U.S. contacts are in Hudson (443-766-1136, [email protected]). One newer product is a sanitary rotary valve used to control the flow of powders.
Small-Scale Equipment
Small-scale equipment is used for teaching and research in university pilot plants and labs and by industrial firms for small-volume production runs. MicroThermics, Inc., Raleigh, N.C. (919-878-8045, [email protected]), is offering a microwave thermal processor, using unique technology from Industrial Microwave Systems Inc., which promises no hot spots and very rapid heating. The unit is capable of 1 L/min and variable hold times and temperatures, up to 129 sec and 305˚F, according to John Miles, president.
--- PAGE BREAK ---
Armfield Inc., which has its U.S. offices in Jackson, N.J. (732-928-3332, [email protected]), provides a mini pilot system for high temperature short time(HTST) or ultra high temperature (UHT) processing using tubular heat exchangers. The concept is to provide slightly higher capacities for small market test production. The system is capable of 30–100 L/hr and temperature of 150˚C. Armfield also offers homogenizers and fillers scaled to integrate with the heating system. Another unit offers a range of heat exchangers, including scraped surface, plate, and tubular for direct comparison on one frame.
Terlet and Van Meurs are members of the MPE Group, with U.S. offices in Swedesboro, N.J. (856-241-9970, [email protected]). OMVE, exhibiting with MPE Group (31-30-2410070, [email protected]), offers a line of small-scale equipment especially focused on beverages, including carbonators, fillers, and heat exchangers. Terlet offers a unique scraped surface heat exchanger, which has two concentric heating surfaces, making it very compact. The Culimaster is a vacuum processing unit with a rotor/stator homogenizer that is used to make mayonnaise, ketchup, and sauces. It comes in volumes of 60–1,500 L. Van Meurs offers aseptic bag-in-box fillers.
Membranes
Microdyn Technologies Inc., Raleigh, N.C. (919-341-5936, [email protected]), offers a wide range of membranes for microfiltration, ultrafiltration, and nanofiltration in numerous industries, including food and beverage. Membranes are made from several different polymers, including polyethersulfone (PES), hydrophilic polyethersulfone (PESH), polysulfone (PSU), cellulose (RC), and polyvinylidenefluoride (PVDF). Physical formats include flat sheets, spiral wound, tubular, and hollow fibers. Roughly, the ranges of membrane separations are as follows: microfiltration 0.1–1.0 μm, ultrafiltration 0.01–0.1 μm, and nanofiltration 0.001–0.01 μm.
Hydranautics, a Nitto Denko Company, Oceanside, Calif. (760-901-2500, [email protected]), offers spiral wound membranes for dairy reverse osmosis(RO) and color removal by nanofiltration. The color removal membranes can tolerate high levels of chlorine, while the RO membranes are sensitive to chlorine. The RO membranes are composite polyamide, while the color removal membranes are made of polyethersulfone. The concept of color removal relies on the fact that color bodies are generally larger than salts, flavors, and other desirable compounds, so a relatively loose membrane suffices.
Hurdle Technology
An interesting Scientific Program session, 067 on Tuesday, June 26, presented research on combination nonthermal preservation processes such as high pressure with pulsed electric fields, ultraviolet radiation, ozone, and antimicrobials. Some combinations demonstrated synergies while others did not. This seems to be a promising area for future work.
--- PAGE BREAK ---
---
New Website to Promote Netherlands Partnerships
The Royal Netherlands Embassy and the Netherlands Foreign Investment Agency used the Annual Meeting & Food Expo as an occasion to unveil a new website,
www.HollandFoodPartner.com
. The website was designed to provide American businesses with a portal to information on investment opportunities, trade data, and the latest developments in food and nutrition research in the Netherlands.
Members of a large community of industrial and academic players within the Dutch food chain have fostered the growth of a dynamic, research-intensive sector that has spurred many new innovations focused on sustainable production and foods with incremental health benefits. Examples of some of these developments, including a plastic packaging technology that extends the shelf life of fruits and vegetables and more efficient greenhouse technologies, are featured on the website. It's also a source of information for American companies and research institutes looking to identify investment opportunities and partnerships within the Dutch agro-food cluster.
---
Korea Touts Developing Food Industry Complex
IFT Food Expo attendees who stopped by the Korea National Food Cluster, "Foodpolis," booth were treated to a preview of a comprehensive food industrial complex under development in the South Korean city of Iksan. The plan calls for development of a large national complex specializing in food by 2017; the venture will include an industrial estate (Food Science Park) and a residential area (Food City).
According to Foodpolis representatives, the goal of the project is to attract 150 global food companies and 10 research institutes. Facilities such as a pilot plant, a packaging R&D center, a food functionality evaluation center, and a food quality and safety center are planned. Rental plants are also part of the Foodpolis (www.foodpolis.kr) vision.
The Foodpolis residential section will include housing and facilities for healthcare and education. With a food exhibition and taste center, global food center, food museum, food theme park, and an urban farm planned, the cluster is also designed to be a food culture destination.
The Agency for Korea National Food Cluster will provide comprehensive management of the cluster and serve as a networking coordinator between local/global businesses and laboratories.
The Korean government is offering a variety of incentives including tax and tariff exemptions and free or reduced land lease charges as well as training subsidies in order to help attract foreign investment.
J. Peter Clark, Ph.D., is Contributing Editor of Food Technology magazine and Consultant to the Process Industries, Oak Park, Ill. ([email protected]).