Marketability. Cost effectiveness. Performance. Functionality. Taste. Texture. Nutritional value. Timeliness. The ability to over-come technical challenges. These are just a few of the factors that can help spell the success of an ingredient when it hits the spotlight of events such as the recent IFT Annual Meeting & Food Expo.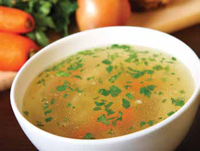 For me, though, the lyric, "Break on through to the other side," from the 1960s rock band The Doors, really describes what constitutes the meaning of a winning ingredient. Translated: It becomes something more than what you have traditionally seen and thought to be possible for that ingredient. It takes that extra step from the past to provide a new version of itself or, perhaps more accurately, a new vision. Through careful research and hours of development, an ingredient can evolve—break on through—from a traditional, more familiar position to one that can address unsolved functionality, taste, and nutritional challenges while offering both the food manufacturer and the consumer a number of benefits in the end.
Pretty sure that Jim Morrison didn't have that in mind when he blasted out that line, but it sure does capture the nature of certain ingredient developments, especially the ones that this article will be covering.
Take, for example, a familiar ingredient, hydrolyzed vegetable protein (or HVP as it is known by many). Now imagine using a technological method to help create an HVP that has lower sodium without compromising its taste. That certainly is timely, meeting a major trend right now—sodium reduction.
Or how about an isolated soy protein that has been improved so that it can generate clear solutions in a beverage application—previously, a difficult thing to accomplish. And sometimes, as in the case of this isolated soy protein innovation, it can generate further advancements, creating a new line of ingredients that provide special—and broadened—opportunities for other product applications.
--- PAGE BREAK ---
In terms of today's trends or focuses, certain ingredients such as proteins and probiotics are surging at the moment, and so it shouldn't be too surprising to see pea protein in chocolate or a probiotic strain in coffee. These developments are the result of advanced technologies that are helping to overcome functionality, taste, and nutritional challenges in product development. And while these kinds of ingredients provide a certain nutritional value—one that survives the processing conditions—it does not compromise the end quality of the product. And once that can be accomplished, almost anything goes in terms of applications. Probiotics are no longer found just in yogurt, and protein is no longer confined only to protein shakes. And I guess we're no longer in Kansas anymore.
Some "winning" ingredients actually have a long history, and so technically they really aren't new necessarily, but because these ingredients have been improved on or because they are meeting challenges today that didn't exist at such a high level 20 or 30 years ago, they are being rediscovered and their value enhanced. One example might be a cyclodextrin (a curious ring-shaped molecule) that has the potential to address health problems such as diabetes or taste enhancement issues associated with nutraceuticals.
Sweeteners such as stevia have definitely flooded the Expo floor this year and certainly merit special attention. And, of course, sodium alternatives continue to evolve, and one can expect to find at least one on this list of winners. I'm not sure if there is necessarily any connection—I will explore that aspect in the near future—but many flavor companies were highlighting sweet and savory combinations at the Expo, and I can't help imagining what might happen when stevia meets a sodium-reduction technology in a new formula.
Don't be surprised to find novel hybrid ingredients out there—part lipid and part carbohydrate, providing interesting alternatives in the area of fat replacement.
And sometimes winning prototype concepts are developed that are almost ready for the marketplace—if an interested product developer is ready to take that extra step to market it.
This article will look closely at the following 12 ingredient developments—launched or showcased at the IFT Annual Meeting and Food Expo—and try to provide a rationale as to what makes these developments "winning." Although I was tempted to give it a shot, these ingredients are ranked in no particular order. Also, a few honorable mentions will also be included at the end of the story.
--- PAGE BREAK ---
And don't forget to read articles written by Karen Nachay and Linda Ohr for additional ingredients and nutraceuticals post-show coverage. I'm not sure if either one will be quoting from rock songs, but you can bet they'll be covering exciting developments and prototypes.
So here is a review of ingredient developments that I think deserve a special thumbs-up for breaking on through to the other side. With apologies, Jim Morrison.
Viable Low-sodium HVP Developed
Hydrolyzed vegetable proteins (HVPs) have been used for more than a century as a cost-effective flavor enhancer that serves as the backbone for gravies, soups, sauces, and other savory products. (HVPs are plant proteins that have been hydrolyzed and neutralized, resulting in a combination of smaller peptides and amino acids.) While they have been used as flavoring agents providing a general, non-characterizing meaty/chicken flavor profile, as flavor enhancers useful for their relatively high salt and monosodium glutamate content, and as a protein source to create new processed flavor, the high levels of naturally occurring sodium in HVPs have limited their use in low-sodium products, which increasingly are in demand. Previous attempts to develop a viable low-sodium HVP option relied on potassium chloride, resulting in a bitter-tasting product that had limited uses.
In its production of a new HVP that provides low sodium but high flavor enhancement, Innova, a Griffth Co., Lombard, Ill. (phone 630-928-4800, www.innovaflavors.com), may have solved an ingredient challenge that has vexed food manufacturers for years and consequently filled a void that existed in the HVP marketplace. The company claims this HVP is the first product of its kind to lower sodium while maintaining the desirable flavor that food companies and consumers have come to expect from an HVP.
According to Innova, which specializes in creating customized meat and savory flavors for food applications, its newly introduced Vegamine® Advanced Technology does not rely on potassium driving the acid hydrolysis process; rather, the resulting HVP still uses sodium salts, providing the product with a number of advantages over previous HVPs that generated potassium rather than sodium chloride during the hydrolysis process. The company's full line of lower-sodium Vegamine AT products enables sodium reduction without sacrificing taste in applications already using HVPs; increases natural enhancement; facilitates flavor creation due to higher protein levels; supports cost-reduction initiatives by allowing for a reduction in usage of expensive ingredients; and extends or partially replaces higher cost ingredients such as autolyzed yeast extract and meat powders. Furthermore, the proprietary technique creates the low-sodium HVP from soy, corn, wheat, or all three combined, which requires no changes to ingredient lists.
"Low-sodium products have presented a real challenge from both a taste and cost standpoint," noted Enrique Medina, Innova President. "Companies have struggled to find reliable, affordable ways of lowering sodium without sacrificing taste. By reducing sodium levels in an HVP without losing its traditional flavor, our solution is a win-win proposition."
--- PAGE BREAK ---
Medina emphasized, "The Vegamine AT line provides versatility that is certain to help a variety of products improve their label profile without sacrificing the Vegamine quality our customers expect and rely on."
The company demonstrated the capabilities of the new HVP line in a chicken bouillon application at the IFT Food Expo. The significant implications for a wide array of food products are evident as a result of just a few early applications using the new AT products, observed Dafne Diez de Medina, Innova's Vice President of Innovation, Research and Development. "This really is just the beginning of our journey. Substituting Vegamine AT for a conventional HVP can help achieve a 25% reduction in sodium with a cost impact of only one cent per serving with sensory attributes comparable to the control. Even greater sodium reduction solutions are possible, reflecting the improved flavor profiles of the new product line."
The performance and effectiveness of Vegamine 83D AT was evaluated in comparison to the regular version Vegamine 83D in a variety of food applications including coated oyster crackers, chicken bouillon, chicken gravy, and chicken and orzo. Once the applications were developed, a team of 12 experts evaluated each version within an application for sensory attributes of salty, umami, HVP, yeasty, meaty, sweet, and sour by a blind test, using a 7-point Hedonic rating scale. (The results are available from the company.) The expert taste panel making blind evaluations of products containing the new HVPs clearly perceived their benefits. Areas explored were sodium reduction, flavor enhancement, ingredient replacement, cost reduction, and flavor development.
Vegamine AT is one of the many innovative research advances that the company's flavor chemists and food chemists have developed in ongoing efforts to introduce the highest-impact, best-tasting meat and savory flavor for customers. Previously, Innova introduced SaltSavor™, a salt-reduction portfolio of taste-modulation technology based on the enhancement of sodium channels and the binding of umami receptors. (Umami, one of the five basic tastes, is the Japanese word for "meaty" or "savory.") SaltSavor delivers an increased salty perception through stimulating taste buds compared to using salty-tasting compounds. Flavor enhancement is an added benefit.
In addition, Innova provides a variety of customized meat and savory flavors with special signatures, including its Robust® line of meat flavors. By controlling all product development steps from concept through delivery and drawing upon a deep history of reaction flavor expertise, the company offers flexibility, creativity, quality, and value for the development of flavors in powder, paste, liquid, and water- or oil-soluble forms.
--- PAGE BREAK ---
Line of Transparent Isolated Soy Proteins Extended
"In the past, soy protein-enriched acidic beverages have been formulated with traditional isolated soy proteins," explained Russ Egbert, Director of Protein Research for ADM, Decatur, Ill. (phone 800-637-5843, www.adm.com). "These low pH beverage systems have not found wide acceptance due to two major issues with the proteins. First, they have very low solubility in low-pH environments and require stabilization and homogenization in order to keep the protein in suspension. Second, they generate opaque solutions when hydrated in water."
Recently, through alternative processing, a new transparent acid-soluble isolated soy protein (Clarisoy™ 100) was developed. When the ingredient was launched at the 2011 IFT Food Expo, the company described it as the "world's first vegetable-based protein that offers clarity and complete protein nutrition for beverage applications," enabling manufacturers to meet the demand for great-tasting, nutritionally enhanced beverages targeted to the growing number of consumer preferences.
According to Egbert, the ingredient was specifically developed for use in beverages with pH levels below 4.0, providing them with 5 g to 10 g of protein, and in low-pH beverages, it is 100% soluble and transparent. Egbert noted that while traditional isolated soy proteins are typically spray-dried at a pH above the isoelectric point of the soy protein, this new ingredient, Clarisoy 100, is spray-dried at a pH below the isoelectric point. Because of its very high solubility displayed at a pH below the isoelectric point, no homogenization or stabilization is required to produce acidified beverage systems. Extremely heat stable, it allows thermal processing such as hot fill without any loss of clarity or notable change in viscosity.
The ingredient consequently opened up opportunities for beverage manufacturers to fortify sports drinks, citrus-based drinks, fruit and fruit juice blends, lemonades, powdered drinks, and waters with a pH of less than 4.0 with soy proteins. "Until now, those application areas have been off limits to soy proteins due to formulation challenges of using soy in low-pH applications," said Egbert. Furthermore, he added, "key flavor attributes also distinguish traditional isolated soy proteins from Clarisoy 100. Slight beany, cereal, bitter, and astringent flavors may be associated with traditional isolated soy proteins, while the flavor of Clarisoy 100 is characterized as having an overall clean and bland flavor, with slight astringency.
At the 2012 IFT Food Expo, the first extension of the Clarisoy line of transparent isolated soy proteins made its debut. Clarisoy 150 is described as a clean-tasting isolated soy protein for use in beverage systems with a pH of less than 4.0 with cloud systems or neutralized to a pH of 7.0 or higher. Because of its clean flavor and higher solubility in higher pH ranges, Clarisoy 150 allows for greater use of soy protein in mildly flavored neutral beverages such as meal replacement and weight management drinks, soy milks, and smoothies. It is extremely heat stable with proven compatibility with dairy-based protein sources. It enables beverage manufacturers to "comfortably" formulate with up to 10 g of protein.
--- PAGE BREAK ---
In March 2011, ADM entered into a licensing agreement with Vancouver-based Burcon Nutrascience Corp., which allowed ADM to be responsible for the worldwide production, distribution, and sale of Clarisoy soy protein. The license agreement gives ADM exclusive rights across all geographic regions and all potential product applications to produce, market, and sell the ingredient. According to Burcon, Clarisoy 150 will open up "an entire new range of consumer products that can be formulated to include Clarisoy." The company's Vice President of Technical Development, Martin Schweizer, commented, "Clarisoy 150 has an extraordinary clean taste profile. Combined with its smooth mouthfeel, it offers a host of potential applications either as a replacement for, or to blend with, dairy protein. Its potential to be blended with dairy protein or to be used in dairy-alternative applications has been a key focus of our research and patenting team for many years. Since our discovery of Clarisoy over four years ago, we have continuously worked to expand its potential applications. The unique and revolutionary nature of this protein allows us to continue to discover new, exciting uses for it even today."
Both Clarisoy versions allow beverage manufacturers to create products with good or excellent sources of protein. At the IFT Food Expo, ADM offered samples of Fruit and Veggie Jive, a nutritional beverage that included Clarisoy 100 (providing 7 g of protein) plus one serving of fruit and one serving of vegetables. Also available was Harmony Soymilk made with Clarisoy 150.
To meet growing customer demand, ADM has expanded production of Clarisoy. The company recently opened its first commercial-scale plant to produce the vegetable-based protein. The ingredient is available to customers looking to purchase quantities beginning in June. The facility, located in Decatur, Ill., provides a new line extension for ADM's existing isolated soy protein production. Clarisoy is created through a patented process that delivers a highly purified product with a 95% protein concentration on a moisture-free basis. "The company expects this plant to be the foundation for an entire Clarisoy product line, as we continue to evolve it to meet our customer needs," noted Bruce Bennett, General Manager of ADM Specialty Products—Oilseeds.
New 'Single Salt Grains' Provide Sodium Reduction
What has been described as a break-through technology for sodium reduction has been developed by Netherlands-based AkzoNobel Salt Specialties (phone +31 6 53108373), one of the world's leading salt manufacturers. The technology, used to create a new product called Suprasel Loso OneGrain, can achieve up to 50% sodium reduction by combining regular salt, mineral salt, and tasteenhancing flavors into single salt grains. These grains offer a direct, one-to-one replacement for regular salt as they are said to look, taste, flow, blend, dissolve, and cook in the same way as traditional salt. (See the company website, www.suprasel.com, for complete information.)
Reducing sodium levels in food isn't easy, noted AkzoNobel Salt Specialties. As well as the taste salt provides, it has many practical functions that must be met. While developers have a range of solutions at their disposal, finding the right mix takes time and effort. Introducing new ingredients into production brings fresh challenges, and there can be problems related to dust formation, contamination of equipment by hygroscopic materials, transport, and dosing.
--- PAGE BREAK ---
How do we develop a product to ensure it maintains all the taste and quality of regular salt but it fits the required low-sodium profile? There are a number of strategies that can be used to help overcome flavor. These include, among others, step-by-step reduction in salt (lower the sodium), the adjustment of salt crystals and salt distribution (physical enhancement), improvement of 'receptabilty' of salt receptors (flavor modulation), increased used of herbs, spices, flavors, and taste enhancers (compensation for taste loss), use of other mineral salts (salt replacement), and the use of aromas associated with salt (cross-modal effects). Frequently, to replicate the taste of salt completely, a combination—if not all—of these strategies is needed for a successful formulation.
"Producing a low-sodium product that can exactly replace salt is a complex issue," noted the company. "Taste is key, and historically the 'salt replacer' produces a bitter flavor that, in turn, needs another ingredient to mask this. The more separate ingredients that are added in, the more problems can occur—for example, dust formation or the individual elements demixing or lumping. This is why we believe premixes are not an option for successful salt replacement products."
For these reasons, the company developed its new technology, which turns salt into a free-flowing, easy-to-handle carrier of flavors and nutrients. OneGrain grainsize distribution is similar to that of regular salt, and hygroscopic components are captured in the OneGrain grains, ensuring that the product remains free-flowing. The resulting ingredient behaves like salt, stores like salt, and is a genuine replacement for salt in both functionality and taste. In fact, according to the company, it blends as easily as regular salt and dissolves even faster than regular salt.
The ingredient can be used at the same dosage levels as regular salt without becoming lumpy, creating dust, or demixing—common problems with other sodium replacement products. As a single product, it blends and dissolves easily, and can be handled and stored in exactly the same way as regular salt, offering a convenient alternative in food manufacture. Furthermore, each grain retains all its components—regular salt, mineral salt, and flavor—during transport and storage with no separation. Because it provides a simple one-to-one replacement, no changes in recipes are needed.
The company offers a line of products that include Suprasel Loso OneGrain A30 (70% NaCl, 26% KCl, and yeast extract natural flavor), Suprasel Loso OneGrain A50 (50% NaCl, 46% KCl, and yeast extract based nature-identical flavor), and Suprasel Loso OneGrain B50 Bakery Salt, which contains iodine (50% NaCl, 46% KCl, and yeast extractbased nature identical flavor).
The company did sensory evaluations on its new ingredient in a number of applications, including instant chicken soup and salted crisps. Also, the company offers a study of low-sodium alternatives to traditional baker's salt. Salt gives bread a specific flavor. Aside from the taste, sodium affects the rising of the dough, the fermentation speed of the yeast, and the texture of the bread. Substituting Suprasel Loso A30 or A50 for regular salt reduces the sodium content by 30% and 50%, respectively, while maintaining the properties of the dough and the taste and texture of the bread. Both salt ingredients were tested in white bread against a benchmark of 1.8% salt by flour weight by the Netherlands Bakkerij Centrum. Volume, appearance, color, texture, softness, and flavor remained the same.
--- PAGE BREAK ---
Sander Tierolf, Marketing Manager at AkzoNobel, said, "We're very excited to unveil Suprasel Loso OneGrain as we truly believe it represents a major advance for food manufacturers who are looking for ways to reduce the sodium content of their products."
Studies have shown that excessive use of salt can contribute to raised blood pressure, which can lead to cardiovascular disease. Although there is still debate regarding the health effects of too much salt, new sources for salt alternatives, as well as novel technologies such as this one and varied approaches for reducing sodium continue to emerge as the food industry—and its players such as AkzoNobel—endeavor to cut salt consumption without compromising taste.
Pea Provides Protein Benefits in Chocolate
With the demand for protein continuing to rise, the hunt for new protein sources and alternatives is gathering pace, according to Innova Market Insights. Data presented by the market researcher shows that intellectual property development and patent activity is on the rise, and the U.S. accounted for more than 40% of recent alternative protein patent activity. Traditional areas such as soy, wheat, lupin, and chickpeas are being reexamined again as healthy and sustainable solutions. And while soy continues to dominate in terms of vegetable proteins, a range of new products is starting to appear, based on other beans, as well as nuts, seeds, grains, and vegetables.
An IFT session focused on yellow pea as an emerging sustainable legume for nutritional and functional food innovation. There is a growing demand for sustainable, natural, non-allergenic nutritional and functional foods. With about 10 million tons of annual production, yellow pea is a legume that meets these criteria. It consists of 25% protein, 14% fiber, 50% starch, and 6% sugar. Pea starch with its 35% amylase content provides special functionality for food product formulation. Yellow pea is less known to consumers, food manufacturers, and food scientists and researchers compared to traditional cereal and grain materials, and this symposium—said to be the first technical session on yellow pea—provided data on its nutritional and functionality properties while demonstrating innovative options as to how to incorporate pea protein, fiber, and starch into the formulation.
With this background setting the stage, Roquette America, Geneva, Ill. (phone 630-463-9430, www.roquette.com), introduced chocolate formulations enriched with its Nutralys® pea protein, which provides not only nutritional benefits but enhanced production efficiency and consumer appeal to products that traditionally use standard chocolate and coatings. Because of its amino acid profile and dispersibility, the ingredient can boost the nutritional profile of chocolate without changing the chocolate's texture, melt characteristics, or taste.
Kate Jacobsen, the company's Senior Project Coordinator for Confectionery Applications, noted, "Nutralys pea protein can be added to chocolate at up to 16% without affecting processing conditions. Even at the high inclusion rate of protein, standard temperatures and time used for mixing, refining, conching, and tempering the chocolate require absolutely no changes. And in addition to boosting protein content, it offers chocolate manufacturers an edge in appealing to the rapidly growing health and wellness segments that want clean labels, allergen-free products, and traceable and safe ingredients."
--- PAGE BREAK ---
"This is a big step forward not only for Roquette but for all those who partner with us in product development," said Craig Glover, the company's Business Manager of Human Nutrition. "As a replacement for dairy protein, Nutralys is an incredibly efficient source of protein with 98% digestibility, and as a powder ingredient, it has excellent flow and dispersion properties."
Nutralys has digestibility similar to that of the best animal protein and is a purified protein source with no residual complex sugars. Chocolate made with the pea protein can be used literally any place that standard chocolate is currently used, and it offers opportunities for chocolate manufacturers to expand their reach into the health and wellness-based consumer market segments.
In the past, the coverage of soy protein has eclipsed other valuable types of protein sources, but Roquette, with its new innovation, expects that the tide is changing and that pea protein will be successful in carving into territories once reserved for soy. The pea, of course, is an old ingredient and probably traces its origins to the Near East, especially the countries around the Mediterranean, which have created such regional dishes as paella and couscous. But with the growing recognition of pea as an ingredient, new opportunities, such as its use in chocolate, can open up. And not just in chocolate either. Pea protein concentrates or isolates are available at varying gel strengths for several food and beverage applications. For meat applications, for example, pea protein isolate can replace soy isolate on a weight-for-weight basis without influencing organoleptic parameters.
According to Roquette, until recently, the main restriction of the use of pea was its taste difference depending on the botanical origin, as well as inadequate processing methods to clean up persistent odor and sensory notes. However, ingredients such as Nutralys have made major organoleptic improvements, allowing manufacturers to make use of their nutritional values, superior digestibility, and technological functionality.
Taking advantage of the surge of interest in protein, Nutralys may also create interesting partnerships with other ingredients. Imagine its use in chocolate made with a sugar-free sweetener. Or its use in an application that combines sweet and savory flavors. These are just a few examples where pea protein can find new marketing opportunities. And through the company's Customer Innovation Center, still new opportunities for product formulation are being created.
So the next time you eat that chocolate bar, ask yourself is that pea protein in it? Someday, it may very well be.
--- PAGE BREAK ---
It's a Stevia World After All
Several ingredient companies at the IFT Food Expo promoted the use of stevia as an alternative sweetener. (One major sugar producer, Domino Specialty Ingredients, included stevia in its extensive portfolio.) What factors (or perceptions) influenced the evolution of this sweetener and its growing role as a major sweetener?
When stevia was first launched a few years ago (or more precisely relaunched as there were "inferior" stevia extracts in the global marketplace as far back as several decades ago), some food professionals perceived it—and marketed it—as a "magic bullet." Although it was superior to the previous product, it still had its limitations in terms of taste and functionality, and consequently was no magic bullet as some claimed it to be. However, once stevia was promoted as part of a sweetener blend—its compatibility with other nutritive and non-nutritive sweeteners emphasized—it learned its lessons, grew in value, and began following the road that other sweeteners such as aspartame and acesulfame K pursued in product development.
Technological advancements also helped fuel the success of stevia. Again, while the more recent stevia extracts were an improvement over the previous versions, they still had their flaws. Technological advancements not only improved on them, making them more efficient in terms of quality and production, but also helped make them more suitable for specific applications—the view that one size fits all (whether we're talking about functionality or general costs) was effectively discarded.
And the presence of stevia (with its flavor limitations) also helped spur the developments of flavors or flavor enhancers that were compatible with this particular sweetener, increasing its potential in food formulating. Some flavor companies, such as Wild Flavors, wisely included stevia extracts in their vast portfolio of flavor systems.
If it hadn't been for these factors, it's quite possible that shortly after the introduction of the sweetener a few years back, it might have fizzled out (or reached a dead end), as some food companies were either not pleased with the bitter taste of the sweetener or more pleased with other sweeteners they had traditionally used in their formulation process. But this did not happen, influenced by the above reasons, and this year attendees could easily find a "sea of stevia sweeteners" on the Expo floor.
Here are some of the developments that helped shape the success of stevia, making it a winning ingredient.
--- PAGE BREAK ---
U.S. stevia producer Sweet Green Fields, Bellingham, Wash. (phone 360-483-4555, www.sweetgreenfields.com), was recently granted a U.S. patent covering the company's proprietary Fast Precipitation Process (FPP), which draws Rebaudioside A out of a mid-grade stevia extract and turns it into a highly purified powder of 95% purity grade and higher. The company claims that its proprietary extraction method is 33–50% faster than the industry's conventional methods, resulting in a much more efficient and cost-effective process. Also, unlike other conventional methods, it relies on a water and food-grade ethanol for the extraction, as opposed to methanol or wood alcohol. "This patented method is significant because prior to this, the stevia industry's published methods have long relied on methanol as part of the extraction process, and these methods were time-consuming and costly," observed Mel Jackson, the company's Vice President of Science and the creator of the patented process.
Sweet Green Fields newly launched its Optesse Stevia HPS and HPX, proprietary compositions of purified Rebaudioside A. Both products are described as high-purity, yet flexible sweeteners with superior taste and cost advantages for blending with sugar and fructose. While HPS is ideal for all sugar blended formulations from soft drinks to baked goods, HPX is suitable for formulations with more complex flavor systems or when developing a zero or very low-calorie product. The benefit for both is a clean sweet taste with lower calories. Also, soon to be launched is an organic line.
Wisdom Natural Brands, Gilbert, Ariz. (phone 480-921-1373, www.sweetleaf.com), produces SweetLeaf Stevia Sweetener, available in a variety of forms including extracts and blends. The company offers three new summer flavors to its zero-calorie, zero-carbohydrate SweetLeaf Liquid Stevia Sweet Drops product line. Coconut, watermelon, and cola are the new additions to this family, bringing the total number of available flavors to 17. The three new flavors are available in conventional and natural grocery stores across the country starting in June. Made with organic stevia leaf extract and natural flavors, SweetLeaf Liquid Stevia Sweet Drops can be added to foods or beverages—from yogurt to oatmeal, water to coffee, and sauces to smoothies—for sweet, sugar-free flavor. For example, adding cola to sparkling water creates a healthier soda, while a few drops of watermelon in yogurt gives a fruit twist to the dairy product, and coconut can perk up coffee and tea. Once only available as a dietary supplement, SweetLeaf Sweet Drops now qualifies for being classified as a tabletop sweetener. All 17 flavors come in easy-to-use dropper bottles, so consumers can add as much or as little as their taste buds desire. Along with the three new flavors, Sweet Drops are offered in Lemon Drop, Valencia Orange, Berry, Chocolate Raspberry, English Toffee, Vanilla Crème, Hazelnut, Peppermint, Root Beer, Grape, Apricot Nectar, Chocolate, Cinnamon, and SteviaClear® for the sweet taste of sugar without the calories.
Producer and marketer of high-purity stevia ingredients PureCircle USA, Oak Brook, Ill. (phone 630-361-0374, www.purecircle.com), has increased production of its new "breakthrough ingredient," PureCircle Alpha, in response to market demand. The ingredient is described as a proprietary combination of steviol glycosides, with a clean, sugar-like taste capable of achieving deeper calorie reduction in foods and beverages. It was officially launched in September 2011.
"We have learned that Reb A is not the right solution for all product applications," explained Jason Hecker, the company's Vice President of Global Marketing & Innovation. "Our search for a better-performing stevia sweetener led us to PureCircle Alpha, which has unquestionably become the next generation of stevia beyond Reb A."
--- PAGE BREAK ---
The zero-calorie stevia ingredient provides a more rounded sweetness and less bitterness than existing stevia sweeteners. It can be used in a diverse range of foods and beverages, and is especially well suited for acidic dairy applications. The ingredient further expands the company's portfolio of stevia ingredients and flavors, including Reb A, SG95, stevia-sucrose combinations, and natural flavors developed to enhance flavor and sweetness of other stevia sweeteners, sugar, and high fructose corn syrup. The first products sweetened with the new PureCircle Alpha are expected on shelves in the second half of 2012. In preparation for these products, the company's Global Technical Center developed a wide array of ready-to-go formulations across food and beverage categories, including carbonated soft drinks, tea, and dairy products. Rigorous testing and sensory evaluation have shown an improved taste and sweetness profile compared with other stevia ingredients.
Its previous introduction, SG95, is a natural, high-purity blend of nine sweet steviol glycosides found within the stevia leaf. Reb A accounts for more than half of the final composition, and all steviol glycosides are held to tight specifications to ensure consistent quality. SG95 is 230 times sweeter than sugar and is suitable for calorie and sugar reduction in combination with sugar. The ingredient is a suitable sugar complement because it maintains the same sugar taste when blended with sugar. It may be used to replace up to 50% of the calories in food and beverage formulations, and is a cost-effective way of achieving reduced-calorie sweetness with less added sugar.
PureCircle recently announced that it has reached a new milestone in securing a comprehensive intellectual property portfolio for its new natural flavor NSF-02. The patent portfolio, which includes numerous granted and patent-pending applications with international reach, is aimed to ensure its partners' exclusive access to this promising ingredient. The patent portfolio covers all aspects of the proprietary manufacturing process, as well as various modes of NSF-02 uses in virtually any key food and beverage category. NSF-02 can be used at particular concentrations to provide significantly enhanced flavor and sweetness profiles that deliver a more rounded, sugar-like taste. Synergistic effects with a number of commercial sweeteners were obtained with NSF-02, making it suitable for use across a broad range of categories of food and beverage products. Launched in 2011, the ingredient was specifically developed to work well in combination with other high-purity stevia sweeteners, as well as sugar and HFCS.
PureCircle has established joint venture partnerships with leaders in the sugar industry to combine stevia and sugar for natural sweetening solutions. These leading global partnerships include Natural Sweet Ventures with Imperial Sugar in the U.S., as well as Tereos PureCircle Solutions with Tereos and NP Sweet A/S with Nordzucker in Europe. The company also founded and supports The Global Stevia Institute, a leading resource for accurate, science-based information on stevia led by an esteemed global advisory board of internationally recognized health professionals.
China-based Layne USA Inc. (phone 86-773-3568889, www.layncorp.com) is making available a proprietary blend of Reb A extracted from stevia leaves and mogroside V extracted from the luo han guo fruit. The resulting sweetener, Lovia®, is said to weaken the bitter compounds in stevia with the front-end sweetness of luo han guo providing a more rounded, longerlasting sweetness perception. The company can customize formulas based on customer applications.
--- PAGE BREAK ---
Stevia is only one of several sweetener developments over the past few years. (Monk fruit or luo han guo, chicory root fiber, sweet whey permeate sugars, and research involving alternating taste intensities are just a few examples.) But because of the way it is being used with other sweeteners and its technological advancements, stevia-based extracts, in particular, are gaining in importance as a viable tool in the sweetener arsenal. (Again, the fact that Domino Specialty Ingredients includes stevia in its portfolio is a telling statement.) And as a way of reducing sugar levels, the development of stevia and the other sweeteners comes at a very important juncture in our history. The International Diabetes Federation recently revealed the results of a new study predicting that one in 10 adults could have diabetes by 2030. The report also estimated that more than 500 million people could be diagnosed with the disease in the next two decades. It is very sobering news that only underscores the importance of these sweeteners and the need for them to address these health challenges.
Gelatin Helps Create a Better-for-You Confectionery Concept
Gummies are generally available in fruit flavors. But a new gummy concept—Tof 'Gums™ developed by Rousselot Inc., Mukwonago, Wis. (phone 262-363-6060, www.rousselot.com), using its gelatin—has the flavor of toffee, a popular confectionery flavor that is enjoyed by every generation of candy lover. The product melts slowly in the mouth and releases its caramel flavors, while the texture isn't sticky or chewy. And because it contains 20% less fat and 15% fewer calories than a traditional butter caramel confection, it can help meet consumer needs for a healthier candy.
The gelatin in the candy provides elasticity, a melt-in-mouth feel, and increased flavor release. The ingredient, a gelling agent, makes this possible by linking the water molecules and stabilizing the structure, thus allowing reduced sugar and fat content, explained the company. With the gelatin, there is no need for lecithin or other additives and the product contains no artificial coloring or flavor, giving the concept clean label advantages.
The new candy was invented by Rousselot's application laboratory and a patent has been filed. By using the company's gelatin and its special method of preparation, industrial companies can easily formulate Tof 'Gums. A leading manufacturer of gelatin for the confectionery industry, Rousselot is ready to support its customers in the development and production of this new candy on a major scale. Several companies are reported to be interested in this development.
The company added that the cost in use for the gelatin is comparable to traditional gums and that the new candy can be produced on the same line as normal gummies and no additional investment or adjustment for processing equipment was required.
--- PAGE BREAK ---
The prototype was available for sampling at IFT Food Expo and demonstrated the functionality of gelatin. According to Rousselot, what makes gelatin special in terms of functionalities is its thermo-reversible gelling power: a gelatin-based formulation gels when cooled and liquefies when subsequently heated. This transformation occurs rapidly and can be repeated without significant changes in characteristics. Gelatin is an important ingredient in the confectionery industry. It can be characterized in different ways and primarily by its gelling power and thermoreversibility. The new product demonstrated to the IFT attendees its use as a gelling agent in jelly confectionery, but gelatin can also be used as a whipping agent (aerated confectionery), emulsifier (fruit chews), thickening agent (filled confectionery), binder (sugar paste and licorice), coating agent (dragees and coated chewing gum), and for many other applications. Rousselot offers a wide range of gelatin ingredients, and the search for continuous improvement has led to the development of new gelatins, even with traditional raw materials.
Algal Flour Provides Alternative to Traditional Lipids
This is definitely not-your-run-of-the-mill flour. Or lipid for that matter. A microalgae-derived ingredient first introduced at the 2011 IFT Food Expo, it has been finding use in prototype applications ranging from bakery goods such as cookies to ice cream.
Described as an "algal flour" by its developer, Solazyme Roquette Nutritionals, South San Francisco, Calif. (phone 650-243-5500, www.srnutritionals.com), Almagine HL is a pure, sustainable, whole food ingredient rich in healthy lipids while containing protein, carbohydrate (polysaccharides, fiber, and simple sugars), emulsifiers, and numerous micronutrients such as lutein. Because of this special composition, whole algalin flour can function as a better-for-you alternative to traditional lipids or a natural emulsifier in the development of fat- or calorie-reduced foods, delivering taste, sensorial, and functional benefits to the finished product.
As a multicomponent ingredient, it can be used to improve the functionality and nutritional value of such products as baked goods, ice creams, crackers, beverages, sauces, and salad dressings. According to the manufacturer, the ingredient can reduce fat by up to 75% and remove cholesterol; has a lipid profile similar to olive oil; can decrease the level of saturated fats and trans fat in a formulation; and can boost protein and natural fiber content.
For example, it allows product developers to formulate with less fat and less egg or egg yolk. For bakery and snack applications, it may be used in cakes, cookies, baking mixes, gluten-free baked goods, crackers, chips, and other products. A prototype shortbread cookie formulation, when formulated with 7% algal flour and one-third the butter used in a traditional recipe, was able to achieve a 50% reduction in fat and a 57% reduction in saturated fat without compromising sensorial qualities.
--- PAGE BREAK ---
From a functional point of view, the ingredient improves sensory properties of better-for-you baked goods. It can improve the texture and moisture retention in baked goods, and offers various textural options for cookies (soft/chewy, crisp/crunchy, and cake-like). In consumer tests, cookie prototypes made with the ingredient compared favorably with full-fat counterparts, improving mouthfeel and providing a full, rich texture. It also increased creaminess, added fluffiness, and enhanced crispiness, depending on desired outcome. From a nutritional point of view, the flour provides healthy fat, replacing saturated fat with monounsaturated fat. In addition, it contributes fiber to baked goods and snacks, providing phospholipids without cholesterol and decreasing the need for eggs in the formulation.
For use in reduced-fat ice cream, frozen dairy desserts, and frozen fruit and nondairy desserts, Almagine HL can provide a new base ingredient alternative to cream, milk, and oils, reducing fat (25–65%), calories (9–35%), and cholesterol (50–90%). It can function as an emulsifier, create richness and creaminess (with less fat), add creamy mouthfeel, and deliver rounded and long-lasting flavor. And it can add dietary fiber to the frozen dessert.
In beverages, it provides an alternative base ingredient to dairy, soy, rice, and almond. Functioning as a natural emulsifier, it adds mouthfeel without increasing viscosity and enhances taste and mouthfeel in challenging beverage applications. It is easily dispersible in water and incorporates well with other dry ingredients. Potential beverage applications include reduced-fat milk beverages, dairy alternative drinks, fruit beverages, smoothies, and meal replacement drinks.
Available as a dry powder, it is made using a proprietary microalgae cultivation and preparation method. A pure strain of microalgae is introduced into a clean, light-free stainless steel fermentation tank—not unlike those used in wine production—to convert photosynthetic plant sugars into oil.
Because of the ingredient's special nutritional and functionality properties, the company calls its ingredient a 'game-changing solution.' The company claims that innovation possibilities are endless for the food manufacturer using whole algalin flour, and nutrition and taste "are no longer an either/or proposition when it comes to making healthier foods."
Solazyme Roquette Nutritionals is the result of a joint venture formed between Solazyme, a leading California-based renewable oil and bioproducts company, and Roquette Freres, a global starch and starch-derivatives company headquartered in France, in November 2010. The venture combined Roquette's history and capabilities as a global food ingredient supplier with Solazyme's innovative microalgae-based technology.
--- PAGE BREAK ---
Cyclodextrins Offer New Uses
One of the first feature articles I wrote for Food Technology was about the production and potential of cyclodextrins. First discovered in 1891, cyclodextrins were described as "laboratory curiosities." Nearly 100 years later, in 1987, when I wrote my article, what was then American Maize-Products Co. was working on the commercial development of cyclodextrins in the United States and had petitioned the Food and Drug Administration for clearance to use cyclodextrins in food applications. So, as you can see, cyclodextrins are not a new ingredient, but as you can probably guess from their inclusion in this article, their potential value continues to be explored.
These cyclic molecules derived enzymatically from starch have the ability to encapsulate other molecules within their ringed structures. The ability of these molecules to form inclusion complexes—which can change the physical and chemical properties of the guest molecule—offers a variety of potential uses for the food industry. For example, they can control flavor release, mask odors and tastes, stabilize emulsions, increase foaming power, control or mask color, and can protect ingredients from oxidation, light-induced reactions, thermal decomposition, and evaporation loss. The crystalline complexes that result from the process are stable, a characteristic that can provide many benefits. There are three forms of cyclodextrins—alpha, beta, and gamma.
The special feature of cyclodextrin molecules is, of course, their ring shape. It creates an interior cavity in which cyclodextrins can take up other primarily hydrophobic substances. This makes cyclodextrins highly attractive for functional uses in the food industry: they can mask the taste and odor of functional additives, protect or stabilize sensitive substances against various external influences, and substantially increase the bioavailability of active ingredients.
Well, that's a bit of background about these special molecules, and now let's move forward to the 2012 IFT Annual Meeting, where Wacker Chemical Co., Adrian, Mich. (phone 517-264-8794, www.wacker.com), presented a paper on its cyclodextrin, Caravax W6® Alpha Cyclodextrin, at a new products and technology session.
According to the paper, alpha cyclodextrin and triglyceride oils give very stable oil-in-water (O/W) emulsions in a wide range of oil concentrations by using conventional emulsification techniques. Using such an approach to create stable oil-in-water emulsions would not require conventional emulsifiers such as lecithins, mono- and diglycerides, milk protein, or egg yolk. Helmut Reuscher, presenter of the paper, noted that traditional emulsifiers can have several drawbacks, including their animal origin, heat and acid sensitivity, and potential allergenicity. Additionally, alpha cyclodextrins can provide viscosity modulations and increased mouthfeel.
--- PAGE BREAK ---
In his paper, Reuscher explained that the doughnut-shaped molecule has a hydrophobic cavity inside and a hydrophilic surface outside. These characteristics enable alpha cyclodextrin to attract one fatty acid from a triglyceride, building up in situ a surfactant-like structure that has emulsifying and stabilizing properties. These O/W emulsions have similar viscosities to commercial products while also significantly reducing fat content.
The naturally occurring alpha cyclodextrin also represents a new non-digestible, but fully fermentable soluble dietary fiber with positive effects on blood lipids and glycemic index, as clinical studies have shown. According to Reuscher, for the first time an emulsifier is available that combines the full functionality of a conventional emulsifier and a thickening agent together with the positive attributes of a soluble dietary fiber.
In the U.S., alpha cyclodextrin was reviewed by an independent international expert panel and was declared to be Generally Recognized As Safe in a broad range of food categories. Additionally, an Acceptable Daily Intake "not specified" was allocated for alpha cyclodextrin by Joint FAO/WHO Expert Committee on Food Additives, indicating that alpha cyclodextrin can be used at all concentrations technically necessary. O/W emulsions containing alpha cyclodextrin allow the preparation of all types of food products such as sauces, dressings, mayonnaise-like formulations, and fat spreads, as well as beaten foods and whipped desserts.
The Munich-based parent company of Wacker recently received approval from the European Commission for the use of gamma-cyclodextrin as a novel food ingredient for foodstuffs and beverages in the European Union. EU approval of gamma-cyclodextrin opens up a series of new applications in the European food industry for Wacker. Scientific studies have shown that gamma-cyclodextrin is an ideal source of glucose that has a low impact on blood sugar and blood insulin levels. As it is tolerated well even when taken in large quantities, gamma-cyclodextrin is an ideal ingredient for foodstuffs whose purpose is delayed glucose release. This is significant because cyclodextrins can play a role in the development of foods for people with diabetes—a role that may not have been imagined 20 or 30 years ago. Furthermore, cyclodextrins can also mask odor and taste—for instance, the bitter taste of green-tea products and ginseng preparations, without diminishing the benefits of the bitter substances. Moreover, the bioavailability of functional ingredients, such as curcumin or coenzyme Q10, can be increased with the aid of cyclodextrins.
Wacker has been active in cyclodextrin-related research and development since the early 1980s. Today, Wacker is the global market leader in cyclodextrins and the only company to manufacture all of the three natural cyclodextrins (alpha, beta, and gamma). The company has been producing cyclodextrins at its Eddyville, Iowa, site in the U.S. since 1999. Cyclodextrins are ring-shaped sugar molecules that the company bioengineers from plant-based raw materials such as corn or potatoes. A natural degradation product of starch, cyclodextrins are not only free of allergens, but also purely vegetarian—they are bioengineered with the aid of enzymes from renewable raw materials such as corn starch and potato starch. Their ability to enclose other substances reversibly makes cyclodextrins invaluable in many products and industries, and although they are not a new ingredient, their potential value grows, especially in those areas of product development where they may not have been considered in the past.
--- PAGE BREAK ---
New Gum Systems Help Replace Sugar
Reduced- or no-sugar products are a challenge for developers as consumers want to improve their nutrition and health, noted TIC Gums Inc., White Marsh, Md. (phone 410-273-7300, www.ticgums.com). The benefits of reducing sugar are well-known. But the willingness to move away from fully sugared products to low or no sugar are usually hindered as few want to give up the flavor and satisfactory eating/drinking experiences associated with sugar, even with the knowledge that reducing sugar is a benefit.
Replacing the sweetness of sugar with artificial sweeteners is relatively easy, observed TIC Gums. But there are important textural attributes associated with sugar that must also be replaced as these affect the way food and beverages are experienced or perceived. Sugar, honey, or high fructose corn syrup are all sweet. But dissolved sugar delivers more than that. It also has texture, stability, and other experiential qualities that cannot be replaced by artificial sweeteners alone. Sugar contributes to product stabilization by thickening, binding, or film forming. This complex combination of texture and the influence of the perception of sweetness make the reduction or elimination of sugar more challenging than simply dropping an artificial sweetener into a product in place of sugar.
TIC Gums Inc. has developed gum systems that can very closely mimic the textural qualities of sugar in low and no-sugar foods and beverages. Four different gum systems were introduced at the IFT Food Expo with that end in mind. Each one is useful for texture, stability, or both in certain reduced-sugar applications.
Ticaloid Syrup SFI was specifically designed to replace the textural and stability attributes found in full-sugar systems that are lost when artificial sweeteners are substituted. It can be used to replace that texture and suspend particulates in beverage syrup that very closely mimics full sugar in visual uniformity, mouth coating, palate clearing, and overall appearance. A second product, Ticaloid Syrup OC1 was developed to improve the stability of fully sugared syrups to enhance their benefits even more. Applications that have a syrup base, glazes, sauces, beverages, table syrups, and other products were focused on.
Traditionally, sugar, honey, or high fructose corn syrup are used for tying together ingredients such as oats, shredded coconut, seeds, nuts, and dried fruit into the snack or breakfast food bar. Reduced-sugar content in these bars can potentially result in loss of taste and textural appeal when compared to that of fully sweetened products. Identifying hydrocolloids that can substitute the texture lost when sugar is removed is possible, however. Add-Here™ 3200 is a hydrocolloid system specifically formulated to help reduce or eliminate the use of sugar for binding, film forming, stability, bonding, and cling in granola, cereal, or energy bars. While it effectively binds particulates commonly found in granola, cereal, and energy bars, it significantly reduces the amount of sugar, honey, and high fructose corn syrup in the formula. Granola bars made with the gum system demonstrate how the texture and appeal of a fully sugared product can be very closely mimicked, or even improved upon, with hydrocolloids. This is very important as so much of the pleasure of eating is associated with the proper texture. "We see the addition of the Add-Here line as a very important step for us and the start of the next evolution of the Texture Revolution™ which we introduced at the last IFT in 2011," said Greg Andon, President of TIC Gums. "We successfully used the common language of the Texture Lexicon and the texture attribution and mapping process to plot the qualities of the fully sugared bars we wanted to imitate with gums, and we were successful." The Add-Here line of products is easily dispersible and readily soluble with viscosity low enough to be sprayable. It will also reduce drying time by as much as 20%.
--- PAGE BREAK ---
Also introduced is Add-Here CSA, specifically designed for sticking and maintaining inclusions such as seeds to bagels or salt and spices to crackers, chips, or other snack products. The proprietary blend of gums is cold water soluble with viscosity low enough to be sprayable. With its binding and film-forming characteristics, it can hold more salt, spices, seeds, or other inclusions without the addition of sugar, honey, egg wash, or high fructose corn syrup. In addition to providing sugar reduction without the loss of binding, texture, or stability, the gum system can improve binding so that spices, salt, and sugar stay where they were intended and not in the bottom of the bag. Shine is provided when and where needed, and gloss does not have to be added with another coat of a separate product, which also saves time and money.
The allergen-free system demonstrates how reduced-sugar bakery and snack foods are possible and shows how gums and gum systems can mimic or even replace the stabilization and film-forming properties of fully sugared products. Potential applications include bagels/bread, pretzels, rice crackers, seasoned nuts, meat, and croutons. It can also seal burritos and other closed meat- or fruit-filled pockets.
To learn more about TIC Gums and its products, go to http://live.ift.org/videos and watch a video on the company that was filmed at the 2012 IFT Annual Meeting & Food Expo.
Leading the Probiotic Pack
More than 50 foods and beverages now feature the patented probiotic ingredient GanedenBC30 from Ganeden Biotech, Cleveland, Ohio (phone 440-229-5200, www.ganedenlabs.com). Unlike other traditional probiotic strains, it can survive the most difficult manufacturing processes (baking, boiling, or freezing) and supply-chain conditions, without losing its effectiveness and efficiency, and consequently it can appeal to a wide range of audiences, markets, and uses.
According to the manufacturer, GanedenBC30 is a spore-forming probiotic bacterium, meaning that inside the bacterial cell is a hardened structure—or spore—which is analogous to a seed. This spore protects the cell's genetic material from the heat and pressure of manufacturing processes, the challenges of shelf life, and the acid and bile it is exposed to during digestive transit. The viable spore is then able to germinate and produce new vegetative cells once it is safely inside the small intestine. Other traditional probiotic organisms cannot form these protective spores, making them vulnerable to heat, pressure, shelf life variables, and digestive extremes.
The company claims that it is "revolutionizing" how consumers think about—and consume—probiotics. Many people in the U.S. believe probiotics are available only in yogurt or as a nutritional supplement despite the proliferation of probiotic-enriched foods. Let's look at a few of the innovative ways that this probiotic has been applied.
--- PAGE BREAK ---
By using a straw delivery system, beverage manufacturers can now provide consumers with probiotics to benefit the immune and digestive system without needing a refrigerated supply chain. This was made possible by a global partnership formed between Ganeden Biotech and Australian-based Unistraw International Ltd. The straw concept contains GanedenBC30 in a bead form that is dry and shelf stable, but dissolves as liquid when sipped through the straw. With this method, juice, milk, carbonated drinks, and water can all be turned into probiotic beverages that no longer need refrigeration and have a shelf life of up to 12 months. The straw is also recyclable.
Instant chai latte and teas can be enriched with the probiotic strain from Ganeden Biotech. Tipton Mills unveiled its new line of probiotic-enriched private label and direct-to-consumer instant chai lattes, lattes, cappuccinos, and hot and cold teas in various flavors at the Fancy Food Show, held this past June in Washington D.C.
"A lot of our products are heat sensitive," according to Tipton Mills. "This particular probiotic, GanedenBC30, thrives in a heated environment."
Ganeden's partnerships with tea manufacturers include The Republic of Tea, Bigelow Tea Company, Red Mango Frozen Yogurt (iced teas), GT Kombucha, KeVita, and most recently, Tipton Mills. Each company has demonstrated successful product tea launches—hot and cold—with the addition of the probiotic ingredient. "Together with Tipton Mills, we'll be offering the first instant probiotic coffee—the perfect way to obtain a daily dose of probiotic in something that most adult Americans enjoy every day," said Mike Bush, Vice President of Business Development for Ganeden Biotech.
When Intelligent Probiotics wanted to create a cookie that included a probiotic, it turned to Ganeden Biotech for a probiotic strain that would survive a high-heat baking environment. The result was Ikuky™, the first gluten-free probiotic cookie. Consumers can choose from four different flavors—Chewy Chocolate Chunk, Pecan Chocolate Chunk, Double Chocolate Chunk, and Cranberry Chocolate Chunk. "Our mission," said Bush, "is to help food manufacturers, such as Intelligent Probiotics, bring their ideas to market. Most of this work happens at our state-of-the-art research and development facility in Miami, Florida. It's here that we help customers with everything from probiotic strain selection and genetic identification to product development support and stability testing. Our goal is to ensure the most stable, efficacious probiotic products available."
In 2011, Orlando Baking Co. introduced what was touted to be North America's first probiotic bread line, True Grains. The line of whole-grain breads was specially formulated with probiotic cultures from Ganeden Biotech.
--- PAGE BREAK ---
Other products in the marketplace that are made with the probiotic ingredient include Gaspari's MyoFusion and Real Mass Probiotic Series products, which give professional athletes, fitness enthusiasts, and active consumers the opportunity to obtain probiotics in protein powder that can be used in shakes and foods such as oatmeal. Providence Foods delivers probiotic benefits to healthcare and assisted living facilities through baked goods such as cookies, breads, and pancake and waffle mixes. Red Mango, a smoothie and frozen yogurt chain, offers a frozen yogurt made with the probiotic ingredient.
In May 2012, Ganeden Biotech announced important findings on protein absorption in combination with GanedenBC30. Data from the study demonstrated that in just two weeks, combining one billion colony forming units of the probiotic ingredient with one serving of protein per day increases the absorption of 23 important amino acids over the baseline compared to protein without GanedenBC30. The results are particularly important to food manufacturers that target the sports nutrition and active adults markets that feature protein as a key ingredient.
Probiotic annual sales are predicted to reach $31.1 billion by 2015, indicating consistent growth as well as more opportunities for brands to incorporate the probiotic into their products. As the probiotic trend surges, Ganeden Biotech continues to discover new ways individuals can integrate probiotics into everyday products to advance their overall well-being. Founded in 1997, Ganeden Biotech has an extensive library of published studies and more than 100 patents for probiotic technologies for the food, beverage, animal health, and topical ingredients markets. The company helps manufacturers develop and market probiotic products and offers an extensive intellectual property portfolio with patent and trademark protection for an array of technologies all over the world.
Soluble Corn Fiber Wins Industrial Achievement Award
Food and beverage manufacturers can "pack" the nutritional benefits of a prebiotic fiber in their products, such as hot and cold cereals, meal replacement beverages, and fruit juices, according to a new study from Tate & Lyle, Decatur, Ill. (phone 217-421-2331, www.tateandlyle.com). The study, conducted by third-party research firm Illuminas in 2011, found that despite the nearly 90% of Americans who believe digestive health is a top priority, half believe they need more fiber in their diets. To ensure they get dietary fiber in their diets, these same consumers are interested in buying products with added fiber.
Earlier this year, Tate & Lyle developed a berry and acai-flavored water prototype—described as an ideal beverage prototype for children. The prototype is made with Promitor™ Soluble Corn Fiber 85, a prebiotic fiber that has less than 2% sugar/g and helps support good digestive health. The beverage prototype contains a good source of fiber (at least 3 g of fiber per serving) in a no-sugar-added formulation. "And because it contains fiber and is a low-calorie, no-sugar-added formulation it's a perfect choice for both children and adults," remarked Priscilla Samuel, Director of Nutrition Health & Wellness at Tate & Lyle.
--- PAGE BREAK ---
Most recently, Tate & Lyle received the 2012 Food Technology Industrial Achievement Award for its Promitor™ soluble corn fiber to help manufacturers incorporate fiber into everyday food and beverage applications. The ingredient can replace traditional sweeteners such as liquid and corn sweeteners, sucrose, and other sugar alcohols. Its clarity, low viscosity, and process stability allows for its use in clear beverages, sauces, and dressings. In addition to these applications, it can replace corn syrup in others such as yogurt, jams, soups, energy bars, cereals and cereal coatings, confections, and baked goods.
According to the manufacturer, Promitor is acid stable and does not break down in products with a low pH. And because it is a fiber (more specifically, a prebiotic) manufacturers can make a "good" or "excellent" source of fiber claim.
Promitor Soluble Corn Fiber 85 provides a minimum of 85% fiber, less than 2% sugar, and 1.2 calories per gram, while maintaining a clean taste. Its high solubility, clarity, and acid stability makes it suitable for dairy products, sports drinks, flavored waters, baked goods, snack bars, confections, and cereals. Available in powder or liquid form, it formulates easily into the product and offers a wide range of marketing and health benefits.
Because of its low sugar content and low glycemic response, it may be used in the development of sugar-free foods and beverages, allowing for "no-sugar-added" or "lowsugar" claims, while also offering opportunities to use the "excellent source of fiber" claim. The ingredient has shown to be a prebiotic, promoting healthy digestion through growth of good bacteria and reducing the impact of harmful bacteria. It can be labeled as "soluble corn fiber" or "maltodextrin."
Also available is Promitor Soluble Corn Fiber 70, which has more than 70% dietary fiber and less than 20% sugar. It offers low viscosity, comes in both dry and liquid forms, can be labeled "soluble corn fiber," "corn syrup," or "corn syrup solids," and can function as a prebiotic fiber that helps to maintain digestive health. The caloric content of this ingredient is 2 kcal/g dry product. For Soluble Corn Fiber 70, the glycemic response compared to glucose is approximately 29%.
In addition to the award-winning soluble corn fiber line, the company also highlighted at the IFT Food Expo its Beverage Optimize™ formulation service. Through this service, U.S. food and beverage manufacturers can now work directly with the company to reduce calories in their products. The service provides access to the company's extensive beverage formulation experience and wide portfolio of ingredients.
--- PAGE BREAK ---
Grains of Chocolate?
With cocoa powder and chocolate prices on the rise, product developers are looking for ways to deliver chocolate flavor while meeting the bottom line. Interestingly, several companies are turning to grains to find innovative alternatives.
For example, Briess Malt & Ingredients Co., Chilton, Wis. (phone 920-849-7711, www.briess.com), developed CocoaPlus™ Cocoa Replacers, its line of all-natural whole-grain specialty flours that mimic the color and functionality of cocoa while enhancing cocoa flavor. The cocoa replacers reduce ingredient costs while preserving and enhancing the cocoa flavor of many foods.
At the 2012 IFT Food Expo, chocolate cupcakes were made with 25% of the cocoa powder replaced with the grain-based ingredient. The cupcakes were said to have a richer texture and chocolate flavor than cake made with only cocoa powder. Made from 100% pure dark roasted malted barley, it may be used to replace natural cocoa powder or medium to dark cocoa powders. Custom blends can also be developed. Replacement rates vary depending upon the application.
Muntons Malted Ingredients Inc., Bellevue, Wash. (phone 425-372-3082, www.muntonsinc.com), offers a combination of malted ingredients, Maltichoc, which can replace up to 50% of cocoa powder without a loss in flavor or color. The malted ingredients are blended to emulate the organoleptic properties of cocoa and chocolate. Maltichoc, Maltichoc Soluble Standard, and Maltichoc Soluble Dark are said to improve the texture of baked goods by retaining more moisture throughout shelf life and provide a smooth mouthfeel to creams and ice creams. Maltichoc is suitable for use in bakery applications and cereals, and the other two versions are designed for use in beverages, ice cream, whipped products, and confectionery.
View a video on Muntons at http://live.ift.org/videos.
And Chile-based Maltexco (phone 56-2-873-4300, www.maltexco.com) debuted its BarleyChoc—a special 100% natural product developed to match cocoa powder color and organoleptic profile. It is said to achieve cocoa powder performance in several applications, including bakery, dairy, coatings, and cereals. These cocoa replacers demonstrate the versatility of grain-based ingredients and how emerging applications can be found for them, especially in order to address such important issues as cost and supply concerns.
--- PAGE BREAK ---
And Here Are a Few Honorable Mentions
Well, there you have 12 winning developments to think about now that you have left Vegas and are back in your laboratories or offices. Of course, with such a wide range of innovations to pick from, the actual list of winners would be endless. So I thought I would close this article with some honorable mentions as well.
Simply Incredible Foods, Port Edwards, Wis. (phone 715-213-2764, www.simplyincrediblefoods.com), showcased its newest product, Frozen Whole Sweet Cranberries. The sweet cranberries are said to be so low in acid that they can be eaten like a grape, having the taste of a cranberry without the bitterness. They are much less expensive than sweetened dried cranberries, and have 80% fewer calories. They also work well in smoothies, and anything frozen. When sliced, they are suitable for baking applications. Whole and sliced cranberries are available, as well as cranberry juice for winemaking.
Caravan Ingredients, Lenexa, Kansas (phone 800-669-4092, www.caravaningredients.com), developed a new enzyme blend, CrackerVantage, that is said to produce stronger, more tolerant cracker dough. By improving the dough in this way, it helps to reduce waste throughout the manufacturing process.
Bay City Milling Co., Quincy, Mass. (phone 617-328-4400, www.baystatemilling.com), created a whole-grain pizza crust mix, Easy Grain made with the company's GrainEssentials White Whole Wheat Extra Fine Flour to achieve a 53% whole grain content that has a lighter color and sweeter flavor profile than traditional whole wheat. The product, which aims to help customers meet the new school lunch standards, was created at the company's recently opened Rothwell GrainEssentials Center at its headquarters in Quincy. The center, dedicated to grain-based food development, is staffed with experts in cereal science, baking science, food technology, and culinology, who will create commercial products with the taste, nutrition, and performance to meet the specifications of its clients.
PL Thomas, Morristown, N.J. (phone 973-984-0900, www.plthomas.com), offers a new antimicrobial ingredient, eatFresh™, which extends shelf life by inhibiting the growth of bacteria, yeast, and mold. This synergistic citrate blend made with FDA-approved GRAS ingredients can be used in beverages, dips, sauces, soups, prepared meats, deli salads, baked goods, seafood, cooked poultry, and more with minimal impact on product flavor. The suggested usage level of this patent-pending ingredient is 0.3–0.7% by volume and up to 2% for more bacteria-prone formulations. Independent laboratory tests show a 3–5 log reduction of coliform bacteria, Escherichia coli, Listeria, Salmonella, and Staphylococcus, according to the company.
--- PAGE BREAK ---
The adage "What happens in Vegas stays in Vegas" will be disproved by the winning developments discussed in this article. Hopefully, the functionality, taste, and nutritional benefits these developments provide will be of potential use to those food professionals who attended the 2012 IFT Annual Meeting & Food Expo. These attendees will take the knowledge they gained back home with them and plant these "seeds" around the world, helping to shape future formulations.
Donald E. Pszczola is Senior Editor, Food Technology magazine ([email protected]).