Fruits fit the bill regarding today's top food trends of minimally processed, clean label, and nutrient dense. At the 2012 Natural Foods Expo West, food manufacturers showcased "raw" foods, utilizing fruits in their whole form and stressing their "superfruit" status.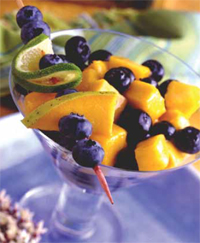 Although there is no accepted definition of what exactly makes a fruit a superfruit, the term generally refers to fruits with exceptional nutritional value as well as high antioxidant content. Superfruits have wide consumer appeal and generally tend to be more "exotic" sounding than more commonly consumed fruits.
In addition to nutrients such as vitamins, fiber, minerals, and antioxidants that fruits provide, fruits benefit various health conditions. De Spirt et al. (2012) showed that ingestion of a fruit- and vegetable-based concentrate increased microcirculation of the skin and positively affected skin hydration, density, and thickness. Oude Griep et al. (2011) showed an association between a high intake of white fruits and vegetables (i.e., apples and pears) and protection against stroke. Devore et al. (2012) showed that berries may slow the progression of cognitive decline in elderly women by up to 2.5 years.
Innova Market Insights, Duiven, the Netherlands (phone +31-26-319-0650, www.innovadatabase.com), recorded a 10% rise in the number of product launches marketed on a superfruit platform in the year ending in May 2011 vs the previous 12-month period. The soft drinks category saw the greatest number of launches of products highlighting superfruits, equivalent to nearly 40% of the total, primarily in the fruit drinks and wellness drinks product categories. But there were products with "superfruit" ingredients launched across most other sectors, led by confectionery, dairy products, fruit and vegetable products, desserts, and ice cream.
In terms of types of fruit, pomegranate appears to have emerged as the leader, accounting for more than 40% of the launches tracked containing a "superfruit" during the June 2010–May 2011 period. Other fruits are growing in popularity too, including açai, prickly pear, and more.
--- PAGE BREAK ---
Açai Berry
The açai berry has moved from being an unknown fruit to a superfruit, thanks in part to the berry's high anthocyanin levels. The combination of açai berries and dark chocolate in new products is popular due to the high antioxidant levels present in both.
In an uncontrolled pilot study, Udani et al. (2011) showed that consumption of açai fruit pulp reduced levels of selected markers of metabolic disease risk in overweight adults. Ten overweight subjects took 100 g of açai pulp twice daily for 1 month. Compared to baseline, there were reductions in fasting glucose and insulin levels following the 30-day treatment. There was a reduction in total cholesterol, as well as borderline significant reductions in low-density lipoprotein (LDL) cholesterol and the ratio of total cholesterol to high-density lipoprotein (HDL) cholesterol. In a mouse study, Xie et al. (2011) showed that açai berry juice may provide anti-inflammatory benefits that offer protection against atherosclerosis.
Aroniaberry
Aroniaberry, also known as chokeberry, is almost black in color due to its large quantity of anthocyanins. The fruit is gaining popularity in the United States for its numerous health benefits, namely in the areas of cardiovascular disease, cancer, inflammation response, immune support, gastric support, and glucose metabolism, according to Berries for Life, Fort Wayne, Ind. (phone 888-772-3779, www.berriesforlife.com), an aroniaberry supplement manufacturer. The company cites a human clinical study where subjects taking aroniaberry anthocyanins experienced a decrease in systolic and diastolic blood pressure. There was also a drop in LDL oxidation, as well as a drop in C-reactive protein, a factor involved in inflammation.
Sikora et al. (2011) examined the effects of Aronia melanocarpa extract supplementation on platelet aggregation, clot formation, and lysis in subjects with metabolic syndrome. The subjects took 100 mg of the extract three times daily for 2 months. The results showed that there was a significant reduction in the concentration of total cholesterol, LDL cholesterol, and triglycerides and that there were beneficial changes in coagulation parameters in the subjects who took the Aronia melanocarpa extract.
Berries for Life makes an aroniaberry supplement, which includes a standardized extract that is said to deliver consistent high levels of the active aroniaberry anthocyanins combined with aroniaberry powder. The company is backed by Artemis International Inc., Fort Wayne, Ind. (phone 260-436-6899, www.artemis-international.com), a provider of dark berry ingredients, fruit fibers, powders, and concentrates.
--- PAGE BREAK ---
Blueberries
Blueberries have risen to superfruit status thanks to various research studies linking them to cognitive health and anti-aging benefits. Blueberries are low in calories and a rich source of vitamin C, potassium, and fiber. The high anthocyanin content in blueberries may be the key to their antioxidant and anti-inflammatory properties.
The U.S. Highbush Blueberry Council, Folsom, Calif. (phone 916-983-0111 www.blueberry.org), details the research results and data on the health benefits of blueberries. In one study, Jim Joseph, director of the neuroscience laboratory at the U.S. Dept. of Agriculture's Human Nutrition Research Center, fed an amount of blueberries equivalent to a human eating one cup of blueberries a day to mice and then ran them through a series of motor skills tests. He found that the mice fed blueberries performed better on motor behavioral learning and memory tests than those in the control group, and he noticed an increase in exploratory behavior. He found a marked decrease in oxidative stress in two regions of the brain and better retention of signal-transmitting neurons in the brains of mice fed blueberries compared with those in the control group. Joseph is currently testing the effects of blueberries on humans. Preliminary results show that people who ate a cup of blueberries a day perform 5–6% better on motor skills tests than those in the control group.
"Studies of older laboratory animals consuming blueberry-supplemented diets have shown measurable improvements in memory, coordination, and balance," said Tom Payne, Industry Specialist for the U.S. Highbush Blueberry Council. "Research is also uncovering neuron regeneration in older animals fed blueberries." The U.S. Highbush Blueberry Council offers research excerpts on blueberries and health, including antioxidant activity, benefits on aging, metabolism, cancer inhibition, and overall nutrition.
Cherries
Research has established that cherries, particularly sour or tart cherries, have high antioxidant contents. According to the Cherry Marketing Institute, Lansing, Mich. (www.choosecherries.com), a substantial and growing body of scientific research has linked tart cherries to anti-inflammatory benefits, reduced pain from gout and arthritis, and heart-health benefits.
The cherry industry in February 2012 launched The Red Report, featuring more than 50 peer-reviewed scientific studies on tart cherries. The report is the first compilation to include the latest research supporting tart cherries' exercise recovery and pain relief benefits. For example, Bowtell et al. (2011) revealed that tart cherries could help athletes reduce muscle damage to recover faster from a tough workout. Kuehl et al. (2010) showed that runners who drank cherry juice twice a day for seven days prior to and on the day of a long-distance relay had significantly less muscle pain following the race.
The Red Report also includes research on tart cherries and inflammation, cardiovascular health, and sleep patterns. Pigeon et al. (2010) found that drinking tart cherry juice daily helped reduce the severity of insomnia and time spent awake after going to sleep. Howatson et al. (2011) found that healthy adults experienced improved sleep time and a 5–6% increase in overall sleep efficiency after drinking two servings of tart cherry juice for a week, compared to drinking a fruit cocktail.
--- PAGE BREAK ---
Cranberries
Cranberries are well known for their protection against urinary tract infections (UTI) in women. Salo et al. (2012) showed that cranberry juice was effective in reducing the actual number of recurrences of UTIs in children. In this double-blind randomized placebo-controlled trial, a total of 263 subjects treated for UTI were randomized to receive either cranberry juice or placebo for 6 months. The subjects were monitored for 1 year, and their recurrent UTIs were recorded. The study found that regular drinking of cranberry juice limited the number of UTI recurrences in children by 43% and reduced the need for antibiotics to be taken by 34%.
Dohadwala et al. (2011) showed that chronic cranberry juice consumption reduced carotid femoral pulse wave velocity—a clinically relevant measure of arterial stiffness. The study found that participants who consumed a double-strength cranberry juice cocktail experienced "significant reduction" in arterial stiffness, an indicator of cardiovascular disease.
Pomegranate
Pomegranate has been linked to improved heart health. The fruit is rich in anthocyanins and tannins, particularly ellagitannins, and has been shown to have an effect on reducing blood pressure, certain types of cancer, and inflammation. Research conducted on prostate cancer cells and breast cancer cells indicate that pomegranate juice may provide an advantage in cancer chemoprevention. Rasheed et al. (2009) demonstrated that pomegranate extract may have therapeutic use for the treatment of inflammatory diseases by suppressing mast cells/basophils activation. The researchers used human basophilic cell lines and a polyphenolrich pomegranate fruit extract in the experiment.
Prickly Pear
Prickly pear has low levels of saturated fat and very low levels of cholesterol and sodium. One 8-ounce serving has 61 calories and supplies 21% of the RDA of dietary fiber, 35% of the RDA of vitamin C, and 32% of the RDA of magnesium, according to S&P Marketing Inc., Maple Grove, Minn. (phone 763-559-0436, www.snpmarketing.com). Prickly pear is also a good source of calcium, potassium, and antioxidants.
Tesoriere et al. (2004) reported that consuming prickly pear had a more positive and complete effect on the body's redox balance than a comparable dose of vitamin C. The researchers gave 18 healthy subjects either 250 g of fresh prickly pear pulp or 75 mg of vitamin C twice daily for 2 weeks with a 6-wk washout period between the treatments. Both treatments caused comparable increases compared with baseline in plasma concentrations of vitamin E and vitamin C. The results showed that consuming prickly pear positively affected the body's redox balance, decreased oxidative damage to lipids, and improved antioxidant status in healthy humans. Supplementation with vitamin C at a comparable dosage enhanced overall antioxidant defense but did not significantly affect body oxidative stress.
S&P Marketing also cites studies conducted by researchers at Tulane University that showed that taking prickly pear fruit extract before drinking alcohol significantly reduced symptoms of a hangover (nausea, dry mouth, and loss of appetite). A meta-analysis of studies done on prickly pear and diabetes has strongly suggested that ingestion of the fruit has a true metabolic effect on individuals with the disorder and reduces serum glucose levels.
--- PAGE BREAK ---
Raisins
Raisins are high in potassium and contain fiber, polyphenols, phenolic acid, tannins, and antioxidants. Research conducted by lead researcher Harold Bays, Medical Director and President of Louisville Metabolic and Atherosclerosis Center, and presented at the American College of Cardiology's 61st Annual Scientific Session suggested that eating raisins three times a day may significantly lower blood pressure among individuals with slightly higher than normal blood pressure (California Raisin, 2012). The researchers randomly assigned 46 men and women with prehypertension to consume either raisins as a snack or pre-packaged commercial snacks that did not contain raisins or other fruits or vegetables for three times a day for 12 weeks.
The results showed that consuming raisins significantly reduced systolic blood pressure and mean diastolic blood pressure at weeks four, eight, and 12. Consuming pre-packaged snacks (including crackers and cookies) did not significantly reduce systolic or diastolic blood pressure.
Linda Milo Ohr,
Contributing Editor,
Denver, Colo.
[email protected]
References
Bowtell, J.L., Sumners, D.P., Dyer, A., Fox, P., and Mileva, K.N. 2011. Montmorency cherry juice reduces muscle damage caused by intensive strength exercise. Med. Sci. Sports Exerc. 43: 1544-1551.
California Raisin. 2012. New, first-of-its-kind study shows routine consumption of California raisins may significantly lower blood pressure. Press release, March 29. California Raisin Marketing Board, Fresno, Calif.
De Spirt, S., Sies, H. Tronnier, H., and Heinrich, U. 2012. An encapsulated fruit and vegetable juice concentrate increases skin microcirculation in healthy women. Skin Pharmacol. Physiol. 25: 2-8.
Devore, E.E., Kang, J.H., Breteler, M.M.B., and Grodstein, F. 2012. Dietary intakes of berries and flavonoids in relation to cognitive decline. Ann. Neurol. First published online April 25, doi: 10.1002/ana.23594.
Dohadwala, M.M., Holbrook, M., Hamburg, N.M., Shenouda, S.M., Chung, W.B., Titas, M., Kluge, M.A., Wang, N., Palmisano, J., Milbury, P.E., Blumberg, J.B., and Vita, J.A. 2011. Effects of cranberry juice consumption on vascular function in patients with coronary artery disease. Am. J. Clin. Nutr. 93: 934-940.
Howatson, G., Bell, P.G., Tallent, J., Middleton, B., McHugh, M.P., and Ellis, J. 2011. Effect of tart cherry juice (Prunus cerasus) on melatonin levels and enhanced sleep quality. Eur. J. Nutr. First published online Nov. 11, doi: 10.1007/s00394-011-0263-7.
Kuehl, K.S., Perrier, E.T., Elliot, D.L., and Chestnutt, J. 2010. Efficacy of tart cherry juice in reducing muscle pain during running: a randomized controlled trial. J. Int. Soc. Sports Nutr. 7: 17-22.
Oude Griep, L.M., Verschuren, W.M.M., Kromhout, D., Ocke, M.C., and Geleijnse, J.M. 2011. Colors of fruit and vegetables and 10-year incidence of stroke. Stroke 42: 3190-3195.
Pigeon, W.R., Carr, M., Gorman, C., and Perlis, M.L. 2010. Effects of a tart cherry juice beverage on the sleep of older adults with insomnia: a pilot study. J. Med. Food. 13: 579-583.
Rasheed, Z., Akhtar, N., Anbazhagan, A.N., Ramamurthy, S., Shukla, M., and Haqqi, T.M. 2009. Polyphenol-rich pomegranate fruit extract (POMx) suppresses PMACI-induced expression of pro-inflammatory cytokines by inhibiting the activation of MAP Kinases and NF-kappaB in human KU812 cells. J. Inflamm. 6: 1.
Salo, J., Uhari, M., Helminen, M., Korppi, M., Nieminen, T., Pokka, T., and Kontiokari, T. 2012. Cranberry juice for the prevention of recurrences of urinary tract infections in children: a randomized placebo-controlled trial. Clin. Infect. Dis. 54: 340-346.
Sikora, J., Broncel, M., Markowicz, M., Chalubinski, M., Wojdan, K., and Mikiciuk-Olasik, E. 2011. Short-term supplementation with Aronia melanocarpa extract improves platelet aggregation, clotting, and fibrinolysis in patients with metabolic syndrome. Eur. J. Nutr. First published online Aug. 18, doi: 10.1007/s00394-011-0238-8.
Tesoriere, L., Butera, D., Pintaudi, A.M., Allegra, M., and Livrea, M.A. 2004. Supplementation with cactus pear (Opuntia ficus-indica) fruit decreases oxidative stress in healthy humans: a comparative study with vitamin C. Am. J. Clin. Nutr. 80: 391-395.
Udani, J.K., Singh, B.B., Singh, V.J., and Barrett, M. 2011. Effects of açai (Euterpe oleracea Mart.) berry preparation on metabolic parameters in a healthy overweight population: a pilot study. Nutr. J. 10: 45.
Xie, C., Kang, J., Burris, R., Ferguson, M.E., Schauss, A.G., Nagarajan, S., and Wu, X. 2011. Açai juice attenuates atherosclerosis in ApoE deficient mice through antioxidant and anti-inflammatory activities. Atherosclerosis. 216: 327-333.