Consumers are on the lookout for food products that offer not only convenience but also health benefits. As a result, health and wellness continue to be prominent aspects of the food market. A new report issued by the Hudson Institute indicates that food and beverage companies with more sales generated from healthier food products have better financial returns. So not only is  selling food products geared toward health and wellness good for consumers' well-being, it's also good for business.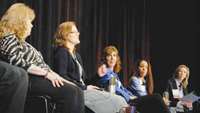 IFT offers food industry professionals the chance to increase their knowledge of the burgeoning health and wellness sector and gain insight on new research and trends through its Wellness 12 conference. Occurring March 28–29, 2012, in Rosemont, Ill., Wellness 12 will allow food science and technology professionals to learn about marketplace expectations as well as the latest innovations in the healthful foods arena. The insights to be gained from the conference include practical applications of new knowledge to existing initiatives and policies. Three topical tracks of learning—Consumer Lifestyles & Demographics, Health Issues, and Weight Management—will help attendees choose breakout sessions most relevant to their objectives.
Now in its fifth year, the conference will open on Wednesday, March 28, with a session covering top trends in the functional foods market. A general session describing the food-based dietary guidelines for a number of different countries will follow. A consumer panel discussion will also take place; this year's panel will feature cross-generational panelists discussing their shopping and dining preferences. The closing session on Thursday, March 29, will focus on predicting global consumer food demands in the year 2020.
Several breakout sessions are scheduled for the conference. The Consumer Lifestyles & Demographics track will include presentations on managing the needs of Kosher and Halal diets, marketing protein-enhanced foods for children, regulatory limitations to label claims, and school foodservice programs. Of particular note in this track is the session "Linking Nutrition, Health, and Wellness to Consumer Behavior." This session will assess behavioral information that explains consumer food decisions, how consumer behaviors drive food and beverage trends, and more.
The Health Issues track will feature sessions on the foodservice response to global health issues, the nutritional and sustainable advantages of legumes and pulses, the parameters of evidence-based nutrition, and the latest science on fats and oils. The content in this conference track will include the session "Phytonutrients from Plant-Based Foods: Whole Food Trend." Although epidemiological studies continually demonstrate the positive health effects of fruits, vegetables, and other plant foods in the human diet, analytical reasons for their positive impact on wellness are poorly understood. This session will focus on emerging evidence that suggests synergistic interaction between known and unknown phytochemicals may be responsible.
Included in the Weight Management track will be presentations on policies and standards designed to improve food marketing, the effect of food structure on appetite, metabolic limitations to weight loss and management, and health insurance wellness programs. One of the noteworthy sessions in this track will be the oral presentations of finalists for the Heart-Healthy Product Development Competition. Sponsored by CanolaInfo, this competition will showcase cardiohealth products created by members of the IFT Student Association.
With many parts of the world battling an epidemic of obesity and related chronic ailments, food industry professionals are tasked with developing products that provide additional functionality to consumers while also adhering to global policies regarding health claims, marketing, and labeling. Arm yourselves with the best information to fulfill the task effectively by attending IFT's Wellness 12 conference. For registration information and more details, please visit www.ift.org/wellness.
Roger Clemens, Dr.P.H.,
IFT President, 2011–2012
Chief Scientific Officer, Horn Company, La Mirada, Calif. 
[email protected]