According to the Centers for Disease Control, 35.7% of adults and 16.9% of children ages 2–19 are obese. Despite the various fad weight loss diet and exercise programs, the majority of consumers are not winning the battle of the bulge. Food and beverage companies offer reduced-calorie and low-fat products to aid in their diets, but consumers are now also finding products that promote satiety, help burn fat, and build lean muscle. Here is a look at some of the ingredients that have been shown to aid in weight management.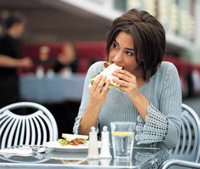 Fiber
Ranawana et al. (2012) confirmed the satiating effect of the polydextrose Litesse® from DuPont Nutrition & Health (www.dupont.com, www.litesse.com), and its potential role in appetite control. The study recorded a 10% reduction in energy intake at a monitored lunch following consumption of a polydextrose preload 60 min prior to the lunch. The researchers concluded that polydextrose "has the potential to reduce food intake" and "could be potentially used for appetite control." Twentysix healthy males consumed a 400 g fruit smoothie containing 12 g (3%) of polydextrose, and a buffet lunch 60 min after consuming the smoothie.
Polydextrose is a low-calorie, highly branched-chain glucose polymer that is poorly digested in the upper gastrointestinal tract and therefore demonstrates fiber-like properties. Litesse is a recognized prebiotic fiber that contributes just 1 calorie/g and mediates a low glycemic impact.
Robertson et al. (2012) showed that Hi-Maize® resistant starch, from Ingredion Inc., Westchester, Ill. (phone 708-551-2600, www.ingredion.com, www.hi-maize.com, www.resistantstarch.com), improved certain aspects of fatty acid metabolism within adipose tissue in insulin resistant (but non-diabetic), moderately obese men and women. These findings are significant because research has shown that impairment in fatty acid metabolism within fat cells causes excess fat storage in muscles, liver, and the pancreas, which directly causes insulin resistance, a major biomarker for prediabetes. The study showed a clear stimulatory effect on the expression of adipose tissue genes for three important enzymes [hormone-sensitive lipase (HSL), lipoprotein lipase (LPL), and adipose triglyceride lipase (ATGL)] after Hi-Maize resistant starch consumption. The study participants, who consumed 40 g of dietary fiber/day from Hi-Maize resistant starch as a supplement to their diet for 8 weeks, also experienced enhanced uptake of glucose into the forearm muscle measured by arteriovenous sampling.
Hi-Maize resistant starch is made from a proprietary high-amylose corn hybrid. It contains approximately 40% slowly digestible (glycemic) starch and 60% resistant starch (insoluble fiber that resists digestion in the small intestine and reaches the large intestine).
Protein
It is believed that protein aids in weight management in part by imparting satiety after ingestion and decreasing food intake. Lean protein, in particular, is especially beneficial because it can offer a feeling of fullness as well as aid in lean muscle synthesis and maintenance.
• Egg protein. Fallaize et al. (2012) supported the importance of food choice at breakfast as a means of increasing satiety in the morning and reducing energy intake at lunch. In a three-way crossover design, 30 healthy men were randomized to one of three test breakfasts, on three separate occasions, separated by 1 week. The breakfasts consisted of eggs on toast, cereal (cornflakes) with milk and toast, or a croissant and orange juice. The subjects showed increased satiety, less hunger, and a lower desire to eat after the breakfast containing eggs relative to the cereal and croissant-based meals. The egg breakfast was also accompanied by a significantly lower intake of energy relative to the croissant- and cereal-based breakfasts at the buffet lunch and evening meal. The breakfast meal with the greatest effect on satiety and subsequent intake of energy was distinct in having the highest protein and lowest carbohydrate.
--- PAGE BREAK ---
• Whey protein. Whey proteins are garnering attention because they are lean proteins that contain all of the essential amino acids and are one of the best sources of branched-chain amino acids, especially leucine. Glanbia Nutritionals, Monroe, Wis. (phone 800-336 -2183, www.glanbianutritionals.com), offers Prolibra®, a patent-pending, all-natural, whey-derived ingredient that targets fat loss during weight management. In clinical studies, Prolibra has been shown to promote fat loss, retain lean muscle mass, and lower glycemic index. Several different clinical studies have been done showing that subjects who consumed Prolibra lost significant weight and 80% of the weight lost was body fat, according to information from the company.
• Soy protein. A new study conducted in mice looked to explore the effects of dietary soy protein or casein on serum hormones implicated in colon health and body fat deposition (Solae, 2012). Results showed that mice fed the soy protein vs casein-based diets had significantly reduced body fat, blood insulin levels, fat cell size, and expression of genes associated with abnormal colonic cell growth. There was also a trend for lower fat accumulation in the livers of normal mice fed a high fat diet containing soy protein compared to a high fat diet containing casein. Solae LLC, St. Louis, Mo. (phone 800-325-7108, www.solae.com), provided the soy protein used in the animal diets. In May, DuPont announced that it had acquired from Bunge full ownership of Solae LLC.
Conjugated Linoleic Acid
Conjugated linoleic acid (CLA) derived from safflower is used in weight management products for its ability to reduce body fat mass and improve body composition. Chen et al. (2012) showed that CLA supplementation for 12 weeks in overweight and grade I obese Chinese subjects yielded lower obesity indices. Subjects with a BMI of 24 to 35 kg/m2 randomly received CLA (1.7 g of cis-9, trans-11 and trans-10, cis-12 CLA), or placebo in 200 mL of sterilized milk twice daily for 12 weeks. Compared with the baseline, the BMI, total fat mass, fat percentage, subcutaneous fat mass, and waist-to-hip ratio decreased in the CLA group.
CLA works by preventing fat from being deposited into the adipocytes, or fat cells. It does this by reducing the activity of lipoprotein lipase, an enzyme that is needed for fat cells to take up fats from the bloodstream. The storage of fat is therefore reduced, leading to significant reductions in fat mass. Stepan Lipid Nutrition USA, Maywood, N.J. (phone 201-712-7642, www.stepan.com, www.clarinol.com), offers Clarinol® CLA, a patent-protected CLA. Gaullier et al. (2007) showed that supplementation with Clarinol CLA in healthy, overweight, and obese adults decreased body fat mass in specific regions and was well tolerated. CLA significantly decreased body fat mass at month 3 and at month 6 compared with placebo. The reduction in fat mass occurred primarily in the places that improve overall body shape and health most: the abdomen and—particularly in women—the legs. The waist-hip ratio decreased significantly compared with placebo.
Tonalin® is another brand of CLA offered by BASF Corp., Florham Park, N.J. (phone 973-245-6000, www.basf.com, www.tonalin.com). Derived from safflowers using a proprietary process, it comes in several forms, such as oil, water-dispersible powder, and emulsion. Clinical studies have proven that Tonalin can prevent fat regain. Last year, BASF Nutrition & Health held an IFT webcast celebrating "Conjugated Linoleic Acid (CLA) from Discovery to GRAS (Generally Recognized As Safe status), a 20-Year Journey." In the past 20 years, more than 2,000 publications on CLA have appeared in the scientific literature. It is now established that the two main biologically active CLA isomers (c9t11 and t10c12 CLA), acting alone or in concert, induce all of the known physiological effects of CLA.
Raisins
Research announced at the Canadian Nutrition Society annual meeting in May suggested that eating raisins as an after-school snack prevented excessive calorie intake and increased satiety, as compared to other commonly consumed snacks (California Raisin Marketing Board, 2012). The study was conducted among 26 normal-weight boys and girls ages 8–11 during a three-month timeframe. Study participants were randomly assigned to eat raisins or other snacks, including grapes, potato chips, or chocolate chip cookies, until they were comfortably full. Additionally, each child received the same standardized breakfast, morning snack, and lunch on test days. Food intake following raisin consumption was lower and satiation greater compared with the other snacks. When eating raisins, children consumed significantly fewer calories when compared to the other snacks in the study. In addition, grapes, potato chips, and cookies resulted in ~ 56%, 70%, and 108% higher calorie intake compared to raisins, respectively. Although all snacks reduced subjective appetite, desire to eat was lowest after consuming raisins.
"Raisins are high in fiber, which contributes to the satiety effect," explains James Painter, nutrition research advisor for the California Raisin Marketing Board, Fresno, Calif. (phone 559-248-0287, www.loveyourraisins.com). About an ounce of raisins 3 times a day is good for a snack, he says.
--- PAGE BREAK ---
Almonds
Known for their cardiovascular benefits, almonds have also emerged as a health snack for weight management. Jaceldo-Siegl et al. (2011) found that long-term almond consumption was associated with maintenance of healthy weight. Researchers specifically studied the impact of almond consumption on cholesterol levels for 81 men and women for 24 weeks, however, an unexpected finding was that when free-living individuals added almonds to their diets (without being asked to compensate calorically by cutting other foods), they did not gain weight. All participants followed their habitual diet for six months, after which they followed their habitual diet supplemented with almonds for six months. For the almond supplement intervention, participants were provided with their choice of dry roasted or raw almonds in the amount of 15% of their mean habitual energy intake. On average, daily almond supplementation was 52 g (or nearly 2 oz).
Botanical Extracts
A patent-pending composition standardized to two extracts from brown seaweed, (fucoxanthin) and pomegranate seed oil (punicic acid), Xanthigen® (PL Thomas & Co. Inc., Morristown, N.J., phone 973-984-0900, www.plthomas.com), has been shown to support body fat reduction, weight loss, and promote liver health. Xanthigen helps the liver to shed stored fats, improving metabolic function and energy expenditure. Lai et al. (2012) showed that Xanthigen potentially works by preventing build-up of adipose tissue, suppressing differentiation of preadipocytes into adipocytes, encouraging lipogenesis, and ultimately suppressing adipogenesis (fatty tissue build-up).
Another ingredient offered by PL Thomas is derived from the flowers of saffron crocus. Satiereal® improves levels of the neurotransmitter serotonin, which is believed to increase the satiety state while decreasing appetite. Gout et al. (2010) showed that Satiereal consumption resulted in body weight reduction and decreased appetite in a trial with 60 healthy, only slightly overweight women who were 25–45 years old. Twice a day, enrolled subjects consumed 1 capsule of Satiereal (176.5 mg extract per day) or a matching placebo. The mean snacking frequency was significantly decreased in the Satiereal group as compared with the placebo group, indicating that Satiereal consumption produces a reduction of snacking and creates a satiating effect that could contribute to body weight loss.
Most recently, INO'Réal® SA (Plérin, France) and P.L. Thomas announced that the Canadian Intellectual Property Office granted Patent # CA 2648985 to INO'Réal and company founder Cédric Bourges. The patent covers the use of saffron, the saffron extracts crocin and picrocrocin, and derivatives of these as a satiety agent in support of a healthy weight. It supports INO'Réal's Satiereal Saffron Extract in Canada and extends the intellectual property protection of the ingredient into North America. P.L. Thomas is the exclusive North American distributor of Satiereal.
Another satiety ingredient, PinnoThin® (Stepan Lipid Nutrition, www.pinnothin.com), is derived from a specific Korean pine nut and works by stimulating the release of two hunger-suppressing hormones, cholecystokinin (CCK) and glucagon-like peptide 1 (GLP1). Its effectiveness has been studied in two human trials. The first study showed that within 30–60 min of taking a 3 g dose of PinnoThin in the form of oil or its natural metabolites, the release of the satiety hormone CCK was significantly increased in the blood of the test subjects. The natural metabolites of PinnoThin also significantly increased the release of GLP1 in the blood. In the second study, participants given these also showed a significant effect on food intake (9% reduction) and caloric intake (7% reduction).
Linda Milo Ohr,
Contributing Editor,
Denver, Colo.
[email protected]
References
Almond Board of California. 2012. Study suggests almonds can be a nutritious, satisfying part of a weight-loss program. Press release, June 29.
California Raisin Marketing Board. 2012. New study: snacking on raisins controls hunger, promotes satiety in children. Press release, May 31.
Chen, S.-C., Lin, Y.-H., Huang, H.-P., Hsu, W.-L., Houng, J.-Y., and Huang, C.-K. 2012. Effect of conjugated linoleic acid supplementation on weight loss and body fat composition in a Chinese population. Nutrition 28(5): 559-65.
Fallaize, R., Wilson, L., Gray, J., Morgan, L.M., and Griffin, B.A. 2012. Variation in the effects of three different breakfast meals on subjective satiety and subsequent intake of energy at lunch and evening meal. Eur. J. Nutr. Sep 5. [Epub ahead of print].
Gaullier, J.M., Halse, J., Høivik, H.O., Høye, K., Syvertsen, C., Nurminiemi, M., Hassfeld, C., Einerhand, A., O'Shea, M., and Gudmundsen, O. 2007. Six months supplementation with conjugated linoleic acid induces regional-specific fat mass decreases in overweight and obese. Br. J. Nutr. 97(3): 550-60.
Gout, B., Bourges, C., and Paineau-Dubreuil, S. 2010. Satiereal, a Crocus sativus L extract, reduces snacking and increases satiety in a randomized placebo-controlled study of mildly overweight, healthy women. Nutr. Res. 30: 305-313.
Jaceldo-Siegl, K., Sabate, J., Batech, M., and Fraser, G.E. 2011. Influence of body mass index and serum lipids on the cholesterol-lowering effects of almonds in free-living individuals. Nutr., Metab. Cardiovasc. Dis. 21(Supplement 1): S7-S13.
Lai, C.-S., Tsai, M.-L., Badmaev, V., Jimenez, M., Ho, C.-T., and Pan, M.-H. 2012. Xanthigen suppresses preadipocyte differentiation and adipogenesis through down-regulation of PPAR and C/EBPs and modulation of SIRT-1, AMPK, and FoxO pathways. J. Agric. Food Chem. 60(4): 1094-1101.
Ranawana, V., Muller, A., and Henry, C.J. 2012. Polydextrose: its impact on short-term food intake and subjective feelings of satiety in males—a randomized controlled cross-over study. Eur. J. Nutr. Jun 21. [Epub ahead of print].
Robertson, M.D., Wright, J.W., Loizon, E., Debard, C., Vidal, H., Shojaee-Moradie, F., Russell-Jones, D., and Umpleby, A.M. 2012. Insulin-sensitizing effects on muscle and adipose tissue after dietary fiber intake in men and women with metabolic syndrome. J. Clin. Endocrinol. Metab. June 28. [Epub ahead of print].
Solae LLC. 2012. New study suggests soy protein consumption may reduce body and liver fat accumulation and support colon health. Press release, Oct. 5.