In addition to all the other influencing variables, a rational global economy today includes exporting food or food raw materials and ingredientsfrom producing regions to importing/consuming areas. The exchange has long been considered beneficial for both parties. Increasing food exports from secondary nations boosts jobs, wealth, quality of life, and economic demand in the country of origin. Food imports satisfy needs and wants in the receiving country while providing the opportunity for beneficial alternate activities beyond subsistence agriculture. Such an arrangement is sustainable if economic, social, and environmental factors for all trading partners receive proper consideration.

Some Key Definitions
The role of food and food packaging technologies in these considerations is both indispensable and substantial. Consider first that the scope of food science is the study of the chemical, physical, and biological/microbiological aspects of food's composition, deteriorative vectors, processing, and preservation. Food technology then is the application of selection, preservation, processing, packaging, and distribution to food science for the safe consumption of food. Food packaging technology is the integration of mechanisms to protect food products during the entire distribution cycle.
These food and food packaging technology functions array logically in exporting food from selection of the appropriate agri-products of the export country, though their preservation, processing, and packaging, and eventual distribution to the import country, probably for further conversion into more consumer-convenient food products. In the case of developing economies, the opportunity to add value to agri-products with in-country processing and packaging can be important in growing and sustaining economic and social returns.
Global Food Distribution
With the guidance of Stephen Covey's "7 Habits" system, exporting food for the benefit of both exporting and importing regions should "begin with the end in mind," i.e., the distribution aspect of food and food packaging technologies. Distribution dictates a product's ultimate destination; its quality when it arrives; product safety concerns while getting there; product demand in its consuming market; and how it travels from one region to another. Distribution gives direction to the selection of which agri-products to export. When the selection is made, destination defines the specifications for the preservation, processing, and packaging systems.
In looking at opportunities for increasing food exports from many Asian countries, the United States and Western Europe are major trading partners as are Japan and the faster-growing economies of China and Southeastern Asian countries (see figure). Industrialized countries are attuned to imported foods, with even some preference for special foods from the Western Pacific. Market volumes today are large, and disposable income for typical consumers is relatively high. Many of the countries in geographic proximity to exporting countries now experience high growth rates for the growing middle classes for whom packaged goods are desirable.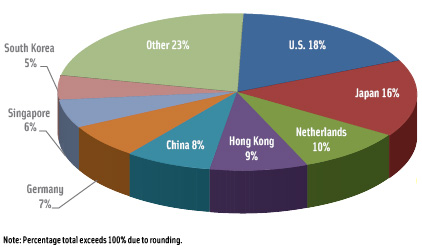 This dynamic in consumer goods and, especially food consumption patterns, turns conventional wisdom about where to export quality agri-products on its head. One major packaging company has identified the populations of these growing second world countries as its biggest growth opportunity. It considers the 52% of the world's population with $8 (or more) per day disposable income (equivalent to about $12,000 annually for a family of four) to currently participate in the consumer packaged goods economy. Growth in such a sector is obviously feeble. The 9% of the world's population with $2 (or less) per day (about $3,000 annually for a family of four) is unable to participate in that packaged goods economy and not likely to do so in the near future. The 39% of the population with intermediate incomes in the developing countries are believed ready to transition into a consumer packaged goods economy. As distribution opportunities for exports to these countries drive the selection of agri-products, then the preservation, processing, and packaging of safe, high-quality food products are value-adding (and wealth-creating) opportunities at the source and sustainable propositions for exporters and importers. Simplistically stated, importing countries appear to be more receptive to receiving partially and even fully processed and packaged foods.
--- PAGE BREAK ---
In the Philippines example, fresh tropical fruits (pineapple, mango, papayas, etc.) have long been a major export category. Unfortunately, fresh fruit and processed fruits, as a percent of total national exports, have remained at about 2% of Philippine exports over the past five years. Fresh fruits match many consumer trends in developed markets (convenience, healthy lifestyles, perpetual snacking, and the appeal of exotic tastes and foods). All of these should favor growth in demand and variety for fresh or even minimally processed and packaged fruit product consumption. Mild thermal processing and barrier plastic packaging have created minimally processed 4 oz tropical fruit cups relating to each of the trends above, and they are exported widely from the Philippines.
Advanced food processing techniques (for example, controlled atmosphere packaging, hurdle technologies, retort pouch and cup, ultra high pressure processing, and microwave pasteurization and sterilization) promise even more opportunities for value-added processed and packaged food manufactured in and exported from developing economies. They provide processed shelf-stable or extended-shelf-life chilled products with even better "fresh-tasting" quality. And, of course, the more value added in the exporting country, the greater the financial returns. And what better place to preserve and package food products than close to their origins? It reduces cost and food waste and distribution expenses.
Processing and Preservation Location Preferences
In developed markets, food products such as washed and modified atmosphere packaged fresh-cut salad vegetables rely on bulk transport of recently harvested raw products from producing area to consuming areas. Minimal processing and packaging systems near consumers for products with an inherently short shelf-life provide opportunities to deliver additional volumes of safe, quality products that extend beyond the natural, fresh product to importing regions.
With the fresh-cut salad case, examples of other processing/packaging systems could serve to support export growth, providing familiar foods in innovative formats to both developed and developing markets.
For example, pureed fruit in spouted, stand-up flexible pouches has become a 600 million unit product category in the United States over little more than two years' time. The products are processed with traditional hot fill and/or a few retort thermal processes. This packaging has been available for decades, but the breakthrough responsible for the dramatic growth recently was the realization that the package is an optimum self-feeding format for toddlers.
The same pureed fruit and vegetable products have been marketed in thermally processed glass jars for years. An aseptic processing/packaging process using barrier plastic cups with flexible lidding challenged this format only a few years ago. The rapidly developing continuous in-line microwave assisted thermal sterilization (MATS) with a barrier plastic packaging format could deliver a safe, higher quality product with better nutritional retention. Processing and packaging could be performed in either the exporting or the importing regions, as determined by the food and food packaging technology considerations of the system. A striking example is the highly successful retort pouch processing and packaging of tuna and its analogous seafoods in Southeast Asia and Latin America.
Fresh Seafood
Importing fresh fish for retail and foodservice sales is a sizeable activity in developed countries. The logistics of this business require quick and expensive air-freighting of heavy loads of iced product for delivery to markets that are continents away only hours after arriving portside. Longer port-to-market intervals historically have represented basic quality and food safety concerns.
An innovative modified atmosphere bulk system using temperature controlled pallet loads can ship fresh fish fillets, i.e., minimally processed almost ready for retail display, without ice or expensive air distribution. As described in the October issue of Food Technology, Global Fresh Foods has developed a controlled atmosphere system that can deliver several weeks' shelf life sufficient for less expensive distribution aboard ocean-going vessels while still leaving a window for merchandising in the destination market. Pallet loads are shrouded in a barrier plastic bag with a reduced-oxygen headspace. This precise condition is maintained with fuel cell technology on board the pallet that actively converts oxygen in the head space into benign water. On-board monitoring of temperature and oxygen levels and real-time communication to the distributor optimize safety and quality of the product.
--- PAGE BREAK ---
Impressively, the system offers sustainable "green supply chain" advantages. Carbon dioxide emissions per pound of food product are reduced 99% when compared to air-freighting. The packaging components include recyclable/recycled-content and reusable packaging elements.
By viewing and developing from a total systems perspective, a better method has been successfully commercialized to support the growth of a food product category, the exporting regions, and the safety and quality of the foods for consumers. And this intelligent integration of food preservation, minimal processing, and packaging delivers lower cost, less food waste, and, well, you can imagine the total benefits.
Our new global trade realities involve innovation and technology. Simultaneously, they must come with sustainable economic, social, and environmental improvement. In a world burgeoning with electronic technology developments, food and food packaging technologies remain indispensable for delivering sustainable societal growth for importers and exporters all around the world. Food and food packaging technology allows trade partners to deal with one another according to another of Covey's habits for success: "Think win-win!"
This column is adapted from a presentation by Tom Dunn to Global Pack 2012 International Packaging Conference and Exhibition, Central Philippines University, July, 2012.
Aaron L. Brody, Ph.D.,
Contributing Editor
President and CEO, Packaging/Brody Inc.,
Duluth, Ga., and Adjunct Professor,
University of Georgia
[email protected]
Tom Dunn is Managing Director, Flexpacknology LLC, Atlanta, Ga.
[email protected]