Melissa Walnock loves playing with food. The pastry chef and lecturing instructor at the Culinary Institute of America, Hyde Park, N.Y., enjoys pairing familiar ingredients with something a little unexpected in the desserts she creates. Corn is turned into corn mousse served with fresh berries and tarragon. Blueberry sorbet is made with a bit of green cardamom. The most unusual, though, is her take on a strawberry shortcake: shortbread, strawberry "spheres" (strawberries pickled with vinegar, sugar, and pink peppercorn and then formed into spheres using reverse spherification), and vanilla cake "crisps" (super-thin slices of cake dried until they are crisp like crackers). Welcome to the evolution of dessert.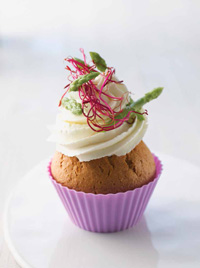 Anything goes when it comes to desserts these days. The National Restaurant Association's What's Hot in 2012 survey cites five wide-ranging trends in the desserts category: artisan/house-made ice cream (number 15 of 223 overall trends in the restaurant industry), bite-size/mini-desserts, savory desserts, deconstructed classic desserts, and dessert flights/combos (NRA, 2012). There is a range of textures (dense and chewy brownies, soft and moist cupcakes, creamy and thick custards) and a range of flavors (fennel and orange doughnuts, Thai chili peanut macarons, smoked vanilla ice cream). Desserts are sweet or savory, or a combination of both. They draw on ethnic cuisines and flavors, and incorporate preparation and baking methods or ingredients from global locales. Pastry chefs and home bakers can spike desserts with any number of alcoholic beverages like beer, wine, and spirits for flavor enhancement. Different forms of desserts abound: Consumers can indulge in everything from the traditional layer cake to a deconstructed carrot cake, in which the flavors of a traditional carrot cake remain but the overall dish may be hardly recognizable. Some dessert products like doughnuts and cupcakes are the pastry world darlings among independent bakers, food writers, and television personalities, and depending on where you live in the United States, there is probably a doughnut or cupcake shop not too far away from you. The portability of desserts is important too, allowing consumers to take their dessert and eat it on the run in the form of small pieces of cake or pie on a stick, ice cream sandwiches, and cobblers in glass jars. Many desserts are region-specific to areas around the United States and the world. Lastly, they invoke a sense of tradition and nostalgia that continues to drive product development efforts. Today's consumers can expect "more complex dessert plates where everything is not just sweet, there are different flavors and flavor combinations that are more balanced, and there is a more sophisticated use of all kinds of ingredients," says Kara Nielsen, Trendologist, CCD Innovation, San Francisco, Calif.
The experts interviewed for this article were genuinely excited about the variety of trends, opportunities for creative experimentation, and overall willingness on the part of many consumers to enjoy and embrace what pastry chefs and bakers are producing. One trend in particular, though, that all of the experts seemed pleased to see gaining traction is the use of vegetables in dessert products. This includes vegetables in the true sense as well as those considered grains but eaten like vegetables (corn), those that are botanically fruits (tomato, cucumber, squash, eggplant), and certain fungi (mushrooms). More than just pumpkin pie and carrot cake, the creative desserts appearing on the menus of fine-dining restaurants and independent bakeries highlight the various forms and functionalities that vegetables like celery, carrots, beets, and more have in desserts.
Our moms always told us that if we wanted dessert we had to eat all of our vegetables. Well, now we can eat our vegetables and have our dessert too.
Ideas Grow from Local Produce
Chefs continually innovate to stay relevant and delight and surprise consumers. Out of this comes the willingness to experiment, to use everyday ingredients like vegetables in different ways. This trend is most apparent in fine dining, where pastry chefs are freer to experiment and diners are more adventurous, according to Vegetable & Sides: Culinary Trend Mapping Report, published by CCD Innovation and Packaged Facts (CCD and Packaged Facts, 2011). Vegetables have their own unique flavors and textures, and they can impart flavors to the finished product or enhance or reduce the flavors of other ingredients or the overall finished product. Some vegetables cook in similar ways to fruits so they can be easily switched in recipes, like eggplant for apple or pear (Breyer, 2012). Many pastry chefs are investigating how vegetables can balance or mellow the sweetness of a dessert and add different dimensions and depth of flavor.
The trend of using vegetables in desserts is not entirely new, however, and it depends on culture and history, explains Michael Laiskonis, Creative Director at the Institute of Culinary Education, New York, N.Y., in a Gourmet.com article (Laiskonis, 2008). Laiskonis, who teaches a course on using seasonal vegetables and fruits in desserts and was formerly the pastry chef at Le Bernardin in New York, notes examples of how different cultures use vegetables and other ingredients not associated with desserts in sweet treats. Carrot cake, pumpkin pie, zucchini bread, and sweet potato pie are collectively recognized in American cuisine, sweetened red beans are popular in Japan, chickpeas and dal are used in some Indian desserts, and starchy roots and tubers are incorporated into dessert formulations found in South America and Asia. Various significant events throughout history have also influenced the trend. During wars and economic depressions, for example, chefs and home cooks turned to vegetables like beets, carrots, and zucchini as substitutes for more expensive sugar (Laiskonis, 2008).
Today's popularity of formulating desserts with vegetables is partially driven by the local food movement and an emphasis on seasonality. Many consumers are increasingly aware of food issues thanks to access to an ever-growing number of resources about sustainability, health issues, and trends. One popular topic among these consumers is that of local food. This interest is driven in part by the growing concerns of the environmental impact of transporting food over great distances as well as by concerns about the quality and safety of imported products, according to Innova Market Insights (Innova, 2012). "Everyone is becoming more and more aware of what is on their plate, and there is a huge push for local and sustainable produce," remarks Walnock. Farmers markets expose people to in-season and local produce, and consumers come to expect this when they visit restaurants, she adds.
Chefs' exposure to using local produce begins at their culinary schools, which more often than not source local produce for students to use. Likewise, fine-dining restaurants, especially those staffed by chefs influenced by the local food movement, incorporate local and seasonal produce in menu items. Additionally, procuring and using local produce is viewed as a way to support local farming efforts. Having this relationship with farmers allows pastry chefs to acquire region-specific products used to create desserts that go beyond the traditional carrot cake, says Casey Shiller, Coordinator of Baking and Pastry Arts for St. Louis Community College Forest Park in Missouri. With head chefs of restaurants ordering more locally grown vegetables to use, pastry chefs are often faced with an abundance of vegetables from which to choose and with which to experiment, remarks Geoffrey Blount, Chair of the Baking and Pastry Arts Program at Central Piedmont Community College, Charlotte, N.C. For example, he says that unused heirloom tomatoes can be used to make a tomato sorbet that might pair well with a cheese-based dessert item. As a result of all of this, desserts are more seasonally inspired.
--- PAGE BREAK ---
Tapping Vegetables' Potential to Enhance Desserts
While the emphasis on using locally grown produce has influenced pastry chefs to incorporate vegetables into desserts, there is also a desire to elevate desserts to another level. "Taking inspiration directly from the ingredients is certainly a part of it, but I think the driving factor is more about redefining the role of dessert, and of sweetness itself, by trying to harness natural sweetness from ingredients to create more complex desserts," says Laiskonis, who was interviewed for this article via e-mail.
Americans are quite familiar with using carrot, sweet potato, and pumpkin in cakes and pies; however, pastry chefs now showcase the versatility of these vegetables in any number of dessert applications, oftentimes using sophisticated ingredients to supply additional interest. Take the sweet potato, for example. A sweet potato is not just used in a sweet potato pie or sweet potato casserole anymore, remarks Blount. Pastry chefs incorporate it in bread dough, custards, tarts, ice creams, gelatos, sorbets, and even candies. "I have made a sweet potato maple candy made of sweet potato ganache with a layer of caramelized marshmallow all dipped in milk chocolate. I call it a sweet potato casserole bonbon," he adds. As an example of how even ingredient manufacturers are realizing the appeal of vegetables in desserts, David Michael & Co. showcased a kao hong shu Chinese roasted sweet potato ice cream made with roasted sweet potato flavor at its 2012 Innovation Roadshow. Incidentally, a roasted sweet potato served on its own is a popular street food dessert in China.
Like the sweet potato, pumpkin's use in desserts has evolved from pie to panna cotta, bao, and mousse, paired with seasonal or nontraditional ingredients. Two Chicago restaurants feature different takes on pumpkin gelato. Girl & the Goat (www.girlandthegoat.com), owned by Stephanie Izard, the Top Chef Season 4 winner, offers pumpkin pie gelato served with spiced cake, spiced pecans, blackberries, Thai whipped cream, and Left Hand Milk Stout made by Left Hand Brewing Co. while Nana (www.nanaorganic.com) makes pumpkin cayenne gelato served with dulce de leche and cocoa nibs.
The most popular vegetable used in desserts is corn (CCD and Packaged Facts, 2011). Cultivated in North America, corn first became a staple in pre-Columbian North and South American and Caribbean cultures, used as an ingredient in both sweet and savory cooked foods. The Peruvian dessert mazamorra morada is a pudding made from purple corn, dried fruits, and spices like clove and cinnamon. Naturally high in sugar, corn's flavor does not over-power other ingredients, which makes it especially complementary for use in ice cream, gelato, pudding, and other creamy desserts. For example, Tilth in Seattle, Wash. (www.tilthrestaurant.com), serves sweet corn crème brulée with popcorn shoots, candied bacon, and turbinado sugar.
Pastry chefs are experimenting with a number of other vegetables (and ingredients prepared and eaten like vegetables) to create a variety of one-of-a-kind desserts. Brooks Headley, the executive pastry chef at Del Posto in New York (www.delposto.com) features celery in celery sorbet served with celery salad, goat cheese mousse balls coated with olive oil sautéed bread crumbs, and macerated figs with balsamic vinegar and eggplant in Neapolitan eggplant and chocolate, an eggplant crostata with stracciatella ice cream and a drizzle of chocolate (Bittman, 2011; CCD, 2011). "Since I find most restaurant desserts to be almost irresponsibly sweet, I often turn to the vegetable cooler to help balance out a dish," Headley told The Wall Street Journal (Amster-Burton, 2012). Both desserts have drawn the attention of food writers for their creative use of ingredients.
Shiitake mushrooms are the star of Girl & the Goat's bittersweet chocolate toffee with shiitake-caramel gelato and shiitake gastrique. The candy cap mushroom has the fragrance of maple syrup, which only becomes stronger as the mushroom is dried indoors, according to the Bay Area Mycological Society, San Leandro, Calif. Humphry Slocombe Ice Cream, San Francisco (www.humphryslocombe.com), has featured a candy cap mushroom-flavored ice cream, and Americano Restaurant & Bar, San Francisco (www.americanorestaurant.com), offers a candy cap mushroom ice cream sandwich with butterscotch pecan cookies and brown sugar caramel.
"For me, it's always been about stepping back from our conventional association with a particular ingredient and focusing on its own inherent qualities, whether it be sweetness or a natural affinity with other flavors," states Laiskonis. "Sure, we use carrot, but why not parsnip? Peas can act as a great foil for bright berry flavors. An eggplant is a virtual sponge, and brings an interesting texture. And, of course, the tomato is technically a fruit, but we tend to think of it as a savory vegetable. Because it plays well with others and has a complex flavor all its own, it's a natural fit for sweet treatment." In his article, he suggests blanching eggplants and candying them in syrup infused with spices and combining sugar-poached tomatoes with summer berries in a tart or crumble (Laiskonis, 2008).
--- PAGE BREAK ---
Incorporating vegetables in dessert recipes is more about creating a flavorful dish and realizing that vegetables have various functionalities rather than using a particular one for "shock value alone," says Laiskonis. Pastry chefs use the starch in tubers as thickening agents for custards and other desserts. The high amounts of naturally occurring sugar in some vegetables, especially carrots and corn, allows them to replace some of the refined sugar in a recipe, remarks Shiller. Indeed, this is one of the reasons why these two vegetables in particular are used in desserts like polenta custard with sweet-corn sorbet, carrot cake with carrot puree and sage gelato, and frozen corn nougat, apricots, and bacon gastrique, which have been featured at fine-dining restaurants across the U.S. (CCD and Packaged Facts, 2011). For Shiller and other pastry chefs who incorporate naturally derived ingredients into recipes when appropriate, vegetables are a colorful alternative to artificial colorings due to their carotenoids and color pigments. The creamy texture and high fat content of avocados makes them especially attractive as an alternative fat in ice cream, gelato, and mousse (Breyer, 2012). Beets help add moisture to cake and are particularly well-suited for use in chocolate cake since the earthy notes of beets pair well with chocolate, says Walnock. Using vegetables in desserts goes beyond just incorporating chopped or pureed forms in a batter. Pastry chefs employ methods of concentrating or extracting the flavors of vegetables. They make "flours" for baking and thickening and powders for adding color and flavor. Pickled or roasted vegetables contribute different flavor dimensions to desserts. Dehydrated and candied vegetables add crunch and visual appeal. Even techniques used in modernist cuisine like aerating liquefied ingredients with whippers to create whipped creams and foams or freezing vegetables using liquid nitrogen are employed. "It's often about a slight shift in context and perception," remarks Laiskonis. "Because pastry chefs traditionally manipulate their ingredient more than their chef counterparts, it really comes down to skill and imagination, backed up, of course, by deliciousness."
Possibilities for CPGs
Pastry chefs reinventing desserts are looking no further than to the local farmers markets. As explained in this article, consumers who frequent fine-dining restaurants and independent bakeries and other related establishments are in for quite a treat. Most of what they find there may never be available commercially, but there are some opportunities for manufacturers. As consumers become more familiar with how well vegetables work in desserts by adding flavor, enhancing texture, and tempering sweetness, they may be willing to accept this concept beyond desserts served in restaurants and bakeries. Examples of how this trend could translate to consumer goods, according to CCD Innovation and Packaged Facts, are fruit-and-vegetable blend puddings in flavors like peach and beet and corn and peach; a line of chocolate-beet baked goods, including cookies, snack cakes, and muffins, or a line of vegetable-centric baked goods that change seasonally; a line of vegetable flavors like sweet corn, sweet pea, berry beet, and carrot cake for frozen yogurt stores; and seasonal dessert items that highlight in-season vegetables in combinations like corn with cherries, beets with apples or pears, and peas and carrots with strawberries (CCD and Packaged Facts, 2011). Maybe cauliflower and raspberry cheesecake and eggplant chocolate chip muffins might, one day, be as ubiquitous to grocery shoppers as carrot cake and pumpkin pie.
---
Desserts Offer Flavor Variety
Consumers, especially those in the Millennial generation, have come to expect bigger, bolder, more interesting, and more sophisticated ingredients, flavors, and flavor combinations, says Trendologist Kara Nielsen of CCD Innovation, San Francisco, Calif., and they are treating their palates to an array of flavors and ingredients like stout, spices, floral flavors, and smoke flavor in desserts served at fine-dining restaurants and independently owned bakeries and specialty dessert stores. These consumers are exposed to more food-centric news and entertainment in print, online, and broadcast than ever before, and this has influenced their willingness to go outside their comfort zone and try new foods and ingredients. The growth in popularity of both global and regional American cuisines has helped to introduce consumers to unfamiliar foods and ingredients.
While there is this growing number of consumers willing to try new foods, some consumers still cling to what they feel are traditional desserts and flavors. To them, desserts are special, sacred even, notes Nielsen.
"They don't like taking chances on desserts because if they don't like it, the whole experience is ruined and they don't get their sweet treat. Desserts are very much a comfort food and driven by nostalgia, which is why we continually see ice cream sundaes in the exact same format, for example."
The key to reaching these consumers while still producing unique products for culinarily adventurous consumers is to let the new ingredient be one element of the whole finished dessert, remarks Melissa Walnock of the Culinary Institute of America, Hyde Park, N.Y. Her background includes stints at some of Jean-Georges Vongerichten's restaurants. Vongerichten is a renowned chef inspired by Asian cuisines, and Walnock often incorporates ingredients from Southeast Asian and Indian cuisine in her desserts. One takes the familiar combination of peanut butter and chocolate in the form of a peanut sable and chocolate ganache with some toasted marshmallow and then finished with Thai chili gelée spread across the plate. Some consumers may not be familiar with Thai chili, she says, but they are willing to try it when combined with well-known ingredients like peanut butter and chocolate because it is not the main focus of the dessert. Adalberto Diaz Labrada, Executive Chef and Culinary Instructor for Harmons Groceries, Salt Lake City, Utah, agrees, and says that pastry chefs are switching out a familiar flavor like caramel for dulce de leche, adding spices and flavors to chocolate, or layering cheesecake with a variety of flavorful ingredients and toppings. What could be a more familiar dessert to Americans than apple pie? Wesley Monahan, the head pastry chef for Chile Pies (& Ice Cream) in San Francisco (www.greenchilekitchen.com), created the store's signature apple pie with fire-roasted green chilies. All of this "helps to get people's palates developed and encourages them to think about food," says Walnock.
In addition to adding herbs and spices to desserts, pastry chefs are experimenting with other ingredients like alcohol, acid, dairy, and smoke. Caitlin Williams Freeman, the pastry chef for Blue Bottle Coffee (locations in New York and California) (www.bluebottlecoffee.com), which has been showcased on shows like Anthony Bourdain's The Layover and Unique Sweets, replaced cinnamon and cardamom with frankincense and myrrh to impart spicy and licorice notes, respectively, as well as spiked marshmallows with Kings County Distillery Moonshine for s'mores. Indeed, spirits, stout, craft beer, and wine are increasingly formulated into desserts, notes Nielsen. Craft beers and stouts have a rich and varied range of flavors, including citrus, fruity, wheat, hops, and sour notes, and in the case of stouts, chocolate, coffee, malt, and bitter notes. These beverages contribute flavor, enhance flavors, and affect texture in cakes and frozen desserts like ice cream and can be used in reductions to make syrups and glazes (Lurie, 2010).
Pastry chefs are enhancing the sour taste of desserts just a bit with acids like gastriques and vinegar reductions or with dairy like yogurt, buttermilk, and goat cheese, says Nielsen. A proponent of using acid or dairy with strong flavors in recipes, Walnock says that these ingredients bring balance to otherwise overly sweet desserts. Smoke is another flavor that adds interest to desserts. It is more than imparting smoke flavor by using bacon, an ingredient that most chefs have experimented with at one time or another, says Geoffrey Blount, Chair of the Baking and Pastry Arts Program at Central Piedmont Community College, Charlotte, N.C. Rather, chefs are smoking ingredients like vanilla, cherries, apples, and maple syrup to impart a subtle smoky flavor and aroma to desserts (Kronsberg, 2012). Labrada includes chipotle pepper—a smoked jalapeño pepper—in chocolate cake served with dulce de leche. Saint Cupcake Galore, Portland, Ore. (www.saintcupcake.com), uses alder-smoked flour in a chocolate chip cookie. Vanilla is a popular ingredient to smoke, as determined by Nielsen's trend research, and she even cited a pumpkin sponge cake with a maple and smoked vanilla ice cream as an example from Stone Hill Tavern, Dana Point, Calif.
--- PAGE BREAK ---
---
Old-School, On-the-Go
Desserts are associated with favorite childhood memories like holidays and summer vacation. A sense of nostalgia plays an important role in these connections and why adults continue to seek out desserts that are in the same formats as they remember from childhood, according to Confections & Desserts: Culinary Trend Mapping Report (CCD and Packaged Facts, 2010). Taking nostalgic flavors and dessert formats and re-interpreting them in novel ways, mentions the report, is how pastry chefs and consumers can have fun with desserts.
Desserts are associated with favorite childhood memories like holidays and summer vacation. A sense of nostalgia plays an important role in these connections and why adults continue to seek out desserts that are in the same formats as they remember from childhood, according to (CCD and Packaged Facts, 2010). Taking nostalgic flavors and dessert formats and re-interpreting them in novel ways, mentions the report, is how pastry chefs and consumers can have fun with desserts.
In his position as Chocolate Ambassador for Barry Callebaut, Geoffrey Blount has worked alongside pastry chefs who are giving classic French desserts an American retro twist. This means combining a napoleon with a s'more or a macaron with peanut butter and jelly. Chefs enjoy the classic methodology in preparing desserts, but they enjoy taking creative approaches as well, adds Blount.
In addition to taking new spins with classic desserts, pastry chefs are re-inventing ways to serve these desserts. A slice of pie has typically been served on a plate, but not anymore. High 5 Pie in Seattle, Wash. (www.high5pie.com), features pies baked into little mason jars, pieces of pie on a stick, mini bite-sized pies, and baked handheld pocket pies. (And if you really want to kick it old school, the bakery does offer slices of pie.) Offering pie in a jar, cake on a stick, and bite-sized brownie bits is not only a portable, convenient way to eat desserts, it also gives desserts a sense of whimsy, says Casey Shiller, Coordinator of Baking and Pastry Arts for St. Louis Community College Forest Park in Missouri.
Karen Nachay, a Member of IFT, is Associate Editor of Food Technology magazine ([email protected]).