Jacques's Recipe: Orange Almond Cake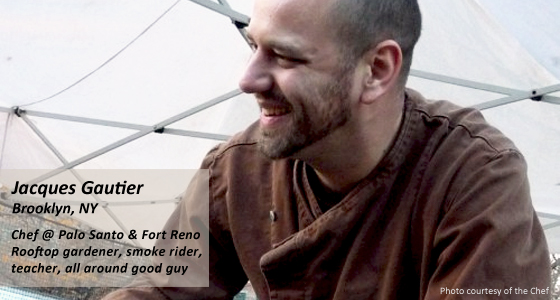 Drawing his influence from Caribbean family roots and his extensive travels, Palo Santo Chef Jacques Gautier is able to create Latin Market dishes that maintain their original essence, but are infused with a new take on ingredients, technique, and presentation. As Palo Santo is nestled among the brownstones in Park Slope, Brooklyn, so is Chef Gautier in the local community—teaching N.Y. City children where their food comes from at his rooftop garden and giving public cooking demos.
To put it simply, Chef Gautier was delving into sustainable agriculture, local sourcing, mixing eclectic flavors, and community food education before they were cool. Palo Santo is in its seventh year of operation, and Fort Reno—his new barbeque joint down the street—is in its second year, giving Chef Gautier a solid foothold in Brooklyn's thriving dining scene.
KELLY HENSEL: During the recession did you experience any kind of pullback from visitors to your restaurant, Palo Santo?
CHEF JACQUES GAUTIER: Oh, yeah, everybody did. People spend less money during hard times. We have done the same number of covers but with a lower check average.
HENSEL: What were people cutting out?

GAUTIER: Drinks, mainly. They were buying cheap sangria instead of a $60.00 bottle of Argentinean wine.
HENSEL: Is that starting to come back for you guys or are you still kind of in a lull?
GAUTIER: No, it hasn't. We have just found ways to adapt. We've taken more private parties. We have also cut back on expenses and done a little more PR. So, we are getting a few more people in the chairs in different ways.
HENSEL: What kind of PR are you guys doing?
GAUTIER: We do a lot of tasting events. That's become a pretty common format for charity and gala-type of events. It works out for the charitable organizations because they get all of the food donated, and it works out for the restaurant because they give us a chance to show what we can do.
HENSEL: Get your name out there, right.
GAUTIER: Yes, exactly.
HENSEL: I noticed you are on Twitter, Facebook, and you have a blog; is that kind of social media almost required nowadays for a chef?
GAUTIER: Yeah. You know, it's funny—it's like something that definitely is hard to avoid doing now. I think if you own any kind of business you want people to know about it and so you have to be on Facebook and Twitter. We've noticed that we have diminishing responses from emails. We're not getting the same response as we used to, and we get much better responses if we send something out on Twitter or on Facebook than we do email.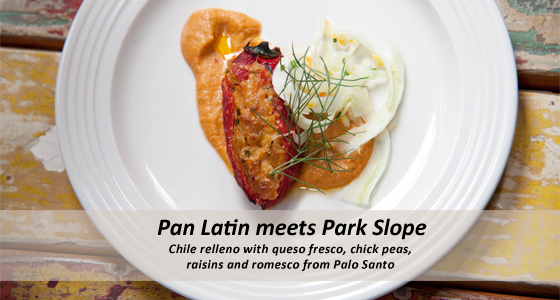 HENSEL: Let's talk about the Latin cuisine that you serve at Palo Santo. Obviously you've got that in your heritage, your background. Can you talk a little bit about how you refined what Palo Santo serves?
GAUTIER: Sure. My dad's from the Caribbean and I have family as far as Puerto Rico and Dominican Republic. And I traveled a lot. The cuisine that we cook at Palo Santo could probably be described as eclectic Latin, Latin market cooking, or pan Latin—that's what it's kind of ended up being labeled as. We take a little bit of influence from all over Latin America and the Caribbean.
HENSEL: And then you have your other restaurant—Fort Reno—that's been open more than a year now. It's a small barbeque restaurant right? What made you go to barbecue from what you guys are doing at Palo Santo?
GAUTIER: Well, I think that anyone growing up in the United States—I actually grew up in D.C.—ends up loving barbeque. And there was just none in our neighborhood in Brooklyn at all at the time. It's funny, now there are two others that have opened relatively close by. But at the time—two years ago when we started working on opening Fort Reno—there was not a single barbecue place in Park Slope.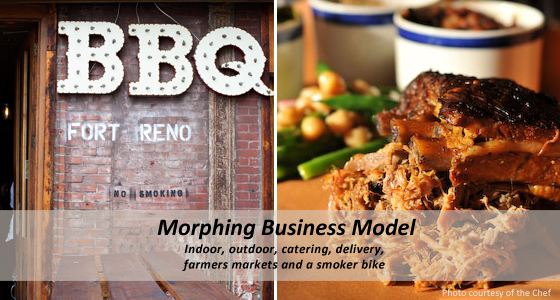 HENSEL: And how is business going for Fort Reno?
GAUTIER: It's been going pretty well. We had kind of a slow winter. I think that barbecue is kind of a seasonal thing, and as soon as the weather started warming up then our seating filled up. Half of our seating is actually outdoors. So when there's cold weather we only have half as many seats. And also I just think in the spring and summer people have a lot more events that call for barbecue to be catered.
HENSEL: How much is your business is catering?
GAUTIER: Maybe about a quarter of it or so. Catering and delivery. But then if you count to go then it's probably almost half of our business.
HENSEL: And you guys have the smoker bicycle. Do you take that to local events in the community?
GAUTIER: Yes. Any events nearby, we're bringing it to. We've taken it to the Farmer's Market on the weekends.
HENSEL: I've read that you also work with N.Y. City school kids. What kind of activities do you do with them?
GAUTIER: I have a rooftop garden at Palo Santo and I take in classes of public school kids up to see the rooftop garden. And we have posted field trips at Palo Santo with public school kids.
HENSEL: What kind of response do you get from kids like that when you talk to them about food and nutrition and where their food comes from?
GAUTIER: Everything just seems so new for them. We have like I said a rooftop garden, and last year I took a few classes of high school kids up to our rooftop garden. It's just a very, very small kind of miniature urban farm and for the majority of them it was the only time they'd ever seen food being grown. They grew up in the city they didn't grow up on farms, and so if nobody ever took them out to Long Island or upstate to see a farm, then they never would've seen that, and it's not present in our public school system. Food is just something so important, but yet the production of it is almost forgotten about.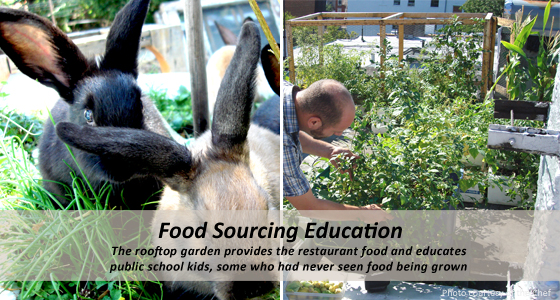 HENSEL: That's interesting. In addition to your garden, I know that you used a lot of reclaimed material for the interior design of your restaurant. Obviously sustainability, local sourcing is important for your restaurant. How did that come about?
GAUTIER: I think it's something important for me. It's been a genuine thing that I've been concerned with my whole life. As far as having a garden and growing stuff, a part of that is to forward the movement that is pushing for people to have a consciousness of where they're food is coming from. But also part of my reasoning for running a garden is because I know gardening. It's something I grew up doing. My mom gardened a lot as a kid, so I gardened a lot, and so I learned how to do it from her. It's something that I just enjoy doing.
HENSEL: I know you trained at the Natural Gourmet Institute. Did that have any effect on your approach to cooking with local foods?
GAUTIER: Definitely. It really helped to solidify my belief that chefs as people providing food to the public have a universe responsibility to do the right thing.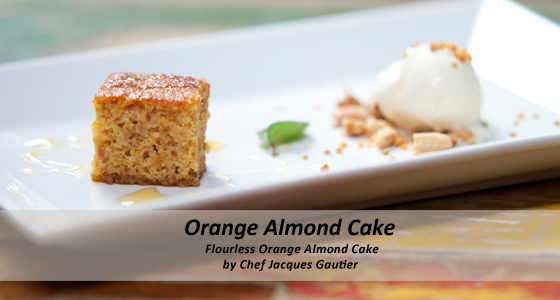 Orange Almond Cake
by Chef Jacques Gautier
4 whole oranges
1/2 lb sugar
1/2 lb blanched almonds
1 tsp salt
2 tsp baking powder
6 whole eggs
Boil the oranges whole in water until soft, about 30 min. Discard water.
Combine the sugar and almonds and grind in a food processor.
Add the rest of the ingredients and blend until the oranges are pureed and everything comes together as a batter.
If your food processor is too small this can be done in small batches and then whisked together.
Bake in a buttered cake pan in a 350f oven for about 30 min or until a cake tester comes out clean.
Serve with whipped cream or ice cream (shown above with orange and ginger ice cream).