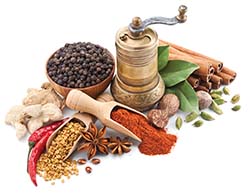 The United States is the world's largest spice importer, obtaining more than 40 spices from suppliers in more than 50 countries, many of which may not have the same safety and quality controls as the United States. Cheryl Deem, Executive Director of the American Spice Trade Association (ASTA) (www.astaspice.org), said that since most spices are grown in developing countries where sanitation and food handling practices may not be adequate to guarantee the ready-to-eat safety of these products, the spice industry has developed processes that effectively and reliably eliminate pathogens and other physical and chemical contaminants from spices.
The Food Safety Modernization Act (FSMA), which was signed into law on January 4, 2011, is designed to ensure that the U.S. food supply is safe by shifting the focus from responding to contamination to preventing it, and the U.S. Food and Drug Administration (FDA) has been issuing guidance documents and proposed rules over the past 30 months to implement various parts of the act. One of the law's requirements, the foreign supplier verification program, will compel importers to verify that their foreign suppliers use processes and procedures that provide the same level of public health protection regarding hazard analysis and risk-based preventive controls, adulteration, and major food allergens as required of domestic suppliers. The FDA expects to issue proposed rules on the Foreign Supplier Verification Program and the accreditation of third-party auditors later this year, with final rules expected on both of these major FSMA components by the end of June 2015.
Deem said that ASTA has been offering a series of webinars, accessible via its website, to help spice and seasonings companies in the United States and abroad understand how to comply with the new food safety law. The most recent webinar was on recordkeeping, and the next one will likely be on foreign supplier verification. She added that the association has held educational seminars in producing countries and is designing a hazard analysis and critical control point (HACCP) program for prevention, detection, and control of Salmonella in spices for presentation in producing countries. After the FDA's proposed rules regarding risk-based preventive controls are finalized (the comment period ends September 16, 2013), the HACCP program will be completed by ASTA and shared with its global membership base.
Concerns About Salmonella
The FDA has identified Salmonella as the most common bacterial pathogen associated with product recalls and out-breaks related to spices. Salmonella was the culprit in 95% of spice recalls in the United States from 1970 to 2003, and the spices and seasonings category was one of the top three categories in the first two years of the FDA's Reportable Food Registry (RFR) (www.fda.gov/ReportableFoodRegistry) for reports of Salmonella in human foods. The FDA established the registry in September 2009 as a tool to help prevent contaminated or adulterated food from reaching the public and to speed up removal of hazards from the marketplace. Facilities that manufacture, process, pack, or hold food for human or animal consumption in the United States must use the registry to report within 24 hours when there is a reasonable probability that the use of, or exposure to, an article of food or feed (except dietary supplements and infant formula) will cause serious adverse health consequences or death to humans or animals.
ASTA issued cleanliness specifications for unprocessed spices, seeds, and herbs in 1969 and issued subsequent revisions focused on improving sampling and analytical procedures. In March 2011, the association published a new guidance document for the spice industry, Clean, Safe Spices, which outlines control measures needed to address Salmonella and other contaminants in spices that may pose a public health risk. The guidance document presents five principal recommendations for spice companies to follow: minimize risk for introduction of filth throughout the supply chain; prevent environmental contamination, cross-contamination, and post-processing contamination during processing and storage; use validated microbial reduction techniques; perform post-treatment testing to verify a safe product; and test to verify a clean and wholesome manufacturing environment. ASTA undertook a major effort to disseminate the Clean, Safe Spices guidance throughout the spice industry, and Deem said that the RFR report issued in April 2013 showed that significant progress had been made: The number of reports for Salmonella in spices and seasonings had dropped from 23 in year two to just five in year three.
Validation and Verification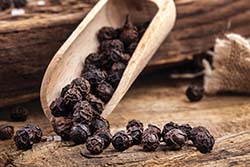 In March 2013 ASTA issued the white paper "Validation of Microbial Reduction Processes for Spices," which describes essential elements for companies to consider in developing programs to validate the microbial reduction processes they use. According to the paper, three main protocols are used to validate a microbial reduction process: one to confirm that the equipment is installed correctly, another to confirm that the lethality step delivers the critical limits required for the target log reduction, and the third to determine the extent to which the process inactivates the target organism or a nonpathogenic surrogate organism. Once a process is validated, systems must be established to ensure that the process remains in a state of control during full-scale commercial operation.
--- PAGE BREAK ---
According to the white paper, the physical properties of raw spices are highly variable and may affect the ability of a microbial reduction process to achieve the target lethality. Potential sources of variability for microbial challenge studies include formulation and form (stem, pod, seeds, leaves, ground); size, shape, and density; total bio-burden of product and any inherent microbial resistance; degree of air flow allowed through the product since air spaces within spice preparations affect heat and steam transfer; in-going product temperature; fat content; moisture content and water activity; packaging and package size; and origin (supplier and batch/lot differences). Equipment and process variables, including human factors, also affect the ability of the process to achieve the desired lethality. Once all conceivable sources of product and process variability are identified, additional preliminary testing may be required to determine which sources of variability are likely to have the greatest impact on the microbial reduction process.
Alison J. Kretser, Director of Science Programs at International Life Sciences Institute North America (ILSI North America) (www.ilsi.org), said that the agency's technical committee on food microbiology is funding research to define validation protocols for the pathogen reduction processes used to treat spices to determine their efficacy. Stating that since standardized inoculation protocols are not well established and surrogate organisms have not been identified for validation of commercial systems for processing spices, ILSI North America issued a request for grant proposals in February 2013 and expects to announce the grant recipients later this year. ASTA worked with ILSI North America to develop research needs and review proposals and is helping fund the research.
Advances & Challenges
Carol Kitchen, Corporate Quality Technical Support Manager at ACH Food Companies (www.achfood.com), manufacturer of the Spice Islands brand of gourmet spices, said that to ensure the quality and safety of its spices, the company conducts microbiological, chemical, and physical analyses of spices it obtains from its sources. She said that incoming spices must meet ASTA's cleanliness specifications, which are macrosanitary specifications. ACH Food Companies references the FDA's Bacteriological Analytical Manual 's testing methods, including the general method for spices, herbs, and botanicals and directions for preparation of spices for isolation of Salmonella. The manual gives specific dilutions for testing of spices for Salmonella because certain spices—allspice, cinnamon, cloves, and oregano—have antimicrobial properties and there are no known methods for neutralizing their toxicity.
Kitchen said that among the most recent advances regarding quality and safety testing of spices is the increasing sensitivity of the equipment and rapid methods being used for chemical analyses. Trace compounds can be found for a number of reasons, Deem said, such as drift from pesticides used on other nearby crops or even compounds that are in the soil. They pose no food safety issues at such low levels, but as the ability to detect compounds improves from parts per million to parts per billion and even smaller, she said, the concept of zero gets lower or even impossible to ever reach.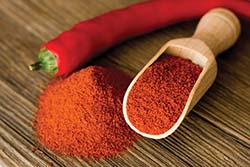 Among the challenges ahead with respect to spice quality, Kitchen said, are economic and unintentional adulteration, sensitivity of laboratory equipment used for spice analyses, meeting the standards for individual countries, and finding other countries of origin for spices because of political issues. Among the challenges ahead with respect to spice safety, she said, are determining appropriate sampling schemes for microbiological testing, validating a kill step to control the microbial load of a spice, and ensuring there has been no tampering of incoming spices since many spices come from third-world countries.
Tim Sonntag, Vice President of Quality & Technical Services at Wixon Inc. (www.wixon.com), a leading manufacturer of customized seasonings, flavor systems, and ingredients for the food and beverage industry, said that advances the company has made in the testing of spices and spice extractives to ensure the quality, safety, and consistency of its spices involve a solid-phase micro-extraction technique utilizing gas chromatography and mass spectrometry (SPME-GC/ MS) for detection. The SPME-GC/ MS process selectively extracts volatile components from a spice, separates the various chemicals making up the volatile fraction, and identifies the chemicals in the fraction using the mass spectrometer. The end result is a chemical fingerprint of the volatile fraction of the spice for comparison to a standard chemical fingerprint for that product. This method not only helps the company guarantee the quality, consistency, and origin of spices from shipment to shipment, Sonntag said, but also helps ensure the safety of the company's spice products by making sure there are no potentially harmful chemicals in the volatile fraction. The SPME-GC/MS testing protocol is run on every shipment of every spice and herb product received, he added. This is in addition to the standard spice quality and safety tests run on all lots of spices and herbs received, including volatile oil content, moisture content, ash content, water activity, and complete microbiological testing to assure the effectiveness of the mandatory microbial reduction process—irradiation, ethylene oxide, steam, or propylene oxide—the company uses.
--- PAGE BREAK ---
---
Spice Organizations
American Spice Trade Association (www.astaspice.org) is a trade association representing companies around the world involved in all aspects of the spice trade— importing, growing, processing, and marketing at the industrial, foodservice, and consumer levels. Among its publications are the Clean, Safe Spices guidance document and numerous white papers, including "Validation of Microbial Reduction Processes for Spices" and others on the microbial ecology of spices, importing of spices, and common spice adulterants.
Canadian Spice Association (www.canadianspiceassociation.com) is a Canadian trade association of members involved in the growing, importing, processing, and marketing of spices, seeds, and herbs.
European Spice Association (www.esaspices.org) is the umbrella organization of the national spice associations in the European Union, Switzerland, and Turkey. It represents the processing, packing, quality assurance, food safety, and marketing of herbs, spices, and seasonings in Europe.
International Organization of Spice Trade Associations (http://iostanet.org) is an umbrella organization of spice associations around the world. Its 2008 guidance document General Guidelines for Good Agricultural Practices, Spices addresses the growing and postharvest handling of spices to ensure that quality parameters are adequately addressed in the growing countries. According to the document, reconditioning occurs throughout the supply chain to remove both foreign and extraneous matter, to improve the microbiological status, or to improve the quality. However, because it is virtually impossible to recondition spices and herbs for the potential presence of mycotoxins, heavy metals, pesticide residues, allergens, processing aids, and undeclared colors, the only option is to prevent them from getting into the product or being formed during postharvest handling.
World Spice Organization (www.wsospice.org) is an organization of farmers, processors, academics, and end users. Its goals are to work with national spice associations and governments to implement and invest in programs that uplift rural farmers, communicate the food safety concerns of spice-consuming nations to farmers and processors and set realistic food safety standards, work with national spice associations to harmonize testing standards and methods for spices, and spread awareness about the challenges of sustainability in cultivation and the implementation of Good Agricultural Practices and Integrated Pest Management. The organization is in the process of creating a panel of agronomists, agriculturists, biotechnologists, and other scientists to help plan and implement sustainable agricultural programs.
---
IFT Annual Meeting Papers Address Treatment Methods
The spice industry frequently treats spices with ethylene oxide, propylene oxide, gamma irradiation, or steam to reduce microbial load. Researchers presented several papers on other spice treatment methods at the 2013 IFT Annual Meeting & Food Expo in July.
S. Sun, N. Anderson, and S. Keller at the Institute for Food Safety and Health (IFSH) discussed the effect of abusive storage conditions on the subsequent inactivation of Salmonella on black peppercorns by atmospheric pressure plasma. Spices are a source of microbial contamination and have been linked to outbreaks of salmonellosis when added to products that undergo no further processing. However, traditional thermal processing can lead to losses of heat sensitive compounds. Five-log reductions were achievable with minimal impact on visible quality with just 80 sec of treatment. Microbial inactivation was not significantly affected by storage condition.
X. Chen, N. Anderson, and K. Krishnamurthy at the IFSH discussed the use of pulsed light on inactivation of Salmonella on black peppercorns. Low-moisture foods such as black pepper have been associated with recent outbreaks of salmonellosis, including one in 2010 that made at least 189 people sick in 40 states. Two pulsed light methods were studied: continuous and non-continuous. An average two-log reduction was achieved after treatment for 30 sec, microbial destruction appeared to be linear in nature for both methods, and continuous treatment was more effective than non-continuous treatment.
M. Lees of Eurofins Analytic France SAS discussed addition of 1H nuclear magnetic resonance profiling to a routine monitoring program to detect food adulteration, illustrating the concept with application to spices. The analytical technique provides a total picture of all the components in a sample and can therefore be used as an untargeted screening method. It can be used to ensure the integrity of raw materials or to target vulnerable points in the supply chain where adulteration could occur.

Neil H. Mermelstein, a Fellow of IFT,
is Editor Emeritus of Food Technology
[email protected]