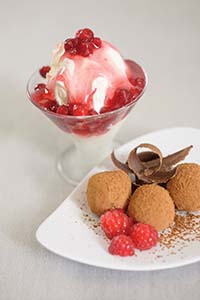 Fresh fruit is not only the top snack food consumed in America, but it is also one of the fastest growing, according to new snacking research from The NPD Group, a global information company. NPD's recently released Snacking in America report finds that growing concerns about health and eating right are contributors to the increasing popularity of fruit as a snack.
Such a pro-fruit climate may prove quite appropriate for the re-imagination of different fruits (both traditional and exotic), their new opportunities in the marketplace, their applications, their processing, and their potential roles in the areas of health and functionality. And let's not forget the flavors that are derived from fruits or even those that mimic their flavor characteristics.
Certainly products already in the marketplace demonstrate the reinventiveness that is at the seed of this month's article. Take, for example, Nestlé's Juicy Juice and its new Juicy Juice Fruitfuls, an all-natural juice beverage that has 35% less sugar than regular juice with all the benefits that fruit juice has to offer, including a full serving (1/2 cup) of fruit in every juice box. Navitas Naturals introduced to the North American marketplace such products as the first goldenberry powder and dried dragonfruit slices. And Buddy Fruits unveiled its Jiggle Gel pouch, a gel fruit pouch that contains only fruit and fruit pectin. Or, as I reported in the July Ingredients section on emerging ingredient developments, researchers at Oregon State University have discovered how to turn the pulp from crushed wine grapes into a natural food preservative and nutritional enhancement for baked goods.
This month's article will look at the different ways that fruits can be reimagined. Or, as one flavor house put it rather whimsically when referring to a giant-size fig, "Now you know Jak." Hopefully, by the time you finish reading this article, that phrase will accurately apply and you'll know more about the different ways that fruits can be reimagined compared to 25 years ago. Let's begin our journey of rediscovery with a very familiar, blue-colored fruit.
Reimagining Old Blue
As one of the few fruits native to the Americas, blueberries have a thoroughly American heritage. About 100 years ago, the highbush cultivated blueberry as a revolutionary development, which evolved into today's blueberry industry.
The use of blueberries has inspired many recipes, especially in the area of desserts. Imagine what our culinary history would be like with the absence of blueberry pie? Or blueberry cobbler? But blueberries don't stop there. Although they may be a traditional fruit, their use keeps being reimagined, as demonstrated by the U.S. Highbush Blueberry Council, c/o Thomas Payne Market Development, San Mateo, Calif. (www.blueberry.org, [email protected]).
Over the past 25 years alone, blueberries have kept finding new uses and are now perceived in ways that previously would have been nontraditional. To see this, let's start with the morning cup of coffee. Product developers have discovered that not only can blueberries be incorporated as an ingredient in scones and muffins to accompany that cup of coffee, but they can be used in the coffee itself. In fact, for its Dunkin Donuts brand bagged coffee lineup, Smuckers is planning a new "bakery series" that includes flavors such as blueberry.
Blueberry beverages can now range from green teas, cocoa, and sports drinks to sipping or dessert wines. A University of Florida study found that blueberry wine can provide more potentially healthy compounds than white wines and many red wines and that consumers looking for health benefits of wine may find blueberry wine a "better alternative to grape wines." This summer, McDonald's launched a new blueberry-pomegranate smoothie. Even Red Bull is employing blueberry power in its new blueberry-flavored energy drinks called Red Bull Editions.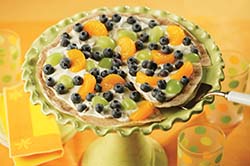 Blueberries and chocolate (we'll talk more about the marriage of blueberries and chocolate later) might have been a prediction a quarter of a century ago, but what about blueberry caramel corn, taffy, lollipops, candy sticks, and gumballs? As you may guess, these are all a reality today, and many other new products are being developed.
Condiments with blueberries have proliferated, especially recently, with salsas, barbecue sauces, vinaigrettes, and mustards, but also multiplying at warp speed are products with which they may be served such as sausages, bratwurst, and even blueberry beef jerky. As bacon continues to be a hot ingredient, it may pair well with blueberry flavor as well.
It's safe to say that Fido would never in his wildest dreams have envisioned the good fortune now awaiting in the blueberry realm. Fido's personal pantry shelf might now contain everything from blueberry dog foods, cobblers, and cookies to a blueberry-clove pet cologne and blueberry pet fur conditioner. (There's even a blueberry facial product that can be used as a "tearless face wash.") The trend toward the humanization of the pet industry is a good fit for blueberry pet bar formulations in which the blueberry identity reinforces goodness and safety.
--- PAGE BREAK ---
Products now touting "beauty from within" comprise a category of ingestibles called cosmeceuticals or nutricosmetics. In this arena, foods and veggies are marketed as beauty enhancers, and blueberries are finding their way into many of these products.
Blueberries' health halo makes them a natural in new products and new product categories such as trail mixes, energy bars, sports bars, antioxidant extracts, and meal replacement bars. And food product developers continue to take advantage of the quasi-mythical power of blueberries to rev up interest in their products.
Other examples of reimagining the use of blueberries might include an ice cream cone with real blueberry bits; blueberry salsa and sauces paired with nontraditional seasonings such as tarragon and cider vinegar; a pancake mix with dried blueberries; and Blueberry Wagashi, a pie-shaped pancake filled with blueberries from Japan.
What makes it possible for blueberries to be reimagined in so many ways? A number of factors.
Blueberries have always been popular because of their natural deliciousness, but their popularity soared with the advent of antioxidant awareness. Blueberries and other fresh fruits contain many naturally occurring antioxidants and consequently are a good source for consumers looking to protect their bodies against the damaging effects of free radicals and chronic diseases associated with the aging process. Foods such as blueberries that are associated with the benefits of antioxidants became must-haves in people's everyday diets, but blueberries are especially successful because they are both an easy snack, eaten fresh, and an easy-to-formulate ingredient for product development in all categories—from dairy and baked goods to beverages, cereals, and snacks.
Blueberries offer a nutritious profile in addition to their antioxidant content. With childhood obesity at epidemic proportions, blueberries can provide an answer for snacks, cereals, and nutritious food products. They are real fruit, low in calories, and virtually fat free. And they are also a good source of fiber, vitamin C, and manganese.
The use of blueberries offers a number of functionality benefits as well. In fact, in consumer research on blueberry market trends, two prevalent themes emerged. Consumers say that blueberries provide health benefits (antioxidants, fiber, and nutrition) and that they taste good. Blueberries offer a fruity, burst-in-the-mouth flavor; a deep blue color; desirable mouthfeel; and a clean label—all benefits for food formulation. Furthermore, the multiplicity of formats—fresh, frozen, dehydrated, liquid, canned, and preserved—and year-round availability allow formulators to incorporate blueberries in many ways, including healthier-for-you breads, beauty-from-within snacks, and bars and pastries.
All these factors can have an influence on reimagining applications that use blueberries. And, of course, let's not forget the pairing of blueberries with popular foods such as chocolate. As noted by the U.S. Highbush Blueberry Council, chocolate manufacturers have gotten on the antioxidant bandwagon, touting good health as another plus for their food of the gods, but the addition of blueberries makes chocolate even "holier" in such applications as chocolate port sauces with blueberries, chocolate-covered blueberries, and rich chocolate desserts. Blueberries and dark chocolate costar in products ranging from yogurt and ice cream to sorbets, gelatos, and cheesecakes. Blueberries provide an acidic note that adds a suitable accent to these chocolate desserts.
At one time, blueberries were probably more associated with many down-home American desserts, and many of these, as already noted, reflected our American heritage. (Some examples might include Blueberry Buckle from New England, traditionally served with nutmeg-blueberry sauce; the Yankee favorite, Blueberry Pan Dowdy; or perhaps Blueberry Shortcake, Blueberry Cobbler, Blueberry Crumble, and Blueberry Brown Betty, just to name a few). But as the years passed, and more pages of history were added, we learned more about the nutritional and functionality properties of the blueberry, and the uses for this traditional fruit could be reimagined in ways that previously were not considered.
Precisely because of its traditionalism, the blueberry is the perfect fruit to get the berry rolling if you will and look at the different ways that fruits and veggies can be reimagined in food formulating. Certainly not all the fruits and veggies covered in this article are as traditional or down-home as the blueberry. (Although I think that facet of the blueberry—its familiarity—makes it that much more exciting because throughout the years it is finding ways to update itself.) Many of the other fruits and veggies discussed in this article will actually be unfamiliar, coming from all parts of the world, and they and their uses will help us to further reimagine what fruits and veggies are today and the directions that they are taking in food formulating.
Reimagining Global Fruits
A number of fruits from around the world were highlighted at the Tenth Innovation Roadshow held by David Michael & Co., Philadelphia, Pa.(www.dmflavors.com). These fruits demonstrated the different ways that the company reimagined the fruit flavor category, bringing new life to it.
Here are just a few examples.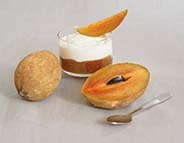 • Now You Know Jak. Imagine a tree that is 30 feet high and somewhat resembles a fig tree … except that where figs would be there are massive, prickly green oblong fruits. No, you're not on some alien planet. Rather, likely you're in South or Southeast Asia, maybe India, and you're staring up at the largest tree-borne fruit that you will ever lay your eyes on. It's called jackfruit (or jak) and can grow up to three feet long and weigh upwards of 80 lbs each.
Inside each giant green shell are numerous edible fleshy bulbs that are extremely pliable in preparation, explained Julie Snarski, Chef for David Michael. These green or ripe fruit pods can be eaten raw or sliced up and cooked in myriad ways. At the Innovation Roadshow, the chef showcased the versatility and desirability of this "slightly stinky but extremely tasty, one-of-a-kind fruit. Ripened jackfruit has a taste that is reminiscent of fruit cocktail—sweet and juicy with notes of pineapple and melon—while the taste of a young, green jak is closer to hearts of palm, artichoke, and green banana.
--- PAGE BREAK ---
"Experience jak's ripe, sweet side in a rice milk smoothie that features jackfruit puree as well as jackfruit flavor," said Snarski. "This light and refreshing, allergen-free smoothie could find fans in both foodservice and retail outlets. We envision the complete smoothie mix packaged in a gable-top container requiring only the addition of ice during preparation."
Snarski continued, "Once you have satisfied your sweet tooth, introduce your palate to jak's green savory side, served with black beans and tomatillo salsa verde. In this mildly spicy salsa verde mix, you can enjoy jackfruit's chicken-like texture as a vegetarian meat substitute. Although jackfruit has a lower protein content than other meat substitutes, it takes on flavors very well and has just the perfect texture for Asian barbecue, Mexican tostadas, and pulled chicken or pork. Fairly low in carbohydrates, young jackfruit delivers potassium, iron, antioxidants, vitamins, and minerals. Its hearty texture paired with its nutritional content promotes satiety, leaving you fuller longer."
Jackfruit can usually be purchased frozen, dried, or canned, and if you get lucky, you may find the fresh, whole-fruit version when it's in season, but "be prepared for a heavy grocery bag," said Snarski with a smile. And, of course, David Michael's natural "jackfruit type" flavor is always in season.
• Chicozapote Flavor. An exotic tropical fruit popular in Mexico, Central America, and Southern Asia, chicozapote (also known as sapodilla) is actually linked to a popular retro product, although few know it, explained Jack Fastig, a Senior Flavor Chemist with David Michael. The evergreen tree on which chicozapote fruit grows is native to Southern Mexico, Central America, and the Caribbean. The super-sticky sap produced by this tree was originally used as the source of natural latex in chewing gum. This sap, known as "tchikli" (from the Nahuatl language of the ancient Aztecs meaning "sticky stuff"), is the inspiration for the name of Chiclets gum.
Externally, chicozapote fruit resembles a blend between a potato and a kiwi with the texture of a tamarind, while inside, the grainy flesh can range from a pale yellow to a caramelized brown color. Chicozapote fruit is extremely sweet and fruity with slight woody and nutty notes, said Fastig. At the roadshow, David Michael showcased the tropical flavor of chicozapote in a nonfat Greek yogurt with 15% fruit preparation. The intriguing flavor of chicozapote translates well in frozen dessert applications including ice cream, sorbet, and water-based frozen desserts as well as juice beverages, smoothies, confections, savory dipping sauces, and fruit fillings for baked goods. David Michael recently added the special flavor of chicozapote, which tastes a bit like a blend between pear and a fig, to its flavor library.
• Flavors of Scandinavia. Berries, and all their variations, tend to be a very popular flavor preference for consumers around the world. While consumers are certainly familiar with strawberries and blueberries, the general affinity that people have for berries creates an openness to experimentation with newer, less commonly known berry breeds.
Take Arctic raspberry, for example. As the name indicates, this berry calls the biting Northern climates home. These Arctic growing regions include Siberia, Canada, Finland, and the Scandinavian countries of Denmark, Norway, and Sweden. Also referred to as the brambleberry, arctic raspberries grow on short perennial plants. The flavorful, dark red berries are a part of the rose family and are considered a delicacy in their countries of origin. The arctic raspberry flavor has top notes of raspberry with berry and grapey notes, followed by sweet, jammy, pruney, raisiny, and earthy end notes.
At the roadshow, the flavor of the berry was featured in Arctic raspberry–flavored truffles. The jammy, berry-like notes of the Arctic raspberry flavor would also translate well in hard candy applications, fruit spreads, bakery fillings, and a variety of hot and cold beverages including tea and liquor.
Another Scandinavian flavor showcased was the lingonberry. If you've had Swedish meatballs, you've probably enjoyed lingonberries—that red dollop of berries on the side of the plate. Recently hailed as a superfruit, ligonberries are found abundantly throughout Scandinavian forests and are distantly related to the cranberry, but are much smaller and juicier.
Not unlike arctic raspberries, ligonberries grow on a short evergreen shrub. The top notes of lingonberry flavor are cranberry, ripe berry, and cherry, followed by a sweet, jammy candy ending. Lingonberry flavor was featured in a topping at the roadshow. It could also be shown off in beverage and pancake syrups, fruit spreads, yogurt fruit preparations and ice cream, or frozen yogurt variegates.
• Flavors of China. Also introduced were two fruit flavors that come from China: pickled dark plum and wild sour jujube.
In Asia, dark plums are gathered at the beginning of summer, while still unripe, and baked at a low temperature until the skins turn black. The plums are then pickled with vinegar, salt, and herb. This pickled plum is called Huamei in China and dried Ume in Japan. Aside from the saltiness imparted by the pickling process, dark plums are also characterized by their strong smoky notes. They offer antioxidant properties and a number of other health benefits, including the ability to stimulate the appetite. At the roadshow, pickled dark plum flavor was highlighted in a gummy, which also contains dark plum juice. The flavor would work well in beverages such as drinkable yogurts, spritzers, and juices, as well as chewable vitamins and functional gummies.
In its dry form, China's sour jujube date looks somewhat similar to the Chinese red date, while the fresh version is green and more closely resembles an apple than a date in both taste and texture. Since ancient times, the Chinese have found that wild sour jujube improves multiple bodily health functions. At the roadshow, the authentic sour jujube flavor was highlighted in a gummy containing sour jujube juice. The flavor could also be suitable in dairy beverages, vinegar, fruit spreads, and confections.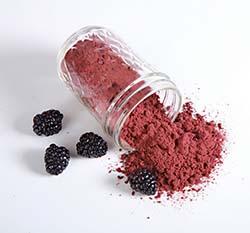 Reimagining Fruit Drying
The process of drying fruits is also being reimagined, creating dried fruit ingredients that can open up new opportunities in this sector.
A new dried fruit ingredient from Milne Fruit Products, Prosser, Wash. (www.milnefruit.com), is made using what the company describes as a revolutionary drying process. The Milne MicroDried ® process gently heats the fruit to reduce the microbial load and uses a vacuum-microwave dehydration technology to finish drying.
--- PAGE BREAK ---
When compared to freeze-dried and infused dried fruits, the resulting fruit ingredient is said to offer a number of improvements. According to the company, the fruit is bigger, retaining much of the fruit's original size. In addition, it has a more natural appearance, visual piece integrity, and color, featuring "real fruit color and flavor throughout the whole piece." It preserves most of its original nutrients, with no added sugars, flavors, colors, or preservatives.
According to Michael Sorenson, the company's President and General Manager, "Before introducing this product, we conducted independent sensory tests that concluded MicroDried actually better retains its fruit fragrance and taste along with more vital nutrients when compared to other commercial dehydrated and dried fruit products."
Available in whole or fragmented pieces and powders, the dried fruit products are offered in different moisture ranges that create different textures from crunchy to chewy. The ingredient is said to be ideal for continuous flow production and is suitable for a wide range of product applications from hot and cold cereals to baked goods, trail mixes, granola bars, snack items, and more.
"In addition, MicroDried fruit offers more fruit and costs less per pound than other dried fruit products," Sorenson explained. "The efficiencies of the MicroDried process allow us to be very competitive."
Eric Johnson, the company's R&D/Process Development Manager and developer of the process, sees additional advantages over freeze-dried and infused dried fruits. "Our patented process incorporates a kill step which produces an extremely low microbial load but doesn't compromise the fruit's flavor profile or nutritional value," he said. "It's a critical safety measure, yet not always possible with other drying methods."
The initial MicroDried products included blueberry and blackberry whole fruit, fragments, and powders. But in March 2013, the line was expanded to include vegetable products and two new fruit varieties. Corn and peas were introduced to the line (and are expected to be followed by carrots, red beets, and organic vegetables). The new fruit varieties are pomegranate and aronia. "By combining these powerful fruits and vegetables with the innovative drying process, Milne is able to offer really unique fruit and vegetable ingredients to the marketplace in a variety of forms," said Sorenson. "And while most MicroDried products are available whole, fragmented, or in powders, we are able to offer IQF aronia and aronia juice concentrate and puree for different product applications."
At the 2013 IFT Food Expo, Milne highlighted the MicroDried product line made with its microwave vacuum dehydration technology. Specialists were on hand to explain how the technology helped the fruit to retain its appearance and nutrients while allowing moisture control. At 3–4% moisture, products are crunchy. Products at 12% are chewy and more suitable for trail mixes, baked goods, confections, ready-to-eat cereals, and bar applications. Fruit ingredients can also be ground into powders.
Reimagining Fruit Applications
In its reimagining of fruit applications, Dole Packaged Foods, Westlake Village, Calif. (www.dolefoodservice.com), has set its compasses with needles pointing to Central and South America. According to the company, foodservice customers can experience the ingredients and tastes of Argentina, Brazil, Chile, Peru, and Mexico, with its chefs reimagining indigenous dishes with signature flair. Many of these dishes were demonstrated at the 2013 IFT Food Expo.
For example, imagine Jicama Salsa with Pineapple and Cilantro or Pineapple Quinoa Grilled Chicken Salad. These and other dishes representing innovative, fruit-forward, Latin menu applications were explored by Dole, using its fresh frozen fruit ingredients.
Many foodservice concepts can be translated into packaged products for retail. Fresh frozen fruits come in a variety of packs and forms including aseptic concentrates and purees.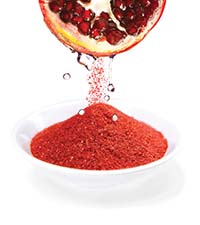 Reimagining Whole Fruit and Vegetable Powders
Whole fruit and vegetable powders available from P.L. Thomas & Co., Morristown, N.J. (www.plthomas.com), are said to offer an ingredient form that is easier to incorporate and process than liquid, drum-dried, spray-dried, or freeze-dried products. Made using a special technology, the powders can provide an opportunity for food scientists, nutritionists, and culinologists to improve the products they are working on today, and to create totally new product forms moving into the future.
The Vivid Harvest whole food powders are manufactured for P.L. Thomas by Columbia Phytotechnology through a patented ultra-gentle process that uses infrared light to evaporate water molecules in fruits and vegetables without disturbing active enzymes, antioxidants, vitamins, minerals, or other phytonutrients. The flavor, aroma, color, and nutritional quality of the original materials are preserved in a manner that enhances the consumer experience.
According to P.L. Thomas, the process starts with high quality ingredients (organic fruits and vegetables, pulps, and purees) that are minimally processed. The gentle, evaporative, light-using process does not use solvents or processing aids or put raw materials under the vacuum or extreme temperatures that can negatively affect purity and sensory characteristics. It creates a solid granule with a uniform shape and nonporous structure that is moisture resistant and has a low surface tension. The low moisture content (less than 3%) and the solidity of the granules give the powders a long shelf life. The low surface tension delivers excellent flowability, solubility, and dispersibility. The bulk density of the powders offer a more intense, concentrated presence with less product required in consumer food products.
--- PAGE BREAK ---
The initial line of whole food powders includes 25 different fruit-based products as well as 16 vegetable-based products drawn from the hottest trends in the consumer food and beverage market.
Furthermore, custom variants of the powders can be developed from multiple fruits and vegetables, blended during a liquid phase before the evaporation process to ensure uniformity of the finished granules more effectively than a powder-mixing process can achieve. This allows enhanced formulation creativity and improved quality of the customer products.
Reimagining the Health Role of Fruits
Studies are being conducted, the results of which may also help reimagine the potential health role of fruits. These studies can range from those that involve the impact of fruit-derived ingredients on diabetes to those that may have a psychological influence. Here are some examples.
In evaluating the bioactive compounds of Illinois blueberry and blackberry wines, University of Illinois scientists have found compounds that inhibit enzymes responsible for carbohydrate absorption and assimilation. That could mean a tasty way to help people with diabetes decrease their blood sugar. "We're thinking about a dealcoholized fermented fruit beverage that would optimize the inhibition of the alpha-amylase and alpha-glucosidase enzymes and also make use of the wines' other healthful bioactive components," said Elvira de Mejia, a University of Illinois professor of food chemistry and food toxicology.
A study published in the British Journal of Health Psychology shows that eating more fruit and vegetables may make young people calmer, happier, and more energetic. The research conducted by the University of Otago sought to investigate the relationship between day-to-day emotions and food consumption. While the research shows a promising connection between healthy foods and healthy moods, more studies are needed to determine whether these foods can really keep the blues away.
Next month's Ingredients section will report on ingredient innovations and trends identified at the 2013 IFT Food Expo®.
---
Bell Reimagines Fruit Flavors
Bell Flavors & Fragrances, Northbrook, Ill. (www.bellff.com), served up its fifth biannual Flavorology event this past spring at the Chopping Block in Chicago. Flavorology is a gathering of the company's R&D professionals, application specialists, industry chefs, and key customers. At the event, customers are educated about new technologies and flavor concepts so they can be successful in delivering market-leading products.
Several of the flavor concepts involved the reimagining of fruit flavors. For example, beverage tables featured beverage flavors from around the world, highlighting South America's cape gooseberry, Europe's blackcurrant, South Africa's marula, and Southeast Asia's rambutan flavors. There was also an alcoholic beverage table called "Out of Bounds Booze: Potent Potables" at which Bell showed off innovative drinks such as guava gin and mandarin tequila.
Other featured concepts included fig preserve and seasoned ham, prickly pear margarita donut holes, fruit-flavored ice cream inclusions, and exotic combinations of sweet and savory.
---
www.ift.org
Members Only: Read more about fruits and fruit ingredients online at www.ift.org. Type the keyword into our search box at the upper right side of our home page.

Donald E. Pszczola,
Senior Editor
[email protected]