Dark chocolate, red wine, and coffee. They may sound like vices, but in reality they contain powerful extracts that have potential wellness benefits. Referred to as healthy indulgences, these foods and beverages satisfy cravings while delivering nutrients that have been shown to offer positive effects in the areas of weight management, heart health, and circulation.
At the 2013 Natural Products Expo West, many companies offered decadent yet functional products. The Cookie Department™, Berkeley, Calif. (www.thecookiedepartment.com), showcased innovative cookies that are fully functional. For example, its Cherry Bomb™ cookie is a double-chocolate probiotic cookie that contains 1 billion cfu per day of probiotics. The company's Great Full® cookie is a sweet potato wellness cookie that contains cranberries, a good source of antioxidants. Other offerings were Awaken Baked®, an espresso cookie; Snap Back®, a ginger detox cookie; and Tough Cookie™, a peanut butter protein cookie that contains 10 g of whey protein.

ThinkThin® LLC, Ventura, Calif. (www.thinkproducts.com), uses the tagline "smart decadence" to market its thinkThin Divine bars. The bars offer 6 g of protein, 9–10 g of sugar, and 9 g of fiber. The line includes flavors such as Dark Chocolate Coconut, Mint Chocolate Coconut, and German Chocolate Coconut.
Here is a look at chocolate, red wine, and coffee, three decadent products that contain health-promoting components, including flavanols, resveratrol, and chlorogenic acid.
Cocoa Flavanols
Flavanols found in cocoa have been associated with heart health, particularly for their blood pressure-lowering properties. Ried et al. (2012) showed that flavanol-rich chocolate and cocoa products may have a small but statistically significant effect in lowering blood pressure by 2–3 mm Hg in the short term. They studied the effects of consuming cocoa products daily for a minimum of two weeks on blood pressure of adult subjects. The meta-analysis of 20 studies involving 856 mainly healthy subjects revealed a small but statistically significant blood pressure-reducing effect of flavanol-rich cocoa products compared with the control in short-term trials of 2–18 weeks. The researchers noted that long-term trials are needed to determine whether or not blood pressure is reduced on a chronic basis by daily ingestion of cocoa.
Pase et al. (2013) demonstrated positive effects of cocoa polyphenols on mood in healthy subjects. In a randomized, double-blind study, healthy middle-aged subjects received a dark chocolate drink mix standardized to contain 500 mg, 250 mg, or 0 mg of polyphenols. The subjects consumed their assigned treatment once daily for 30 days and were tested at baseline and at 1, 2.5, and 4 hours after a single acute dose and again after receiving 30 days of treatment. In total, 72 subjects completed the trial. After 30 days, the high dose treatment significantly increased self-rated calmness and contentedness relative to the placebo.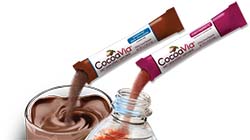 Mars Botanical, Germantown, Md. (www.cocoavia.com), featured CocoaVia® cocoa extract supplement at the 2013 Natural Products Expo West. CocoaVia delivers 250 mg of cocoa flavanols per serving. Decades of research have scientifically proven that cocoa flavanols help support healthy circulation; the heart, brain, muscles, eyes, and skin all depend on healthy circulation. Numerous studies have demonstrated that cocoa flavanols can help keep blood vessels healthy and support healthy circulation. Cocoa flavanols are scientifically proven to support healthy circulation by helping arteries keep their flexibility at any age. With daily intake, the cocoa flavanols in CocoaVia work with the body to help maintain the flow of oxygen and nutrients to the organs and tissues.
CocoaVia is available in four varieties: unsweetened dark chocolate, sweetened dark chocolate, cranberry, and summer citrus flavors. Most recently, the company released CocoaVia in convenient capsules.
Red Wine Resveratrol
Resveratrol is a powerful antioxidant, most commonly associated with heart health benefits. Innova Market Insights (www.innovadatabase.com) has recorded global launches of food and drink products containing resveratrol for a number of years. The numbers have been rising consistently between 2000 and 2010, with particularly strong activity in 2009–2010 as products other than supplements started to appear in greater numbers. This was particularly so in the United States where interest was boosted by the introduction of a number of branded resveratrol ingredient blends. Launches of supplements with resveratrol have continued and have become more widespread and sophisticated, often including other ingredients and targeting different consumer groups and health requirements. Activity in non-supplement lines tended, at least initially, to focus on beverages, confectionery, and snacks, using the natural presence of resveratrol in key ingredients such as grape skins, cocoa powder, and peanuts, respectively. As a result, early launches included wine and chocolate, both marketed on their high resveratrol contents.
--- PAGE BREAK ---
A study presented at the 24th Scientific Meeting of the International Society of Hypertension showed that resveratrol may improve circulatory function in obese, mildly hypertensive adults (DSM, 2012). In the double-blind, placebo-controlled trial, 28 subjects were supplemented with 75 mg of DSM's resVida® resveratrol per day for six weeks. This resulted in a 23% increase in vasodilator function, compared with the placebo. The extent of improvement was greater in subjects with poorer initial vasodilator function. This is important as a decreased vasodilator response is an early biomarker for cardiovascular risk and associated with obesity and hypertension.
The ingredient resVida is a high-potency, convenient, and safe trans-resveratrol for healthy aging and healthy heart. It is 99% pure—the purest form of trans-resveratrol available—and is a nature-identical form of resveratrol.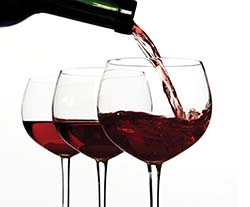 In addition to heart benefits, Bhatt et al. (2012) showed that resveratrol supplementation improved glycemic control in type 2 diabetes mellitus (T2DM). The researchers randomized 62 subjects with T2DM into control and intervention groups. Those in the control group received only oral hypoglycemic agents whereas those in the intervention group received 250 mg of resveratrol per day with their oral hypoglycemic agents for a period of three months. The results revealed that supplementation of resveratrol for three months significantly improved the mean hemoglobin A(1c), systolic blood pressure, total cholesterol, and total protein in T2DM. Oral supplementation of resveratrol was found to be effective in improving glycemic control and may possibly provide a potential adjuvant for the treatment and management of diabetes.
Coffee Bean Extract
Research presented at the 245th National Meeting & Exposition of the American Chemical Society described evidence that chlorogenic acids, the natural substances extracted from unroasted coffee beans, can help control the elevated blood sugar levels and body weight associated with type 2 diabetes (ACS, 2013). "There is significant epidemiological and other evidence that coffee consumption reduces the risk of type 2 diabetes," explained Joe Vinson, the lead researcher of the study. "One large study indicated a 50% risk reduction for people who drank seven cups of coffee a day compared to those who drank only two cups a day. The evidence points to chlorogenic acids as the active ingredients in coffee that both prevent diabetes and improve glucose control in normal, pre-diabetic, and diabetic people."
Large amounts of chlorogenic acids exist in green, or unroasted, coffee beans. However, the high temperatures used to roast coffee beans to make them suitable for use in coffee breaks down much of the chlorogenic acids. Thus, the focus has been on using concentrated extracts of green coffee beans, which contain higher amounts of chlorogenic acids. In a previous study, Vinson found that overweight and obese subjects who took such an extract lost about 10% of their body weight in 22 weeks. The new study sought to document the effects that various doses of a commercial green coffee extract had on the blood sugar levels of 56 subjects with normal blood sugar levels. The subjects received a glucose tolerance test to see how their bodies responded to the sugar. Then over a period of time, they took 100, 200, 300, or 400 mg of the extract in a capsule with water. Follow-up glucose tolerance tests showed how the green coffee extract affected their glucose responses.
"All doses of green coffee extract produced a significant reduction in blood sugar relative to the original blank glucose challenge," reported Vinson. "The maximum blood glucose occurred at 30 minutes and was 24% lower than the original with the 400 mg of green coffee extract and the blood glucose at 120 minutes was 31% lower." The green coffee extract was supplied by Applied Food Sciences LLC, Austin, Texas (www.appliedfoods.com).
Naturex, South Hackensack, N.J. (www.naturex.com), offers Svetol®, a natural plant extract of decaffeinated green coffee rich in active components. Obtained from unroasted coffee beans of the Robusta variety, Svetol possesses a unique composition that has been studied in detail and is rich in chlorogenic acids, which possess antioxidant power. A 400 mg dose of Svetol corresponds to the equivalent of 3–6 cups of coffee, depending on the quality of the coffee and the method of preparation. Chlorogenic acids reduce intestinal glucose absorption and are thought to be the most effective ingredients for weight loss. The traditional extraction process conducted by Naturex also ensures a well-balanced chlorogenic acids profile. This distinct profile proved to be most effective in clinical studies.
Svetol also contains caffeic acid, well known for its antioxidant power. Studies carried out by Naturex have demonstrated the significant antioxidant power of caffeic acid, notably by limiting lipid oxidation in the liver.
According to Naturex, a clinical study carried out on 50 subjects between 19–75 years of age demonstrated Svetol's slimming action thanks to its "fat-burning" effect. Over the course of 60 days, two groups of subjects, all with BMIs of more than 25, were observed. The first group of subjects took 400 mg of Svetol daily while the second group received a placebo. After 60 days of supplementation, the subjects who took Svetol had lost 5.7% of their initial weight for an average weight loss of 5 kg, or 11 lbs. The subjects who took the placebo lost 2.8% of their initial weight; however, this difference in weight was not statistically significant compared to that obtained with Svetol.

Linda Milo Ohr,
Contributing Editor, Denver, Colo.
[email protected]
References
ACS. 2013. New evidence that natural substances in green coffee beans help control blood sugar levels. American Chemical Society, press release, April 9.
Bhatt, J.K., Thomas, S., and Nanjan, M.J. 2012. Resveratrol supplementation improves glycemic control in type 2 diabetes mellitus. Nutr. Res. 32(7): 537-541.
DSM. 2012. Resveratrol may support cardiovascular health. A study presented at the 24th Scientific Meeting of the International Society of Hypertension shows that resveratrol may improve circulatory function in obese, mildly hypertensive adults. DSM Nutritionals, press release, Oct. 3.
Pase, M.P., Scholey, A.B., Pipingas, A., Kras, M., Nolidin, K., Gibbs, A., Wesnes, K., and Stough, C. 2013. Cocoa polyphenols enhance positive mood states but not cognitive performance: a randomized, placebo-controlled trial. J. Psychopharmacol. 27(5): 451-458.
Ried, K., Sullivan, T.R., Fakler, P., Frank, O.R., and Stocks, N.P. 2012. Effect of cocoa on blood pressure. Cochrane Database of Systematic Reviews, doi: 10.1002/14651858. CD008893.pub2.