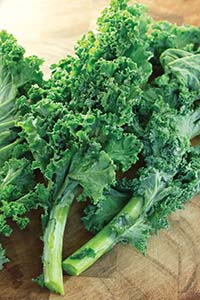 Improving nutrition of rations
Healthier combat rations for U.S. Army soldiers are in development thanks to researchers using proprietary technology that incorporates health-promoting compounds from fruits and vegetables.
Developed by researchers with North Carolina State University's Plants for Human Health Institute, the ingredients are a combination of protein powders and flours infused with compounds from healthful foods such as kale and grapes. Compounds like anthocyanins and glucosinolates are extracted from fruits and vegetables and then put through a series of steps to reduce the final product weight and concentrate the compounds. The liquid mixture is combined with the protein powders or flours, resulting in shelf-stable ingredients that can be formulated into drink, power bar, or snack rations for soldiers serving in areas where fresh produce is not grown or imported or the lack of proper storage becomes an issue.
The researchers have created prototype foods that contain the ingredients and are conducting an array of nutritional, sensory, efficacy, and stability tests on them. The goal is to have food products made with the ingredients for rations available in early 2014.
Future formulators gain R&D skills
Budding food scientists honed their product development skills as they learned firsthand the ins and outs of formulating and marketing their own flavors of ice cream.
A group of 14 high school juniors participated in a five-week Ice Cream University course held at TIC Gums Inc.'s Texture Innovation Center in White Marsh, Md. The students first learned about the scientific principles of ice cream, flavors, inclusions, and packaging, and then had the chance to work together in groups to develop a product and marketing plans to promote it. The different ice creams developed by the students were then sold at Broom's Bloom Dairy, which along with Cornell University, Harford County Schools, Star Kay White, and TIC Gums, sponsored the costs of the class for the students.
Programs like these are an important way to help introduce students to the food science and technology industry. "We believe that these students will be better prepared to both decide on a food science career and have the benefit of this type and level of prior exposure before the start of college course work," remarked Tim Andon of TIC Gums.
Kraft creates new business units
Kraft Food Group recently formed two new, standalone business units to focus on brand-building and streamline portfolio management.
The company created the new business units, Meals and Desserts and Enhancers and Snack Nuts, by dividing the brands in its Grocery segment that have natural synergies into one of the two new units.
The company will keep brands like Cool Whip, JELL-O, Jet-Puffed, Kraft Macaroni & Cheese, Shake 'N Bake, Stove Top, and Velveeta together in the Meals and Desserts business unit and A.1., Grey Poupon, Kraft and Bulls-Eye barbecue sauces, Kraft and Good Seasons dressings, Kraft and Miracle Whip dressings, and Planters in the Enhancers and Snack Nuts business unit. The changes became effective July 1.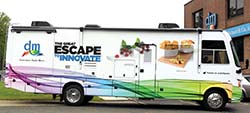 David Michael hits the road
David Michael & Co. plans to educate food technologists and culinary chefs about the latest and emerging trends, ingredients, and products through its Great Escape to Innovate™ initiative.
The company has taken its annual Innovation Roadshow on tour along the East Coast in a 34-foot tour bus, which seats 10 and has several flatscreen televisions, an outside awning, and a kitchen for culinary presentations. The bus will be making stops at R&D centers, kitchens of various chefs, farmers markets, and specialty shops throughout the summer. Scientists and representatives from David Michael will meet with its customers to learn about their product development challenges and their insights about food trends.
The David Michael team will also share innovative product concepts that illustrate some of the emerging flavors and consumer and product trends that developers and chefs could incorporate into their own product portfolios.
One of the stops that the tour bus will make is at the Rutgers University Food Innovation Center, where a team from David Michael's Sensory and Flavor Insights department will work with Rutgers scientists to gather insights and information from consumers about gluten-free foods and the gluten-free market.
--- PAGE BREAK ---
Three win World Food Prize
The 2013 World Food Prize goes to three scientists instrumental in advancing biotechnology. Marc Van Montagu, Mary-Dell Chilton, and Robert T. Fraley were honored for their individual achievements in agricultural biotechnology, specifically the development of crops with improved yields, better tolerance of weather extremes, and resistance to disease and insects. The three worked independently of each other, conducting research on using a plant bacterium to insert genes from another organism into plant cells.
The World Food Prize, created in 1986, recognizes contributions to the world food supply with an emphasis on creating and maintaining a nutritious and sustainable food supply for everyone. The visionary behind the World Food Prize was Norman E. Borlaug, winner of the Nobel Peace Prize in 1970 for his work in world agriculture. The three winners will officially receive the $250,000 World Food Prize during the 2013 World Food Prize Laureate Award Ceremony (Oct. 17, 2013), which is held in conjunction with The Borlaug Dialogue, Oct. 16–19, in Des Moines, Iowa.
Examining benefits of cereal grains
Compounds from cereal grains have a number of healthful benefits, but more research on the mechanism of absorption and the bioavailability is still needed. These are the conclusions of a review study published by researchers at the University of Illinois at Urbana–Champaign.
The researchers used the BIOPEP database to evaluate the bioactive peptides in wheat, oat, barley, and rice and analyzed information from studies on each grain that detailed the proteins' roles in preventing chronic diseases. Their results showed that wheat and barley proteins had the most diverse and greatest volume of biologically active amino acid sequences and wheat and rice proteins had anticancer peptide sequences.
Read more about the study, "Storage Proteins and Their Potential Role in Prevention of Chronic Diseases," in the July 2013 issue of Comprehensive Reviews in Food Science and Food Safety.
---
What's new with food companies
•
Bell Flavors & Fragrances
has opened an innovation center in Guadalajara, Mexico.
• Bunge North America has opened a packaging facility and expanded it refinery in Decatur, Ala.
• Cargill has begun construction on a cocoa processing facility in Gresik, Indonesia.
• Covance's LC-MS/MS method for the analysis of vitamin D in infant formula has been granted "Official First Action" status as an Official MethodSM by AOAC International.
• Cyvex Nutrition has renewed its distribution agreement with CK Ingredients.
• AOAC International has recognized DuPont's BAX® System assay for detecting Salmonella as AOAC Official Method of Analysis.
• Heinz has opened its European Innovation Center in Nijmegen, the Netherlands.
• InstantLabs' Listeria Species Food Safety Test Kit has received AOAC Performance Tested MethodsSM certification for environmental and food matrices.
• International Flavors & Fragrances and Amyris will develop and commercialize sustainable ingredients for use in flavors and fragrances.
• Mondelez International has signed United Nations Women's Empowerment Principles and will make additional commitments to advance women's rights in cocoa farming. It also formed a partnership with the Peace Corps to train cocoa entrepreneurs in the Dominican Republic.
• Omega Ingredients will now offer the Misitano & Stracuzzi brand of citrus essential oils in the UK.
• Sensient Food Colors Europe has received ISO 14001 certification for environmental management from the International Organization for Standardization.
• Tate & Lyle has received a U.S. patent for its SODA-LO® Salt Microspheres and the manufacturing process to make the ingredient. The company has also acquired Biovelop.
• A grant from the National Science Foundation will help form the Center for Advanced Research in Drying, a joint program of University of Illinois at Urbana–Champaign and Worcester Polytechnic Institute.
• Urschel (Thailand) Ltd. has moved to a larger facility in Bangkok that provides more room for its food-cutting operations.
• Wixon has won the BizTimes I.Q. Award from BizTimes Media for its Wix-Fresh™ Reduced Sodium System.

Karen Nachay,
Associate Editor
[email protected]