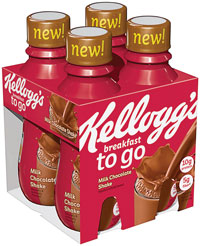 Cereal Marketers Bet on Drinks
General Mills Inc., Minneapolis, Minn., and Kellogg Co., Battle Creek, Mich., have ventured out of the cereal aisle in search of new breakfast opportunities. In the northeast part of the United States, General Mills is test marketing a breakfast shake called BFAST in aseptic paperboard cartons. The shelf-stable, portable drink is touted as the "Nutrition of a bowl of cereal & milk." An 8-oz serving delivers 180–190 calories, 8 g of protein, 8 g of whole grains, 3 g of dietary fiber, and about 13 vitamins and minerals. Varieties include chocolate, berry, and vanilla.
Available throughout the U.S., Kellogg markets Kellogg's Breakfast To Go shakes in a 10-oz plastic bottle.Three flavors include chocolate, vanilla, and strawberry. Each container delivers 180–190 calories, 10 g of protein (nonfat milk, whey protein concentrate, and soy protein isolate), 5 g of dietary fiber, and 24 vitamins and minerals. Products are sold in 4-count packs.
---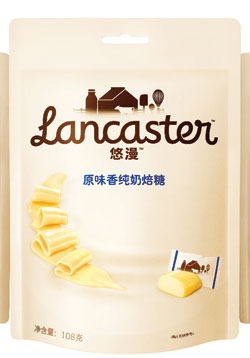 Hershey is Sweet on China
Hershey Co.
, Hershey, Pa., has launched milk-based candies under the
Lancaster
brand in China. The new product line of three flavors—
Original Pure Nai Bei, Pure Nai Bei filled with Rich Nai Bei,
and
Pure Nai Bei filled with Strawberry
—is the first brand launched outside the United States in the company's history. It is also the confectioner's first new that is not a brand extension or acquisition in the past 30 years.
Lancaster candies use a proprietary Nai Bei candy-making process that requires high-quality imported milk and slow cooking. This results in a rich, creamy flavor. Lancaster products compete in the "milk candy" confection category, which accounts for one quarter of the total candy market in China and about $1.2 billion. The three varieties are available in three sizes: 40-g bag with a suggested retail price of 6 RMB; 108-g bag with a suggested retail price of 12.9 RMB; and 228-g bag with a suggested retail price of 24.9 RMB.
---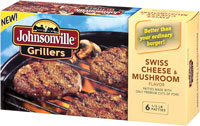 Burgers with Oink

As consumers swing into full gear for their backyard barbecues, they may be grilling fewer burgers this year due to rising beef prices. But
Johnsonville Sausage
, Sheboygan Falls, Wis., may have a good compromise for spatula chefs. The company recently launched two new
Griller varieties—Cheddar Cheese & Bacon
and
Swiss Cheese & Mushroom
. The frozen patties are made from premium cuts of fresh pork and unique blends of herbs and spices. One patty contains 460 calories and 22 g of protein. The one-third-pound patties are packed six to a carton, which carries a suggested retail price of $8.99. "We've created these
Johnsonville Grillers
to address the traditional frozen burger shortcomings of dry and low flavor by providing a flavorful, moist gourmet alternative that also delivers the value and convenience that consumers appreciate," said Bruce Johnson, Sr. Brand Manager.