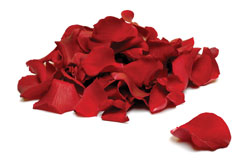 Health benefits of rose compounds
A rose is the flower most associated with love (St. Valentine's Day) and championship sports (the Kentucky Derby is also known as the run for the roses). But this flower, popular the world over, is also becoming more widely known for its disease risk-prevention properties, as shown in a new study published in Journal of Food Science.
Knowing that colorful rose petals are high in phenolics and anthocyanin, and that roses have been shown to have antiinflammatory and antioxidant effects, researchers with the Food Technology Division of Bhabah Atomic Research Centre in Mumbai, India, investigated the antimutagenic properties of the polyphenols in rose petals and in tea brewed from the petals. They analyzed the petals from three different cultivars, each one a different color (red, pink, or yellow). While the petals from all of the cultivars showed some antimutagenic properties, the red petals showed the most, with the anthocyanin, peonidin 3-glucoside, identified as the major bioactive contributing to antimutagenicity, wrote the researchers. The compound was also heat stable in the tea. The researchers concluded that perhaps that particular rose cultivar and the specific anthocyanin extracted from it could have health benefits beyond what is already known.
Read more about the study, "Identification of Antimutagenic Properties of Anthocyanins and Other Polyphenols from Rose (Rosa centifolia) Petals and Tea," in Journal of Food Science, doi: 10.1111/1750-3841.12135.
Reducing Alzheimer's disease risk
Researchers have pinpointed a compound in extra virgin olive oil that may help decrease the accumulation of beta-amyloid plaques, which are thought to be involved in the development of Alzheimer's disease. The results have been published in ACS Chemical Neuroscience.
The researchers built upon previously conducted research that showed a substance in the oil called oleocanthal has protective effects on nerve cells from the kind of damage that Alzheimer's disease causes. They conducted tests that ultimately showed that oleocanthal helped to increase the production of two proteins and key enzymes thought to be critical in removing beta-amyloid from the brain.
The study, "Olive-oil Derived Oleocanthal Enhances ß-Amyloid Clearance as a Potential Neuroprotective Mechanism against Alzheimer's Disease: In Vitro and in Vivo Studies," appeared online early in ACS Chemical Neuroscience, dx.doi.org/10.1021/cn400024q.
Discovery in taste perception
A multidisciplinary consortium of 19 researchers from nine institutions including Monell Chemical Senses Center has made an important discovery in how we perceive different tastes to possibly solve what the researchers call the "missing link" in taste perception.
The scientists already knew that when sweet, bitter, and umami molecules meet the tongue, taste receptors in specialized cells called type II taste cells are activated and set off a series of reactions, but with this current research they wanted to findout exactly how the taste cells communicate to the brain that they have detected something, said Michael G. Tordoff, a taste biologist at Monell.
The final event in the series opens a pore formed by calcium-homoeostasismodulator-1 (CALHM1)—a channel in the walls of taste receptor cells—in the taste cell membrane, and it is this opening the researchers found that allows molecules of the neurotransmitter ATP to move from the taste cell and transmit a signal to adjacent nerve cells connected to the brain. Furthermore, Ichiro Matsumato, a molecular neurobiologist from Monell, showed that the gene for CALHM1 is only expressed in type II taste cells.
Pungent gas may help crop yields
Scientists report on a novel way to enhance plant growth that may one day help to increase global food supplies in a study published in PLOS One.
The researchers found that exposing the roots or seeds of plants to extremely low concentrations of dissolved hydrogen sulfide caused statistically significant increases in biomass. The results showed that the treatment resulted in higher fruit yields, the individual cells in treated plants were smaller than those in the control groups, and germination success and seedling size in bean, corn, wheat, and pea seeds increased and time to germination decreased. The hydrogen sulfide acts as a signal to increase the growth rate of all of the plant species tested in the study and may be used to increase agricultural output around the world, wrote the researchers.
The study, "Increased Growth and Germination Success in Plants Following Hydrogen Sulfide Administration," was published online in PLOS One, doi: 10.1371/journal.pone.0062048.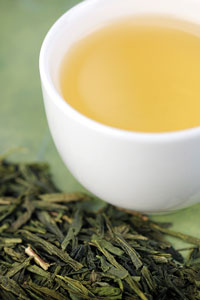 Improving green tea's benefits
Green tea is a popular beverage around the world, and research has shown it has a myriad of health and wellness benefits. Researchers in Korea report that green tea drinkers can improve the health benefits of tea by drinking it with vitamin C and xylitol.
The researchers sought to analyze the effect of vitamin C and xylitol on the intestinal cellular transport of green tea catechins, which have antioxidant activity and may help to prevent the development of certain diseases. They built upon research that has shown vitamin C and xylitol may help to improve the stability of and increase the bioavailability of tea catechins. For this study, the researchers examined the effects of green tea formulated with either vitamin C or xylitol or both on intestinal cell transport of gallated and nongallated catechins. The results showed that green tea formulated with the vitamin C and xylitol enhanced the intestinal transport of both gallated and nongallated catechins.
The study, "Green Tea Formulations with Vitamin C and Xylitol on Enhanced Intestinal Transport of Green Tea Catechins," appeared online early in Journal of Food Science, doi: 10.1111/1750-3841.12112.
Use of stevia increases in Europe
New global food and beverage product launches formulated with stevia had a 400% increase from 2008 to 2012 and a 158% increase from 2011 to 2012, according to market research firm Mintel.
The increase is likely due to several factors, reported Mintel, such as the fact that as of 2012, stevia is allowed to be used in a wide range of food and beverage categories in the European Union, more people in many markets around the world are purchasing products that have a more natural positioning, and concerns over overweight and obesity continue to rise.
The Mintel research on natural sweeteners shows that Europe had a large increase in the number of global new product introductions containing stevia in 2012, accounting for 25%, up from 4% in 2011. Other regions, though, had decreases: Asia accounted for 50%, down from 63% in 2011, North America accounted for 15%, down from 21% in 2011, and Latin America accounted for 9%, down from 11% in 2011.
The research also showed that nonalcoholic beverages accounted for 31% of the global product launches containing stevia in 2012, followed by snacks at 25%, natural table-top sweetener alternatives at 13%, and dairy products at 7%.
---
What's new with food companies
• Briess Malt & Ingredients has acquired a barley storage and processing facility and a seed plant from Riverland Ag Corp.
has acquired a barley storage and processing facility and a seed plant from
• Caravan Ingredients has announced a rebranding initiative that includes a new logo and brand positioning.
• Cargill and Evolva Holding will jointly develop and commercialize fermentation-derived steviol glycosides.
• The Corn Refiners Association celebrates its 100th anniversary in 2013.
• Döhler-Milne Aseptics has introduced its new name, DMA, as well as a new logo, marketing materials, and website, www.DMAseptics.com.
• FMC Corp. has begun construction of a microcrystalline cellulose manufacturing plant in Rayong, Thailand. It also acquired the pectin-related intellectual property developed by Vigido AG.
• Health Canada has approved the use of monk fruit extract as a sweetener at a maximum level of use of 0.8% in table-top sweeteners.
• Heartland Flax has received British Retail Consortium certification as Global Food Safety Initiative compliant with an "A" grade.
• IOI Loders Croklaan's Betapol ® fat blend has been awarded 17 patents worldwide for the ingredient's production processes.
• Kalsec in May 2013 will open a new applications lab at its facility in Shanghai, China.
• Virginia Dare and We-e Flavors have formed a joint venture flavor company based in Shanghai, China.

Karen Nachay,
Associate Editor
[email protected]