Cocoa, green tea, grape seed, olive oil, and apple may not taste good together, but they have one thing in common. All have been studied for their health benefits due to polyphenols that are extracted from them. Cocoa flavanols, green tea catechins, grape seed polyphenols, apple polyphenols, and olive hydroxytyrosol have been shown to benefit overall health, cardiovascular health, metabolism, and more. Here is a look at some of these polyphenol ingredients.
Grape Extracts
Grape polyphenols such as resveratrol have reported cardioprotective effects. The results of a study presented at the 2012 24th Scientific Meeting of the International Society of Hypertension demonstrated that regular supplementation with Resvida® resveratrol from DSM Nutritional Products, Parsippany, N.J. (www.dsm.com/human-nutrition), had a positive and sustained effect on circulatory function in obese, mildly hypertensive adults (DSM, 2012). Resvida is a form of trans-resveratrol, suitable for use in various types of foods and dietary supplements.
The researchers gave 28 subjects 75 mg of Resvida per day for six weeks. The subjects who took the supplement had a 23% increase in vasodilator function compared to those who took the placebo. The extent of improvement was greater in subjects who initially had poorer vasodilator function. A decreased vasodilator response is an early biomarker for cardiovascular risk and is associated with obesity and hypertension.
A grape seed extract, MegaNatural®-BP from Polyphenolics, Madera, Calif. (www.polyphenolics.com), is made from a special seed blend primarily from varietal white wine grapes. The seeds are extracted with hot water and the extract is purified, concentrated, and spray dried, which concentrates natural grape phenolics into the extract. Polyphenolics has invested heavily in original research on MegaNatural-BP and is associated with the Dept. of Preventive Cardiology at University of California, Davis, where researchers have conducted numerous clinical and in vitro studies. One clinical study involving patients with metabolic syndrome showed incidental blood pressure reductions averaging 12 mmHg for systolic and 8 mmHg for diastolic pressures. In another study, participants with prehypertension took 300 mg of MegaNatural-BP once a day for two months. Blood pressure monitoring averaged 8 mmHg lower in systolic and 5 mmHg lower in diastolic pressure. The findings from these studies, as well as the possibilities of MegaNatural-BP being used not only in supplements but also in functional foods and beverages, were presented by an expert panel during a presentation entitled "Beyond Antioxidants: A New Generation of Grape Seed Polyphenol Extracts" at the 2012 SupplySide West. The company in February 2012 announced that the fourth U.S. patent had been granted for MegaNatural-BP, covering the process with which the structurally unique ingredient is produced. Patents have been filed worldwide and several have been issued to date.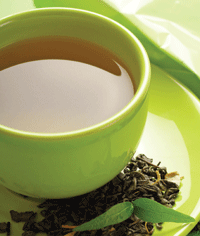 Green Tea Extracts
Numerous research studies have evaluated the health benefits of green tea, focusing on the polyphenol epigallocatechin gallate (EGCG). The body of scientific evidence shows that EGCG supports cardiovascular health and aids weight loss by boosting metabolism and fat oxidation.
DSM offers a pure, caffeine-free green tea extract, Teavigo®. With its high concentration of EGCG, Teavigo is said to protect against free radical damage. The green tea extract is purified EGCG (a minimum of 94% on dry basis). Its reported benefits include overall wellbeing, enhanced metabolism, and increased fat oxidation.
A proprietary formula of catechins and theaflavins, AssuriTEA®Men's Health from Kemin, Des Moines, Iowa (www.kemin.com), has been shown to support urological health. Backed by clinical trial results, AssuriTEA Men's Health has been shown to safely and effectively manage urinary conditions and discomfort associated with aging (Kemin, 2012). Comprised of a blend of green and black tea varieties from fully traceable plant sources, AssuriTEA is 100% water extracted and is affirmed as GRAS for certain food and beverage applications.
The ingredient is a new addition to the AssuriTea portfolio of tea ingredients that provide superior antioxidant benefits. AssuriTEA Wellbeing is an all-natural proprietary blend of green and black teas, which combines the complimentary antioxidant mechanisms offered by the diverse polyphenols present. AssuriTEA Green is a water-extracted, 100% natural, high-quality green tea that provides superior antioxidant protection and other healthful benefits of green tea.
Taiyo International Inc., Minneapolis, Minn. (www.taiyointernational.com), offers Sunphenon®. The green tea ingredient, which is obtained from the leaf of Camellia sinensis, is a series of highly purified polyphenols rich in natural green tea catechins. These polyphenols have been shown to have numerous biochemical and physiological benefits, including antioxidant, antimicrobial, deodorant, and thermogenic (fat-burning) activities.
Olive Hydroxytyrosol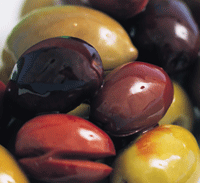 Olives are an integral part of the Mediterranean diet and are thought to help contribute to the diet's hearthealth benefits. Richard et al. (2011) identified hydroxytyrosol as the main bioactive compound of aqueous olive extracts, i.e., olive vegetation water. The researchers assessed the effects of hydroxytyrosol on inflammatory mediators, cytokines, and chemokines. The data indicated that hydroxytyrosol affects nitric oxide and chemokine production, impacting chronic inflammatory processes in endothelium or arthritis. Scientific research conducted during the past 15 years indicates that olive polyphenols help promote joint health and cardiovascular wellness, and are being studied for their ability to support healthy colon, brain, skin, and immune functions.
As the research on olive hydroxytyrosol continues, more companies are offering this olive extract as an ingredient. CreAgri Inc., Hayward, Calif. (www.creagri.com), offers HIDROX®, which contains antioxidant polyphenols, especially hydroxytyrosol, obtained from the juice of fresh, organically grown olives. HIDROX has been shown clinically and biochemically to possess an anti-inflammatory activity that can act at the cellular and tissue level. CreAgri in 2012 announced its joint venture with Sunsweet Growers Inc. to develop beverages that contain the ingredient (CreAgri, 2012).
PL Thomas & Co. Inc., Morristown, N.J. (www.plthomas.com), offers Hytolive®, a 100% natural, solvent-free water extract of olive fruits. A dosage of 100 mg of Hytolive powder contains the hydroxytyrosol equivalent of 10 olives or 1/2 liter of extra virgin olive oil.
Nexira Health offers an olive extract, Oil-Ola™, with a guaranteed content of 3% hydroxytyrosol and an active dose of 150–300 mg per day. It is a 100% natural olive extract produced from organic agriculture that is a water-soluble powder suitable for functional food and dietary supplements.
--- PAGE BREAK ---
Cocoa Flavanols
Cocoa flavanols have been associated with heart health, potentially benefiting cholesterol and blood pressure levels. The European Food Safety Authority in 2012 issued a positive Scientific Opinion on Barry Callebaut's health claim on cocoa flavanols (Barry Callebaut, 2012). The company showed that the intake of 200 mg of cocoa flavanols (provided by 2.5 g of high-flavanol cocoa powder or 10 g of high-flavanol dark chocolate) positively influenced blood circulation in the human body.
Since 2005, Barry Callebaut, Zurich, Switzerland (www.barry-callebaut.com), has carried out more than 20 human clinical studies examining various impacts of cocoa flavanols on the human body. For these studies, the company used cocoa powder and chocolate products made through its own developed ACTICOA® process that produces high-flavanol cocoa products. The company succeeded in maintaining up to 80% of the cocoa flavanols, which would be destroyed for the most part during the conventional chocolate-making process.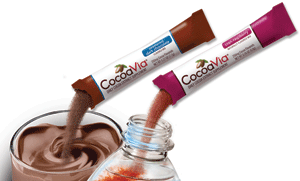 Mars Inc., Rockville, Md. (www.mars.com, www.marscocoascience.com, www.healthycocoa.com), perfected and patented a process known as Cocoapro®, which extracts the cocoa flavanols from the cocoa bean, preserving and protecting them. CocoaVia®, a daily cocoa extract supplement, is made using the patented Cocoapro process that not only extracts the cocoa flavanols directly from the seed of the cocoa fruit, but preserves them in the highest concentration available.
In collaboration with some of the world's leading scientific institutes, Mars has been pursuing extensive research to advance the understanding of cocoa flavanols for more than 20 years. Scientists have learned that cocoa flavanols can positively influence the body's vascular system and have demonstrated that cocoa flavanols can help keep blood vessels healthy and support healthy circulation.
Desideri et al. (2012) conducted a double-blind, parallel arm study of 90 elderly subjects with mild cognitive impairment randomized to consume a drink containing approximately 990 mg (high flavanols), approximately 520 mg (intermediate flavanols), or approximately 45 mg (low flavanols) of cocoa flavanols once a day for eight weeks. The results showed that regular consumption of cocoa flavanols might be effective in improving cognitive function in elderly subjects with mild cognitive impairment. This effect appears mediated in part by an improvement in insulin sensitivity.
Apple Polyphenols
Polyphenols derived from apples have been shown to affect exercise and cardiovascular health. Zhao et al. (2012) indicated that intake of apple polyphenols in the form of VitaRed™ apple extract from FutureCeuticals, Momence, Ill. (www.futureceuticals.com), decreased plasma values of oxidized low-density lipoprotein/beta2-glycoprotein I complex, an atherosclerosis risk factor. The study, which lasted 30 days, involved healthy, non-smoking males and females, aged 40–60 years. The subjects consumed an equal mixture of red delicious and golden delicious apples (N=16), VitaRed apple extract 70% apple polyphenols [257 mg serving in 2 capsules equivalent to 194 mg apple polyphenols (N=17; blind)], or a placebo [gelatin in 2 capsules (N=18; blind)] per day. The subjects who took the apples and those who took VitaRed had significant reductions in plasma levels of oxidized low-density lipoprotein/beta2-glycoprotein I complex, 40% and 21% respectively, while those in the placebo group experienced no significant difference.
A proprietary combination of apple and grape polyphenols, ViNitrox™, from Nexira Health, Somerville, N.J. (www.nexira.com), exhibits properties that increase nitric oxide production and enhance aerobic muscular metabolism. A study showed that 500 mg of ViNitrox taken daily resulted in a 10% increase in physical training time and a 13% increase in time before reaching fatigue barrier (Nexira, 2012). ViNitrox is designed for use in tablets, capsules, and gels.

Linda Milo Ohr,
Contributing Editor,
Denver, Colo.
[email protected]
References
Barry Callebaut. 2012. EFSA issues positive Scientific Opinion on Barry Callebaut's health claim on cocoa flavanols. First official validation of positive effect of cocoa flavanols. Press release, July 17. Barry Callebaut, Zurich, Switzerland.
CreAgri. 2012. CreAgri and Sunsweet Growers announce venture to develop HIDROX® based beverages. Press release, Sept. 19. CreAgri Inc., Hayward, Calif.
Desideri, G., Kwik-Uribe, C., Grassi, D., Necozione, S., Ghiadoni, L., Mastroiacovo, D., Raffaele, A., Ferri, L., Bocale, R., Lechiara, M.C., Marini, C., and Ferri, C. 2012. Benefits in cognitive function, blood pressure, and insulin resistance through cocoa flavanol consumption in elderly subjects with mild cognitive impairment. Hypertension 60: 794-801.
DSM. 2012. DSM Resvida® resveratrol— New study confirms sustained vascular benefits. Press release, Oct. 3. DSM Nutritional Products, Parsippany, N.J.
Kemin. 2012. Kemin launches AssuriTEA®Men's Health to promote healthy prostate, bladder and urinary function. Press release, Oct. 30. Kemin, Des Moines, Iowa.
Nexira. 2012. Nexira Health presents the results of a recent clinical study of ViNitrox™, a natural ingredient for sports nutrition. Press release, Oct. 29. Nexira Health, Somerville, N.J.
Richard, N., Arnold, S., Hoeller, U., Kilpert, C., Wertz, K., and Schwager, J. 2011. Hydroxytyrosol is the major antiinflammatory compound in aqueous olive extracts and impairs cytokine and chemokine production in macrophages. Planta Med. 77(17): 1890-1897.
Zhao, S., Bomser, J., Joseph, E.L., and DiSilvestro, R.A. 2012. Intakes of apples or apple polyphenols decrease plasma values for oxidized low-density lipoprotein/beta2-glycoprotein I complex. J.Functional Foods First published online Sept. 29, http://dx.doi.org/10.1016/j.jff.2012.08.010.