Finding use for spent grounds
Spent coffee grounds are rich in antioxidants, and different coffee brewing methods affect the levels, according to research in Journal of Agricultural and Food Chemistry.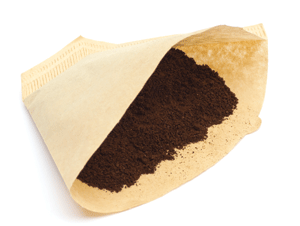 The researchers analyzed the antioxidants in the main bioactive compounds (caffeoylquinic acid, caffeine, and browned compounds) found in spent coffee grounds obtained from coffee brewed using the most common coffeemakers (filter, espresso, plunger, and mocha). They learned that the coffee grounds from the filter, plunger, and espresso makers had more antioxidants than grounds from the mocha coffeemaker. The reason that the spent coffee grounds from the mocha coffeemaker had traces of antioxidants is that the coffeemaker is effective in extracting them in the brewed coffee, wrote the researchers. The food industry could use the antioxidants extracted from the coffee grounds used in filter, espresso, and plunger coffeemakers to increase the nutritional profile of foods or help preserve food longer, they added.
The study, "Evaluation of Spent Coffee Obtained from the Most Common Coffeemakers as a Source of Hydrophilic Bioactive Compounds," appeared in the Dec. 26, 2012, issue of Journal of Agricultural and Food Chemistry.
Grilling may promote disease risk
Grilling and searing food develops characteristic flavor and aroma, but chemicals contained in grilled, seared, and fried foods may over time lead to the body developing new fat cells and increase the risk of age-related diseases. That is the finding of Purdue University researchers, who say that the accumulation of the fat cells could lead to inflammation and certain diseases like cardiovascular disease.
As humans age, the body generally shuts down the ability of young fat cells to mature and accumulate. Grilling, searing, and frying foods creates glycated proteins, and the byproducts of these proteins interfere with cellular processes that kill immature fat cells in older animals. As a result, people may accumulate more fat cells than they should, which could lead to various diseases and health conditions, according to Kee-Hong Kim, an assistant professor at Purdue University. He is studying the relationship between obesity and a number of chronic illnesses such as diabetes, cardiovascular disease, and some types of cancer, and he believes glycated proteins may be a factor in some of those diseases.
The study, "An Advanced Glycation End Product (AGE)-Receptor for AGEs (RAGE) Axis Restores Adipogenic Potential of Senescent Preadipocytes through Modulation of p53 Protein Function," appeared in the Dec. 28, 2012, issue of Journal of Biological Chemistry.
Film repels insects from food
A film containing microencapsulated cinnamon oil effectively protected food from insects, and the researchers who developed the film cited the potential for the film in insect-resistant packaging for food products.
Previous research has shown the effectiveness of plant-based oils like cinnamon oil for repelling certain insects. For this study, the researchers wanted to examine how well microencapsulated cinnamon oil on low-density polyethylene film prevented the growth of the Indian meal moth. In addition to preventing the growth of the moth larvae, microencapsulation resulted in a slower release of the cinnamon oil, providing the opportunity for a controlled release of the repellent in insect-repelling food packaging, wrote the researchers. Neither the ink nor the polypropylene solutions that incorporated the microcapsules affected the tensile properties of the film.
The study, "Insect-Resistant Food Packaging Film Development Using Cinnamon Oil and Microencapsulation Technologies," appeared online early in Journal of Food Science, doi: 10.1111/1750-3841.12006.
Chemical is key to baking tasty bread
By manipulating the amounts of a chemical compound found in bread, researchers were able to affect the aroma and taste of whole wheat and white breads. Their research could lead to the development of more appealing whole wheat bakery products.
The researchers examined the role of ferulic acid, which is found mainly in bran, in the baking of breads made from whole wheat flour and refined wheat flour. By analyzing aroma compounds in the breads and Maillard reaction compounds, they learned how ferulic acid influences Maillard-type aroma compounds by reducing these key aroma compounds that give the crust of bread made with refined wheat flour its characteristic aroma. Furthermore, they concluded that the phenolic component of whole wheat flour, in part, affects the mechanisms of Maillard-type flavor generation in bread, which leads to a reduction in the development of desirable flavor notes in bread baked with whole wheat flour compared to refined wheat flour.
The study, "Influence of Endogenous Ferulic Acid in Whole Wheat Flour on Bread Crust Aroma," appeared in the Nov. 14, 2012, issue of Journal of Agricultural and Food Chemistry.
U.S. consumers choose protein
High-protein food is more popular than ever for consumers in the United States, with introductions of foods and beverages making a high-protein claim almost three times higher in the U.S. than anywhere else, according to market research firm Mintel. The U.S. accounts for 19% of products that make this claim, followed by India at 9% and the United Kingdom at 7%.
Products making a high-protein claim go beyond meat, poultry, and fish to span many product categories. Snacks made up 20% of the high-protein food and beverage product launches in the U.S. in 2012 followed by meal replacement and other fortified drinks (17%), according to Mintel.
Americans are adding more protein to their diets to aid in satiety and weight management and to boost muscle recovery and build muscle after a workout, reported Nirvana Chapman, Global Food Science Trend Analyst, Mintel. The demand is also coming from consumers who are avoiding animal products. Mintel's data show that the numbers of products launched in the U.S. that make both highprotein and vegan claims has grown by 54% in the past five years (to 2012).
--- PAGE BREAK ---
Dairy alternative drinks feature more than just soy
Dairy alternative drinks are becoming increasingly popular, moving from the health food arena into the mainstream, according to Innova Market Insights.
While soy milk is still the most popular, featured in 78% of dairy alternative drink launches, other plant-based drinks like rice, oat, and barley, and nut-based drinks like almond, hazelnut, and walnut are slowly gaining customers. They do have a ways to go, though. Rice milk, the second-most-popular ingredient after soy, was featured in only 17% of product introductions in the 12 months ended October 2012. Oats and almonds followed at 11% and 10%, respectively.
For the most part, dairy alternative drinks are marketed on a health platform, with 75% of launches recorded by Innova Market Insights featuring a health claim. More than 35% of global product launches of dairy alternative drinks featured a lactose-free claim. Other health claims include the use of organic ingredients, low-cholesterol, and additive- and preservative-free.
---
What's new with food companies
• Dairy Research Institute has launched an open innovation program at DRIResearchSubmission.com.
• FONA International was named Manufacturer of the Year for 2012 by Safe Quality Food Institute.
• Frutarom Health's UniK2 ™ vitamin K-2 MK-7 is self-affirmed GRAS (Generally Recognized as Safe).
• Fuchs North America has formed a strategic partnership with Culinary Sales Support Inc. to expand its culinary capabilities.
• GSC Packaging has moved to a 100,000-sq-ft facility in Atlanta, Ga.
• Horizon Milling has increased its whole wheat flour production capacity at its facility in Kenosha, Wis.
• MGP has received the Regional Business Award from the Kansas Dept. of Commerce.
• Mondelez International will invest a minimum of $200 million to support one million coffee entrepreneurs by 2020.
• Naturex has successfully completed Food Safety System Certification 22000 for its facility in New Jersey.
• Nestlé Health Science, a fully owned subsidiary of Nestlé, and Chi-Med will form a 50/50 joint venture to be named Nutrition Science Partners Ltd.
• Palsgaard A/S will open a new factory in Johor Bahru, Malaysia, by mid-2013.
• P.L. Thomas has formed a strategic alliance with Nutrafur S.A. to bring Mediterranean-origin botanical extracts to the U.S.
• Safe Quality Food Institute has named Guelph Food Technology Centre the Training Center of the Year for 2012.
• Symrise AG has won the German Sustainability Award 2012 for its work on sustainable procurement of vanilla in Madagascar.

Karen Nachay,
Associate Editor
[email protected]