Chef Syrena Johnson's recipe: Crawfish, Shrimp and Okra Etouffee with Rice Pilaf and Blackened Speckled Trout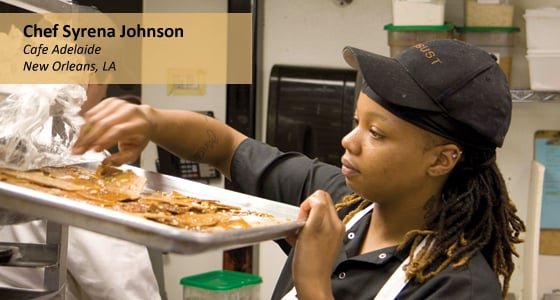 A New Orleans native, Syrena Johnson's love for cooking started at home but it wasn't until she enrolled in Liberty's Kitchen—a non-profit cooking school designed to help disadvantaged youth throughout New Orleans—that she realized she could turn it into a career. Johnson then entered the first-ever scholarship competition held by the John Besh Foundation's Chefs Move! and won a scholarship to the International Culinary Center in New York. After graduating and returning to her hometown, she worked in a handful of upscale restaurants, learning from top chefs like Susan Spicer and Michael Gulotta. Here, 24-year-old Johnson shares her whirlwind journey and the kind of chef she aspires to be.
Kelly Hensel: Where did your love for cooking come from?
Syrena Johnson: I grew up in New Orleans, and my mom always cooked. My grandparents would also come down to cook. I guess I got the love for cooking from just being in this city around my family.
Hensel: Can you talk a little about your experience in the Liberty's Kitchen training program? What made you decide to enroll?
Johnson: I got the bulk of my cooking experience from learning on the job at fast food restaurants, but when I went to Liberty's Kitchen, they gave me the idea that cooking could be a career and not just a job. That's where I learned knife skills and I got to work hands-on with a chef every day throughout the whole period of my time there. I found out about Liberty's Kitchen from different people who had mentioned it. At first I thought it was just a cooking school, but I found out later that it is more than that. It's a training program that teaches young people how to succeed in the work world .
Also, if I hadn't gone [Liberty's Kitchen] I wouldn't have found out about the Chefs Move! Scholarship. Liberty's Kitchen's program director Doug told me about it and was really pushing me to apply. I was really the only person in the Liberty's Kitchen program that actually liked to cook. I was really hesitant to apply for the scholarship, but once I learned more about it I thought I might actually be able to win. So, I filled out the application and sent it in. I had to meet with some of the people from the [John] Besh organization. I think I had two interviews and then they told me that I would have to interview with Chef Besh. I interviewed with him, and after that, I was confident and really thought I would win the scholarship.
Hensel: Were you nervous for that interview with Chef Besh? Did you know who he was?
Johnson: I was kind of nervous, but to tell you the truth, I'm not a person who watches the Food Network. I don't know any of the Food Network chefs. I actually had to Google John Besh, and then I realized that I had seen his face different places. So I knew of him from seeing him around the city, but I didn't know what he was about. But my interview with him was really just like talking to another person. He was really cool. He said "Don't worry about talking to me because really I want to find out who you are, and get to know you, and just get a feel for you." We sat down at his restaurant August, he offered me a dessert, and then we just talked about everything. I have learned a lot from him on this journey.
Hensel: What was your time like in New York studying at the International Culinary Center?
Johnson: It was totally different from New Orleans. I mean, I had traveled before, but nothing of that caliber like New York City. It was an amazing experience. I don't have anything bad to say. My school was amazing and all of the teachers there were great. I still keep in contact with most of my classmates. I actually got to have dinner with the founder of the school [Dorothy Cann Hamilton] because she wanted to know what the hype about me was about. In fact, after my time there she decided to give two scholarships every year for the Chefs Move! program instead of just one.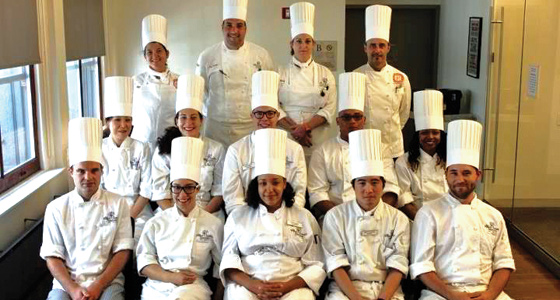 Hensel: After you graduated in August 2012, what did you do?
Johnson: When you come back to New Orleans after school, the scholarship details that you have a 2-month internship. I was at August for a month prior to me going to school, and when I came back, I was at August for another month. Then I went to Dominico for some time. After that, I went to work at Susan Spicer's Bayona restaurant for a little bit. I'm currently at Cafe Adelaide. It's a Commander's Family restaurant. I've had the chance to bounce around, and every chef that I reach out to wants to help me out and has offered to mentor me.
The scholarship is an awesome opportunity because everybody is a role model and a mentor. I can't say I have had just one mentor. Chef Besh is my mentor but every other chef in the Besh family has also been my mentor, so I have a lot of mentors that I can ask any type of food-related question.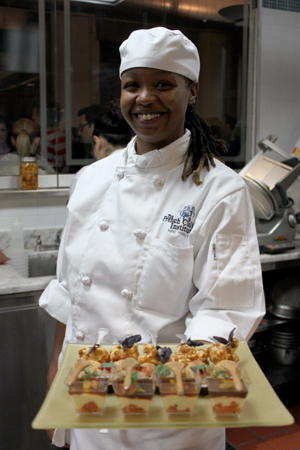 Hensel: What do you do at Cafe Adelaide now?
Johnson: I'm a cook 1 now. I started out as a cook 2, and the lowest you can start at is a cook 3. I'm on the grill now and really the only woman in the kitchen. I have bounced around to different roles in the different restaurants I have worked at. It's all a learning experience.
I do feel silly when people say "chef" because I just feel like I'm a work in progress. I don't really want to call myself a chef yet. I want to call myself an "aspiring chef" because I know a lot of chefs, and I don't think I'm at that caliber yet. But this whole journey is leading me to be a great chef one day.
Hensel: I read somewhere that you volunteer your time at Liberty's Kitchen, where you got your start. Why is a training program like Liberty's Kitchen important? How has it helped New Orleans?
Johnson: I give a hand whenever they need me. Dennis, who is one of the directors there, will call me whenever they have an event or dinner. They're always my family and I always come back there if I'm not helping out with something. They're actually about to move from their current building to a bigger facility at the ReFresh Project, which is a community development program focused on delivering healthy and affordable food to the under-served neighborhoods in New Orleans. It's in combination with Whole Foods and Tulane University's Goldring Center for Culinary Medicine. Anything that they need help with, they know they can always call me, and I'll offer my services to them.
Hensel: How do you think that kind of program helps the New Orleans community?
Johnson: I think it helps it out. There are a lot of problems that Liberty's Kitchen deals with. The more collaboration from the city and the more help it can get the better, because the program can't do everything. There are a lot of problems beyond what people can see. There are kids who come through with schizophrenia, kids who don't have their parents, and kids who have kids and need someone to take care of them. So all of the factors involved in trying to keep a kid housed so he can be successful and productive in a job is very hard when you're dealing with all of those obstacles.
It's a great program, but it would be an even greater program if it had the funding to support it the way it needs to be supported. I was a lucky one—I wasn't as bad off as most of the kids that come through the program. I had my mind set on what I wanted to do. I had the focus and support behind me. I had a job, I didn't have kids to care for, and I didn't have problems in my family that would hinder me from doing what I wanted to do. If kids who are facing those obstacles had more help, it would be an awesome thing for a lot of people in New Orleans.
Hensel: You said you that don't really have just one mentor—everybody's been a mentor for you. But, did any of your mentors offer you one or two pieces of advice that really stuck with you?
Johnson: I think Chef Besh and everybody else has been my mentor, but when I first started at August restaurant, Michael Gulotta was the Executive Chef there. He then left and started his own place—Mopho. He was an avid teacher—someone who I really respect because he took me under his wing in a high value fine dining restaurant. And as a kid coming from fast food, he really taught me all of the important fundamentals on what it is to not only be in the kitchen, but how to run a kitchen. It's not about working towards being a celebrity chef, it's about working towards trying to run your own restaurant at some point in time.
Whenever we had bad days on the line, he would give us a pep talk and afterwards you would forget about what you were mad about and just go home high-fiving everybody. He was really a motivator. I'm a Chef Mike cheerleader. Everything that's he's done since I've met him—going from Executive Chef at August to building his own restaurant from the ground up—he is the perfect role model. He also has had failures and come back from them. That's another thing that I can learn from—to look at your failures, learn from them, and move on. He's an awesome role model.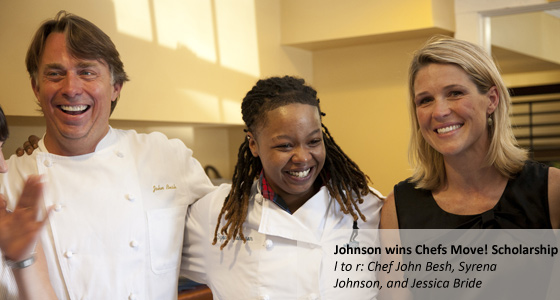 Hensel: So do you want to own a restaurant some day? Is that where you see yourself going?
Johnson: Definitely, because I'm not the kind of person who would want to work for somebody else for the rest of my life. It may not be a restaurant, but some type of catering business, because I can see myself in a big space, working on a whole bunch of food, without having to deal with the stress of everything else. So anything like a restaurant would be in the far future, but a catering business, private chef type of thing, is definitely in the near future.
Hensel: You mentioned that you're the only women in the kitchen at Cafe Adelaide. As a woman and as an African American, you are definitely one of the most underrepresented minorities in the culinary industry. Has that presented challenges for you?
Johnson: To tell you the truth, I never saw it as a challenge in any way. I work hard at what I do so the men I have worked with respect me for that. In the kitchen you show your worth with your work. So, if you work hard nothing else should matter. And if it is a factor for me somewhere in the future, then that's cool because I am going to play the game the way that I want to play it. I am going to make it my way anyway, so if they don't want me to be a player in their game, I'll just start my own game, and I'll be the only player.
Hensel: What kind of advice like would you give to young people out there that want to be a chef one day but may face some obstacles?
Johnson: I would just say stick with it. If it's something that you want to do, despite what anybody says, stick with it. Don't give up. Make yourself better all the time and never settle for less. Always push yourself to be better. Always work hard—harder than everybody else around you.
Crawfish, Shrimp and Okra Etouffee with Rice Pilaf and Blackened Speckled Trout
Yields 8 servings
Etouffee:
½ lb of butter
3 cup of onions chopped
1 cup of celery chopped
½ cup of seeded diced red bell peppers
½ cup of seeded diced green bell peppers
4 tbsp of AP flour
2 cup of water or chicken stock
1 lb of peeled cleaned crawfish
1 lb of peeled and deveined shrimp
½ tsp of salt
4 tbsp of chopped onions
4 tbsp chopped parsley
1 can diced tomatoes
½ tsp tomato paste
Melt butter in a medium saucepan over medium heat, add onions and cook until soft and lightly golden brown 8–10 min.
Add celery and bell peppers and cook stirring occasionally until soft for about 5 min.
Cook until butter separates then sprinkle flour and stir to blend until mixture thickens slightly.
Add the water or stock and reduce the heat to low.
Stir to blend, add tomatoes and paste, season crawfish and shrimp with salt and add to pot.
Add the green onions and parsley and cook for 10 min. Remove from heat and serve over rice.
Rice pilaf:

4 cup of rice
4½ cup chicken stock
1 sprig of thyme
15 g of shallots diced
1 tbsp of butter
1 garlic clove crushed
In a medium pot sweat shallots in butter over medium heat until soft.
Add rice and stir in with wooden spoon until fully coated.
Add stock, thyme, garlic clove, salt, and pepper, bring to a boil.
Cover and finish in oven at 350°F for 20 min.
Blackened mixture:
2 tsp of paprika
2½ tsp of dried thyme
1½ tsp of onion powder
1½ tsp of garlic powder
1½ tsp of salt
1 tsp of black pepper
1 tsp of cayenne pepper
1 tsp of dried oregano
Combine all ingredients and mix thoroughly until fully incorporated.
Trout:
2 speckled trout or 8 120–130 g portions
1 cup of blackened mixture
30 g of canola oil
Fillet fish or, if already prepared, season both sides with blackened mixture until fully covered.
In a sauté pan with oil, blacken on both sides for 2–3 min over medium heat.
To finish, use a small cup to mold rice in the middle of plate. Place fish on top of rice and ladle etouffee around rice. Top with parsley and serve.