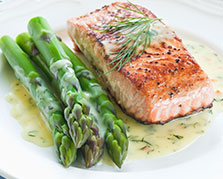 FDA, EPA update fish consumption advice
The U.S. Food and Drug Administration (FDA) and U.S. Environmental Protection Agency (EPA) jointly announced a draft update to a 2004 document entitled "What You Need to Know About Mercury in Fish and Shellfish." In this update, the agencies advise pregnant women and nursing mothers to increase the amount of fish they eat to better comply with 2010 U.S. Dietary Guidelines for Americans recommendations.
"FDA's analysis of the reported seafood consumption of more than 1,000 pregnant women in the United States found that over 20% of them had eaten no fish at all in the previous month," said Stephen Ostroff, acting chief scientist for the FDA. "Of the women who reported eating fish, 50% ate less than 2 oz a week, and 75% ate less than 4 oz per week."
Citing evidence that links eating fish to improved infant health and developmental outcomes, the revised draft's new wording matches the dietary guidelines' recommendations, which advise women to eat low-mercury fish commonly found in grocery stores, such as salmon, tilapia, and cod. It also maintains its previous recommendation that pregnant women avoid tilefish, shark, swordfish, and king mackerel completely, as well as limit albacore tuna to 6 oz per week.
Food Dialogues event explores integrity in food marketing
Representatives from academia, marketing, the blogosphere, and the meat industry gathered in Chicago, Ill., on June 10 to discuss consumer demand for transparency in the way food products are marketed to them. During the Food Dialogues session, which was presented by the U.S. Farmers & Ranchers Alliance, panel members debated how much information consumers truly want on packages and the responsibility food manufacturers have to act in ways that secure buyers' trust.
Though opinions varied when it came to some of the specifics involved in labeling practices, such as the ethics behind adding "gluten-free" to products like orange juice that never contain gluten, the panelists agreed that trust was the most important factor in marketing transparency. Companies need to tell their whole stories, even going beyond what the law requires, said several of the speakers, or they risk breaking consumers' faith when something previously undisclosed comes to light. "The rest of the story always comes out," said Mike Donahue, chief brand and communications officer for LYFE Kitchen. "You will be found out. Be all in."
But according to Alan Moskowitz, director of consumer collaboration agency Communispace, businesses still need to watch their bottom line, and he supports revealing only as much information as is necessary. Customers, he asserted, don't necessarily want to see into the sausage factory.
The two ranchers on the panel also shed light on some of the reasons organic products come with a higher retail price. Overall, these products are more expensive to produce than conventionally grown products; organic farming and ranching require more labor, different feed, and more time for both cows and plants to reach maturity.
--- PAGE BREAK ---
Broccoli may help reduce air pollution risks
Consuming a half cup of a beverage derived from broccoli sprouts may enhance the body's ability to release benzene and acrolein, two carcinogenic substances associated with air pollution, according to a study published in Cancer Prevention Research.
In the 12-week trial, 291 people living in the Yangtze River delta region of China—an area associated with high levels of airborne pollutants—were given a control drink made with pineapple and lime juice or one that also included a freeze-dried powder made from broccoli sprouts. Each beverage contained 40 μmol of a chemopreventive agent called sulforaphane and 600 μmol of glucoraphanin, a glucosinolate that can produce it.
The participants in the broccoli drink group increased their benzene excretion by 61% and their acrolein excretion by 23%, leading the researchers to conclude that daily consumption of broccoli could provide "a frugal means to attenuate their long-term health risks."
Reviewing research on gluten-free products
The demand for gluten-free products continues unabated, making it ever more important for food companies to use all the tools at their disposal to create products that taste and perform the same as their gluten-containing counterparts. To help assist with formulation challenges these foods often present, authors of an article in the May 2014 issue of Journal of Food Science compiled the latest breakthroughs in gluten-free research, with a particular focus on flour types and processing methods.
Gluten-free products have generally been made from corn, rice, and potato flours. These flours offer little nutritive value, but several new ingredients show potential for solving formulation issues, such as texture and staling, while providing greater health benefits. Chestnut and tiger nut flours lend themselves to baking applications, and vegetable flours are good for pastas. In addition, flours made from food by-products such as green bananas and orange pomace can boost nutritional profiles and add certain characteristics to products.
Manufacturers should also look into changes in their processing methods to both increase nutrition and improve the product's overall performance. Some of these include adding ingredients to formulations, using the ideal particle size and flour type for the application at hand, and drawing on bio processing approaches. One such approach involves using sourdough in bakery products, though more research will need to be done in this area. Visit http://onlinelibrary.wiley.com/doi/10.1111/1750-3841.12479/full to read the review in its entirety.
--- PAGE BREAK ---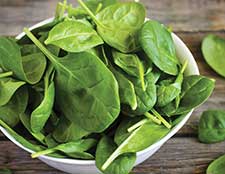 Seaweed extract can preserve spinach quality
Pre-harvest treatment with an extract derived from the brown algae Ascophyllum nodosum (ANE) can help maintain the quality of harvested spinach during storage, according to a study published in Scientia Horticulturae.
In the study, researchers compared a control group with spinach leaves that had been treated with different concentrations of the seaweed extract. Over a 35-day storage period, the treated spinach experienced a significant reduction in lipid peroxidation, and it retained its color and lost less fresh weight than the control group did. Chlorophyll and ascorbate content, though, decreased at similar rates in both groups.
"The results show that pre-harvest ANE application through root drench, especially at 1.0 g L−1, enhanced post-harvest storage quality of spinach leaves," wrote the researchers.
---
What's new with food companies
• Barry Callebaut introduced Choc-a-like, an extended range of compounds for professional bakers, ice cream manufacturers, and chocolatiers.
• Columbus Foods partnered with Harris Ranch Beef Company in order to facilitate expansion of its deli meat production capabilities.
• DuPont Nutrition & Health and AB-Biotics signed a global collaboration and licensing agreement on the probiotic AB-Life, which has been clinically documented to maintain healthy levels of cholesterol in at-risk individuals. It also became the first ingredient company to be granted a probiotic health claim in Europe.
• Having secured several international regulatory approvals, Ganeden's GanedenBC30 can now be shipped to six continents.
• Keurig Green Mountain reached a deal with Subway that will put its single-serve coffee brewing systems in all 30,000 of the sandwich chain's U.S. and Canadian shops. It has also announced plans to open its first facility to manufacture cold-brew pods.
• Marrone Bio Innovations and DSM Food Specialties signed a collaborative agreement regarding early stage research of several biological active ingredients, with a goal of delivering the full potential of these ingredients to improve critical end points of the food supply chain.
• Naturex acquired Berghausen's quillaia and yucca business activities, including a comprehensive line of extracts available in liquid and powder forms.
• Neptune Technologies & Bioressources constructed a new plant in Sherbrooke, Québec, Canada, where it will process more than 150 metric tons of krill oil a year.
• Nestlé opened a third Chinese research and development center, located in Dongguan, Guangdong province.
• The Novasep–MIE consortium signed a contract with Tay Ninh Chemical Industry to build Vietnam's first sorbitol production plant.
• QualiTech Food Ingredients received a Grade A Certification from the British Retail Consortium for the fourth year in a row.
• Panera announced it will remove artificial additives, including colors, flavors, sweeteners, and preservatives, from its food items by 2016.
• PepsiCo opened a manufacturing facility in KwaZulu-Natal, South Africa, to produce its Simba potato chip business.
• Pinnacle Foods opened a new research and development pilot plant at Rutgers University to focus on revitalizing brands under its Duncan Hines Grocery Division.
• Renessenz recently opened its Sensory Application Center in Chicago, Ill.
• Roquette opened a chlorella-processing facility in Lestrem, France, with a production capacity of 4,000–5,000 tons per year.
• Ruiz Foods acquired a state-of-the-art manufacturing facility in Florence, S.C., and will remodel it to manufacture some of its El Monterey and Tornados products there.
• Tyson Foods Inc. has won the bidding to acquire Hillshire Brands Co., an agreement that was contingent on Hillshire terminating its plans to acquire the Pinnacle Foods Group.
• UTZ Certified and Fair Trade USA announced they will form a joint effort to support sustainable livelihoods for more farmers and workers, beginning in cocoa. Through the dual certification program, farmers can gain access to both supply chains through a single audit.
• Virginia Dare partnered with vanilla company SOARARY to teach farmers in Madagascar how to cure their own vanilla in order to fetch a higher price on the international market and provide access to rice to improve their food security.
• Wixon Inc. launched its Impact! program, a system of flavor modifiers for health and wellness foods and beverages that help improve products' healthfulness while preserving their taste.

Melanie Zanoza Bartelme,
Associate Editor
[email protected]