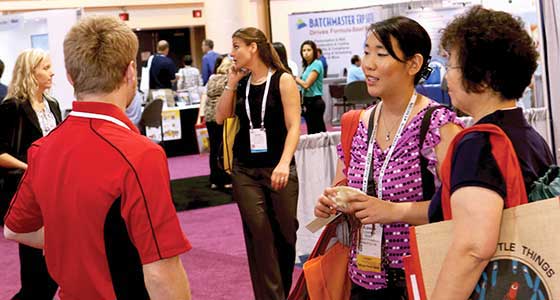 Quality Tests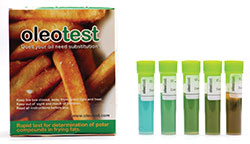 Emport LLC (www.emportllc.com) and Biomedal Diagnostics (www.biomedal.com) both exhibited Biomedal's food-testing kits. OleoTest is a rapid test for the presence of polar compounds in frying oil. The device monitors the changes that oils undergo as they are exposed to heat, light, moisture, and oxygen, which can create polar compounds such as monoglycerides and diglycerides that affect the composition of oils and the taste and quality of deep-fried foods. The 5-in-1 Water Test is a rapid strip test for semiquantitative determination of nitrates, nitrites, total hardness, free chlorine, and pH in water. AlerTox kits provide rapid, onsite detection of specific allergens; AlerTox Egg, for example, is a rapid immunochromatographic test for qualitative determination of egg white antigen (ovalbumin) in foods and in kitchen and production facilities. GlutenTox® Sticks are immunochromatographic test sticks for quick detection of the toxic fraction of gluten found in foods and beverages and on surfaces.
Elution Technologies (www.elutiontechnologies.com) exhibited its food allergen testing kits, specifically its rapid lateral flow kits and ELISA kits for most food allergens. The company also described its independent and collaborative research on food allergen safety.
ELISA Technologies (www.elisa-tek.com) exhibited its ELISA-Tek® Meat Species test kits, its EZ Gluten® rapid assay for detecting gluten in raw materials and finished products, and other testing solutions for food safety.
Megazyme International Ireland (www.megazyme.com) described its diagnostic test kits for the analysis of dietary fiber. The K-INTDF integrated dietary fiber assay kit can test samples containing a mixed group of dietary fibers, including the prebiotic LMWDF (low-molecular-weight dietary fiber), non-digestible oligosaccharides, and resistant starch.
--- PAGE BREAK ---
R-Biopharm Inc. (www.r-biopharm.com) described its new rapid enzyme immunoassays for the detection of residues in food and feed. Ridascreen® β-Agonists ELISA detects clenbuterol and salbutamol, which are prohibited from use in food-producing animals with certain exceptions for veterinary purposes. The new test has improved detection limits for urine and meat.
Besides sample preparation methods for serum and feed, the test kit manual includes two new methods for liver and milk. SureFood® Allergen 4plex Peanut/ Hazelnut/Walnut+IAC saves time by running three parameters at one time and includes an inhibition control for each sample without any additional effort. Ridascreen Fast Sesame is a sandwich enzyme immunoassay for the quantitative analysis of sesame in raw or heated foods.
Vicam, a Waters Business (www.vicam.com), exhibited its test kits for field, processing, and laboratory use for detection of mycotoxins in food ingredients and finished products. Antibody-based qualitative and quantitative test kits provide results in as little as three minutes to detect the presence of aflatoxin and DON. Quantitative results for most major mycotoxins can be performed by nontechnical personnel using Vicam's fluorometric immunoaffinity column method or Vertu strip tests. Precision LC and LC/MS/MS samplepreparation tools such as Myco 6in1+ improve laboratory productivity and ensure higher throughput and greater efficiency than traditional laboratory methods.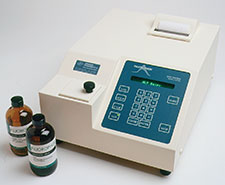 Chemical & Physical Analysis
Advanced Instruments Inc. (www.aicompanies.com) exhibited its Fluorophos® pasteurization test for analysis of raw and finished dairy products; LactoScope™ FTIR Advanced dairy analyzer, which measures component levels in dairy products; and Advanced® 4250 cryoscope, which measures added water in milk.
Alpha MOS America Inc. (www.alpha-mos.com) exhibited its electronicnoses for odor and gas analysis (Heracles, Fox-Gemini, and Ulys), Astree electronic tongue for taste analysis, and IRIS Visual Analyzer for analysis of overall appearance, including both color measurement and shape analysis. The Heracles is both an electronic nose and an ultra-fast gas chromatograph, performing overall odor profiling and chemical composition analysis in one run. The Astree electronic tongue is similar to the human tongue, detecting all compounds responsible for taste in liquid samples and allowing comparison of various products based on their taste profiles. The electronictongue assesses not only basic tastes (sweet, bitter, sour, salty, umami) but also all other gustatory components (metallic, pungent, astringent, etc.).
Beckman Coulter Life Sciences (www.particle.com) demonstrated the combined use of its LS™13 320 laser-diffraction particle-size analyzer and its new Multisizer MS-4e Coulter Counter® for measuring the particle size and distribution of dry ingredients such as coffee, milled products, spices, creamers, sugars, coloring agents, flavor emulsions, mayonnaise, peanut butter, and beverage emulsions. The LS 13 320 offers high-resolution and accurate and reproducible analysis of particles without the risk of missing either the largest or the smallest particles in a sample, and the Multisizer provides particle-size distributions in number, volume, and surface area in a single measurement.
--- PAGE BREAK ---
Anton Paar USA (www.antonpaar.com) described its RapidOxy accelerated test method for testing the oxidation stability of vegetable and animal oils and fats such as margarine, butter, and edible oils and foods such as mayonnaise, sauce, cream, cheese, and biscuits. The test works directly on the whole sample, making preliminary sample preparation unnecessary. Advantages include minimum test time and small sample volume. The company also exhibited instruments for measurement of density and concentration, viscometers, rheometers, polarimeters, refractometers, and instruments for X-ray structure analysis, microwave synthesis, and microwave decomposition.

Bellingham + Stanley, a Xylem Brand (www.bellinghamandstanley.com), exhibited its new RFM340+ temperature-controlled refractometer, which features a high-definition display, a user-selectable color-code scheme that guides the operator through user and setup menus, USB connectivity, and storage of more than 4,000 results for review and download. The company also exhibited its OPTi+ refractometer, OPTi+ digital handheld refractometer, ADP6000 multiple wavelength polarimeter, EBI330 data logger, FOM320 fry oil monitor, and 2900M in-line fermentation monitor.

BMT USA LLC (www.bmtus.com) exhibited its new Climacell EVO Stability Chamber, an alternative to expensive testing chambers. The microprocessor-controlled humidification and dehumidification system with programmable exposure lighting guarantees uniform parameters for tests. The chamber provides temperatures from–20°C to +100°C and 10% – 95% humidity, optional light sources, the opportunity for CO2 regulation,sterilization at 160°C, and a variety of options and accessories.
Brookfield Engineering Laboratories Inc. (www.brookfieldengineering.com) exhibited its touch-screen viscometers and rheometers, CT-3 Texture Analyzer for tension and compression testing, and Powder Flow Tester for analysis of powder flow behavior in industrial processing equipment.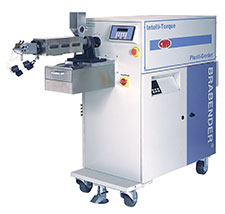 C.W. Brabender Instruments Inc. (www.cwbrabender.com) exhibited its instruments for testing materials used by the milling, baking, and starch industries, including the Intelli-Torque Plasti-Corder® Torque Rheometer, which can accommodate any of the company's mixer or extruder attachments. Test parameters can be set, monitored, and evaluated through the user-friendly software programs.
Students from the University of Nebraska presented a live demonstration of extrusion to produce a fruit-and-nut cereal bar they had formulated as part of a class competition.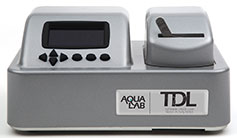 Decagon Devices Inc. (www.decagon.com) exhibited its AquaLab TDL water activity meter, which features a Tunable Diode Laser Sensor, which is said to be the first water activity sensor completely unaffected by volatiles. The sensor measures the relative humidity of the air in the sample chamber by emitting a finely tuned infrared laser beam across the headspace above the sample. Because water vapor has strong absorption bands in near-infrared (NIR), the sensor can precisely measure the presence of water vapor in the headspace. Internal temperature control allows the instrument to be used anywhere, even outside a climate-controlled facility, so the instrument can be used to obtain lab-quality water activity measurements at the processing line, receiving dock, storage facility, or anywhere else. Results are available in five minutes or less.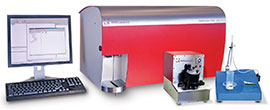 Delta Instruments (www.deltainstruments.com) exhibited its LactoScope FTIR Advanced FTIR spectrometer for analysis of dairy products such as milk, cream, whey, yogurt, ice cream, and cheese. The analyzer features software that guides the user through analyses and Good Laboratory Practice procedures. The instrument can measure fat, protein, lactose, solids, casein, density, true protein, NPN/calculated urea, and pH.
--- PAGE BREAK ---
elementar Americas Inc. (www.elementaramericas.com) exhibited its new BioVisION isotope ratio mass spectrometer, which helps determine the geographical origin of honey, juice, and oils, using their isotopic fingerprints and rapid N Exceed Cube Analyzer, and features patented chemistry to increase reduction tube life by a factor of 10.
Hanna Instruments (www.hannainst.com) exhibited its portable, benchtop and in-line instruments for analysis of pH, acidity, lactic acid, chlorine, NaCI, SO2, vitamin C, alkalinity, potassium, calcium, and other analytes.
HunterLab (www.hunterlab.com) exhibited its portable, benchtop, and production-line transmission and reflectance instruments, including the new ColorFlex EZ Coffee, specifically designed to measure the color of ground roast coffee, including freeze-dried granules and instant coffee powders. It uses 45°/0° optical geometry, the only measurement technology proven to measure color the way the human eye sees it. The instrument's firmware features several coffee color scales (SCAA Number, SCAA Roast Classification, and the HunterLab Coffee Color Index). Other colorimetric and spectral data indices, including Hunter L,a,b color and CIE L*a*b* color, are also provided within the firmware and allow the instrument to be used to measure the reflected color of a wide range of non-coffee samples, including liquids, semisolids, powders, and solids.
Industrial Test Systems Inc. (www.sensafe.com) demonstrated its new eXact iDip® photometer for smart digital water testing. The waterproof handheld unit is capable of running more than 35 water-quality tests.
Intelligent Sensor Technology Inc. (www.higuchi-inc.com) exhibited its TS-5000Z taste-sensing system, which uses lipid membrane sensors that mimic the human tongue. The instrument provides repeatable, objective measurements of sweetness, bitterness, sourness, saltiness, and umami.
Mercury Scientific Inc. (www.MercuryScientific.com) exhibited its Revolution powder analyzer, Evolution powder tester, and Volution flow tester for measuring flow, fluidization, granulation, caking, segregation, and packing of powders.
Mocon Inc. (www.mocon.com) exhibited its GreenLight® microbial detection instruments and assays for screening incoming ingredients and inprocess or finished products. The instrument measures total count, indicator organisms, and yeasts in just a few hours and does not require extensive lab training.
NDC Infrared Engineering (www.ndcinfrared.com) described its NIR sensors and systems for online and offline measurement of fat, moisture, and protein content in food.
--- PAGE BREAK ---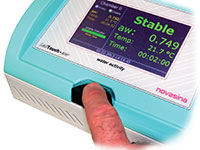 Neutec Group (www.neutecgroup.com) exhibited the LabTouch-aw water activity meter by Novasina (www.novasina.com). The instrument can handlesolids, gels, and liquids and offers fast menu access via a touchscreen.Semi-temperature control and active sample-temperature measurements by an integrated infrared sensor provide high measurement reliability. Test results are stored on SD cards for transfer to a computer or printer. Special software is available for viewing results and analyzing the data. The company also exhibited its microbiological laboratory products, including agar and tube filler, media preparators, spiral plater, automatic colony counter, new Petri dish labeler, and new multi-spectral imaging system.
Paul N. Gardner Co. Inc. (www.gardco.com) exhibited its PAL digital handheld pocket refractometers and other instruments for measuring viscosity, density, temperature, color, texture, tensile strength, fineness of grind, weight, moisture, gloss, powder flow, Brix, environment, and pH. The PAL refractometers are available in various versions to measure citric acid, tartaric acid, lactic acid, honey, beer, wine, and salt. Their compact size makes them easy to carry around and use indoors and outdoors.
PerkinElmer (www.perkinelmer.com) exhibited its DairyGuard™ milk powder analyzer, which won this year's Food Expo® Innovation Award. The analyzer uses Fourier-transform NIR spectroscopy and advanced algorithms to screen for known and unknown economic adulterants in milk powder. With a simple 30-second screening, food manufacturers can quickly identify whether something unusual is in their milk powder. The analyzer also provides measurement of protein, moisture, and fat content. The instrument is easy to clean, needs no sample preparation, and features simple touchscreen software that allows anyone, not just a trained professional, to screen for threats. Other analysis modes as well as dual mid- and near-infrared options are also available to analyze other ingredients on the same instrument.
Process Sensors Corp. (www.processsensors.com) exhibited its new NIR and infrared measurement devices for online, near-line, and laboratory settings that provide instant and continuous readings of moisture, oil, and other constituents. Readings can be downloaded to the user's control systems. The MCT466-SF Transmitter is designed for online measurement of moisture and oil. The MCT466-QuikCheck is a smaller and lighter benchtop NIR moisture analyzer that is easier to use, can be used in harsh manufacturing environments, and elicits instant readings of moisture content. The instrument can be used for other measurements, including oils, protein, film thickness, coating weights, nicotine, and sugars.
Rudolph Research Analytical (www.rudolphresearch.com) exhibited its polarimeters, refractometers, and density meters. The Automatic Polarimeter line has 12 different models featuring multiple wavelengths and electronic cooling and heating. The Automatic Refractometer line features six models with electronic cooling and heating and wide refractive index range.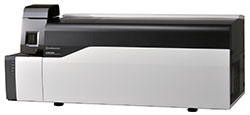 Shimadzu Scientific Instruments Inc. (www.ssi.shimadzu.com) exhibited its new LCMS-8050 triple- quadrupole LC/MS/MS mass spectrometer, which offers simultaneous quantitative and qualitative analysis of multiple components at high speeds while maintaining spectrum quality, sensitivity, and accuracy. The instrument's Synchronized Survey Scan function allows users to obtain multiple reaction monitoring data while simultaneously performing qualitative MS/MS scans.
StellarNet (www.stellarnet.us) exhibited its miniature spectrometer systems for product analysis, research, and quality control. The systems for food, beverage, and raw material feature CIE-LAB quantified color analysis and color matching. Additional NIR spectrometer systems are available to analyze food samples for moisture, protein, fiber, and other components. Raman spectrometers are available for quick identification of unknown materials and adulterants.
Sympatec Inc. (www.sympatec.com) exhibited its line of modular instruments for particle size and shape analysis in laboratory and process applications. The company features instruments using laser diffraction, dynamic image analysis, ultrasonic extinction, dynamic light scattering, image analysis, and photon cross-correlation for the characterization of size, shape, distribution, and concentration. Typical applications are dry powders, granules, fibers, suspensions, emulsions, sprays and inhalants.
Texture Technologies Corp. (www.texturetechnologies.com) exhibited its TA.XTPlus texture analyzers for the measurement of hardness, adhesiveness, cohesiveness, resilience, and other attributes of baked
goods, meats, candies, gels, pasta, fruits, vegetables, and other foods.
--- PAGE BREAK ---
Verivide Ltd. (www.verivide.com) exhibited its DigiEye color measurement and imaging system. The non-contact and nondestructive system has no aperture size restriction and enables accurate measurement of many foods.
Waters Corp. (www.waters.com) exhibited its Acquity UPLC® H-Class System with the Acquity QDa™ Detector. It allows users to quantify analytes that have little or no UV response and selectively quantify compounds that co-elute but have different masses. The detector easily integrates into existing LC workflows, allowing users to quickly take advantage of the detector's mass detection capabilities. No special mass spectrometry knowledge is required.
Microbiology
CitroBio Inc. (www.citrobio.com) described its CitroBio Max citrus extract wash for seafood, meat, poultry, cheese, and produce. It extends shelf life and has been proven effective against E. coli, Salmonella, Listeria, and other pathogens. The biodegradable wash contains GRAS ingredients; is soluble in water, oils, and waxes; does not change color or flavor;and requires no rinsing.
Microbiology International (www.800EZmicro.com) exhibited its new MediaBox, a stackable box with an internal bladder filled with fresh, sterile, prepared enrichment broth. The company also exhibited its EZ-Media prepared and dehydrated culture media, spiral plater, media preparators and plate pourers, laboratory autoclaves, innovative sample preparation instruments, and a comprehensive line of rapid bacterial screening and identification kits for common foodborne pathogens.
NatureSeal Inc. (www.natureseal.com) exhibited its First Step+10 sanitizing produce wash. Developed with the U.S. Dept. of Agriculture, the alternative to chlorine and other traditional antimicrobial produce washes kills pathogens on whole and fresh-cut fruit and vegetables, including leafy greens.
Neogen Corp. (www.neogen.com) introduced its NeoFilm™ test platform for the detection and quantification of microbiological organisms in environmental samples, process material, and finished product. Diluted samples are inoculated on thin non-woven fabric films and incubated; then colonies are counted. The colonies can be easily identified by chromogenic reagents within each test. Each film is color coded, and the test types, incubation time, lot number, and expiration date are clearly printed on each film. The NeoFilms are available for aerobic count, coliform count, E. coli/coliform count, Staphylococcus aureus count, and yeast and mold count.
Hygiena (www.hygiena.com) described its hygiene monitoring products used to validate sanitation protocols, ensure that HACCP regulations are met, show due diligence to auditors, and quickly determine if machines are clean enough for processing food. The EnSure monitoring system measures ATP, coliform, E. coli, TVC, ALP, and allergens and includes the new MicroSnap coliform and E. coli tests.
bioMerieux Inc. (www.biomerieux-usa.com) described its rapid automated testing solutions for pathogen detection, quality indicator enumeration, continuous bacterial monitoring, identification, strain typing, and environmental monitoring.
--- PAGE BREAK ---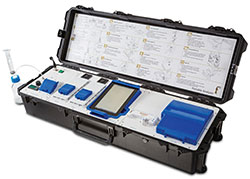 F Cubed LLC (www.fcubed.biz) exhibited its NESDEP IU molecular diagnostic system that can identify pathogens such as E. coli, Listeria, and Salmonella in a raw food sample in less than two hours. The instrument is based on the molecular AC dielectrophoretic technology developed by the University of Notre Dame. The portable system does not require a laboratory and can be used anywhere.
Services
ABC Research Laboratories (www.abcr.com) described its services ranging from pathogen and pesticide residuetesting to nutrition labeling, U.S. Food and Drug Administration (FDA) detention resolution, and benchmark testing.
Anresco Laboratories (www.anresco.com) described its analytical chemistry, microbiology, and food technology services. Tests include nutrition labeling, pesticide residues, minerals and vitamins, sugars and sugar alcohols, fats and oils, protein, proximates, aflatoxins, trans fatty acids, shelf life, extraneous matter, microscopy, pathogens, and FDA detention testing on imported foods.
ESHA Research Inc. (www.esha.com) described its Genesis software for simplifying all facets of food product creation from conceptualization to regulatory compliance, nutrition, and supplement labeling. Users enter ingredients, and the program analyzes the formulation. The software offers users the ability to virtually create foods on paper and tweak ingredients repeatedly without sending foods to the laboratory for analysis each time changes in formulation occur. The company also described a new workflow tool and a menu analysis system.
Food Allergy Research and Resource Program (www.farrp.org), a partnership between the food industry and the University of Nebraska, described its services regarding processing issues and regulatory aspects of allergenic foods and ingredients, including analysis, training, workshops, risk assessment, and consultation.
Medallion Laboratories (www.medallionlabs.com) described its services that include chemical analysis,nutrition labeling, specialty fibers, food safety, shelf life, physical testing, and microbiology. The company also announced improvements to its dietary fiber methods that result in improved fiber recovery. Celebrating its 40th anniversary, the company also provided a virtual tour of its new technology center that will open in September 2014.
Northland Laboratories (www.northlandlabs.com) described its microbiology, chemistry, sensory, and specialty testing services to help companies verify food quality and food safety.
NP Analytical Laboratories(www.npal.com) described its services, which include testing of food and feed for vitamins, amino acids, and carbohydrates, preservatives, contaminants, and pathogens.
RQA Inc. (www.rqa-inc.com) celebrated its 25th anniversary by relaunching its global retail quality-audit, brand-integrity, consumer-complaint, and product retrieval and recall services. The company also provides crisis planning and management and contaminant investigation services as well as product design, sensory research, and consumer insight.
--- PAGE BREAK ---
rtech Laboratories (www.rtechlabs.com) described its microbiology and chemistry testing, nutrition labeling,sensory evaluation, pilot plant, and information research services. The company's sensory services include difference testing, acceptance testing, descriptive analysis, and consumer guidance testing. Its pilot plant services produce batch runs, including spray drying and thermal processing.
SGS North America (www.sgs.com) described its global certification services and its pre-assessment audits, third-party audits, second-party-supplier and foreign-supplier audits, and training.
Silliker Inc. (www.silliker.com) described its services designed to help food companies ensure the safety and quality of products throughout the supply chain. The company provides testing, auditing, consulting, training, and research. Part of Mérieux NutriSciences Corp., Silliker benefits from the scientific and medical expertise of Mérieux NutriScience's parent company, Institut Mérieux, enabling it to provide an advanced portfolio of laboratory, consulting, auditing, sensory, and research services.
Miscellaneous
Entech Instruments Inc. (www.entechinst.com) exhibited its Omni-Sampler Plus sampling instrument, which can be used with all major head space techniques without carryover. It features modular trays and injectors for rapid conversion between technologies. The sampler can interface with any GC/MS without interfering with other installed auto-samplers and inlets and can be configured to optimize analytical performance for virtually any head space application.
Fluid Metering Inc. (www.fluidmetering.com) exhibited its precision metering pumps and dispensers for lab, pilot plant, process, and production fluid control, including the new PDS-100 programmable dispenser. The CeramPump Valveless design features only one moving part in the fluid path and inert, sapphire-hard ceramic internals. The dispensers continuously dispense colors, flavors, nutrients, enzymes, preservatives, and clean-in-place fluids at rates from 3 μl to 4 l per minute.
Pressure BioSciences Inc. (www.pressurebiosciences.com) exhibited two new instrument systems for proteomic, genomic, and lipidomic sample preparation: the Barocycler HUB880, capable of reaching 100,000 psi for food safety studies, and the Constant Systems (CS) Multi-Shot Cell Disrupter, designed for processing samples of 1 ml – 80 ml.
TNO Triskelion (www.tnotriskelion.com) exhibited its TIM in vitro dynamic gastrointestinal models that offer insight into the fate of food and food constituents during digestion in the stomach and small intestine and fermentation in the large intestine. The TIM systems accurately simulate the dynamic physiological processes and conditions within the gastrointestinal (GI) tract, such as transit, body temperature, peristaltic movements, pH, gastric and intestinal enzymes, and bile salts. The TIM-1 model represents the GI tract from the stomach through small intestine, and the TIM-2 model mimics the colon. The TIM systems have been used to research digestibility of foods and supplements; stability of proteins, probiotics, and prebiotics; and absorption of macronutrients and micronutrients. The company also described its Non- Intentionally Added Substances Screening; discovery platform for bioactive peptides; and its contract research services in toxicology, analytical chemistry, and risk analysis.

Neil H. Mermelstein, a Fellow of IFT, is Editor Emeritus
of Food Technology ([email protected])