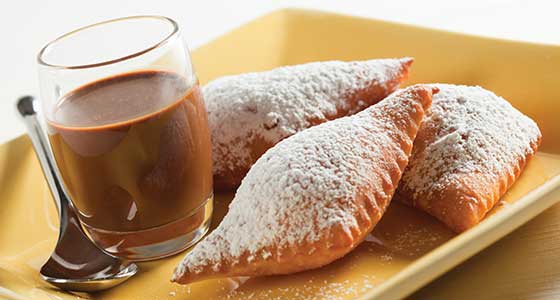 For the last several years, trends like reducing sugar, sodium, and fat; using more naturally derived colorings and flavorings; increasing non-GMO ingredient portfolios; and improving shelf life have continued to drive ingredient and product development innovation. Ingredient manufacturers continue to develop both brand-new ingredients that solve many functionality challenges and next-generation ingredients that have improved attributes, which they proudly showcased at the 2014 IFT Food Expo. New and improved ingredient innovations help to reduce sugar and sodium without adversely affecting the taste of the finished product, color foods more naturally, add delicate floral flavors or bold spicy flavors, improve the texture of gluten-free baked goods, save money by reducing or replacing costly ingredients in formulations, improve the fat content, and so much more. And some of the ingredient manufacturers drew attention to ways in which product developers can use their ingredients in different ways. This was particularly evident with ingredient exhibitors representing nuts and legumes, where product concepts showed how these ingredients function to add protein, texture, and flavor to soups, beverages, and meat/fish breading.
With the show being held in New Orleans, a city rich in culinary history and tradition, many ingredient exhibitors had fun with their product concept development and incorporated flavors and foods from this beloved cuisine. Attendees enjoyed Mini Beignets and Chicory Coffee Dipping Sauce, Hush Puppies with Roasted Red Pepper Sriracha Remoulade, Bacon-Wrapped Shrimp with Creole Red Bell Pepper & Chévre Mousse, Gluten-Free Cajun Meatballs, Spicy Gator Po'Boys, Bourbon-Flavored Ice Cream with a Pecan Praline Brittle, Alligator Cheesecake, Cajun Spiced Praline Popcorn Nut Clusters, Bananas Foster Protein Shakes, Cajun Crawfish Mac-n-Cheese, Café au Lait Chicory Petits Fours, Mini King Cakes, and Cajun Chicken.
For additional coverage of ingredient and product development trends, read Linda Milo Ohr's article (see page 81) for details about some of the exhibitors that showcased ingredients for developing nutritionally enhanced foods and beverages. Liz Sloan's article (see page 41) details current and emerging trends around foods and beverages and offers insight into consumer demands.
Finally, read and view some of IFT's electronic options to catch up on more of what happened at the IFT Food Expo. IFT Live (http://live.ift.org) contains a wrap-up of the event, additional articles about ingredient suppliers and press conferences, and links to videos (http://live.ift.org/videos) that take you to the booths of several ingredient suppliers as their experts chat about topics like protein, clean labels, fats and oils, naturally derived colorings, and hot and spicy ingredients.
Keeping Up with Food Industry Trends
Five key consumer and product development trend categories showed the versatility and functionalities of ingredients manufactured by Ingredion Inc., Westchester, Ill. (www.ingredion.com/us). During the Food Expo, Ingredion demonstrated the capabilities of its range of ingredients in product concepts, launched a new starch ingredient, and announced two key business initiatives.
The organization of the booth was around five themes: authenticity, back to basics, better-for-you snacking, global variety, and holistic health. The authenticity theme, for example, focused on developing ingredients in response to consumers who want foods made with easily recognizable ingredients, explained Marco Villone, Vice President, Marketing, North America for Ingredion. In a Honey Butter Drop Gluten-Free Biscuit product concept, HOMECRAFT® Create GF10 rice flour and tapioca flour system and HI-MAIZE® 260 resistant corn starch provide the necessary texture and other attributes to the gluten-free biscuit with ingredients that are familiar to consumers.
Ingredion's newest ingredient, PRECISA® Sperse 100, is a cold-water-swelling instant starch for use in soups, sauces, and convenience meals. More specifically, the starch provides a creamy, thick texture that is said to be stable under cold storage or steam table conditions. The ingredient provided instant thickness to a Vegetable Curry and Jasmine Rice Instant Soup.

--- PAGE BREAK ---
Business dealings announced by Ingredion during the Food Expo include the launch of three Ingredion Idea Labs™ innovation centers in the United States and an agreement with Alliance Grain Traders Inc. to be the distributor of that company's pulse flours, protein, and bran ingredients. The three Ingredion Idea Labs in the U.S. will be joined by 21 more to be launched around the world by the end of 2014. The facilities will allow the company's ingredient development experts to more closely collaborate with customers in product development efforts and provide opportunities for open innovation with partners and academic researchers. The agreement with Alliance Grain Traders is an opportunity for Ingredion to now include pulses and derivatives from them in its product portfolio, said Igor Playner, Vice President, Innovation and Strategy, North America for Ingredion.
Chromeless Video Player branded for IFT
Cargill Announces New Non-GM Oil Option
In recent years, advocacy groups have pushed state legislatures to pass laws that would require food manufacturers to label genetically modified foods. The labeling issue has garnered just enough interest by the public and policy makers that food manufacturers are taking notice and asking ingredient manufacturers for non-GM ingredient options, said Ethan Theis, Food Ingredients Commercial Manager for Cargill Inc., Minneapolis, Minn. (www.cargill.com). To help its customers formulate products without genetically modified ingredients, Cargill introduced soybean oil made from identity-preserved, conventionally bred soybeans. The oil is refined in the company's plant located in Des Moines, Iowa. An important point that Theis emphasized about the production of the new oil is that the entire process, from material sourcing and transport of raw materials to processing, cleaning, and flushing activities and storage and shipment of the final product, is certified by SGS, a third party, global inspection, verification, testing, and certification company. He also notes that Cargill offers a wide range of non-GM ingredients to meet the needs of manufacturers who process foods for sale in the United States and in regions that have labeling regulations for GM foods, like Europe.
Brazilian Cuisine Hits Its Stride
Despite the Brazilian soccer team's loss in its World Cup bid, the cuisine of the country is scoring points with ingredient and product developers and culinary professionals. Bell Flavors & Fragrances Inc., Northbrook, Ill. (www.bellff.com), used a variety of its flavorings to create product concepts representative of Brazilian dishes.
Feijoada, considered the national dish of Brazil, is a stew made from black beans and various cuts of meat like beef, smoked pork, and sausage. Different vegetables may be incorporated, too. Bell's version, Feijoada Chili Cheese Nachos, used flavorings like smoke, roast pork, chorizo, and umami in the feijoada, which was served on corn tortilla chips and topped with a Brazilian-style cheese sauce made with sofrito and coconut milk flavorings.
Prestígio cake is a popular chocolate layer cake with coconut and milk cream filling and topped with chocolate sprinkles and coconut. For its Prestígio Cupcake, Bell food technologists soaked a cocoa replacer–flavored cake in coconut and cooked condensed milk with additional condensed milk flavoring and topped it with butterscotch-flavored buttercream and toasted shredded coconut.
Two beverages illustrated how product developers can incorporate an exotic fruit flavor into a well-known beverage and create a new spin on a traditional drink. The Caja Tea-Flavored Beverage uses caja flavoring to give a citrusy taste to iced tea. Caja is fruit that hails from the Amazon rainforest and is processed for use in juices and jellies and as a flavoring in ice cream and yogurt. Brazil's national cocktail, the caipirinha, contains cachaça, a distilled spirit made from sugar cane juice, sugar, and lime. Bell's twist on this features a caipirinha flavoring that captures the sweet and sour flavor notes of the libation in a Non-Alcoholic Caipirinha-Flavored Beverage.
Tate & Lyle Discusses New Ingredients
Experts from Tate & Lyle, Hoffman Estates, Ill. (www.tateandlyle.com), went over the functional benefits of several of the company's newly released ingredients. Innovations in clean-label fiber and protein came in the form of oats. PrOatein™, rich in essential amino acids, is a highly digestible, vegan-friendly protein powder concentrate that does not stick and offers good wet-tability. PromOat® Beta Glucan, meanwhile, a soluble fiber, can help lower blood cholesterol and elicits a low glycemic response. It is a fat mimetic, which adds a creamy mouthfeel with less fat. It can be used in beverages and can extend shelf life in breads. Both ingredients were showcased in an Iced Mocha Café au Lait Topped with Whipped Coconut Water and Gluten-Free Pistachio Biscotti.
In the world of sweeteners, Tate & Lyle celebrated its new Tasteva® stevia ingredient, which can provide 50%–100% sugar replacement without the bitter aftertaste associated with rebaudioside A. According to a taste test the company conducted, 63% of consumers preferred Tasteva in a fruit drink beverage. Because it doesn't require the use of a masking agent, Tasteva provides clean-label opportunities and cost-inuse advantages. Tate & Lyle served the sweetener in a Blood Orange Sangria Mocktail, which had 50% less sugar and 70% fewer calories than its full-sugar version.
The company also spotlighted its SODA-LO® Salt Microspheres, small, hollow salt spheres that increase surface area in topical applications, which allows for sodium reductions of 25%–50%. Tate & Lyle showed its usefulness in a Cajun Snack Mix, and the company sees a great deal of potential growth for the ingredient across many applications.
--- PAGE BREAK ---
Chilies Get Eaters Excited
Chili peppers bring people together, according to Nestor Ramirez, Division Chef for Sensient Flavors, Hoffman Estates, Ill. (www.sensient.com). "Every culture has a chili," he said, and many of these are represented in the company's line of chili blends. Sensient has always been a chili blender, and as a fully incorporated company, it oversees its chilies from seed stock development through the agricultural process. Flavors in the line include Indian curry, sriracha, pickled jalapeño, and harissa, and Ramirez incorporated the jalapeño in an aioli he served to attendees. Chili peppers bring out endorphins, according to Michael Swenson, Senior Product Manager, and the use of chilies in products can get people excited about what they're eating.
Chromeless Video Player branded for IFT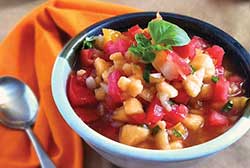 Eat Your On-Trend Vegetables
Vegetable Juices Inc., Bedford Park, Ill. (www.vegetablejuices.com), which was recently acquired by Naturex, had experts on hand to talk about the company's clean-label formulations and wealth of high-quality vegetable ingredients that can add texture, color, flavor, and health benefits to products. At the show, Vegetable Juices sampled popular Indian dish Chicken Tikka Masala with minced garlic, diced onion, ginger puree, red curry paste, and chili puree, which was served with garlic-accented naan. It also offered Summer Spicy Gazpacho and Strawberry Jalapeño Granola Bars that played on the current hot and spicy trend; a Natural Sports Drink that contained sweet potato juice, cucumber juice, and spinach juice and delivered 0.7 servings of fruit and 0.5 servings of vegetables; and Spicy Garnet Gardens, an all-veggie cocktail that provided sweet heat with cayenne, red bell pepper, and purple sweet potatoes and measured two vegetable servings per each 8 oz glass.
New Gums Improve Stability and Texture
Ingredients for texture and stabilization in gluten-free baked goods and sauces and dressings made their debut at the Food Expo. TIC Gums, White Marsh, Md. (www.ticgums.com), showcased new ingredients that are said to improve the texture of gluten-free baked sweet goods and bread and help thicken and disperse quickly at low shear mixing of sauces.
A hydrocolloid ingredient system, Ticaloid® GF 313, was formulated to help food product developers improve textural attributes that are lost in gluten-free sweet baked goods; such attributes include softness, batter viscosity to suspend inclusions, and cohesiveness. Gluten has many different functions in baked goods, and when it is removed, the result can be products that are dense and lack the appropriate texture of products made with gluten, said Steven Baker, Food Scientist at TIC Gums. The blend of gums in the Ticaloid GF 313 hydrocolloid ingredient system helped to improve the viscosity of the batter and yield a better crumb structure in a gluten-free cornbread product concept distributed at the company's booth.
To pair with the gluten-free cornbread, TIC Gums food scientists offered a hot sauce formulated with FASTir® Xanthan EC xanthan gum. This ingredient, which is developed using a patent-pending agglomeration process that makes it disperse easily in water even under low shear, is said to dissolve and thicken more quickly than standard agglomerated xanthan gum and powdered xanthan gum. It is cold water soluble and provides suspension benefits and stabilization in relishes, salad dressings, and sauces, and pulp suspension in beverages.
Good Food for Fido
Batory Foods, Des Plaines, Ill. (www.batoryfoods.com), highlighted its extensive assortment of non-GMO ingredients for use in foods for cats, dogs, fish, reptiles, and amphibians. The range includes acidulants, dairy products, vegetables concentrates and purees, proteins, and sweeteners, to name a few, and they can be combined to control sweetness, enhance flavor, improve mouthfeel, add texture and viscosity, or improve nutritional content. The company also provided information about its other ingredients, which include a new line of fruit and vegetable purees and frozen juice concentrates.
Peanut Possibilities
According to the National Peanut Board, Atlanta, Ga. (www.nationalpeanutboard.org), 94% of U.S. households have peanut butter in their cupboards. The peanut—in its many forms—continues to grow in popularity; they are familiar, convenient for snacking, and packed with 7 g of protein. The Peanut Board, though, wants to raise awareness of just how versatile this legume can be. At its booth, the board showcased several products made with peanuts, including spreads from Peanut Butter & Co. in innovative flavors such as cinnamon raisin and African Sweet Potato Peanut Soup from Montebello Kitchens. It also sampled peanut ginger cookies and provided attendees with a recipe book compiled by a group of food bloggers that gives home cooks ideas for ways to integrate peanuts into every meal of the day.
Coloring Foods with a Natural Touch
As some consumers are choosing products made with naturally derived ingredients, product developers are looking for ingredient solutions to help them meet this demand. Chr. Hansen, Milwaukee, Wis. (www.chr-hansen.com), had experts available at its booth to provide details about the company's naturally derived colorings. Ultra Stable Red™, for instance, is a vegetable-based line of colorings for use in beverages and other low-pH applications. The company's research has demonstrated that the colorings have great light stability, limited browning effect, and can replace FD&C Red #40. Chr. Hansen's spirulina-derived colorings provide various blue shades and when combined with other naturally derived colorings like turmeric, produce green hues.
WhiteWhey™ is derived from betacarotene and replaces annatto in cheese like Gouda and Cheddar. It is said to reduce color transfer to the whey by 85%–95%, according to the company. To color fruit-on-the-bottom yogurt applications, the company offers DairyMax™ Red 144 WSS, a naturally derived coloring from the red anthocyanin pigments in vegetables. What makes this coloring beneficial for these yogurt products is that it is said to not migrate from the fruit prep into the yogurt.
--- PAGE BREAK ---
New Twists on Product Concepts
ICL Food Specialties, St. Louis, Mo. (www.iclfood.com), featured several product concepts with "an ingredient twist." First was macaroni and cheese topped with Cajun bacon—Mac Mania—that had reduced sodium thanks to Salona® sea salt and a creamy mouthfeel and texture provided by Joha® S9 and Bekaplus® Q3B. Joha S9 is said to create a smooth and creamy cheese sauce through protein modification, and Bekaplus Q3B has been shown to improve the texture and stability of sauces and have freeze-thaw stability.
The second product concept called Cool Caramel Macchiato was a coffee beverage fortified with 5% protein and calcium with 250 calories per 8 oz serving. Joha TC helped to buffer the pH of the beverage and enhance the stability of the protein in the form of whey protein isolate during heating. Cal-Sistent® TCP provided calcium fortification with a smooth texture in the beverage.
Finally, the company offered a vanilla bean–flavored cake it called Cake Blossoms that had a 30% sodium reduction and 200% calcium addition. This was made possible by Levona® Brio sodium-free leavener. This ingredient reacts over time, creating a controlled leavening carbon dioxide release.
Driving Grain Innovation
Ardent Mills, Denver, Colo. (www.ardentmills.com), is bringing its expertise on grain ingredient innovation and culinary creativity straight to its customers with its new Mobile Innovation Center. Ardent Mills, a joint venture between ConAgra Mills, Cargill, and CHS that combines the flour milling operations of ConAgra Mills and Horizon Milling, a Cargill–CHS joint venture, brought its Mobile Innovation Center—a large truck that features a culinary kitchen, meeting space, and bakery equipment—to the Food Expo show floor. Having an innovation center on wheels means the food technologists and chefs from Ardent Mills can engage their customers in an interesting environment and help bring some of their ideas to fruition by working with customers to develop product concepts directly in the center. Equipment can be easily switched out and stored on board, allowing for Ardent Mills to customize meetings based on each customer's product development projects.
Daniel Marciani, Development Chef for Ardent Mills, and his team demonstrated the capabilities of the Mobile Innovation Center's culinary kitchen as they prepared New Orleans cuisine–inspired prototypes available for sampling by food writers who were invited to attend a special preview of the Mobile Innovation Center. Spicy Gator Po'Boy featured 30% Ultragrain® Whole Wheat Flour in the bun and the breading on the alligator while 9-Grain Orzo Salad was made with 9-Grain Orzo and sorghum, white quinoa, and teff from the Ardent Mills Ancient Grains line. SafeGuard™ Ready-to-Eat Flour was used in the crust of Rue Royale Blackberry Pie. The culinary experts and food technologists developed King Red Velvet Cake to showcase Ardent Mills Integrated Bakery Resources and feature a product promoted as a simple solution (the cake mix is prepared with water and oil) for the company's customers.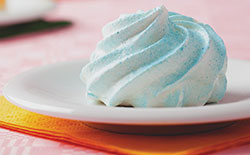 Functional Benefits of Starches and Gums
Penford Food Ingredients, Centennial, Colo. (www.penfordfoods.com), and its business unit, Gum Technology Corp., Tucson, Ariz. (www.gumtech.com), featured four product concepts formulated with starches and gums that provided a variety of functional benefits.
The first product concept, a 25% reduced-fat gluten-free cake pop, was made with Penford's newest ingredient, PenNovo® FR potato-based starch ingredient system. The modified food starch ingredient can replace up to 50% of the solid fat in baked goods and other applications. The prototype also featured PenTech™ GF customized starch blend to provide the appropriate mouthfeel and texture to gluten-free baked goods and Gum Technology's Coyote Brand® Stabilizer XA-0823 and Coyote Brand MC-1217LV to maintain volume and texture and replace up to 50% of the eggs by providing structure and aeration.
An iced coffee mocha beverage used PenNovo 03, an emulsifying starch that can replace caseinate for nondairy creamers; Coyote Brand C-Pro for a smooth, creamy texture; and Gum Technology's Hydro-Fi™ XCT-0123 for increased viscosity and suspension. For the vegan meringue prototype, Gum Technology's Coyote Brand GumPlete™ SH-ER-276 replaced the egg whites, promoted aeration, and improved consistency and stability. The final product concept available for sampling was a 25% reduced-fat Tuscan cream cheese spread. PenNovo FR was used again to replace some of the fat in the cream cheese.
--- PAGE BREAK ---
High-Oleic Soybean Oil Turns Two
Qualisoy, Chesterfield, Mo. (www.qualisoy.com), a collaboration of soybean farmers, seed companies, researchers, food manufacturers, soybean processors, and agricultural organizations, had experts on hand to talk about the benefits of high-oleic soybean oil. Richard Galloway, an oils consultant, provided an overview of the high-oleic soybean oil business. At just two years old, the industry is growing rapidly. Galloway said that more awareness is needed of the functionality the oil provides, such as a longer shelf life and an improved fat profile that offers lower saturated fat and zero trans fats. High-oleic soybean oil also provides oxidative stability and a neutral base oil for frying, making it an ideal choice for foodservice.
Galloway also spoke at a Cooking Up Science session along with "donutologist" Chef Todd Jones, who fried mini donuts to order in high-oleic soybean oil. The company also took part in two scientific sessions, "High Oleic Soybeans Turn 2 Years Old in 2014: Performance and Outlook" and "High Oleic Vegetable Oils: Functional and Physiological Benefits."
True Blue Naturally Derived Coloring
At The Color House, D.D. Williamson, Louisville, Ky. (www.ddwcolor.com), demonstrated the range of its naturally derived coloring solutions in a variety of applications it had on display. A Vegetable Juice Drink featured DDW's new caramelized mirepoix, which adds savory flavor and consistent color, and dinosaur-shaped process cheeses highlighted pink, orange, and yellow colors.
Spirulina, which was recently approved for use in foods, was displayed in several ways, from a dairy-based Blueberry Greek Yogurt Drink to panned gumballs. Spirulina generally provides poor light stability, but DDW's liquid spirulina extract improves light stability by up to 40%. This ingredient can replace FD&C Blue #1 in ice cream, expand hue options in dairy applications, and overcome gray tone issues in frostings and fondants.
According to Jennifer Brown, Global Application Scientist with DDW, what sets the company apart is its ability to create blends of colors, such as layering caramel colors to produce a range of hues that might not be available elsewhere or might not be possible using a single color.
Chromeless Video Player branded for IFT
Edlong Celebrates 100 Years
Edlong Dairy Technologies, Elk Grove Village, Ill. (www.edlong.com), commemorated its 100th birthday at the expo by reflecting on the past at the same time it looked toward the future. Edlong unveiled a series of videos celebrating the company's history at a party held the evening of June 23, and visitors to the booth received samples of 100th Celebration Snack Mix, a birthday cake–flavored "puppy chow" with sprinkles. At the same time, CEO Laurette Rondenet-Smith shared Edlong's plans for global expansion, beginning with a new location in Ireland opening in September and an Asian outpost tentatively scheduled to open in 2015.
Tying into this blending of past, present, and future, Edlong incorporated its dairy flavors in unexpected ways within on-trend applications. These included Freekeh-Almond Meatballs with Vegan Sour Cream Dip, a vegetarian-friendly bite featuring ancient grains; Sweet-Heat Peruvian Plantain Chips, which tempered trendy, spicy Peruvian flavors with cooling Parmesan and Cheddar flavors; and Fizzy Lemon-Meringue-Ade, a refreshing beverage that demonstrated a novel way to use dairy. These applications also addressed the greater overall trend toward health and wellness, portion-controlled indulgence, and innovations in beverages.
Egg Alternative Promises Functional Benefits
A whole egg replacer ingredient can help manufacturers reduce cost while achieving the functionalities that whole eggs provide to bakery products. Agropur Ingredients, La Crosse, Wis. (www.agropuringredients.com), and J. Rettenmaier USA LP, Schoolcraft, Mich. (www.jrsusa.com), collaborated to share their respective expertise to develop Vitacel LB, a whole, liquid egg replacement. The ingredient comprises functional whey proteins from Agropur Ingredients and modified cellulose from J. Rettenmaier and does not contain egg allergens. It is said to maintain the cell structure, volume, and texture in brownies, muffins, cakes, cookies, sweet breads and rolls, and cereal and fruit bars. The wholesale prices of whole eggs and egg whites fluctuate but have risen over the past year. By using the ingredient, report the companies, manufacturers may be able to lower costs and reduce exposure to market volatility.
Phosphates Offer Innovation Possibilities
Innophos Inc., Cranbury, N.J. (www.innophos.com), showed attendees how they could "Innovate with Phosphate™" with a comprehensive range of phosphate- based ingredients. The company's ingredients for baking applications function as leavening agents, shelf-life extenders, or gluten functionality enhancers. When used in meat, poultry, and seafood, certain phosphates and phosphate blends help to retain moisture, stabilize texture, reduce oxidation, and bind structure. Many phosphates act as emulsifiers or as nutrients for dairy culture media in dairy and cheese applications. In the wide array of processed foods available, phosphates can control the growth of bacteria. Phosphates provide calcium or potassium fortification in beverages and also act as acidulants and buffers.
--- PAGE BREAK ---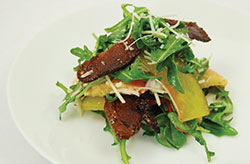 Spirits Spike Flavorful Product Concepts
Using spirits as ingredients in food products is a growing trend that continues to the pique the interest of both chefs and product developers, said Barbara Zatto, Director of Cuisine and Sales Manager West for Mizkan Americas Inc., Mt. Prospect, Ill. (www.mizkan.com). Spirits are used in sauces, marinades, dressing, and many more applications, Zatto explained, and Mizkan offers a comprehensive range of denatured spirits and spirit reductions to add the various flavor nuances characteristic of bourbon, brandy, rum, tequila, vodka, and whiskey.
These spirit ingredients, along with ingredients from its Asian and Latin food ingredient lines, added flavor to product concepts like Bourbon Roasted Peach and Arugula Salad, Margarita Shrimp Aguachile, Tequila Poached Crawfish Sandwich, Chilled Green Tea Soba Noodles with Mirin Tobbiko Caviar Vinaigrette, and Bourbon Braised Heritage Pork Shoulder in Pozole Verde.
The company also focused on the trend of using local ingredients by sourcing as much local produce and shellfish from farmers and seafood purveyors in the greater New Orleans area, explained Zatto.
Feijoada Features Flavors of Brazil
A new portfolio of authentic Brazilian flavorings helps product developers bring a little South American flair to foods and beverages. The flavorings that Innova, Lombard, Ill. (www.innovaflavors.com), debuted contributed rich, meaty flavors to the slow-cooked stew called feijoada. The version of feijoada that the food technologists at Innova created for sampling included black beans, pork, and caramelized onions flavored with Portuguese-Style Linguica Flavor, a smoked pork sausage with garlic and paprika notes, and Spanish-Style Chorizo Flavor served over white rice.
The Power of Protein
Protein is one of the trendiest ingredients in food and beverage product development, with the number of protein claims rising in 2013 for just about all product categories, said Lu Ann Williams, Director of Innovation for Innova Market Insights. Williams and Annette Maggi, President of Annette Maggi & Associates Inc., presented information about consumer insights and product development as they relate to protein during an event for food writers sponsored by Virginia Dare, Brooklyn, N.Y. (www.virginiadare.com).
Consumers are increasingly aware of the protein content of food, and they realize that not all sources of protein are created equal, according to the results of a 2014 Virginia Dare online survey of 694 adults that asked them a number of questions about their eating habits and attitudes toward protein. Maggi explained that consumers seek to consume protein during dinner, lunch, and breakfast, but also look to snacks throughout the day as sources of protein. The top reason cited by the respondents for choosing to consume more protein are to balance eating habits, build muscle, feel full longer, and lose weight. And here is something for product developers to consider: the survey results showed that carbonated soft drinks, ready-to-drink iced tea, snack cakes, chips, and brownies are the product categories that had at least 45% or more response to the question "Which of the following foods or beverages should not be fortified with protein?" The respondents chose breakfast cereal, yogurt, pasta, snack bars, and refrigerated smoothies/juices as products fortified with protein they would consider purchasing.
Williams' presentation concentrated specifically on the growth of protein drinks, which she said are moving into the mainstream, particularly in Western Europe and North America where 73% of global new product launches with a protein claim occurred during 2013–2014 (year to date). Half of the new protein drinks launched in the United States have a sports positioning. Additionally, Williams reported that manufacturers of dairy-alternative beverages are using protein claims on the packaging more now than in the past, and that breakfast shakes that make protein claims are increasingly popular. As far as sources of protein used in protein drinks, dairy proteins are the leading source, with almost three-quarters of sports drinks and weight management beverages being formulated with dairy proteins during 2013–2014 (year to date).
The source of protein and the amount used in a product can affect a product's taste. Virginia Dare featured a new series of masking flavorings under the name ProMask™. ProMask was used in various protein-fortified, flavored beverages made with whey protein concentrate or soy protein isolate, ice cream made with milk protein concentrate, and cookies made with whey protein concentrate. The scientists at Virginia Dare also demonstrated ProMask's masking functionality in foods and beverages formulated with pea, rice, and other innovative protein sources being developed.
Many Uses for Corn
Didion Milling, Cambria, Wis. (www.didionmilling.com), knows about corn. Family-owned since 1972, the company processes a portfolio of corn products, including corn grits, corn meals, corn flours, corn bran, and pregelatinized corn flour, which functions as a binding agent in extruded products, a dough conditioner, and a thickener in sauces and gravies. The ingredients can be used in a range of applications and are certified gluten-free.
At the Food Expo, the company treated booth visitors to a savory Big Easy Breakfast Beignet served with creamy mustard sauce; the product prototype was formulated with Didion's Harvest Gold® whole-grain corn flour, corn bran, and pregelatinized corn flour. The whole-grain corn flour and bran enhanced the beignet's flavor, added a crunchy texture, and upped its fiber content in comparison to a traditional beignet formulation, said Katie Dogs, Public Relations Manager for Didion. According to Dogs, Didion began developing a whole-grain corn flour last year in response to requests from its cereal industry customers.
--- PAGE BREAK ---
Innovating with Coffee and Tea
Coffee and tea are on-trend flavors not only in beverages but in bakery products, snacks, ice cream, confectionery, sauces, and seasoning blends. S&D Coffee & Tea Extracts & Ingredients, Concord, N.C. (www.sdextracts.com), served up samples of beverages formulated with some of its coffee and tea extracts, including Nitrogen Infused Coffee on tap. One of the company's processes that it promoted was the Toddy® extraction process. The process uses cooler temperatures to extract the coffee aroma and flavor notes and helps to minimize the overly astringent notes in coffee. For developers who desire the fuller flavor of coffee, the company offers traditional hot brew coffee extracts. To produce its tea extracts, the company draws on the more than 50 tea leaf varietals it has available.
GNT Features Oil-Dispersible Coloring
Food and beverage industry professionals who visited the booth of GNT USA, Tarrytown, N.Y. (www.gnt-group.com), had the chance not only to learn about the company's naturally derived colorings but to enter for a chance to win a private, color-themed cooking course with the company's award-winning Corporate Executive Chef, Christina Olivarez. Olivarez, a former Food Network Chopped champion and the 2012 Las Vegas Chef of the Year, greeted booth visitors with samples of colorful, hand-spun cotton candy.
Among GNT USA's newest coloring ingredients are Exberry® OD oil-dispersible naturally derived colorings that have functionality in chocolate, compound coatings, and other fat-based systems. The company presented information about its spirulina extract, a naturally derived coloring that gives blue hues and can be used with other naturally derived colorings to produce green hues, and its line of Exberry Natural Colors that are concentrates made exclusively from vegetables, fruits, and spices without the use of chemical solvents or additives.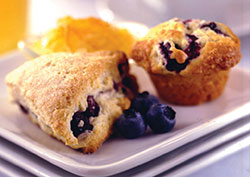 Rediscovering Blueberries
Dubbing them this year's "new-berries," the U.S. Highbush Blueberry Council (USHBC), Folsom, Calif. (www.blueberrytech.org), handed out samples of products that highlighted the versatility and possibilities of the blueberry. New product releases containing blueberries are at an all-time high, and the council—which works to promote the little blue fruits—hopes to push that number even higher by spotlighting their health and functional benefits in more than 50 scientific studies available at the USHBC Health Research Library and Database. Topics covered include antioxidants, anti-aging, cancer, eyesight, brain function, and diabetes.
New Directions for Protein
Hilmar Ingredients, Hilmar, Calif. (www.hilmaringredients.com), answers consumers' desire for protein in the form of whey. The ingredient's versatility, according to Jennifer Sutton, Application Scientist at Hilmar, allows it to be used easily in a range of applications such as beverages, bars, puddings, and snacks. These products offer increased satiety along with benefits that include enhanced sports performance and healthy aging.
Hilmar demonstrated some of its array of whey protein ingredients at the Food Expo, including in a Protein Gel intended for sports nutrition that comes in a pouch. Sutton said that packaging is an area of development for the company. It also sampled a savory BBQ Crispy Bar with three forms of whey protein with different functional attributes—Hilmar 9000 WPI, Hilmar 8200 WPC, and Hilmar 8370 WPH—that delivered 9 g of protein.
Chromeless Video Player branded for IFT
Newly Weds Begins Culinary Program
To put "a world of sensational taste ideas at their customers' fingertips," Newly Weds Foods Inc., Chicago, Ill. (www.newlywedsfoods.com), promoted Kitchencounters™, the company's new global multimedia culinary program that links all of the Newly Weds Foods culinary centers around the world. Currently, the company has locations in Thailand, Australia, China, the United Kingdom, Europe, and the United States, and Kitchencounters will allow Newly Weds Foods product developers and culinary professionals to have access to the latest culinary trends in these regions and to collaborate with customers in their own locations via real-time video conferencing. Other features include live chef-to-chef consultations and ideation sessions and website resources like chef trend videos, articles, and more. Kitchencounters is available exclusively to customers of Newly Weds Foods.
--- PAGE BREAK ---
Solutions for Lowering Sodium
Two new ingredient systems from Mitsubishi International Food Ingredients Inc., Dublin, Ohio (www.mifiusa.com), provide product developers with options for formulating foods with reduced sodium contents.
The Flavorescence AP 35 ingredient system can reduce sodium content in soups, sauces, and dressings by up to 35% through a one-to-one replacement for salt in the formulation. The ingredient system contains a proprietary yeast extract and no hydrogenated vegetable protein or monosodium glutamate. It can help to enhance the salty perception and savory and umami notes without contributing off-flavors to the finished product.
The second ingredient system for reducing sodium in food products was Flavorescence CE 35. This ingredient system can reduce the sodium content in cheese formulations like sauces by up to 35% and can potentiate cheese and dairy flavors in applications, according to the company. Like the AP 35 ingredient, the CE 35 ingredient is used as a one-to-one replacement for salt and does not contain HVP and MSG. It is labeled as "Yeast Extract, Salt, Natural Flavor."
Granola Cluster with Grain-Based Crunch
Richardson Milling Inc., Winnipeg, Manitoba, Canada (www.richardson.ca), showed how its grain-based ingredients could add crunchy texture and nutrition to granola clusters that could be eaten as a snack or used as inclusions in applications like cereal. Cranberry Citrus Granola Clusters combined the whole-grain goodness and dietary fiber of oats, wheat, rye, triticale, and barley with real cranberry fruit pieces for a product concept that had 15 g of whole grain per serving and was saturated fat–free, low-fat, cholesterol-free, and low-sodium. For a low-sugar and nutrient-dense snack, the company showcased Almond & Dark Chocolate-Flavored Granola Clusters. Chocolate liquor and cocoa powder contributed to the rich chocolate flavor of the clusters, which were also sweetened with monk fruit extract and formulated with Richardson Milling's whole-grain rolled oats. Pea protein helped to contribute 12 g of protein per serving, and wholegrain rolled oats provided 26 g of whole grain per serving in High-Protein Caramel Granola Clusters.
Colorful New Developments
Product developers are continuing their interest in naturally derived colorings, as coloring manufacturers feature an ever-growing array of coloring options with improved stability and functionalities. Representatives from Roha USA LLC, Saint Peters, Mo. (www.rohagroup.com), helped product developers navigate the naturally derived colorings that the company offers. Colorings under its Natracol line are derived from fruits, vegetables, and spices and include anthocyanins, beta-carotene, carotene, lycopene, chlorophyll, lutein, paprika, and more for use in markets around the world. Coloring foodstuffs made from concentrates of fruits, vegetables, herbs, edible flowers, and algae make up the Futurals line. These colorings are made through physical processes and can be used by manufacturers who formulate products to meet the "clean label" demands of consumers.
New Shapes for Snack Clusters
Archer Daniel Midland Co., Decatur, Ill. (www.adm.com), showcased a wide variety of ingredients at its booth. CLARISOY™ 170, the newest addition to the CLARISOY line of plant-based isolates, is an isolated soy protein with a clean flavor designed for use in neutral beverages with a pH of 7.0 or higher. ADM featured it in a Vanilla-Flavored Dairy Replacement Beverage that also included Fibersol®-2, making the beverage a good source of fiber. Crunchy Cluster Snacks were formulated with TEXTURA™ inclusions, which are available in a range of shapes and flavors. Sorghum Crisps offer whole grains, Black Bean Crisps are gluten-free, and Navy Bean Crisp with Blueberry adds protein to products. Manufacturers can also customize their desired protein levels depending on which type of crisp is selected.
ADM also showed the range of its cocoa powders. A Brownie Cookie with White Confectionary Chips featured deZaan™ D-11-SB cocoa powder, Chocolate Macarons introduced the new deZaan™ D-00-ZR low-fat cocoa powder, and a rich and creamy Cocoa-Rita nonalcoholic cocktail included deZaan™ 11-D-505 cocoa powder. This drink was also sprinkled with Merckens® crispy flakes, a new alternative to rice crisps that has potential for use in confectionery as inclusions or toppings.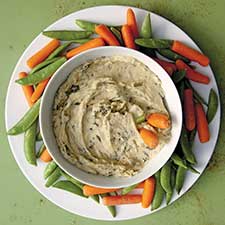 Expanding Possibilities of Soy Sauce
Soy sauce is a well-known ingredient in the cuisines of some Asian countries, but experts at Kikkoman Sales USA, San Francisco, Calif. (www.kikkomanusa.com/foodmanufacturers), want product developers to "think outside the bottle" to consider soy sauce's functionalities in other foods not associated with Asian cuisine.
Kikkoman Premium Less Sodium Soy Sauce has 45% less sodium that the company's regular soy sauce and helped to reduce the sodium content of a Louisiana-Style Remoulade product concept without altering the characteristic flavors of remoulade. In the remoulade application, the low-sodium soy sauce is used at a low enough level to achieve sodium reduction and rich, savory taste without imparting soy sauce flavor, remarked Joseph Leslie, Midwestern Regional Manager for Kikkoman. The soy sauce along with Kikkoman Sriracha Hot Chili Sauce helped to formulate a vegetable gumbo with increased umami taste and a spicy kick.
For a hummus application, the food technologists at Kikkoman used Kikkoman PK-56 Clear Soy Sauce that heightened the savory and sweet brewed notes in the hummus without altering the light color. That is because the soy sauce has a light golden color rather than the dark brown color of traditional soy sauce, making it perfect for use in lighter-colored foods like processed meats, sauces, salad dressings, soup, seafood, and poultry.
--- PAGE BREAK ---
Free-From Solutions
With many consumers looking for foods free from gluten or certain allergens, manufacturers often face formulation challenges in retaining flavor and texture while producing foods that buyers can—and want to—eat. Watson Inc., West Haven, Conn. (www.watson-inc.com), has taken the hard work out of making these products with its selection of free-from mixes and ingredients, some of which were highlighted at the company's booth.
Gluten-free brownies were formulated with gluteNONE™ Specialty Mix, which is also ideal for use in cookies, cakes, sweet rolls, and soft-baked nutrition bars. Watson also served moist waffles made with gluteNONE™ Waffle Mix, which is also useful in creating baked goods such as pancakes, cannoli shells, and waffle cones. Both mixes, which require just oil and water, are GFCO-certified and free from the top seven allergens.
Other free-from ingredients include Spark Premix, which uses B vitamins to provide energy without caffeine, taurine, and guarana; Edible Glitter, which adds sparkle and color without adding sugar; and Golden Glow Blends, which lend foods a yellow to orange color without FD&C Yellow #5 and FD&C Yellow #6.
Spice Adds Heat and Flavor
"Spice is not heat, it's flavor, and each individual pepper has its own unique flavor," according to Judson McLester, Corporate Executive Chef and Ingredients Sales Manager for McIlhenny Co., Tabasco® Brands, Avery Island, La. (www.tabascoingredients.com). In line with that sentiment, the company offers pepper-based ingredients in a range of heat levels, from sauces that start at 600 Scoville units to other ingredients that top the charts at 70,000 units. This variety allows manufacturers to find the right level of heat and kind of flavor they desire for each particular application.
At the Food Expo, McIlhenny launched its newest ingredient, a spray-dried sauce made from Tabasco peppers, which are smaller and hotter than cayenne peppers. This versatile ingredient provides a mild heat level and all the flavor consumers expect from a Tabasco ingredient, and McLester sees this sauce as an ideal ingredient for chips and nuts. He also foresees exciting developments down the road such as ingredients made from Peruvian peppers to tie into the popularity of that country's cuisine.
Shaved Ice Features Taste-Tempting Flavors
Keeping up with the latest flavor trends, Gold Coast Ingredients Inc., Commerce, Calif. (www.goldcoastinc.com), offers more than 1,500 flavorings, from common ones like apple, chocolate, and coffee to less-than-ordinary ones like kimchee, ume, and taro. Attendees sampled shaved ice flavored with vegetarian bacon Bloody Mary, peach chili, chocolate stout, guava grapefruit lime, cucumber melon, and horchata syrups. Company representatives distributed formulation cards for the syrup samples to inspire food formulators to go beyond typical syrup flavors.
DSM Debuts Clear Carotenoid Colorings
DSM, Heerlen, the Netherlands (www.dsm.com), and DSM Food Specialties, Parsippany, N.J. (www.dsm.com), launched clear carotenoid colorings, adding to its portfolio of carotenoid ingredients. The ingredients in the new line are nature-identical colorants that can replace azo dyes in transparent beverages like energy drinks, sports drinks, flavored waters, and soft drinks. Company officials add that another benefit of the clear carotenoid colorings is that they have a neutral taste and will not impart off-flavors in a finished product because components such as d-limonene and tween that cause off-flavors are not used in the delivery system. The company added these coloring options to its portfolio to give product developers even more choices when formulating products without synthetic ingredients.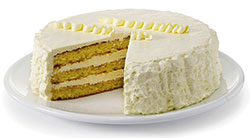 Emulsifiers for Bakery, Beverages Debut
New emulsifiers and stabilizers made their debut as Palsgaard Inc., Morris Plains, N.J. (www.palsgaard.com), introduced the ingredients to provide product developers with more functionality options and formulate foods with no trans fat and no hydrogenated oils.
For baking and margarine applications, Palsgaard now offers Palsgaard® DMG 0297, which is made of distilled monoglycerides of vegetable fatty acids that emulsify water-in-oil emulsions; Palsgaard PGE 1155, for better aeration, structure, and stability compared to standard emulsifiers; Palsgaard PGE 1105, for improved creaming and whipping properties of margarine; Palsgaard 6118, which has oil-absorbing properties; and Palsgaard 5611, which is distributed faster in a batter system compared with traditional distilled monoglycerides. The company distributed samples of gluten-free devil's food cake premix made with Palsgaard 5611 during the Food Expo.
To enhance taste and body of chocolate milk, the company showcased Palsgaard ChoMilk 173, an emulsifier-stabilizer mixture with several functions. Another blend, Palsgaard Extrulce 304, is for use in extruded ice cream. The ingredient can help improve whipping properties, prevent the formation of coarse ice crystals, provide a creamy texture, and provide dryness on extrusion.
--- PAGE BREAK ---
LiteFoods Promotes Four New Developments
LiteFoods Inc., Washington, D.C. (www.litefoodsinc.com), introduced four new ingredients that address product development issues facing food formulators. The first is Neusolite™, a patented two-stage pre-soak ingredient system that is said to reduce fat in fried foods by up to 60%. The second ingredient, a low glycemic index bread mix that contains botanicals, can help reduce blood sugar spikes by nearly 30%, according to the company. The final two ingredients, ZeroVia™ blend of sucrose and stevia and 80Less™ blend of cane sugar and sucralose, are sweetener options useful in reduced-sugar applications.
Increasing Oil's Fry and Shelf Life
DuPont Pioneer, Johnston, Iowa (www.plenish.com), had experts on hand to discuss the benefits of its Plenish® high-oleic soybean oil. According to Susan Knowlton, Senior Research Manager, Plenish was developed specifically for the food industry to help manufacturers move away from partially hydrogenated fats. Oils that haven't been hydrogenated go rancid more quickly, resulting in waste, but high-oleic soybean oil provides exceptional oxidative stability. It also allows for a longer frying life and leaves less buildup on manufacturing equipment. Additionally, Plenish can be used as the liquid component in shortening blends, helping bakers meet the challenges of formulating without partially hydrogenated oils.
Chromeless Video Player branded for IFT
Ingredients for Sensory Appeal
Beverage, ice cream, and bakery product concepts illustrated the functionality capabilities of flavor systems, inclusions, and other ingredients from SensoryEffects, St. Louis, Mo. (www.sensoryeffects.com). The company develops its flavor systems to meet current food and beverage trends, sensory performance, and manufacturing requirements. It featured liquid flavor systems in mango lemonade and caramel apple–flavored milk beverages and Choc-O-Crème Deluxe powder in a chocolate beverage. The company's inclusions add visual and sensory appeal to applications like ice creams, gelatos, and frozen yogurt. Candy Cane Crush was a chocolate gelato with white chocolate peppermint swirls and Lemon Poppy Pound Cake was lemon frozen Greek yogurt with pound cake pieces and a lemon poppy seed variegate.
SensoryEffects featured raspberry mini-flake inclusions in Bon Petite Cakes. The inclusions gave these macaron-like baked goods enhanced fruit flavor and a redpink color without trans fat and partially hydrogenated oils. The company highlighted two other ingredients for bakery products. BakeShure No Sodium baking powder and C-Salt helped to reduce the sodium content in chocolate chip cookies by 25%.
David Michael Focuses on Sweet and Tart Flavors
It was all salads and sweets at the booth for David Michael & Co. Inc., Philadelphia, Pa. (www.dmflavors.com), as the company highlighted some of its more popular flavorings in vinai-grettes and sweet treats.
A Black Pearl Medley® Salad with Balsamic Sun-Dried Tomato Vinaigrette featured Natural Flavor Balsamic Type and DM Choice® Sun-Dried Tomato & Herb Type. A Freekeh Salad with Thai Sweet Red Curry Vinaigrette incorporated flavorings like coconut milk, Thai red curry, roasted garlic, lemongrass, and ginger, all of which are commonly used in Thai cuisine. The two dessert product concepts offered were more traditional. A mocha flavoring, chocolate flavoring, and two-fold bourbon vanilla extract added an intense flavor to a Chocolate Donut with Vanilla Glaze product concept while Philadelphia Style System® Natural & Artificial Vanilla Flavor gave Vanilla Soft-Serve Ice Cream the characteristic rich flavor that Americans continually rank as their favorite ice cream flavor.
Expanding Caramel Coloring Offerings
Experts from Sethness Caramel Color, Skokie, Ill. (www.sethness.com), shared information about two of its recently launched caramel coloring ingredients. The company offers a Class I liquid caramel color that is made from non-genetically modified cane sucrose. SB121 Liquid Caramel Color is much darker than other Class I caramel colorings, which gives foods and beverages a rich brown hue. To help food processors keep the sulfite content of products to a minimum, Sethness developed P600 Low Sulfite Powdered Caramel Color. The coloring is positively charged with no sulfite reactants. It is also 30% darker than the company's darkest low-sulfite powdered caramel coloring, P450, according to the company. Manufacturers of meats, spice blends, textured vegetable protein, hydrolyzed vegetable protein, cereal, baked goods, and cocoa extenders can use the coloring.
Dimensions of Color
Kalsec Inc., Kalamazoo, Mich. (www.kalsec.com), had Howard Haley, Kalsec Fellow, on hand to show the strength of its portfolio of naturally derived colorings. Mixing yellow, red, and purple colorings into plain yogurt, Haley revealed the vibrant hues made possible from naturally derived sources such as turmeric. Whether manufacturers are looking for a soft pink for strawberry yogurt or a brighter hue for another application, Kalsec can formulate the perfect shade.
In addition to its colorings, Kalsec provided information about its line of Fusionary™ Heat heat-delivery ingredients, which plays in well with the current trend toward hot and spicy foods. These ingredients combine heat with nontraditional pairings for an unexpected sensory experience, adding savory, sour, sweet, and tangy elements to the heat. Spicy Orange brings fresh, citrusy flavors, and Cardamom Citrus Heat provides fragrant, floral notes. This line is ideal for use in beverages, confections, dairy, marinades, prepared meals, snacks, sauces, and soups.
--- PAGE BREAK ---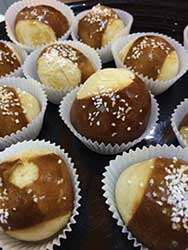 White Pretzel Salt Is Morton's Latest Ingredient
The newest addition to the specialty salt portfolio of Morton Salt Inc., Chicago, Ill. (www.mortonsalt.com), is Morton® White Pretzel Salt, which gave a crunchy texture and salty taste as topping on Soft Pretzel Nuggets and Honey Mustard Sauce and Salted Caramel Cupcakes. The intense white color of the salt grains added visual appeal to these product concepts, too.
Morton Salt also featured its Morton California Pure Medium Sea Salt in Caprese Salad, Nut & Fruit Bars with Dark Chocolate & Sea Salt, and Salted Caramel S'more Bar. The sea salt in the California Pure line is harvested from the waters of San Francisco Bay, washed, dried, and screened to optimum size. Market research has shown that the use of sea salt by food product developers is increasing. The product concepts that Morton Salt presented illustrate some of the different applications in which sea salt works.
The experts at Morton Salt realize that there is more than one solution to reducing sodium levels in foods and beverages and continue to help food formulators with ingredient solutions to lower sodium while ensuring that the taste of the finished product is the best that it can be. During the Food Expo, the company announced that it has opened a state-of-the-art food lab at its R&D center in Elgin, Ill., that is dedicated to developing reduced-sodium ingredient solutions. Cajun Sweet Potato Chips and Spinach-Kale Greek Yogurt Dip, both made with Morton Star Flake® Dendritic Salt and KaliSel Potassium Chloride, were offered as examples of the company's sodium-reduction efforts.
Oil Spray Offers Ease of Use for Baking
An allergen-free, canola oil–based spray ingredient offers several functional benefits to bakery product manufacturers. Richardson Oilseeds Ltd., Winnipeg, Manitoba, Canada (www.richardson.ca), promoted its Bread Pan Release to bakers looking for a zero trans fat pan release ingredient alternative. Bread Pan Release, which does not contain soy lecithin or mineral oil, can help manufacturers save on cleanup time; it contains no solids, meaning it is pourable and easily pumped and sprayed, and pans wash off with only hot water. Because the ingredient contains canola oil, it is also stable in high heat.
WILD Shows Flavorists' Favorites
WILD Flavors Inc., Erlanger, Ky. (www.wildflavors.com), served nearly a dozen foods and beverages that showcased some of its flavorists' favorite creations. One such flavor, monstera deliciosa, starred in a soda that showed off the fruit's sweet banana and pineapple essences. A red, white, and blue Berry Coco Cinnamon Lollipop highlighted another favorite flavor, and it also included Immunel™, which supports immune health.
According to WILD, Millennials, a key demographic, are looking for natural, better-for-you products that provide health benefits. In accordance, the company developed its TCM Recovery Supplement, a unique blend of traditional Chinese medicine ingredients intended to aid in recovery. With an eye toward sports nutrition, WILD served a Pineapple Mint Smoothie with RPM™ Factors, a cooling beverage designed to enhance athletic performance.
WILD also predicted some popular flavors for fall, pairing pear and cardamom in a chef-inspired tea. Apples, another autumn favorite, were incorporated into Fuji Apple Caramels with Apple Polyphenols, which combined the fruit varietal's flavor with antioxidant-rich polyphenols in a creamy candy.
Adding Matcha for Flavor and Health Benefits
Hoping to spread awareness of matcha—powdered green tea leaves—as an ingredient, Aiya America, Torrance, Calif. (www.aiya-america.com), provided a wealth of recipes that employ its Cooking Grade Matcha, including Matcha White Chocolate Salted Caramel Bonbons, Matcha Crispy Treats, and Matcha Chocolate Cake Cottage. Because matcha makes use of the entire tea leaf, it retains all of the tea's nutrients—10 times more than steeped tea provides—making it an antioxidant-rich addition to beverages from lattes to lemonades. Aiya also passed out samples of its Matcha to Go, a single-serve dispersible powder that drinkers simply mix into cold or hot water.
From Grains and Legumes to Gums and Fibers
Instead of promoting one particular element of its business, Caremoli USA Inc., Ames, Iowa (www.caremoli-usa.com), showed off the strength of its united operations, all of which are designed to help producers meet specific functional, nutritional, dietary, and taste requirements of their products. These include premium-quality non-GMO ingredients, a dedicated gluten-free production line, a complete range of cereal and legume grains, advanced sterilizing technology for producing high-quality psyllium husk fiber, and a position as one of the largest global guar gum manufacturers.
Growing Almonds' Potential
California grows 85% of the world's almonds, and half of the almond producers in that state are part of Blue Diamond Almonds, Sacramento, Calif. (www.bdingredients.com), a cooperative of 3,000 growers that operate with a focus on ingredient supply. By waiting to sell until the end of the year, the company can ensure its customers will have access to a consistent supply year-round, according to Bill Morecraft Jr., General Manager for Blue Diamond. That is a good thing, since global demand for almonds has doubled in recent years. As consumers become increasingly aware of the importance of protein and fiber, almonds have found their way into more and more applications, including granola bars, trail mixes, as yogurt inclusions, and in the form of almond meal for gluten-free baking. At its innovation center, Blue Diamond looks for even more ways to show almonds' potential. The company also prides itself on excellent food safety during processing; its new facility, which opened in Turlock, Calif., in 2013, employs physical barriers to separate raw and ready-to-eat almonds.
Oil and Milling Innovations
As self-proclaimed oil and milling experts, Bunge North America, St. Louis, Mo. (www.bungenorthamerica.com), had a lot to say about both industries at the show. On the milling side, Bunge can customize extruded products in a variety of shapes and sizes such as millet nuggets and rice bubbles. In addition to a range of other corn and rice ingredients, the company also offers rice panko, a gluten-free alternative to bread crumbs that fries up crisply and cleanly.
Bunge also provides a wide range of fats and oils. According to Dilip Nakhasi, Director of Innovation, Oils Division, for Bunge North America, customers are concerned about the kinds of oils in their foods. In light of these concerns, as well as the possibility of forthcoming bans, Bunge is working to provide manufacturers with solutions to replace fully and partially hydrogenated oils in their products through its Saturate Sparing Technology. This process creates plastic fats with lower levels of saturated fat and no trans fats. The company's structural lipids help to spread the message that fats can provide health benefits and don't have to be "bad." At the Food Expo, dancing staff members outfitted in donut costumes enticed attendees to stop by and try beignets fried in Bunge oils.
Extracting Flavor from Yeast
Bio Springer, Milwaukee, Wis. (www.biospringer-na.com), highlighted two of its yeast-derived ingredients at the show. Attendees sampled cheese crackers formulated with Springarom® CH 7012/20-PW, a yeast extract that can add cheesy, umami-rich flavor to a wide range of applications. It is also GMO-, allergen-, and animal-free, making it ideal for vegetarian or vegan products. The second ingredient shown, Springer 2012/20, a part of the Springer 2000 range of salt and MSG replacers, was incorporated into a barbecue sauce, where it helped to round the flavor, tone sour notes, and bring out sweetness.
--- PAGE BREAK ---
Viva Stevia
Exhibiting at the expo for the first time, Steviva, Portland, Ore. (www.stevivaingredients.com), walked attendees through its range of naturally derived sweeteners. One such ingredient, Nectevia, functions as a low-calorie plug-and-play replacer for high-fructose corn syrup in beverages, bakery, condiments, and fruit preparations. A blend of agave nectar and stevia, this low-glycemic liquid offers subtle honey notes and a mostly neutral flavor base. It is also four times as sweet as sugar, allowing for a 75% sugar reduction without the bitterness sometimes associated with stevia. It is also organic, non-GMO, and gluten-free, and it is heat, pH, and shelf stable.
Another option, Fructevia™, provides twice the sweetness of sugar with a much lower glycemic index rating thanks to its crystalline fructose component—and the fact that formulators only need to use half as much Fructevia as they would sugar. The blend also includes fructooligosaccharides, stevia extract, and magnesium carbonate, which combine to create a great-tasting sweetener that caramelizes and browns just like sugar. The clean-label-friendly crystalline sweetener is also chemical-, allergen-, and gluten-free. Steviva also introduced its new SteviaSweet 95-60 Liquid, a proprietary blend of steviol glycosides that provides 25 times the sweetness of sugar. This ingredient is easily incorporated into baked goods, confections, and packaged meals, and it shows particular potential in reducing sugar levels in typically high-calorie beverages without affecting their taste.
Reducing Sodium While Maintaining Rise
In addition to its Arm & Hammer sodium bicarbonate, Church & Dwight Co. Inc., Princeton, N.J. (www.ahperformance.com), extolled the virtues of its Arm & Hammer Flow-K™ potassium bicarbonate, which can partially or fully replace sodium bicarbonate in the leavening system of biscuits, muffins, cakes, and other baked goods. In cookie applications, Flow-K can also increase diameter and/or height, enhance crust color, and boost sweetness.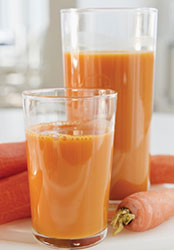 Vegetable Juice Gets Protein Boost
Dairy proteins are increasingly being used in foods and beverages to increase the protein levels as a way to help consumers feel full longer, maintain a healthy weight, recover more quickly after exercise, or maintain muscle mass as they age. The U.S. Dairy Export Council, Arlington, Va. (www.innovatewithdairy.com), presented product concepts to show product developers how to look at dairy proteins in different ways. One such product was the Veggie Burst vegetable juice formulated with whey protein isolates and milk minerals with 12 g of protein. The beverage had a smooth texture thanks to the whey protein isolate, which helped with the emulsification and stabilization. The neutral taste of whey protein isolate does not affect the flavors of the various vegetables used to make the juice. Milk minerals contribute calcium and other minerals.
Controlling Listeria and Mold Naturally
Corbion Caravan and Corbion Purac, which are part of Corbion, Lenexa, Kan. (www.corbion.com), took the opportunity to showcase several recently released ingredients. In the world of vinegars, Corbion discussed its newest additions to the Verdad® line, Verdad N8 and Verdad N9. These ingredients, which can simply be labeled as "vinegar," help control Listeria growth in cooked meat and extend the shelf life of fresh and cooked meats. N8 adds a balanced flavor to products, while N9, which is free of sodium, lends itself to healthful applications. Verdad Powder F80, meanwhile, is made from fermented cane sugar and can inhibit mold growth in bakery products for up to 14 days. Ultra Fresh® Premium 300, a new part of the Ultra Fresh line of freshness extenders, was specifically designed for use in buns and rolls to reduce added sugar and yeast. At the booth, Corbion offered a rotating menu of foods that highlighted these and other ingredients.
Sunflower Power
First-time exhibitor Austrade Inc., Palm Beach Gardens, Fla. (www.austradeinc.com), discussed the benefits of its new Heliaflor™, an organic sunflower protein that is gently processed to preserve the protein's full functionality. A solvent-free, non-GMO, and gluten-free ingredient, Heliaflor provides clean-label possibilities along with a high water- and fat-binding capability. Its application opportunities range from breads, nutritional bars, and other baked goods to dressings, meat substitutes, and spreads. Other new ingredients include grape sweeteners, non-GMO soy bran, soy flakes, and organic sunflower lecithin.
Peanut Oil Adds Flavor and Functionality
Golden Peanut Co., Alpharetta, Ga. (www.goldenpeanut.com), showed two sides of its peanut-filled portfolio at its booth. It displayed the useful properties of its roasted peanut flours in a Milk Chocolate Peanut Butter Truffle, including preventing fat migration, adding texture and mouthfeel, and providing a source of plant-based protein. It also had its Golden Premium Peanut Oil and Gold Nut 20 Peanut Extract on hand. These highly aromatic oils are made from high-oleic peanuts through a pressing process, resulting in a very stable end product that adds peanut flavor, provides monounsaturated fats, extends shelf life, and helps with binding. Both ingredients are naturally free from cholesterol, trans fats, GMOs, and gluten, which also aids in clean-label formulations.
Almonds Branch Out
According to the Almond Board of California, Modesto, Calif. (www.almonds.com/food-professionals), almonds are the first thing North American consumers think of when considering which nut to snack on. At the Food Expo, the board attempted to extend that recognition into other eating opportunities by bringing almonds' potential to the forefront of attendees' minds through its Solution Sessions. During these one-on-one meetings, attendees were invited to sit down with Chef John Csukor of Kor Food Innovation to devise ways to include almonds in their products. The chef also created a variety of almondbased snacks that were sampled at the booth, including a Thai Almond Cluster with coriander and black pepper, Brewed Almond Tea, and a Savory Almond Spice Bar packed with flax, pumpkin seeds, chili peppers, and cocoa nibs. In addition, the Almond Board showcased its culinary innovations during a Monday Cooking Up Science demonstration.
Minor Changes for Major Impact
Grain Processing Corp., Muscatine, Iowa (www.grainprocessing.com), invited attendees to learn about the "Big and Easy Solutions" their specialty ingredients offer. TruBran® corn bran was demonstrated in pitas with added fiber and whole grains served with Cajun chicken. This light brown fiber made from U.S. dent corn is heat treated for added stability, provides a typical dietary fiber content of 85%, and is an easy way to up the fiber content in baked goods. GPC also highlighted INSCOSITY®, a line of instant modified starches used in bakery cakes that can help achieve an 18-month frozen shelf life.
--- PAGE BREAK ---
Butter Flavorings Help Bring Down Cost
According to IOI Loders Croklaan, Channahon, Ill. (http://northamerica.croklaan.com), rising butter prices present a challenge to manufacturers. The company offers a way to provide butter flavor and color while reducing costs with its FuseRite™ series of shortenings. Free from trans fats and partially hydrogenated oils, the shortenings can partially or fully replace butter in baked goods while providing low amounts of saturated fats. They also infuse products with color and flavor.
At its booth, the company held a sugar cookie taste test, challenging attendees to tell which cookie was made with only butter and which also included FuseRite. According to Shellie Kramer, Marketing Manager, 45% of tasters preferred the shortening-enhanced version, and 20% of tasters could not tell the two apart. The most common feedback received from those who preferred the FuseRite cookie was that it had more rounded flavor and that they were able to pick up the butter flavor more quickly. In addition, the tasters who preferred the butter-only cookie said the two were very close in terms of their likability.
Clean Labels Achieve Claims
Clean labels were the focus of this year's expo for Briess Malt & Ingredients Co., Chilton, Wis. (www.briess.com). According to Bob Hansen, Manager of Technical Services at Briess, there are two reasons behind this. First, people really want products with ingredients they can pronounce, and manufacturers want to be able to make them for consumers. Secondly, it is what Briess does. The company's range of naturally derived and processed ingredients spans across nearly every category. These ingredients allow producers to achieve claims like natural, healthy, whole grain, organic, and non-GMO on their labels, all while creating the food products their customers desire.
At the show, Briess held a taste test, challenging attendees to try Gooey Oat Tarts made with either corn syrup or non-GMO, gluten-free BriesSweet™ Tapioca Syrup. It also sampled taco dip with non-GMO Roasted Corn Flour instead of maltodextrin and gave away packets of Briess Malted Multigrain Waffle Mix, which stars six Briess malt and pre-gelatinized grain ingredients.
Seasonal Fruit All Year Long
Milne Fruit Products, Prosser, Wash. (www.milnefruit.com), handed out samples of its MicroDried® Berry Blend, a mix of low-moisture blueberries, cranberries, pineapple, and strawberries. Made without any added sugars, colors, or preservatives, the non-GMO fruit boasts a two-year shelf life and does not contain any sodium, gluten, dairy, or allergens. Milne also discussed its Concord grape line, which includes Concord Grape Juice and Concord Grape Puree. These ingredients add taste, color, and nutritional benefits to products, including vitamins C and K and polyphenols.
Unlocking Microalgae's Potential
The nutritional qualities of microalgae have been known for centuries, but until recently, this source of renewable, nutrientrich protein has not seen extensive use as a food ingredient. Companies like Roquette America Inc., Geneva, Ill. (www.roquetteamerica.com), are working to change that. In fact, Roquette recently launched a production unit at its industrial site in Lestrem, France, solely dedicated to producing a type of microalgae called chlorella, from which the company derives its algility™ line of ingredients. Its algility™ HL, a whole algal flour, reduces fat in products while preserving their taste and texture, allowing for healthier versions of indulgent foods without sacrificing quality. This ingredient was highlighted at the show in a Chocolate Crémeux Dessert that provided a creamy mouthfeel and a rich chocolate flavor. An algility™ HP whole algal protein that combines plant-based proteins, fibers, and unsaturated fats is under development, and an algility™ chlorella can be included in food supplements.
The Versatility of Cellulose Gum
Ashland Inc., Covington, Ky. (www.ashland.com), considers its line of cellulose gums to be its flagship product, and attendees at this year's show seem to agree, expressing a great deal of interest in the ingredient. Ashland boasts an extensive line of grades that can be customized based on desired viscosity, particle size, and other considerations. As one of the most widely used specialty ingredients in foods and beverages, cellulose gum provides a wealth of benefits such as improved mouthfeel, thickening, shelf life, stabilization, texture, and flavor balance. It is also a flexible ingredient, serving different purposes depending on what manufacturers need it to do and which trends they need to address. For example, according to Adriene Eiffes, Global Marketing, Nutritional Specialties for Ashland, many visitors this year inquired about ways to use cellulose gum to help reduce added sugars by replacing mouthfeel in stevia-sweetened beverages and masking its bitter taste. In addition, Ashland recently launched a new food and beverage ingredients website that invites visitors to "Ask us!"
Sugar Reduction Breakthrough
Paying homage to some of New Orleans' best-loved dishes, Ajinomoto North America Inc., Arlington Heights, Ill. (www.ajiusafood.com), highlighted its Advantame ultra-high-potency sweetener in applications that included Praline Muffins, Café au Lait Chicory Petits Fours, Bananas Foster Cheesecakes, and Mini King Cakes. The sweetener, which is made from aspartame and vanillin, is 20,000 times sweeter than sucrose and 100 times sweeter than aspartame. It can replace up to 20% of sugar in baked goods and adds a sweet taste to sugar-free and sugar-reduced beverages. It also provides for consumer-friendly labels and offers a clean taste at a low cost.
Ajinomoto also highlighted its savory ingredients, including Activa® Super Shrimp, which improves the texture and reduces shrinkage in cooked shrimp, and San-J Tamari Lite Gluten-Free Soy Sauce, which provides the taste of soy sauce with 50% less sodium. These ingredients, as well as Ajinomoto Yeast, a seasoning mix available in two blends, starred in Dijon- and Cajun-style shrimp at the booth.
Building a More Perfect Sweetening System
Sweet Green Fields LLC, Bellingham, Wash. (www.sweetgreenfields.com), launched its Natrose I™ naturally derived flavor modifier. This ingredient allows manufacturers to enhance sweetness provided by sugar, stevia, and monk fruit while reducing calories and cost and improving mouthfeel. The ingredient functions especially well with sugar and stevia such as SGF's Optesse Stevia, which optimizes sugar taste in 33%–50% sugar-replacement formulas. It can also reduce the bitterness associated with the extract by lowering the amount needed in formulations. In addition, manufacturers who already include "other natural flavor" in ingredient lists would not need to change their labels.
--- PAGE BREAK ---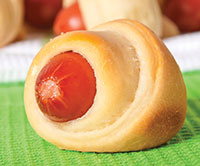 Cut Sodium, Sugar but Keep the Taste
Jungbunzlauer Inc., Newton Centre, Mass. (www.jungbunzlauer.com), showed how ingredients from its HealthyChoices® line can reduce sodium in foods and beverages but still keep the taste that consumers expect.
Reducing sodium in meat products without compromising taste and texture is possible with sub4salt® Cure, potassium lactate, and sodium gluconate. These three ingredients helped to reduce sodium by 47% and phosphates by 40% in a pig-in-a-blanket product concept. Potassium lactate replaced sodium lactate in the sausage. When used in combination with potassium lactate, sub4salt Cure—a sodium-reduced curing salt substitute that combines sub4salt with sodium nitrite—can reduce sodium up to 55% without affecting taste and microbiological stability, according to the company. Sodium gluconate replaced some of the phosphates in the prototype.
Highlighting Sweet Southern Flavors
Synergy Flavors Inc., Wauconda, Ill. (www.synergytaste.com), showed the versatility of its new Sweet Browns suite of Synergy Pure™ essences in a daily rotating menu of New Orleans–inspired treats and beverages. Iced coffees tasted of beignets, pralines, and chicory, and iced teas such as a Honey Green Tea drew on malt essence for its sweet, floral notes. Mini desserts, which included a different dessert bar and marshmallow every day, featured other flavors in the Synergy Pure line, including a Creole Brownie made with Synergy Pure PVE and Carmelita Bars that contained Synergy Vanilla Bold. In addition, a slushie station served nonalcoholic "alcoholic" frozen drinks that featured Synergy's alcohol-type flavors, including natural rum flavor and natural whiskey.
A Range of Functional Ingredients
WTI Inc., Jefferson, Ga. (www.wtiinc.com), showed a range of ingredients, including clean-label antimicrobial line NATUREIN®, its IONAL® line of functional ingredients designed to improve product quality and safety, and the TENDERIN® line, which serves as an alternative to phosphates in improving the flavor and tenderness of muscle proteins. MYOSOL®, a line of highly soluble, saturated potassium phosphate solutions, is said to improve the functionality of marinades without using sodium. MARINAL® functional organic salts inhibit microbial growth and can be customized depending on manufacturers' processing needs.
Eggs in Demand
According to Shelly McKee, a technical adviser for the American Egg Board, Park Ridge, Ill. (www.aeb.org), egg whites are a highly desirable ingredient, ideal for upping protein content in bars and beverages, a trend that has their cost rising. But McKee advises manufacturers not to forget about the yolk, which is full of vitamins. Indeed, each part of the entire egg adds functionality in products, from replacing texture in gluten-free formulations to preventing staling to creating aeration and foaming. The American Egg Board highlighted the latter in its macaron, which used egg whites to create a light, airy cookie and included egg yolks for a decadent, creamy filling.
McKee also promoted the use of egg powders, which provide convenience and enjoy a long shelf life. She also praised eggs' safety record; there has never been a food safety illness reported due to eggs. This increased safety, as well as the clean-label opportunities presented, make eggs an all-around useful ingredient for all types of products.
Extending Sugar-Reduction Capabilities
Celanese, Irving, Texas (http://qorus.celanese.com/home.aspx), had experts on hand to talk about its Qorus™ sweetener system line. A blend of high-intensity sweeteners and proprietary natural flavors, Qorus provides a taste profile that closely matches that of sugar. The sweetener system, which was launched at the 2013 IFT Food Expo, is ideal for use in low- and no-calorie beverages such as flavored waters, cocktails, carbonated and non-carbonated beverages, and dairy products. At its booth, Celanese showed Qorus in a low-calorie juice-based drink, a protein beverage, and an energy drink. It is available in two series: the Qorus Dolce 1000 Series allows for a 30%–70% sugar reduction, and the Qorus Dolce 2000 Series offers 50%–100% sugar reduction. Unlike with other sweeteners, Qorus can simply replace the sugar in beverages; no other reformulations are necessary.
Antimicrobial Solutions
Hawkins Inc., Roseville, Minn. (www.hawkinschemical.com/groups/food-ingredients), talked about its functional ingredients, which help address food manufacturers' shelf-life concerns. Its newest line of liquid antimicrobials—called e(Lm) inate®—is designed for use at low inclusion levels. It offers superior Listeria control, lower formula costs, a cleaner flavor, and sodium reduction, and functions as a clean-label vinegar option. The six options in this line join UltraLac and Ultra-Pure, Hawkins' primary meat and poultry solution lines, which draw on lactates, diacetates, acetates, and vinegar to help control Listeria and pathogens, extend shelf life, and improve food safety.
Catalyzing Enzyme Development
Biocatalysts Ltd., Cardiff, Wales (www.biocatalysts.com), continues to drive enzyme development. Promod™ 950L is a microbially derived alternative to papain that is produced in a way that makes it less susceptible to problems often experienced with papain from papaya, according to the company. It hydrolyzes vegetable, animal, and fish proteins to increase solubility, reduce viscosity, and produce specific flavors. Pectinase 872L converts soluble pectin to less soluble pectin that is more likely to stay in fruit tissue during transformation processes, resulting in a firmer processed fruit. It is a non-genetically modified microbial protease preparation used as an alternative papain.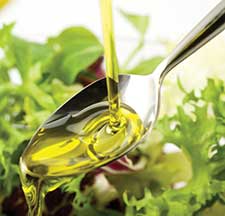 The Benefits of Microalgae
Solazyme Inc., San Francisco, Calif. (http://solazyme.com/nutrition), revealed the range of its microalgae-derived ingredients. Its AlgaVia™ lipid rich powder, which was highlighted in a Red Velvet Cake Pop, provides a pleasing mouthfeel when replacing or reducing dairy fats, egg yolks, and oil. The AlgaVia whole algal protein, which was included in Protein Crackers, features a natural cell wall that protects the protein inside and limits interaction with other ingredients. The highly digestible protein is rich in dietary fiber, lipids, and micronutrients, and it is minimally affected by temperature and pH. Both ingredients are whole foods, free of allergens, vegan, non-GMO, and gluten-free. They were also demonstrated during a Sunday afternoon Cooking Up Science session, where Chef Charlie Baggs made an alfredo sauce with the powder and a smoothie with the whole algal protein.
Creating Red Color from Fruits and Vegetables
It makes sense that San Joaquin Valley Concentrates, Fresno, Calif. (www.sjvconc.com), would focus on providing natural red colorings. Owned by E & J Gallo Winery, the company maintains the world's largest grape-processing facility. It uses these grapes—particularly the Rubired varietal, whose molecular structure lends it superior stability over other grapes, berry fruits, and grape-skin extracts—as well as other fruits and vegetables to create a range of stable, soluble anthocyanins. At its booth, San Joaquin Valley Concentrates handed out samples of its Crystal line of colorings, including Crystal Rosé Shade, Crystal Purple Carrot, and Crystal Red Grape. These crystallized colors enjoy a longer shelf life, ease of handling, and clean-label opportunities, and they provide a fruit- and vegetable-based alternative to FD&C Red #40 and carmine.
--- PAGE BREAK ---
Natural Flavorings for Cleaner Labels
At the Food Expo, Naturex, South Hackensack, N.J. (www.naturex.com), highlighted its naturally derived, label-friendly flavorings and ingredients in three concept categories. On the sauce front, the company presented two barbecue sauces: a Chipotle BBQ Sauce combined raspberry flakes and Chipotle EZ Caps™, a chemical-free chili extract, and a Korean BBQ Sauce was made with prune extract and natural flavor extracts from the Aquaready™ range of water-soluble essential oils and oleoresins. Spotlighting the healthful snack trend, Naturex introduced two types of potato crisps formulated with StabilEnhance® OSR, a rosemary extract that prevents rancidity and preserves flavor. The Papaya & Ginger and Blueberry & Mustard crisps were both seasoned with EZ Caps, a line of spray-dried flavoring extracts that are ideal for snack applications. Finally, Naturex demonstrated its natural food preservation solutions in a Jamaican Jerk Beef Jerky that was cured with NAT stabil® Swiss chard powder and acerola cherry powder instead of sodium nitrate. It also contained StabilEnhance OSR to preserve freshness and inhibit oxidation and was flavored with a blend of EZ Caps spice and herb extracts.
Solutions for Grain-Based Foods
Grains and seeds come in a variety of forms and add flavor, textural attributes like crunch, and nutrients to baked goods, bars, cereal, and more. With a wide range of grain-based ingredients, specialty flours, seeds, and sprouted wheat ingredients, Bay State Milling, Quincy, Mass. (www.baystatemilling.com), has solutions to help product developers add fiber to bread and protein to bars, produce gluten-free baked goods, and enhance the amounts of fiber and protein in bars. The company featured information about how its ingredients, which it calls minimally processed and label-friendly, can produce concepts like these and more.
An ancient grain and seed blend of brown rice, quinoa, sorghum, chia seeds, hemp, millet, buckwheat, and more helps produce gluten-free granola with protein, fiber, and omega-3 fatty acids. When used in breads and other grain-based foods, the company's high-fiber blend of wheat bran, flaxseed, and chia seed can deliver a good source of fiber (2.5 g of fiber/serving) or an excellent source of fiber (5 g of fiber/serving). The "No"atmeal Ancient Grain Cereal concept is a portable, portioned-controlled take on hot cereal that capitalizes on the healthfulness of gluten-free ancient grains and seeds to provide 10% fiber, 12% protein, and 245 mg of omega-3 fatty acids.
Functional Fiber That Won't Break Down
Z-Trim, Mundelein, Ill. (www.ztrim.com), demonstrated the benefits of its line of naturally derived functional fibers. Available in corn or oat varieties, Z-Trim fibers let manufacturers reduce fat and calories and provide cost savings by replacing oils, starches, gums, and other ingredients in applications. Z-Trim is easy to use: only a small amount is required, and once it is rehydrated, it won't precipitate, retrograde, or break down, ensuring maintained product quality throughout its production life and beyond. At its booth, the company sampled a Gluten-Free Cajun Meatball made with its Natural Corn Z-Trim. This ingredient functions well in bakery products, bars, ice cream, and custard and pie fillings.
Visiting the Newtrition Kitchen
BASF, Florham Park, N.J. (www.newtrition.basf.com), invited attendees to step inside its Newtrition kitchen, a workspace that presented its ingredients in various applications corresponding to several emerging trends. Touching on the idea of evolving mealtimes, for example, the kitchen sampled Be Active Bar Plus Omega-3 with fish oil and vitamin D-3 and a Graham Cracker Plus DHA that attendees dipped in a Chocolate Almond Nut Butter Plus DHA. To answer the sports nutrition trend, BASF created a Chocolate Recovery Milk with Tonalin® CLA, a naturally derived specialty ingredient intended to maintain lean body mass. For consumers with specific health conditions—another trend—BASF can work with manufacturers to create personalized nutritional products, such as its Diabetic Friendly Drinkable Yogurt with plant sterols, which may help lower cholesterol levels.
In the "more for less" category, the company showcased its food performance ingredients. Its Spongolit® powder-form emulsifier was highlighted in a Swiss chocolate cake roll that was filled with a whipped filling that contained Lamequick®, which aids in aeration and provides a creamy, smooth mouthfeel. And speaking of cakes, BASF presented IFT with one to celebrate its 75th anniversary in a ceremony on June 23, which attendees then enjoyed.
Making Good Foods Better
With a focus on "adding more goodness to food," MGP Ingredients, Atchison, Kan. (www.mgpingredients.com), highlighted ways to add fiber and protein and reduce sodium in a variety of applications. A Four-Cheese Ravioli provided a protein boost through the inclusion of Optein®, a plant-based protein alternative made from lightly hydrolyzed wheat. This ingredient can be added to nearly any product type, such as nutritional bars, beverages, and bakery items. The ravioli was paired with a Roasted Tomato and Garlic Cream Sauce that contained Midsol™ 46, part of a line of specialty wheat starches that can aid in sodium reduction in sauces, soups, gravies, seasonings, spice blends, marinades, and meat products. The starches provide great thickening properties, clean flavor, clear final products, and acid, shear, heat, and freeze-thaw stability.
MGP also demonstrated the benefits of Fibersym® RW, an RS4 resistant starch ingredient that enables manufacturers to easily add dietary fiber in flour-based products, in both a Chocolate Chip Butterscotch Cookie and a Bananas Foster Protein Shake that also contained Optein. It offers a low water-holding capacity and can help increase the sensory appeal in products such as bread, bagels, cookies, tortillas, crackers, and pasta.
--- PAGE BREAK ---
---
Sampling the Expo
• Liquid tea extracts from Amelia Bay, John's Creek, Ga. (www.ameliabay.com), allow manufacturers to use the phrase "brewed tea" on labels for ready-to-drink tea beverages, are certified organic, and are available in black, green, red, oolong, and herbal varieties.
• Carmi Flavor and Fragrance Co., Commerce, Calif. (www.carmiflavors.com), offered a variety of donuts in flavors such as orange, maple bacon, and chocolate, as well as fruity granitas and caramel corn.
• Cacique Inc., La Puneto, Calif. (www.caciqueinc.com), showed its range of Mexican cheeses, including melty, mozzarella-like Oaxaca; crumbly Cotija; and fresh, tangy Panela, a cross between ricotta and feta in texture.
• Dipping sauces made with Frank's Red Hot Sriracha Chili Sauce and Frank's Red Hot Asian Sweet Ginger Bold & Sweet Sauce tempted the taste buds of attendees who visited the booth of French's Flavor Ingredients, Chester, N.J. (www.frenchsflavoringredients.com).
• LycoRed Corp., Orange, N.J. (www.lycored.com), representatives explained the functionalities of lycopene-based Tomat-O-Red® and how the naturally derived coloring can be used in fruit preparations.
• Nexira Inc., Somerville, N.J. (www.nexira.com), promoted its comprehensive range of non-GMO acacia gums, including Fibregum™, a soluble dietary fiber that improves mouthfeel, provides stability in acidic applications, and offers low viscosity and hygroscopicity.
• Riviana Foods Inc., Houston, Texas (www.rivianaindustrial.com), turned the spotlight on its European sister companies Ebrofrost, which supplies IQF rice, pasta, and other grains, and Herba Ingredients, which is known for its rice flour solutions.
• Anutra, Windermere, Fla. (www.anutra.com), manufactures Anutra™, a cultivar of chia that has high amounts of omega-3 fatty acids, antioxidants, insoluble fiber, calcium, and amino acids. Visitors to the booth took home full-sized packages of Anutra.
• Dairy ingredients from Butter Buds Food Ingredients, Racine, Wis. (www.bbuds.com), gave a variety of dairy flavor notes to Cajun- and Creole-inspired product concepts. Attendees sampled Salted Caramel Chocolate Bread Pudding made with Chocolate Butter Buds and Butter Sauce 6.0, Cajun Crawfish Mac-n-Cheese made with Butter Buds 32X and Cheese Buds American, and Creole Spiced Dairy-Free Chocolate Pretzel made with Non-dairy Butter Flavor.
• CHS Sunflower, Grandin, N.D. (www.chsinc.com)—the leading global sunflower ingredient supplier—discussed that arm of its business, as well asits millet, flax, and buckwheat ingredients.
• Gumix International Inc., Fort Lee, N.J. (www.gumix.com), highlighted its gum tragacanth, the dried gum produced by the perennial shrub Astragalus gummifer.
• Nu-Tek Food Science LLC, Omaha, Neb. (www.nu-tekfoodscience.com), talked about its patented single-crystal technology, which can provide significant sodium reduction across a range of applications within the bakery, meat, poultry, and cheese categories without changing products' taste, texture, functionality, or processing requirements.
• Proliant Meat Ingredients, Ankeny, Iowa (www.proliantmeatingredients.com), provided information about its range of broths, stocks, flavors, and functional proteins intended for the meat, savory, and prepared food markets.
• Cooling off from the heat of a hot afternoon in New Orleans was simple with an Organic Raspberry Colada Slushie and Mojito Slushie flavored with naturally derived flavorings from Bonnie & Don Flavours, Mississauga, Ontario, Canada (www.bdflavours.com).
• Diana Naturals, Valley Cottage, N.Y. (www.diana-food.com), featured some of its ingredients like Smoked Tomato Flakes, Roasted Red Bell Pepper Powder, and more in a Bacon-Wrapped Shrimp with Creole Red Bell Pepper & Chévre Mousse and highlighted its Beet4'Perf ™ red beet concentrate that is high in nitrates.
• Samples of dried blueberries, cherries, and cranberries were offered by Graceland Fruit Inc., Frankfort, Mich. (www.gracelandfruit.com).
• Freeze-dried fruits and vegetables in forms like whole, diced, milled, shredded, sliced, and more from Mercer Foods, Modesto, Calif. (www.mercerfoods.com), provide product developers options when looking to add nutritional ingredients to processed foods.
• The Scoular Co., Minneapolis, Minn. (www.scoular.com/food), introduced its new pea crisps—a substitute for whey and soy crisps—in a Peanut Butter Protein Bar that delivered 10 g of protein. It also high-lighted its vitamin E, mixed tocopherols, and maqui berry ingredients.
• SK Food International, Fargo, N.D. (www.skfood.com), featured its non-genetically modified and certified organic beans, lentils, peas, grains, seeds, flour, and oils.
• The Prospector® search engine from UL, Overland Park, Kan. (www.ULProspector.com), allows product developers to search for technical data sheets and specifications, material safety data sheets, and nutritional information about ingredients.
• Sweeteners of all types like tapioca syrup, sugar, molasses, honey, malt, agave, rice syrup, and more make up the ingredient portfolio of Domino Specialty Ingredients, West Palm Beach, Fla. (www.dominospecialtyingredients.com).
• Grande Custom Ingredients Group, Lomira, Wis. (www.grandecig.com), featured its Grande Bravo® 500 whey protein in an Alligator Cheesecake prototype. The ingredient replaced half of the cream cheese used in a typical cheesecake recipe to produce a product that was low in calories and had a creamy texture.
• Jean Niel, Odessa, Fla. (www.jeanniel.com), demonstrated its line of honey flavors in apricot and bitter orange tartlets. These flavors can be used alone or mixed with other flavors, as they were in a tea drink flavored with rum, pineapple, and lime.
• Lallemand Bio-Ingredients, Montréal, Quebec, Canada (www.lallemand.com), used potato chips to show how yeast can lend foods a salty taste while reducing sodium. It also gave out shakers of its Bio-Engevita® Organic Nutritional Yeast, which adds nutty, salty flavor to foods, as well as its LALMIN® Immune yeast-based food supplement.
• Naturally derived and certified organic sweeteners provide product developers with ingredients that address consumer concerns over so-called clean labels. The range from Suzanne's Specialties, New Brunswick, N.J. (www.suzannes-specialties.com), includes organic agave syrup, organic barley malt syrup, organic molasses, organic honey, organic brown rice syrup, tapioca syrup, inulin powder, evaporated cane juice crystals, rice syrup solids, and tapioca starch.
• Organic ingredient options are made available by many ingredient suppliers. Tradin Organics USA, Santa Cruz, Calif. (www.tradinorganic.com), offers an organic coconut cream that is 98% total solids condensed coconut cream for use in sauces, dips, beverages, and baked goods.
• A naturally derived flavoring with no additives and no potassium chloride, Sensalt® from Aromatech, Orlando, Fla. (www.aromatech.fr), is said to produce a salty taste while replacing up to 25% of salt in soups, bakery products, and more.
--- PAGE BREAK ---
• Cereal Ingredients Inc., Leavenworth, Kan. (www.cerealingredients.com), had on display for viewing and tasting a wide range of its specialty ingredients used to add flavor, color, and texture to bakery products, ice cream, bars, and more.
• Hormel Foods Corp. Specialty Products, Austin, Minn. (www.hormelingredients.com), promoted its Fiesta Dessert Ingredients in varieties like Coconut Mango Mousse, Horchata Pudding, Lemon Lime Gelatin, Dulce de Leche Pudding, and Caramel Flan.
• Land O'Lakes Inc., Arden Hills, Minn. (www.landolakesingredientsolutions.com), added Sea Salted Caramel to its line of dairy seasonings. It is a blend of the company's butter powder and sweet caramel and sea salt flavoring.
• Sriracha powder from PowderPure, The Dalles, Ore. (www.powderpure.com), is made from cooked sriracha sauce processed using a drying process said to retain the flavor and color of the original sauce.
• Savoury Systems International Inc., Branchburg, N.J. (www.savourysystems.com), highlighted its flavor enhancers, including seafood-based powders, yeast extracts and enhancers, salt replacers, and SAVORGANIC™ certified organic yeast extracts.
• Van Drunen Farms, Momence, Ill. (www.vandrunenfarms.com), manufactures dozens of fruits, vegetables, and herbs in various dried forms.
• BENEO Inc., Morris Plains, N.J. (www.beneo.com), highlighted its functional ingredients through a mix of samples, including a jelly chew formulated with Palatinose™, a low-glycemic, fully caloric blend of glucose and fructose, as well as a gluten-free focaccia designed to inspire manufacturers to look more closely into the potential of rice ingredients.
• International Dehydrated Foods Inc., Springfield, Mo. (www.idf.com), created a Schmaltz Bar and a Protein Bar, where it handed out samples of its All-Natural Chicken Protein Puffs, which was made with IDF® Concentrated Chicken Protein and provided 5 g of protein per 1 oz serving.
• Novozymes, Franklinton, N.C. (www.novozymes.com), presented its enzyme-based solutions for healthier foods, which include reducing salt, sugar, trans fats, acrylamide, and/or gluten; improving texture and consistency or flavors, scents, and colors; and promoting more consistent product quality with higher yields.
• Representatives from Skjodt Barrett Foods Inc., Mississauga, Ontario, Canada (www.skjodt-barrett.com), discussed how company experts will work with customers to develop custom ingredients like sauces and marinades, fruit jams, spreads, toppings, and fillings, dessert toppings and fillings, icings and glazes, savory fillings, and cereal and snack bar layers, fillings, and binders.
• Representatives from Yeastock, New York, N.Y. (www.yeastock.com), showed how Yeastock HG high glutamic yeast extract enhanced the umami and kokumi tastes in applications like chicken consommé and chicken consommé stock.
• Young Pecan Co., Florence, S.C. (www.youngpecan.com), had information on hand about its range of pecans, which includes mammoth halves that weigh in at 200–250 count per pound, pecan meal ideal for baking and meat coatings, and every size in between.

Karen Nachay, a Member of IFT, is Senior Associate Editor
of Food Technology magazine ([email protected]).

Melanie Zanoza Bartelme is Associate Editor,
Food Technology magazine ([email protected]).