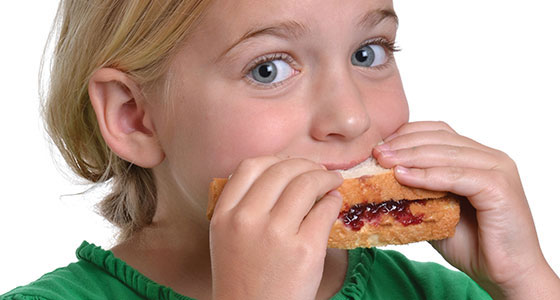 The 2014 IFT Food Expo was full of unique food and beverage applications showcasing the best of what nutritional ingredient manufacturers and suppliers offer. Not only was expertise evident in the top trends that were addressed, but also in new ingredient introductions such as microalgae and omega-3 canola oil. Here is a rundown of what could be found at the IFT Food Expo in New Orleans.
On-Trend Prototypes
BASF Nutrition & Health, Florham Park, N.J. (www.basf.com), showcased top trends that are transforming consumer preferences. For the first trend, "Going Clean" (clean labels), BASF helps its customers make it easy for consumers to know exactly what's inside a product by offering naturally sourced, vegan, non-GMO, and allergen-free ingredients. Attendees sampled Vita-Aid and learned about BASF's various ingredient options.
The second trend was called "Evolving 'Meal' Time" (healthy snacking and children's nutrition). As the line between meals and snacks continues to fade, BASF adds health without sacrificing taste, especially in products for kids. In-booth sampling included BASF's Be Active Bar Plus Omega-3 with omega-3 fish oil and vitamin D-3, and a Graham Cracker Plus DHA for dipping in a delicious Chocolate Almond Nut Butter Plus DHA.
To help illustrate the third trend, "Fortifying to Win" (sports nutrition), BASF has extensive formulation and technical know-how to help develop products in the areas of recovery and performance. Attendees sampled Chocolate Recovery Milk with Tonalin® CLA. In addition to reducing body fat, Tonalin is a naturally sourced specialty ingredient clinically proven to maintain lean body mass.
For the last trend, "Prescriptive Eating" (condition-specific foods), BASF works with formulators to create personalized nutritional products designed specifically for consumers with particular health conditions. Attendees toasted to good health with BASF's Diabetic Friendly Drinkable Yogurt with plant sterols. Heart health is a top concern among diabetics, and plant sterols have been proven to be naturally effective at safely lowering cholesterol levels.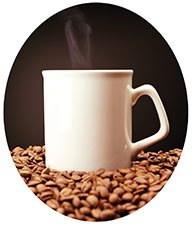 Fortitech® premixes from DSM, Schenectady, N.Y. (www.fortitechpremixes.com), were featured in innovative prototypes such as Antioxidant Gourmet Coffee, Kids' Nutrition Bars, Marshmallows for Beauty from Within, and Healthy-Aging Powdered Beverage. Antioxidant Gourmet Coffee was freshly brewed on-site and fortified with antioxidant vitamins A, C, and E, and B vitamins and vitamin D-3. A ready-to-drink pineapple-flavored drink formulated for healthy aging contained nutrients such as resveratrol, CoQ10, zinc, chromium, and B vitamins to support several aspects of healthy aging, including cardiovascular health, blood sugar management, and energy. Utilizing PowerCap® technology, a premix is available in a universal cap that fits any regular-size water bottle. Marshmallows were chocolate- and raspberry-flavored treats fortified with collagen, vitamin E, and aloe vera to aid in supporting skin health. Kids' Nutrition Bars were tasty treats that support kids' nutritional development needs with more than 25 nutrients such as vitamins A, C, and E, B vitamins, calcium, iron, zinc, protein, and fiber.
--- PAGE BREAK ---
Protein
ADM, Decatur, Ill. (www.adm.com), unveiled CLARISOY™ 170, the newest ingredient in its CLARISOY line of plant-based isolates for beverage applications. CLARISOY 170 is an isolated soy protein for use in neutral beverage applications with a pH of 7.0 or higher. Its clean flavor and smooth mouthfeel makes it ideal for replacing dairy proteins in neutral-based beverages. It was featured in a vanilla-flavored dairy replacement beverage, offering an excellent source of protein. The line also includes CLARISOY 100, a 100% soluble, transparent isolated soy protein for beverage applications with a pH less than 4.0, and CLARISOY 120 for use in low-pH beverages.
Crunchy Cluster Snacks featured TEXTURA™, highly customizable inclusions for incorporating protein, fiber, and whole grains with a multitude of textures and flavor profiles. ADM offered a Blueberry Almond Cluster, which contained TEXTURA navy bean and blueberry powder crisps to add fiber, protein, and flavor. TEXTURA allows for whole-grain options (sorghum crisp), gluten-free options (black bean crisp), and added fiber (fiber crisp made with soy protein and oat fiber).
Arla Foods Ingredients, Basking Ridge, N.J. (www.arlaingredients.com), addressed one of the "myths" about protein. Many female consumers mistakenly believe that eating and drinking high protein products could make them fat or cause them to develop excessive muscle mass. "We're seeing huge numbers of new consumers buying into the whey protein space for the first time, but there remains large untapped potential because many women still believe—wrongly—that consuming higher levels of protein could have a negative impact on their physiology," remarked Troels Laursen, Head of Health & Performance Nutrition at Arla. "It's important that manufacturers work with their ingredients' suppliers to develop concepts that will shatter these myths by educating female consumers about the true benefits of whey protein."
The company showcased Lacprodan® DI-7017, a premium whey protein concentrate developed for the lifestyle nutrition market. It is ideal for use in food and beverage applications, including long-life UHT drinks. Lacprodan HYDRO.365 is a gold-standard whey protein hydrolysate created to offer fast recovery after physical activity. Easily digested and rapidly absorbed, Lacprodan HYDRO.365 has the potential to reduce recovery time from days to hours when consumed within two hours of exercise.
RiceBran Technologies, Scottsdale, Ariz. (www.ricebrantech.com), highlighted the new Proryza™ rice bran protein ingredient. It is an ecologically sustainable plant protein ingredient with a balanced composition of premium proteins, complex carbohydrates, and heart-healthy oils.
Devansoy, Carroll, Iowa (www.devansoy.com), offered organic whole nectar smoothie packets. Organic, Dairy & Gluten-free Panna Cotta was also served. Devansoy offers non-GMO soy protein ingredients. The company is a comprehensive source for liquid and dry soy protein ingredients. Organic and non-GMO soy protein ingredients are not processed with hexane or any other hazardous chemicals.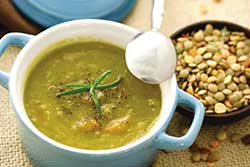 The U.S. Dairy Export Council, Arlington, Va. (www.usdec.org), featured many different ways dairy ingredients can be used for flavor, functionality, and nutrition. Prototypes developed for this year's show highlight the value of U.S. dairy. Using proteins from milk protein concentrate and a concentrated casein ingredient, each serving of Lentil Power Soup delivered 20 g of protein (40% Daily Value) and 35% Daily Value of calcium. Each bite of the sweet-potato-encrusted Poutine-inspired Cheese Dippers revealed delectable, Juustoleipa-style cheese ready for dipping in a rich mushroom sauce. The combination of dairy ingredients pampered taste buds while contributing to the 30% Daily Value of calcium and 15 g of protein in this savory snack. A refreshing Veggie Burst veggie medley beverage included whey protein, making it an excellent source of protein with 12 g (24% Daily Value) per serving, to help promote muscle repair and recovery after exercise. Added milk minerals provided 30% Daily Value of calcium.
A sweet & spicy ginger protein granola featured Prosante® 3018p Soy Flour from Cargill, Minneapolis, Minn. (www.cargill.com). With a protein content of 50%, the Prosante brand is high-quality, textured soy flour that is available in a variety of shapes and sizes. Mimicking the look and fibrous structure of cooked meat, it may also be used to add protein and crunch to nutrition bars and snacks.
AIDP Inc., City of Industry, Calif. (www.aidp.com), featured its popular Protein Portfolio, which includes Gabiotein™, a proprietary sprouted brown rice protein, pea protein, and Advantein™, a proprietary pea and rice protein. AIDP now offers an organic Gabiotein, and the company has also devoted much effort to further improving the texture of the popular sprouted brown rice protein so that it has no gritty mouthfeel or aftertaste in food and beverage formulations. Sprouting enhances nutritional benefits over conventional rice protein. Advantein is a proprietary blend of rice and pea protein that delivers a complete protein profile as it boosts the low lysine level typical of rice-only protein. AIDP's pea protein is in high demand for its highly purified formulations in 80% and 85% concentrates from Canadian-sourced peas.
Gelnex, Chicago, Ill. (www.gelnex.com), introduced Peptinex™ Collagen Peptides. This high-quality collagen is 100% traceable to its raw material origins and produced with extensive attention to environmental and social responsibility. Peptinex™ collagen is an excellent source of bioavailable protein and is a natural for use in functional foods and supplements designed to improve skin, joint, gum, heart, and bone health.
--- PAGE BREAK ---
Dietary Fiber
OatWell® oat beta-glucan from DSM, Parsippany, N.J. (www.dsm.com), enables manufacturers to bring the healthful appeal of oats to beverages. It offers scientifically supported health benefits, including healthy blood glucose control, digestive health, satiety, and heart health. OatWell delivers optimal oat beta-glucan clinical efficacy thanks to DSM's advanced milling and sieving process. It ensures a clean label as it is an all-natural soluble fiber harvested from Swedish oats.
Focusing on digestive health, BENEO Inc., Morris Plains, N.J. (www.beneo.com), featured its prebiotic fiber oligofructose in great-tasting multi-fiber nutrition bars. More than 95% of Americans associate fiber with digestive health, and 80% associate fiber with healthy weight management. The metabolic and health benefits of prebiotics such as BENEO's inulin and oligofructose are linked to today's diet-related challenges and can be a tool for consumers to help themselves become healthier.
Fibregum™ from Nexira USA, Somerville, N.J. (www.nexira.com), is 90% soluble dietary fiber coming from acacia gum. It offers a dietary source of prebiotic soluble dietary fiber (100% vegetable) and can be used to develop products that meet clean label demands. Fibregum™ is GMO-free; it is obtained from acacia gum sap exuded from the stems and branches of acacia trees. Clinical studies show that it exhibits a great digestive tolerance at dosages up to 50 g/day thanks to a progressive colonic fermentation pattern leading to moderate gas production.
Cargill served pecan pie tartlets with Oliggo-Fiber® chicory root fiber, a prebiotic fiber that stimulates the normal, beneficial bacteria in the digestive tract. Chicory root fiber is the "invisible fiber" extracted from chicory root that can be incorporated into foods or beverages without affecting taste or texture. As a food ingredient, it is used to add fiber to formulations and improve the taste and texture of lower-calorie products by serving as a fat mimetic and sugar substitute.
Clasado, Buckinghamshire, UK (www.clasado.com), producer and supplier of the second-generation prebiotic Bimuno, a trans-galactooligosaccharide, announced that Bimuno was granted GRAS classification for term infant formula and follow-on formula. Bimuno had already recently received GRAS certification through scientific procedures for use as an ingredient in a variety of food and beverage categories at levels ranging from 0.8 g to 3.0 g per serving.
Fibersym® RW is an RS4 resistant wheat starch from MGP Ingredients, Atchison, Kan. (www.mgpingredients.com). The results of an extensive study conducted at South Dakota State University showed that a diet enriched with Fibersym RW, which performs like a prebiotic fiber, can lower blood cholesterol and improve body composition. Previously compiled data have demonstrated Fibersym RW's effectiveness in blood glucose and insulin control, caloric reduction, and the production of beneficial and energy-yielding metabolites through colonic fermentation. It delivers a minimum of 85% total dietary fiber. A fiber- and protein-enriched nutritional beverage contained Fibersym RW and Optein® lightly hydrolyzed wheat protein.
The newly introduced ingredient PromOat® beta-glucan from Tate & Lyle, Hoffman Estates, Ill. (www.tateandlyle.com), was shown in Iced Mocha Café au Lait with Whipped Coconut Water Topping. Delivering up to 35% beta-glucan, PromOat can help support a healthy cholesterol level for individuals with cholesterol within the normal range and is free from the taste, color, and graininess usually associated with oat-based ingredients. Tate & Lyle also featured its soluble corn fiber in Roasted Red Pepper Gazpacho with Cornbread. The results of multiple clinical trials have shown that PROMITOR® soluble corn fiber has excellent digestive tolerance and avoids digestive discomfort associated with certain other fibers.
ADM/Matsutani LLC, Itasca, Ill. (www.fibersol.com), highlighted Fibersol® in several fiber-enriched products. From a Cajun-inspired whole wheat cracker to indulgent cocktail-inspired frozen novelties to a rich, velvety chocolate drink, the company's prototypes demonstrated how this line of soluble corn fiber ingredients makes it easy to "close the fiber gap" and reach those desired content and label claims with minimal taste or viscosity issues. Fibersol-LG and Fibersol-2 were added to a Cajun-seasoned whole wheat cracker to deliver 7 g of fiber/29 g serving. Fibersol-2 was used in a low-fat chocolate-flavored dairy beverage. It delivered an excellent source of fiber per 8 fluid oz serving. In addition, Fibersol-2 allowed for a 25% sugar reduction in the low-fat chocolate-flavored dairy beverage compared to standard chocolate milk. Fibersol-2 and Fibersol-LQ were featured in cocktail-inspired frozen novelties. Combined, the two ingredients delivered at least 7 g of fiber/85 g serving size.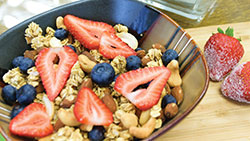 Energy
Watson Inc., West Haven, Conn. (www.watson-inc.com), has developed a premix that can provide the clarity and energy many consumers are looking for without the supplements that they consider unsafe. Watson's Spark Premix is an attractive option, as it delivers energy, clarity, and mental focus without caffeine, glucuronolactone, inositol, milk thistle extract, guarana, and taurine. The Spark Premix also increases physical energy and stamina without the jittery or hyper aftereffect. Watson also formulated a B-Complex blend for applications such as soft chews and gummy vitamins. This B-Complex blend is ideal for recovery after sports. To protect the vitamins during the gummy product production process, Watson uses a specialized coating that withstands the heat and moisture used in the production process. As part of a daily diet, B vitamins help break down carbohydrates into fuel that muscles can readily use.
Bioenergy Life Science Inc., Ham Lake, Minn. (www.bioenergyribose.com), presented four flavors of Titan Tea by Chill Brands LLC made with 3 g of Bioenergy Ribose/serving. Bioenergy Ribose, a 5-carbon monosaccharide, works by regulating the body's natural energy synthesis. It helps muscles regenerate lost energy and aids in reducing muscle soreness. Other samples included Good Cacao's Energy and Cardio SuperFood chocolate bars, Zipp Foods' Peak Energy tablets, Go Fast energy drinks, and Bazi All Natural Energy Shots. The company was also a sponsor of the 2014 IFTSA Fun Run & Walk.
Athletes rely on carbohydrates to provide the essential source of energy for physical performance. Low-glycemic carbohydrates like BENEO's Palatinose™ deliver a balanced release of energy over a longer period of time compared to traditional high-glycemic carbohydrates. While playing a sport or exercising, athletes can gain a dual benefit from the functional carbohydrate; energy in the form of glucose is available for a longer period of time, while an additional amount of energy can be released from body fat. This prevents a fast depletion of carbohydrate reserves.
Visitors to the booth of Glanbia Nutritionals, Fitchburg, Wis. (www.glanbianutritionals.com), sampled an Energy Chia Smoothie, a nutritional beverage harnessing the ALA omega-3 and fiber benefits of BevGrad® Chia. This very finely milled powder delivers a smooth texture without compromising the taste or nutritional benefits of natural chia. The smoothie also featured Glanbia Nutritionals' Energy Premix, containing NutraShield™ caffeine, an encapsulation technology applied to caffeine for a better taste, and Carnipure™ carnitine, which provides sustained energy in stable beverage formulations. Also included in the premix is Chromax® chromium picolinate.
--- PAGE BREAK ---
Vitamins and Minerals
Watson featured its premixes in trail mix and granola that can be eaten as healthy, portable snacks or breakfast on the go. The premix WT-12356-C contains vitamin A, phosphorus, calcium, iron, vitamin E, thiamine, riboflavin, niacin, pyridoxine, folic acid, vitamin B-12, magnesium, zinc, vitamin C, and vitamin D-3. A Children's Health Premix contained choline, a nutrient most children are deficient in. When used at 350 mg/serving, Watson's WT-12049 premix provides 50 mg of choline, 15% of the Daily Value of vitamins A, B-1, B-2, B-3, B-6, B-12, C, D, and E as well as 10% of the Daily Value of calcium. A whole-grain chocolate chip cookie was formulated with Perfect Grain. With an average particle size of about 1.5 microns, it is imperceptible to the teeth and tongue.
PLT Health Solutions, Morristown, N.J. (www.plthealth.com), promoted Earthlight™ Whole Food Vitamin D, a patented mushroom powder ingredient that delivers 40,000 IU of vitamin D per gram from a non-GMO, clean-label source. The high concentration vitamin D will allow food, beverage, and supplement producers to offer "Good," "Excellent," and "High Potency" source label claims by using only a few milligrams of the ingredient. Earthlight is considered a "whole food" form of nutrition.
Dow Water & Process Solutions, Edina, Minn. (www.dowwaterandprocess.com), addressed the stabilization of vitamin B-12 on weak cation exchange resin such as AMBERLITE™ IRP64 Weak Acid Cation Exchange Resin, which allows a complex to be formed between the resin and cyanocobalamin (vitamin B-12). Through this process, oral dosages become stable, easily digestible, and absorbed and processed more effectively in the body. Similarly, using AMBERLITE IRP64 resin to stabilize vitamin B-12 in food products provides taste-masking properties and increases the shelf-life of products from less than three months to more than two years under proper storage conditions.
AIDP debuted TASTIMINS, a line of chelated calcium, zinc, and magnesium for functional food, food fortification, and pharmaceutical products. Chelation ensures product quality and clinical efficacy through mineral fortification, stability, and bioavailability. Calcium glycinate 13%, magnesium glycinate 8%, and zinc glycinate 10% are all highly bioavailable forms of chelated minerals excellent for food and beverage manufacturing due to their taste-free profile. In addition, AIDP showcased MAGTEIN™ (magnesium l-threonate), an ingredient for cognitive and brain health featuring the only magnesium form on the market that effectively crosses the blood-brain barrier to improve brain neuron density. It is ideal for people with anxiety and stress, and is effective for relaxation and sleep.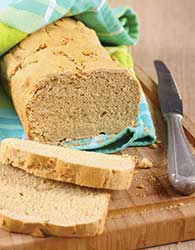 Grains
Glanbia Nutritionals launched its next-generation grain ingredients that feature gluten-free chia, sorghum, amaranth, and quinoa. Available in crunchy, popped, puffed, flake, and pre-gel varieties, the ingredients offer an easily digestible source of whole grain, protein, antioxidants, and omega-3 fatty acids. Super finely milled BevGrad® Chia delivers smooth texture, good dispersibility, and minimal visual impact in both ready-to-drink and ready-to-mix beverages. A great source of vegetarian alpha-linolenic acid omega-3, fiber, protein, and minerals, the ingredient can be used in breakfast cereals, bars, and baked goods. ChoiceQuinoa™ Puffed offers a soft yet crunchy texture, is rich in vitamins and minerals such as calcium, and contains all nine essential amino acids. ChoiceSorghum™ Popped ingredient offers a crunchy bite to baked goods. In addition, the company offers pre-gel quinoa and sorghum ingredients, SelectQuinoa™ Pre-Gel and SelectSorghum™ Pre-Gel.
The United Sorghum Checkoff Program, Lubbock, Texas (www.sorghumcheckoff.com), hosted Sorghum 360, where chef Marc Forgione prepared demonstrations of multiple sorghum dishes. Sorghum is an ancient whole grain that is one of the top five cereal crops in the world. It is gluten-free and contains high fiber, iron, protein, and antioxidants. Sorghum and wheat grain contain similar amounts of protein (11–12%). Sorghum can replace flour in gluten-free products and is a staple in the diets of those diagnosed with celiac disease and non-celiac gluten intolerance.
Ardent Mills™, Denver, Colo. (www.ardentmills.com), served fried alligator po-boys, dirty rice, whole-grain beignets, and muffuletta. The menu demonstrated the ease of incorporating the Ardent Mills portfolio of specialty flours and whole-grain ingredients such as Ultragrain®, GrainWise® Wheat Aleurone, Sustagrain®, Ancient Grains, and Sprouted White Whole Wheat Flour. The new company is an independent joint venture of ConAgra Foods, Cargill, and CHS. Attendees were also introduced to the new Ardent Mills Mobile Innovation Center, a state-of-the-art, fully functional bakery, culinary kitchen, and meeting space designed to deliver on-site culinary and R&D creativity and technical and application support to customers.
--- PAGE BREAK ---
Ingredion Inc., Westchester, Ill., (www.ingredion.com), announced that it had entered an agreement with Alliance Grain Traders (AGT) to be AGT's distributor of pulse flours, protein, and bran ingredients. The agreement includes ingredients for baked goods, snacks, pasta, and more and covers the United States, Canada, China, most of Europe, North Africa, and the Middle East. Most of the line will be marketed under Ingredion's HOMECRAFT® brand that currently encompasses a broad range of functional, gluten-free, and clean-label flours.
Chromeless Video Player branded for IFT
Meelunie, Farmington Hills, Mich. (www.meelunie.com), a global supplier of agricultural ingredients, and Codrico, Rotterdam, the Netherlands (www.codrico.com), producer of specialty ingredients made from non-GMO grains like corn, wheat, and rice, and pulses like pea, lentil, chickpea, and faba, formed a strategic partnership whereby Meelunie America becomes the exclusive marketer and distributor for Codrico products in North America. Product concepts made with Codrico ingredients such as Fresh Hummus and Popped Corn Chips were available for sampling.
Immunity
Highlighting its formulation expertise in bar applications, Glanbia Nutritionals presented Probiotic Greek Yogurt Chia Bars. The prototype featured GanedenBC30, a shelf-stable probiotic that promotes digestive health and immune system maintenance. Showcasing the functional benefits of OptiSol® 2000, a binding system enabling reduced sugar in cereal bars, the prototype also featured OptiSol 1061 Greek yogurt powder in the coating. The bar further emphasized the nutritional benefits of chia through the inclusion of SelectChia™ Cracked White MP, a heat-treated cracked chia that provides visual interest, optimizes shelf life, and delivers a good source of ALA omega-3 in this bar.
Biothera Inc., Eagan, Minn. (www.wellmune.com), highlighted recent studies relating Wellmune WGP® to both adult and children's health. Wellmune WGP is a proprietary beta 1,3/1,6 glucan from baker's yeast that naturally boosts innate immune cells that help keep the body healthy. It supported the health of older adults during cold and flu season, according to a new clinical study conducted at the University of Southampton in the United Kingdom. The study consisted of 100 healthy adult subjects ages 50–70 years who consumed 250 mg of Wellmune or a placebo for 90 days.
A separate study demonstrated that a follow-up formula containing a combination of docosahexaenoic acid, a prebiotic blend of polydextrose and galactooligosaccharides, and Wellmune WGP supported the immune systems of healthy three- and four-year-olds. The subjects who consumed the follow-up formula designed for this study by Mead Johnson Nutrition had fewer episodes and shorter duration of acute respiratory infections than subjects who consumed an unfortified cow's milk-based beverage. They also required fewer antibiotic treatments and missed fewer days of daycare due to illness.
Ganeden Biotech, Mayfield Heights, Ohio (www.ganedenbiotech.com, www.ganedenBC30.com), announced that GanedenBC30 has received numerous international regulatory approvals and is now being shipped to six of the seven continents. By the end of the year, Ganeden expects to receive approvals in six additional countries with many more to come in 2015. GanedenBC30 (Bacillus coagulans GBI-30, 6086) is a patented probiotic ingredient that can be found in more than 100 leading food, beverage, and companion animal products throughout the world. Unlike most other probiotic strains, GanedenBC30 is a spore-former, which makes it highly stable and allows it to remain viable through most manufacturing processes, three years of shelf life, and the low pH of stomach acid.
The efficacy of GanedenBC30 is backed by 17 published studies showing digestive and immune support.
--- PAGE BREAK ---
Botanical Extracts
BI Nutraceuticals, Long Beach, Calif. (www.binutraceuticals.com), sampled two functional beverages made from a selection of the company's most popular ingredient offerings. Antioxidant Hurricane Lemonade featured açai, green tea, and pomegranate extracts and beet root powder. Greens Mint Tea contained yerba mate extract and the company's Greens Blend, which consists of alfalfa, barley grass, broccoli, spinach, spirulina, and wheat grass powders. BI Nutraceuticals supplies more than 200 naturally derived GRAS ingredients for use in functional foods and beverages. The company has developed a comprehensive database of its GRAS ingredients segmented into 12 condition-specific, functional platforms: anti-aging, bone health, calming, cognitive, digestive, energy, eye health, heart health, immunity, joint/inflammation, sleep, and weight management.
Hytolive® Olive Fruit Polyphenol from PLT Health Solutions is a patented ingredient that can deliver what scientists believe is one of the most important compounds in olive oil for heart health, hydroxytyrosol. Hytolive is an extract of olive polyphenols produced using a solvent-free extraction method. It comes in a variety of forms making it easy to incorporate in existing processing environments.
CreAgri Inc., Hayward, Calif. (www.creagri.com), introduced Hidrox® 10X, a solvent-free, aqueous concentrate formulation of hydroxytyrosol and olive polyphenols that is produced through a proprietary process. It has high amounts of the polyphenol hydroxytyrosol, which has high anti-inflammatory effects. Hidrox® 10X is said to have anti-inflammatory, immune stimulating, and antimicrobial benefits.
Microalgae
Solazyme Inc., South San Francisco, Calif. (www.solazyme.com), featured its AlgaVia™ line of microalgae food ingredients. Whole algal four was used in an Alfredo sauce, red velvet cake pop, whole algal protein-fortified protein crackers, and protein shake prototypes. The algal protein doubled the amount of protein and fiber in the crackers and fortified the shake with 7 g of protein. AlgaVia lipid-rich powder is a multi-component, whole food ingredient rich in healthy lipids, dietary fiber, protein, and micronutrients. The ingredient is also vegan.
A new microalgae facility will increase the microalgae food application potential for Roquette, Lestrem, France (www.roquette.com). The production unit is located at the company's industrial site in Lestrem. Roquette America Inc., Geneva, Ill. (www.roquetteamerica.com), produces chlorella microalgae that are particularly rich in nutrients and are used in several ingredients that the company showcased. These include algility™ HL whole algal flour, algility HP whole algal protein, and algility chlorella, a nutrient-rich, whole food ingredient that is high in protein, antioxidants, vitamins, and minerals.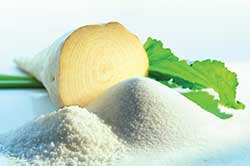 Blood Sugar Management
PLT Health Solutions and Horizon Science announced the launch of Benecarb® Glycemic Balance Complex. This patented ingredient is based on molasses phytonutrients. High in natural antioxidants, minerals, and polyphenols, Benecarb has been shown to reduce the glycemic index of foods and beverages by up to 20% when added at levels of 4%–6% of total carbohydrate content.
Manufacturers interested in confectionery innovation learned about options for sugar-free, balanced energy, or fiber delivery formulations that use the low-glycemic functional carbohydrates Isomalt and Palatinose™ as well as Orafti® chicory root-based prebiotic fiber from BENEO. BENEO Isomalt is a bulk sugar replacer that has a very low glycemic profile. BENEO's chicory-derived inulin and oligofructose are said to help reduce the overall sugar content of foods and beverages. Additionally, they can lower the blood glucose response to a variety of food and drink products and offer fiber enrichment and a prebiotic effect for healthier digestion. Palatinose, which is derived from sucrose, provides a slow release of glucose that leads to more balanced and prolonged energy, according to the company.
--- PAGE BREAK ---
Fatty Acids and Functional Oils
Cargill (www.cargillfoods.com/ingrevita) launched IngreVita™, a new omega-3 oil blend that offers omega-3 benefits without negative impact on cost and taste. IngreVita is a blend of high oleic canola oil, fish oil, and proprietary antioxidants that delivers the long-chain omega-3 fatty acids eicosapentaenoic acid and docosahexaenoic acid. Because handling of the ingredient is similar to canola oil, it is easy to use. It offers good shelf stability and does not introduce off-flavors. Attendees sampled beignets with IngreVita EPA/DHA Omega-3 Oil. Cargill also introduced a soybean oil made from identity-preserved, conventionally bred (non-GM) soybeans for customers interested in exploring a non-GMO claim on their product label.
Stepan Lipid Nutrition, Maywood, N.J. (www.stepan.com), showcased Clarinol® CLA in SmartBars, SmartChews, and Gummies. The ingredient for weight management was also showcased in Cinnamon Raisin Granola Bars and Mix-in Beverage Packets for Café au Lait, Chai, and Hot Cocoa.
The Wright Group, Crowley, La. (www.thewrightgroup.net), offered a Chocolate Peanut Butter Bar product concept fortified with CoQ10, SuperCoat® omega-3 fatty acids, and free-form amino acids. SuperCoat is available in 4:1 DHA/EPA powder, 2:1 DHA/EPA powder, 2:1 EPA/DHA powder, DHA concentrated powder, and EPA concentrated powder. SuperCoat® also contains many different nutrients like CoQ10, amino acids, vitamins, and minerals. The benefits include improved stability of sensitive nutrients throughout product shelf life, taste masking, and reduced potential ingredient and nutrient interactions.
Stevia
SweetLeaf Stevia®, Gilbert, Ariz. (www.sweetleaf.com), showcased its product lines and ingredients, including its liquids, extracts, blends, and SugarLeaf™. SugarLeaf is a mix of SweetLeaf Stevia and cane sugar, giving it 2/3 fewer calories than sugar. SweetLeaf's lineup of liquids, extracts, blends, and baking ingredients are naturally derived, GMO-free, and kosher.
Cargill served a reduced-calorie lemon lime soda utilizing the ViaTech™ portfolio of stevia-based sweeteners, which help achieve optimal taste and sweetness with calorie reduction of more than 50% in the most challenging reduced-calorie applications. ViaTech stevia-based sweeteners are high-performance ingredients that help food and beverage manufacturers achieve optimal taste and sweetness at higher usage levels.
Tate & Lyle served a Blood Orange Sangria, which met consumers' demand for sugar reduction while delivering the great taste they expect in food and beverage products. The stevia-sweetened beverage achieved more than 50% sugar reduction and had 70% fewer calories (12 g of sugar and 60 calories in an 8 oz serving) compared to the full-sugar version (26 g of sugar and 220 calories in an 8 oz serving). Through its steviol glycoside composition, TASTEVA® Stevia Sweetener enabled a sweet blood-orange flavor without the bitter aftertaste associated with other stevia ingredients.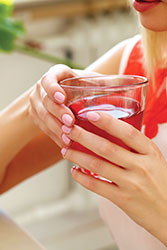 DSM announced that it is building a high-intensity sweetener platform based on fermentation, a sustainable, efficient, and cost-effective process to meet market growth. Producing steviol glycosides via fermentation processes has several advantages.
They can be produced anywhere in the world very efficiently, and the process utilizes fewer raw materials, requires less arable land, and consumes less water. Furthermore, it offers food and beverage producers the ability to customize and adjust the taste and calorie content of the product.
DSM filed a number of patent applications relating to fermentation-based production of steviol glycosides in 2013 to secure its unique technology and significant investments. As a next step, the company will be piloting its technology in 2014 by making food-grade samples available to its customers.

Linda Milo Ohr is Contributing Editor to Food Technology
magazine ([email protected]).