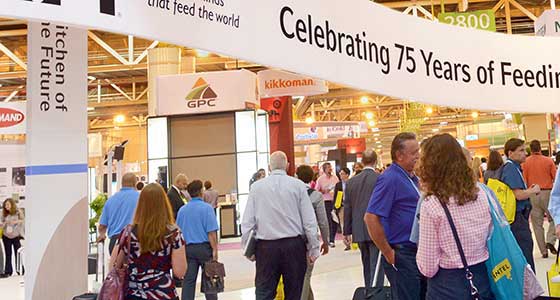 Download the feature pdf in order to see the images referred to in the text below.
Anniversaries, almost by definition, are occasions for reflecting on the past. So when IFT celebrated its 75th anniversary at the 2014 IFT Annual Meeting & Food Expo in New Orleans from Saturday, June 21, through Tuesday, June 24, naturally the event paid tribute to the food science and technology achievements of the past 75 years.
More than a reflection on past accomplishments, however, the Annual Meeting & Food Expo was an exploration of the path forward. That exploration took many forms. A newly designed IFT Innovation Center on the show floor was home to presentations by NASA food scientists as well as a display illustrating some of the ways in which kitchens of the future will meet consumers' changing needs. The Annual Meeting's Opening General Session featured a preview of IFT's new documentary film, developed as part of its FutureFood 2050 initiative, and the director shared more details in a panel discussion. Beacon Lecturer Hod Lipson drew a large crowd for his discussion of the cutting-edge topic of 3D printing of food. The lecture was part of a Scientific Program in which 124 sessions helped food industry professionals stay informed about scientific research advances. And the Food Expo's 1,120 exhibitors kept attendees abreast of the latest news in ingredients, equipment, and technologies. It's probably safe to say that the event offered something of particular interest for each of the 16,527 attendees.
Applauding IFT Achievers
As it does each year, the Annual Meeting & Food Expo got underway with a celebration of the achievements of some of IFT's most accomplished members.
Before the presentation of awards, IFT President Janet Collins introduced a multimedia presentation that took attendees on a quick but comprehensive tour of milestones in food science history and the history of IFT.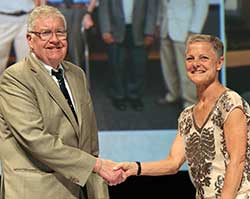 Collins presented C. Patrick Dunne with IFT's highest honor, the Nicolas Appert Award, which carries with it a $5,000 honorarium and a bronze medal from the IFT Chicago Section. Dunne, a retired senior advisor in advanced processing and nutritional biochemistry for the Dept. of Defense Combat Feeding Directorate at the U.S. Army Research Center, was honored for his research leadership in new processing technologies including high pressure processing, pulsed electric field processing, and microwave sterilization.
A total of 16 Achievement Awards were announced at the Saturday evening Awards Celebration. That total included a new award: the Trailblazer Award and Lectureship, bestowed jointly by IFT and the Academy of Nutrition and Dietetics, to Johanna Dwyer of Tufts University and the Jean Mayer USDA Human Nutrition Research Center on Aging. Sonja Connor, president of the Academy of Nutrition and Dietetics, took the stage to announce the newly created award. Fifteen professional members were recognized as IFT Fellows—a designation that is accorded in recognition of exceptional contributions to food science and technology.
Collins acknowledged IFT Immediate Past President John Ruff, whom she described as a "tireless ambassador and champion of IFT and a strong advocate for communicating to the world about IFT."
She introduced IFT President-Elect Mary Ellen Camire, who presented the IFT Student Association (IFTSA) Excellence in Leadership Awards. The 2014 recipients were graduate student Allison Atnip of The Ohio State University and undergraduate Liz Sharpe of the University of Massachusetts Amherst.
Catherine Payne, content producer at the Newspaper Association of America, was the 2014 recipient of the IFT Media Award for Excellence in Consumer Journalism, which is presented annually to a journalist who does an excellent job of covering food science and technology issues.
Also recognized in New Orleans was IFT Past President Roger Clemens, who recently celebrated a decade of publication of the "Food, Medicine & Health" column he created for Food Technology magazine. Collins presented Clemens with a bound volume that contained the full collection of his columns.
In another special feature of the event, Margaret Patterson, president of the Institute of Food Science and Technology, a London-based organization for food science professionals, presented Collins with a plaque in recognition of IFT's 75th anniversary.
--- PAGE BREAK ---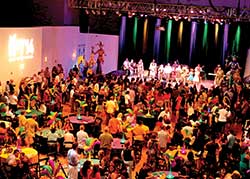 IFT Gets the Party Started
A spirited musical performance by a local secondary school marching band signaled that it was time for Awards Celebration attendees to let the good times roll and head to nearby Mardi Gras World for a high-energy networking reception. A display of Mardi Gras parade float figures helped keep reception attendees entertained. The reception featured a bluesy rock band that got some out on the dance floor while others looked on, snapped photos, and mingled. A menu of New Orleans–style fare helped keep the revelers fueled up for fun.
Another festive highlight of the gathering in New Orleans was IFT's anniversary celebration and fundraiser, Diamonds & Donations, which took place on Sunday evening in Generations Hall, an atmospheric event space originally built as a sugar refinery. Proceeds from the event support the programs of Feeding Tomorrow, which are designed to promote the development of the next generation of food scientists.
Opening Session Insights
On Sunday morning, IFT President Janet Collins welcomed a large crowd to an information-packed Opening General Session. Collins told the audience about IFT's FutureFood 2050 initiative to better inform the world about the benefits of food science and technology. That effort includes a documentary now in development about the future of food and the challenge of feeding a global population of 9 billion by 2050 as well as the futurefood2050.com website, which features stories about food issues and solutions and delivers a powerful series of interviews with scientific experts, innovators, and global thought leaders. Opening session attendees were treated to a three-minute video preview of the documentary, which is slated to make its debut in 2015. "With FutureFood 2050, IFT is expanding its publishing mission to reach a broader audience," Collins explained.
IFT President-Elect Mary Ellen Camire and President-Elect Designate Colin Dennis then took the stage to present the 2014 Innovation Awards, which go to Food Expo exhibitors whose products, ingredients, technologies, instrumentation, equipment, and/or services deliver outstanding innovation. (See article A Trio of Standouts for a close-up look at the three winners of this year's competition.)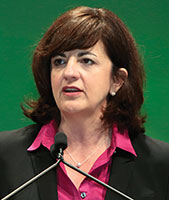 The Opening General Session provided the opportunity for IFT's new executive vice president, Christie Tarantino, to introduce herself. Tarantino, who assumed the IFT leadership role in April, brings more than 20 years of experience in association management to the position. "I plan to help guide IFT into an exciting future of innovation and continued success," said Tarantino after extending a thank-you for the warm welcome she received.
Tarantino then introduced the newest addition to IFT's A Day in the Life of a Food Scientist video series, this one highlighting the career of Cory Bryant, a food scientist at the U.S. Food and Drug Administration (FDA), who has recently taken on a new role leading a team that focuses on public health and trade.
--- PAGE BREAK ---
Chromeless Video Player branded for IFT
During the course of the session, several additional videos helped to keep attendees entertained and engaged. They included a video in which IFT leaders discuss some of the advances they expect to see in food science in the years ahead, another on IFT's Certified Food Science (CFS) credential, and one that compiles highlights of member videos submitted in recognition of IFT's "I Heart Food Science Day."
Chromeless Video Player branded for IFT
Chromeless Video Player branded for IFT
Chromeless Video Player branded for IFT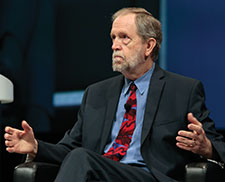 Former Trade Joe's president, Doug Rauch, delivered the Opening General Session Keynote speech in which he laid out his vision for achieving a two-fold objective: reducing food waste and addressing the problem of food insecurity. Poor communication about the meaning of "sell by" and "best by" dates has led consumers to dispose of much food well before it is necessary to do so. Rauch is working to open a foodservice outlet/food store in Massachusetts that will convert food that is past its sell by date but still safe to eat and make it available to low-income consumers at a reasonable cost.
A Stimulating Scientific Program
On topics ranging from edible insects to emulsifiers, spices to spore control, and much, much more, presenters in IFT Scientific Program sessions challenged audiences to broaden their horizons and increase their knowledge base.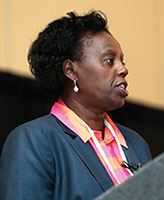 In what has become a popular tradition, Beacon Lecturers brought provocative perspectives to 45-minute, interactive discussions on high-profile topics relevant to food science and technology. In Sunday's Beacon Lecture, Jane Karuku, president of Alliance for a Green Revolution in Africa (AGRA), talked about the way that AGRA is improving the lot of subsistence farmers in Africa by introducing them to integrated soil fertility management practices, opening new markets, and helping them to utilize mobile technology.
The next day, Beacon Lecturer Hod Lipson, a Cornell University professor of engineering, shared some of his visionary perspectives on food applications of 3D printing—things like specifically controlling the nutrient content of food to meet individual nutritional needs.
Chromeless Video Player branded for IFT
Chromeless Video Player branded for IFT
Also on Monday, attendees at "A Filmmaker's Perspective: FutureFood 2050 Panel Discussion" featuring the film's Academy Award–nominated director, Scott Hamilton Kennedy, were treated to a behind-the-scenes conversation about the vision that will help to shape the documentary that IFT has commissioned. According to Kennedy, he and his crew will travel extensively in order to deliver a close-up look at cutting-edge food technologies and the people who are working to feed the world's fast-growing population. Also taking part in the discussion was author Josh Schonwald, contributing editor for FutureFood 2050. "I truly feel that this film has tremendous potential and societal benefit," Schonwald observed.
Hot Topic sessions were developed by IFT volunteers to give attendees a front-row seat for provocative conversations on topics including the much-discussed food ingredient azodicarbonamide, genetically modified organisms (GMOs), the Food Safety Modernization Act (FSMA), and bacterial spore control. Among the presenters were FDA research chemist Greg Noonan, who discussed the FDA and ingredient safety, and Thea Emmerling, who heads the Food Safety, Health, and Consumer Affairs Section of the Delegation of the European Union (EU) and shared the EU perspective on FSMA.
As part of the recently introduced Teaching & Learning Program developed for academics and others interested in the educational process, Diane Ebert-May, a professor of plant biology at Michigan State University, offered research insights and best practices on the topic of student-centered learning. Ebert-May delivered the Fennema Lectureship presentation and conducted a hands-on workshop in the Teaching & Learning SPA in the New Orleans Morial Convention Center.
In another lectureship presentation, this one part of the Trailblazer Award announced on Saturday night, Johanna Dwyer discussed strategies for improving the image of processed foods, calling for more-effective collaboration between food science and nutrition professionals and the public health community.
In addition to all of the preceding mind-expanding opportunities, poster presenters shared their insights in more than 1,000 technical research presentations.
--- PAGE BREAK ---
Expo Recipes for Success
The cuisine of New Orleans provided inspiration for Food Expo exhibitors to kick it up a notch with an extensive menu of offerings that gave attendees a delicious taste of the Big Easy. Praline-flavored pretzels from WILD Flavors delivered a tantalizing combination of salty and sweet tastes. A breakfast beignet from Didion Milling was perfectly textured and flavored. Salted caramel chocolate bread pudding from Butter Buds was impossible to resist. Virginia Dare helped show goers keep their cool with generous servings of ice cream flavored with cinnamon and brown sugar. Mizkan Americas chefs layered flavors deliciously in offerings like bourbon corn and crab chowder. And that, of course, is only a tiny sample of the prototypes exhibitors served up.
For those seeking to walk off some of the caloric intake from product samples, the scope of the show floor proved helpful: Exhibitors filled 2,207 booths and occupied 243,000 square feet of exhibit space in the convention center. The Food Expo drew nearly 200 first-time exhibitors.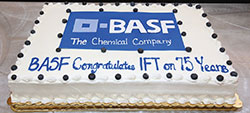 The show floor atmosphere was decidedly festive. BASF treated attendees to slices of a birthday cake decorated in observance of IFT's 75th anniversary. The ever-youthful yet iconic Morton Salt Girl has hit her 100th birthday, and Morton Salt celebrated with appropriately themed cupcakes. Edlong Dairy Technologies, founded in 1914, offered a special anniversary snack mix to booth visitors along with a diverse assortment of product prototypes incorporating trendy ancient grains like freekeh and teff.
Chefs put ingredients from Food Expo exhibitors in the spotlight in daily "Cooking Up Science" demonstrations on the show floor. The chefs created healthful and delicious offerings and even treated a select group of fortunate audience members to a taste of their creations. "Cooking Up Science" participants included the Almond Board of California, Bunge, the United Soybean Board, and Solazyme, which hosted a demonstration featuring chef Charlie Baggs.
• Innova Pavilion. The number 10 had special significance at the Innova Market Insights' Taste the Trend Pavilion on the show floor. Not only did Innova present its annual listing of the year's top 10 food and beverage trends in a striking visual display within the pavilion, but the company also celebrated the 10th anniversary of its Taste the Trend display at the Food Expo.
No. 1 on the 2014 top trend list is "Waste Not, Want Not," a theme that describes the wide-ranging emphasis on reducing food and packaging waste among manufacturers, retailers, and consumers. Other trends the list highlights include the increasingly important role that protein is playing in product development and the rise of new health strategies. The pavilion also drew attention to important industry issues ranging from clean labels to savory flavors and showcased more than 200 innovative food and beverage products from around the globe, many of which boasted novel packaging concepts. Members of Innova's team of analysts offered daily presentations on the following topics: "Top 10 Trends for 2014," "Sports Nutrition Tailors to Specific Needs," and "What's Next for Clean Label?"
• Mintel Pavilion. Billed as the Ingredients and Innovation Zone, the Mintel pavilion at the Food Expo allowed attendees to view, taste, and touch a large array of innovative new product offerings from markets around the world. Popular Mintel presenters Dave Jago and Lynn Dornblaser, Directors of Innovation and Insights, were joined this year by Stephanie Pauk and Nirvana Chapman, Mintel's Global Food Science Analysts. Mintel's schedule of daily presentations at the Ingredients and Innovation Zone addressed these topics: "How Sweet Is Sweet Enough?" "'Clean Label' Is the New Natural," "Fighting Fatigue with Energy Claims," and "Future Threats to Health: What Ingredients Are in the Line of Fire?"
• App Appeal. Navigating the Food Expo floor is never a simple endeavor, but this year thousands of attendees tapped into the IFT mobile event app to help themselves with organizing their schedule of exhibitor visits, checking out new products, or even making post-expo dinner plans.
Pre-Meeting Events
• Board of Directors Meeting. Members of the IFT Board of Directors convened for a meeting prior to the start of the Annual Meeting & Food Expo. Pictured in are members of the 2014 IFT board. Seated (from left) are Douglas Marshall, IFTSA President-Elect Jay Gilbert, Brenda Knapp-Polzin, Immediate Past President John Ruff, President-Elect Mary Ellen Camire, President Janet Collins, Treasurer Bruce Stillings, Feeding Tomorrow Chair Bob Gravani, and Dallas Hoover. Standing (from left) are Cindy Stewart, John Coupland, Luis Fernandez, Anne Goldman, Cathy Kapica, IFT Executive Vice President Christie Tarantino, IFTSA Immediate Past President Matthew Cael, Craig Sherwin, Scott Lineback, Martin Cole, Linda Perucca, and IFTSA President Jonathan Baugher.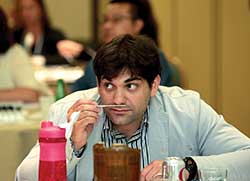 • Short Courses. The learning began early for 400-plus participants in nine IFT short courses held on Friday and Saturday before the start of the Annual Meeting & Food Expo. In what is traditionally one of the most popular courses, "Food Science for the Non-Food Scientist," Marie Wright of WILD Flavors guided students through flavor creation exercises; she was one of numerous presenters in the two-day educational option.
• LEAD 360. Another pre-event highlight was the LEAD 360 global leadership development experience, which this year brought together 20 young food scientists representing 12 countries. These emerging professionals gathered for seven leadership training sessions as part of LEAD 360.
--- PAGE BREAK ---
More IFT14 Highlights
• Career Center. With prospective employers like Kraft, Kellogg, PepsiCo, Starbucks, and Ingredion on hand for IFT Career Center networking and formal interviews in New Orleans, it's no wonder that the energy level was high. A total of 23 prospective employers, including six first-time participants, conducted more than 220 formal interviews on-site, and more than 500 people mixed and mingled in the informal networking portion of the Career Center activities.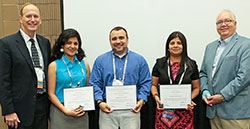 • CFS Networking Breakfast. Recipients of the Certified Food Scientist (CFS) credential, developed last year to recognize expertise in the food science profession, gathered for a networking breakfast on the final day of the Annual Meeting. In Kurt Buckman (far left), Chair of the International Food Science Certification Commission, and Douglas Marshall (far right), Chair-Elect of the Commission, pose with newly minted Certified Food Scientists Deepti Prasad Karumathil, Luis A. Espinoza Rodezno Jr., and Kanika Bhargava, who show off their CFS certificates and pins. They have joined the ranks of 1,500 food scientists from 55 countries who have earned the credential to date.
• Global Guests. One of five Annual Meeting & Food Expo registrants was from outside the United States, making the event truly a global gathering. China, Japan, Nigeria, Vietnam, Ecuador/Peru, and Brazil organized formal delegations for the event. In representatives from Canada pause for a photo with IFT leaders. Seated (from left) are John Ruff of IFT; Carol Ann Burrell, Executive Director of the Canadian Institute of Food Science and Technology (CIFST); IFT Executive Vice President Christie Tarantino; and IFT's Colin Dennis. Standing (from left) are IFT's Kelly McCohen; CIFST representative and IFT board member Anne Goldman; IFT's George Miller; CIFST's Ann Manley; and IFT's Jerry Bowman and Amanda Perl.
• Division Networking Reception. Representatives of IFT's 23 divisions mixed and mingled with current and potential division members at this reception, which drew a crowd of 360 people on Monday afternoon. Each division had its own table, and members put their creativity to work crafting centerpieces. In Kenny Chuang of Rich Products Corp. discusses some of the activities of the Quality Assurance Division.
• Next Generation Food Scientists. Feeding Tomorrow's Food4Thought initiative offered high school students from Girls Inc. of Orange County, Calif., a window into the world of food science with a variety of special activities during the course of the Annual Meeting & Food Expo. In the students, pictured with Feeding Tomorrow trustee Mary Wagner of Starbucks Coffee Co., visited a local Starbucks, where they learned about innovative beverage product development. Their experiences in the New Orleans area also included a tour of a U.S. Dept. of Agriculture Agricultural Research Service center and a hands-on Food Science in Action session that featured presenter Jaime Reeves of Del Monte Foods.
• Past President's Dinner. Past IFT presidents who were in New Orleans for the Annual Meeting & Food Expo were feted at a reception and dinner on Sunday evening. Past presidents seated (from left) are Bruce Stillings, John Litchfield, Gilbert Leveille, Marianne Gillette, and Margaret Lawson. Standing (from left) are Frank Busta, Mark McClellan, Charles Manley, Roger Clemens, Dennis Heldman, Ted Labuza, Mary Schmidl, Daryl Lund, John Floros, and Herbert Stone.
• Reviewers' Reception. During a reception on Sunday, IFT's scientific journals team recognized authors whose papers were most frequently cited. Scientific Journals Editor-in-Chief Allen Foegeding (far left) presented certificates to Corliss O'Bryan and Phil Crandall as Amanda Ferguson, Associate Director of IFT Scientific Journals, looked on. The inaugural Manfred Kroger Outstanding Reviewer Award for IFT Scientific Journals, which was presented this year to Manfred Kroger, Pennsylvania State University professor emeritus of food science, was on display at the event.
Many Roles for Students in New Orleans
For students, the Annual Meeting & Food Expo provides a close-up look at the food industry as well as the opportunity to network and socialize, develop leadership skills in events like Chapter Leaders Workshops, and participate in a variety of intellectually challenging competitions. The creativity and intellectual achievement students demonstrated in those competitions provide reason to believe that the future of the food industry is very bright indeed.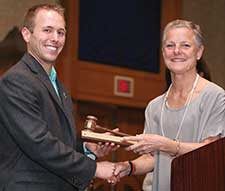 The IFTSA Mixer sponsored by PepsiCo on Monday night was the ideal venue for mingling and enjoying refreshments. Immediately after the mixer, the IFTSA Closing Ceremony provided the occasion for recognizing competition award winners and introducing student leadership. IFTSA President Jonathan Baugher welcomed students to the event and welcomed three new chapters to IFTSA: Tuskegee University, Wayne State University, and Middle Eastern Technical University of Ankara, Turkey. Also at that event, IFT President Janet Collins presented IFTSA President-Elect Jay Gilbert with a gavel in recognition of his leadership role.
In the competitive arena, it was an especially good year for Cornell University. Cornell students earned top honors in two of the three product development competitions and came in second in the other. In addition, two of the top three performers in the Undergraduate Research Competition were from Cornell.
--- PAGE BREAK ---
• IFTSA & Mars Product Development Competition. Popples, a good-for-you extruded snack that combines a crunchy apple pomace-based pop and caramel/peanut-flavored coating, propelled the Cornell team to first-place status in this annual competition, which challenges students to conceive of a creative product concept and bring it to fruition.
Members of the award-winning Cornell team, who paid tribute to "Big Red" by incorporating the color into their attire, are shown in with their poster. Kneeling (from left) are Susana Jimenez, Lee Cadesky, Jade Proulx, and Michael Freund. Standing (from left) are Shan Huang, Kyle Clark, Rebecca Mangona, Margaret Geary, Rebecca Phillips, and Rochelle De Loach. Team members not pictured include Angira Jhaveri, Charles Lee, and Sara Piano.
The University of Wisconsin-Madison team blended Chinese and Mexican cuisine influences to create Walking Wok, a stir-fry mixture wrapped in a tortilla. The effort earned them second place in the Product Development Competition. Members of the University of Wisconsin team—all showing their school spirit and Walking Wok enthusiasm with a "W" symbol— are (from left) Kelley McNeil, Jay Stapp, Amy Parr, April Zhao, Emily Harbison, Emma Bauer, Zoua Plia Thao, Kayla Van Acker, and Adam Bartling. Team members not pictured include Jen Burke and Jenna Fantle.
The other finalists in the competition were McGill University with Frisson, a shelf-stable frozen dessert; California Polytechnic State University with Java Joltz, espresso-filled aerated gummies; University of Florida with Vine and Cheese Chips, artisan kettle chips with a flavor inspired by wine and cheese; and the University of Minnesota with an allergen-free chewy bar named Bean-go! The competition was sponsored by Mars Chocolate North America.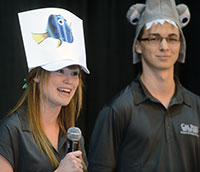 • Disney-IFTSA Product Development Competition. The competition may have been intense, but the oral presentation component of this contest was also clearly a lot of fun, with many of the contestants donning themed attire for their presentations.
The Cornell University team won the grand prize for its Finding Dory and Friends entry, which featured fruit string wrapped around a fish-shaped gummy snack in a yarn ball pattern designed to conceal Dory or one of her friends. Members of the team from Cornell include (from left) Benjamin Majkszak, Jiani Shen, Meagan McKeever, Delia Hughes, and Adam Wolford.
The Iowa State University team dreamed up Flight Bites, chewy, bite-size snacks made with fruit and gluten-free granola, an entry that earned them first-place recognition in the competition. Members of the Iowa State team, shown in costumes they donned for the competition, are (from left) Gail Barnum, Katie Ranard, Rebecca Gordon, Karen Valde, and Celia Bravard.
Other finalists were California Polytechnic State University-San Luis Obispo with Nem-O's healthful cookies; another Cornell University team with Donald Duck's Quinoa QUACKers, sweet and savory cocoa-flavored crackers sprinkled with puffed quinoa; and the University of Wisconsin with Pocahontas Canoe Cruisers, canoe-shaped mini pies with a sweet potato filling. Disney Consumer Products was the competition sponsor.
• Developing Solutions for Developing Countries Competition. Teams of students from around the globe applied their scientific skills to the task of creating a nutritious product from a by-product of oil processing in this competition.
In the domestic segment of the contest, California Polytechnic State University-San Luis Obispo clinched the award for its Amma Mamas, sweet potato–based, high-protein tortillas. Members of the winning Cal Poly team are (from left) Kyler Walters, Emma Sandquist, Jaime Savitz, and Evan Quigley. Team members not pictured are Courtney Schlossareck and Hannah Mear.
Second place went to Cornell University for So-Sweet, an instant porridge made from a blend of sweet potato and defatted soy. The Rutgers University team placed third for its entry, Soy-sunsation, which is breakfast meal made with soybean and sunflower seed.
FLOYA, an instant porridge high in easily absorbed protein, earned a team from Bogor Agricultural University first place in the international portion of the competition. Team members are (from left) Stella Alinneshia, Nesya Nova Febriane, and Afifah Zahra Agista.
The University of Putra Malaysia placed second for SunnySoy, a high-protein instant noodle, and a second team from Bogor Agricultural University placed third in the international segment for its entry, Soymuch, a high-protein cookie made from fermented-defatted soybean and sunflower meal. Partners in Food Solutions—General Mills, Cargill, DSM, and Buhler—sponsored this competition.
--- PAGE BREAK ---
• College Bowl Competition. Students from eight universities competed late into the evening on Monday in the 29th annual College Bowl Competition, which tests knowledge and understanding of food science, the history of food and food processing, food law, and general information about IFT. Members of the Pennsylvania State University team emerged victorious. Shown during the competition are team members (from left) Ken Vogel, Latha Murugesan, Jared Smith, and Timothy Yeung.
The Ohio State University was the first runner-up in the competition. The other College Bowl finalists were teams from North Carolina State University, Chapman University, University of Minnesota, University of California-Davis, Texas A&M University, and University of Georgia.
In College Bowl judges Bruce Ferree, Roger Clemens, and Pam Vaillancourt (seated from left in photo) confer with Jessica Cooperstone, Vice President of Competitions (standing). The competition was sponsored by Nestlé Gerber and Nestlé Purina.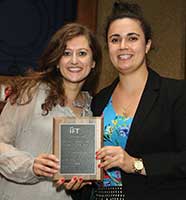 • High-Achieving Chapters. In recognition of exceptional participation, strong leadership, and excellent community outreach, the Rutgers University student chapter was honored as the IFTSA Chapter of the Year. At the IFTSA Closing Ceremony, Carol Saade (left), president of the Rutgers University Chapter, accepted a plaque from Jessica Cooperstone.
The University of Wisconsin-Madison placed second. Also recognized was The Ohio State University student chapter, which was named Most Improved Student Chapter.
• Undergraduate Research Competition. The outstanding research achievements of three students were acknowledged in this competition, which requires participants to present original research findings orally and via a poster. This year's winners included Paula Feldmar of University of Massachusetts Amherst, first place; Robert Divine of Cornell University, second place; and Clinton Hervert of Cornell University, third place.
Be There for IFT15 in Chicago
The Annual Meeting & Food Expo tradition will continue next summer in Chicago, but the event will have a brand new name. So mark your calendars now for IFT15: Where Science Feeds Innovation, which will take place July 11–14. The name change is fitting because next year will bring another major milestone: the 75th anniversary of the Annual Meeting & Food Expo.
--- PAGE BREAK ---
---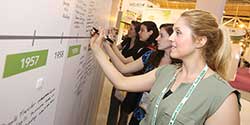 IFT's Expo Centerpiece
The IFT Innovation Center was among the central attractions of the Food Expo. Not only was IFT's booth more spacious than in the past, but it also incorporated a variety of new features linked to the 75th anniversary celebration. An interactive digital timeline in the Innovation Center detailed important milestones in both IFT's and food science's history; visitors to the booth were encouraged to note additional events of food science significance on a static timeline wall in the same area.
Visitors were also able to explore IFT resources and to view videos focused on the future of food science through a series of interactive kiosks. The Innovation Center included a special section devoted to the kitchen of the future, which featured live demonstrations and informal presentations against a backdrop of future-focused consumer vignettes from GE's Home 2025 initiative.
On Sunday, members of a team of food technologists from NASA's Johnson Space Center, including Grace Douglas (left) and Michele Perchonok, shared information on the kinds of food innovations that make it possible to feed astronauts during space missions. On Monday, visitors were treated to see-through-tacos and spherical mojitos as part of a demonstration of some of the latest molecular cooking techniques by chef Gui Alinat. And on Tuesday, Chris Jones, Director of Culinary Innovations at Hampton Creek Foods, gave attendees a glimpse of what the future may hold in the world of food science.
Also on display was a time capsule from IFT's 50th anniversary as well as a theater area where food science visionaries addressed topics of importance.
---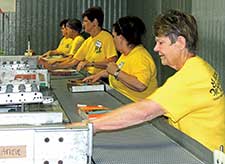 IFT Cares Gets Back to Its Roots in the Big Easy
IFT Cares returned to its origins on Wednesday morning, June 25, the day after the Annual Meeting & Food Expo had drawn to a close, as a group of volunteers traveled to the Second Harvest Food Bank of Greater New Orleans and Acadiana to sort and pack products for distribution to food bank clients. The IFT Cares anti-hunger initiative got its start six years ago at the 2008 Annual Meeting & Food Expo, when IFT initiated a partnership with Feeding America (formerly known as America's Second Harvest), a nationwide network of food banks. That event had special significance because IFT was returning to the Big Easy for the first time since 2005, when the Annual Meeting & Food Expo had been held there just weeks before Hurricane Katrina devastated the city.
Each year since then, IFT Cares volunteers have spent time working in the host city's food bank or rounding up food donations on the show floor, and this year was no exception. On Tuesday afternoon, when Food Expo hours had concluded, volunteers helped collect 9,078 pounds of leftover food donated by exhibitors—an amount that is equal to 7,565 meals, according to Second Harvest.
At the food bank warehouse, volunteers worked on production lines, unpacking bulk boxes, sorting food, and repacking it in smaller boxes for distribution to clients under the direction of Second Harvest supervisors. They processed a total of 5,287 pounds of food, which is equivalent to 4,405 meals.
Chromeless Video Player branded for IFT
Some IFT member volunteers, like Cornell University professor Joe Regenstein, have been signing up to serve almost every year since 2008. Regenstein and his wife, Carrie, are big believers in IFT Cares. "We both feel that providing food for those less privileged is an important part of being a food scientist," said Regenstein. "And this is a way to do something more directly . . . to actually be a part of such feeding activities. "
First-time volunteer Robert Sill, an IFT member and sales executive with Ungerer & Company, said he too found the experience meaningful. "The job I had [unloading giant-size boxes of product onto a conveyor belt] was actually physically hallenging, which was enjoyable for me. And to be able to help others and have fun was really great. I really enjoyed working side-by-side with other industry professionals toward a common goal," said Sill.
A group of IFT Cares volunteers paused for a photo after completing their shift at the food bank.
--- PAGE BREAK ---
---
Fun Runners Turn Up the Heat
About 550 runners and walkers braved puddles, humidity, and the threat of more rain in Audubon Park in New Orleans on Monday, June 23, for the 14th Annual IFTSA and Feeding Tomorrow Fun Run and Walk, which raises money to support Feeding Tomorrow's scholarship fund. The event kicked off at 5:45 a.m. with a pre-race stretch led by a local fitness expert. After an inspiring rendition of "The Star-Spangled Banner," the racers strode down the path sporting bright green Fun Run shirts and other creative attire.
The top three finishers were Kristen Doster, Bill Demong, and Greg Bennet. Racers cooled down with a post-race breakfast provided by Kellogg and Gatorade and water provided by PepsiCo, and they enjoyed goodie bags sponsored by Sun Orchard that were filled with products provided by race sponsors.
Chromeless Video Player branded for IFT
This year's Fun Run raised more than $107,000 in support of Feeding Tomorrow's scholarship fund—a new record—and Bruce Ferree raised $3,065 as the top individual fundraiser.
The top three female racers were (from left) 1) Kristen Doster; 2) Julie Wankowski; and 3) Sara Spoede.
The top three male racers were 1) Bill Demong (right); 2) Greg Bennet (center); and 3) Troels Laursen (left).
—Melanie Zanoza Bartelme
--- PAGE BREAK ---
---
IFT Division Competition Winners
The following are the winners of this year's poster, oral, and writing competitions sponsored by IFT Divisions.
AAFSIS: 1st place, Tushar Gulati, Cornell U.
Aquatic Food Products Div.: 1st place, Brianna Hughes, U. of Maine; 2nd place, Naim Montazeri, Louisiana State U.; 3rd place, Matthew Fowler, Oregon State U.
Biotechnology Div: 1st place, Badrinath Vengarai Jagannathan, Oklahoma State U.; 2nd place Xindi Li, U. of Minnesota; 3rd place, Zhong Zhang, U. of Missouri.
Carbohydrate Div.: 1st place, Nastaran Khodaei, McGill U.; 2nd place, Mengxi Li, McGill U.; 3rd place, Maaran Suntharamoorthy, Memorial U. of Newfoundland.
Dairy Foods Div.: 1st place, Elise Hubbard, North Carolina State U.; 2nd place, Xiaomeng Li, North Carolina State U.; 3rd place, Tucker Smith, North Carolina State U.
Dairy Foods Div. (Manfred Kroger Oral): 1st place, Curtis Park, North Carolina State U.; 2nd place, Hermang Bhatt, Fonterra Research and Development Center; 3rd place, Suresh Sutariya, South Dakota State U.
Education Div. (Writing, Undergraduate): 1st place, Clarice Lin, Cornell U.; 2nd place, Alexandra Becraft, U. of Illinois at Urbana-Champaign; 3rd place, Margaret Geary, Cornell U.
Education Div. (Writing, Graduate): 1st place, Lee Cadesky, Cornell U.; 2nd place, Stephanie Masiello, Cornell U.; 3rd place, Azza Silotry Naik, Institute of Chemical Technology-Mumbai.
Food Chemistry Div: 1st place, Lauren Gillman, U. of Minnesota; 2nd place, Long Zou, U. of Georgia; 3rd place, Jennifer Koch, The Ohio State U.
Food Engineering Div: 1st place, Yifan Cheng, Cornell U.; 2nd place, Kacie Ho, Purdue U.; 3rd place, Lisha Zhao, U. of Alberta
Food Microbiology Div: 1st place, Joshua Scheinberg, Pennsylvania State U.; 2nd place, Alejandra Ramirez Hernandez, U. of Nebraska-Lincoln; 3rd place, name not available at press time.
Food Microbiology Div. (Z. John Ordal Oral): 1st place, Meera Surendran Nair, U. of Connecticut; 2nd place, Haiqiang Wang, Michigan State U.; 3rd place, Olamide Afolayan, U. of Georgia.
Food Packaging Div.:
1st place, Carol Saade, Rutgers U.; 2nd place, Dana Wong, U. of Massachusetts Amherst; 3rd place, Ping Guo, U. of Tennessee.
Fruit & Vegetable Products Div.: 1st place, Derek Wray, McGill U.; 2nd place, Lu Zhao, U. of Florida; 3rd place, Colleen Nackerman, The Ohio State U.
International Div.: 1st place, Robert Sevenich, Technical U. of Berlin; 2nd place, Anisa Loewen, U. of British Columbia; 3rd place, Stefan Irmscher, U. of Hohenheim.
Marketing and Management Div.: 1st place, Mrittika Bhattacharaya, Indian Institute of Technology Kharagpur; 2nd place, Amandeep Sandhu, U. of Florida; 3rd place, Long Zou, U. of Georgia.
Muscle Foods Div.: 1st place, Monil Desai, Mississippi State U.; 2nd place, Jiayi Yang, U. of Kentucky; 3rd place, Ramona Danz, U. of Hohenheim.
Nonthermal Processing Div.: 1st place, Erika Georget, German Institute of Food Technologies; 2nd place, Farnaz Faridnia, U. of Otago; 3rd place, Yi Chen, Purdue U.
Nutraceuticals & Functional Foods Div.: 1st place, Parichart Thamnarathip, Kasetsart U.; 2nd place, Jingjing Chen, U. of Massachusetts Amherst; 3rd place, Matthew Niezgoda, The Ohio State U.
Nutrition Div.: 1st place, Swetha Salla, Alabama A&M U.; 2nd place, Ying Yang, U. of Massachusetts Amherst; 3rd place, Jinzhou Li, Cornell U.
Product Development Div.: 1st place, Bincheng Wu, U. of Massachusetts Amherst; 2nd place, Pakkawat Dechewa, Kasetsart U.; 3rd place, Kennet Carabante, Louisiana State U.
Quality Assurance Div.: 1st place, Yi-Cheng Wang, U. of Wisconsin-Madison; 2nd place, Me-Ling Shotts, The Ohio State U.; 3rd place, Deanna Scheff, Kansas State U.
Refrigerated & Frozen Foods Div.: 1st place, Alexander Chouljenko, Louisiana State U.; 2nd place, Poonam Singha, South Dakota State U.; 3rd place, Sravanti Paluri, The Ohio State U.
Sensory & Consumer Sciences Div. (Rose Marie Pangborn): 1st place, Ronald Bangcuyo, The Ohio State U.; 2nd place, Amy Oltman, North Carolina State U.; 3rd place, Allison Baker, Washington State U.
Society for Laboratory Automation and Screening: 1st place, Pan Kang, U. of Tennessee.
Toxicology & Safety Evaluation Div.: 1st place, Faris Hussain, Kansas State U.; 2nd place, Trang Nguyen, U. of Missouri; 3rd place, Hsin-Yi Yin, National Chung Hsing U.

Mary Ellen Kuhn is Executive Editor of Food Technology ([email protected]).