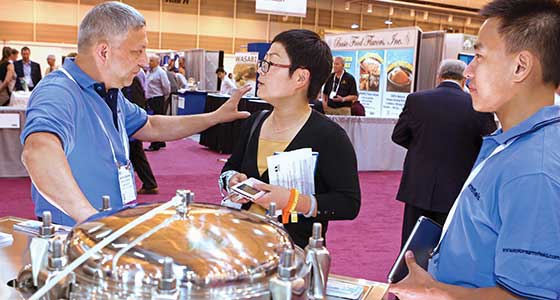 As I review the processing exhibits at the annual IFT Food Expo, I am sometimes challenged to identify noteworthy innovations because the field generally moves slowly. However, this year a number of developments caught my attention.
Sterilization Field Gets Crowded
We have previously discussed several approaches to sterilizing dry products such as nuts, herbs, and teas. This year it seemed there were new entries in this field, offering a variety of technologies. In general, the challenge is to provide enough moist heat to kill pathogens on the surface of dry foods without causing damage—such as clumping, mold growth, and staling—from the moisture.
Napasol (www.napasol.com) is a Swiss firm that uses dry saturated steam in totes or a tumbling vessel followed by vacuum to control the temperature of exposure. Production rates are said to be 150 kg/h to 12,000 kg/h with modular and highly automated construction. Reductions are 4–7 log.
Imtech-Steri AG (www.imtech-steri.ch) is another Swiss firm that also uses saturated steam in an autoclave with vacuum control of pressure to provide 3–7 log reduction of pathogens. Production rates are said to be 100 kg/h to 3,000 kg/h. Product in bags is stacked on rolling racks.
Radio Frequency Co. (www.macrowave.com), Millis, Mass., offers a 400 kW pasteurization system for bulkor packaged products using radio frequency heating to provide 5 log reduction.
Log5, a part of the Royal Duyvis Wiener Group (www.log5.com), uses hot humidified air to control surface water activity while guaranteeing 5 log reduction. Production rates are 2,000 kg/h to 10,000 kg/h. Cooling is with cold air. Product is preheated separately before exposure to the humid air.
Natprocess (www.natprocess.com), a member of the Skiold Group, is a French firm offering a continuous steam sterilization process, called Steristep for dry products, along with other dry processing equipment, such as roasters, cleaners, and coolers.
Safesteril was developed by the French engineering firm, ETIA, and is represented in the United States, by Norris Thermal Technologies, Tippecanoe, Ind. (www.safesteril.com). The unique feature of this process is an electrically heated screw, Spirajoule, into which steam is injected. Product is then transferred to another screw for cooling with dry air.
I find it interesting that there are unique features to each of these processes, suggesting that, unlike many other situations, the best solution has not been identified.
Each process has the requirement of preventing post-process product contamination. In some cases, the product is treated in its final package; in other cases, it must be de-lumped and possibly sieved before packaging. Such operations must be conducted in a clean environment and with minimal involvement of personnel.
--- PAGE BREAK ---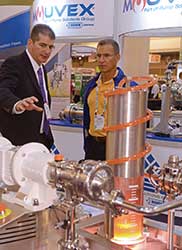 Noteworthy Pumps
Mouvex, part of Pump Solutions Group, a Dover Company (www.psgdover.com), offers a family of unique pumps, including Wilden double air-operated diaphragm pumps, a series of quadruple diaphragm pumps with disposable heads, and a family of eccentric disk pumps that were featured this year for their ability to run dry. Mouvex emphasized that the eccentric disk pumps enable higher yields by helping to empty process lines of fluids that might otherwise be wasted.
When processes change from one flavor or color to another, lines usually need to be flushed with water or blown clear with air. Air is not very effective when there are vertical runs of pipe. Water flushing creates an interface that is not always usable and so goes to waste. The eccentric disk pump can be used to empty the lines, recovering the contents. The pumps also have fewer parts than competing pump designs.
The quadruple diaphragm pumps were developed for one-time use in the pharmaceutical industry, but have application in foods for metering small amounts of flavors and other ingredients. By using multiple diaphragms, flow is smoother, and by using dedicated pump heads, cross contamination is reduced.
These pump designs are relatively more expensive than some competing designs, but offer some advantages.
Murzan, Norcross, Ga. (www.murzan.com), provides sanitary double-diaphragm pumps that can handle large particles and viscous fluids. Versions of the pump are used to empty drums and totes of heavy ingredients.
Fluid Metering Inc., Syosset, N.Y. (www.fmipump.com), is known for simple dispensing pumps that have no valves and are accurate at low flow rates. Many are incorporated in larger systems by original equipment manufacturers (OEM), but they also find use in pilot plants and laboratories.
Dry Ice Cleaning
Demonstrating the reality that there always is competition, two vendors demonstrated dry ice cleaning at the Food Expo. Dry ice cleaning uses small pellets of dry ice (solid carbon dioxide) to blast off soils from surfaces of food equipment and facilities. There is no residue from the dry ice, which sublimes to gas. Compared with strong chemicals or other abrasives, there can be less harmful exposure for workers and less environmental impact. The technique seems especially effective for complex surfaces, such as conveyors.
Continental Carbonic Products Inc., Decatur, Ill. (www.continentalcarbonic.com), services the eastern two-thirds of the United States and Canada from eight manufacturing facilities and 31 branch distribution facilities. The company provides dry ice in several forms in addition to blasting pellets.
Coldjet, Loveland, Ohio (www.coldjet.com), offers dry ice blasting equipment that operates from pellets or shavings from blocks of dry ice.
Novel Preservation Technologies
PurePulse is a descendent of pulsed electric field (PEF) from The Netherlands (www.purepulse.eu), promising 21 days of shelf life. Processing rates for fruit juice are 600–1,800 L/h with 4–6 log reduction in pathogens.
Shanxi Sanshui Yinhe Technology Co. Ltd. (www.sxssyh.com) is a relatively new Chinese supplier of high pressure processing (HPP) equipment. The company provides both vertical and horizontal vessels up to 1,000 L volume, as well as laboratory-scale units.
--- PAGE BREAK ---
Small-Scale Equipment
MicroThermics Inc., Raleigh, N.C. (www.microthermics.com), is celebrating 25 years of providing laboratory and small-volume production equipment for high-temperature short-time (HTST), ultra-high-temperature (UHT), and aseptic processing of fluids such as milk, puddings, and sauces. In addition to equipment, the company offers training, including an operator certification program.
Dixie Canner Co., Athens, Ga. (www.dixiecanner.com), has offered small-scale seamers and retorts for years. Company representatives confided that in the next year, they expect to offer equipment for metal can processing at home as an alternative to traditional glass jars with metal lids and gaskets. Dixie will buy cans in bulk and offer smaller quantities to its customers. There will be a kitchen-scale seamer and stovetop cookers. Cans may be less expensive and less fragile than glass jars.
OMVE is a supplier from The Netherlands (www.omve.com) that offers a wide variety of small-scale equipment, including a benchtop heat treatment unit that has only one liter hold-up volume and can simulate any time-temperature profile.
Crown Iron Works Co., a CPM Company, Roseville, Minn. (www.crowniron.com), is best known for soybean crushing and extraction equipment. The company has an R&D test facility with small-scale versions of its unit operations.
Armfield Limited is an English supplier of laboratory-scale processing equipment (www.explorearmfield.com). Its units are often used for academic instruction and product development.
Goodnature, Orchard Park, N.Y. (www.goodnature.com), provides plate and frame presses and pasteurizers for fluid processing. The pasteurizers are available in rates from 0.5 to 100 GPM.
Southwest Research Institute, San Antonio, Texas (www.swri.org), is primarily an analytical and research laboratory, but the institute also develops prototype equipment under contract and has special expertise in encapsulation.
Filtration Membranes
Membrane filtration is a versatile technology with many applications in food processing, including clarification of juices and beer, purification of water, and recycling of cleaning solutions. Membranes are often made of porous polymers, but they also can use ceramics and sintered metal.
Inopor is a German firm offering ceramic membranes with flux rates up to 200 L/(m2 h). Pressure drop is said to be low because the active layer is thin. Ceramic membranes are resistant to organic solvents, high temperatures, and chemical corrosion, so they can be used to clean up hot caustic cleaning solutions, among other applications.
E3 Fluid Recovery, St. Petersburg, Fla. (www.E3FluidRecovery.com), uses ceramic membranes for juice and beer clarification. One application is hot filtration of agave liquor used to make tequila in Mexico.
Hydranautics, Oceanside, Calif., a Nitto Group Co. (www.membranes.com), provides a wide range of polymeric membranes for dairy concentration and color removal. The dairy membranes are typically polyethersulfone on polypropylene, spiral wound with feed rates 30–80 GPM. The HYDRACoRe membranes, used for color removal and adjustment, are distinguished by their tolerance for chlorine.
--- PAGE BREAK ---
Microdyn-Nadir GmbH (www.microdyn-nadir.com) is a German firm that offers polymeric membranes in a variety of materials, including polyethersulfone, cellulose, polyvinylidene fluoride, and polysulfone. While Hydranautics primarily offers spiral wound modules, Microdyn-Nadir can provide other configurations, including tubular, hollow fiber, and flat sheets. In both cases, the enclosures and supporting systems are provided by others.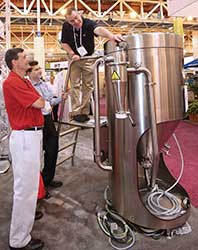 An example of a system supplier is GEA, Hudson, Wis. (www.geafiltration.com). The Model R pilot plant has a permeate capacity up to 50 GPM and can be fitted with any type of spiral wound membrane.
Mixing
Mixing is a broad area ranging from essentially generic equipment to proprietary and specialized designs. There is a place for all of them in food processing.
A new exhibitor this year was IKA, Wilmington, N.C. (www.ikaprocess.com), showing a variety of high shear mixers, dispersers, and homogenizers.
B&P Process Equipment, Saginaw, Mich. (www.bpprocess.com), has a portfolio of heavy duty mixing and separation equipment, including the Trivolution twin-screw compounder designed to knead and disperse additives in viscous materials.
Komax Systems Inc., Huntington Beach, Calif. (www.komax.com), is one of several suppliers of static mixers, devices that thoroughly mix flowing fluids with no moving parts and relatively low pressures drop.
J. Engelsmann AG (www.engelsmann.de) is a German firm showing a novel mixer that rotates and tumbles a stainless steel chamber shaped like a barrel. Volume is up to 400 L.
For a supply of ribbon blenders from inventory, there is Staley Equipment, Adelanto, Calif. (www.staleyequipment.com). Sizes are 1–400 cu ft.
For used equipment, including mixing and packaging equipment, there is Equipnet, Canton, Mass. (www.equipnet.com). The company typically buys entire plants and sells from that location to minimize handling of equipment.
For an event that does not emphasize equipment, the Food Expo can be an interesting source of new ideas, even after all my years of attending.

J. Peter Clark,
Ph.D., CFS, is Contributing
Editor to Food Technology magazine and
consultant to the process industries, Oak
Park, Ill. (
[email protected]
).