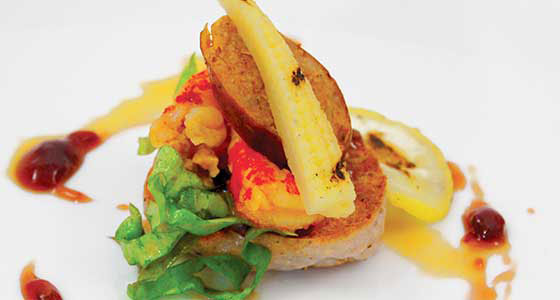 Algae-based nutritional ingredients; global classic ethnic drinks; lesser-known foreign fruits, vegetables, and spices; and a new generation of attainable functional food benefits were among the emerging market opportunities showcased at the 2014 IFT Food Expo. Very hot flavors, tangy vinegars, intensely flavored Asian sauces, and the cuisines of South America also helped to set the culinary pace at this year's event.
Kikkoman introduced a Chili Ponzu and a citrus-flavored soy sauce; its new Clear Soy Sauce PK-56 will be useful in applications that are light in color. Kikkoman's Asian-Style Soup Broth made with Dehydrated Natural Flavor Enhancer-Powder with Yeast Extract helps boost umami taste and reduces sodium by up to 30%.
Allergen-free Asian cooking sauces are on the rise. Lee Kum Kee's Sriracha Chili, Chili Garlic, Hoisin, Oyster, and Plum sauces are gluten-free; the company's Sriracha Chili Sauce is also available without fish extracts. Lee Kum Kee's Premium Soy Sauce is preservative-free.
South American classic beverages represent a fast-emerging culinary trend. Bell Flavors & Fragrances featured Mexican horchata; Brazilian caipirinha—the national cocktail made with cachaça, sugar, and lime; and chicha morada, a favorite drink in Peru that contains purple corn, pineapple, cinnamon, cloves, sugar, apples, and lime juice.
Pepita (Mexican pumpkin seeds); aji amarillo (hot Peruvian pepper); the Peurvian herb huacatay; masa yellow corn; Szechuan peppercorn; ginger; and kimchi were other notable global flavors/ingredients offered by exhibitors.
Cooking with spirits (especially whiskey flavors) and vinegars was another culinary trend gaining traction at the show. Mizkan featured its vinegars, cooking wines, wine reductions, denatured spirits, and wine/vinegar powders in cutting-edge chef-prepared Latin and Asian recipes. Attendees sampled a Bourbon Maple, Peach, and Arugula Salad and a Tequila Poached Crawfish and Andouille Sausage among other delicacies.
Bell Flavors featured gourmet mushroom flavors, including black/white truffle, Italian porcini ("piglet"), morel, and Portobello. Basic broths are now available in rotisserie chicken, savory, umami, and lemon flavors.
Cupuaçu, maqui berry, aronia berry, and prickly pear were among the superfruits featured in New Orleans. According to Innova Market Insights' "Taste the Trends 2014" presentation, new global foods and beverages with a superfood claim increased 39% in 2013. Innova identified coconut, beet juice, maqui berries, chia, freekeh, black rice, kefir, tempeh, and kakadu plum as having high potential in markets around the world.
--- PAGE BREAK ---
Watch for growing interest in pineapple and tropical flavors. Pineapple juice is among the fastest-growing juice flavors in restaurants; it was the fourth-most-ordered juice in 2013, according to Datassential. Florida Products showcased its aseptic, frozen, and organic pineapple puree and juice at the Food Expo.
Gray & Co. (CherryMan) offered "Made in the USA" maraschino cherries with all-natural colors and flavors. Milne featured a 100% all-natural Concord Grape Puree rich in vitamins C and K and polyphenols.
Gourmet specialty sugars (e.g., demerara and muscavado) were another new sweetener ingredient focus this year; allulose was among the new featured high intensity sweeteners. According to Mintel's "How Sweet Is Sweet Enough?" presentation, sucralose was the dominant high intensity sweetener in foods/beverages introduced in 2013, followed by acesulfame potassium; stevia and luo han guo showed slow growth. Globally, Latin America had by far the highest use of high intensity sweeteners in new foods/drinks (Figure 1).

Texture and aroma were other important trends moving further into the spotlight. Bunge's new Homai Rice Panko Bread Crumbs, billed as "a versatile addition to any recipe or formulation that calls for bread crumbs," don't contain gluten, soy, or milk.
Ebrofrost's IQF rice, grains, and pasta nests add an unprecedented element of fresh texture to ready meals. Basmati or jasmine rice and tagliatelle two-egg pasta or Chinese egg noodle nests are available as well as bulgur, couscous, and quinoa.
Snacks, Beverages, and Bars
With snacks representing 54% of all U.S. meal occasions, it's not surprising that "snack-able" and healthy beverages, confections, and bars remained center stage at the Food Expo. Protein continued as a strong trend, and beverages were no exception. Virginia Dare featured a Protein-Fortified Peach Ginger Drink and a Protein-Fortified Iced Coffee Choco-latte Beverage.
DSM featured a Fortitech premix for brewed coffee fortified with antioxidants and vitamins; Wright Enrichment showed a strawberry-flavored omega-3 drink, and Biothera offered immune-boosting lemonade.
Demonstrating the appeal of caffeine enhancement, California Polytechnic State University students competing in the Mars & IFT Student Association Product Development Competition created Java Joltz, caramel-flavored, espresso-filled aerated gummies that can be enjoyed as a chewy treat or stirred into hot water for an instant coffee beverage.
With Packaged Facts predicting that the kid-specific food/beverage market will reach $32 billion by 2018, Watson's Child-Friendly Snack Bar premix that provides 50 mg of choline, 15% of the Daily Value for vitamins A, B-1, B-2, B-3, B-6, B-12, C, D, and E and 10% Daily Value of calcium for kids is right on target. Watson also featured a healthy fortified breakfast trail mix.
Moon Cheese is a new snack made from fresh cheese by is a new snack made from fresh cheese by a unique Radiant Energy Vacuum (REV™) dehydration technology from EnWave Corp. It is available for retail sale in traditional cheese flavors from Nutra Dairy.
RQA showcased its product development capabilities via a new Lemon Chia Seed Bite-Sized Snack. Bananas Foster cookies and Praline Marshmallow Treats were among the new indulgent prototypes developed by Synergy Flavors.
Watson cracked the code on clean bakery labels and featured a clean label pound cake made using its Golden Glow Blends and beta-carotene to replace yellow 5. Other Golden Glow Spice Blend applications included yellow cake mixes, doughnuts, snack cakes, jams/jellies, and muffin mix. Watson's Easy 8 Bread premix contains only eight ingredients and boasts a clean label and great taste.
The American Egg Board not only touted eggs' high protein levels but their ability to keep both a clean and a gluten-free label.
--- PAGE BREAK ---
Functional Favorites
According to Innova Market Insights, 55% of all the new foods/beverages launched in Australasia in 2013 had a health positioning. The figure was 49% in the United States and Latin America, 40% in Western Europe, 38% in Eastern Europe and the Middle East, and 32% in Africa.
Most important, despite the tighter regulatory control of health claims, especially in the European Union (EU), the global use of "active" health claims—in which specific benefits are promoted or the addition of an ingredient touted—increased 9.3%, according to Innova Market Insights. Passive health claims (e.g., low-fat) were up 35%, per Innova (Figure 2).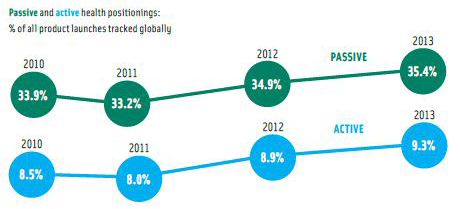 While antioxidants were prominently featured on the exhibit floor, it was choline, magnesium, and potassium that stole the show, not surprisingly, with key labeling changes looming. Docosahexaenoic acid (DHA) and eicosapentaenoic acid (EPA) boosters were a new concept featured at the DSM booth.
--- PAGE BREAK ---
Protein remained in the spotlight, with a bevy of new sources and the ability to incorporate very high levels into everyday foods/beverages being showcased. Roquette America featured a Vegetarian Quesadillas Filling with Texturized Pea Protein.
The U.S. Dairy Export Council (USDEC) presented a Lentil Power Soup, formulated with milk protein concentrate and a concentrated casein ingredient, to provide 20 g of protein (40% Daily Value) and 35% of the Daily Value for calcium.
Ingredion Inc. has partnered with Alliance Grain Traders Inc. to distribute pulse flours, protein, and bran ingredients in the United States, Canada, and China.
For the first time this year, the $30.7 billion sports nutrition/weight loss category had a significant presence on the Food Expo floor. For example, USDEC's Veggie Burst beverage that blends vegetables and whey protein was positioned to deliver post-exercise recovery.
Livzon, a Chinese company, showcased its amino acid lineup in sports applications. Awareness of amino acids reach 53% in 2013, per Gallup. Watson's B-complex premix for use in soft chews or gummy candies also focused on sports recovery.
Spices (including bay leaf, cinnamon, and oregano), milk oligosaccharides (prebiotics), citrus flavonoids, astaxanthan, konjac fiber, and mushroom extracts, were among the phytochemical nutritional ingredients gaining attention this year.
PLT Health Solutions' EarthLight™ Whole Food Vitamin D Mushroom Powder supplies 40,000 IU of vitamin D per gram. PLT's Hytolive® Olive Fruit Polyphenol delivers the sought-after phytochemical hydroxytyrosol, which enjoys an EU-approved health claim for LDL cholesterol–lowering in Europe.
Clever solutions to the difficulties of going gluten-free continued to be of major interest. Watson's gluten-free decadent brownies were not only gluten-free, but certified free of the top seven allergens. The specialty mix requires only oil and water, which eliminates the worry of having to source individual certified ingredients.
Ingredients/formulations delivering on jitter- and caffeine-free energy solutions remained another important nutritional theme. Watson's Spark Premix delivers on energy, clarity, and mental focus, while leaving out caffeine, guarana, and taurine.
--- PAGE BREAK ---
Wright Enrichment's Energy Chew featured its Supercoat natural caffeine, which has the equivalent of one cup of coffee's caffeine in two chews, along with vitamin B-12.
According to Mintel's "Fighting Fatigue with Energy Claims" presentation, there is a high-potential opportunity as consumers' interest moves to longer-term, sustained energy, and slow energy release. Mintel reported that sustained energy was particularly important for weight management. Peak Energy's D-Ribose is supported by clinical studies to provide a rejuvenating boost of energy that lasts for hours.
This year's Food Expo had no shortage of great functional and condition-specific food applications. Premium Nutraceuticals featured a new oral care chewing gum made using its Exocyan™ cranberry extract; its anti-adhesion/antibacterial properties help prevent plaque from sticking to teeth.
DSM's Fortitech featured a Pineapple Flavored Powercap® filled with dispensable ingredients for healthy aging and Raspberry Chocolate Dream Puffs designed to enhance beauty from within.
Biothera displayed its Gloria Pro Defensis drinkable immune-boosting yogurt in which its Wellmune WGP® and active yogurt cultures provide synergistic immune support.
Glycemic health and control, beyond the glycemic index, was another important new health benefit getting well-deserved attention. PLT Health Solutions offers Benecarb® Glycemix Balance Complex, which is high in antioxidants, minerals, and polyphenols. Clinical studies have documented its ability to reduce the glycemic index of food by up to 20%.
A final note of interest is the fact that for the first time, ingredient and drink claims of "made in the U.S.A" made their way onto the Food Expo floor as did taglines touting the origin of ingredients.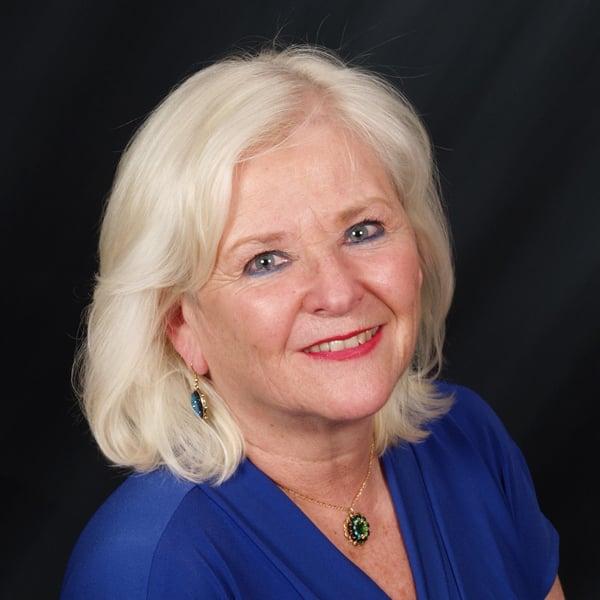 A. Elizabeth Sloan
, a Professional Member of IFT and Contributing Editor of Food Technology, is President, Sloan Trends Inc., 2958 Sunset Hills, Suite 202, Escondido, CA 92025 (
[email protected]
).