Alison's Recipe: Turkey Meatloaf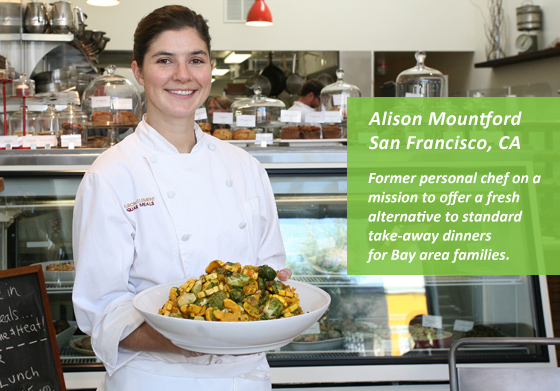 Chef Alison Mountford started her culinary career as a personal chef, but she soon realized she wanted to be able to offer her restaurant-quality meals to bigger audience. And so San Francisco, Calif.-based Square Meals was started in 2006 with the goal of elevating take-away food from greasy containers and unhealthy calorie splurges to wholesome meals and fresh, tasty dishes you can feel good about eating. And with the ability to deliver the cooked meals to your door throughout the week, Chef Mountford offers a gourmet edge to the big box meal delivery services such as Nutrisystem and Seattle Sutton's.
KELLY HENSEL: You studied anthropology at New York University. How did you end up at the California Culinary Academy?
ALISON MOUNTFORD: Well, I started cooking when I was in high school, just for fun and to experiment. It was just a creative outlet for me. My mom was always making cakes and gum paste flowers and all that kind of stuff. It just never occurred to me to be a chef. So, I went to New York to go to college, and I had no idea what I was going to do. Anthropology was just interesting to me.
After college, I moved to San Francisco for some adventure and for a change of scenery. I got a sales job and I was just kind of working for the man. But my love of cooking, and the amazing produce, and just the whole food world out here, it sort of all came together for the first time. And at that point—I think I was 23 or 24—I was trying to figure out what kind of career I was going to have. Everyone said just make what you love your career and I actually came across the idea of personal cheffing one day. As soon as I heard the idea of personal cheffing, I literally quit my job the same day and started culinary school the following week.
HENSEL: How did you go from being a personal chef to deciding that there was a need in San Francisco for something like Square Meals?
MOUNTFORD: It was actually a very natural progression. With personal cheffing, I could only have one client a day and I just kept getting more and more requests and the idea of maxing out at five clients didn't seem quite right to me. There was also a huge market that I wasn't reaching as a personal chef. It's such a commitment to hire a personal chef; it costs about $500 to have a personal chef come in to prepare one week's worth of food. So there were all these seniors, single people, and couples, who were willing to spend $15–20 a meal, but didn't need five nights' worth. I kept letting all of these potential clients slip through my fingers with the personal cheffing model.
That was when I thought, let's change this up a little bit. In addition, I had tired of working in people's homes. I missed the commercial kitchen environment and the convenience and the buzz of that. And personal cheffing just was not a scalable model. So after losing only a handful of clients, I thought, I have to change something here to reach these people. I moved to a commercial kitchen and started the meal delivery process. And from there, it's just grown pretty organically to the business being what it is today.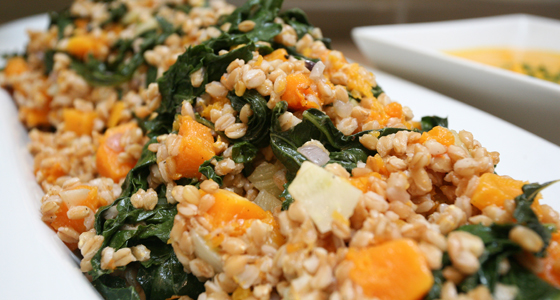 HENSEL: From your website, it seems like the goal of Square Meals is to offer something that is convenient like fast food but healthier and that leans more towards gourmet restaurant quality food. Was that always the goal that you had in mind or has it grown over the years to become that?
MOUNTFORD: A little bit of both. That's something that was always kind of the goal. It's actually become easier to do that as we get bigger and our sales increase. We have direct relationships with farmers now. So I'll order from them, they'll go out, literally, into the fields and cut down their product and deliver it to us that night for the next day. When I was smaller, that wasn't possible. To be able to compete with the restaurants in San Francisco and offer carrots from the same farm that the very best restaurants here are using, except in a friendlier environment where you're eating it at home and you don't have to pay $60 a person for a meal has become possible with this scale.
HENSEL: So you're charging around $15 to $20 per meal, is that right?
MOUNTFORD: Yeah, they're between $16 and $20, with the exception of seafood, which tends to spike a little bit. The ocean worries me in general, so we only use the most sustainable and the best seafood we can get. So it's expensive, but we found that's what people want. At least that's what a certain market of people want, especially those in San Francisco.
HENSEL: You focus on health, sustainability, and fresh local ingredients. Do you cater to any kind of health-specific nutrition needs? Gluten-free? Allergen-free?
MOUNTFORD: Absolutely. We tend to have between 20 and 25 different items on our menu every week. Everybody has to make their own dietary decisions. We're just really clear to label, "This is gluten-free," or "Our recipe doesn't contain gluten." We share our space with a bakery so there's flour flying around everywhere, but we'll let people know that there are nuts in this, eggs in this, or flour and breadcrumbs in this specific dish. So those types of items we label.
People can come in with their own decisions about what they need for their healthy lifestyle, and they can look at our menu and make the best decision for themselves. We don't try to prescribe any one thing to anybody. When I started doing this, everybody was into South Beach and Atkins and I haven't heard those two words in a long time. Now, it's all gluten-free.
We just try to be transparent with what goes in everything and then leave it up to people to make their own decisions. Or we have subscription clients who call and say, "Send me $100 worth of food every Monday and I can't eat nuts and I don't eat gluten." So we just pick out the dishes that match those needs for them.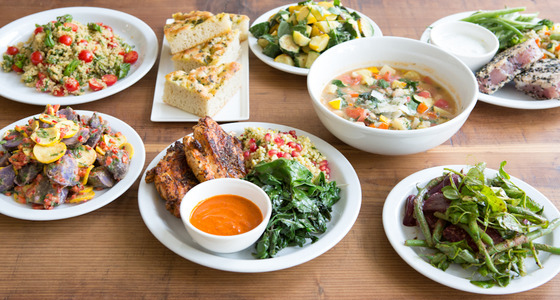 HENSEL: So how does the subscription process work? Do they fill out some kind of survey? Do they have to sign up for a whole month?
MOUNTFORD: We try to get them to sign up for a month, but we're not sticklers for it. If somebody calls and says, "I want to try your subscription service for a week." We're still happy to do it. And we have found that if they do try it for a week, the conversion rate is really, really high. We don't demand any amount of time, but it makes it really easy for them, as they work with us for a month and give us feedback on what they loved or maybe what wasn't a hit with their kids.
We keep a huge spreadsheet. And I actually have a director of operations who basically does all of the customer service, as well. So between us, we get to know these people—what they're eating; what they're heating up; what they're eating cold; what their kids are trying for the first time; what does and doesn't work for them. And we keep notes on every bit of feedback they ever give us. So we actually know them; we refer to their last names and we go, "Oh, so and so isn't ordering this week." Or, "Joe Smith said he's tired of potatoes."
It's actually one of my favorite parts of the business because it does get back to my background as a personal chef. And when people call in and say, "This is Susan and we love this and that." We know about her. So we do have a relationship with her and I think that's what makes us different from some of the other meal delivery options that are out there. We are sort of the hybrid personal chef with the convenience of meal delivery.
So when they first want to order a subscription, we do have an intake form that we have them fill out. And we go from there, just customizing it each week as they give us feedback.
HENSEL: And can they choose how many meals they want per week, as a part of that subscription? Is that a range as well?
MOUNTFORD: Absolutely. They could say, I'm a single person, we're a couple, we have seven kids, or whatever it is, and we give them the right amount of food. They can add on to—or a la carte—a piece of fish each week, they could add on a salad for dinner, or for lunch. Whatever else they're looking to add on to customize their package and then we usually just have their credit card on file and charge it each week. If they go on vacation, they just put it on pause.
HENSEL: So you have your subscription clients and you have the ones ordering maybe once or twice a month for a couple dinners. How would you say your sales are divided up? Is it 50% on-off clients, 50% subscription clients?
MOUNTFORD: Of the total meal delivery program, it probably is close to 50/50. We do a lot of catering, as well. And then we have walk-ins to our store. Our restaurant feels kind of like a deli when you come in, with the big glass case and everything. So overall, probably 40% of our total sales is actually catering. But all of our meal delivery sales, I would say it's pretty close to 50/50. We have people who order weekly, where they actually go online and choose their own menu. We still consider them regulars, because we still know their name and we see them almost every week or two or three times a month. But the subscription clients are probably about half.
We've only been doing the subscription service for about a year, so we're just really seeing it grow. As meal delivery becomes a bigger trend, people are actually at home going, "I need a meal delivery service." We're seeing the number of subscription clients increase, so I actually think that's one of our biggest areas of potential growth going forward.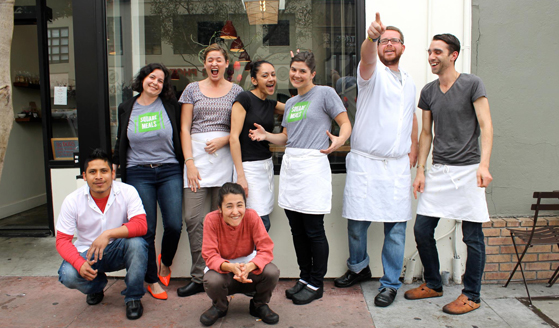 HENSEL: Is your storefront the same location that you prepare and cook all the delivery meals?
MOUNTFORD: Yes, that's where we do everything. And that was, really, the purpose of it. The meal delivery program was great out of a shared commissary kitchen, which is where I was prior to this. And that's what a lot of my meal delivery competitors do, as well. They work out of shared kitchens. But I wanted a space where people could actually come in. It's all open; we tore down all the walls, so you can see when we get deliveries from the farm, you can see people breaking down lamb or produce or whatever it is. People will come in and actually experience us working. I wanted a home base where I got to decide what went on every shelf and what kind of equipment we had. It just seemed like the next step for taking it to the next level.
HENSEL: And do you get people who may not order online in time, but stop by the store to pick an item up for dinner?
MOUNTFORD: Absolutely. And we're in a great little shopping district that's just becoming more and more vibrant. We get a lot of foot traffic and people will come in and work on their computers all day long. And we'll get people who come down every night. A mom and her kids will come in, they'll pick out dinner, and get a cookie. We see some of the same people stopping by every day. So that's actually a really fun aspect of the business, as well.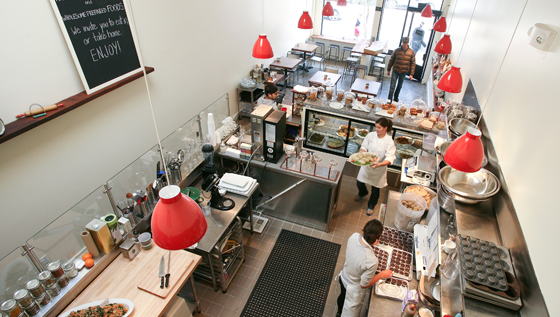 HENSEL: Meal delivery services aren't new. After all, Nutrisystem was founded in 1972 and is still raking in about $445 million in annual sales today. What sets Square Meals apart from these kinds of companies? Who do you see as your competition?
MOUNTFORD: There are a lot of places popping up. One of our biggest competitors is actually a place called Bi-Rite Market, which is a San Francisco institution, really. They're actually a little bit more of a grocery store, but they have a well-regarded prepared food aspect. So it's weird because they don't do delivery, but they've been around long enough and they have two locations and everybody knows about them, so in terms of picking up high quality, prepared foods with farm ingredients, they are absolutely a competitor. There are some new meal delivery services popping up that you can actually order the same day and they'll deliver it to you an hour or two later.
Actually a friend of mine has a business called Luke's Local and he's kind of been doing these different meal boxes. He'll actually deliver raw eggs, bread, and apples to you, with your prepared meal. So his business is a little bit different than mine. But he's still cooking great quality food and I think we do go kind of neck and neck. That said, the target market is a little bit different.
But now there are all these smaller delivery services too. There's one called Munchery that just popped up. The price point is lower and I won't say anything about what produce they're using, but I would suspect that they are not actually using the exact same type of produce as us. The line starts getting pretty blurry there. How are they selling meals for $10? I don't really know. But, that said, they're a convenient company and their packaging is nice. I've never ordered their food, but it always looks good. So that sort of competitor is becoming more and more popular, where they're selling meals for like $10 or $12 and they'll deliver right to your house, immediately. I am not too worried because I think if people do their research, and they want what Square Meals is selling, they'll see the difference pretty clearly.
HENSEL: You mentioned your target market. Who, exactly, is Square Meals target market?
MOUNTFORD: Number one, I think, is dual income families. Mom and dad both work, they tend to have kids under the age of 10. They both go to work, they come home between 5 and 6 p.m., and they have the means to have meals coming in. They'd rather spend time with their kids than cook. The interesting thing that I've found over the years is that our best clients actually do like to cook, but they do it on the weekends or only once or twice a week. So when they're not cooking themselves, they come to us because they trust what we're putting in the food and our process. They just don't have time. They are just really busy, young families.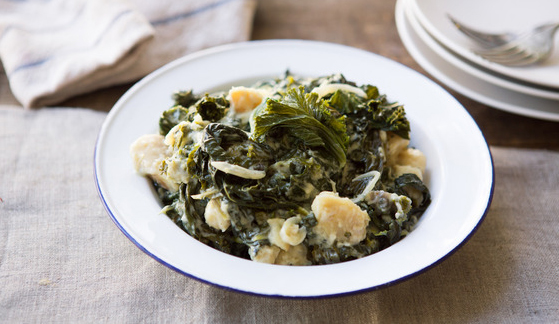 HENSEL: You said you have 20–25 items on the menu every week. Do you change all or just some of those items on a weekly basis? Do you have some that are standards, so they remain on the menu all the time?
MOUNTFORD: We have a little bit of both. We do these seared polenta fries that we have every week. We also have roasted sweet potatoes, a vegetable packed turkey meatloaf with a tomato barbeque glaze, and then we have a white bean and kale soup. We have those items every single week. We also always have a quinoa salad. We always have a dark leafy green prepared in some way. It might be kale this week and it might be chard with pine nuts and currants next week. Then, it might be bok choy with a spicy sesame dressing the following week. But there's something that always fills the leafy green category.
We have a quinoa salad this week, we might have artichokes and miso roasted yams in it. And then next week, it'll have roasted apples, fennel, and pomegranate seeds. So it's a combination of sort of this formula of always hitting certain marks and then changing out the specific ingredients.
HENSEL: And that's based a lot on what's in season?
MOUNTFORD: Yes. So what we do with the farmers that we primarily get our vegetables from is they will mail us their availability list for each week. So when we plan our menu, we actually pull those lists up and sit down and plan the menu based on what they say they have. So if they have orange cauliflower coming in, we'll say, "Okay, what can we do with orange cauliflower?" And then we'll make a dish for it, rather than going, "Hmm, we need cauliflower. Where can we buy it?" We know we want what they're growing.
We have three different farms that we primarily source from. And then we have a more generic but organic produce company that fills in the gap with garlic, onions, and celery.
HENSEL: And how about your meat? Where do you get it from?
MOUNTFORD: It's really similar. We work with a small company called Biagio Artisan Meats. It's a family-run company and Michael, the owner, will call me up once a month and we'll plan out what we're going to do for the next weeks. He'll say, "I know I have some tenderloin coming in." Or, "We're going to have a bunch of beautiful short ribs. You should put those on the menu." So we kind of work with him and work out a month in advance of what he has coming and what is on his radar with his farmers and then that's what we sell.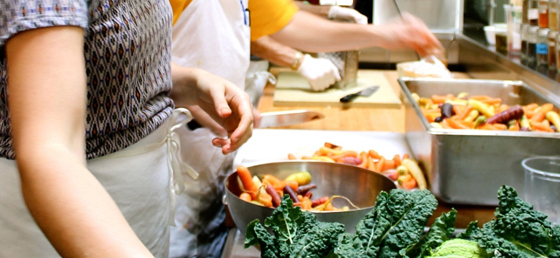 HENSEL: So a lot of your menu planning is based off of what you're getting in and what you know you're going to have in stock. How does that process work? Do you work with your other chefs to plan the menu? How long does it take?
MOUNTFORD: We've switched how we've been doing it in a lot of ways because our customers wanted more advance notice. We used to just do it every other week. But now once a month we'll sit down and we'll pull up all those lists that I talked about. It's me, the director of operations, and then my head chef, Adam. We talk about things that we've had recently, or dishes that we've done in the past and want to bring back. Usually it takes us an hour and a half to two hours. It's a pretty intense chunk of time.
Now that we have a full year at the restaurant under our belts, we have a binder that has everything we did last year. So we kind of refer back to that. At this point, I'm still in touch enough to remember how it went, what the dish looked like, and most of the clients.
And there are favorites. We do a pork schnitzel people always go crazy for. We've done this chicken that has prosciutto, a layer of gruyere, and a shallot and mustard sauce that always flies off the shelf. So every once in a while we'll bring back those things that we know people really, really like.
HENSEL: You just mentioned some of your customers' favorite meals. Are there any others that come to mind?
MOUNTFORD: Salmon is always huge. Our local pink salmon season just ended and in a couple weeks, people are going to start calling and going, "Why isn't there any salmon on the menu?" It won't come back until about April. From April until the middle of October, we do salmon almost every week because it's so delicious and so good. People just love it.
And the things we have every week—like the turkey meatloaf and the roasted sweet potatoes—are standards because so many families told me that their kids would eat that every single night. And it's got veggies in it. It's healthy, but it's still warming and cozy and delicious.
HENSEL: You mentioned that you have a head chef, Adam. Are you, yourself, still in the kitchen cooking meals?
MOUNTFORD: Well, my office is right above the kitchen. There have definitely been times in the past year where I look around and go, "I created an office job for myself." It's definitely a weird moment. I'm still writing a lot of the recipes, as sort of the head menu planner. Adam and I work really, really closely together. So he sort of executes my ideas. I don't actually have kitchen shifts.
At certain times of the year—around the holidays, for example—when we're doing a lot of catering, I will definitely pitch in and spend more hours in the kitchen. If somebody is sick or for whatever reason we're extra busy and I couldn't get an extra cook to come in, I will kind of take over a shift. But if you look at our kitchen schedule, I am not on it anymore. But that's new. That started really, just over this past summer.
In the past two years, the business has grown probably four times what it was the year before that.
HENSEL: Wow, that's a good indication.
MOUNTFORD: Yeah, it is. I've been saying for years that when meal delivery is the thing and people are actually looking for meal deliverers, then we get into competition instead of me trying to explain to people what I do all the time. So that change has been really cool and I've been looking forward to that for quite a while.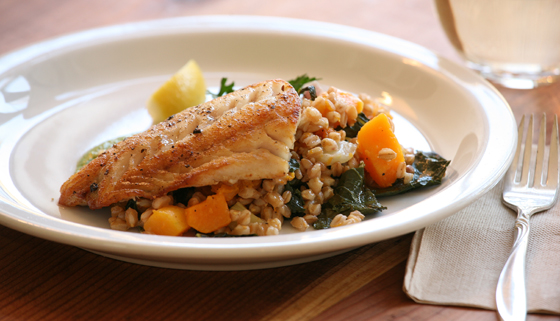 HENSEL: Are there certain ingredients that you shy away from due to the fact that the meals will undergo reheating?
MOUNTFORD: Yeah, a lot of seafood especially. We never use shrimp. We never use kelp. Things like that just aren't going to reheat. Salmon is great because we can just heat it and pretty much sell it almost raw, except for a nice crust on top. And then people have a little room to reheat it at home. We're always really careful, like when we do sautéed greens or something like sautéed spinach. It's green and really vibrant, so we definitely are really careful to either very lightly cook it, or serve it almost raw. That way when people heat it at home it will still be bright and vibrant.
It's hard to sell different stews and things like that. We do have stew-type items here and there, but things that are cold and don't look great on a platter when they're cold are challenging for us to sell. Also, items such as braised chicken is something that I really like, but it's actually challenging for us to sell and kind of get people to take it home and try it.
HENSEL: It has to obviously taste good when it's done reheating, but it has to look good before it's reheated so that people actually purchase it. That's got to be challenging.
MOUNTFORD: Yeah, it definitely is. A good example is something like our chicken noodle soup. When we make chicken noodle soup, if we put the noodles in right away they will sit there and get kind of soggy. So a lot of time we'll sell the chicken, the broth, and the vegetables in one container, and put a little container of noodles on top of it. When people get home with their instructions it will say to heat the soup and then add the noodles into it. We kind of deconstruct things when we're cooking them to make sure that when you get the dish at home it looks great and tastes great.
HENSEL: You mentioned the instructions that you give with the meals when you're delivering them. As we all know it's easy to destroy a meal's texture and flavors by nuking it too long. What are the accompanying instructions like? Do you perfect the instructions based on testing that you do?
MOUNTFORD: Absolutely. For a really long time I brought home a portion of everything that I sold, and basically that's what my husband and I ate. So I would test out how long to heat the item. He doesn't cook at all, so I would make him heat it because he's super uncomfortable in the kitchen. I'd say, "Heat this up and let's see what it looks like when you're done with it." So at this point I feel like I've done a lot of that testing, trial and error over the years. I have a database of probably every menu and heating instructions I've served for six or seven years on a disk. We have that database to pull from now.
We prefer for our customers to reheat our items in the oven. Maybe some items in a sauce pot, but people don't like to have to use pots. They feel like they're cooking then. So we have people put most things in the oven, except for a handful of items. And then the things that I think will heat fine in the microwave, we'll put a little note on there that says this will be okay in the microwave. Something like soup or rice heat up really well in the microwave. But I would prefer that if you're buying a chicken breast or something like that you do it in the oven rather than the microwave. With that said, I'm sure people just throw things in the microwave all the time.
HENSEL: And how long do most of your meals take for people to reheat?
MOUNTFORD: Well, one thing that I have found is that people will over heat it. So I've actually scaled back everything I recommend. If I were to heat it for 10 minutes at my house, I'll put eight on the heating instructions. As soon as I bumped that back, people were having more success with the heating instructions. We used to have people calling and saying, "This salmon was dry and overcooked." And I knew they weren't following the instructions, they left it in there too long.
And then everything we serve—like a chicken breast for example—can be eaten cold, because it's cooked all the way through. So that way even if it's under heated a little bit, there's not going to be any food danger. But most things I would say to heat up in about 8–12 minutes. And it's all inactive time.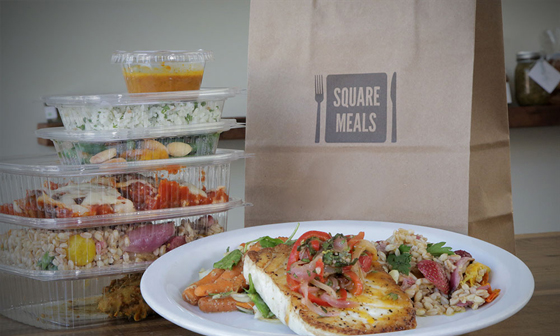 HENSEL: You're focusing a lot with your ingredients on local, fresh, and sustainable. Is there any kind of similar feeling towards what you choose for your packaging?
MOUNTFORD: Yes, we use fully compostable containers, except for our soup containers. San Francisco has a compost service with your garbage and recycling. We all have green bins to put compostable items in. All of the food scraps and our containers can go into the compost and then it gets picked up with our trash and recycling. In the restaurant, we are not allowed to use plastic—not even plastic bags. We have to use either paper or something biodegradable. So the city has partly mandated that for us, but we've extended that to containers.
We do have a very sympathetic audience for understanding how to work with the compostable containers, because the downside of them is that you can't heat them in any way. They will melt. We have a note on all of our containers that says: "These are compostable and they will melt. Make sure you transfer your food out of this container before heating." So even if you're microwaving your meal you have to transfer it into something else. For our soup containers we do use plastic, but we use the hardy plastic, like deli-type containers, and we recommend that people wash them out and reuse them.
HENSEL: And the containers, are they all one size, or do you have family-size containers?
MOUNTFORD: This is actually something that we do different from every other meal delivery service I've encountered in San Francisco. We package food family style. So if you're a couple and you're getting food, or even you're a single person and you get food, each part of the dish is in a different container. So if you order chicken dinner with rice, kale, and a sauce, you're going to get a container for each part of that dish. The containers will get bigger as you order one portion, two portions, five portions, seven portions, whatever it is. We do have three sizes of containers, so I think we can probably fit food for about four or five people in our biggest container.
Most other meal delivery services package TV dinner style is how I always refer to it. So you get everything nestled into one container. For me that doesn't make sense because if you're a family of four, you're going to open four containers and have to pluck the chicken out of each one, and then put the potatoes together. I do think that's one of the biggest things that we do differently, and I think that's why we target families.
HENSEL: We've talked a little bit about how meal delivery services seem to be popping up everywhere now. Where do you see meal delivery services headed in the future? Do you think that they're going to eventually replace grocery stores or regular shopping?
MOUNTFORD: Well, I do see more little markets popping up where they have a really nice prepared foods section. So I think that's one part of it—it's essentially the meal delivery without delivery. On the other side, I've seen a lot of grocery stores that are now delivering, as well. So, it's sort of a combination, like my friend's service that I mentioned earlier, where he delivers a prepared meal and eggs, and bread, and apples, and things like that.
There's a new service called Good Eggs that opened about a year ago in San Francisco. Basically, it's a logistical hub to get all of these other things, products, whether it's prepared foods, or juices, or just organically grown apples from a small farm. You can go on to their online grocery store, order everything you want, and then have it delivered. We've actually been working with them. So, if you want to order Square Meal's turkey meatloaf, but also eggs, you can do that through this company Good Eggs.
It's taken off like wildfire. I've been hearing of more services like that. I'm seeing more and more people thinking about and trying meal delivery services. And once they do, they really like it. So I do think it will become more standard, especially as there are more options. As we see more companies popping up, I think that shows how much more demand there is it for it.
With that said, I think cooking in itself is also trendy. There's this revitalization of people wanting to cook for themselves at home. So I don't think meal delivery services will ever replace grocery stores, but I do think some hybrid of cooking for yourself a couple times a week, and then getting prepared meals, whether they're from a location or delivered, I think we'll start seeing that that's much more the norm.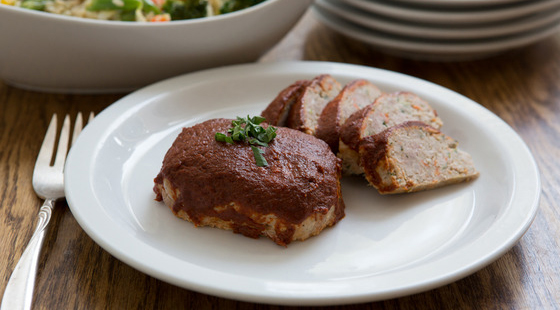 Alison's Recipe: Turkey Meatloaf
Ingredients
1 lb ground turkey breast
1 cup cottage cheese
2 eggs
½ cup grated zucchini (Use a box grater, skin and all)
½ cup grated carrots (Use a box grater)
½ of a red onion, very finely chopped
1 tbsp Dijon mustard
2 tbsp Worcestershire sauce
½ cup chopped mixed herbs: chives, parsley, thyme
1–2 cups breadcrumbs (I like panko or make our own with dry sourdough)
1 tsp salt
Few cranks of cracked black pepper
Barbeque sauce to cover (High quality store bought or your favorite homemade)
1 cup of pureed canned whole tomatoes and juice
Directions
Prepare sauce. Whisk together 1 cup of tomato and 2 cups barbeque sauce. Bring to a gentle simmer and set aside.
Whisk together the cottage cheese, Dijon, and eggs until smooth.
Add breadcrumbs to the wet mixture. Let it sit for about 10 minutes until bread crumbs are absorbed into the liquid.
Add the grated vegetables to the mixture and stir.
Combine ground turkey with vegetable/egg mixture and fold until well combined, breaking up the meat and combining well.
Divide into 4 patties. Shape into oblong rectangles that are 2 inches tall. I like to shape them free form on a lined baking sheet so the edges get nice and crispy.
Bake for 10 minutes, then remove and cover completely with sauce. Return to the oven and bake for an additional 16 minutes.
Top with chopped parsley and enjoy!