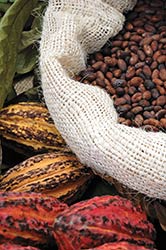 In what is being called an "unprecedented sustainability strategy" by the World Cocoa Foundation (WCF), senior executives from 12 of the world's largest chocolate and cocoa companies in May 2014 signed an agreement with the Ivory Coast government to develop ways to make cocoa farming in the country sustainable.
Called CocoaAction, the initiative calls on industry members and the government of Ivory Coast to improve the economic viability of cocoa farming by providing farmers with ways to enhance productivity and invest in interventions to improve the local communities. The companies that have voluntarily joined CocoaAction are ADM, Armajaro, Barry Callebaut, Blommer Chocolate Co., Cargill, Ecom, Ferrero, The Hershey Co., Mars Inc., Mondelez International, Nestlé, and Olam International Ltd.
"This alignment of objectives, commitment of resources, and sharing of best practices is the type of transformative initiative that will really help famers become more productive and secure the future of cocoa," reports Barry Parkin, WCF's newly appointed Chairman and Chief Sustainability Officer at Mars Inc., in a press statement announcing the new sustainability plan. "While it represents a new way for the industry to work with origin countries, it also builds on the strong existing relationships with them."
Many food and beverage companies are ramping up their sustainability efforts in areas like water usage and energy consumption. Running as sustainable an operation as possible, including helping farmers of commodity products like cocoa, has become part of the business model for companies. The WCF points out that declining soil fertility, lack of knowledge about good agricultural practices, and increased competition from other cash crops have stretched thin the cocoa supply chain in West Africa and put farmers and their families in the position of economic decline, all contributing to the weakening supply of cocoa. This will make meeting the growing demands for chocolate even more challenging. CocoaAction, which will be coordinated by the WCF, is an ambitious effort expected to reach at least 200,000 farmers in Ivory Coast and the communities in which they live by 2020 and will also benefit at least 100,000 farmers in the neighboring country of Ghana, another player in the world's cocoa market, according to the WCF. The organization also emphasizes that the initiative is different than others in that industry leaders and government officials from Ivory Coast have worked together to propose the objectives and actions that affect cocoa sustainability efforts. This cooperation among the companies and government, reports the WCF, is dedicated to providing improved planting materials and training to cocoa farmers and promoting education, child labor monitoring and remediation, and activities to advance women's empowerment to foster community development.
Terrance O'Day, Senior Vice President and Chief Supply Chain Officer for The Hershey Co., says that a sustainable supply of cocoa that is ethically grown is important to the global chocolate and cocoa industry and that the CocoaAction program is a way for cocoa and chocolate industry leaders to improve the livelihood of cocoa farmers. "It's a major breakthrough for key members of the industry to come together and work as a group to solve the challenges facing cocoa farming in West Africa and achieve our mutual sustainability objectives," says O'Day in a company press statement.
Over the years, chocolate companies have instituted their own sustainability programs that aid cocoa famers, empower women, and institute better agricultural practices, and companies such as Mondelez International will continue to invest in them. However, a program like CocoaAction will allow the major companies in the cocoa and chocolate industry to collaborate and share knowledge to improve the industry in ways that individual companies may not. As Bharat Puri, President Global Chocolate, Gum, and Candy for Mondelez International has said in a company statement about the CocoaAction program, "We believe in the power of major chocolate and cocoa companies working together to maximize the industry's ability to create thriving cocoa communities and help secure the future of the cocoa industry."

Karen Nachay,
Senior Associate Editor
[email protected]