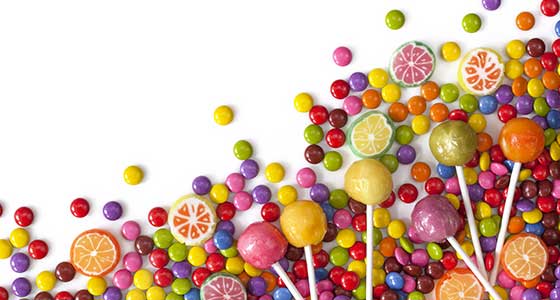 Everyone has a favorite candy. Whether it is a tropical fruit–flavored hard candy, a creamy chocolate or caramel, or an ultra-sour gummy candy, we all have a product that satisfies our sweet tooth. Confectionery manufacturers continue to innovate so that their product is the creamiest caramel, richest chocolate, brightest colored, the most intensely flavored, and so on. They also differentiate their products by adding shimmering effects; introducing new flavors, textures, and shapes; using different ways to package the products; and tying in products with the latest popular movies, television shows, and games. And for good reason too; there is plenty of competition in the candy industry.
Confectionery is such a wide and varied topic that an entire issue of Food Technology could cover specific product categories, new product trends and culinary applications, ingredients, processing, and packaging, and even then it would probably miss something. This month's Ingredients column will review a few of the noteworthy innovations in ingredient and product development for confections with a focus on some of the newest confections to debut at the National Confectioners Association (NCA) 2014 Sweets & Snacks Expo held in May.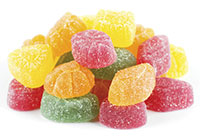 Pucker Up: Sourness Gets More Intense
Jelly-like, sugar-coated confections are popular and come in a range of flavors from fruit to sour. In some cases, the pieces are coated with a blend of sugar and acid powders that gives the finished product varying sour tastes depending on the type of acid or acids used. Corbion, Diemen, the Netherlands (
www.corbion.com
), through its Corbion Purac division, offers
PURAC® Powder MA
malic acid coated with sodium hydrogen malate for use in acid-sanded applications, particularly those that are extremely sour.
The sodium hydrogen malate coating used on the malic acid does not attract moisture, so acid-sanded candy remains dry, not sticky, and does not have an unattractive "wet" look that consumers do not desire from this type of candy, remarks Hans Schinck, Category Manager at Corbion Purac. The coating, which is partially neutralized malic acid, has a level of sourness that is instantly released when consumed and is then followed by the release of the sour taste of the malic acid in the core of the coating. The sour taste is also improved by the fact that the coating minimizes the migration of acid powder into the candy thereby keeping more of it in the sanding sugar on the surface of the candy throughout the candy's shelf life. Some acid powders used in sanding sugars are coated in fats, and this poses challenges like a less-intense sour taste when a thick coating of fat is used or a greater migration of acid into the candy base when a thin coating of fat is used, explains Schinck. And, of course, fats can go rancid over time, resulting in off flavors.
"The biggest trend we see in these sanded confectionery products is an increase in extreme sourness," says Schinck. Manufacturers of these products can blend different acid powders to achieve the desired intensity and duration of sour taste, as each acid powder has different attributes. Citric acid is very high in intensity and very short in lasting time, malic acid is a little less intense and slightly longer lasting, and lactic acid has a low sour intensity but is longer lasting, explains Schinck. "So you can imagine that by playing with different acid powders, these producers of acid-sanded confectionery can actually create different taste profiles in their acid-sanded candy." He adds that the company is also experimenting with and developing malic acid powders using the sodium hydrogen malate in different ratios to the malic acid core to find those that are more extreme in taste with acceptable stability for confectionery producers.
--- PAGE BREAK ---
Ancient Ingredient Gets Modern Makeover
When we think of candy, especially candy that is promoted as decadent and indulgent, we often think of chocolate. Chocolate confections come in many varieties, including bars, truffles, fudge, fillings, coatings, and more. But this was not always the case. Chocolate comes from the cacao tree, a plant indigenous to the region between southern Mexico and the Amazon basin, which produces pods that contain seeds that are eventually processed into chocolate. Researchers believe that the Mayan people who lived throughout parts of what is now Central America would grind the seeds into a paste, often adding a type of cornmeal, chili peppers, vanilla, and other ingredients; dilute the paste; and then pour the liquid from one container to another to form a froth on top of the beverage (Davidson, 2002). Later, the Aztecs added their own touch to the beverage by sweetening it with honey. It is also believed that they added leaves, seeds, petals, flowers, and herbs to the concoction.
A lot has been learned about cacao since the Mayans' first chocolate beverage. Today, researchers examine the potential health effects of chocolate, ingredient manufacturers continue to keep up with producing an array of chocolate and cocoa ingredients, and product developers and culinary professionals create new and exciting chocolate confections.
Chocolate confectionery includes products that are made entirely out of chocolate or are made with a chocolate coating or filling. Manufacturers like Barry Callebaut, Zurich, Switzerland, Cargill, Wayzata, Minn. (www.cargill.com), Blommer Chocolate Co., Chicago, Ill. (www.blommer.com), and ADM, Decatur, Ill. (www.adm.com), supply confectioners with chocolate and cocoa ingredients like cocoa powders, chocolate coatings, milk and dark chocolate chunks, drops, chips, and more in a variety of cocoa percentages to give flavor options that range from sweet to bitter. Many of these ingredients are available in Fair Trade Certified, Rainforest Alliance Certified, and USDA Organic Certified versions to help manufacturers meet the growing demand for chocolate products that are made with cocoa ingredients grown and managed under sustainable methods.
Confectionery manufacturers recently introduced a number of chocolate and chocolate-based confections that include the aforementioned organic and sustainable ingredients as well as limited-time offerings and chocolate candy made with a range of sweet and savory, crunchy, and chewy ingredients. Alter Eco, San Francisco, Calif. (www.alterecofoods.com), introduced at the NCA Expo its Dark Salted Brown Butter and Deep Dark Sea Salt Fair Trade Certified and certified organic chocolate bars for chocolate lovers throughout the United States. For the Dark Salted Brown Butter bar, the company uses butter made from milk from grass-fed cows for the brown butter ingredient that is blended with what the company calls a "tangy-malty" 70% cacao chocolate. The company is also borrowing from bakery, where chefs and home bakers have been using brown butter in baked goods, and it reports that its chocolate bar is the first to incorporate brown butter in the formulation. To create a sweet-savory combination in its Deep Dark Sea Salt chocolate bar, the company added Fleur de Sel Guerande sea salt—one of just a few hand-harvested sea salts—with 70% cacao chocolate.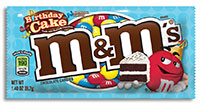 Mars Chocolate North America, Hackettstown, N.J. (www.mars.com), is best known for candy classics Snickers®, Twix®, Milky Way®, M&M'S®, and 3 Musketeers® and often creates line extensions of these by formulating with classic ingredients like peanut butter, marshmallow, mint, and almonds. It even infused birthday cake flavor into milk chocolate for the new M&M'S Brand Birthday Cake Chocolate Candies. The company is also known for developing limited-time, seasonal products, several of which it introduced at the NCA Expo. Candy lovers can expect to see Twix Brand Ghost Singles, M&M'S Brand White Chocolate Candy Corn Minis, and Milky Way Brand Caramel Apple Minis during the fall 2014 season and Twix Brand Gingerbread for the 2014 Christmas season.
Finally, Chuao Chocolatier, San Diego, Calif. (www.ChuaoChocolatier.com), illustrates how a chocolate manufacturer takes a variety of ingredients to create chocolate bars with intriguing combinations of flavors and textures. Two of the company's newest chocolate bars are Oh My S'Mores!, which blend marshmallows, crispy honey graham cracker pieces, and milk chocolate, and Pretzel Toffee Twirl, a combination of crunchy pretzel bits, buttery toffee, and dark chocolate. These bars join a lineup that includes Potato Chip (potato chips, sea salt, and milk chocolate); Maple Bacon (bacon, maple syrup, smoked sea salt, and milk chocolate); Firecracker (chipotle, sea salt, popping candy pieces, and dark chocolate); Salted Chocolate Crunch (toasted breadcrumbs, sea salt, and dark chocolate); Pop Corn Pop (puffed whole grains, toasted corn chips, popping candy, sea salt, and milk chocolate); and Spicy Maya (cinnamon, pasilla chile, cayenne, and dark chocolate).
--- PAGE BREAK ---
A Growing Spectrum of Colorful Candies
Walk through the candy aisle at grocery and convenience stores and there is no shortage of brightly colored confections, some that even sport coatings with additional eye-catching appeal like glimmer and pearlescent effects. Jelly Belly Candy Co., Fairfield, Calif. (www.jellybelly.com), recently expanded its line of Jelly Belly® Jewel Collection with two products: Ginger Ale, which has a shimmering amber-gold color that the company reports represents color trends in fashion and home décor, and Grape Soda, which is a jelly bean with a purple iridescent finish.
A number of ingredients make effects like these and others possible. A mica-based pigment, Sensipearl™ from Sensient Colors LLC, St. Louis, Mo. (www.sensientfoodcolors.com), can be used to create iridescent shimmers with a luster effect for hard candy, candy chews, panned candy, gummy candy, and chewing gum. Spectraflecks™ and Spectraflecks Shapes are colored film particulates based on gum arabic that add burst of colors to panned candy, hard candy, compound coating, and chocolate. Prills are small, spherical shapes based on an oil/wax carrier. These colorful particles add appeal to hard candy, compound coatings (topical), and chocolates (topical). Finally, Sensient offers Color Crystals™, non-uniform-shaped particles that consumers might be familiar with in certain chewing gums. They are also used in hard candy, compound coating, and licorice applications.
Another trend in the confectionery industry is the use of naturally derived colorings to give consumers the option of confections formulated with naturally derived ingredients. Oftentimes, these confections formulated with naturally derived ingredients are also organic, formulated without artificial flavorings or colorings, or marketed as better-for-you like Goody Good Stuff gummy candies from Goody Good Stuff, Lancashire, UK (http://goodygoodstuff.com); GoOrganic™ fruit chews and hard candies from Hillside Candy, Hillside, N.J. (http://hillsidecandy.com); and TruJoy™ Sweets Organic Fruit Chews and Organic Choco Chews from TruSweets, Wheeling, Ill. (http://trusweets.com).
Ingredient manufacturers that produce color additives offer a wide selection of naturally derived coloring ingredients to meet the demands of consumers who want products made from naturally derived ingredients and ingredients that have recognizable names when listed on ingredient statements. "The confectionery industry is experiencing a significant shift toward the use of natural colors in an industry where artificial colors have traditionally dominated," says Carol Locey, Director Product Management-Colors for Kalsec®, Kalamazoo, Mich. (www.kalsec.com). "The natural colors market is a significant share of the overall international colors market, and natural colors can be found in many mainstream foods and beverages across a variety of applications." But the switch to naturally derived colorings is not one of the simplest formulation changes to make in confectionery manufacturing. "In the past, there were misconceptions that natural colors were significantly inferior to synthetic colors; however, as technology expands, natural color suppliers continue to improve their pigments and supply the industry with suitable alternatives," says Locey. "While synthetic colors are robust, they too can fall victim to the typical stresses from food processing such as heat, light, and other formulating ingredients."
Overall, technological and ingredient sourcing advancements have significantly improved properties of naturally derived colorings, but some challenges remain. Naturally derived colorings are made from pigment compounds of plant sources and can degrade as a result of the acidic environment of hard candies and the high heat used to process them, says Scott Ondrasek, Food Science Chemist with D.D. Williamson, Louisville, Ky. (www.ddwcolor.com). Heat is less of a concern for jelly candies, taffy, and chewing gum, he adds, because the coloring can be added at a point in the process when the product has cooled down a bit. In high-fat applications like chocolate, white chocolate, and compound coatings, food formulators need to use oil-soluble colorings. A lot of the naturally derived colorings that are oil-soluble are hues of orange and yellow, and it is difficult to find ones that are hues of red, purple, brown, blue, and green, explains Ondrasek. "You will either need to emulsify them to get them into the oil-dispersible phase, or you will need to keep searching for new sources of those types of colors."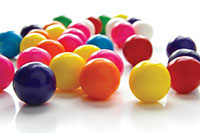 To solve these challenges and more, D.D. Williamson has developed a number of technologies and ingredients, says Ondrasek. The company's oil-dispersible technology is a proprietary method of adding water-soluble colorings to oil-based applications like compound coatings and others that do not have much added moisture in them. The company also developed a spirulina extract that is more light-stable than other spirulina extracts, which it showcased at the 2014 IFT Annual Meeting & Food Expo. Advancements are being made in improving the heat- and acid-stability of naturally derived colorings, especially red hues, for hard candy and reducing color migration and transfer in panned candy.
--- PAGE BREAK ---
Kalsec derives its colorings from vegetable and spice sources for use in confectionery products from gummies to cream fillings in chocolates to hard candies, boiled sweets, and suckers, remarks Locey. "Through careful selection of high-stability pigments and Kalsec's patented Durabrite® stabilization technology, light- and heat-stable natural carotenoid colors can be developed." For example, the Durabrite technology is used to produce a light-stable pigment derived from carrot and color systems that can inhibit oxidation and degradation of carotenoid pigments while maintaining color and flavor quality, she says.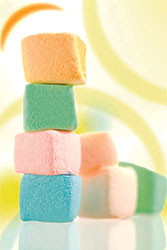 Taking Gummy Candies to a New Level of Sophistication
Confectionery products come in all shapes and textures. One of the ingredients used to help manufacturers create new textural experiences in jelly candy, aerated candy, fruit chews, toffee, and nougat is gelatin. Rousselot, Son, the Netherlands (www.rousselot.com), offers a range of gelatin grades from several raw material sources and demonstrates these in a number of new product concepts.
Rousselot cites a number of benefits that these gelatin ingredients offer confectionery manufacturers. Manufacturers can create confections with different textures and firmness characteristics by varying the gelatin content or replacing one gelatin with another variety of differing gel strength. Gelatin also has foaming, foam stabilizing, texturizing, binding, and emulsifying properties. It can be combined with other stabilizers or gelling agents to produce textures that range from short and brittle to hard and compact to less elastic.
Children love gummy candies, which are often fruit- or sour-flavored and shaped like bears or worms, and marshmallows, and Rousselot shows how these candies can be made into sophisticated treats that adults can enjoy. Tof'Gums™ is a toffee-flavored gummy that melts slowly in the mouth to release caramel flavors without a sticky or chewy texture. The gelatin links water molecules and stabilizes the structure, producing a candy with reduced sugar and fat content compared to traditional butter caramel candy. Its Synergy Systems™ ingredient solutions are combinations of different types of gelatin, or a specific gelatin and other ingredients that work synergistically, and are demonstrated in different types of product concepts. Bee Healthy™ gummy candy is formulated with collagen peptides and pea fiber. Heat-resistant gummies made with ResistaGel™ are more resistant to temperatures greater than 35°C (confections like gummies begin to melt at this temperature). AcidoGel™ blend of gelatin and pectin can produce stable acid marshmallows with flavors like citrus, grapefruit, and cola with a light and fluffy texture. Savory gummy candies in flavors like chili, goat cheese, and wasabi that are low-calorie, fat-free, and low-sodium are possible with NeutralGel™, a combination of gelatin and a specific type of pectin blended at a well-defined ratio.
Candy products run the range from sophisticated, indulgent chocolate truffles to brightly colored, intensely flavored chews. Product developers are creating candies with new flavors or flavor combinations, eye-catching colors, and other effects like sparkle and shimmer and interesting textures and also appealing to consumers who want their products to be made with naturally derived, gluten-free, or non-GMO ingredients. Year after year, these manufacturers never cease to amaze consumers with creative, imaginative, and playful confections.
Next month's Ingredients section will provide a recap of some of the ingredient innovations and product concepts presented at the 2014 IFT Annual Meeting & Food Expo.
--- PAGE BREAK ---
---
The Trendiest Chocolate Treats
With the global chocolate confectionery market expected to reach $91.3 billion in 2014, a 4% increase from 2013, according to market research firm Mintel, it is no wonder that manufacturers continue to innovate with ingredients like flavorings and inclusions to help their products stand out from the competition. Marcia Mogelonsky, Director of Insight, Food, and Drink for Mintel, recently compiled a top 10 list of global chocolate confectionery trends sure to inspire product developers to move beyond a basic chocolate bar (Mintel, 2014). Here are the trends—as named by Mogelonsky—that are influencing the chocolate confectionery market as well as some examples available in stores or featured at the National Confectioners Association 2014 Sweets & Snacks Expo.
• Chocolate and orange are two flavors that pair together quite well, but Mogelonsky notes that manufacturers are using other citrus in chocolate. She points out that chocolate products flavored with lemon have doubled over the past year globally and that some products feature combinations like lemon, yogurt, and pepper. New Tree America Inc. features another citrus flavor—lime—in its Lime Granola Milk Chocolate Bar.
• While chocolate is a mainstay ingredient in desserts, more and more chocolate confections are including desserts as "ingredients," explains Mogelonsky. For example, crème brûlée, tiramisu, milkshake, ice cream, and cake flavorings are used in chocolate confections. Godiva sells Ice Cream Parlor Truffles in flavors like Neapolitan, Cookie Dough, Lemon Sorbet, and Rocky Road.
• Mogelonsky says that using vegetables in chocolate is a niche trend with products showing up in parts of Asia. Some of these products include chocolate-covered edamame, wasabi-flavored chocolate, and, from Japanese manufacturer Mujirushi Ryohin, a purple sweet potato chocolate confection.
• Exotic tropical fruits have made their way into chocolate confections (chocolate-covered acai, for example). Strawberry, raspberry, and cherry are often included in chocolate products, but Mogelonsky notes other fruit additions such as peach are becoming popular. Chocolates with peach-flavored filling are available from Polish manufacturer Luximo Premium. Examples seen at the NCA Expo were Wonder Food Co.'s Coco Keeno™ Coco Mango and Coco Keeno Coco Pineapple.
• Hazelnut, almond, and peanut are the top nut ingredients in chocolate with pistachio and blends of nuts and nuts and other ingredients growing in popularity, according to Mintel. Wild Ophelia Chocolate showcased its Sweet Cherry Pecan bar at the NCA Expo.
• Not only are cereals like granola and muesli included in chocolate, but different grains and seeds are also adding their flavors and textures, according to the Mintel research. Seattle Chocolate produces Agave Quinoa Sesame in Milk Chocolate bar.
• Mintel researchers continue to see artisan chocolate and chocolate that promotes its source, but they notice how some of these chocolate products are also paired with a "taste profile" similar to the wine industry. One example Mogelonsky cites is Marou Ba Ria 76% Dark Chocolate from Vietnamese brand Marou, which is referred to as "a bold and fruity chocolate made from Trinitario cocoa, which is sourced directly from family-owned farms in Ba Ria province."
• Using floral flavorings and ingredients in chocolate confections continues to be seen in specialty brands, and Mogelonsky believes there is room for expansion. Rose and lavender are commonly used in these products, but other floral flavors like hibiscus are sprouting up in chocolate products like Wild Ophelia's Southern Hibiscus Peach Milk Chocolate Bar.
• In the course of monitoring new product launches, Mintel analysts have noted more white chocolate products coming online. Many of these pair white chocolate with various fillings and flavorings that include fruits, nuts, and savory ingredients like Gepa The Fair Trade Co.'s White Yogurt Chocolate with Mango & Coconut.
• Finally, consumers will continue to see chocolate used as a base for building and layering flavors, reports Mogelonsky. Wild Ophelia's Smokehouse BBQ Potato Chips Dark Chocolate Bar layers savory, spicy, and smoky BBQ seasoning on potato chips that are covered in dark chocolate. Vosges Haut-Chocolat blends Chinese star anise, fennel, absinthe, and dark chocolate in its Absinthe Exotic Truffle.
--- PAGE BREAK ---
---
Sweetening the Deal with Sugar Alternatives
Most confections are made with sugar, but a trip around the expo floor at the National Confectioners Association 2014 Sweets & Snacks Expo did yield a few manufacturers who offer reduced-sugar and sugar-free candies and chocolates. Polyols like sorbitol, xyliotol, mannitol, and others are a group of sugar substitutes used in such confections as sugar-free chewing gum, where they can be combined with non-nutritive sweeteners like acesulfame K and aspartame. Wrigley, Chicago, Ill. (
www.wrigley.com
), has several examples of this in its range of
Extra
and
Orbit
chewing gum products. One of the new exhibitors at the NCA Expo, Lily's Sweets, Santa Barbara, Calif. (
www.lilyssweets.com
), touts its products as "all natural." Instead of using non-nutritive sweeteners in the products, the company formulates no-sugar-added chocolate bars with stevia extract (and the polyol erythritol) as a "natural way to sweeten foods and beverages without the added calories of sugar," according to the company's website. Ingredient manufacturers like Healthco, Bloomingdale, Ill. (
www.healthco-intl.com
), and Steviva Brands Inc., Portland, Ore. (
www.steviva.com
), offer stevia and stevia-blended ingredients to manufacturers who want to produce confections with so-called consumer-friendly ingredient labels. Healthco's division of NOW
®
Foods manufactures
Stevia FSA
™
Sweetener
made from glucosyl stevio-side, an enzymatically enhanced extract of stevia. Steviva Brands produces
Steviva
Blend
, a proprietary blend of
SteviaSweet
95–60
(95% minimum steviol glycosides and 60% minimum rebaudioside A) and a naturally fermented erythritol with heat stability, high solubility, a sweetness profile that is rounded and full, and a mouthfeel similar to sugar, according to the company.
---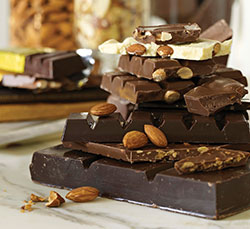 Confectioners Go Nuts for Almonds
Nuts and the legume peanuts are well-established as go-to inclusions in confections. Peanut butter and chocolate and peanuts and chocolate have been one of the classic combinations in confectionery ever since Hershey's combined peanut butter and chocolate in Reese's Peanut Butter Cups and Mars included chopped peanuts in its Snickers bar. Other nuts and nut ingredients are now just as popular, with 65% of global consumers saying that they prefer chocolate products with nuts, according to the Almond Board of California, Modesto, Calif. (www.almonds.com). These consumers, the organization adds, say that they are more likely to buy chocolate with almonds than without.

While the use of almonds in confectionery products is not new, the combination of textural attributes and nutritional benefits continue to make almonds a popular inclusion in confectionery products, explains Rich Holmes, Director of North American Sales for the Global Ingredients Division at Blue Diamond Almonds, Sacramento, Calif. (www.bdingredients.com). "Flavor is one way product developers can input creativity in their confections. From orange to honey to coconut, Blue Diamond offers a variety of flavored almonds that can add another dimension to a confectionery treat." For example, a flavored almond can function as a carrier to deliver that flavor to the finished product, he adds.
Other nut forms like chopped, powders, pastes, toasted, caramelized, and more offer various functionalities. "Just as flavor can add another dimension to a confectionery treat, the texture can take a product to a different level as well," remarks Holmes. "If a customer is looking for a smooth texture, they may use almond paste in a filling, but if they want major crunch in a confection such as a candy bar, split or chopped almonds will deliver a more powerful texture and taste experience." The Almond Board of California cites some examples of products that feature different almond forms like Ghirardelli Toffee Interlude with caramelized almonds, Rainbow Delizione with almond nougat, and NewTree with roasted almonds.
---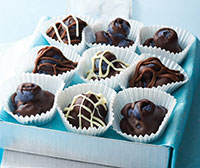 Fruit Enhances Confections
Inclusions like crisp rice, seeds, nuts, and fruit are added to confections like chocolate, caramel, and brittle for texture and flavor. Certain fruits like strawberries, blueberries, and raspberries pair especially well with chocolate, where they bring burst of fruit flavor to bars and clusters. Including fruits like blueberries in confections means that manufacturers can promote their product as "clean label" and highlight the nutritional benefits of the fruit and that consumers view the blueberries (and other fruits) as a value-added and healthy ingredient, according to the U.S. Highbush Blueberry Council, Folsom, Calif. (www.blueberrytech.org).
---
www.ift.org
Members Only: Read more about confectionery online at www.ift.org. Type the keyword into our search box at the upper right side of our home page.

Karen Nachay,
Senior Associate Editor
[email protected]