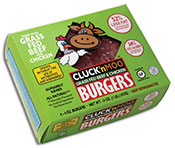 Hybrid burgers reduce fat
To alleviate his wife's guilt after eating delicious but greasy burgers,
Cluck 'n Moo's
creator invented a patty made from equal parts humanely raised hormone-free chicken and grass-fed beef. The resulting burgers cook quickly while staying moist thanks to the company's "smashing" method, which gently presses the ground meat together the way home cooks might hand form their own burgers.
"I think we accomplished something that doesn't happen very often," said Steve Gold, founder and CEO of parent company Cluck Inc. "I created a great-tasting product that is also healthy."
Each 4 oz patty provides 52% less fat, 34% fewer calories, and 57% less saturated fat than a regular all-beef burger, with 190 calories and 11 g of fat. The burgers, which are gluten- and preservative-free, are available at several New York metro food retailers, including Kings Food Markets, ShopRite, and Fairway Markets, as well as at Publix. The suggested retail price ranges from $7.99–$8.99 for a box of four.
---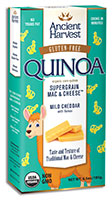 Gluten-free mac & cheese
Ancient Harvest launched its SuperGrain Mac & Cheese, a line of boxed macaroni and cheese made from organic, GMO-free quinoa sourced from Bolivia. Quinoa, which Ancient Harvest first brought to the United States in the 1980s, provides a good source of plant-based protein and a gluten-free alternative to wheat-based pastas.
"Driving new product innovation and building the Ancient Harvest brand has been an unbelievably rewarding experience," said Ancient Harvest CEO Blake Waltrip. "As consumers are faced with an increasing number of choices, the company's history, unwavering commitment to organic, gluten-free, and sustainably sourced ingredients is what sets us apart."
Shell-shaped pasta is paired with White Cheddar or Sharp Cheddar cheese, and a Mild Cheddar flavor comes in two forms: one features traditional noodles and the other adds a touch of fun with llama-shaped pasta. The mac & cheese can be found at natural food stores and supermarkets around the country with a suggested retail price of $4.29.
---

Energized OJ
Sunny Delight Beverages Co. announced the test market launch of its new SunnyD X, a sparkling juice drink that delivers a burst of energy without caffeine and taurine. Designed as an alternative to energy drinks, the carbonated beverage instead provides its jolt with carbohydrates and vitamins.
"SunnyD X offers more than the intense taste and 100% vitamin C you would expect—it also offers a different kind of pick me up—carbonated energy that is uniquely provided by a combination of three carbohydrates, as well as seven B vitamins to help metabolize the carbohydrates into energy," said Associate Marketing Director David Zellen.
The 16 oz drink is available in three flavors—orange, lemon lime, and fruit punch—for a suggested retail price of $1.89. It can currently be found at independent convenience stores and select grocery chains in Boston, Philadelphia, and Washington D.C.
---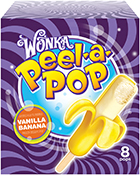 Peel-able frozen treats
Timed to coincide with the 50th anniversary of Roald Dahl's classic Charlie and the Chocolate Factory, Nestlé USA released its Wonka Peel-a-Pop frozen treats. Shaped like a banana, the unique pops feature an edible gummy peel that surrounds a vanilla-flavored frozen treat. The outside can be peeled away and eaten separately from the dairy-based frozen dessert or eaten together like a traditional frozen pop.
"At Wonka, making ordinary sweets isn't enough. Our mission is to bring the pure imagination of Willy Wonka to life with innovative treats," said Lisa Williams, Wonka Brand Manager. "Magically sweet Peel-a-Pop frozen treats deliver on the Wonka promise, offering a taste of unbridled fun to kids of all ages."
Available in grape or banana flavors, the frozen treats can be found nationwide at Wal-Mart, Target, Safeway, and Kroger for a suggested retail price of $4.29 for a box of eight.
---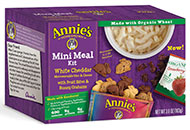 Meal and snack kits for busy days
Annie's introduced two new lines of boxed kits that combine several favorite snack and meal items. As part of Target's Made to Matter program, the Mini Meal Kits and Snack Kits will be available exclusively at that retailer for six months before launching everywhere.
"For busy parents, it can be a challenge to quickly put together a meal or snack that tastes great, your kids love, and you feel good about serving," said Sarah Bird, Chief Mom Officer for Annie's.
Both types of kits are available in three flavors, with one gluten-free option in each line. The Snack Kits provide 350–430 calories, and each one contains four snack packs. The Mini Meal Kits each pair a microwavable macaroni and cheese cup with similar snack items and contain 400–410 calories. Both products retail for a suggested price of $3.99.
---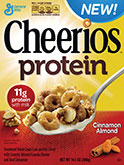 Cheerios adds protein
According to research from NPD Group, 57% of people seek protein benefits. General Mills hopes to answer that demand with its Cheerios Protein, a new version of the iconic cereal that packs 7 g of protein into each serving—11 g when consumed with skim milk. In comparison, original Cheerios provides 3 g per serving.
"Parents are looking for breakfast options that not only provide long-lasting energy, but also something their entire family will enjoy at times that are right for them," said Matt McQuinn, Senior Marketing Manager, Big G Cereal New Products.
Cheerios Protein also provides 13 vitamins and minerals, more than half the recommended daily value of whole grains, and 3–4 g of fiber. Available in two flavors, the cereal combines traditional Os with crunchy granola clusters. It can be found at retailers nationwide for a suggested retail price of $4.39.