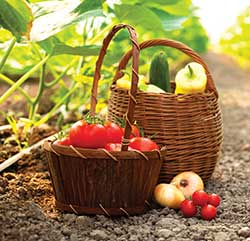 Shoppers willing to pay more for local food
Grocery shoppers in the U.S. are willing to pay more for local, according to a consumer shopping survey conducted by A.T. Kearney. Seventy percent of consumers who responded to the 2014 survey said they would be willing to pay a premium for local food. One-third said they would be willing to pay a 10% premium, up from a quarter in 2013.
In general, awareness of local food options has increased from 2013. Sixty-eight percent of respondents were aware that their supermarket offered local food, and availability appears to be increasing at those stores; the 2014 results showed a 10% decrease in respondents listing lack of availability as the reason they are not buying local. More than 40% of the respondents said they buy local food on a weekly basis, and an additional 28% do so once a month or more.
A majority of those surveyed have a more favorable opinion of retailers that carry local foods and would consider switching to find better options. In addition, the survey found that respondents have a lower perception of big-box retailers' ability to provide customers with fresh and local foods.
"Given that the research found a strong correlation between fresh and local, large retailers can build awareness of their fresh products simply by sourcing and marketing local products more," said James Rushing, A.T. Kearney partner and co-author of the study.
Discussing open date labeling issues
The players involved in manufacturing and regulating food must agree upon a uniform date labeling method to avoid marketplace confusion and reduce unnecessary food waste, according to an article published in Comprehensive Reviews in Food Science and Food Safety.
According to the article, the practice of open dating of food products has been employed for decades around the world in various forms, which can lead to confusion for consumers trying to determine what the dates mean and when to throw away "expired" food. To help prevent the waste of safe food—which also leads to unnecessary financial strain on the consumer— the authors provide sciencebased information about the history and challenges of date labeling to inspire stakeholders, including food manufacturers, government officials, and retailers, to work together to create more uniform labeling practices.
The full article, which includes a detailed discussion of the history of food labeling, can be viewed at http://onlinelibrary.wiley.com/enhanced/doi/10.1111/1541-4337.12086.
Protein blends better for muscle synthesis
Consuming a blend of proteins instead of just whey can prolong muscle building after resistance exercise, according to a study published in the online edition of the Journal of Applied Physiology. The blend of soy, casein, and whey has been shown to deliver certain amino acids to muscles for an hour longer than occurs with whey alone, and the net balance of amino acids also increased within leg muscle during early post-exercise recovery, suggesting an extended period of muscle building.
"This study sheds new light on how unique combinations of proteins, as opposed to single protein sources, are important for muscle recovery following exercise and help extend amino acid availability, further promoting muscle growth," said lead researcher Blake B. Rasmussen, Chair of the Dept. of Nutrition & Metabolism at the University of Texas Medical Branch.
The double-blind, randomized clinical trial included 16 healthy subjects aged 19–30 who consumed either a soy and dairy blend or a single protein beverage consisting of whey one hour after completing resistance exercise. This study, which was conducted by researchers from the University of Texas Medical Branch in collaboration with DuPont Nutrition & Health, affirms previously published research that found that blended protein sources can extend muscle protein synthesis when compared to whey alone.
"Because of the increased demand for high-quality protein, this study provides critical insight for the food industry as a whole, and the sports nutrition market in particular," said Greg Paul, Global Marketing Director, DuPont Nutrition & Health.
--- PAGE BREAK ---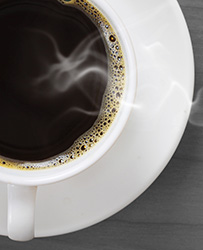 Coffee provides possible health benefits
Regular consumption of coffee may help drinkers avoid both diabetes and retinal damage, according to two recent studies.
In a study that appeared in Diabetologia, researchers discovered that men and women who increased their coffee consumption by more than one cup a day over a four-year period had an 11% lower risk of developing type 2 diabetes compared with participants who made no changes in their level of consumption. In addition, those who reduced their level of coffee intake by more than one cup a day over the same time period had a 17% higher risk.
Coffee consumption may also play a role in maintaining eye health, according to a study published in the Journal of Agricultural and Food Chemistry. Researchers found that prior exposure to chlorogenic acid, which is found in raw coffee, helped the retina stave off cell death under a variety of conditions and may help mitigate retinal degeneration and degradation associated with aging.
Diet soda may aid weight loss efforts
Consuming diet beverages has been shown to help dieters lose weight, according to new research published in Obesity. In the 303-participant study, which was funded by the American Beverage Association, people who consumed diet beverages actually lost more weight and reported feeling more full than those who drank water alone.
"This study clearly demonstrates diet beverages can in fact help people lose weight, directly countering myths in recent years that suggest the opposite effect—weight gain," said James O. Hill, Ph.D., Executive Director of the University of Colorado Anschutz Health and Wellness Center and a co-author of the study. "This reinforces if you're trying to shed pounds, you can enjoy diet beverages."
Over 12 weeks, participants were asked to drink either diet beverages or just water and otherwise followed the same diet and exercise regimen. The diet soda group lost an average of 44% more weight—13 pounds vs the 9 pounds the water drinkers lost—and showed significantly greater improvements in both total cholesterol and low-density lipoprotein—" bad"—cholesterol. Both groups reported reducing waist circumference and lowering blood pressure.
The study was conducted simultaneously by researchers at the University of Colorado and Temple University's Center for Obesity Research and Education in Philadelphia.
---
What's new with food companies
• German chemical company BASF announced plans to implement several measures intended to bolster the Performance Products segment within its Nutrition & Health division.
• Bella Four Bakery Inc., parent company of Nature's Bakery, acquired Missouri-based Theodoro Bakery.
• Cargill opened its Cocoa Technology Transfer Center, a training campus in Ba Ria Vung Tau, Vietnam, that will equip farmers in several provinces with the skills and techniques to produce sustainable cocoa. In Indonesia, it extended the Cargill Cocoa Promise to the Soppeng Regency of South Sulawesi Province and opened a cocoa processing plant in the East Java region.
• Ganeden Biotech has been issued a United States patent that protects the use of all strains of probiotic Bacillus coagulans, including its GanedenBC30, in coffee, tea, and cereal products.
• Organic and natural products company Hain Celestial Group Inc. acquired Rudi's Organic Bakery Inc., which produces organic and gluten-free foods.
• The Hershey Co. has extended its Learn to Grow program, which aims to improve living conditions for cocoa farmers, to encompass all of Ghana's cocoa-growing regions.
• Invisible Sentinel Inc. and Jackson Family Wines announced the development of a diagnostic array that detects Brettanomyces in wine.
• Kerry Group opened its new Regional Development & Application Centre in Durban, South Africa.
• Keurig Green Mountain expanded its partnership with Smuckers to include the production of K-cups for its coffee brands, which include Folgers and Millstone.
• Chocolate manufacturer Madecasse has partnered with Whole Foods to build a water system for 400 cocoa farmers in Madagascar.
• Mars Inc. has partnered with Sumitomo Corp. of Americas and BNB Renewable Energy to build a wind farm that will generate 100% of the company's electricity needs to run its U.S. operations.
• Mizkan Group will acquire the Ragu and Bertolli pasta sauce brands from Unilever subsidiary Conopco Inc.
• Mondelēz International is expanding its Cocoa Life sustainability program to promote gender equality and advance women's rights in cocoa farming in Ghana and Cote d'Ivoire. It also announced plans to combine its coffee business with that of D.E Master Blenders 1753 B.V.
• Naturex announced it will double its U.S. food and beverage operations when it acquires Chicago-based Vegetable Juices Inc.
• Novel Ingredient Services opened a new 40,000 sq ft manufacturing facility in East Hanover, N.J., that triples its blending capabilities.
• Stevia producer and marketer PureCircle announced that it has cut the carbon footprint of its products by 15% since last year.
• Salt of the Earth invested €1 million into a new, sophisticated automatic packaging production line to improve quality and expand packaging options.
• Snyder's-Lance Inc. announced that it will acquire Baptista's Bakery Inc. and sell Private Brands along with two manufacturing facilities in the U.S. and Canada to Shearer's Foods LLC.
• Superior Farms broke ground on a new lamb processing facility in Dixon, Calif., designed to reduce the company's total energy consumption by 45%.
• Symrise announced a partnership with nonprofit groups Global Nature Fund and the Union for Ethical BioTrade to preserve global biodiversity.
• Tall Tree Foods, a food holding company backed by Altamont Capital, acquired Milwaukee-based Klement Sausage Co.
• Truvía Co. has met its goals of reducing its carbon footprint and its waste by 50% ahead of its stated 2015 deadline.
• Australian food packaging company tna acquired FOODesign, which designs, installs, and services food processing equipment and solutions.

Melanie Zanoza Bartelme,
Associate Editor
[email protected]