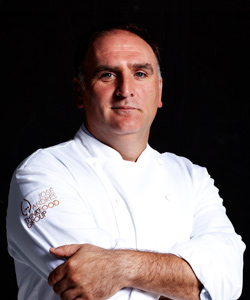 Named "Outstanding Chef" by the James Beard Foundation in 2011 and one of Time magazine's world's 100 most influential people in 2012, Chef Jose Andrés is an internationally-recognized culinary innovator, passionate advocate for food and hunger issues, author, television personality, and chef/owner of ThinkFoodGroup. He owns restaurants in Washington, D.C., Beverly Hills, Las Vegas, Miami, and Puerto Rico. And if that doesn't keep him busy enough, after traveling to post-earthquake Haiti, he launched World Central Kitchen, which aims to feed and empower vulnerable people in humanitarian crises around the world. Here, Chef Andrés talks about the World Central Kitchen and the responsibility he feels as a chef to help feed the world.
Hensel: You're a busy man. You have your restaurants, your food product line, your teaching, and your philanthropic work. How do you manage it all?
Andrés: You are only as good as your team and I have an incredible group of people around me that help carry out my vision. I've never believed in traditional corporate structures so in my company—ThinkFoodGroup—we work very much as a team. When you walk into our offices you will see how it all comes together because we all work in one big open space. My partner, Rob Wilder, and I created our offices with this in mind so we all sit together at one big U shaped table; operations, marketing, and public relations. We also built in a test kitchen, a cocktail bar, and a wine bar that allows me to work with my research and development team to test our ideas. So at the end of the day this kind of collaboration matters and it help us to become a stronger and better team.
Hensel: The scope of your philanthropic work, both in the U.S. and abroad, is impressive. What spurred you to start in the first place?
Andrés: To really tell this story I have to start with my friend Robert Egger and DC Central Kitchen. When I first came to Washington, my partner Rob Wilder introduced me to the work they were doing, distributing food and giving culinary training to help put people on a new path in life. It was amazing. I was so moved and humbled by the people I met there. I've worked with them for many years and have become Chairman Emeritus. Watching what they have been able to accomplish, what you can do to change lives, has always inspired me to be better.
Hensel: Let's talk about your efforts in Haiti. Beyond teaching culinary and business skills, there is a concentration on sustainability and environmental concerns (specifically with the clean cookstoves). Could you speak to that a bit?
Andrés: I believe a stove is the heart of humanity… In a country like Haiti, a clean cookstove can mean that young girls can go to school instead of spending their days gathering charcoal or wood for something so basic like cooking. A clean cookstove has the potential to feed many people at a low energy cost and help reduce deforestation, which is a big problem in Haiti. When the rain comes it causes landslides that wash away the fertile soil and the opportunity of agriculture. The sea life, like the reefs and the fish, cannot survive because the water brings all the dirt into the ocean. We have the potential to help solve these issues through the power of food and by investing in simple solutions. This is the goal of my non-profit World Central Kitchen.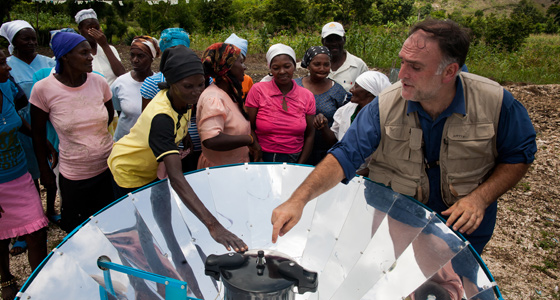 Hensel: How did you discover these issues existed?
Andrés: Being in Washington, I have had the opportunity to meet many politicians and advocates doing inspiring work for causes they believe in. As a chef, I am passionate about food and hunger issues abroad and here at home in America. I talk to the local farmers that I meet at D.C.'s Freshfarm markets and through that I've learned about the challenges facing the small farmers of America and how we can best support this really important part of our food system. Over the years and in conversations with people, friends, guests, and partners I've been able to contribute and become a part of causes that I feel really passionate about.
Hensel: You guest lecturer at Harvard and you teach at George Washington University—"The World on a Plate: How Food Shapes Civilization." These aren't culinary schools. What are you hoping these students walk away with?
Andrés: What I hope that students will take away from this is how interconnected our food system is. I think this is the start of building a Food Institute right here in Washington, D.C., where chefs and food experts can gather with scientists, economists, doctors, lawyers, politicians, NGOs, military leaders, teachers, to discuss ideas for addressing the food issues we face. These include improving the food system, helping small farmers, getting better foods into people's hands, making sure children are feed well enough to be ready to learn at school, or how we can come up with cleaner technologies for cooking in developing countries. The possibilities are endless but I think this will help put food on the global agenda. This is something I hope will really become a reality, with or without me.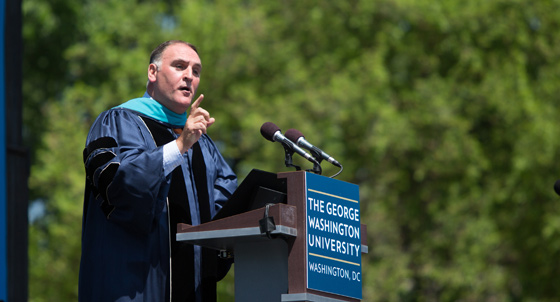 Hensel: As an upscale restaurateur, do you see your avant-garde cooking style intersecting with or influencing the way America should be eating?
Andrés: Well this is a very specific way of eating. Yes, I have minibar which feeds just 24 people a night but my restaurants vary from the fine dining experience of minibar to my casual food truck Pepe. As a chef, I believe eating can be a political statement. How we eat and what we eat can have a big impact and I see that more and more people are becoming conscious of that.
Hensel: The world is expected to reach 9 billion people by 2050. What responsibility, if any, do chefs have in feeding the masses?
Andrés: As a chef, I do feel a big responsibility to be part of this dialogue of how we will feed ourselves in the future. I think those of us in the food community have that responsibility to demand change to help find solutions; not just the chefs and restaurant owners but also the farmers, fisherman, winemakers, teachers, etc. I've just joined on National Geographic's Future of Food project, which is an 8-month series that explores this exact question. Along with other food experts including Rebecca Rupp, Maryn McKenna, Mary Beth Albright, and Jasmine Wiggins, we are contributing to this blog and exploring this question from our perspectives. I think this is a really important initiative and I thank and admire National Geographic for exploring this topic and allowing me to be a part of the conversation. I encourage everyone to follow along with us as we explore the different aspects of this question.